When staying at The Savoy in London, you cannot help but imagine the people, conversations, decisions and revelry those walls have seen. The Savoy opened in 1889 and since has hosted royalty, world leaders and stage and screen legends. It has seen London in transition after two World Wars and I cannot emphasize how that history is felt deep in your bones. You literally feel as though you're staying in and among greatness.
The Savoy does a brilliant job of balancing its historical significance with feeling very much like a home away from home. I'm about as far away from lavish living and the global jet set as one can be. Still, there's something special about a hotel where you feel at home in the rooms where Sir Winston Churchill, Frank Sinatra, Maria Callas, Claude Monet and Katharine Hepburn have stayed. The level of service is on point with what you expect, but there is no stuffiness whatsoever. For a hotel with such history and repute, The Savoy has an approachable casualness to it.
The Savoy is one of London's most renowned meeting places for the likes of royalty, the arts, business, politics and the law. No wonder since the hotel is located at the very center of the capital between the City and Westminster, close to Covent Garden and the West End. Its world famous entrance faces the Strand. Perhaps its more famous separate entrance is tucked away on a quiet road away from the main entrance alongside the River Thames, which certainly lends a sense of exclusivity for events and meetings.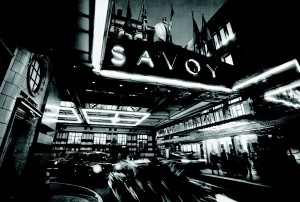 Through the main entrance and a gorgeous lobby, you'll find a chocolate shop. All of the chocolate goodness is made on-site by expert chocolatiers' hands. My partner and I were there over Easter, which is a widely celebrated holiday in the U.K. The chocolate shop was in full Willy Wonka mode with to-die-for chocolate Easter eggs from wall to wall.
The Savoy's 195 guest rooms and 73 suites reflect one of two distinct aesthetics: Edwardian or Art Deco style. No two rooms or suites are alike and many feature the original fireplaces, and designer, Pierre Yves Rochon used the finest materials from Murano glass chandeliers and silk wall coverings to Italian linens and marble floors.
Many of the rooms and suites have jaw-dropping views over the River Thames and the city of London. Blending comfort and elegance with discreet technology, nine Personality Suites attract high profile guests, while the two-bedroom Royal Suite is an impressive stately procession of rooms spread across the front of the entire fifth floor overlooking the river. Suite guests are assigned one of the Savoy's legendary personal butlers, plus complementary chauffeured car service around town and to and from the airport, in-room private bar beverages, Wi-Fi and one garment pressing per person, per day. Admit it. Wouldn't it be nice having a butler attend to your every whim? Your butler can be your personal guide to London, offering all kinds of suggestions on what to see, where to go and how to get there. The word "butler" is formal, but the service he offers is invaluable and comfortable.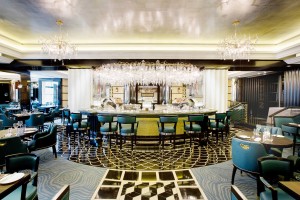 Some of London's best-known restaurants and bars are located inside the The Savoy, including Kaspar's Seafood Bar and Grill, Gordon Ramsay's Savoy Grill and the British institution Simpson's-In-The-Strand. Take Afternoon Tea in the Thames Foyer, then move to the American Bar (one of the world's best hotel bars) for a 1920's-style cocktail, or enjoy champagne and cabaret at the Beaufort Bar. Savoy Tea has teas and bespoke accessories in an imperial Eastern setting—definitely not to be missed, even if you're not a tea drinker per se.
Ahh… memories of my London travels and stay at the Savoy past. I'm returning to The Savoy in London in late summer. In the meantime, let's plan your business trip or vacation there. Many of CIRE's clients have Fairmont reward accounts. What better way to take advantage of those perks than a stay at one of the company's signature hotels? As always, you can count on my personal service and expertise. Nothing makes me happier than arranging stays for clients at one of my favorite places in the world. Just promise to send me a photo or tweet it @CIREtravel #travelmemories.
---
Where in the World Do You Want to Go?
Inspired to plan your next weekend getaway, vacation or trip of a lifetime? See that form below? That's all it takes to begin your next epic travel story.