Our Favorite Hotels In Mexico
What to know (to be in the know) before you book.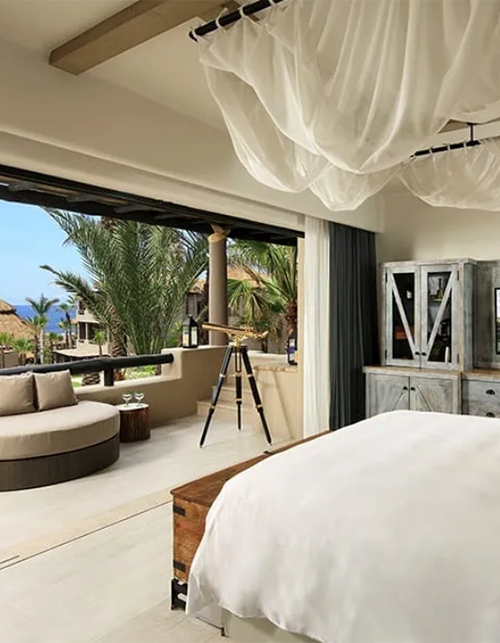 Four Seasons Resort
Punta Mita
Location: Punta Mita is a 1500-acre private peninsula in Nayarit, Mexico. It's surrounded by the Pacific Ocean on three sides.
Above & Beyond: Release sea turtles at sunset / whale watch / lounge chair foot massage / beachside taco stand / lazy river / kid's club
Room with a View: The Oceanfront Casita has floor-to-ceiling doors that slide open to the edges of the room. Simple and modern—each piece of furniture is arranged to maximize the uninterrupted Pacific views.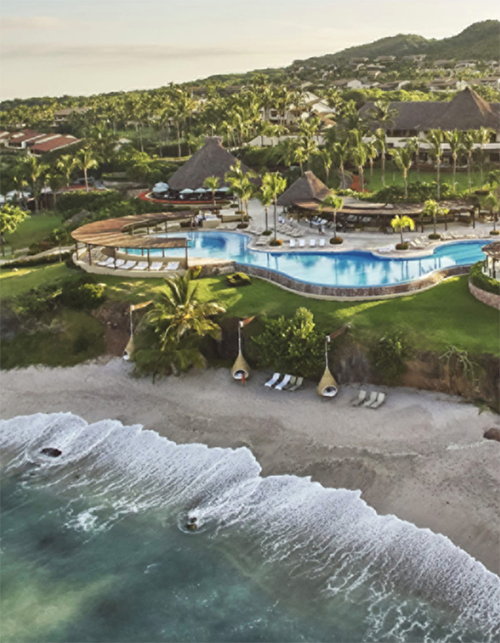 Esperanza
Auberge Resorts Collection
Location: Esperanza is a spectacular 17-acre beachfront property that sits upon a jagged cliff high above the Sea of Cortez.
Above & Beyond: Two-story open-air thatched beach huts / 360-degree dinner views from a rocky promontory / culinary workshops / stargazing by bonfire
Room with a View: The One-Bedroom Ocean View Spa Suite blurs indoor and outdoor living. This enchanting suite is over 1600 square feet and boasts an infinity-edged hot tub on a large terrace.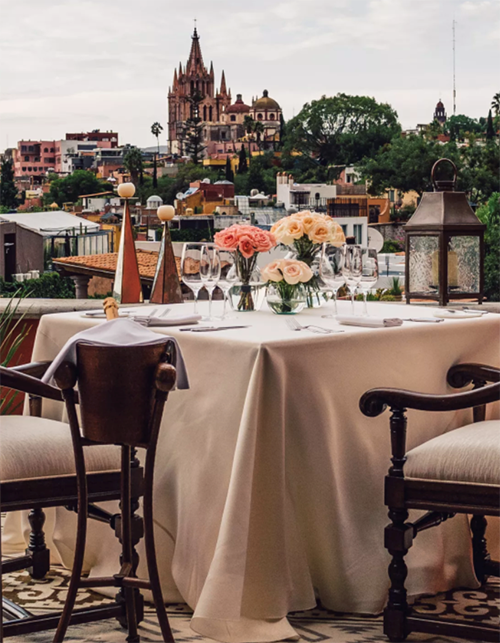 Rosewood
San Miguel de Allende
Location: This 16th c. Spanish Colonial property sits in the heart of the city and brings back the grandeur of a traditional hacienda.
Above & Beyond: Tequila tasting / rooftop tapas bar with views of Parroquia de San Miguel Arcángel / canyon horseback rides / personalized art concierge tours
Room with a View: The Mexican-inspired Parroquia Suite has two fireplaces and an enormous terrace from which to have drinks while watching the sun descend over the most famous church in San Miguel.
Wherever You Travel. Whatever You Do. CIRE Travel's Got It Handled.
"Eric is wonderful! He helped me organize a week-long conference in New Delhi and he managed each piece seamlessly—from the flights to the hotels to the ground transportation. He knew all about our various options within New Delhi and helped weigh in thoughtfully as we finalized our contracts with each vendor. He was a genuine pleasure to work along every step of the process!"
---
"Eric is truly the best travel planner. He goes above and beyond every time, without fault. He seizes absolutely every opportunity to improve and enhance your travel experience. As a client, I know I benefit each trip from the relationships he has established, and the credibility and outstanding reputation he has earned in the industry. His disposition, ease, and professionalism qualitatively set him apart. Regardless of the request, the urgency, the challenge, he handles each issue and transaction with a calm and efficient attitude. Above all, he is just a great person and simply such a pleasure to work with. I have and will continue to recommend Eric, without hesitation and unconditionally, to anyone who needs a corporate travel agent. And if you think you don't need one, after working with Eric for a couple of times, you'll wonder how you lived without him."
---
"We got a solicitation voicemail yesterday from some corporate travel agency down the street, and I made a point of calling them back just to tell them that we were so happy with our travel guru, CIRE Travel. We didn't need to hear about their corporate travel planning services because we were not looking to change. Shortest solicitation call of my life."
---
"I was spending countless hours on travel booking and airline websites. What was taking me a ridiculous amount of time to do, CIRE Travel handled in minutes. And with a trip involving three airlines and four airports, I'm relieved knowing that if something goes wrong, I just call CIRE."
---
"Eric is so great that he takes care of problems before you even know there is a problem, especially with weather delays and other travel snafus. I cannot say enough good things about Eric and his team and highly recommend them for both personal travel and corporate travel planning needs!"
---
---