Your Journey to Wellness Starts or Carries On Here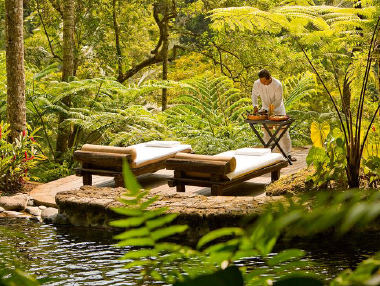 Of all pursuits in your business and personal life, none is so important to the success of both as putting your wellness first. Perhaps you're on the cusp or in the midst of a personal transformation. Maybe you're beginning to feel the consequences of a harried schedule and frequent corporate travel. Incorporating elements of wellness into your travel has undisputed benefits. And, there is no lack of options from which to choose, from a fully-immersive experience at a healing retreat to a relaxing Reiki massage at a renowned spa located next door or in your hotel after a business meeting.
Your Wellness Travel Spirit Guide
Think of your CIRE advisor as your wellness travel spirit guide. We invested in specialized elite wellness travel training, as well as made "personal sacrifices" to experience spas and treatments around the world first-hand, to give you a deep understanding of all your wellness options, including urban and resort destinations or destination resorts blended with spa experiences.
We can incorporate elements of or focus an entire journey around the four aspects that constitute a VIP spa or wellness experience:
Spa treatments
Fitness
Cuisine
Spiritual and/or mind-oriented activities
Find Your Center, Your Happy Place
CIRE works with a collection of properties that cater to travelers who value luxury and wellness-centered services and amenities. From fitness programs and spa treatments to lifestyle-specific healthy, gluten-free and vegan menus, you have more options than ever to stay centered and keep your well-being a priority.
At a destination spa… Destination spas offer a large variety of programming from which to choose. You'll find guests here typically request a fairly full schedule of diverse activities for the mind, body and spirit. Although, less structure is perfectly acceptable for your entire stay or just a day or two at your leisure.
At a wellness resort… Wellness resorts have many activities, some that are wellness oriented and some that are not. Typically, options include exercise classes, sports, beach, pool, cocktail lounges and many dining options. Many resort guests crave a visit to relax and do nothing.
Overall, wellness travelers combine fitness and spa treatments with some down time. Our wellness travel experts will help envision your goals to find the ideal spot and location for you.
Whatever Blissful Wellness Means to You
In Your Corporate Life… CIRE's wellness travel advisors can combine elements of wellness and relaxation with your business itinerary. Based on your preferences and time available, this might look like staying at a carefully selected urban spa in close proximity to your conference or client meetings, giving you access to fitness activities, healthy cuisine and an impressive spa. Or, perhaps a layover on your way to or back from a business trip is just the amount of "me time" you need to recharge.
Rather than spend days sitting in a stuffy, windowless room, CIRE can plan your executive retreat or corporate meeting at a destination resort or spa that includes mind-clearing wellness elements for a more productive outcome. After all, feeling good is good for business.
In Your Personal Life… Traveling to urban, resort and resort blend spas can be a family affair. Many wellness properties cater to families with a range of spa treatments appropriate for younger people, fitness options and kid's clubs for the very little ones. And, CIRE wellness travel advisors match the perfect destination to your family's needs and age ranges.
Destination spas and resort blend properties are an excellent choice for solo travel where you can bond with like-minded guests or enjoy the privacy of your own thoughts and whims.
Or, grab your significant other, girlfriends, or mother or daughter for a well-deserved getaway.
Our wellness travel advisors will create a highly personalized "journey," ensure you're comfortable with spa and resort etiquette and customs in the U.S. and abroad, and handle all the details, including:
Complimentary consultation
Airline reservations
Accommodations
Ground transportation
Activities and special experiences
Cuisine options
Pre-booking spa services, treatments and fitness activities
Travel documentation: Our in-house visa expeditor can help coordinate requirements for traveling abroad
If you have more questions about the benefits of wellness travel or would like to learn more about how we can incorporate wellness elements in your travel plans, explore our FAQs.
More and more people are placing a priority on their health and well-being. Let CIRE's wellness travel experts make you and your wellness our priority.
Wherever You Travel. Whatever You Do. CIRE Travel's Got It Handled.
"Eric is so great that he takes care of problems before you even know there is a problem, especially with weather delays and other travel snafus. I cannot say enough good things about Eric and his team and highly recommend them for both personal travel and corporate travel planning needs!"
---
"I was spending countless hours on travel booking and airline websites. What was taking me a ridiculous amount of time to do, CIRE Travel handled in minutes. And with a trip involving three airlines and four airports, I'm relieved knowing that if something goes wrong, I just call CIRE."
---
"Eric is truly the best travel planner. He goes above and beyond every time, without fault. He seizes absolutely every opportunity to improve and enhance your travel experience. As a client, I know I benefit each trip from the relationships he has established, and the credibility and outstanding reputation he has earned in the industry. His disposition, ease, and professionalism qualitatively set him apart. Regardless of the request, the urgency, the challenge, he handles each issue and transaction with a calm and efficient attitude. Above all, he is just a great person and simply such a pleasure to work with. I have and will continue to recommend Eric, without hesitation and unconditionally, to anyone who needs a corporate travel agent. And if you think you don't need one, after working with Eric for a couple of times, you'll wonder how you lived without him."
---
"We got a solicitation voicemail yesterday from some corporate travel agency down the street, and I made a point of calling them back just to tell them that we were so happy with our travel guru, CIRE Travel. We didn't need to hear about their corporate travel planning services because we were not looking to change. Shortest solicitation call of my life."
---
"Eric is wonderful! He helped me organize a week-long conference in New Delhi and he managed each piece seamlessly—from the flights to the hotels to the ground transportation. He knew all about our various options within New Delhi and helped weigh in thoughtfully as we finalized our contracts with each vendor. He was a genuine pleasure to work along every step of the process!"
---
---