In May 2014, Manhattan got more than its latest hotel. The Garment District has a new hotel personality. Just who is Archer? While that might go unanswered, guests get a sense of his taste, his personality, his voice and his thoughts as the story of Archer unfolds throughout their stay.
Five things I love about Archer New York
Archer doles out playing cards, a fun and unique guest experience
The uniquely appointed accommodations suit both business and leisure travelers
The restaurant and rooftop bar are David Burke masterpieces
The service and amenities are exceptional
The lobby's focal art is a can't-miss feast for the eyes
About Archer Cards
Archer doles out playing cards, featuring 50-plus timeless tips of courtesy and etiquette. Archer's cards are core to how his inner circle, the hotel staff, operates and are considered a supplement to the employee handbook.
The "Present Your Presence" card reminds us to "Focus on your current company. Eye contact, and reflected social cues make it clear that you are where you want to be. You are gracious that way, aren't you?"
If an Archer team member observes a guest displaying an act of kindness, courtesy or etiquette from the deck of cards, they could receive a "Class Act" card worth $10. Class Act cards can be collected, combined and used throughout the hotel, including the lobby bar or the David Burke restaurant, fabrik.
Friends of Archer (guests) receive a "Destination Joker" upon arrival worth $10 throughout the hotel or can be collected and used on subsequent stays. Players can expect to receive one card per room, per stay. As the hotel collection expands from New York to Napa and Austin, guests can collect Jokers from Archer's various residences to make an "Archer Flush," good for a free night at a property of the guest's choosing.
Accommodations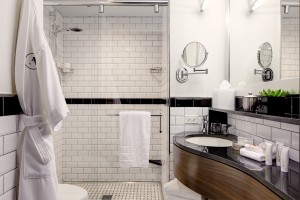 Just as bedrooms in a home vary in design, so do the accommodations at Archer Hotel. This is considered an unprecedented design move in a property of 22 stories and 180 rooms. Travelers tempt roulette not knowing which of the four room types they will get.
Each guestroom has custom-designed furniture with purposeful, dual-functionality that maximizes room size. The platform bed has drawers beneath it. Wall sconces double as reading lights. The tufted-leather ottoman serves as a table.
Other features of the guestroom include bathrooms with a walk-in dual-head shower, workspace, laptop safe, in-room refreshment bar, 42-inch flat-panel TV and MP3 docking station, as well as:
Floor-to-ceiling windows
Five-star bedding with plush Eurotop mattress, 100% cotton linens, down duvet and a selection of down pillows
Walk-in shower, Frette towels and bathrobes
Malin + Goetz bath amenities
Complimentary WiFi
Nespresso coffee experience
Archer has one signature room, Archer's Den, with some unique touches such as a tufted sectional sofa, a large walk-in shower and a collection of Archer's favorite books and quirky finds to set it slightly apart from the others.
Drinking & Dining
Archer features a first-floor restaurant, fabrick, and the Bugatti Bar in the lobby, both under the direction of the David Burke Group. Chef Burke is considered an artist, creating with food as his medium. He skillfully weaves his classical training together with an appreciation for modern interpretations of the classic meal. The Group with its famed Burke In The Box selections also serves the in-room dining.
Spyglass, a rooftop bar, offers panoramic views of the city and an up close look at the Empire State Building.
Special Touches & Services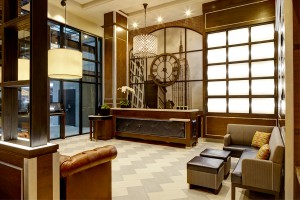 Archer New York offers the following touches and services:
A locally-curated house art collection of unique and memorable work selected by Deborah Goodman Davis, a Manhattan-based art advisor
Storied-retail selections from local artisans
Concierge and bell service
Complimentary lobby business center, inclusive of printing and WiFi throughout
Complimentary newspapers
A 100% smoke-free environment
A signature turndown ritual spanning a complimentary, impressive rotation, including: Baked by Melissa cupcakes, Fatty Sunday Pretzels, Dylan's 100 Calorie Bars, Kanpekies Shortbread Cookies, Chocolate Dipped Fancy Fortune Cookies with Archer messages, and a selection of David Burke goodies (Black and White Cookies, Fruit Pops and Truffles).
Must See Art
Titled "Image Object Sunday 2 September 2012 8:10 pm," the work is a vibrant "violation of ARCHER's squares," and will be a lobby focal point. The piece is a creation by then 26-year-old digital and video artist Artie Vierkant. Forbes recently recognized Vierkant as one of "30 Under 30: Art & Style."
---
Where in the World Do You Want to Go?
Inspired to plan your next weekend getaway, vacation or trip of a lifetime? See that form below? That's all it takes to begin your next epic travel story.