Saturday morning. Go time. A mid-morning flight is perfect. Not so early that you set the alarm earlier than a normal workday. Not so late that you miss out on sightseeing time. We have 24 hours. Chicago is the destination. The goal is to enjoy as much of it as possible, returning home feeling rejuvenated and like we've "gotten away" somewhere special.
Four reasons we love Chicago for a quick getaway:
Thompson Chicago: an "el" – evated boutique hotel on the Gold Coast
"Fresh Sheets" cocktail at the hotel's Salone Nico
Chef Art Smith's Table Fifty-Two
Kayaking on the Chicago River and other fun, quick activities
Our 24-hour itinerary:
Saturday




3:00 pm
Climbed aboard a Shoreline Sightseeing tour boat for a one-hour tour of the Chicago architecture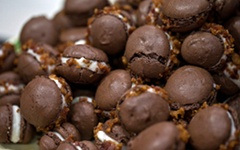 7:00 pm
Ate one of the best meals of my life at Chef Art Smith's (Oprah's former private chef) Table Fifty-Two, featuring southern cuisine. Mac and Cheese, fried chicken and fried catfish. Divine.


Sunday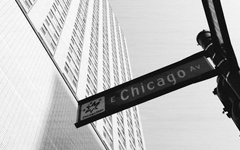 10:00 am
Dungeness crab and poached eggs on focaccia at Nico Osteria – the Chicago food extravaganza continues…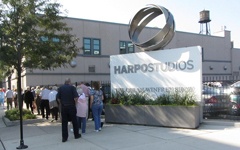 11:00 am
Check off take photo outside of Harpo Studios from the "bucket list." If only the Oprah Show was still there.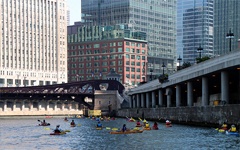 12:00 pm
Burn off embarrassing amount of calories consumed with a kayaking tour of the Chicago River




Four highlights of 24 hours in Chicago:
Thompson Chicago
One night sleeping in a luxury junior suite definitely made us want to return for another. Our suite overlooked the hip Gold Coast neighborhood's leafy streets, with sweeping floor-to-ceiling vistas of the downtown Chicago skyline and Great Lake waterscape. We only took our eyes off the view when we were sleeping.
"Fresh Sheets" cocktails
Salone Nico is the sexy lounge of the hotel's restaurant Nico Osteria. Salone Nico is a welcoming gathering space, celebrating the European tradition of afternoon apertifs and low-proof cocktails. The approachable wine list features wines from Italy and Greece, as well as grower champagne, with an emphasis on small producers and older vintages.
Chef Art Smith's Table Fifty-Two
Table Fifty-Two is quintessential Southern hospitality. The restaurant is a 19th century carriage house of the Biggs Mansion, which survived the Great Chicago Fire. Chef Art chose luxurious yet rustic décor, including an open-hearth oven and a pressed copper ceiling. His detail and honoring his roots on the Smith family farm near the Florida-Georgia line is what has made Chef Art a celebrated and humble star chef. The signature goat cheese biscuits alone are worth a trip to Chicago.
Kayaking on the Chicago River and other fun, quick activities
No special equipment. No major time commitment. Kayaking and the lake cruise were perfect activities for a 24-hour trip to Chicago. Not to mention fun ways to see the city. Shoreline Sightseeing offers so many types and times of cruises, it's easy to fit it into a Chicago getaway of any length.
Mission Accomplished
The goal is to enjoy 24 hours away and return home feeling rejuvenated from a mini holiday. Mission accomplished. We chose Chicago for our destination, but many cities can be explored in as little as one day. When you're looking for a quick getaway destination, talk to one of our travel planning experts. We can create an itinerary that's just your style.
---
Where in the World Do You Want to Go?
Inspired to plan your next weekend getaway, vacation or trip of a lifetime? See that form below? That's all it takes to begin your next epic travel story.