Hotel Zetta is the first new hotel to open in downtown San Francisco in five years! Five years is a long time for a city with a reputation for progression and change. Hotel Zetta has all the necessary ingredients for productive and fun corporate travel.
It's location is primo! Driving, much less parking is a hassle in the City. Hotel Zetta is a short walk from BART (Bay Area Rapid Transit) and other public transportation that's available around the clock. It's also within walking distance of the Moscone Center and Union Square, making it especially attractive for tech and financial firms.
It's no secret that Bay Area companies are known for their creative collaborative workspaces and on campus perks. For example, Google's barges floating in the Bay caused quite a curious stir recently. Hotel Zetta has taken a cue from Google, Apple, Facebook, etc. headquarters, offering a playful and hip, yet warm and welcoming space.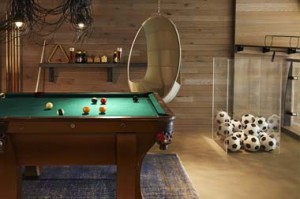 All three fully customizable meeting/event spaces feature everything you need—flat panel LED TVs with data connectivity to old-school cork-covered walls for collaborative brainstorming and doodling—for an impressive corporate function. And at the end of the day (or to take a much-needed mental break), guests gravitate to the Playroom Lounge. This is one my favorite aspects of Hotel Zetta. The Playroom is just like it sounds, but for adults. It's billiards, video games, shuffleboard and a Nintendo Wii-Street U station all in a very industrial chic space. There's even a Plinko game like on the TV game show.
In a city known for its green efforts, architecture and design, Hotel Zetta fits right in. One of the design themes is reuse and repurpose and it's evident with beautiful hardwood floors in the lobby and oversized chandeliers featuring repurposed eyeglasses.
Accommodations are incredibly spacious and super plush, featuring stunning patchwork rugs hand-woven with all repurposed materials collected in Asia. Art and technology both share the spotlight. Hotel Zetta offers complimentary WiFi to all guests and in the common areas. A British inspired brasserie, The Cavalier, recently opened and is becoming the latest local hot spot.
We highly recommend Hotel Zetta for creative types and savvy corporate travelers looking for an affordable, but fresh and modern alternative to more traditional hotels. Plinko, BART, Union Square and Moscone Centre proximity and its prime downtown location are icing on the cake.
---
Where in the World Do You Want to Go?
Inspired to plan your next weekend getaway, vacation or trip of a lifetime? See that form below? That's all it takes to begin your next epic travel story.