Day spas outnumber Starbucks in the U.S. Apps like Soothe and Zeel deliver, on demand, a licensed massage therapist to a home, office or hotel room within an hour. A growing number of spas and hotels focus on "silence." Wellness isn't just for weekends anymore, it's essential during the work week with more people taking a proactive approach to their health and well-being.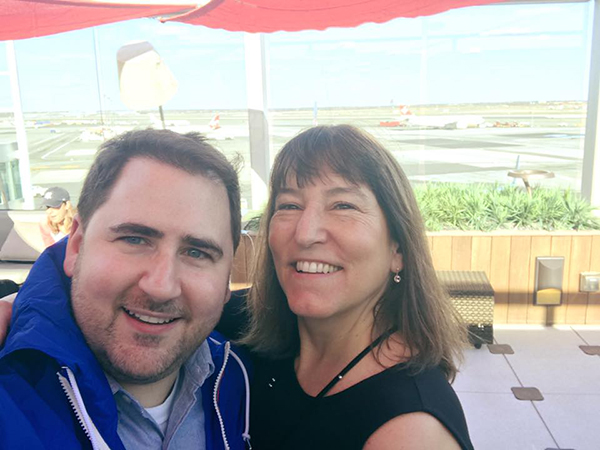 Recently, Eric Hrubant, CIRE Travel's Chief Travel Planning Officer & CEO, traveled to Italy to see the trends in wellness resorts and travel first hand. His travel partner was none other than Sallie Fraenkel, Mind Body Spirit Network founder, EVP of the Global Spa and Wellness Summit and former CMO & COO of SpaFinder. Internova Travel Group, of which Tzell Travel is a division, designed its Select Wellness Collection in conjunction with Sallie. The collection includes 40 of the world's most exclusive hotels and spa resorts renowned for their focus on health and wellness and is available through Tzell-affiliated agencies like CIRE Travel.
"Whether you need a full-blown, week-long wellness retreat, a vacation from your vacation, or elements of wellness included in your business travel itinerary, the options available today are more varied than ever," says Eric.
Food for Thought
Cuisine was the first on the menu when it came to taking travelers' health in mind. Though spa retreats have long focused meals on organic and other lifestyle options, special menus are mainstream now and one of the easiest wellness elements to add to any trip. Properties have a wide (and delicious) array of options, including raw, vegan, vegetarian, organic, local, and farm to table.
Even mammoth properties, such as InterContinental Hotels Group (IHG) which is a standard for the business traveler/road warrior, offer "grab and go" healthy, organic choices versus the oversized, pre-packaged, preservative-laden blueberry muffin of the past.
Sallie explains, "Boutique spa and wellness properties infuse their cuisine and spa services with local and on-site ingredients. Imagine a resort nestled in an olive tree grove, and olive oil pressed on property is used in dining and spa treatments. Salt, lemon and other indigenous ingredients are a focus on the plate, as well as the spa services menu."
A Good, No Great, Night's Sleep
Being well rested is key to a wellness program. Blackout shades are the norm, but some properties are going above and beyond offering everything from pillow menus and aromatherapy to calming bath butlers. Sleep experts are called in to conduct lighting audits that minimize LED lighting, replacing these system-shocking bulbs and fixtures with those more conducive to a great night's sleep.
Battling Nature Deficit Disorder
"Living and doing business in an over wired, always connected era is causing an epidemic of nature deficit disorder. Urban properties are batting the disorder by "greening" their grounds with rooftop gardens, bee hives and more," says Sallie. Since holding business meetings and conferences in rural areas isn't always convenient or feasible, choosing a hotel committed to greening is the next best thing to bring a little nature into the urban environment. Psst! Eric shares his top five favorite urban wellness hotels in the spring 2017 edition of Luxe Getaways on page 86.
A New "Spin" on Exercise
Exercise is how many business travelers and executives keep their sanity amid a hectic schedule. More focused on their well-being, corporate travelers are unwilling to leave their workout routines at home. "One corporate client attends a spin class every day, and she did not want to slide on the endurance progress she'd made. The hotel where she needed to stay didn't offer spin classes, so I called ahead and found one within walking distance. If a property doesn't have a specific exercise class, we find one that is convenient for our clients," explains Eric.
In-room, on-demand workouts, pools and fitness celeb-backed gyms are options to stay fit while traveling. And rather than sitting at a conference table or in an office, Sallie sees executives changing their meeting venues. "People hold meetings on walks, not in offices or bars. They're meeting clients at salons for manicures and pedicures today. If the meeting has to be more conventional, then clients are relaxing afterward with on-demand massages from Zeel and Soothe, both of which report their busiest times are around 9:00 pm when the work day and client dinners are over," she says.
Wellness Trends: Looking Ahead
Wellness is a $3.7 trillion industry, which is three times the size of the pharmaceutical industry. Demand for leisure travel focused on wellness and corporate travel that integrates wellness elements gives travelers much to look forward to as properties innovate their offerings. According to "2017 Wellness Trends", from Global Wellness Summit, here are eight trends for 2017 and beyond:
1. Sauna Reinvented
From theatrical Sauna Aufguss events to jaw-dropping amphitheater saunas, sweating will get more spectacular and social in years ahead.
2. Wellness Architecture
Healthy-for-humans building…finally.
3. Silence
From silent spas to wellness monasteries and "down-time abbeys" to silent eating.
4. Art & Creativity Take Center Stage
Yes, adult coloring books, but well beyond from classical concerts to intensive painting classes at hotels, wellness retreats, spas and studios.
5. Wellness Remakes Beauty
Borders between beauty and wellness blur. The $999 billion beauty sector gets a shake up thanks to seismic shifts in the way we aspire to and perceive true beauty.
6. The Future is Mental Wellness
Mental wellness will be the biggest future trend, from wellness destinations and spas bringing in neuroscientists and psychotherapists to meditation becoming seriously mainstream, while evolving into new breeds – to part-mind, part-body workout brands – to apps that track your mental state.
7. Embracing the C-Word
Wellness industry stops turning away cancer sufferers and, instead, provides comfort, solace and positive recovery paths.
8. Beyond the Elite "Ghettos" of Wellness
In a world where rising inequality and a sense of "unfairness" is leading to a global, populist backlash, a wellness industry that's become narrowly associated with wealthy elites (the $300 yoga pants and treatments) must, and will, change.
As travelers place a higher priority on their health and well-being, wellness trends are transcending weekend retreats and spa vacations, and CIRE Travel is integrating elements of a wellness retreat into more and more travel agendas. Whatever makes you feel "well" is available or soon coming to your next leisure accommodation or corporate travel itinerary.
---
Where in the World Do You Want to Go?
Inspired to plan your next weekend getaway, vacation or trip of a lifetime? See that form below? That's all it takes to begin your next epic travel story.