Matching the right accommodation to the traveler, budget and even the company's "personality," is no small feat. It requires a huge amount of insider information on an equally large number number of accommodations in the U.S. and around the world. Part research and business for me and all pleasure for my partner, we recently traveled to Washington, D.C. The Capella Hotel in exclusive Georgetown couldn't have offered a more satisfying experience—for both of us. It jumped to the top of my favorite places list, and I imagine it'll remain there for quite some time.
Of course I knew what to expect from Capella based on its reputation and address, right in the heart of Georgetown along the historic C & O Canal. Even so, nothing prepared me for what I saw or experienced there. Simply put, Capella sets the bar high for luxury accommodations, which says something given its neighboring hotels.
Capella caters to upscale travelers, both business and pleasure. My partner and I had different goals in mind on this trip, and the Capella satisfied us both from the moment we stepped through the door. That's where the magic began…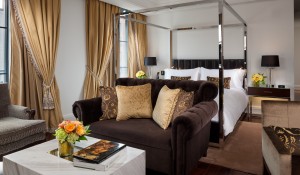 Don't bother looking for a check-in desk. There is not one to be found. Instead we strolled into the "Living Room" where our Personal Assistant greeted us. More on her later. Welcoming, familiar, and inspired by refined yet approachable details, the Living Room is a private space exclusively for hotel guests and invited companions. A wall of marbled Italian onyx anchors the oversized fireplace. Abstract expressionist paintings by Edvins Strautmanis add a modern energy to the walls of high gloss Austrian paneling crafted exclusively for Capella. The epitome of comfortable luxury, the Living Room is designed for relaxing. I thoroughly enjoyed it after meetings all day and my partner enjoyed it anytime he wanted. Light refreshments and full business services are available there between 7:00 a.m. and 10:00 p.m.
Had our room not been so equally inviting, we would've spend far more time in the Living Room than we did. Our room was spectacular. Each room at Capella is designed to anticipate your desires, from bedside touch button technology to a collection of personal amenities; we could see every detail was carefully thought out. The property has just 49 guest rooms with 12 suites. Each individually designed suite features plentiful living and relaxing spaces and a tastefully appointed sleeping area. The bathrooms are built for lounging with soaking bathtubs and glass enclosed rainfall showers. Heaven. Just heaven.
Additional amenities include designer beds with Pratesi linens, high definition stereo LCD TVs in the bed and living room(s) with HSIA, and complimentary soda and water in our refreshment center.
I wish I'd had as much time as my partner to enjoy the beautiful rooftop space with the indoor-outdoor infinity pool. From the roof, we took in sweeping views of Washington, D.C.'s iconic landmarks. Textured walls in warm tones of stone and quartz complement the airy and otherworldly ambiance. The adjacent Rooftop Bar delivers snacks and refreshments.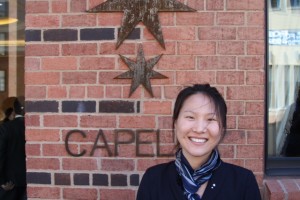 I've saved the best for last—Esther, our "Personal Assistant." Capella assigns each guest a Personal Assistant who is available 24 hours a day for whatever you may need. Prior to arrival, this person contacts guests to and assist in managing any details and arranging every aspect of your stay. We took full advantage of Esther's local insider expertise. She made the perfect client gift recommendation—cupcakes from a local bakery. They were a hit with my client and as delightful as she was. Capella's Personal Assistants can curate every imaginable aspect of your stay including: airport logistics, after-hours shopping at Washington's most exclusive stores, private museum tours or even a walk-on role in The Nutcracker at the Washington Ballet.
On Capella's website, it is stated, "We hope that you'll come to consider our Washington, D.C. luxury hotel your private retreat in the nation's capital." Speaking from experience for my partner and I, you bet we do. I know we'll be back and I'll be recommending Capella to my corporate travel clients visiting the area for business or pleasure.
---
Where in the World Do You Want to Go?
Inspired to plan your next weekend getaway, vacation or trip of a lifetime? See that form below? That's all it takes to begin your next epic travel story.