Don't pack your Habanera dance shoes just yet…
A long-standing travel restriction to Cuba required U.S. citizens to travel there only for legitimate reasons, gain licenses and visas, book their travel through an authorized travel agency arranging "people-to-people" exchanges or depart for Cuba from another country other than the U.S.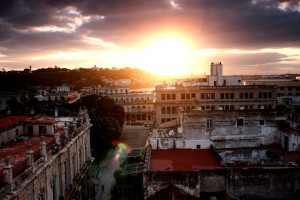 The U.S. government recently made traveling to Cuba a little easier for Americans by easing these restrictions. Once in Cuba, Americans will not be limited to what they spend or buy. Using U.S. debit and credit cards isn't a widespread option, however once infrastructure is in place, larger chains and hotels will be more likely to accept them than locally owned establishments. Cuban cigars and rum can even be brought back to the U.S. in specific quantities.
For those who've always wanted to experience the lore of Havana personally, you'll need to wait a little longer. Not only because general tourist travel is still prohibited in spite of the new regulations in place, but also because Cuba's infrastructure is not prepared to handle an influx of curious tourists. It soon may be, but not right now.
United Airlines is planning to get the approval necessary to begin service between Newark and Houston to Cuba. American Airlines already operates charter flights to Cuba out of Miami and Tampa, and is reviewing the latest regulations. Delta Air Lines, JetBlue Airways, Hilton Worldwide, Marriott International and the Carnival Corp. are all showing interest in doing business on the communist island.
While travelers might not have to get government approval for Cuban travel and visit independently versus with an exchange group, they will still have to verify that their trip is for educational, religious, cultural, journalistic, humanitarian or family purposes, among others. Plus, they might not be so comfortable.
While some Havana resorts were opulent in the 1950s, many of them are aging and no longer designed (or capable) of handling modern American tourists' needs, even the basics. Renovations and updates will take time. For now, visitors are limited to restaurants and accommodations currently available, which aren't guaranteed to meet the average tourist's expectations.
For now, here are three things you need to know about traveling to Cuba:
General tourist travel is still prohibited. Travel is only allowed through an authorized tour operator that offers the people-to-people cultural exchange program. CIRE Travel is not authorized to book travel to Cuba, but we point you in the right direction to do so.
Even though the new regulations take effect in mid-January, the infrastructure from the private sector still needs to be put into place in order to adequately accommodate tourist travel.
Airlines won't begin regularly scheduled service in January, or probably even in 2015, but many of them are already providing regular charter flights that are booked in conjunction with the people-to-people cultural exchanges we offer through authorized tour operator partners.
Ultimately, the answer to the question "can I travel to Cuba on vacation soon?" is no. CIRE Travel is keeping a close eye on Cuba's progress in preparing for business and vacation travelers, and we'll continue updating our clients on traveling to Cuba.
Since traveling to Cuba has been restricted for so long, we understand the attraction. Interesting in learning more? The Treasury Department has released a Frequently Asked Questions document that answers questions in detail about Cuban travel, or feel free to give us a call.
---
Where in the World Do You Want to Go?
Inspired to plan your next weekend getaway, vacation or trip of a lifetime? See that form below? That's all it takes to begin your next epic travel story.