What is it about traveling to a new city that heightens our emotions? Maybe it's the anticipation of discovering a new restaurant and the excitement of viewing city lights from the balcony of a beautiful hotel. Or, it's the thrill of zig-zagging cobbled streets in search of a hidden boutique or art gallery. What if it's all of the above?
Sometimes a new hotel brand comes along and gets the city vibe just right. When you think, "This hotel was meant to be here. I can't imagine it anywhere else." When the architecture, design, and inherent feel of the hotel seamlessly work within its cityscape. Welcome to the Pendry Hotel group of properties. Prepare to be dazzled. I know I was.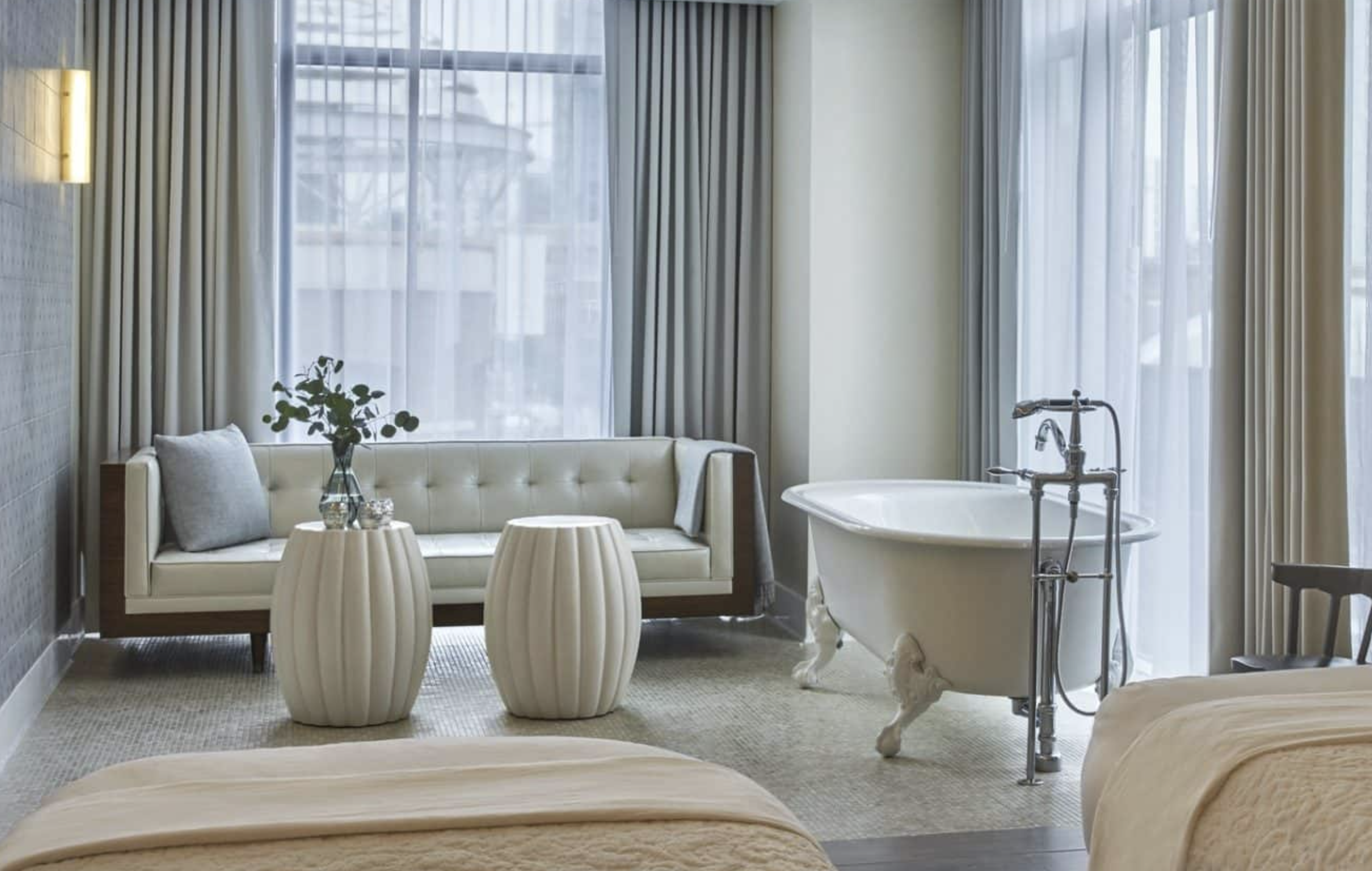 Why Pendry?
According to the Pendry website, the brand seeks to 'elevate design and service for the new luxury traveler. With captivating destinations, artful environments, and attentive service, Pendry ushers in a new era of luxury hospitality." These are quite lofty goals, but having been to a few of their 12 properties, I can say with confidence that Pendry achieves them.
Pendry was founded in 2014 by the father-son duo behind Montage Hotels and Resorts. Alan J. and Michael Fuerstman decided to make Pendry properties their city-based brand. Montage properties like Palmetto Bluff in South Carolina and Big Sky in Montana are larger and more resort in style. The Fuerstmans' goal is to ensure their hotels purposefully lean into the communities and cities in which they reside. This is accomplished in different ways depending on the location.
In Baltimore, for instance, the Sagamore Pendry Hotel takes over Recreational Pier in the historic Fells Point neighborhood. In West Hollywood, the Pendry nestles into the Sunset Strip with all the style one would expect from glamorous Los Angeles.
Are you craving a city getaway? Are you interested in exploring a new destination with a home base that uniquely takes advantage of its surroundings? Cross the country with me. I'll introduce you to five Pendry Hotels destined to inspire your next city mini-break.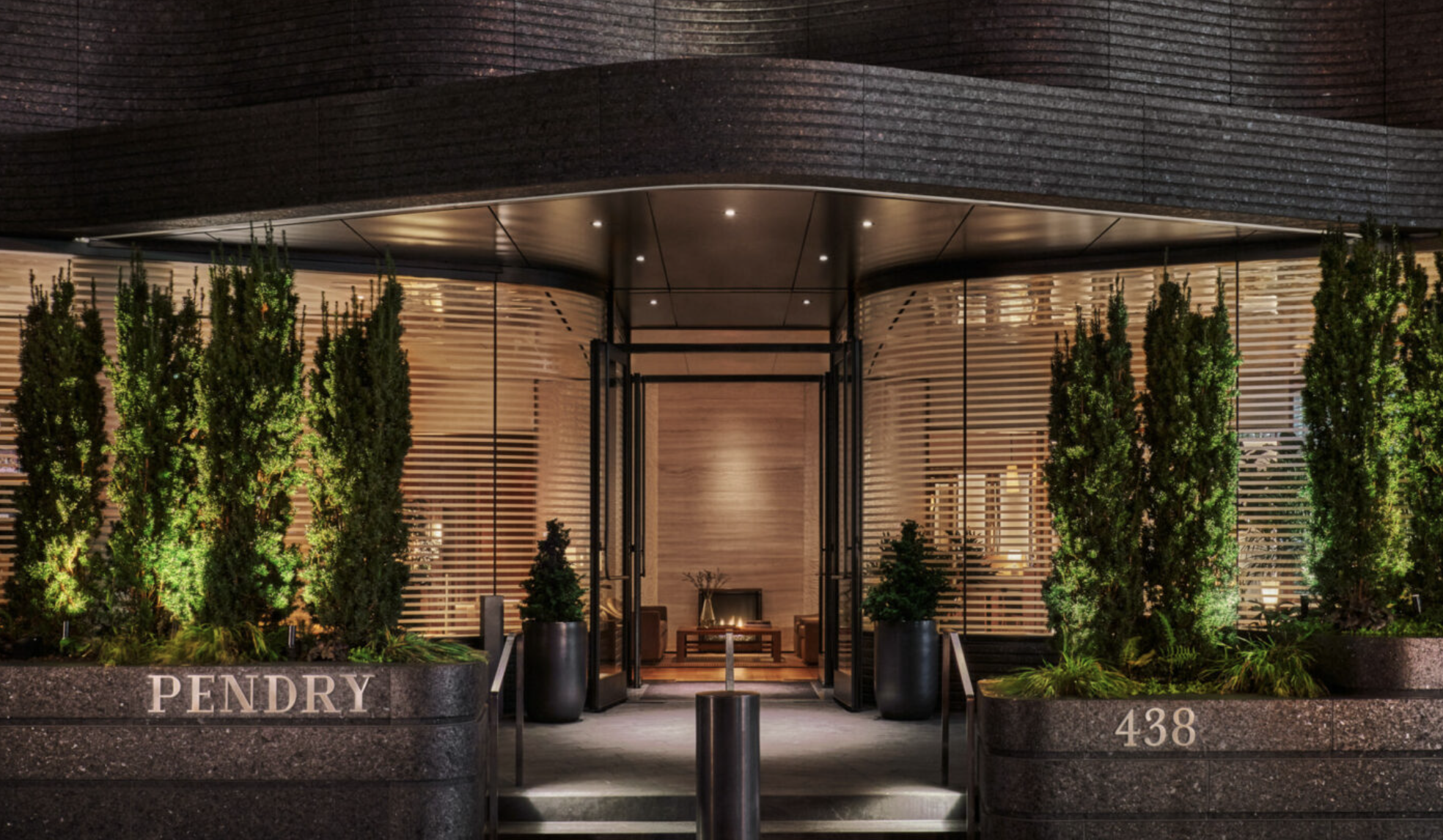 Pendry Manhattan West
Where is it? Pendry Manhattan West is located on the far west side of New York City and at the northern tip of the High Line. The High Line is one of New York's most intriguing sights. Once an industrial zone, the High Line is now reimagined as an elevated public city park. Pendry Manhattan West's neighborhood includes other must-see attractions like the Empire State Building, Madison Square Garden and Hudson Yards.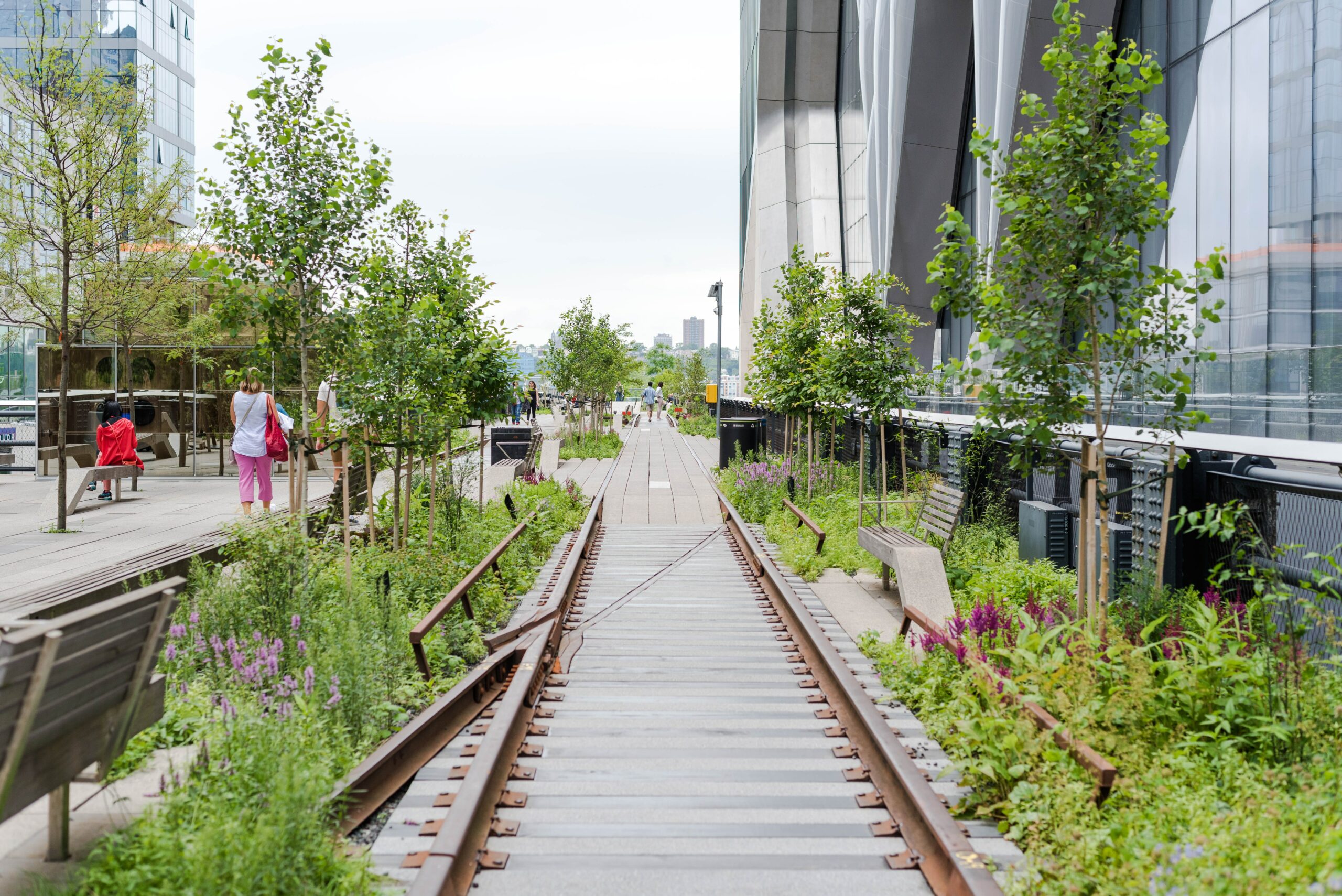 Why go to New York City? There are thousands of reasons to head to this thriving and energy-filled metropolis. World-class food, stunning architecture, theater, museums and Central Park just begin to scratch the surface of the city. What makes Manhattan especially alluring is its ability to be a tourist-friendly destination for every season, whether that's ice skating at Wollman Rink in the winter, strolling 5th Avenue in the spring, a park picnic in the summer or a Broadway Show in the fall.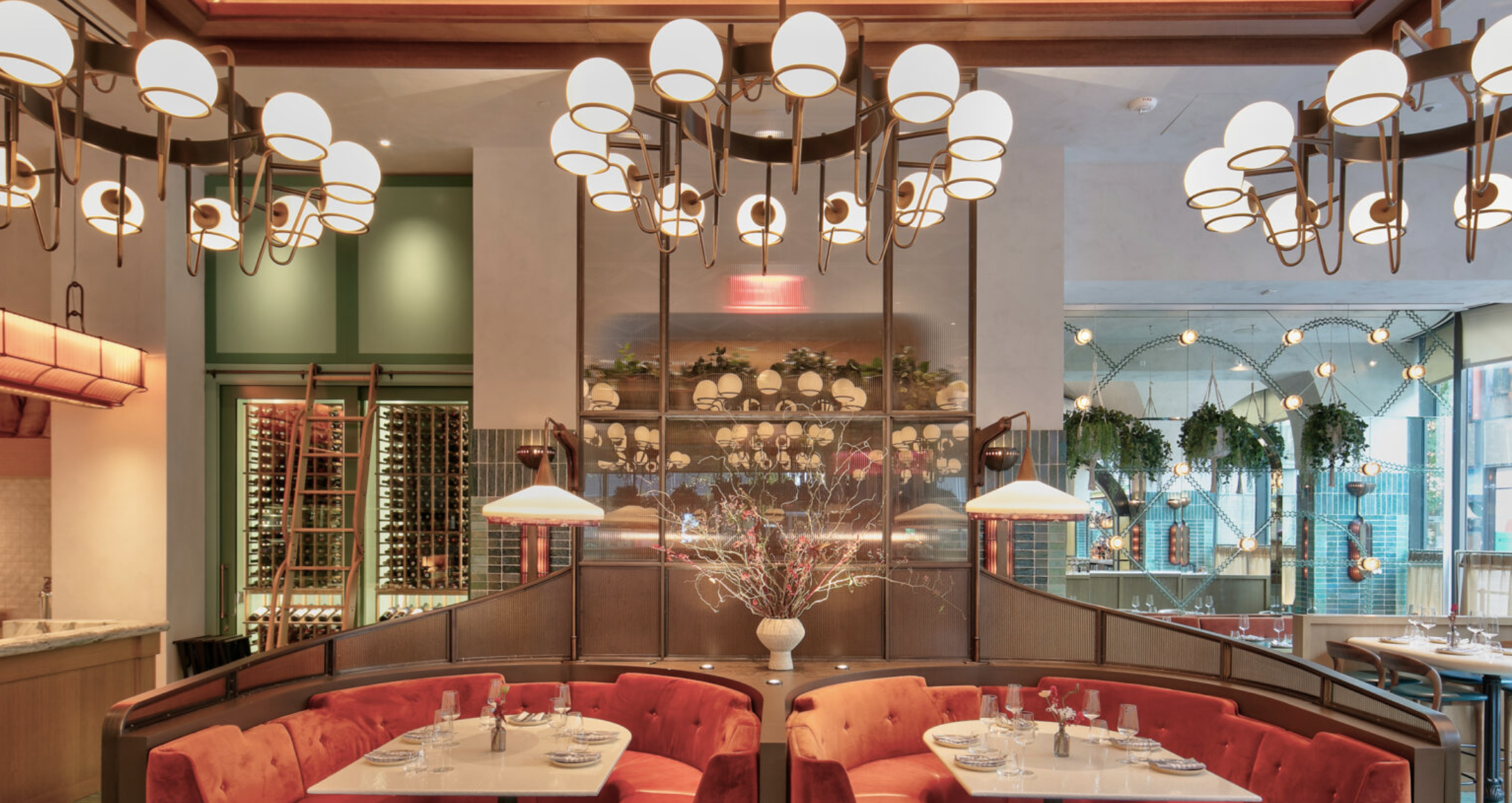 Hotel highlights: Anyone who's ever stayed in a New York City hotel knows that finding peace and quiet is as rare as the downtown E train arriving when you need it. Yet, at Pendry Manhattan West, silence is an exclusive amenity. A full night's sleep, devoid of fire engines and car alarms, will ensure you are ready and refreshed for an action-packed day.
Other hotel highlights include Zou Zou, the eclectic Eastern Mediterranean restaurant by Executive Chef Juliana Latif, and Bar Pendry—the hotel's speakeasy. And get excited for the soon-to-be-opened rooftop whiskey bar for a nightcap. At Pendry Manhattan West, there are ample places to imbibe.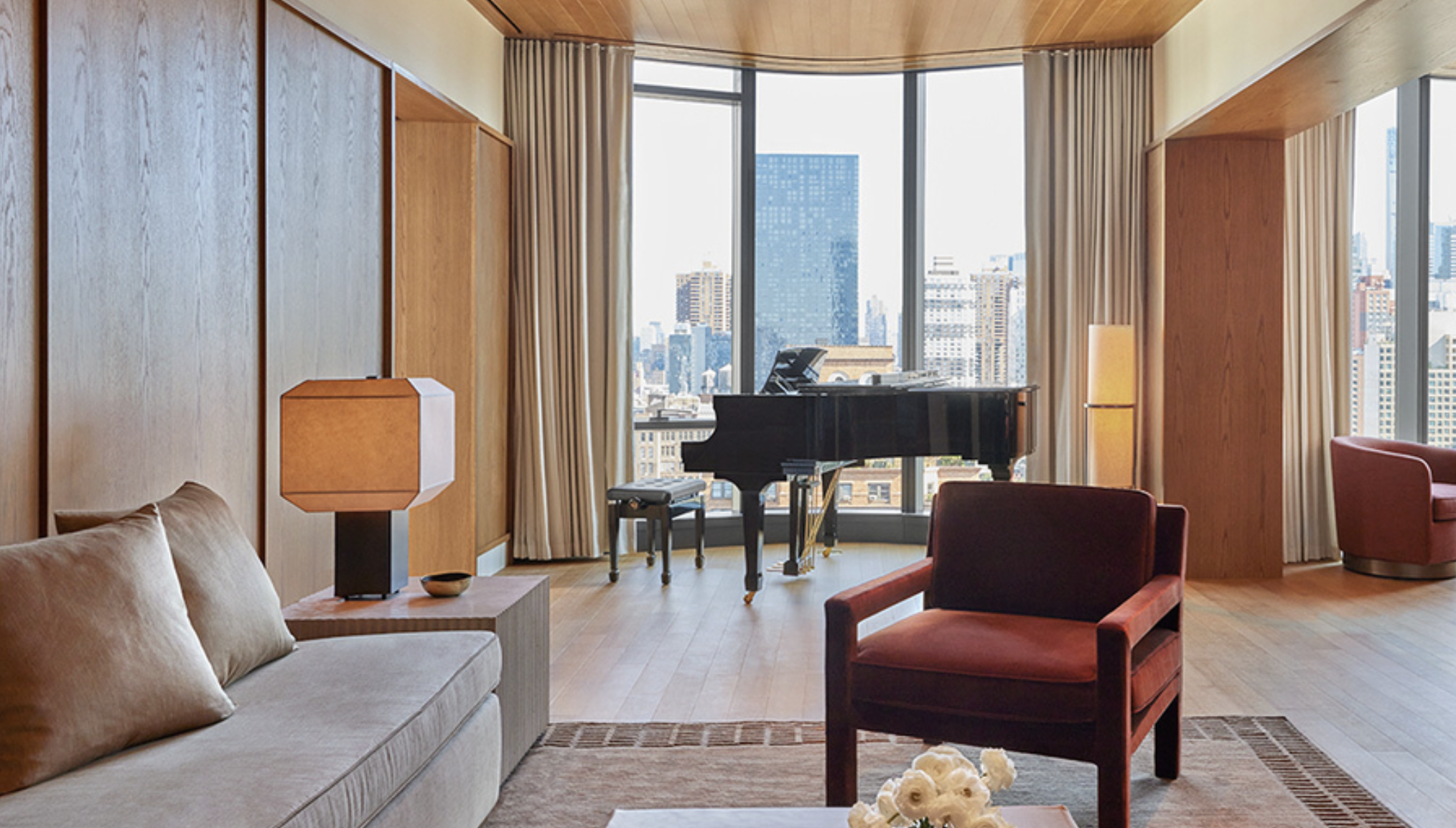 My favorite room: Want to go big or go home, NYC-style? There may be no better room in Manhattan than the Pendry Suite. The suite has a corner location, two bedrooms with floor-to-ceiling windows, a view-facing standalone bathtub, an oversized living space, and (wait for it) a baby grand piano. All this in a gorgeous LA-meets-NY-inspired space with cushy velvet sofas, luxury bed linens and plush duvets.
Sagamore Pendry Baltimore
Where is it? Sagamore Pendry Baltimore is located in one of the most interesting and historic neighborhoods in the city—Fells Point. Once a bustling ship-building port, the neighborhood's revitalization now includes hip restaurants, vinyl record shops and tiny oyster bars that dot the cobbled streets. Sagamore Pendry Baltimore took over famed Recreation Pier with its 128 rooms and suites, many of which overlook the scenic inner harbor.
Why go to Baltimore? Baltimore is having a moment. Not only is it a great destination for couples seeking live music at gastro-pubs and taverns, it appeals to families as well. Sights like the Edgar Allan Poe House and Museum, the National Aquarium, and the Maryland Science Center will keep families entertained for days. Sagamore Pendry Baltimore is a wonderful base for all the city has to offer.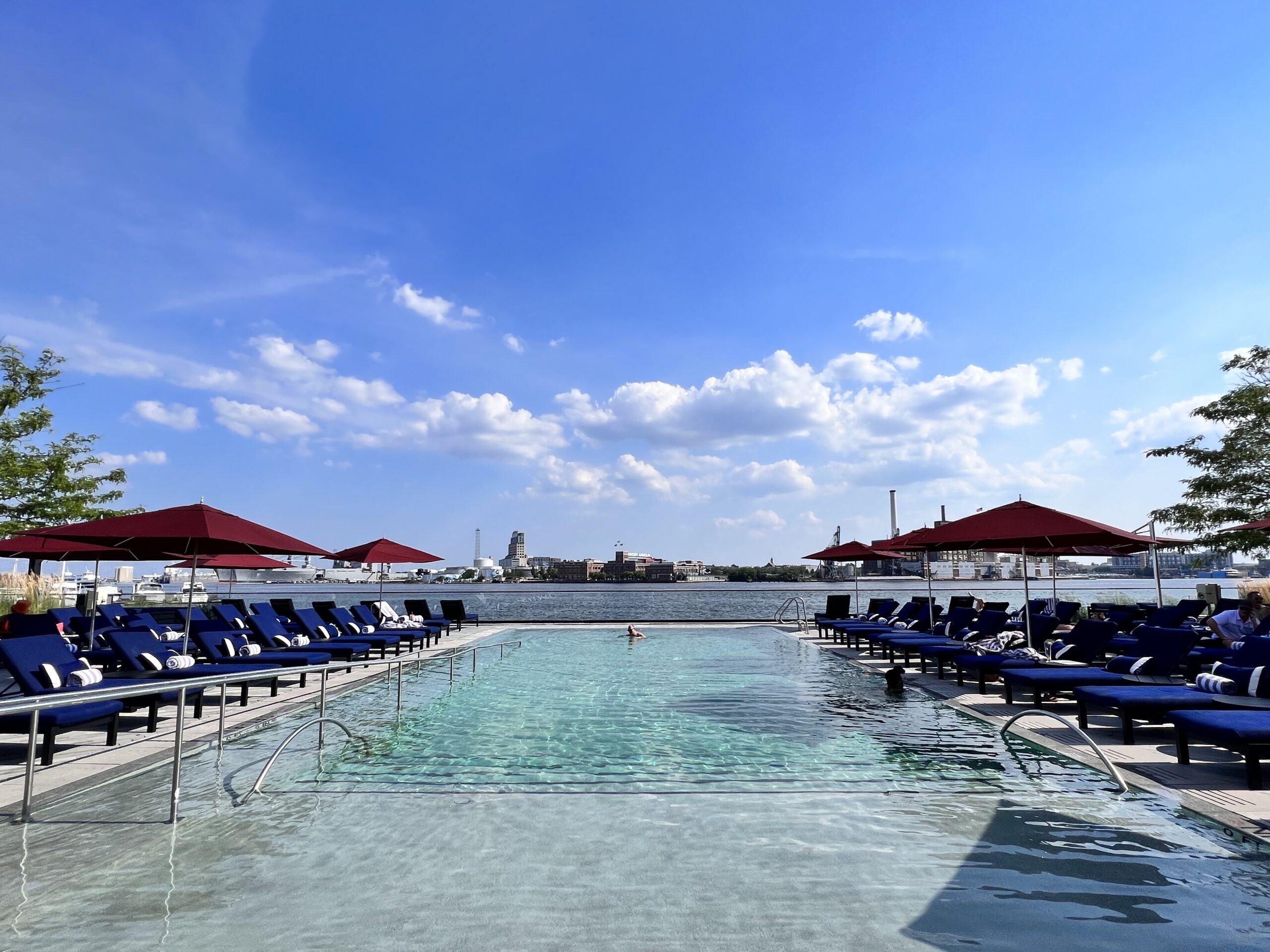 Hotel highlights: One of Sagamore Pendry Baltimore's best assets is its nod to the history of Fells Point. "The Star-Spangled Banner" was penned by Francis Scott Key within singing distance of the hotel. Metal latticework art of the lyrics welcomes guests upon entry. Local artists' work adorns the walls, a larger-than-life Botero sculpture looms over the atrium, and a World War 2 canon unearthed during excavation is on display beneath the hotel's hidden whiskey bar. All this, and an infinity-edged pool that hovers over the industrial harbor is more than enough inspiration to make Baltimore your next city escape.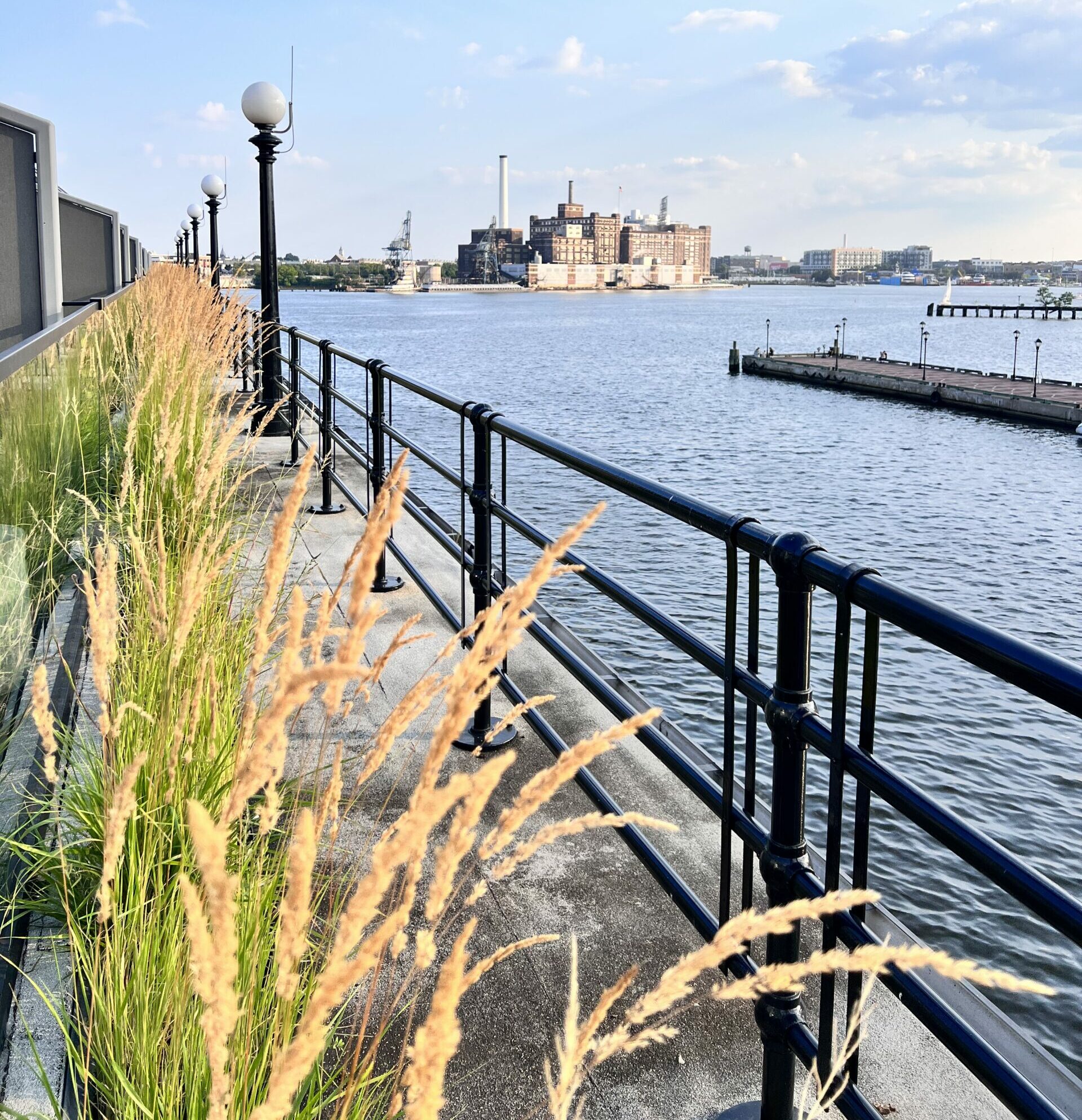 My favorite rooms: The sophisticated, refined, and understated rooms at Sagamore Pendry Baltimore either face the inner courtyard or surround the pier. Enormous marbled bathrooms with standalone tubs feel spa-like. The third-floor suites have large balconies that overlook the water so guests can watch the setting sun turn the sky into a kaleidoscope of color before heading to dinner.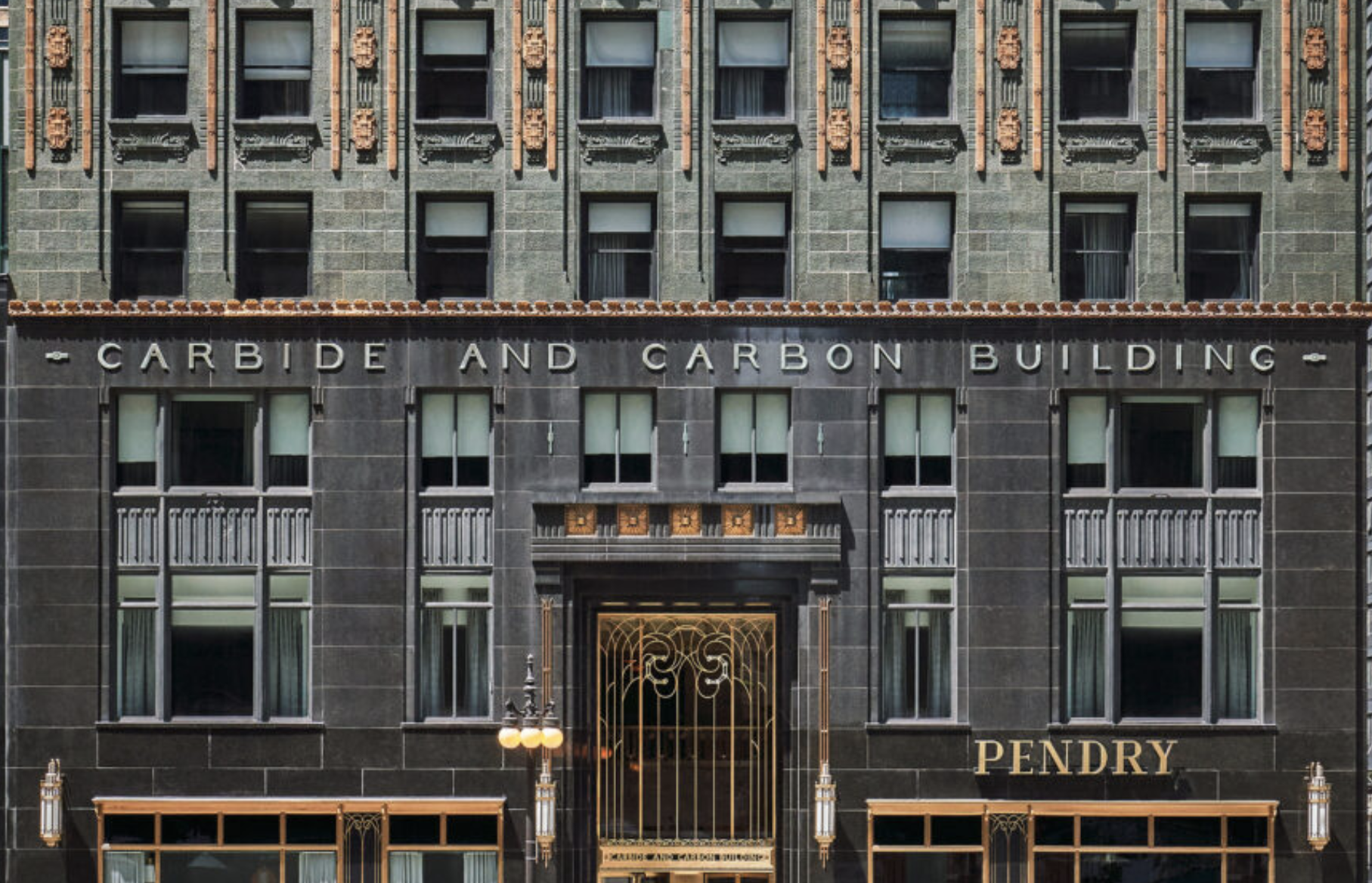 Pendry Chicago
Where is it? Pendry Chicago takes over Michigan Avenue's 1929 Art Deco Carbide and Carbon Building—an architectural icon in the Windy City. It sits at the intersection of some of Chicago's best sights. The shape of the building is said to resemble a champagne bottle, and I can't think of a more celebratory spot in the whole of Chicago. The addition of Pendry Chicago, its brasserie, and rooftop bar, has ignited a spark to the Loop neighborhood—one that is slowly evolving from a business district to a residential one.
Why go to Chicago? Chicago's motto is "Urbs in Horto" which translates to "City in a Garden'. If endless green spaces, Michelin-starred restaurants, local breweries, towering skyscrapers and sculpture gardens are your idea of a perfect city getaway, then look no further than our country's beating heart—Chicago.
Hotel highlights: Pendry Chicago is large by Pendry standards. With 364 rooms and suites that pay homage to its Art Deco heritage, it is also one of the most opulent. Oyster Tuesday, Wine Wednesday, and Bottomless Bubbles on Thursday—there is no day of the week that the Pendry Chicago doesn't offer guests something above and beyond.
Take the elevator to the 24th floor for a light meal and a cocktail in an al fresco rooftop space above the city. With indoor and outdoor seating, Chateau Carbide, a Cote D'Azur-inspired space offers skyline views to be admired for all seasons.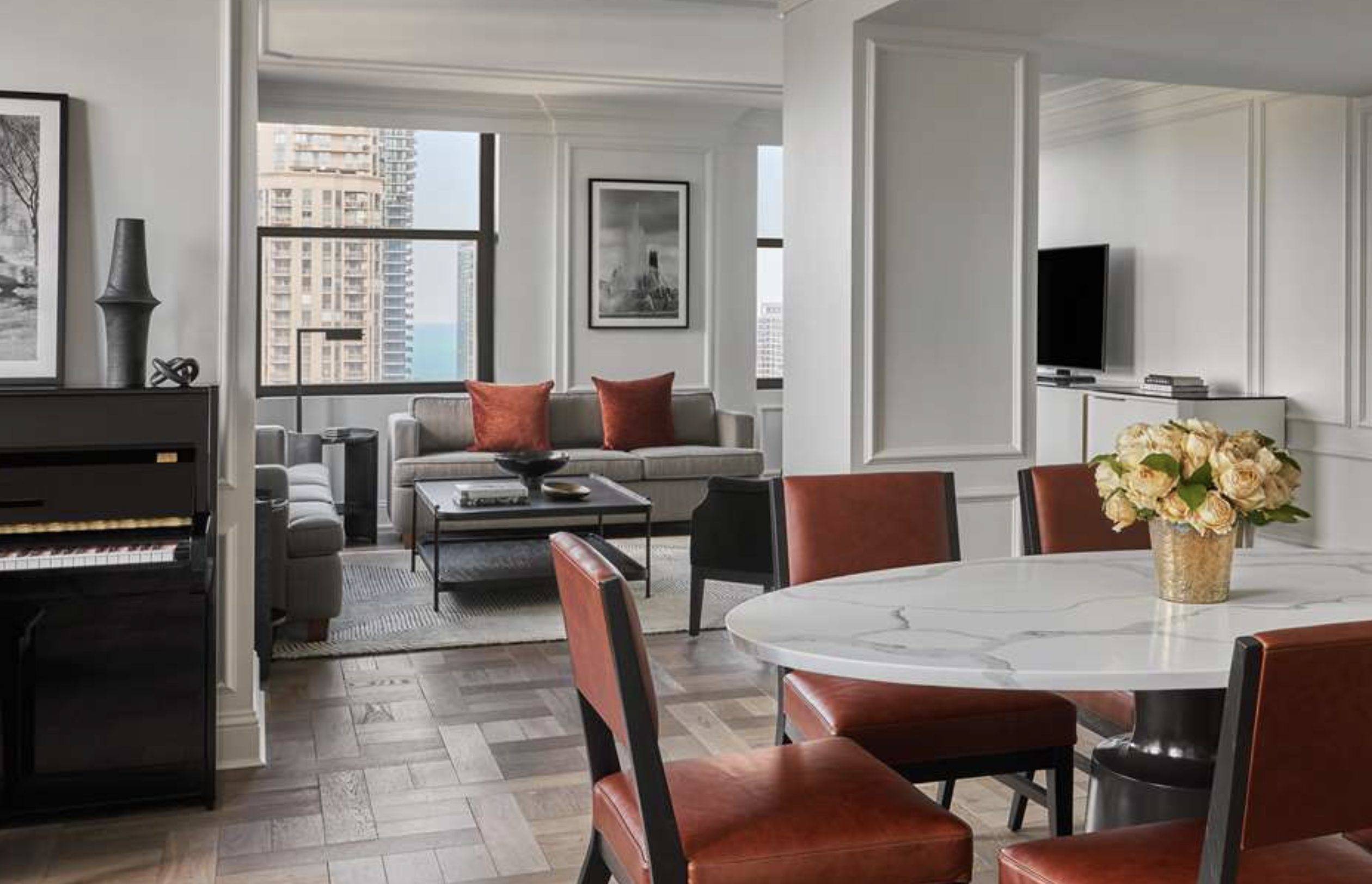 My favorite rooms: Two Pendry Suites with panoramic city views reside on the two top floors of the hotel. Embracing its Art Deco roots, the suites have stark white recessed paneled walls, crown moldings, crisp white linens, contrasting black headboards and marble accents. The suites also have a large sitting area, a dining table that seats up to six and deep soaking tubs.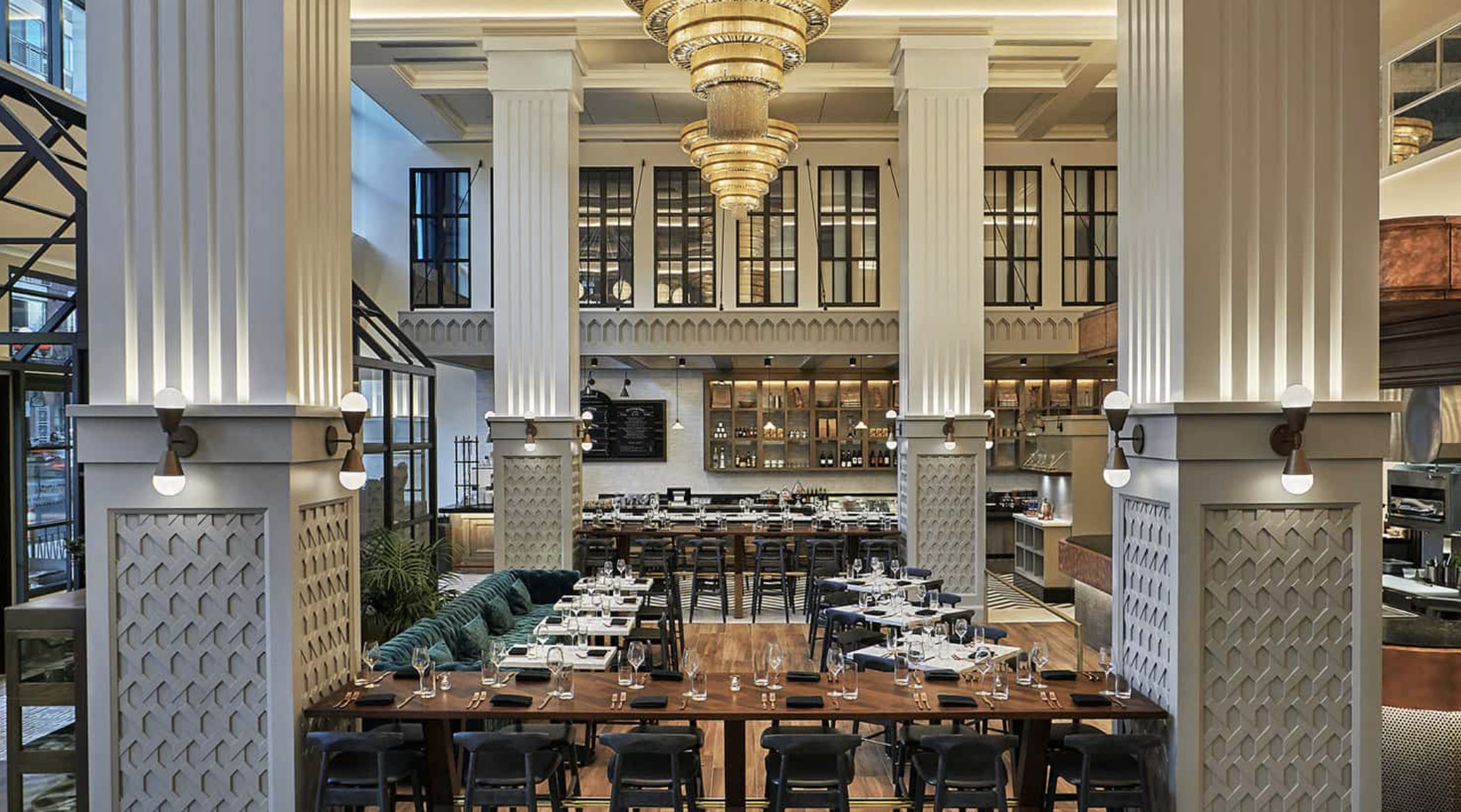 Pendry San Diego
Where is it? Pendry San Diego is in the city's Gaslamp Quarter, an energy-filled neighborhood known for clubs, bars, music, theater, comedy and buzzy nightlife. Its downtown location, paired with its modern sensibilities and style, makes Pendry San Diego the ideal place from which to explore this urban coastal southern California city.
Why go to San Diego? San Diego is known for having nearly perfect weather, racking up well over 250 days of sunshine a year. If that's not enough reason to head west, I don't know what is. With San Diego's sandy beaches, mountains, world-famous zoo and aquarium, you'll wonder why everyone isn't packing their bags for California. Just don't forget the sunscreen.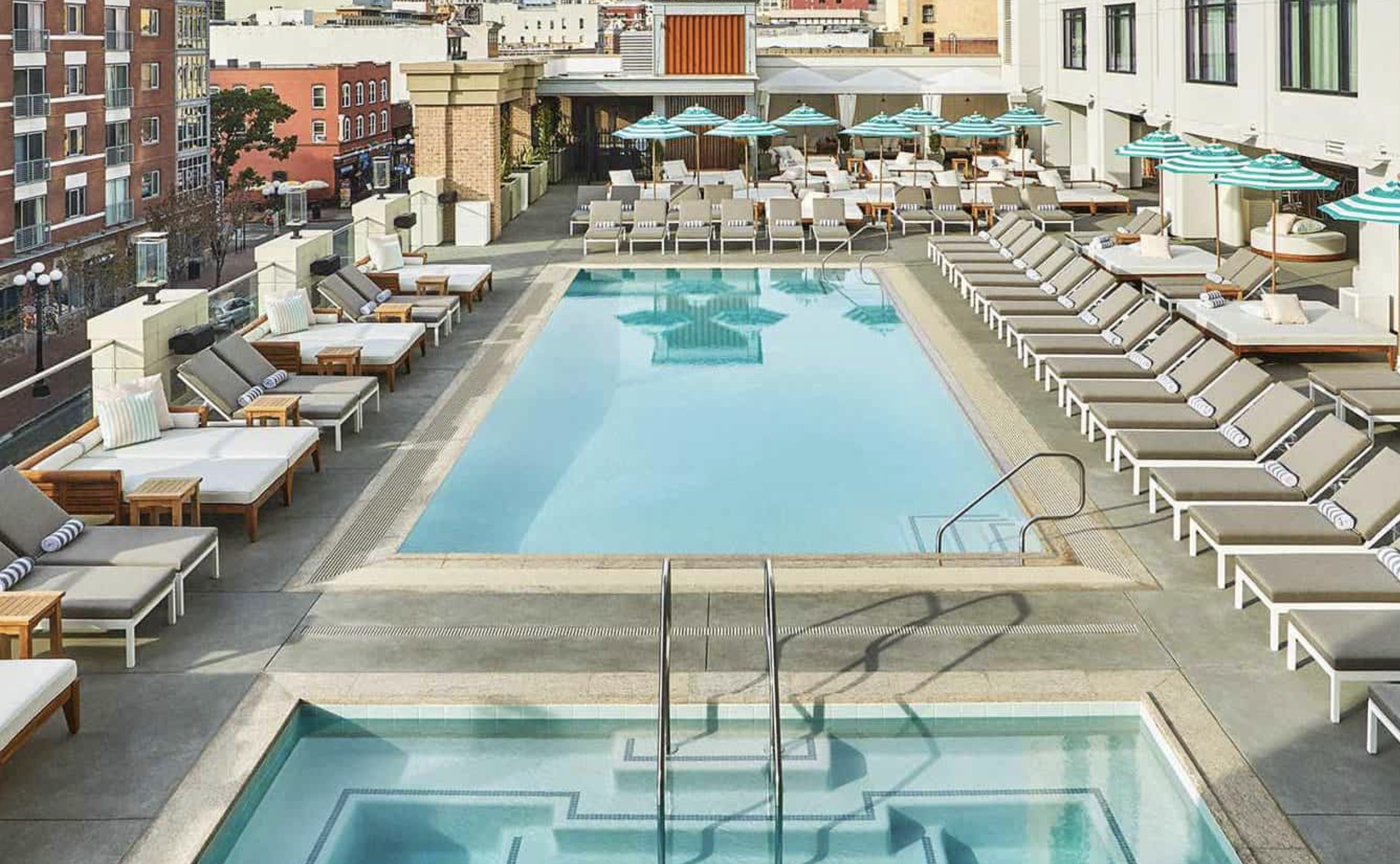 Hotel highlights: Pendry San Diego is within walking distance of numerous San Diego sights, including the Padres' Petco Park, one of America's most beautiful ballparks. The hotel has a show stopping rooftop pool and cabanas from which to soak up all those sunshine-filled days. Take your pick of six on-site restaurants and bars, and take full advantage of the ever-Instagrammable Moët & Chandon champagne vending machine—the perfect way to toast the city.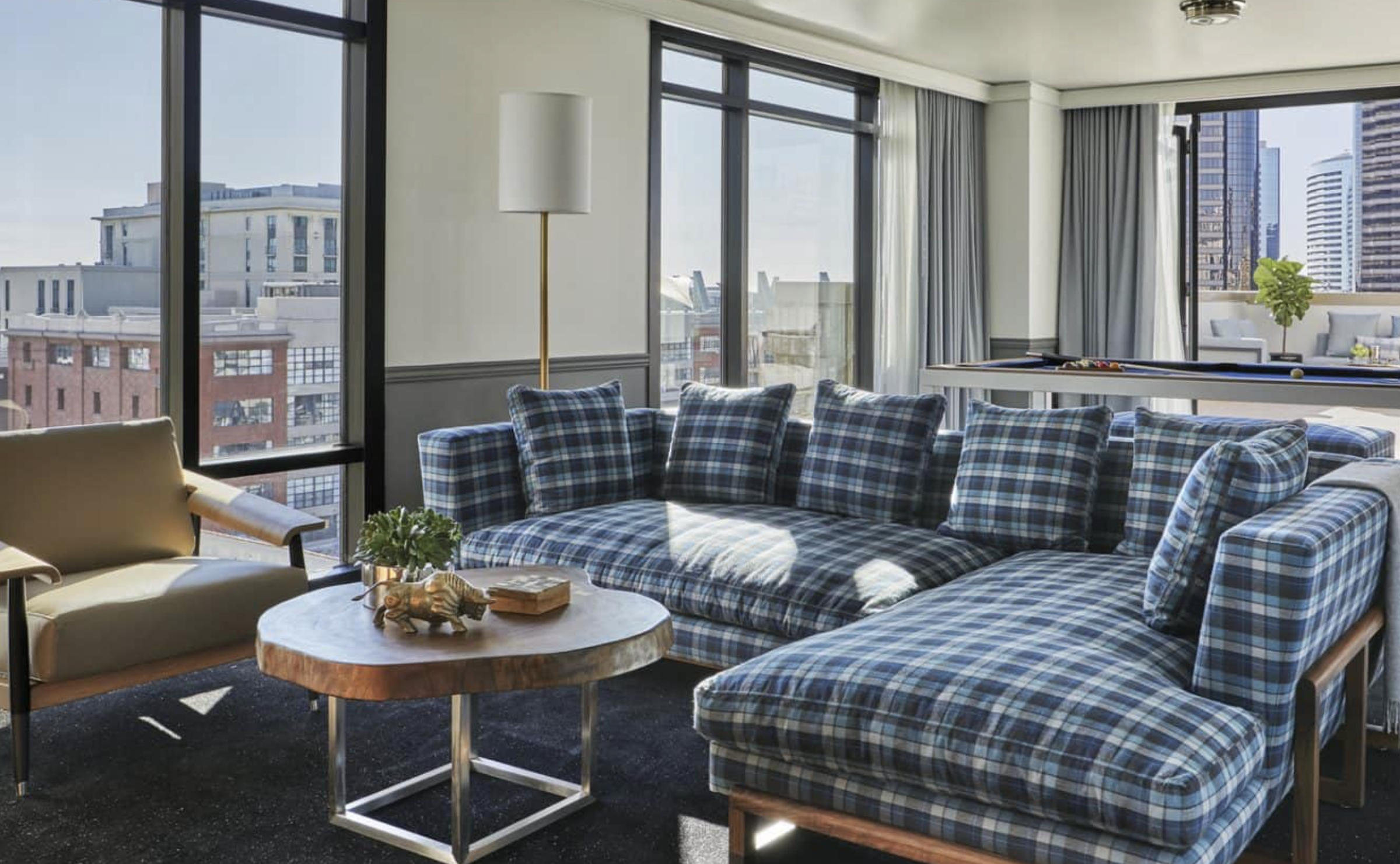 My favorite room: The Pendry Suite is the hotel's most magnificent and boasts 180-degree views of the Gaslamp Quarter and San Diego skyline. At nearly 1500 square feet, it also has a dining area, wet bar, and custom bath products by NYC's MiN. The warm, wooded accents and blue tartan fabric coverings create a cozy and intimate feeling that belies the size of the suite. Overall, the decor is flawless coastal California in style.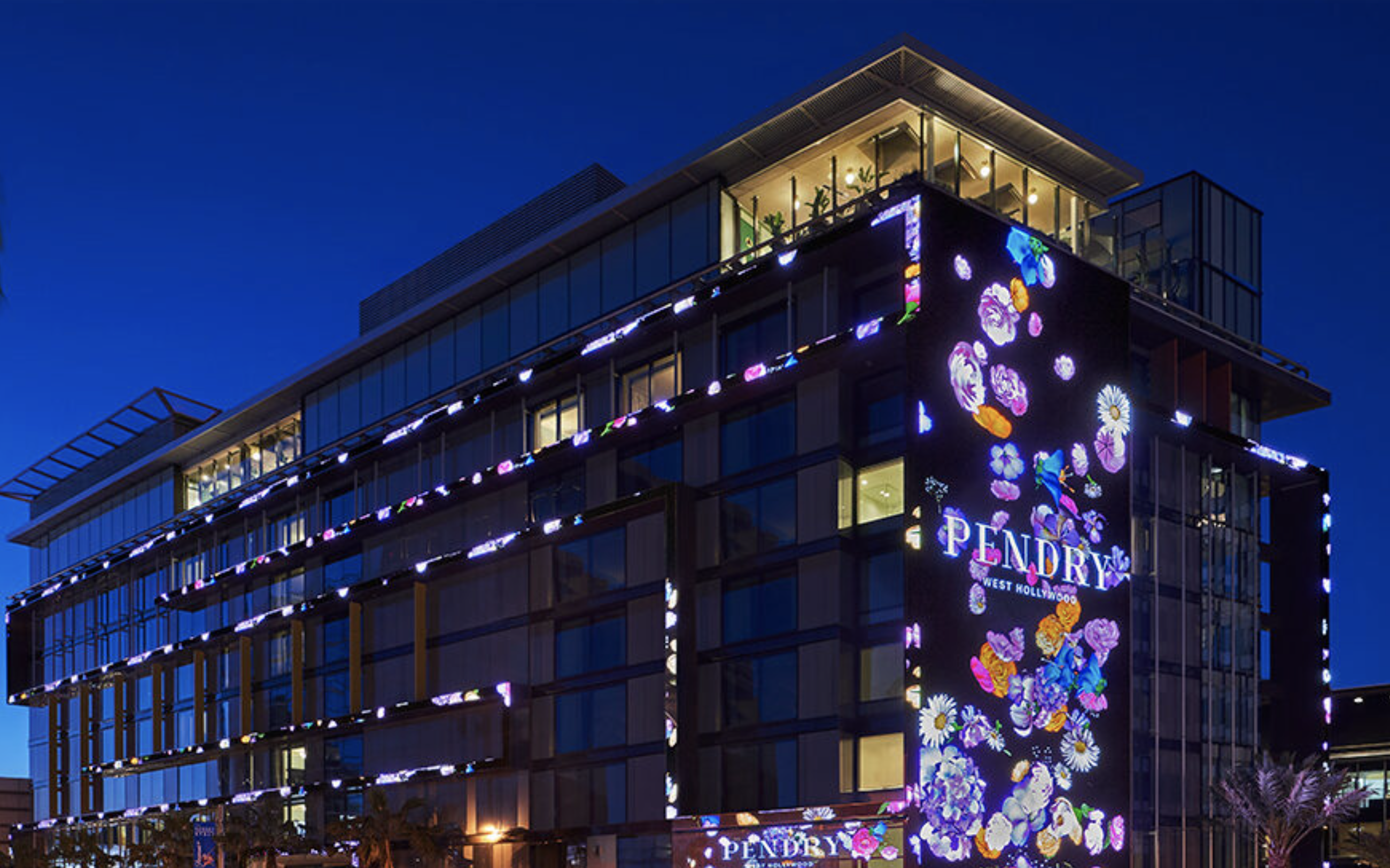 Pendry West Hollywood
Where is it? Pendry West Hollywood is set on Sunset Boulevard—one of the most iconic streets in the country. West Hollywood is a neighborhood known for being at the crossroads of music, architecture, fashion, and culture. It's also famous for its LGBT entertainment venues, galleries, and artists. The ground on which Pendry West Hollywood sits once belonged to the famed House of Blues. Keeping the history of the building in mind (a Pendry hallmark) the hotel opened The Sun Rose, an intimate 100-seat, live music venue that pays homage to its musical past.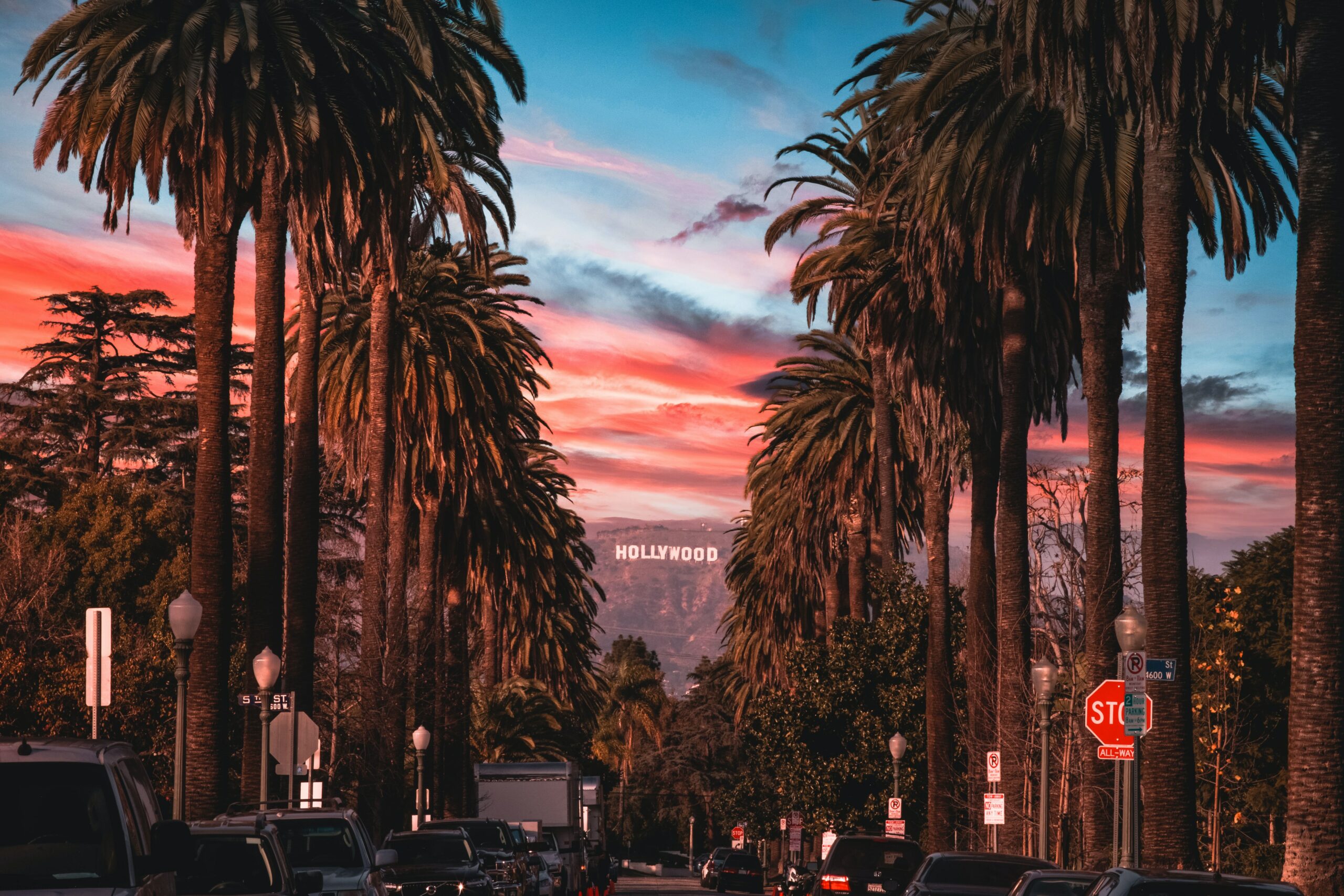 Why go to Los Angeles? It's common knowledge that LA is the entertainment capital of the world—a city with no shortage of festivals, fairs, galleries, museums and miles of sunny coastline. Diverse and multi-faceted, the city comes alive at night, with cuisine that touches upon every culture, cocktail bars to take the edge off the heat, and comedy clubs in which to let laughter rule.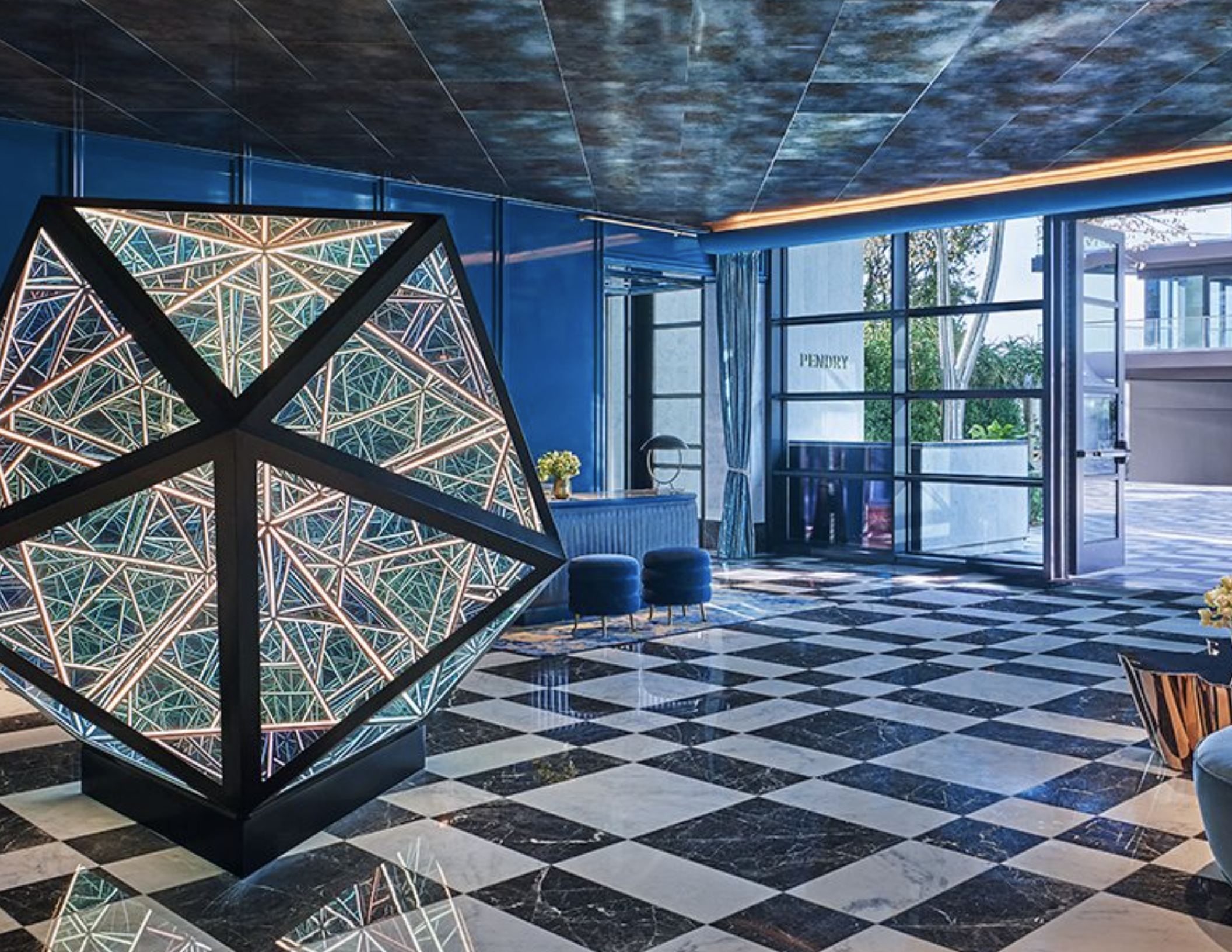 Hotel highlights: With a psychedelic art installation by Anthony James, flowers by celebrity florist, Eric Buterbaugh, and two Wolfgang Puck restaurants—Pendry West Hollywood is a veritable 'Who's Who' list for creativity and hospitality. There's also a private two-lane bowling alley with dedicated food and drink so that guests can simply roll up to bed after a few friendly games.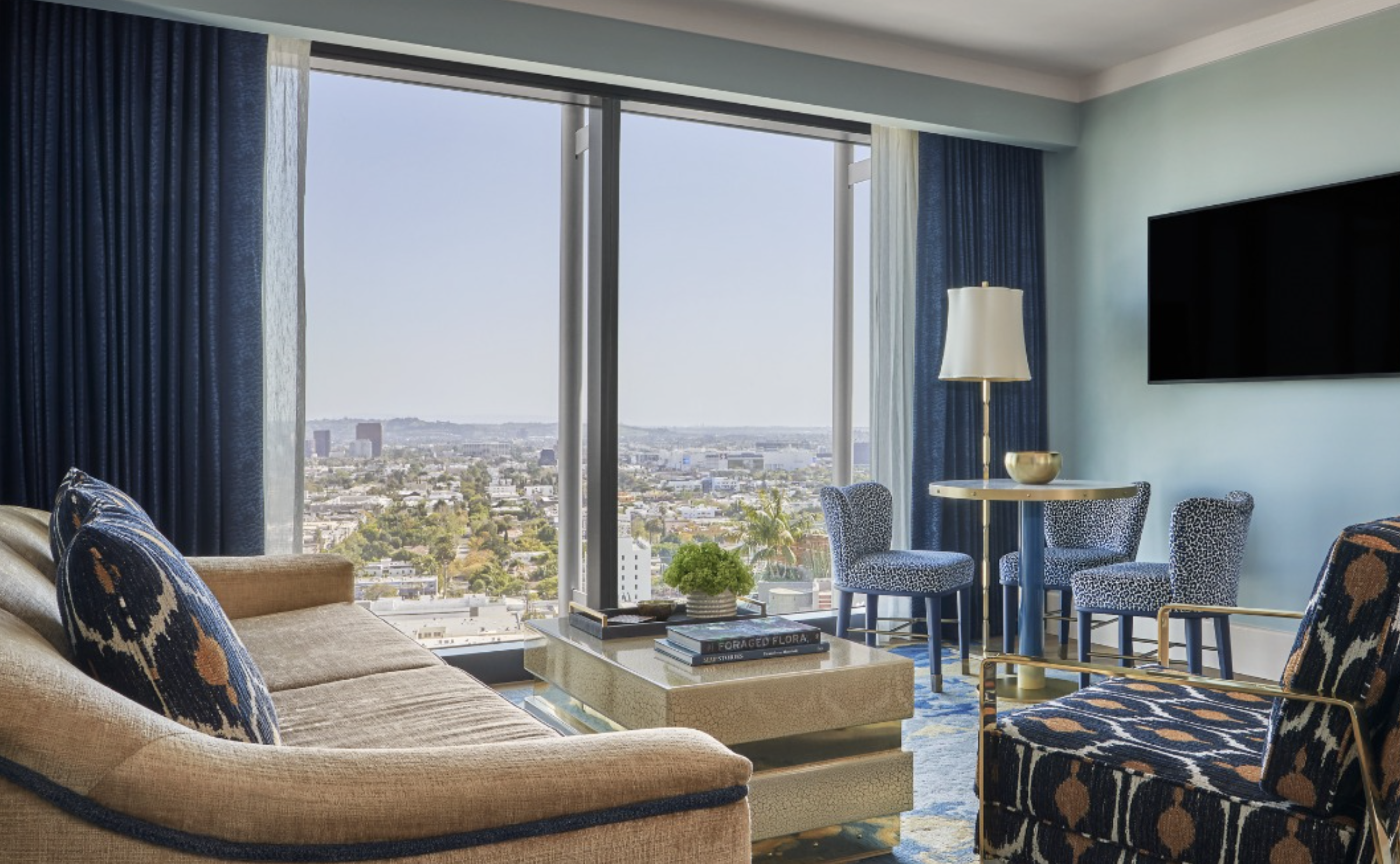 My favorite room: Bold, bright colors and patterns are found throughout the Art Deco-inspired hotel. Its 149 rooms and suites have all the luxurious amenities you'd expect including deep soaking tubs with city views.
Contemporary, sophisticated, and with a touch of whimsy, the Pendry Suite is once again the room to book. This 10th floor suite has sweeping views of downtown LA and the Wilshire Corridor—a magical spot from which to discover one of our country's most vibrant cities.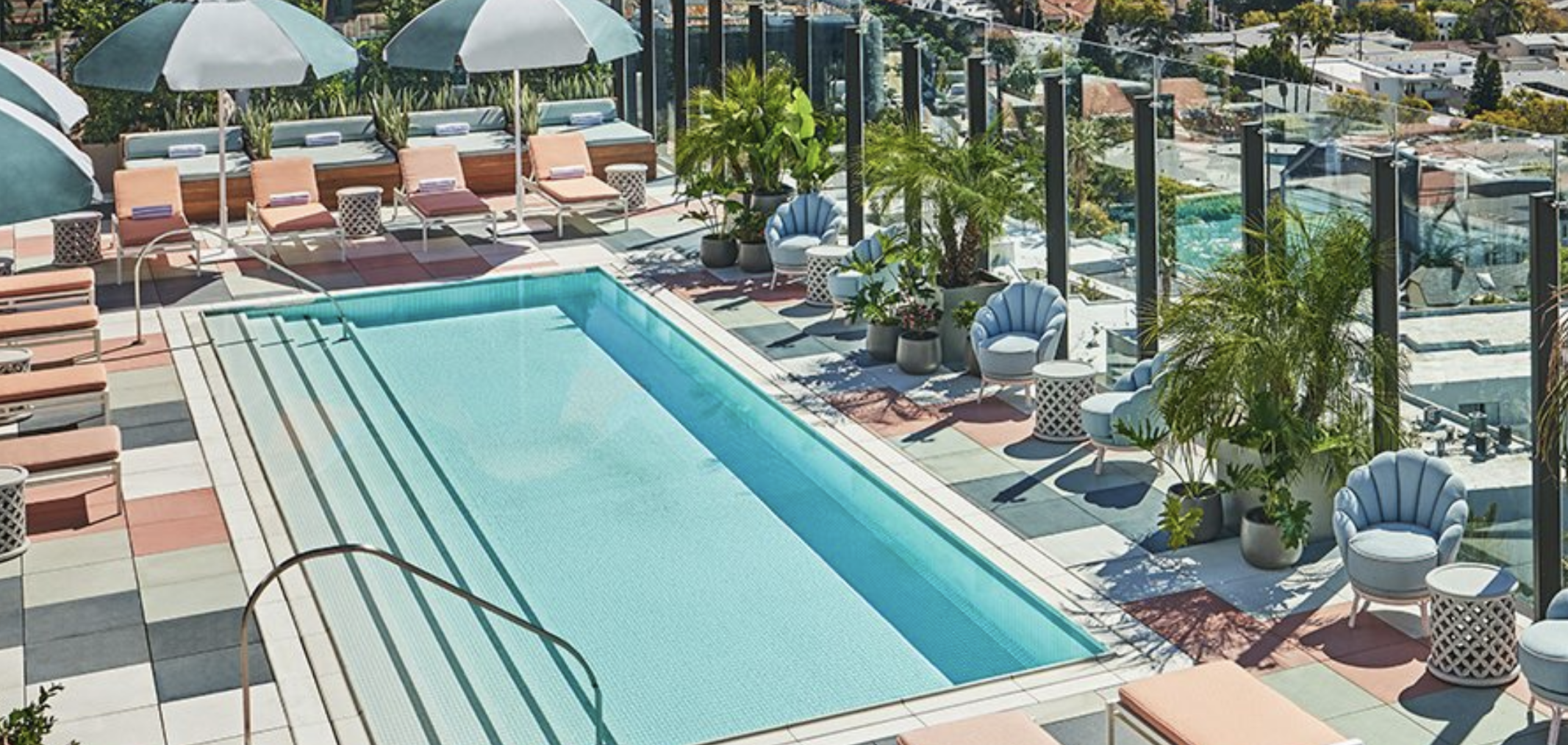 Which Pendry Hotel Is for You?
From coast to coast, there's likely a Pendry hotel located in a city you have your eye on. Other prime locations include Park City, Utah, Tampa, Florida, and Washington, DC. No doubt you'll be hard-pressed to choose where to go first as each hotel fully harnesses the energy of the city in which it resides. Their service and hospitality programs are setting new standards. Other brands are scrambling to keep up. The only problem you'll face when staying at a Pendry is how you can justify leaving the hotel at all. Good luck!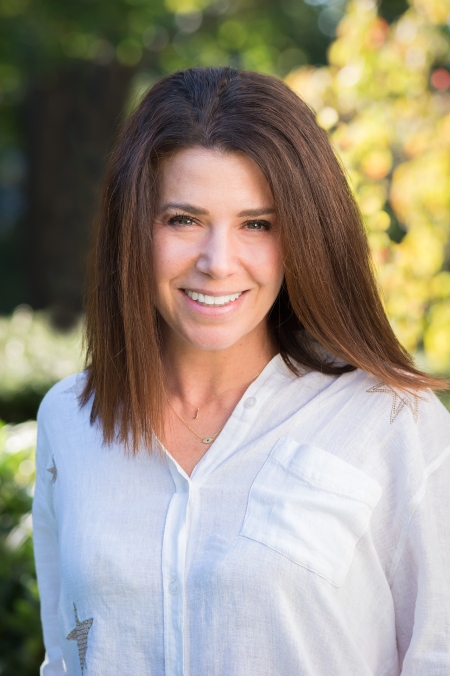 Jamie Edwards is an avid traveler, travel writer, and photographer. She launched I am Lost and Found, her adventure/luxury travel website after 25 years of living and traveling around the globe. Jamie's goal is simple, to inspire travel.
CIRE Travel is a full-service travel agency headquartered in New York, NY. Our expert corporate travel planners, honeymoon travel agents, and luxury travel planners support clients across the country and around the world.
---
Where in the World Do You Want to Go?
Inspired to plan your next weekend getaway, vacation or trip of a lifetime? See that form below? That's all it takes to begin your next epic travel story.