Winter is coming. No, really. The cold weather is imminent along with shorter days and longer cold, dark nights. There's no better time than the present to start planning a warm-weather vacation. Or perhaps to just bookmark some links so you can virtually escape and live vicariously through other travelers. Either way, our contributing writer, Jamie Edwards of I Am Lost and Found, has some great ideas and inspiration for the perfect Caribbean adventure, be it actual or virtual.
******
Looking towards the sea is a therapeutic experience for me. I appreciate those restorative ocean view therapy sessions more now, not having had access to them for some time. I rest assured that there will be a time to go back. But, for the time being, I will be content to reminisce about beach trips of the past and continue to dream up ones for the future.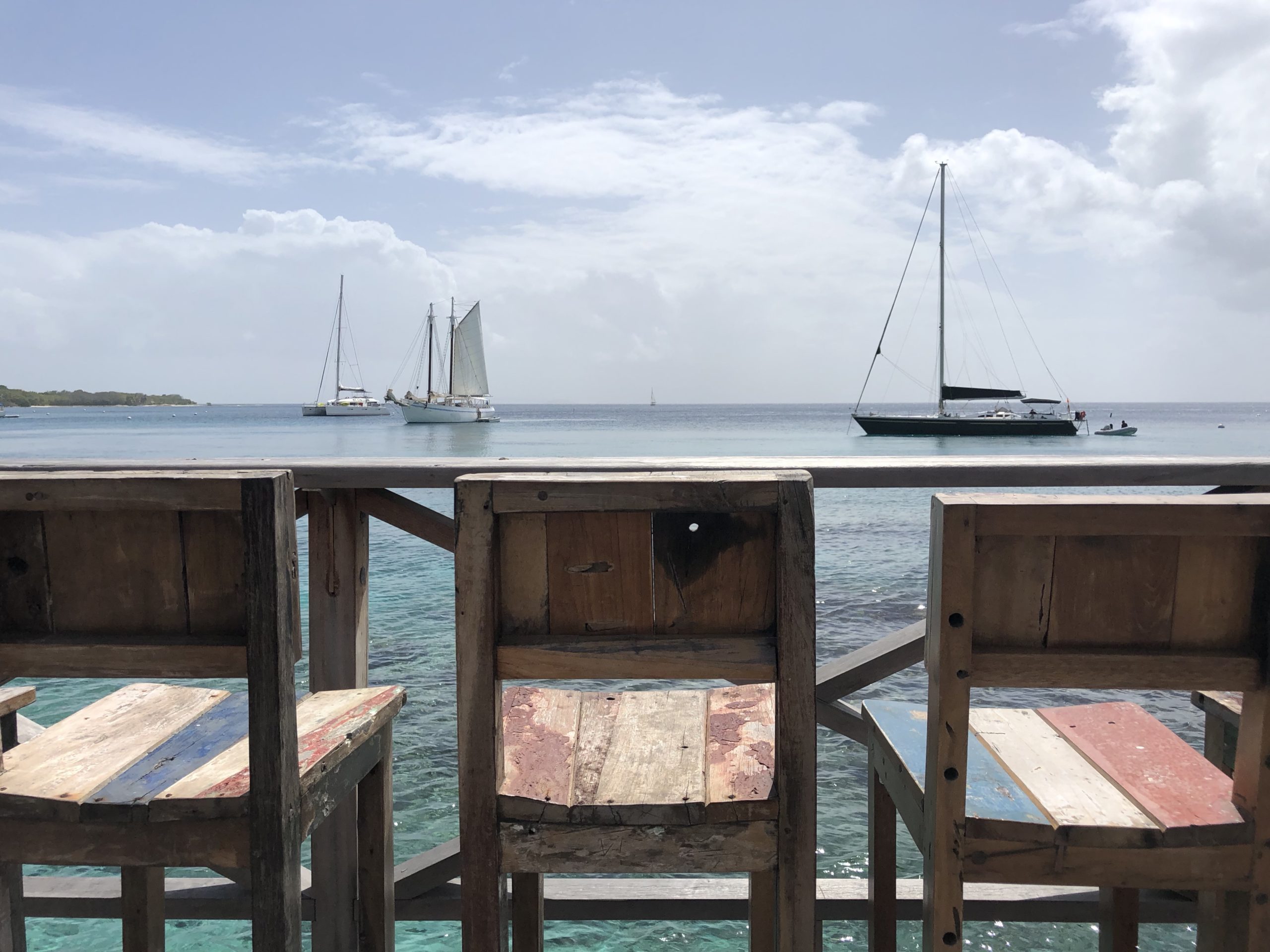 When it comes to judging beach bars, suffice it to say that I have a few baseline requirements: an atmosphere that pairs naturally with the island's culture, for one. A combination of tourists and locals, to add credibility, authenticity, and a festive air. Food and beverage quality that is at a culinary level that matches the establishment's vibe. Lastly, that special 'something' that makes me yearn to go back, months after the holiday has ended.
I've been lucky enough to visit most of the following Caribbean spots more than once. That qualifies me as an expert. An expert in my own personal experiences, that is. Intrigued? Read on to find inspiration for your next Caribbean adventure.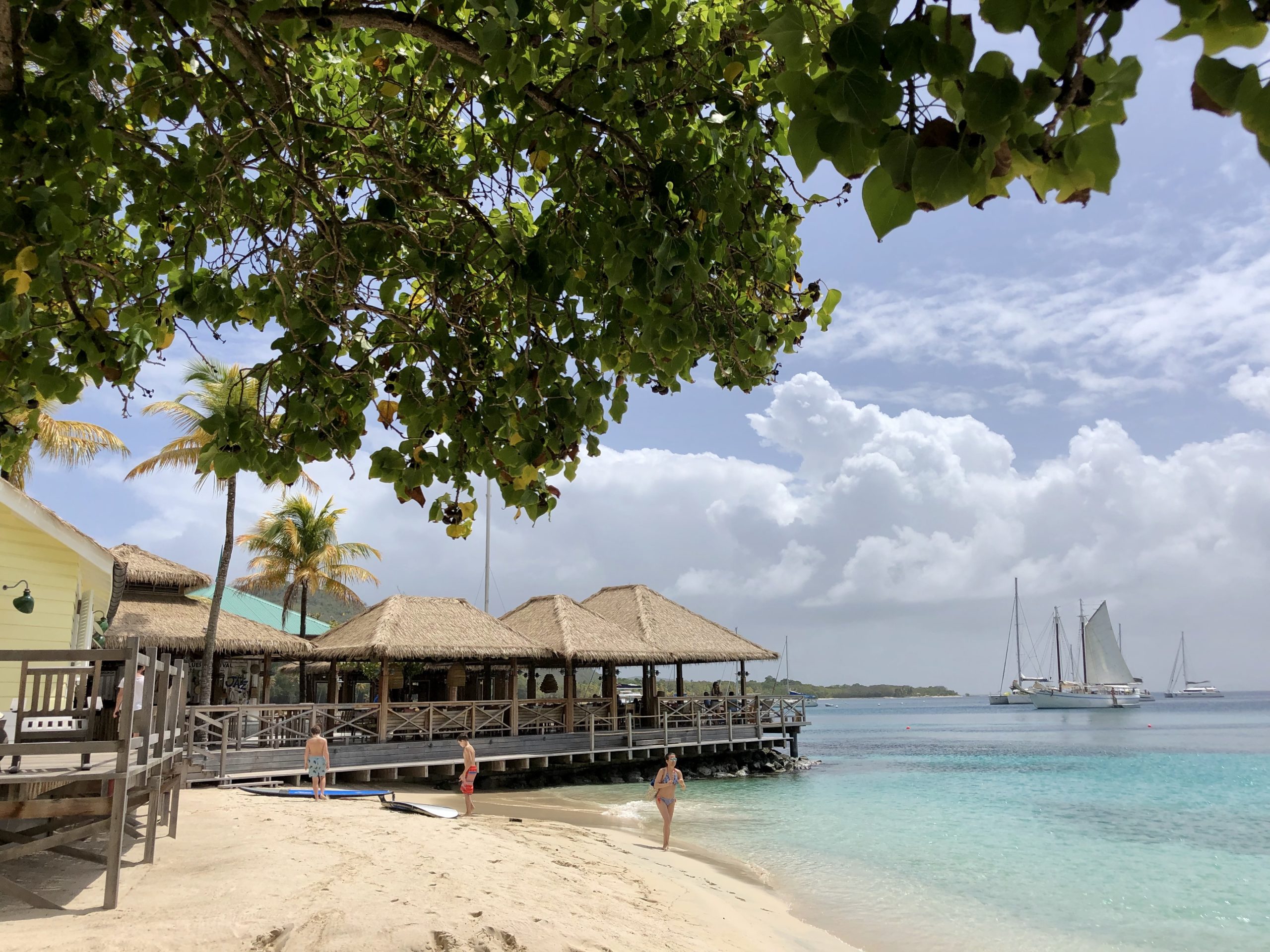 Basil's Bar, Mustique
Leisurely perched on the edge of Britannia Bay in Mustique, Basil's attempts to camouflage the undercover glamour of the island. Mustique has only two hotels and two restaurants. Its beauty is hiding in plain sight among this breezy cluster of the Windward Islands.
Basil's woos villa owners, villa renters, reclusive celebrities, and yachties alike, with a combination of casual food, a chill, open, atmosphere, and spectacular sea views. I'll admit though, that I have little memory of the food, because the setting was the absolute star. Mega-yachts and sublime sailboats were anchored in the distance, which created another layer to the ever swoon-worthy seascape.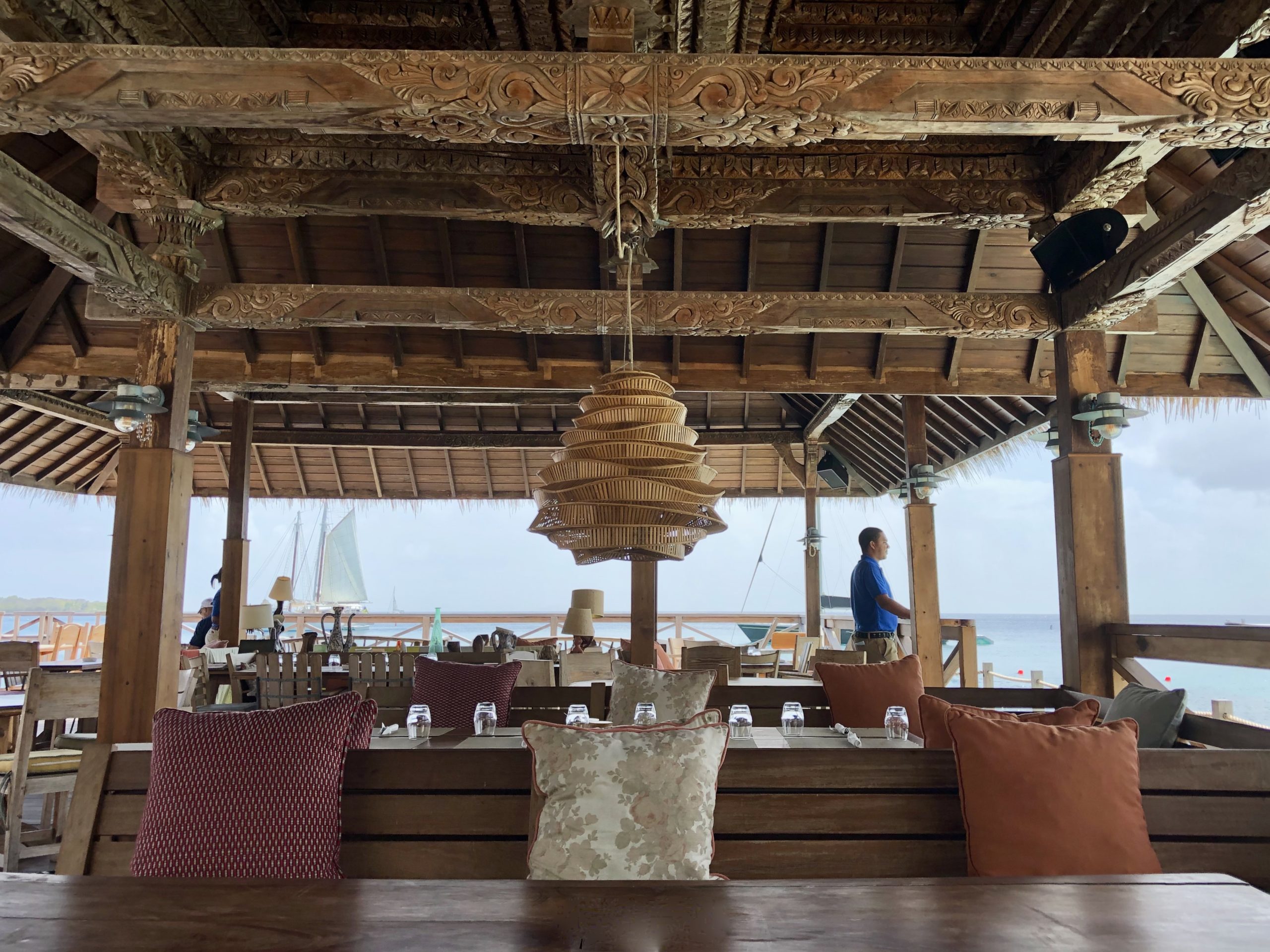 A series of dining spaces connected by thatched roofs was a welcome invitation to settle in with Basil's signature drink, Hurricane David. Famous for its Wednesday night 'Jump Up', and Sunday night 'Sunset Jazz', there is no bad time to kick off your shoes at Basil's. On this ultimately understated island, time seems to stand happily still.
Anegada, Cow Wreck Beach Bar
About seventeen nautical miles from Virgin Gorda, and on what feels like the edge of the world, sits the pancake flat island of Anegada. The name Anegada, means 'drowned island', and at only 28 feet tall at its highest elevation, it could not feel farther away from civilization. And that is exactly what makes it so enchanting.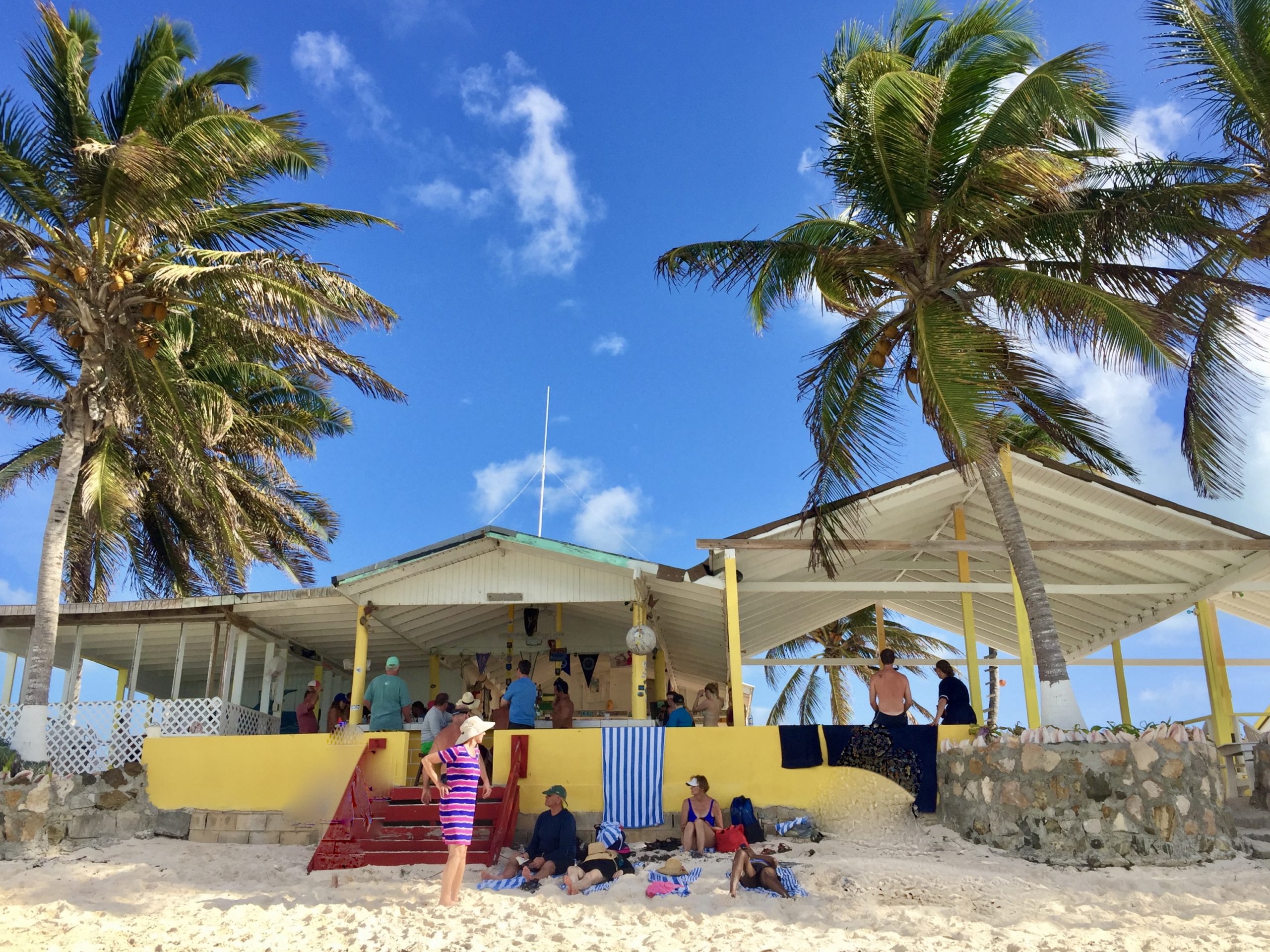 I was curious about the unusual name, Cow Wreck Beach. After a quick Google search, I discovered that in 1929, a 380 footlong steel freighter called The Rocus was heading from Trinidad to Baltimore. Its cargo was cow bones that would later be ground into fertilizer.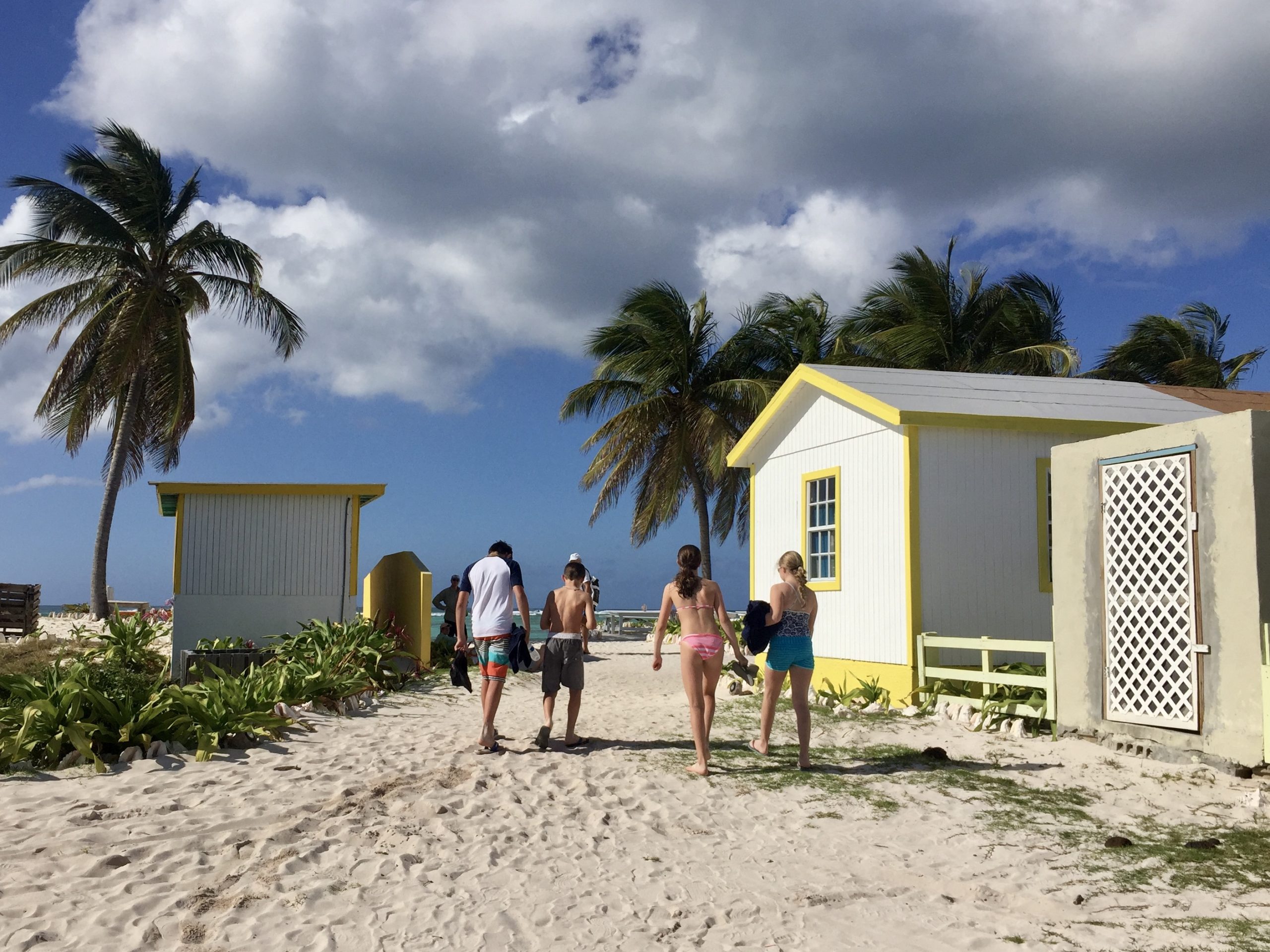 Unfortunately, The Rocus made an unplanned final stop when it collided with Anegada's treacherous Horseshoe Reef. Since the wreck, the ocean floor has remained eerily scattered with cow bones. As for the freighter, it is still lodged on its starboard side just beneath the water's surface and has barely budged in nearly 100 years.
Sea urchin shells, in all sizes, continuously wash up along the pristine shoreline— in every shade of white that the sun can bleach. The color of the sea looks as if filtered by Instagram. The bar shack is a lovely wreck in itself, with peeling paint, plastic chairs, and a no-frills decor. Divine in its inherent divey-ness.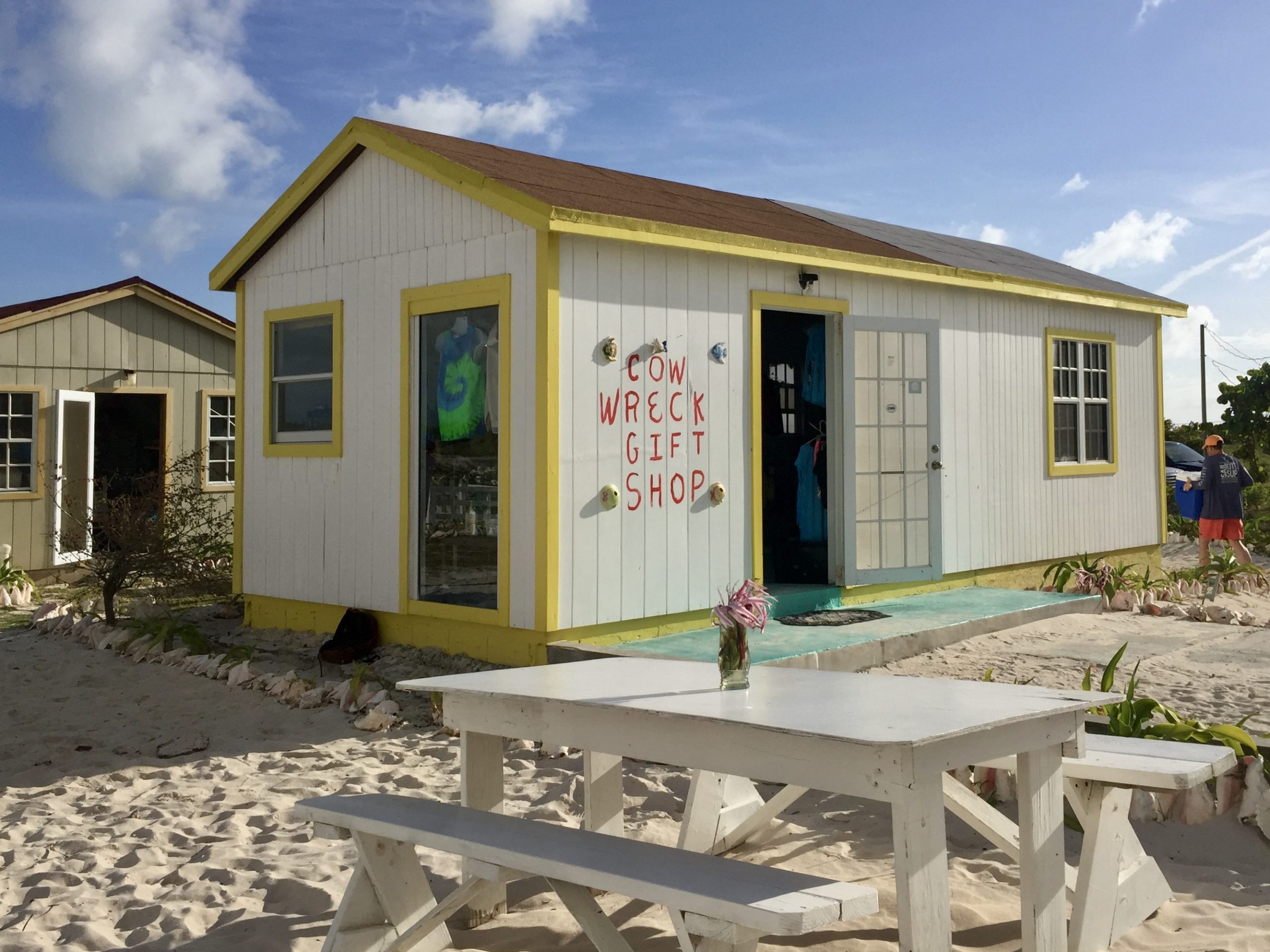 I often say that some of the most interesting places in the world are the hardest to find. Cow Wreck Beach—thank you for proving my point.
Catherine's Café, Antigua
To say Catherine's is comfortable in her own skin is an understatement. Open-air, plantation shuttered, sea-breezy Catherine's Café, on the island of Antigua, lazes about under warm, butter-yellow Veuve Cliquot umbrellas.



Barefoot, casual, Catherine's Café feels European, with naked toddlers running amok, their half-naked mums running after them. It boasts a French-inspired menu, and a well-thought-out wine list. Our effervescent bartender, Damien, kept us in good spirits, both literally and figuratively, throughout the day.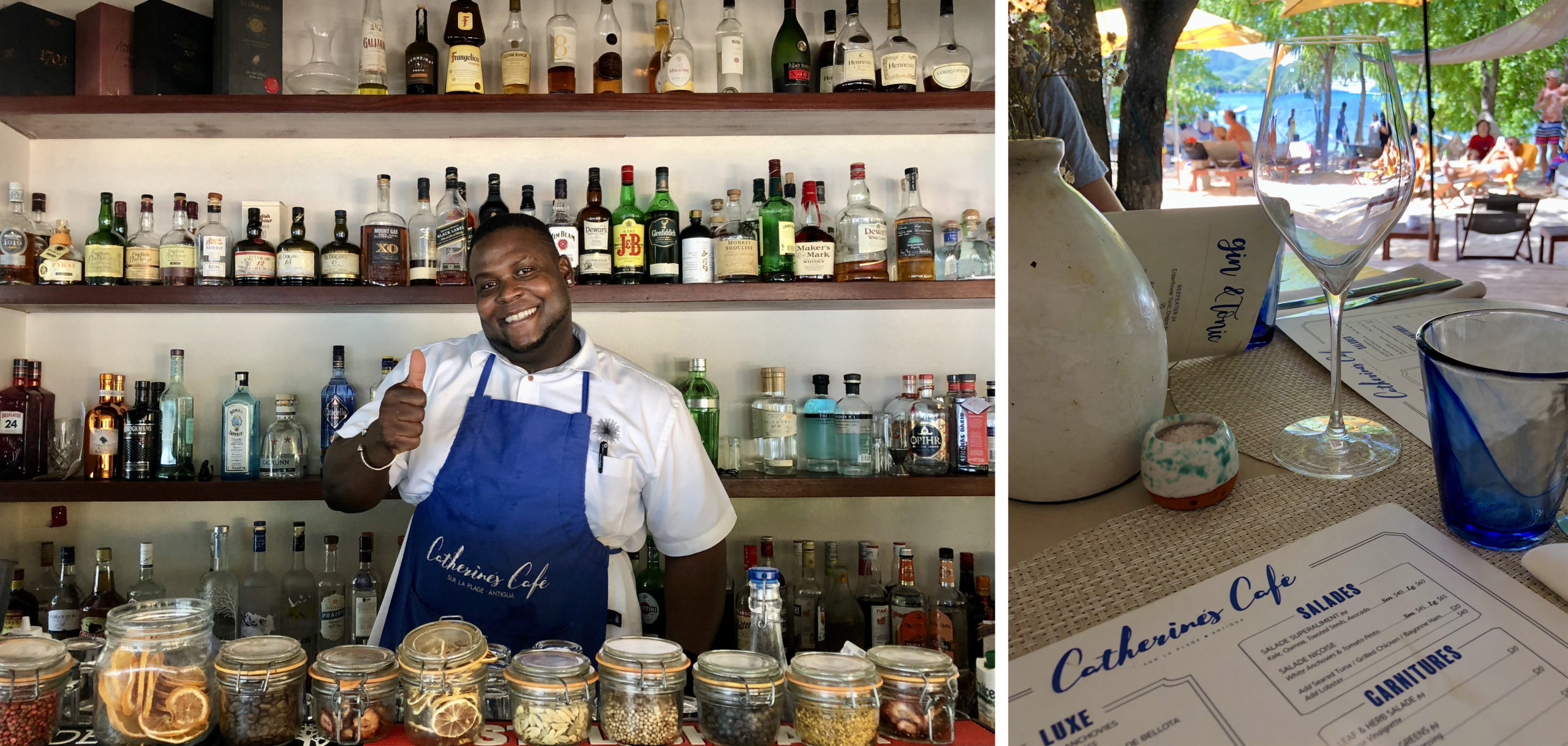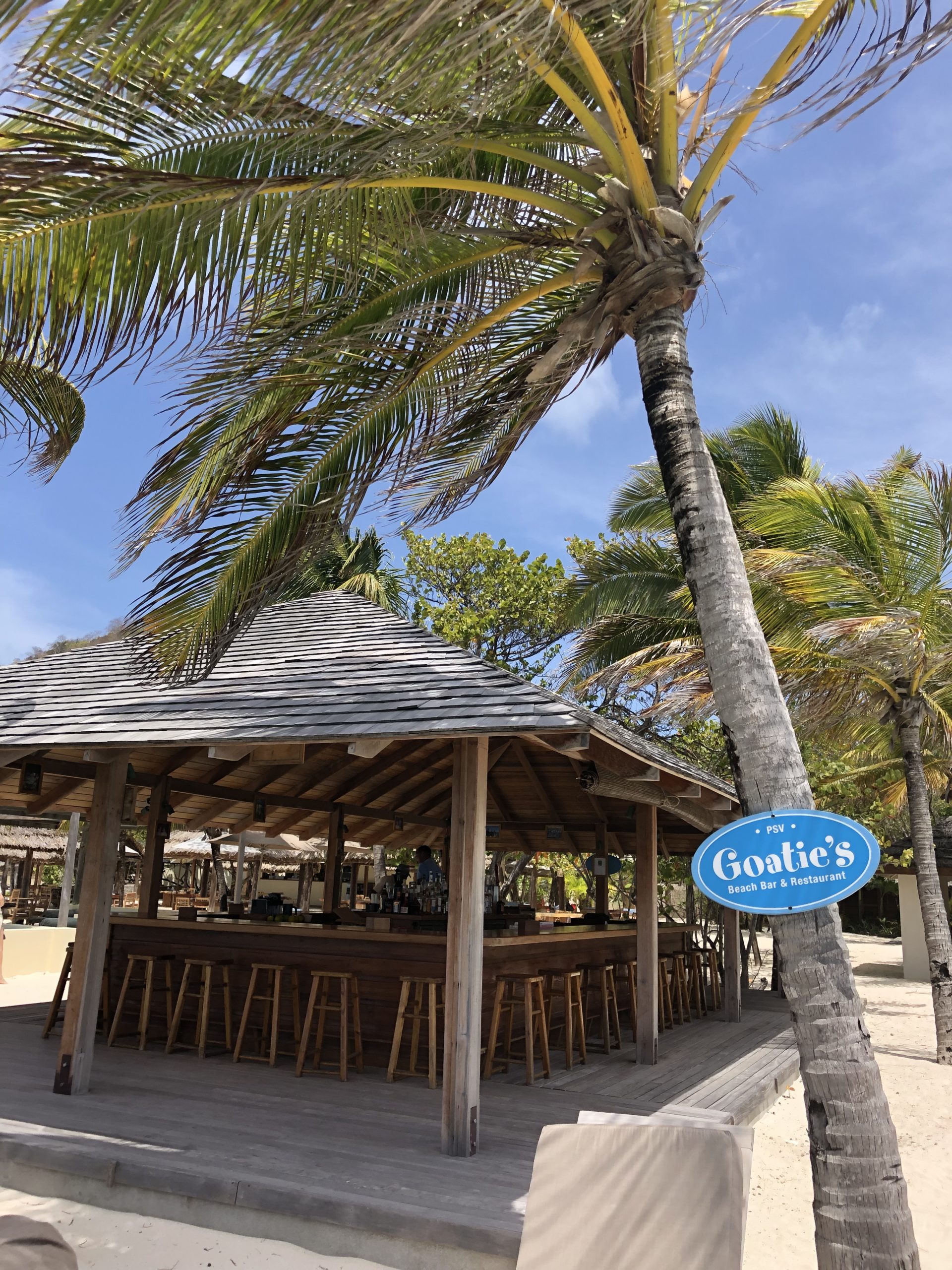 It's not often that a place can perfect both the beach bar, and the beach restaurant experience simultaneously. At Catherine's Café, neither is sacrificed. The hidden location, enshrouded in wavering Neem trees, practically begged us to spend an afternoon there. Which is precisely what we did.
Goatie's, Petit St Vincent
Petit St Vincent is a 115-acre private island resort with 22 secluded stone cottages, two yoga studios, a Balinese spa, a dive center, and an al fresco beach bar restaurant. In fact, every facet of PSV pays homage to the outdoor elements in an organic, natural way.
I read that PSV had the honor of being named the Caribbean's first boutique hotel. It is an exclusive, ultra-luxury, low-impact resort. Bikes dot the island, so guests can just grab and go. There is no wi-fi, telephone, or TV. Room service is requested by raising a flag on a flagpole outside your cottage.


Goatie's is the beach bar and restaurant of this exclusive island hideaway—a model of beach bar perfection. The sandy floor is quite simply an extension of the beach itself. A thatched roof foyer, lined with palms and ferns, welcomes guests. Almond trees, and multiple dining huts, provide shade from the hot sun. Dappled light coming through the large, flat, green leaves created patterns on the sand beneath us.
The food, a combination of tapas and Mediterranean cuisine, certainly matched the gorgeous surroundings. Fresh tuna, sea bass, bean burgers, salads and flatbread pizzas made lunch decisions quite difficult. The bar itself was as pretty to behold as the hand-crafted cocktails that were served.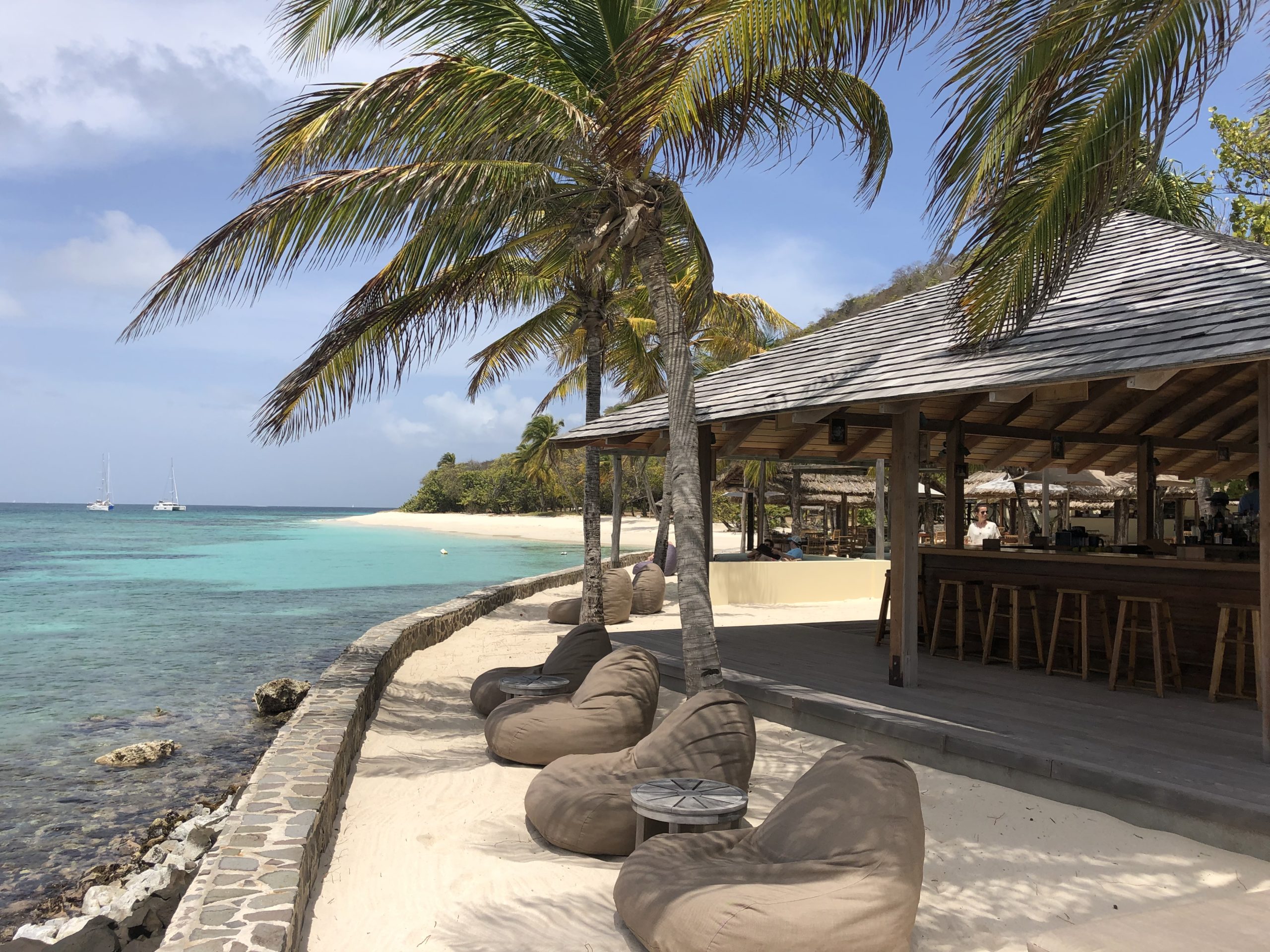 Oversized, plush adult 'bean bag chairs' sit at the water's edge, a perfect spot for gazing out towards the birds and dreamy boats that cruised by. Wooden stools at the nearby bar offered the same idyllic view, with shade. There is no bad seat in the house, at this not-so-secret, beach playground in the Caribbean Sea.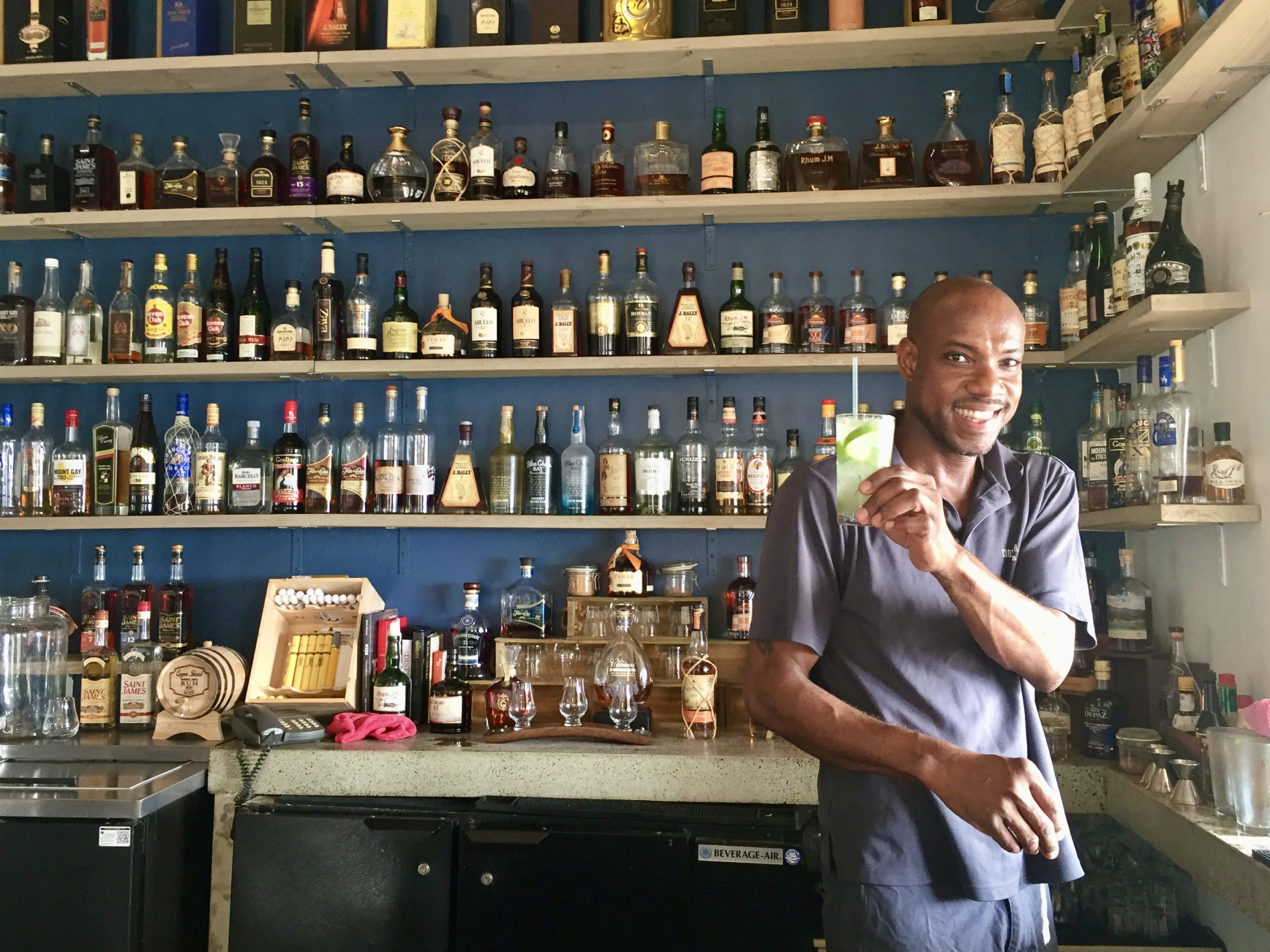 The Rum Bar, Cooper Island
There is an authenticity to Cooper Island that is somewhat unique to the British Virgin Islands, which are often heavy with tourists, and can sometimes feel manufactured. A clear sign that the Rum Bar, part of the modest Cooper Island
Beach Club, is all it's cracked up to be, was that we noticed yacht crews hanging at the bar. Perhaps, the real-life version of 'Below Deck'. If the Rum Bar was where they were choosing to spend their limited free time, we knew we were on to something good.
Although a shoebox in size, the Rum Bar's atmosphere feels so intimate, that it is just as tempting to sit inside, as out. The remote, and rickety, shack setting, true to its name, houses 280 different rums. They stand patiently at attention, waiting to be poured.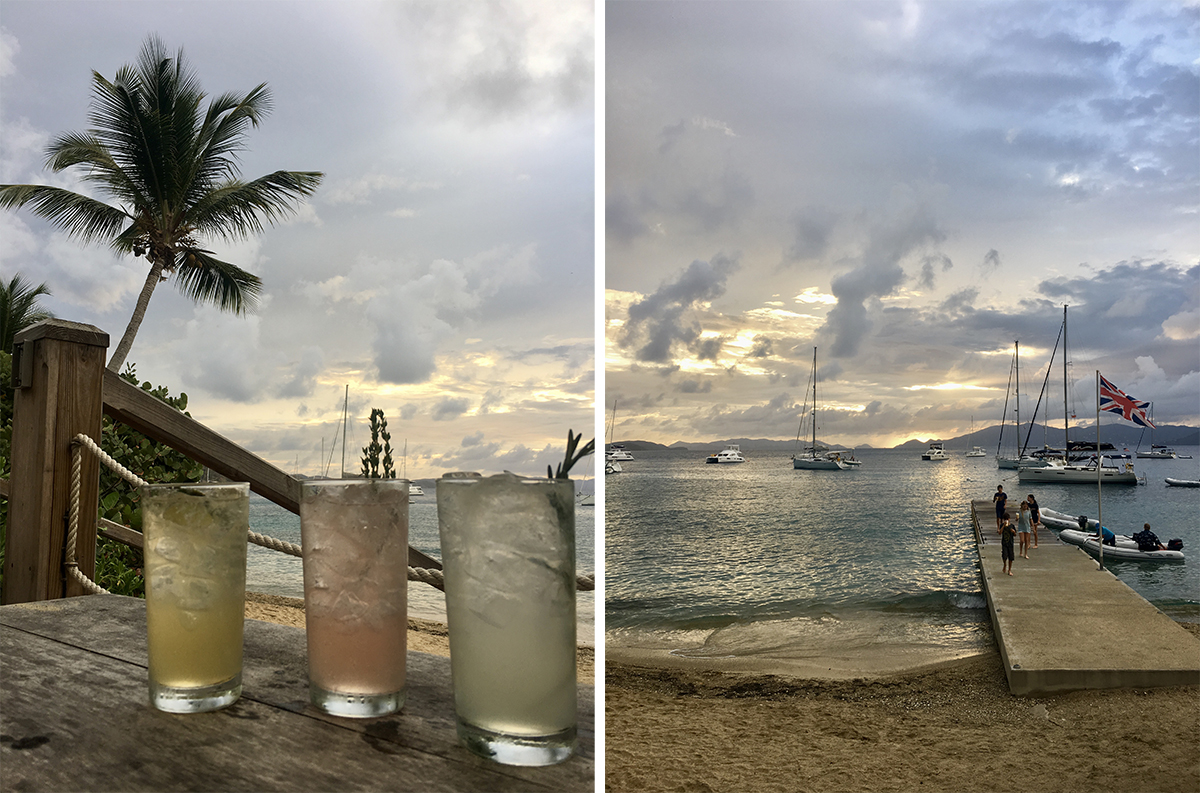 The weathered, and layered, wooden decks, and shabby palm-thatched umbrellas were perched to take advantage of the sailboat views in the bay. Somehow, the Rum Bar evoked a feeling being a part of an exclusive Caribbean club for a fleeting moment in time.
That's a wrap
I have been to a fair share of Caribbean islands, and long to explore more. You might say I'm on a mission to uncover every hidden watering hole, barefoot-chic dive bar, and tourist-infused, sandy dance floor, in the Caribbean. No wonder CIRE's founder, Eric Hrubant, and I get along so well. He recently mentioned he is on a mission of his own; to compare the signature Bloody Mary at every St Regis around the world. I like a man with goals. Well played, Eric.
Author's Note: Please be advised that some bars, restaurants and highlighted destinations may have different hours due to COVID-19 or may be temporarily closed. Please call, or refer to individual websites, for current operating hours.
*******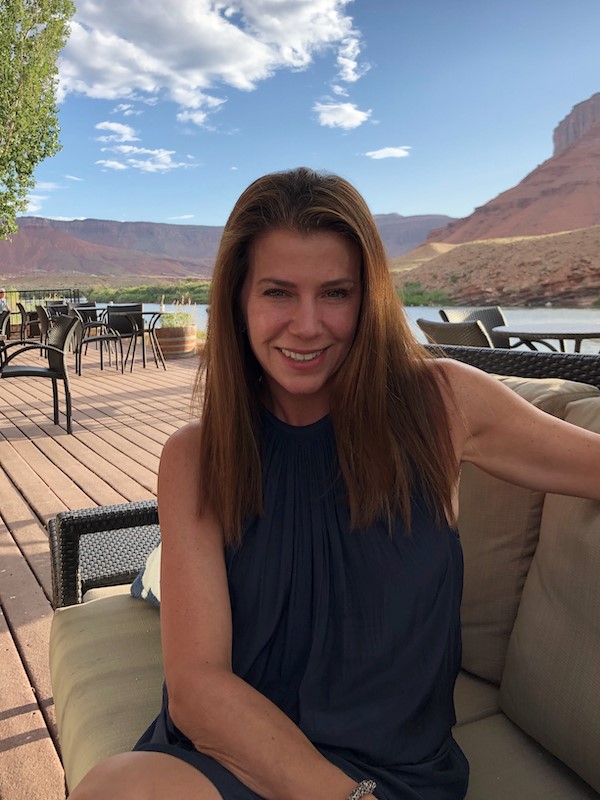 Jamie Edwards is an avid traveler, travel writer, and photographer. She launched I am Lost and Found, her adventure/luxury travel website after 25 years of living and traveling around the globe. Jamie's goal is simple: to inspire travel. Keep up with Jamie's adventures in travel here.
CIRE Travel is a full-service travel agency headquartered in New York, NY. Our expert team supports clients across the country and around the world.
---
Where in the World Do You Want to Go?
Inspired to plan your next weekend getaway, vacation or trip of a lifetime? See that form below? That's all it takes to begin your next epic travel story.