Maybe you've heard the term "transformative travel." But what exactly does it mean? Well… You tell us! Transformative travel is unique to each individual. For some, it may be visiting a new destination that holds some "magic" like history, art, or a personal/familial connection. For others, it might be a spa retreat where you can focus on wellness and healing for both your physical and emotional self. And for some, like our friend Jamie, it might be an immersive experience in nature like forest bathing in Japan or a trip to the deserts of Arizona. Read on as our contributing writer, Jamie Edwards of I Am Lost and Found, shares her transformative and enchanted travel experience in Sedona, Arizona.
******
Air is air. Of course, it can be humid, dry, or wet. It can be conditioned, or heated, still or sticky—the adjectives are endless. On my trip to Sedona, Arizona last year, I was trying to find the words to best describe the air, and how it felt. Neither crisp, nor brisk, not thin, nor heavy. Eventually, it dawned on me. I wasn't actually feeling anything. The air was, quite literally, imperceptible.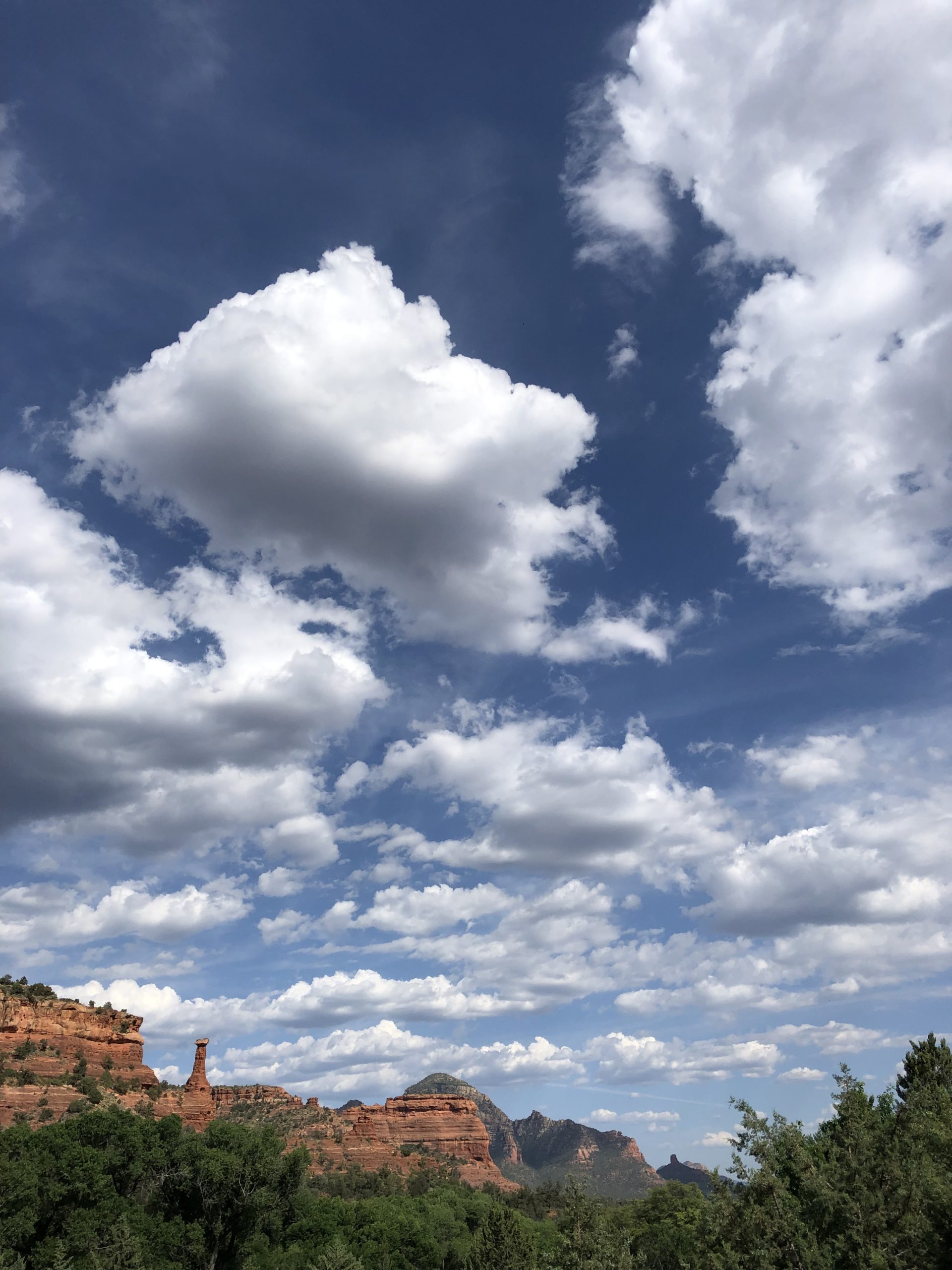 The beauty of not noticing the air, was that my other senses were on much higher alert. Sounds became more pronounced, and colors more intense. The brilliant mesas and red rocks that define the landscape of Sedona came into vivid view after our hour's drive from Scottsdale.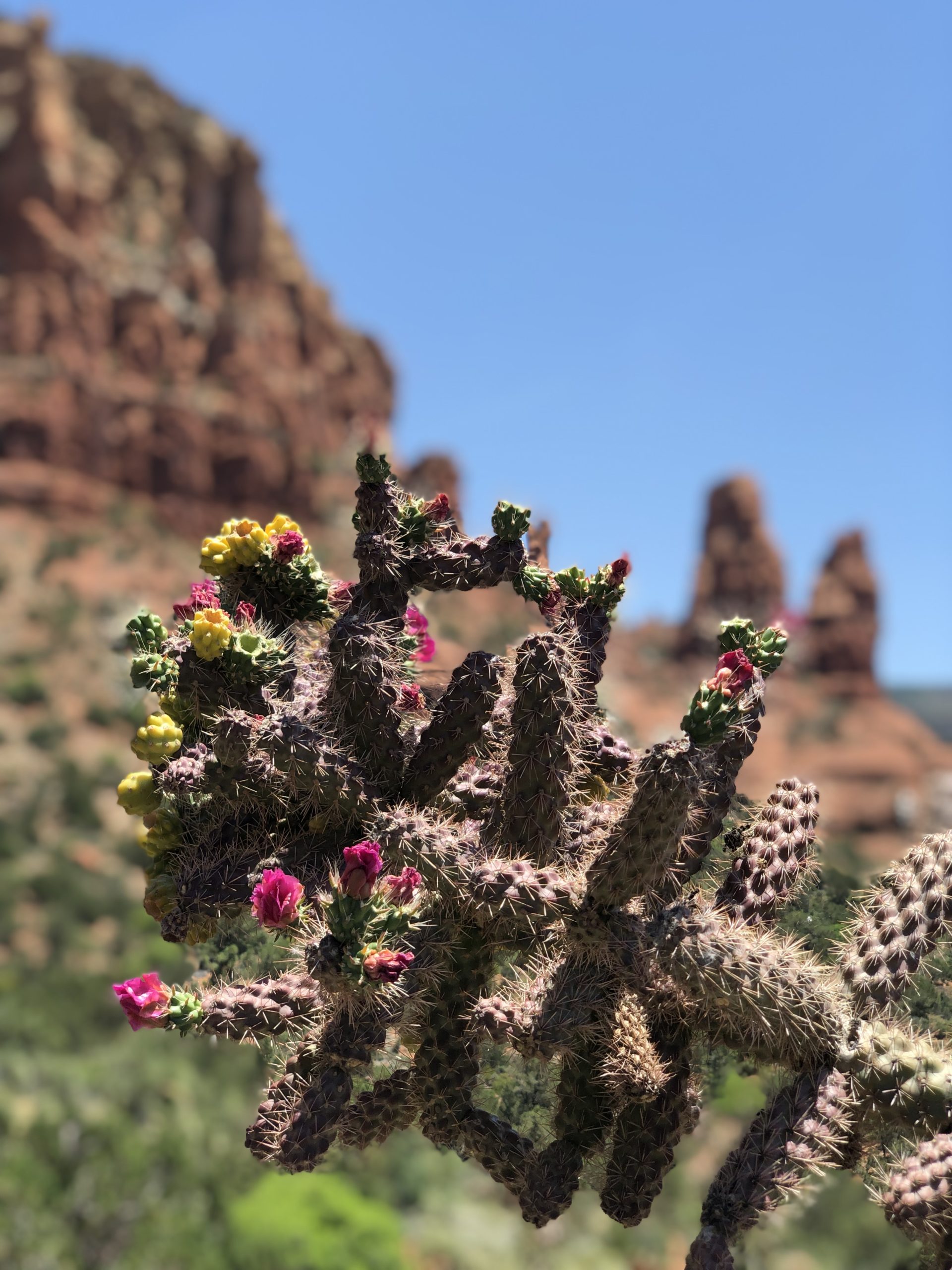 The ubiquitous pale green textured skin of the Saguaro cacti was soon replaced by other shades of green; prickly pear cacti, cypress, sycamore, pine, and juniper trees, surrounded us. An arboreal introduction to this beautiful part of the Sonoran Desert where we would spend the next few days.
Welcoming wellness
My mom, sister, and I had planned a much-needed girls' trip in the golden-lit, desert town of Sedona. From a wellness point of view, Sedona ticked many boxes; the aforementioned air, for one, which made climbing, hiking and meditating all the more enjoyable.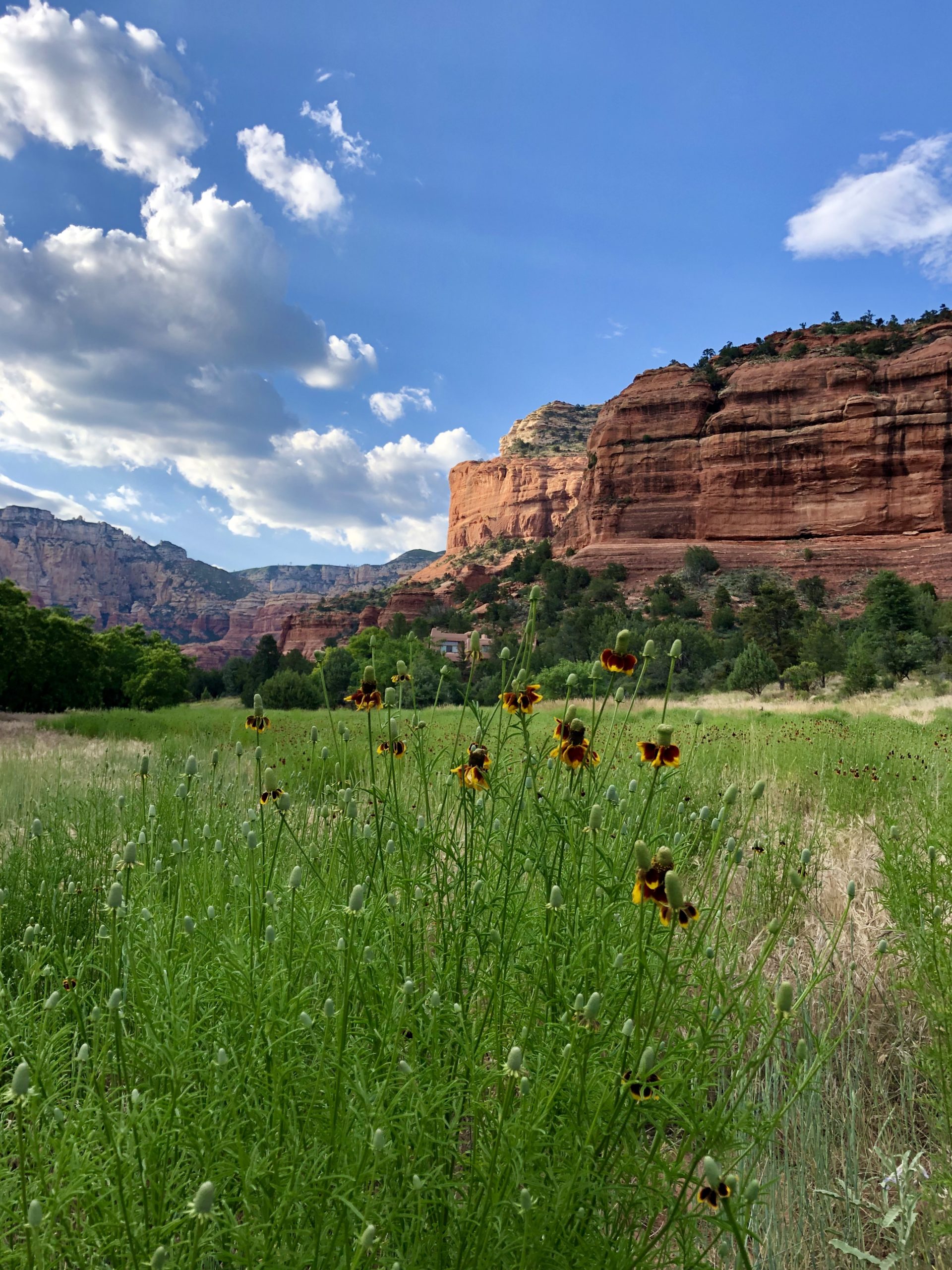 The justifiably famous 'Red Rocks' of Sedona were a visual respite, with the architecture of the Upper Sonoran Desert blending into the color palette. It was as if Arizona gave every architect in Sedona the same Benjamin Moore paint chips and said, 'Please conform to the colors of the desert.'
Burnt reds, auburns, persimmons, ochres, and every shade of warmth in between, resided there. But what made the desert even more interesting were the clusters of unexpected and brazen greens.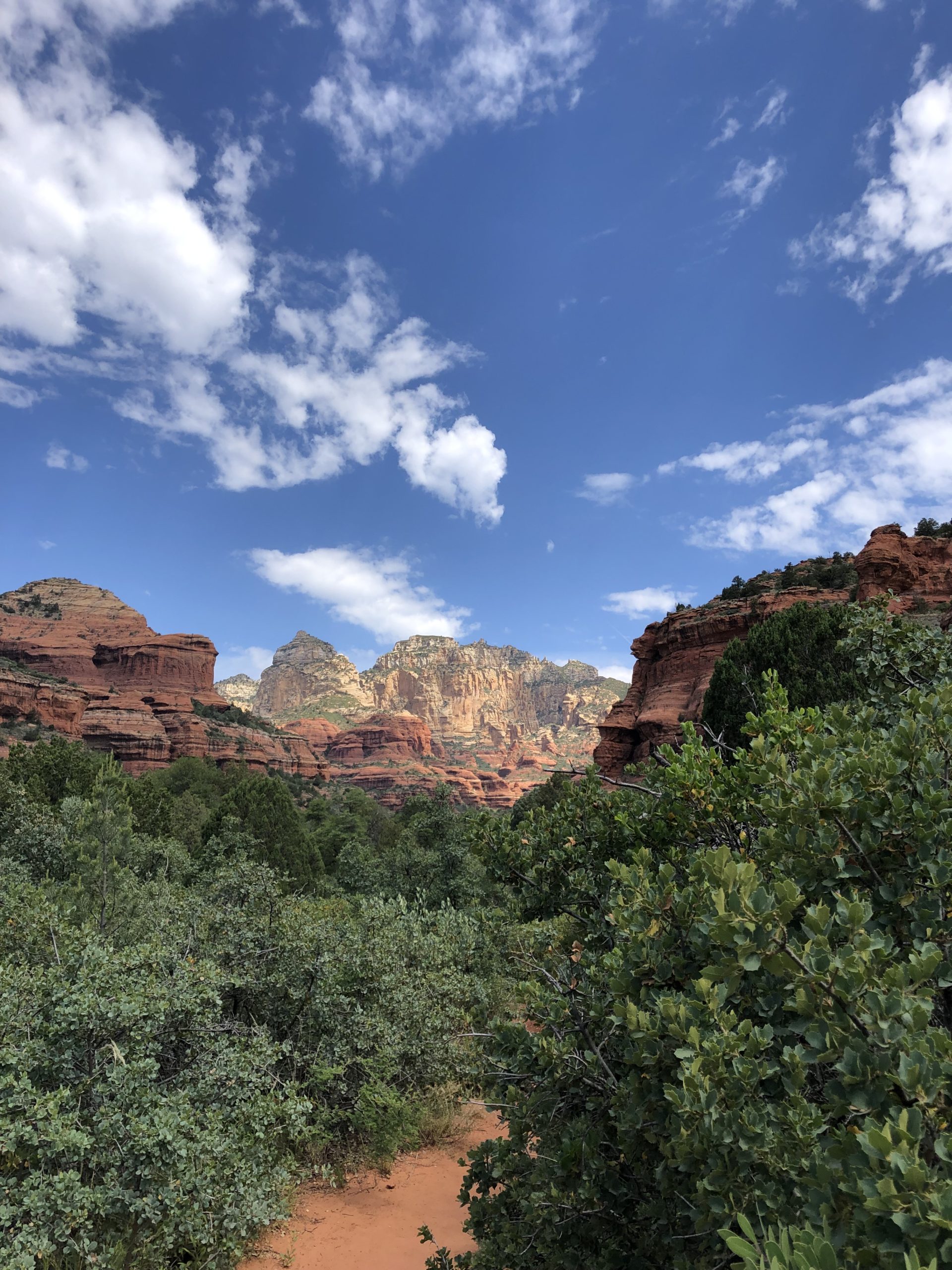 Sedona's Verde Valley, or Green Valley, was named for the copper that used to be mined in the area rather than for its lush vegetation, as I had thought. Regardless, the greens were a spectacular addition, an unanticipated contrast to the sun-lit rocks throughout the day.
The canyon walls were a staggering nine layers of stone that spanned hundreds of millions of years in age. The canyons were created by the receding oceans. What resulted were rock formations that created a visual wonderland. The striations and layers of color and rock were on museum-like display. Limestone, sandstone, and mud, among other elements, have made this piece of Arizona a literal hot spot.
Every hour, as the light and shadows changed, I eagerly prepared to see something new emerge. Whether with partially cloudy skies, mostly cloudy skies, or full sun, the mountain views never disappointed.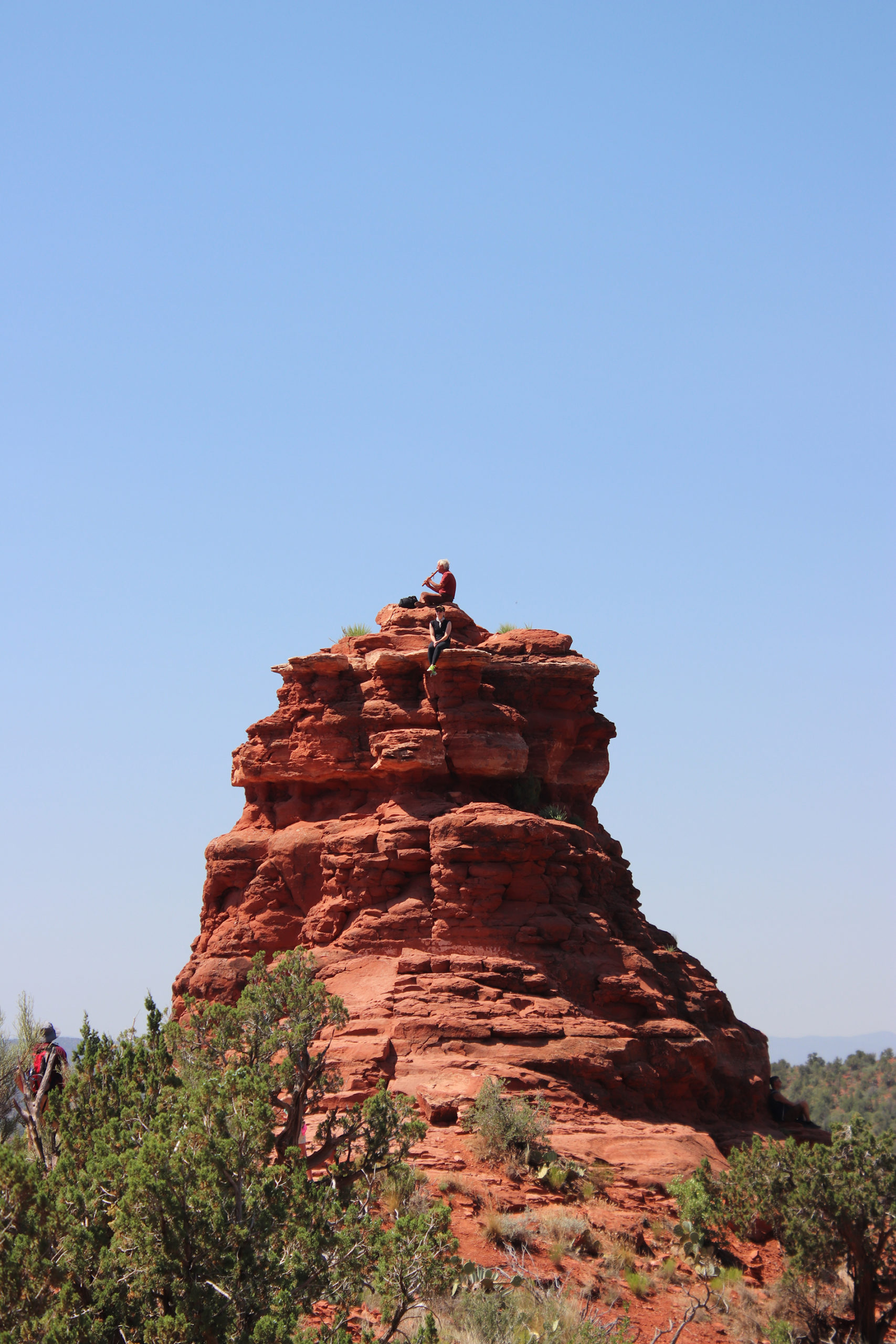 Sound provided yet another aspect of wellness that was inherent to the desert. The crunching of our hiking boots on dirt red paths, and the whirling of a gust of wind. One day we caught the sound of a flute echoing from a distant butte, the notes soaring across the valley.
Vistas, views, and vortexes
My sister and I hiked Vista Point trail, on the grounds of the Enchantment Resort, just as the sun was tipping heavily towards the west. The walk to the viewpoint from our casita took about 20 minutes via a well-beaten path. We were told to look for a tree that was 'hugging itself', as that was a known vortex site. Upon reaching the point, however, it looked like every gnarled and twisted juniper was hugging itself.
The entire area was thought to be a vortex, a swirling center of energy that many believe has healing and spiritual powers. Not one to deny an area of its spiritual power, I sat against a rock and decided to channel some positive energy.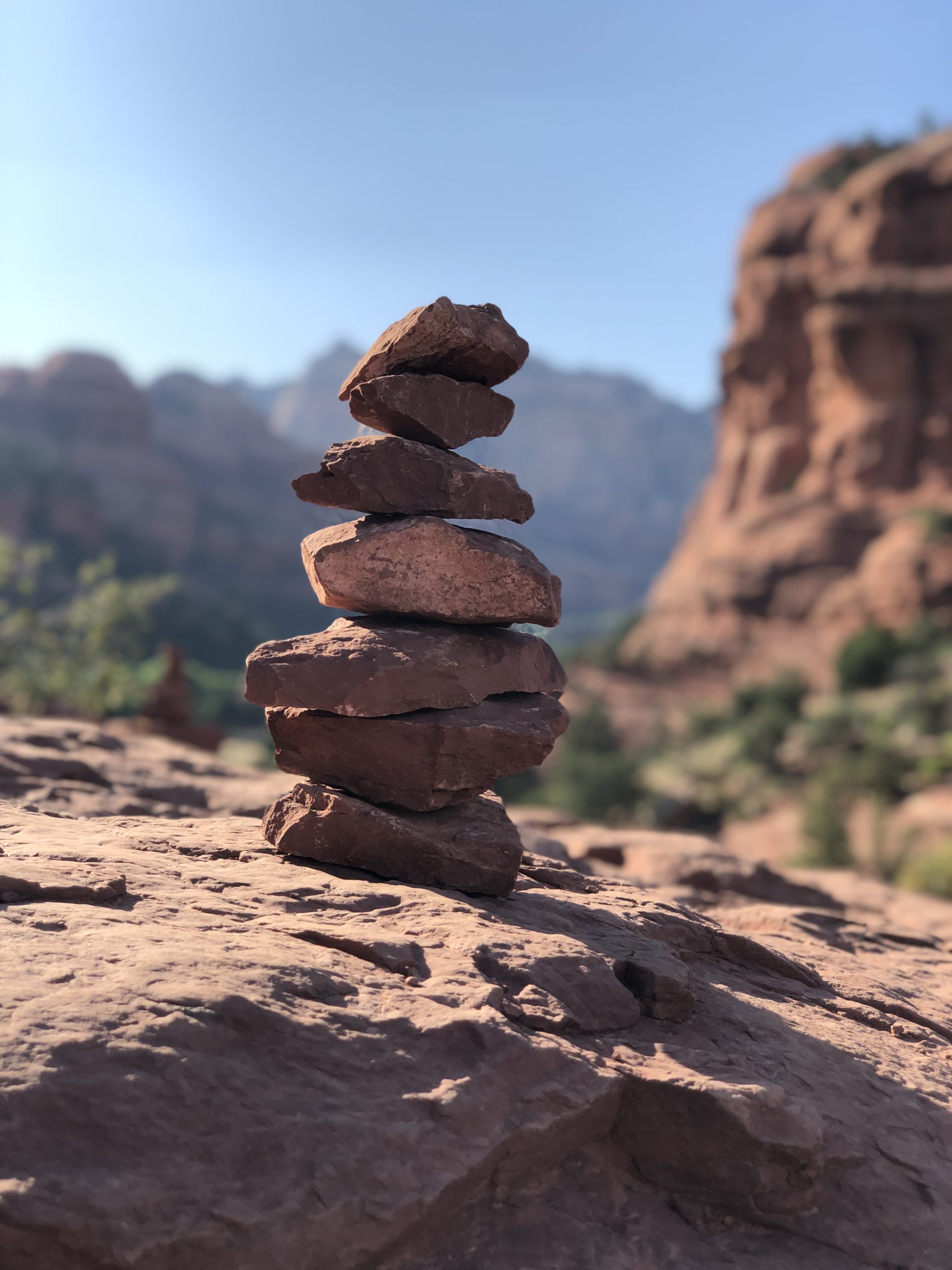 Piles of delicately toppling rock cairns dotted the point, each one quietly declaring, 'I was here!'. The silence was all encompassing—a drastic change from my daily life in DC. The beauty of the surroundings was healing, I embraced it.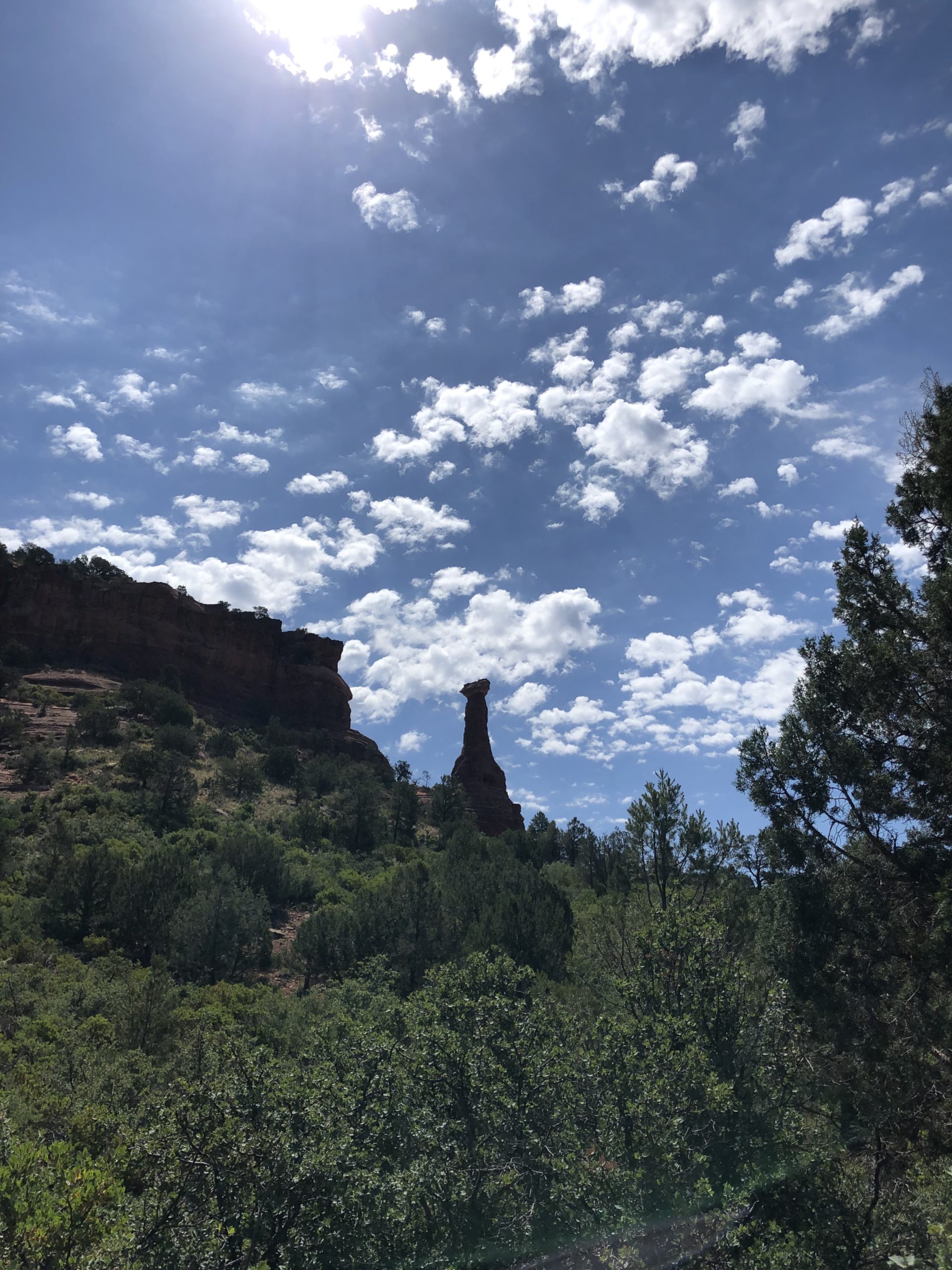 Desert Life
The setting sun was piercing and lit the upper third of the mountain range on fire. Whether or not one believes in the healing powers of the vortexes (or vortices, as I learned), it was impossible not to feel inspired and restored there— the views were simply unparalleled.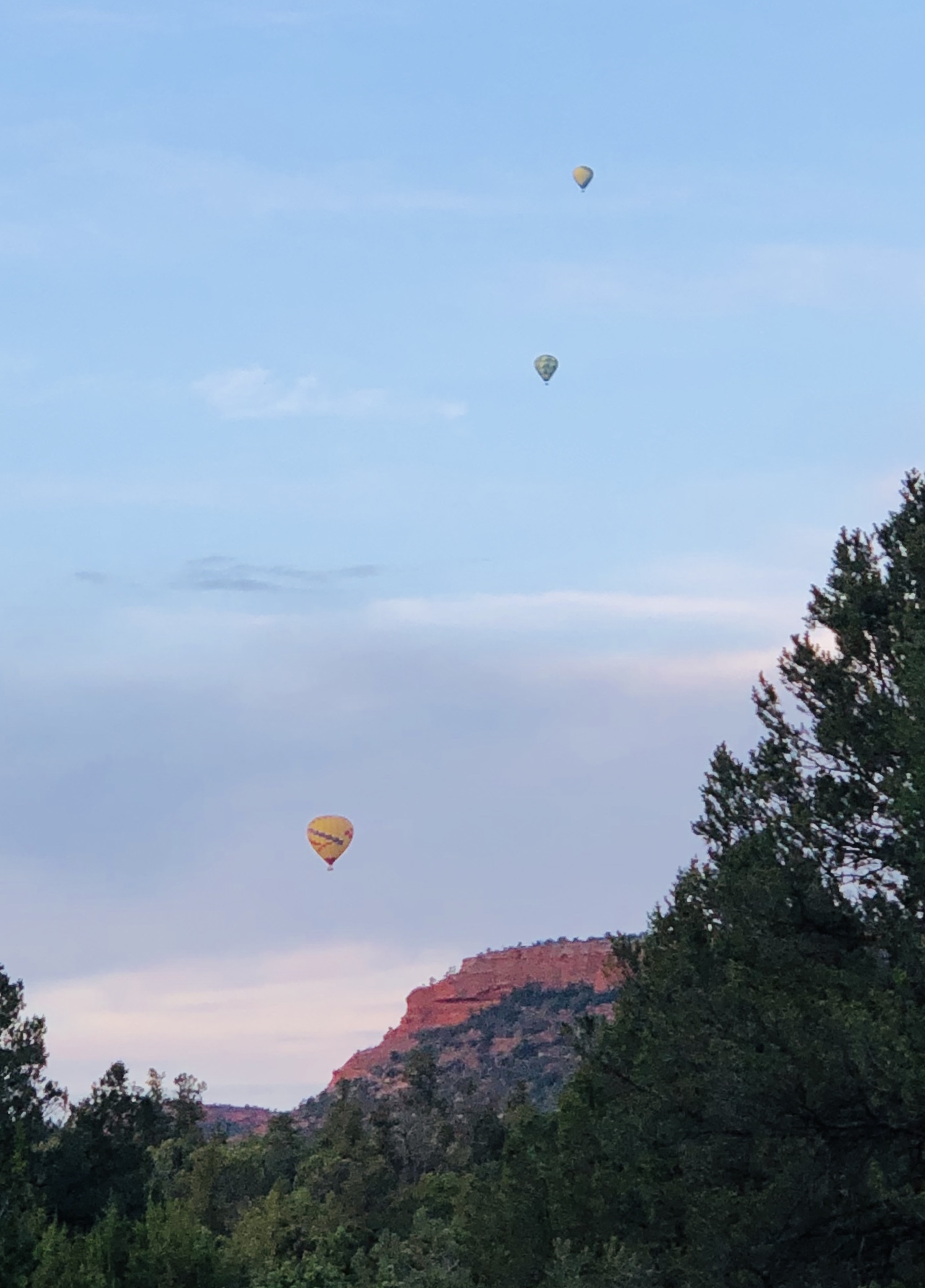 I enjoyed it so much that I went back each day at different times. Once, I ventured out as early as 5am to catch sight of hot air balloons that hovered quietly over the distant mesa.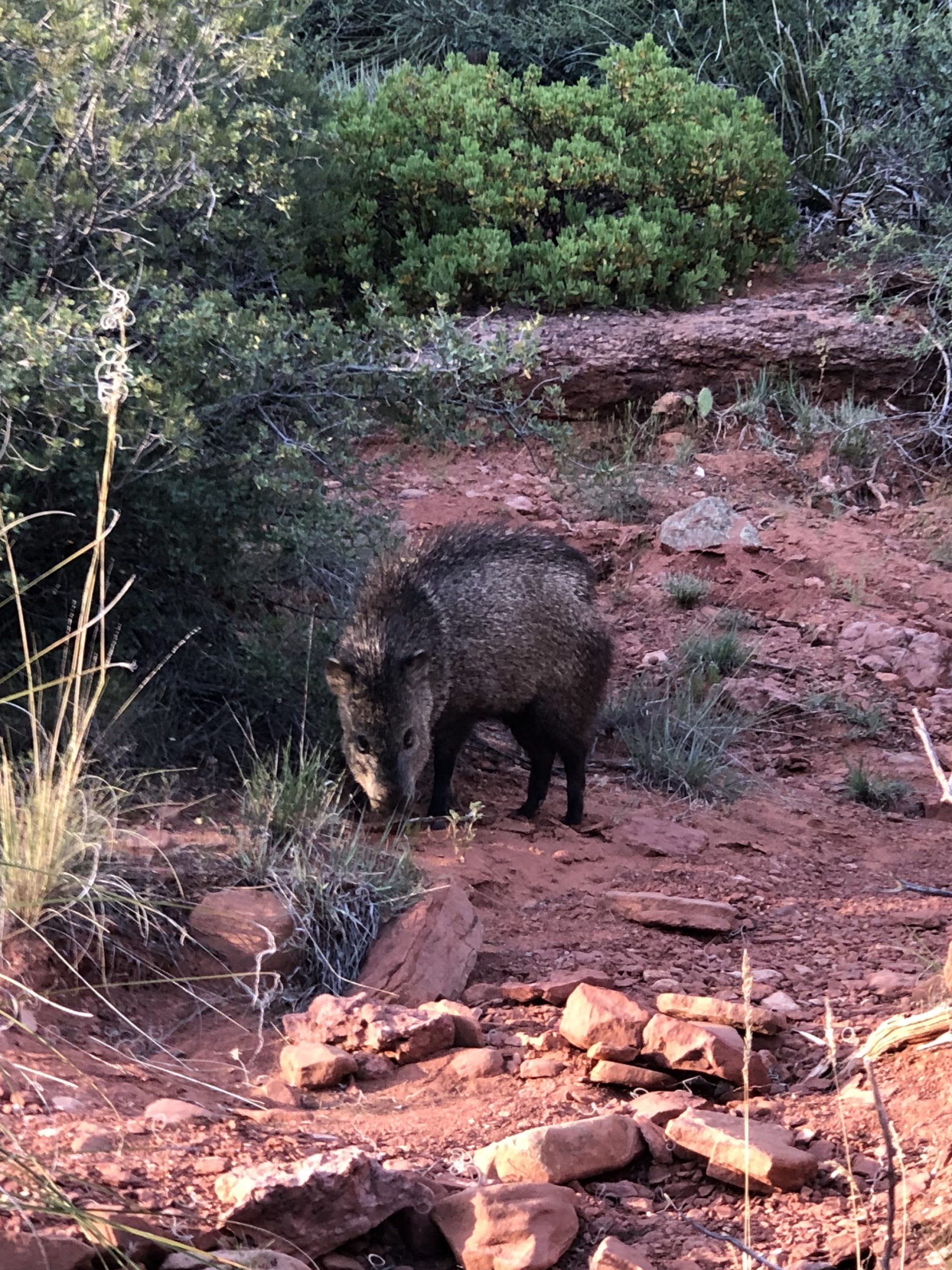 That early morning, I was on high alert, ready to walk into a herd (rather, a squadron) of wild javelinas as I had done with my sister on our first hike. Rodent, or pig? Neither, surprisingly. They were just strange 60-pound hairy mammals that blindly roam the area.
I was reminded of the ROUS (Rodents Of Unusual Size) from one of my favorite films, The Princess Bride. Luckily, javelinas are also quite stupid, and have poor eyesight. Needless to say, I made it back unharmed.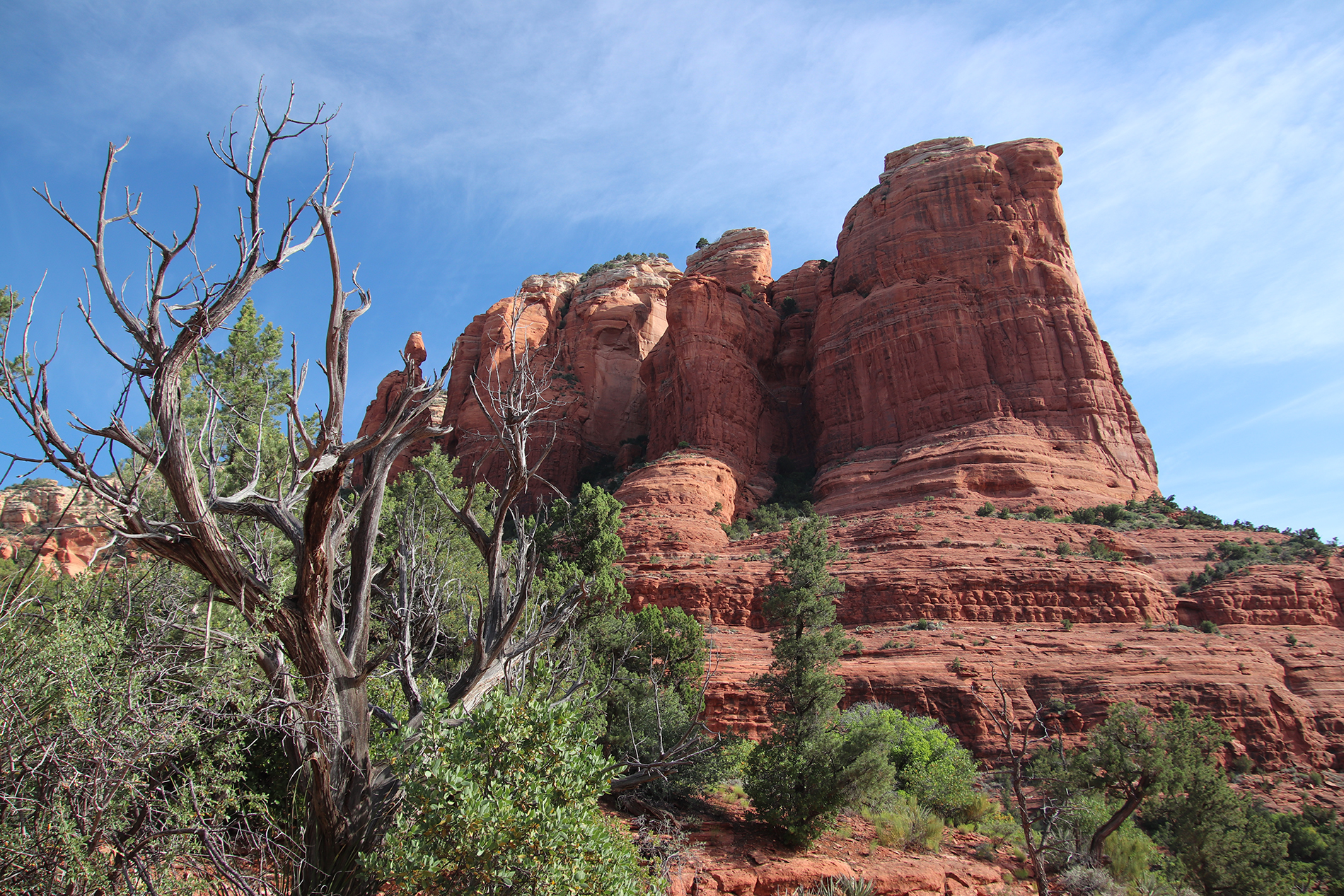 Coffee Pot, and other rocks
Another day, we hired a local guide, an Apache Native American, and headed out for a few hours to hike and explore. He taught us the differences between Prickly Pear and Agave plants, how to loosen the nut from a Pinola tree's cone, and the different mating calls for the male quail. Our three-mile hike brought us past Coffee Pot, and other luminous rock formations.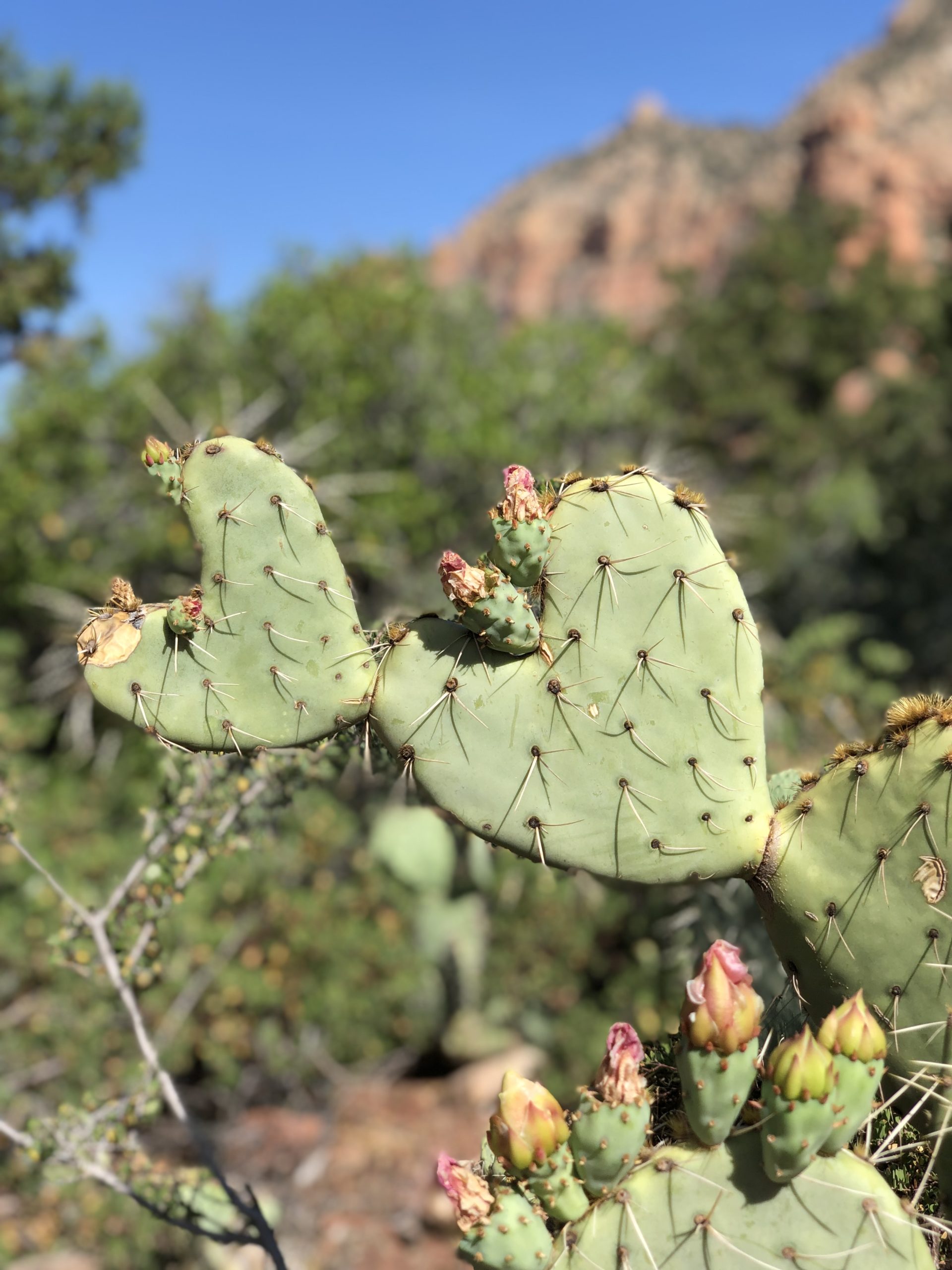 At the base, he showed us an ancient birthing spot for women, where we then sat and reflected on the sheer size of the canyons around us. I could almost feel the stress and tension melting from my shoulders. The power of the desert, indeed.
Three's a charm
The Mii Amo Spa, a part of The Enchantment Resort, was awarded the #1 Best Destination Spa in the US for the second year in a row by Travel + Leisure Magazine and is situated in one of the most beautiful and unique spots in the American southwest.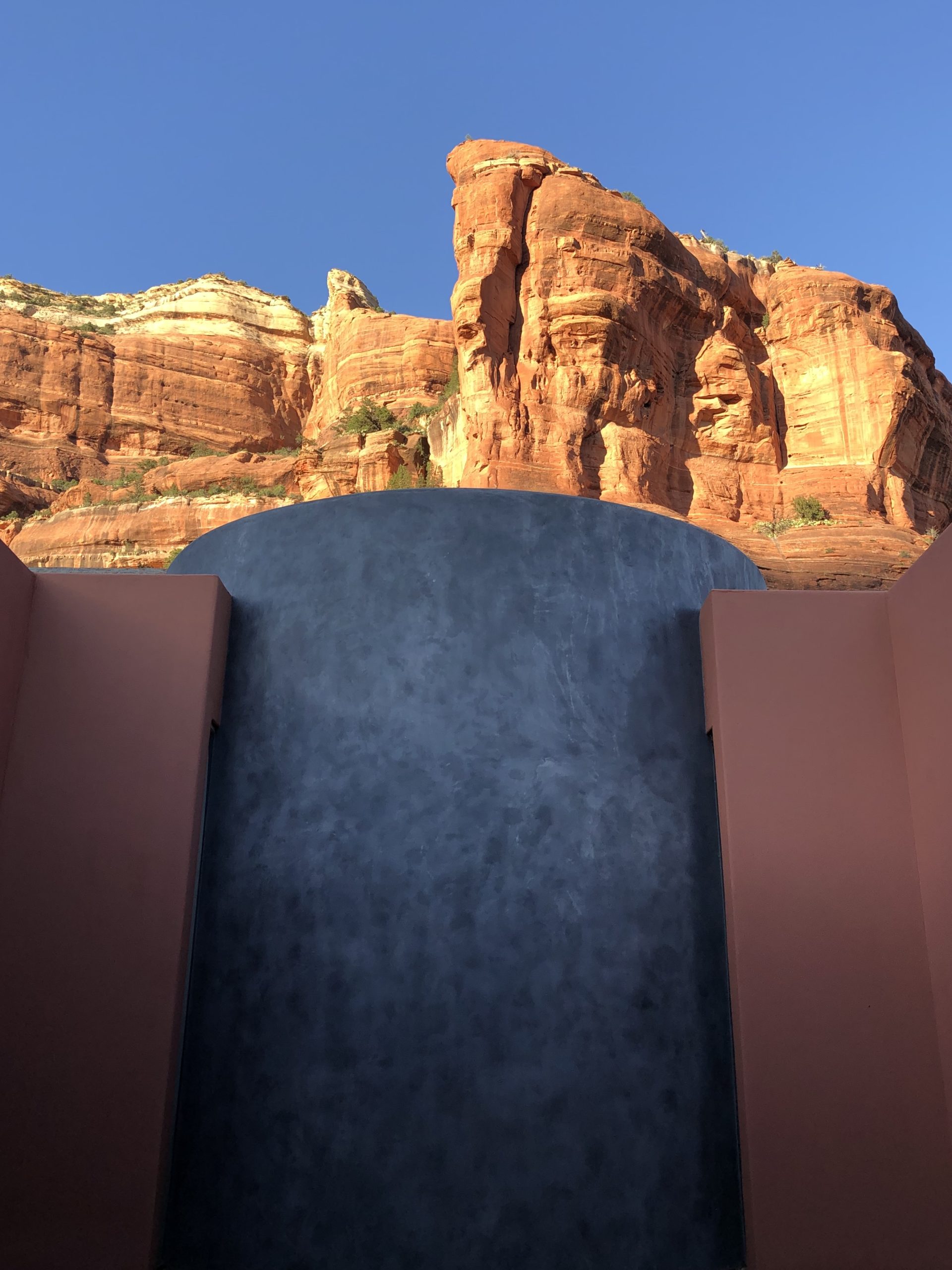 The front entrance of Mii Amo was dramatic, with massive rock formations looming above. There was a shaded area of trees that teemed with hummingbird activity. Attracted by the hanging feeders, I was told that at any given time of day I would see at least a 'charm' of hummingbirds jostling for nectar.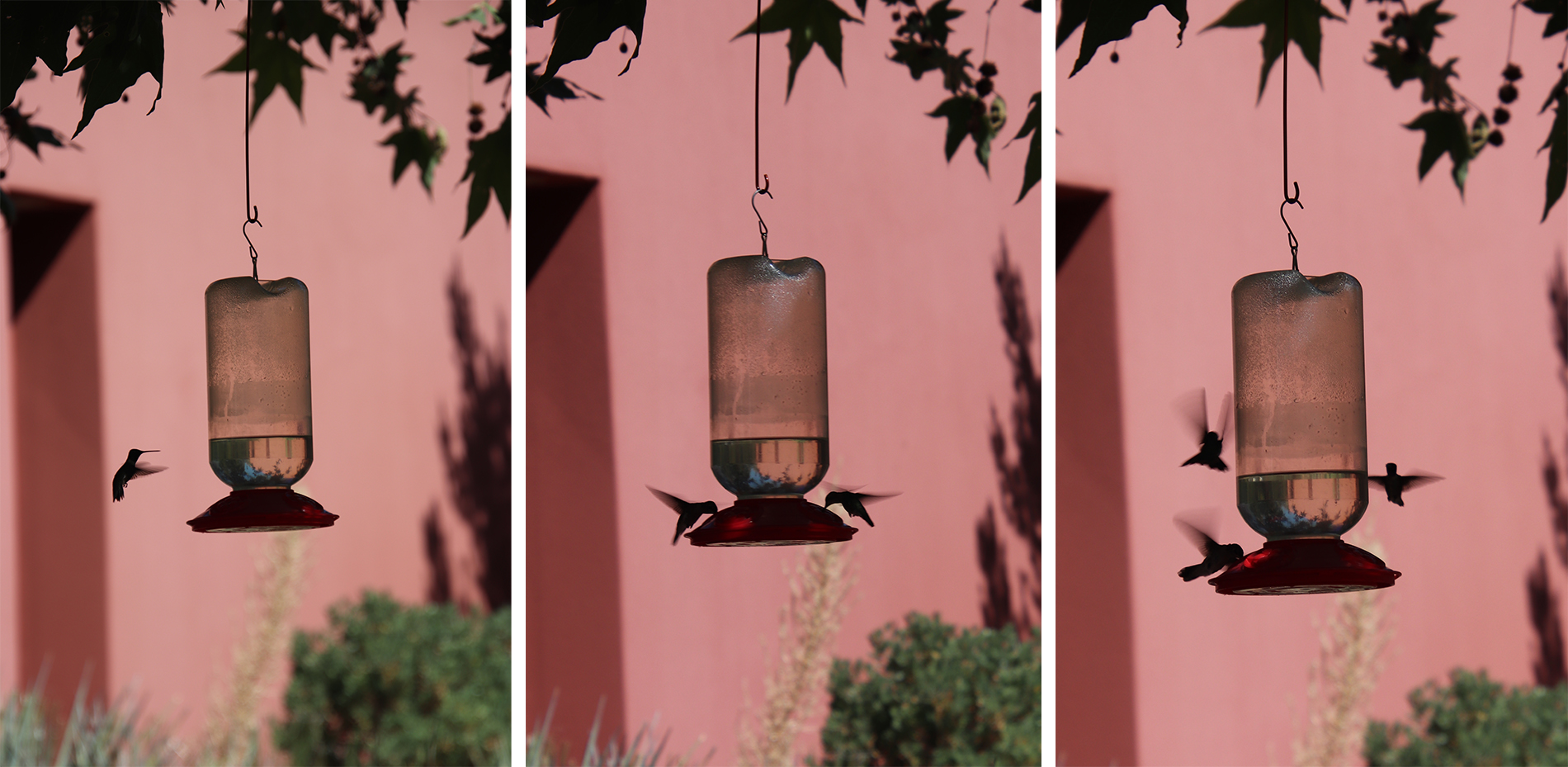 Just a few steps beyond the entry, the Crystal Grotto was a small, cave-like room that had a round opening to the sky. Here, one can sit peacefully in thought, or be led in meditation by a guide. A lovely way to begin a day of wellness or end one.
Wanting to take advantage of the enchanting Sedona vibes, I sought out the Crystal Grotto to enjoy the comforting sound of running water. Anytime I could find a moment of restorative calm, I was up for it. This was a large part of why we were here, after all.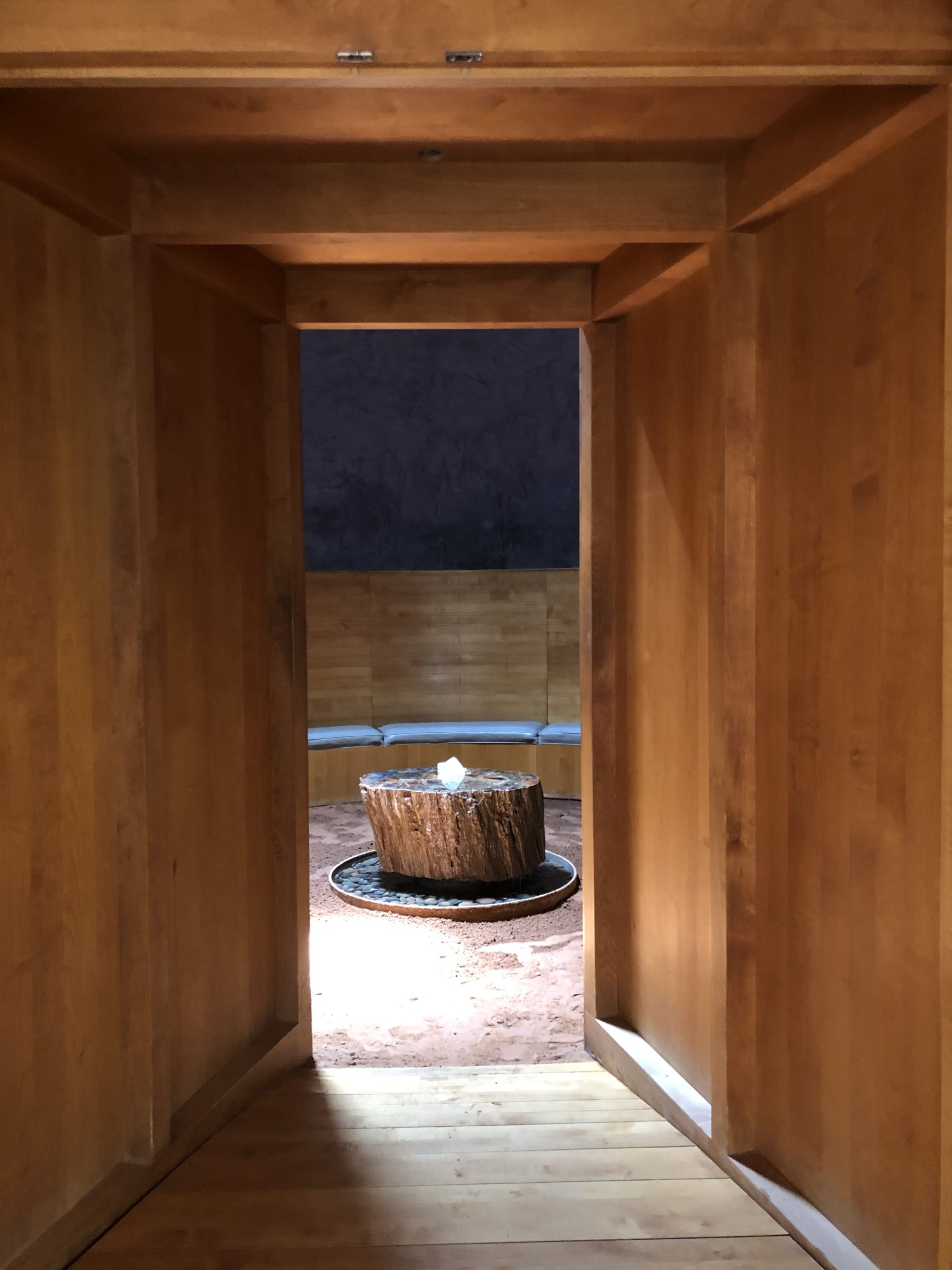 Energy clearing, and other treatments
The variety of spa treatments at Mii Amo ranged from traditional, to off-the-wall, depending upon your perspective. I decided to experiment with some less traditional treatments like 'Energy Clearing' and 'Past-Life Regression'. I also tried a few staples like a Shiatsu Massage, and a Clay Wrap.
The spa staff had a warmth and genuine love of their craft. Each treatment opened up my mind to new ways of seeing and listening, and each was as relaxing as I'd hoped. My mom, sister, and I all agreed that the treatments were healing in multiple ways. Ways that I wish I could reproduce in my 'real life'.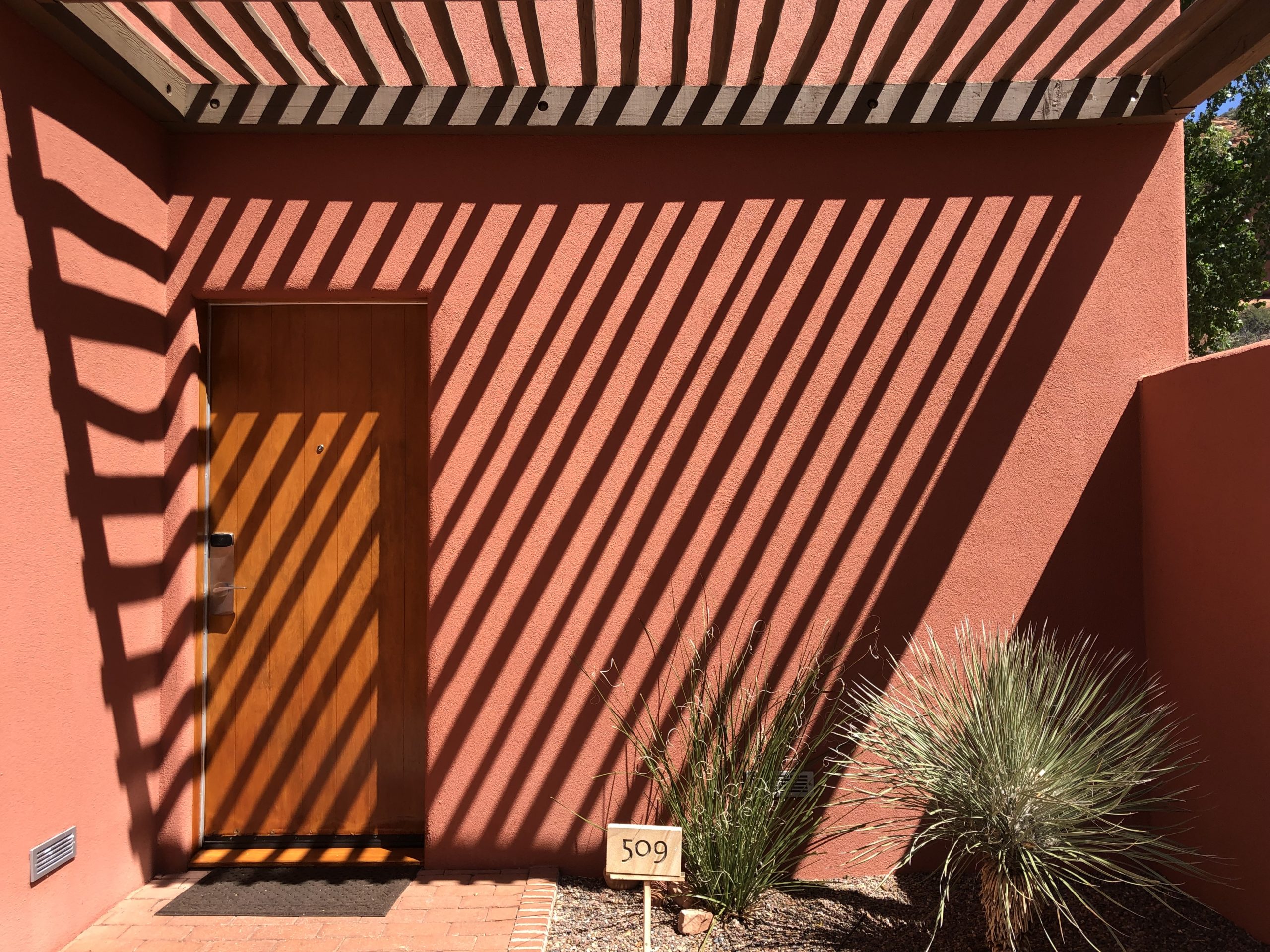 However, after 20 years of world-class pampering, Mii Amo was ready for a makeover, I have recently learned. The spa will take a hiatus at the end of 2020. For those who want to squeeze in an end of year wellness retreat, they are still taking bookings before the doors close on January 3rd, 2021. Mii Amo plans to reopen in the spring of 2022. I, for one, will be booking as soon as possible, as it is hard to imagine Mii Amo being any better that it was last year.
Beyond the desert
Sedona, as we knew, had much to offer beyond spa services, vortexes, and desert scenery. We researched a few interesting sounding excursions and ventured off.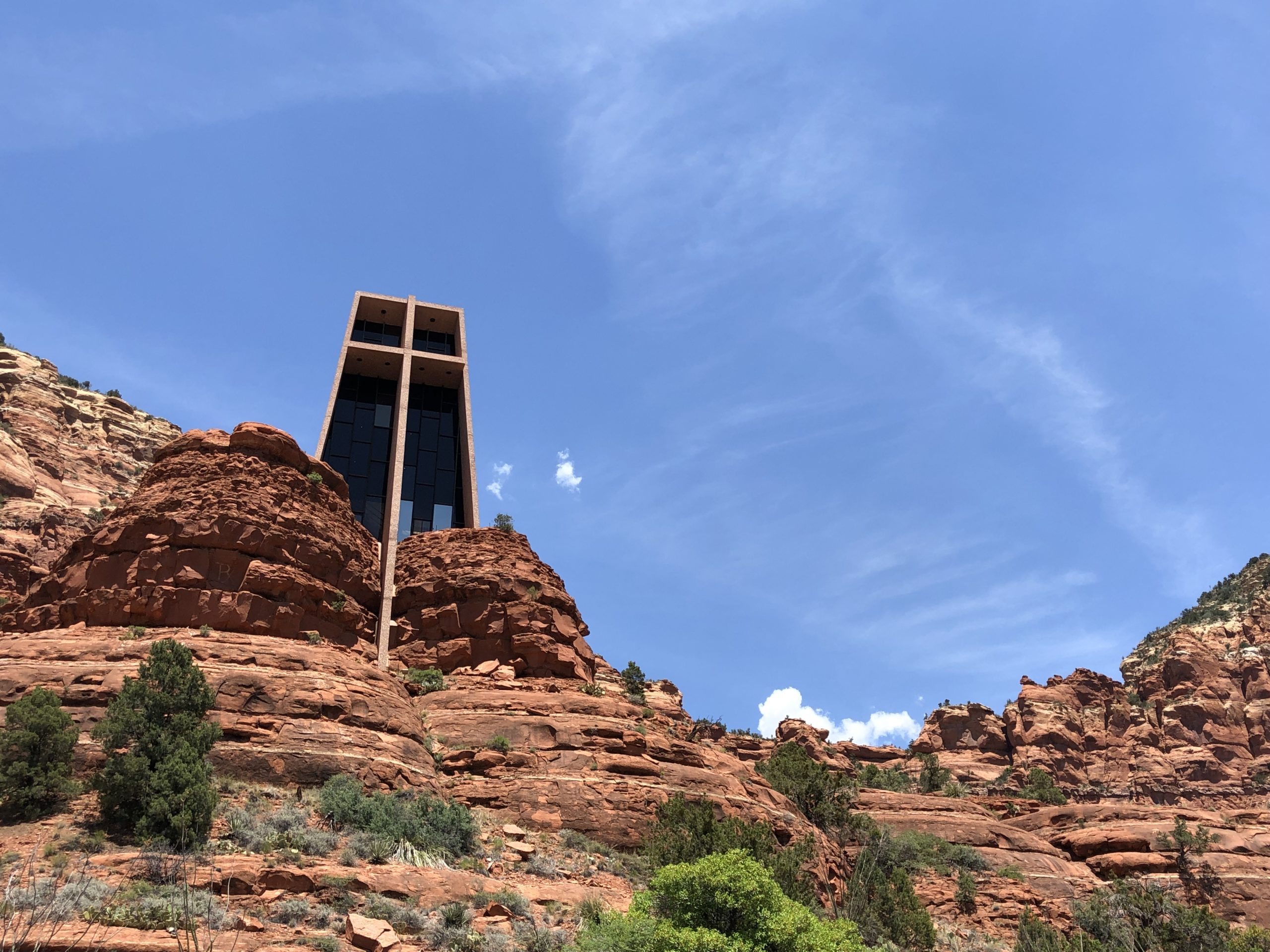 One highlight was the Chapel of the Holy Cross. An earth-toned and delicate chapel that looked as if it was hovering on the edge of a butte. Inspired by the Empire State Building in the 1930s, it was finally completed in 1957. Picturesque from every angle, the main cross of the chapel's exterior dived directly and dramatically into the red rocks.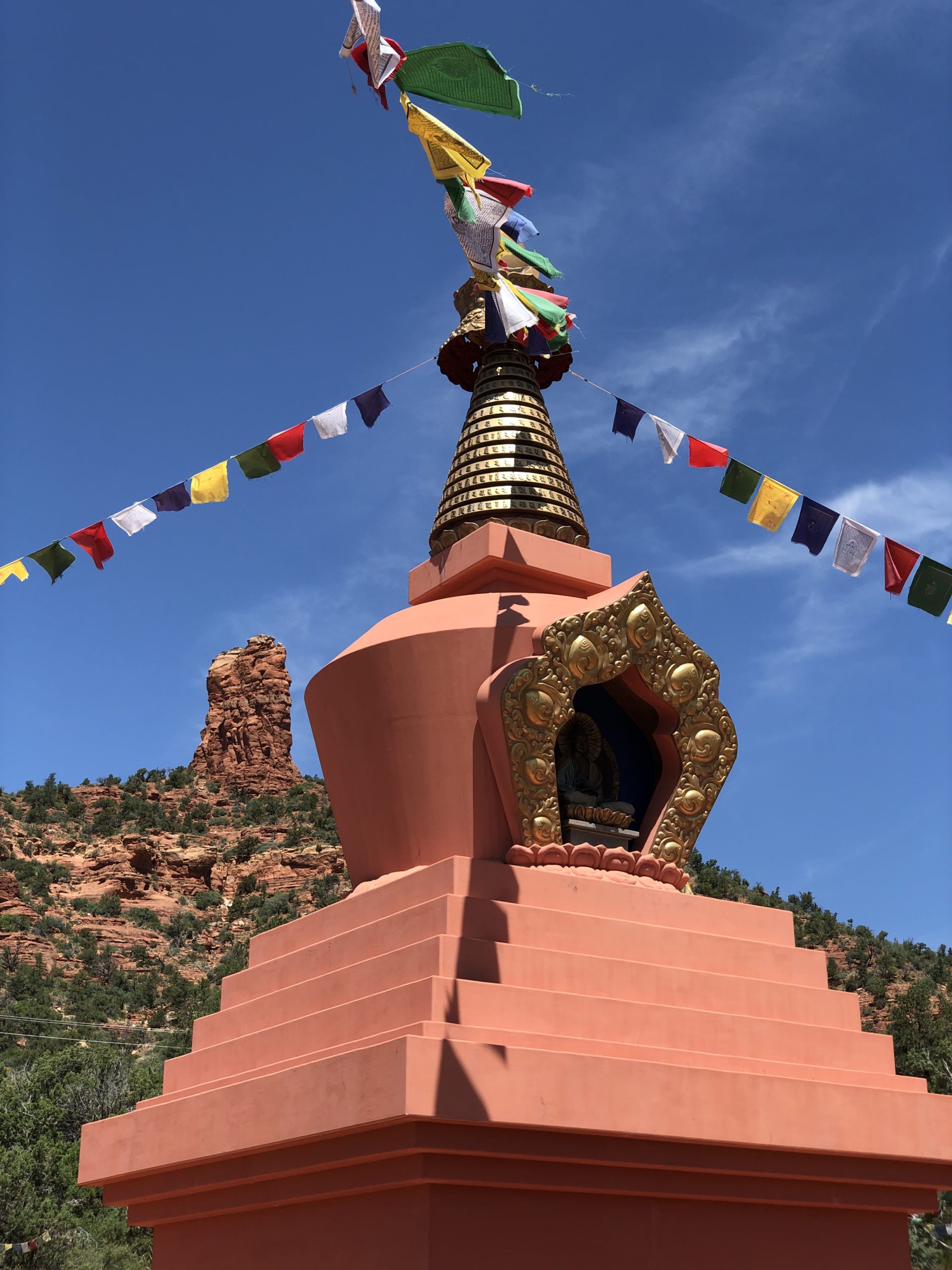 Wanting to take advantage of the spiritual side of Sedona, we spent a few quiet hours at nearby Amitabha Stupa and Peace Park. The main stupa dates back 2600 years, and is a sacred piece of architecture, believed to be the living presence of Buddha. Stupas were built to promote prosperity and avoid war and were thought to benefit all living souls.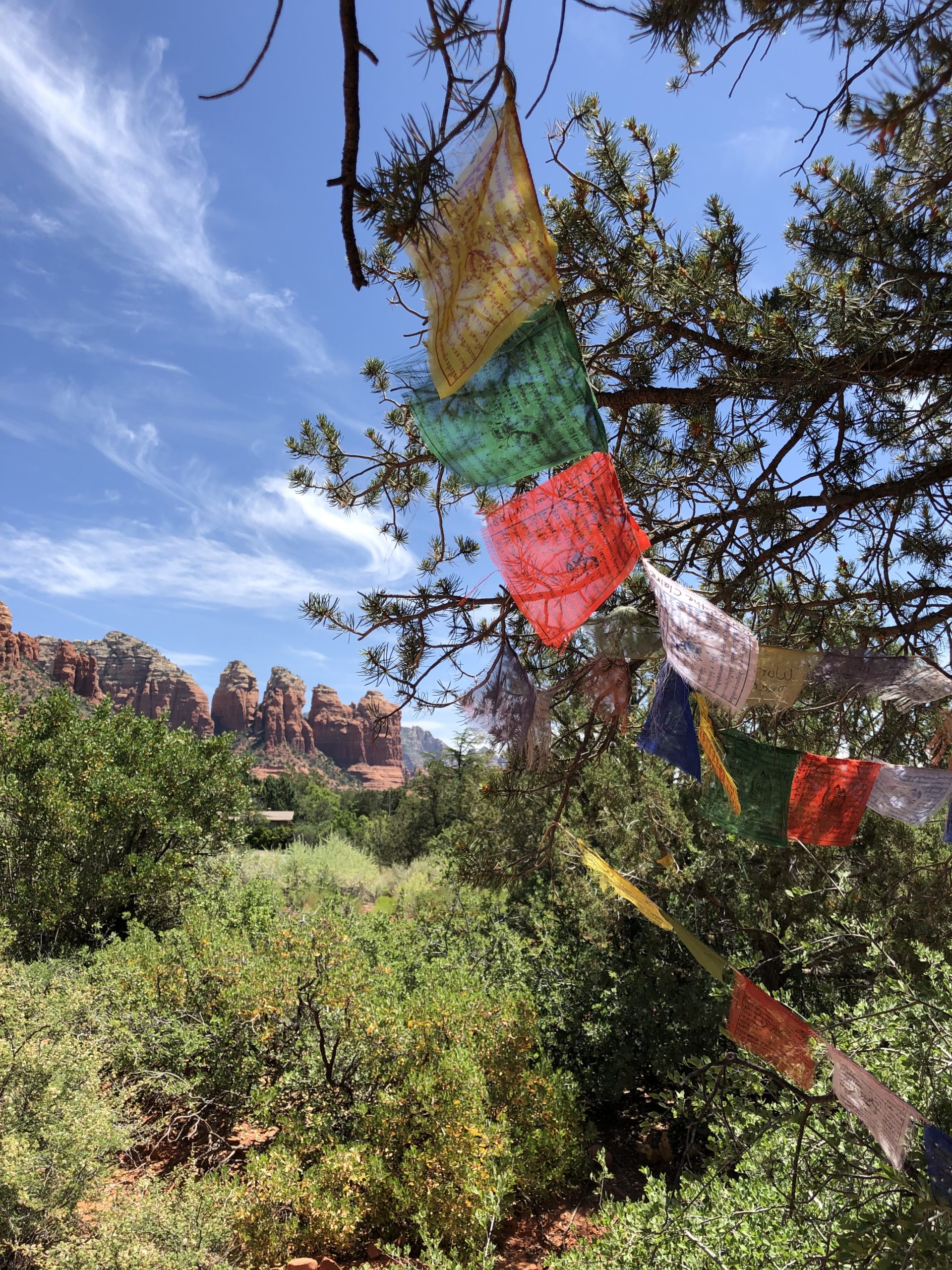 Colorful prayer flags lined this lovely, peaceful property, fluttering above various species of cacti and flowering desert plants. One needs not be Buddhist to absorb the peaceful sanctity of the surroundings.
Mariposa and other local dining
The restaurant Mariposa had been referred to me more than once, and we were fortunate enough to get a coveted reservation on the patio at sunset.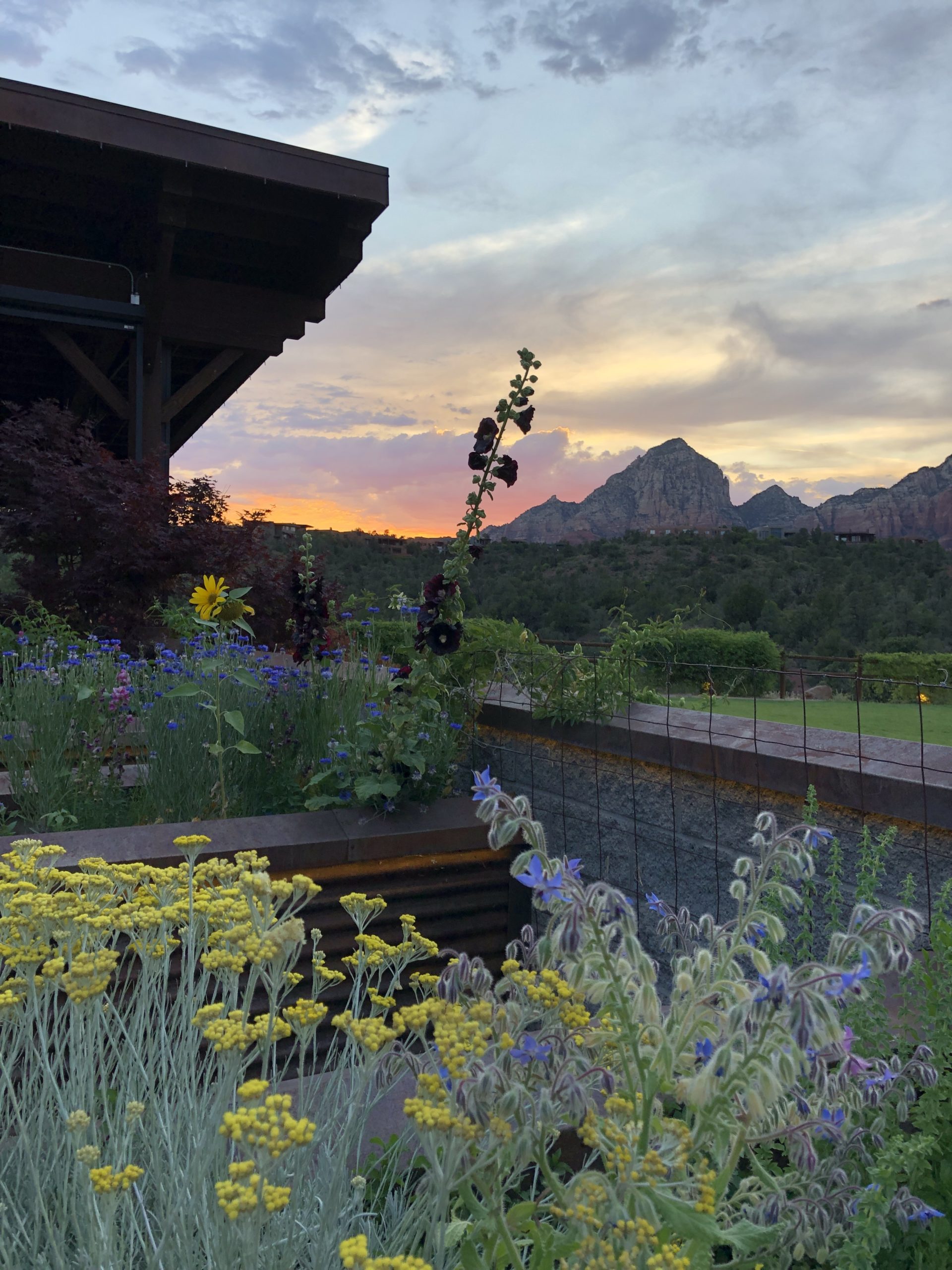 The views and setting were ethereal, with fire-lit iron globes flanking the entrance. At any given moment, diners left their tables (me, included) to capture the colors in the sky as they morphed. The food, from what I remember, was good, but definitely not the main reason for heading to Mariposa. That said, I would head back any day to watch the sky perform.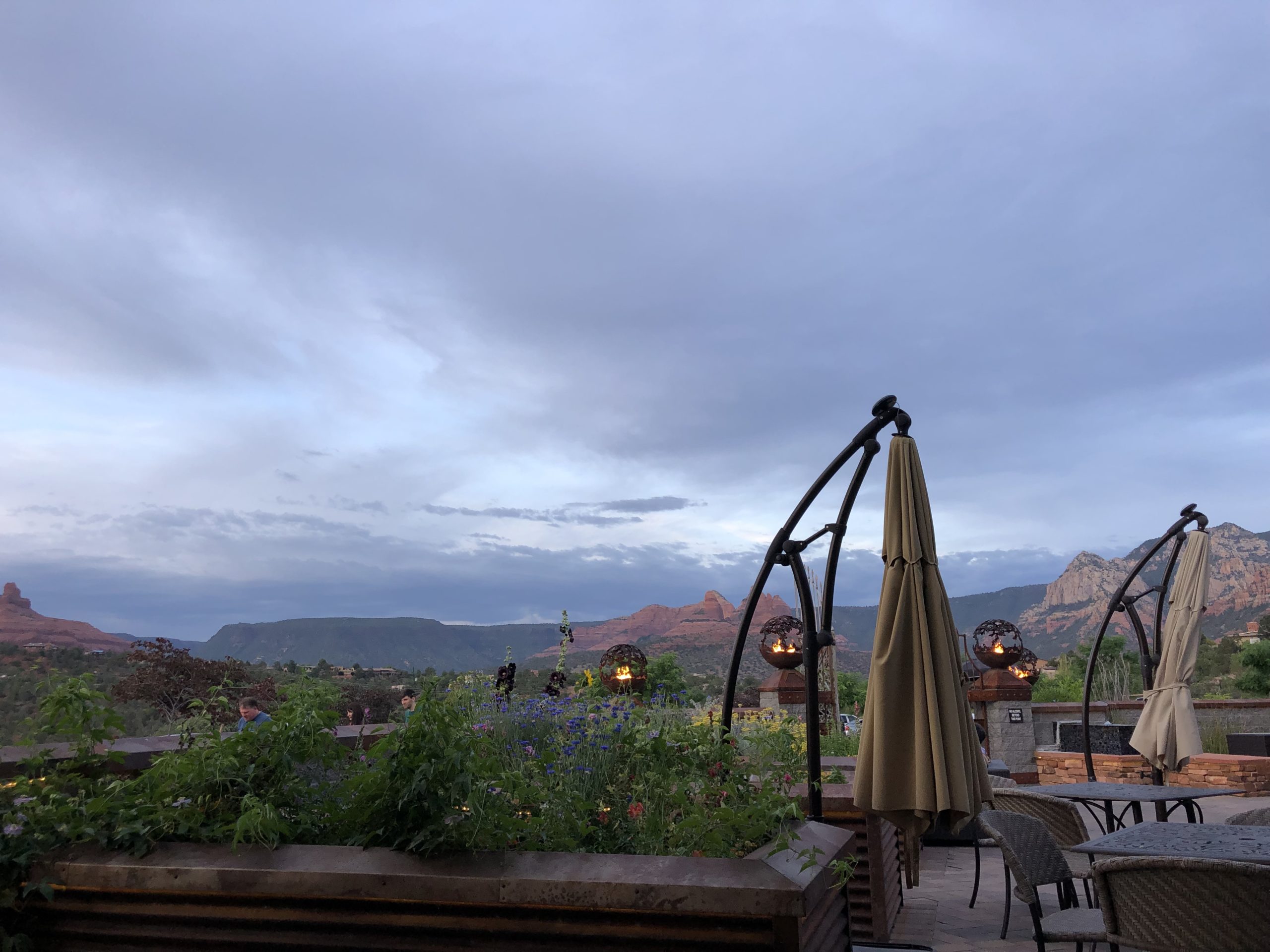 Eloté Cafe eluded us. I often pride myself on getting reservations to restaurants even before I book my first flight. Eloté will have to wait, a good enough reason to return to Sedona next year. Award-winning chef Jeff Smedstad uses seasonal and locally sourced ingredients to create dishes that are said to be inspired by the markets of Mexico. I only hope he keeps the smoked chicken enchiladas and his grandma's corn cakes on the menu. My mouth is watering as I write.
Looking up, one last time
My final morning, I took one last vista hike, and decided to head out without a camera. I was afraid I would regret it, not having the chance to capture something that had escaped me before. For almost an hour, I sat in the shade watching the sun creep along the edge of the rock formations. Was the light creating the character of the mountains, or simply revealing it? Without the distraction of a camera, I was fully present in nature and lost in thought.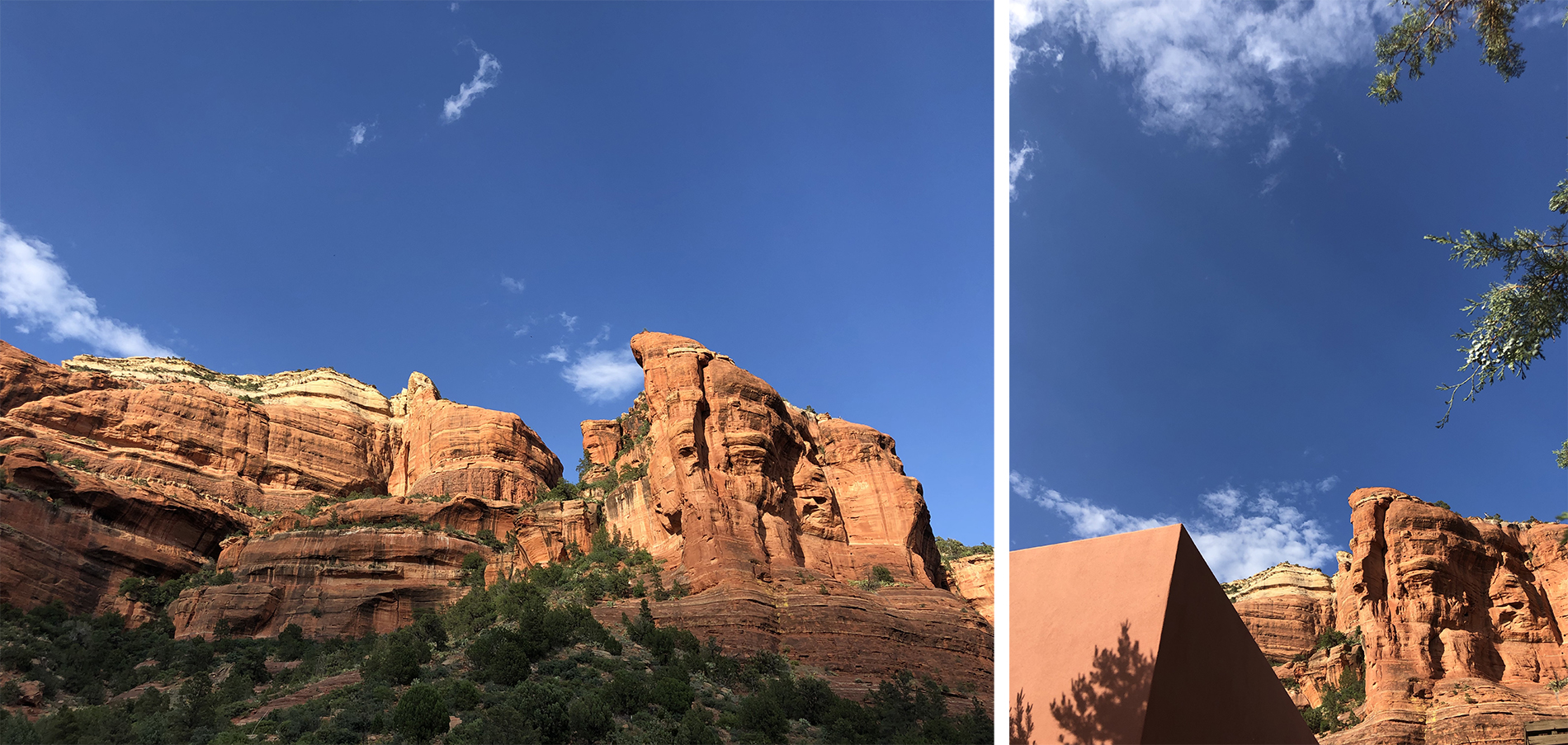 I'm not sure why I am surprised that I was less distracted looking at the mountains with my eyes versus through a lens, but it was one of my favorite moments of the trip. I was forced to sear the memory in my mind.
A few days after returning home, I listened to a podcast by Elizabeth Gilbert, the author of Eat, Pray, Love. At one point she confessed, "I prefer to live in an enchanted world."
A world where even the air is enchanted? I'm right there with you, Ms Gilbert. Well said.
Author's Note: Please be advised that some highlighted destinations may have different hours due to COVID-19 or may be temporarily closed. Please call, or refer to individual websites for current operating hours.
*******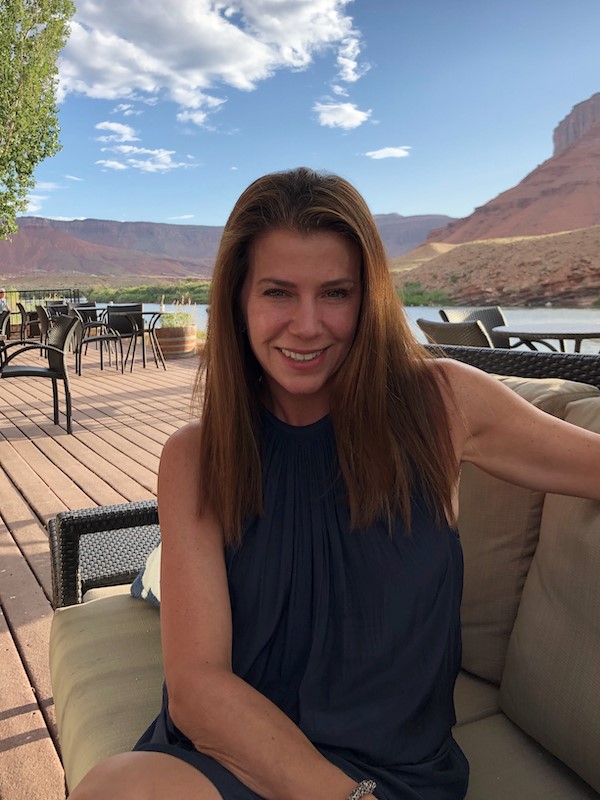 Jamie Edwards is an avid traveler, travel writer, and photographer. She launched I am Lost and Found, her adventure/luxury travel website after 25 years of living and traveling around the globe. Jamie's goal is simple: to inspire travel. Keep up with Jamie's adventures in travel here.
CIRE Travel is a full-service travel agency headquartered in New York, NY. Our expert team supports clients across the country and around the world.
---
Where in the World Do You Want to Go?
Inspired to plan your next weekend getaway, vacation or trip of a lifetime? See that form below? That's all it takes to begin your next epic travel story.