Honeymoons and destination weddings — there's so much pressure to get them right. And the planning seems endless because there's a lot riding on them. First, you both need to agree on a destination; then there's the accommodation, and what about the best things to see and do while you're there? And if you're having a destination wedding, you'll need to plan for your guests too!
But organizing these big milestone moments doesn't need to be complicated. At CIRE Travel, we're pros when it comes to honeymoons and destination weddings. We've been to all the romantic hotspots, and our luxury travel planners are experts when it comes to creating fairy-tale destination weddings and dreamy newlywed getaways. To give you a little taste of what to expect, check out our guide to one of the best honeymoon destinations in the world — Tahiti and Bora Bora. These stunning French Polynesian islands are regulars on the best honeymoon and destination wedding lists, and it's not hard to see why!
Stay: Luxury Hotels in Tahiti and Bora Bora
French Polynesia — also known as the Islands of Tahiti — is synonymous with honeymoons and romantic getaways. Located in the South Pacific, this idyllic collection of 118 islands and atolls offers a picture-perfect stay amongst swaying palms, crystalline waters, and the whitest sandy beaches. Our Honeymoon Travel Agents have compiled a list of the best things this tropical island paradise has to offer. So, let's start with accommodation — when you're talking about the home of the overwater bungalow, you know you're in for a treat!
1. Intercontinental Resort Tahiti
Welcome to paradise! First stop, Tahiti. International flights arrive on the main island, Tahiti, allowing you to slowly ease into 'island time' before heading to the outer islands. The Intercontinental Resort Tahiti is conveniently situated on the northwest tip of the island near the airport and the capital city Papeete. One of the biggest luxury resorts on Tahiti, it has 253 Polynesian-style guest rooms, including 31 overwater bungalows and magnificent views across the lagoon to the island of Moorea. Indulge in gourmet waterfront dining at The Lotus Restaurant, relax by the freshwater infinity pools, or have some fun snorkeling with the underwater residents of the resort's 'lagoonarium'.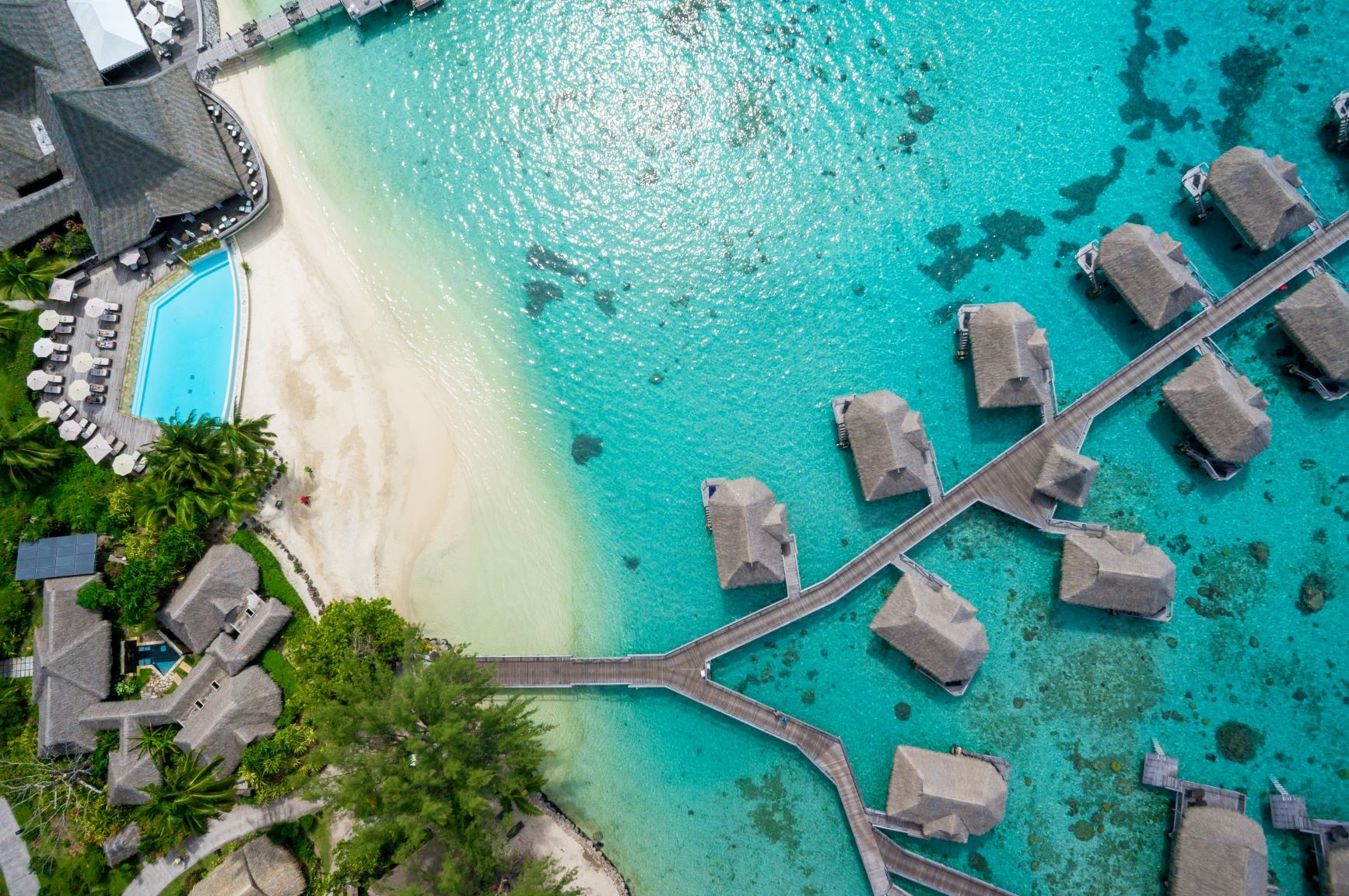 2. Sofitel Kia Ora Moorea Beach Resort
Moorea is usually the second stop for visitors to French Polynesia. On the north-eastern side of this heart-shaped isle, you'll find the Sofitel Kia Ora Moorea Beach Resort. Located on one of Moorea's most beautiful beaches, this luxury resort has more than 100 luxe palm-thatched bungalows, including 38 fabulous overwater bungalows where you can enter the lagoon from a ladder attached to your private deck. This five-star property was named among the top 15 resorts in Australia and the South Pacific by Condé Nast Traveler's Readers' Choice Awards 2022 and offers guests a luxurious, secluded stay on a crystal-clear lagoon, beachfront fine dining at K Restaurant and a blissful couple's massage at Le Jardin day spa.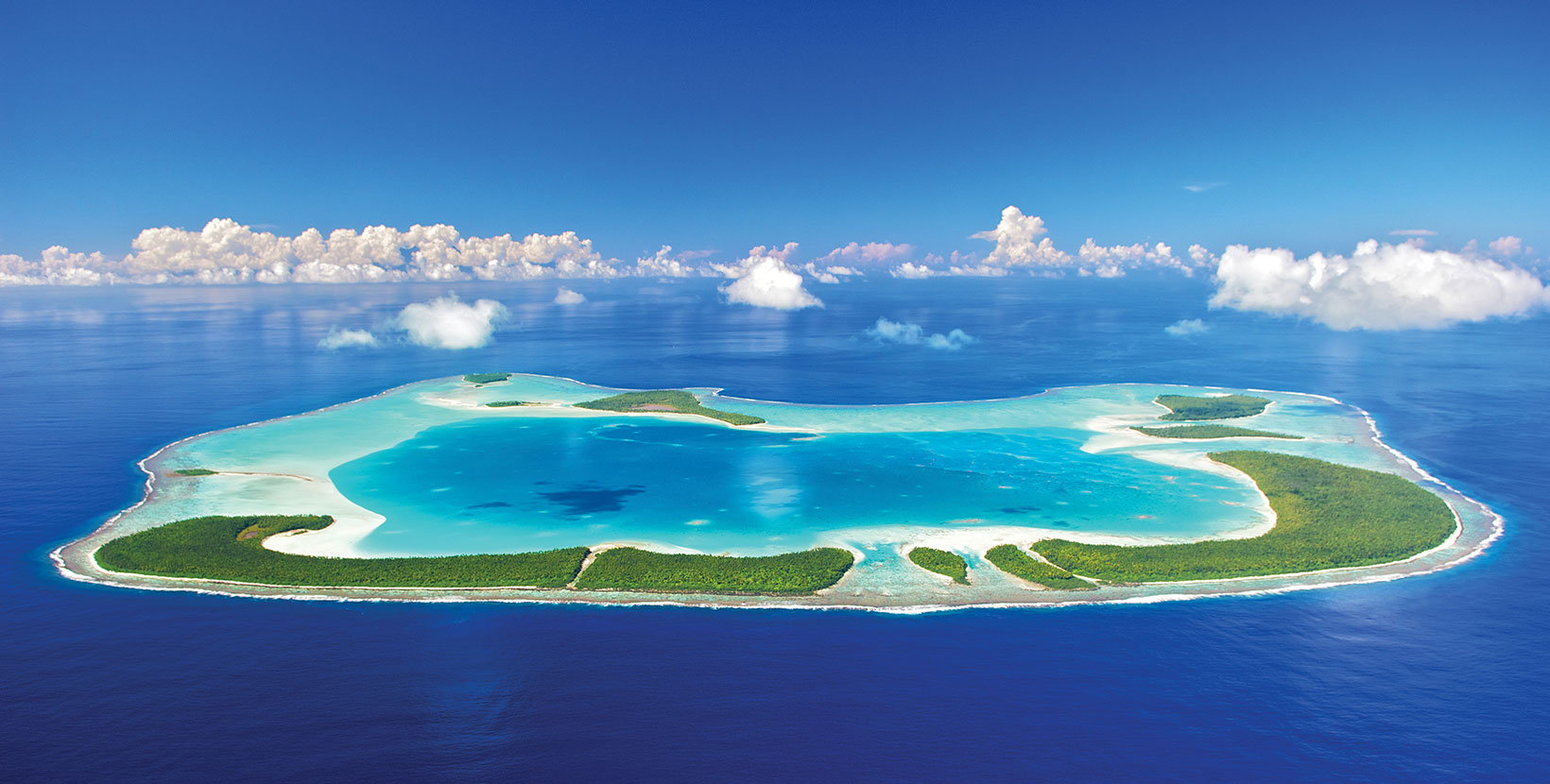 3. The Brando
You'll be following in the footsteps of the rich and famous with a stay at The Brando on breathtaking Tetiaroa Island. Named after the legendary actor Marlon Brando, this luxury resort is the ultimate island hideaway with just 35 secluded villas, each with its own private pool. The Hollywood icon fell in love with the island while filming Mutiny on the Bounty in the 1960s. He later bought it as a refuge from the spotlight and lived out his days in paradise with his Tahitian wife. Brando, a dedicated environmentalist, created this luxury, self-sustaining resort to preserve and protect his beloved island. His dream was realized when The Brando opened in 2014, ten years after his death.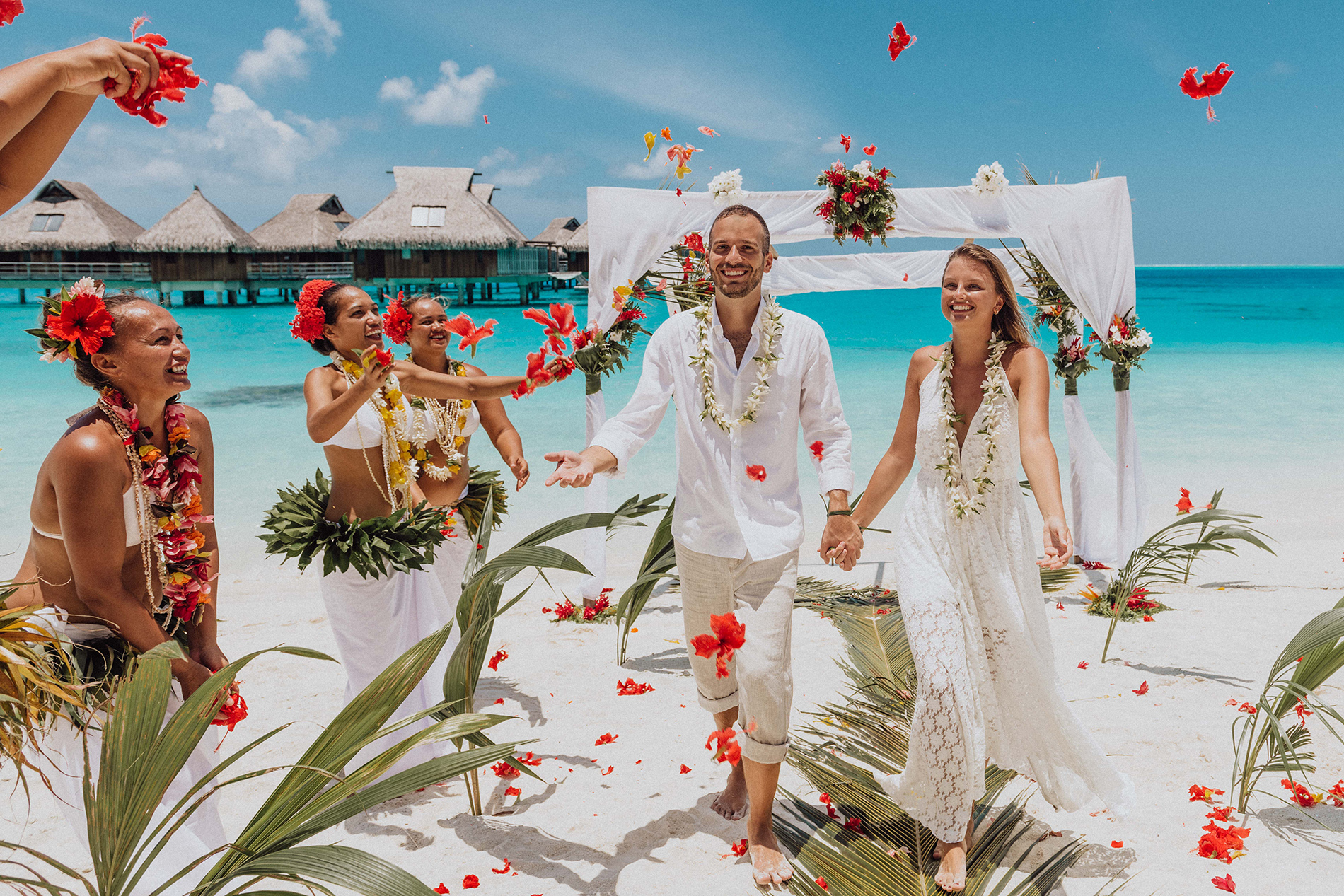 4. Conrad Bora Bora Nui
Bora Bora is a honeymooner's dream — it's the ultimate in romance and over-the-top indulgence. So, it's no surprise it's one of the top locations in the world for destination weddings, honeymoons, vow renewals and anniversary celebrations. The team at Conrad Bora Bora Nui love helping guests celebrate life's precious moments. This award-winning luxury resort is the epitome of tropical island bliss with its overwater bungalows, sugary white sand and dazzling blue water.
The resort celebrates love in typical Polynesian fashion — with flowers, dancers, musicians, and spectacular views of the glistening turquoise lagoon, carefully curating each experience to bring their guests' dreams to life.
"We tailor all the romantic experiences to our guests' desires," says General Manager Stuart de San Nicholas.
"From a romantic dinner by the beach to a wonderful wedding ceremony at the chapel or on a private island, we create a once-in-a-lifetime experience. Escaping to the most romantic island in the world with your significant other is a romantic experience every couple should have at least once in their lifetime."
Eat: Best Restaurants in Tahiti and Bora Bora
You can expect a mouth-watering fusion of French cuisine and Polynesian flavors when dining out in French Polynesia. Resort dining on the islands is exceptional, and there's an excess of stunning settings for that intimate dinner for two. Read on for our tips on some of the best fine dining in French Polynesia.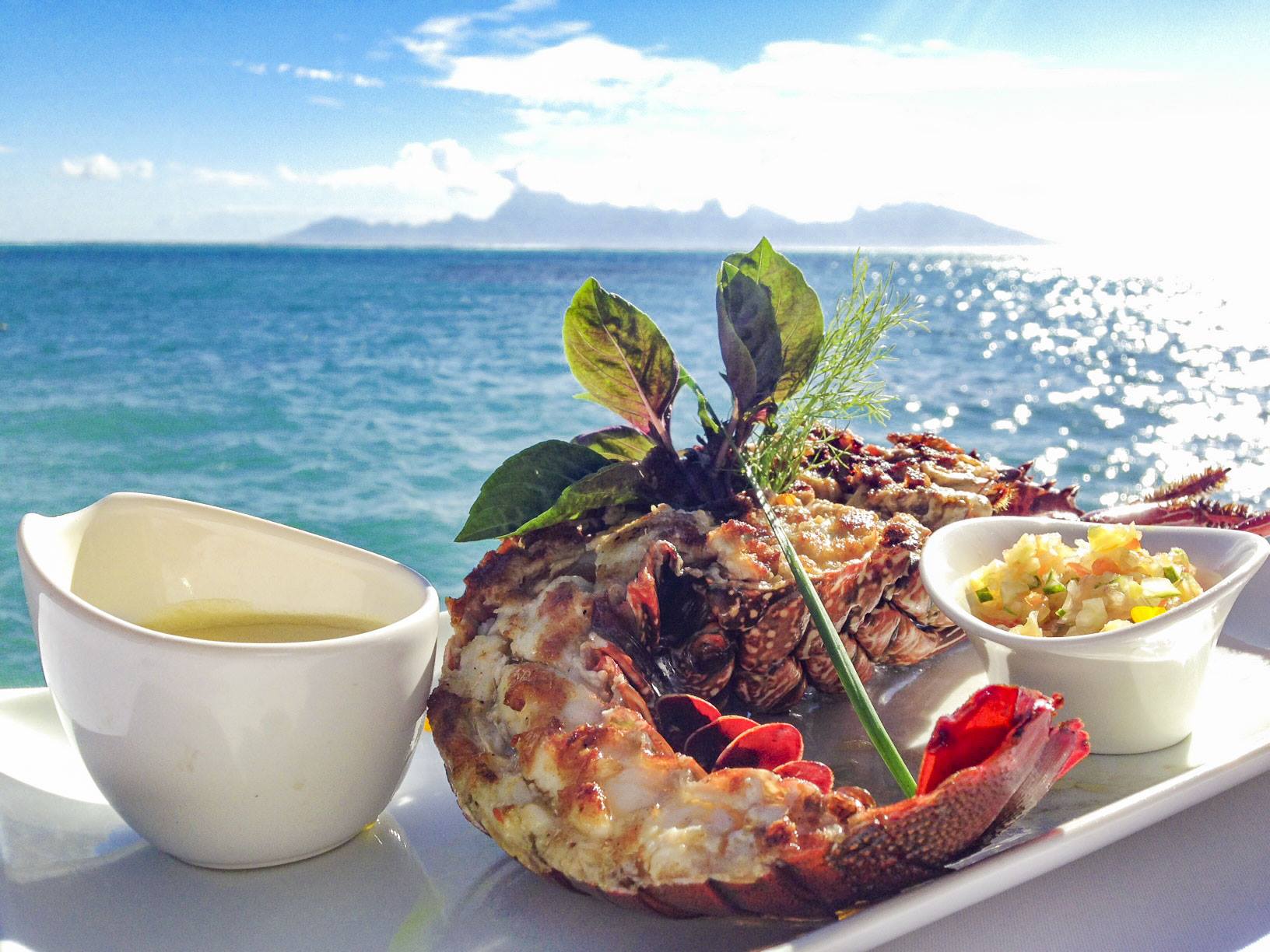 1. Le Lotus (Tahiti)
Enjoy a unique fine dining experience perched above the lagoon at Le Lotus. Part of the Intercontinental Resort Tahiti, this gourmet French restaurant sits on stilts over the water and offers a romantic, intimate setting with unspoiled views of neighboring Moorea island.
2. Restaurant Te Honu Iti (Moorea)
"The Little Turtle" is a classic French restaurant with an outdoor deck area overlooking Cook's Bay, where you can dine with your partner under the stars. Also known as "Chez Roger" after the restaurant's chef, the menu offers fresh seafood and delicious French fare. For a special treat, secure a table by the water and look out for the sharks and stingrays frolicking in the shallows around you!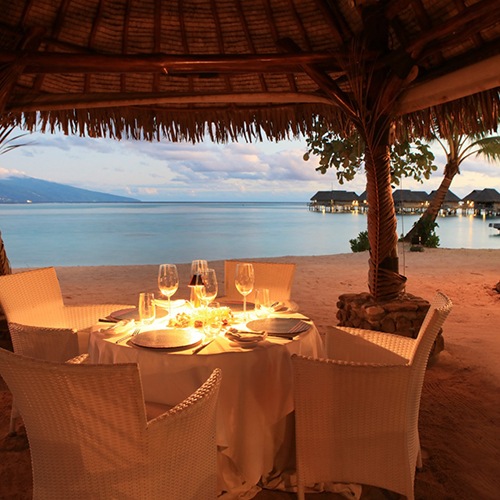 3. K Restaurant (Moorea)
The perfect backdrop for a romantic dinner for two. The only fine-dining restaurant on Moorea sits on one of its prettiest beaches. At K Restaurant, you can indulge in modern French cuisine under a cathedral ceiling made from rare wood, with the silkiest, whitest sand between your toes.
4. La Villa Mahana (Bora Bora)
It's intimate fine dining in an incredibly romantic setting. Owner and chef Damien Rinaldi-Dovio runs La Villa Mahana within a Tuscan-style villa with seating flowing out onto a pretty terrace. But you'll need to book well in advance to secure a table as it's one of Bora Bora's most popular restaurants. It's a celebrity fave with a menu focusing on French gastronomy and island flavors. This decadent epicurean experience on Bora Bora is not to be missed!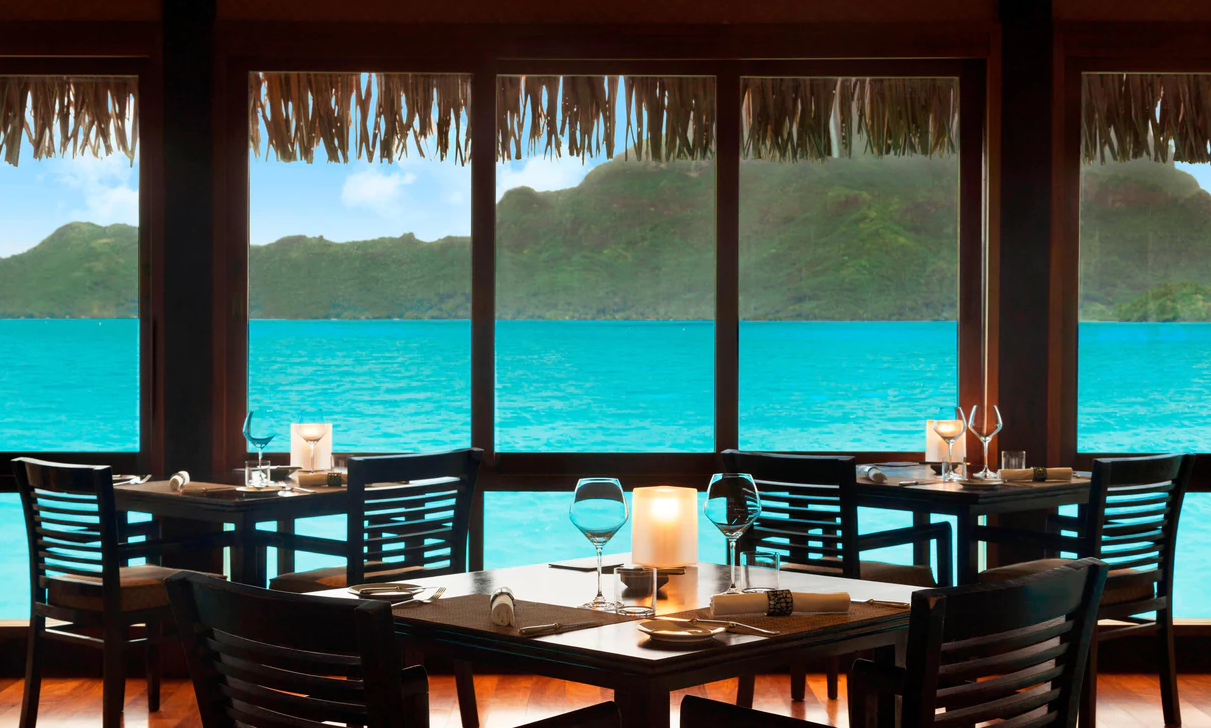 5. Lagoon by Jean-Georges (Bora Bora)
Upscale dining on Bora Bora doesn't get much better than Lagoon by Jean-Georges. Enjoy an innovative menu by three-Michelin star chef Jean-Georges Vongerichten at this elegant restaurant suspended over the water at the St. Regis Bora Bora Resort. The menu features French/Asian fusion dishes, and the restaurant offers magnificent views across the water to Mount Otemanu. Get there early for a little extra romance over pre-dinner cocktails and a spectacular sunset.
Do: Best Things to do in Tahiti and Bora Bora
Your honeymoon is the perfect chance to spend some uninterrupted quality time with your partner. With work commitments on hold, you'll only have to worry about how active — or relaxed — you'd like to be. The islands of French Polynesia each have something different to offer, so our CIRE travel advisors have put together a list of the best things to do in Tahiti, Moorea and Bora Bora.
1. Explore the Capital (Papeete, Tahiti)
International flights land in the nation's capital, Papeete, giving you a chance to immerse yourself in some Polynesian-style hustle and bustle. The lively local market, Le Marché, is bursting with fresh produce, street food and souvenirs. And at the city's largest building, the Vaima Center, you'll find retail outlets including Art'griculture, a one-stop shop dedicated to local artisans and producers. After a day of exploring the city sights, why not head to Vai'ete Square on the waterfront for a fun night together, watching the sunset and indulging in the tempting tastes of the local food trucks?
2. Historical Islands (Papeete, Tahiti)
Pay a visit to Tahiti's historical and cultural landmarks to gain a greater understanding of your tropical island location. The newly renovated Museum of Tahiti and the Islands offers a fascinating insight into Polynesian culture, myths, and legends, with artifacts and artwork from Tahiti's 118 islands. And you can learn about the interesting life of American author James Norman Hall at his former home just outside the city center. The co-author of the 1932 novel Mutiny on the Bounty lived in Tahiti from 1920 to 1951.
3. Robert Wan Pearl Museum (Papeete, Tahiti)
While exploring the city, it's hard to miss Tahiti's pearl shops. The black pearl is a favorite souvenir for visitors to French Polynesia, but before you buy, head to the Robert Wan Pearl Museum to learn all you can about this highly sought-after gem. Robert has been producing pearls for 40 years, and his museum educates visitors about the legends and history of these fascinating jewels.
4. Lush Mountain Hikes (Moorea)
If you're a couple that loves action and adventure, be sure to book a stay on Moorea. The natural beauty of this adventure paradise — which has eight spectacular mountain ridges that rise from the depths of a dazzling turquoise lagoon — will leave you spellbound. Moorea is the ideal location for hiking lush terrain and rainforest trails, and you'll be rewarded with exhilarating panoramic views once you reach the mountain top.
5. Swim with Humpback Whales (Moorea)
How's this for a bucket list adventure? Moorea, the "Magical Island", is one of the only places in the world where you can swim with Humpback Whales. These gentle giants of the South Pacific visit Moorea's warm, clear waters between July and November. If you're interested in taking the plunge for the adventure of a lifetime, let one of our CIRE travel advisors know, and we'll make it happen!
6. Parasail in Paradise (Bora Bora)
What better way to take in the full beauty of Bora Bora than from the sky? This exhilarating experience will take you high above the dazzling white sands and crystal-clear waters of beautiful Bora Bora. Try it solo or hand-in-hand with your special someone for some incredible memories that will last a lifetime.
7. Pink Sand Beach (Rangiroa)
This last activity takes remote island romance to the next level. Take a private boat ride with your beloved 90 minutes north of Moorea to one of French Polynesia's best-kept secrets. The island of Rangiroa is home to Les Sables Roses, otherwise known as the pink beach, where crushed seashells and coral give the sand its captivating pink hue. With our connections on the ground in Tahiti and the islands, our honeymoon travel agents can help create a magical moment for the two of you in this Polynesian paradise, complete with a BBQ lunch.
CIRE is Here to Help
Planning a wedding or a honeymoon is a considerable undertaking. At CIRE Travel, we've helped thousands of love birds turn their dreams into reality. Our award-winning honeymoon travel advisors are on top of all the latest wedding and honeymoon trends, and they'll be by your side throughout the planning process. They know the hottest destinations and the most luxurious places to stay to ensure your time away is extra special.
CIRE Travel is a full-service travel agency headquartered in New York, NY. Our expert team supports clients across the country and around the world.
---
Where in the World Do You Want to Go?
Inspired to plan your next weekend getaway, vacation or trip of a lifetime? See that form below? That's all it takes to begin your next epic travel story.