Sixteen sails billowing in the wind. Polished teak decks. Gleaming brass details. Old world charm (with all the modern amenities). Sisterships Star Clipper and Star Flyer are two, true clipper ships that are part of the fleet of Star Clippers Cruises. Our adventure-loving (yet comfort-craving) CFO, Mark Pizza, recently embarked on a 7-night journey on the Star Clipper, sailing along the Amalfi coast to Sicily and back. During his week at sea, Mark visited Lipari, Messina (with an excursion to Taormina and Mt. Etna), Amalfi (including Positano), Sorrento, and Ponza. He just got back…
First Impressions
"The excitement for my 7-night sailing on Star Clipper really hit me when we pulled up to the port in Civitavecchia, Italy. When first arriving at the dock, I was surprised at the size of the ship…it was much bigger than I expected. The sight of a Star Clipper under full sail is breathtaking and has a feeling of old-world charm. It's a magnificent vessel that feels like it's from a bygone era, its tall masts towering into the sky, its billowing white sails, and the crew in their nautical attire, welcoming us with warm smiles. A promise of adventure filled the air…"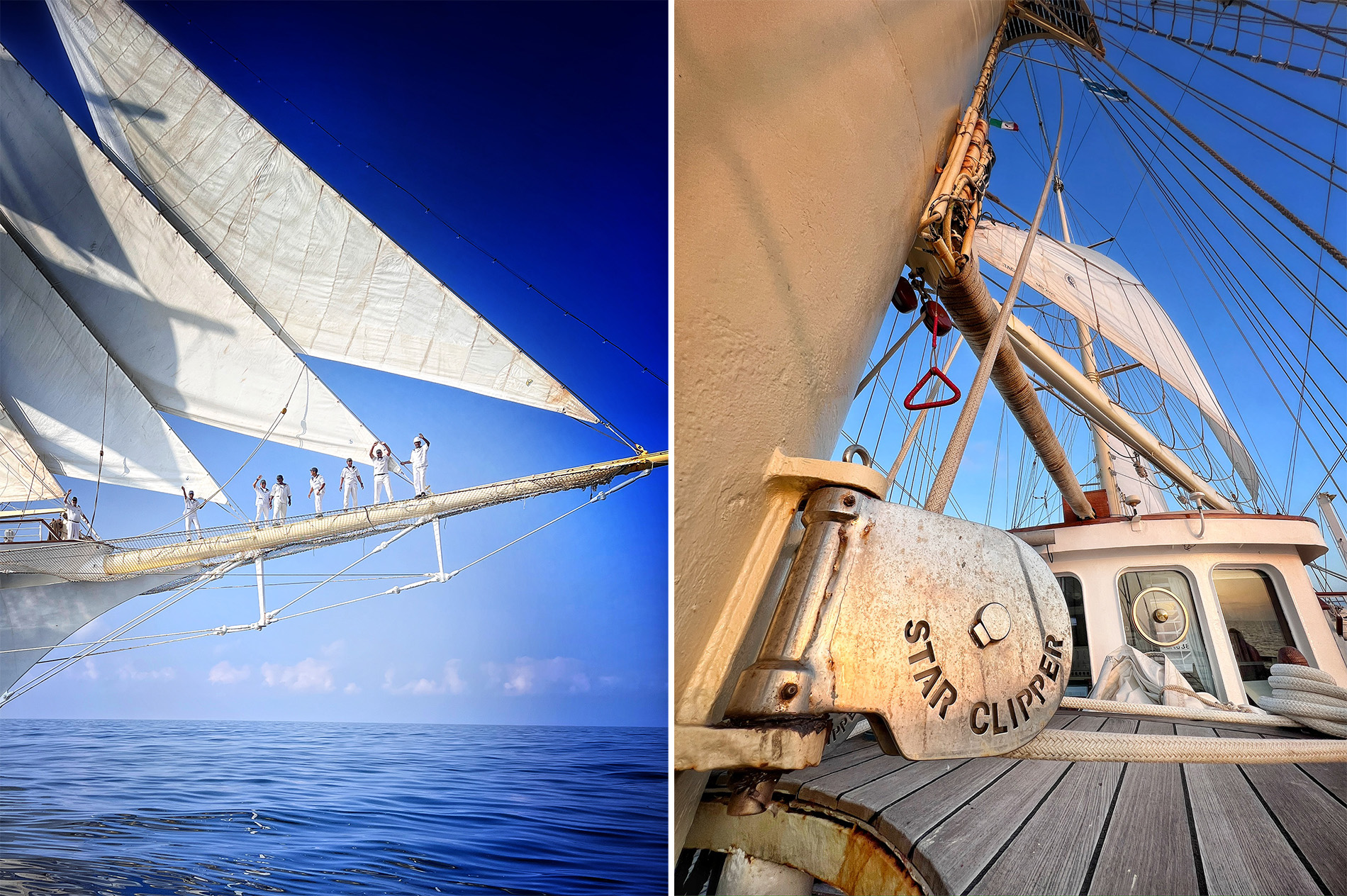 The Vibe
"The overall vibe was very relaxed and chill but with an undercurrent of adventure. The ship is large enough to explore yet small enough to feel comfortable with your surroundings and not be overwhelmed. It does not feel crowded at all. Relax on one of the sun decks or hang out on the netting at the bow. If you're feeling brave you can climb the mast and take in the marvelous views. The ship features amenities like a spa, pool, and lounging areas, providing opportunities for unwinding and rejuvenation. And yoga classes were available twice each day, in the morning and afternoon."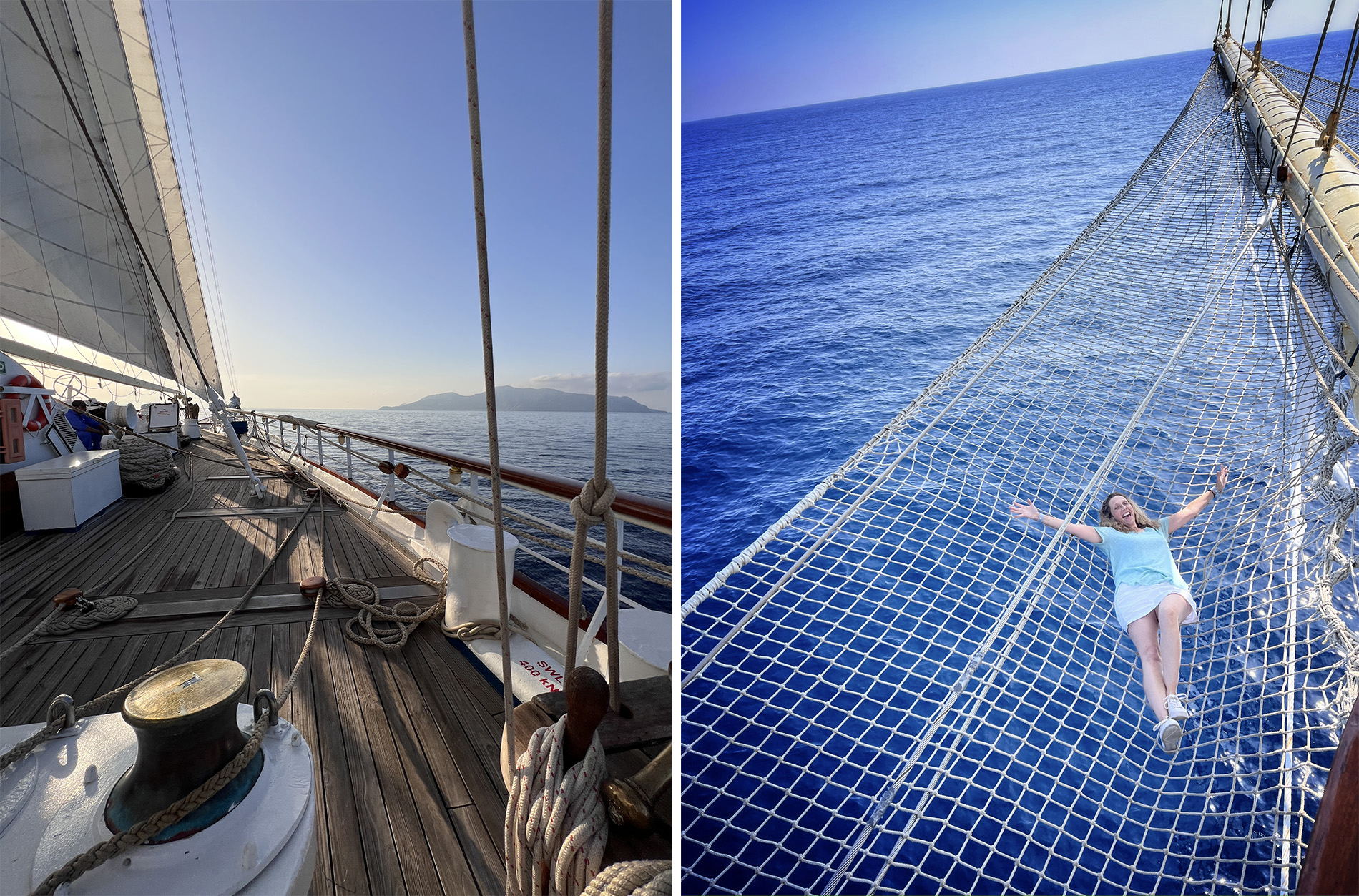 The Food
"The great part of sailing the Amalfi Coast down to Sicily is that you are able to experience food in many places and try the local cuisines, including many styles of pasta, pizza, fresh fish, and, yes, gelato! As you head south along the coast, lemons are more prevalent, so for those who love lemon gelato and limoncello, this region is for you. From Rome to Sicily the pizza styles would vary and yes, I ate as much pizza as possible. (It's my name for goodness sake!) Octopus, sausage, cheeses, and multiple varieties of bruschetta were also at the top of my list of food items to try. A Sicilian brunch on the slopes of Mt. Etna at the Gambino Vineyard was a food highlight with locally sourced meats, cheeses, olives, eggs, and roasted eggplant. And the olive oil was magnifico!"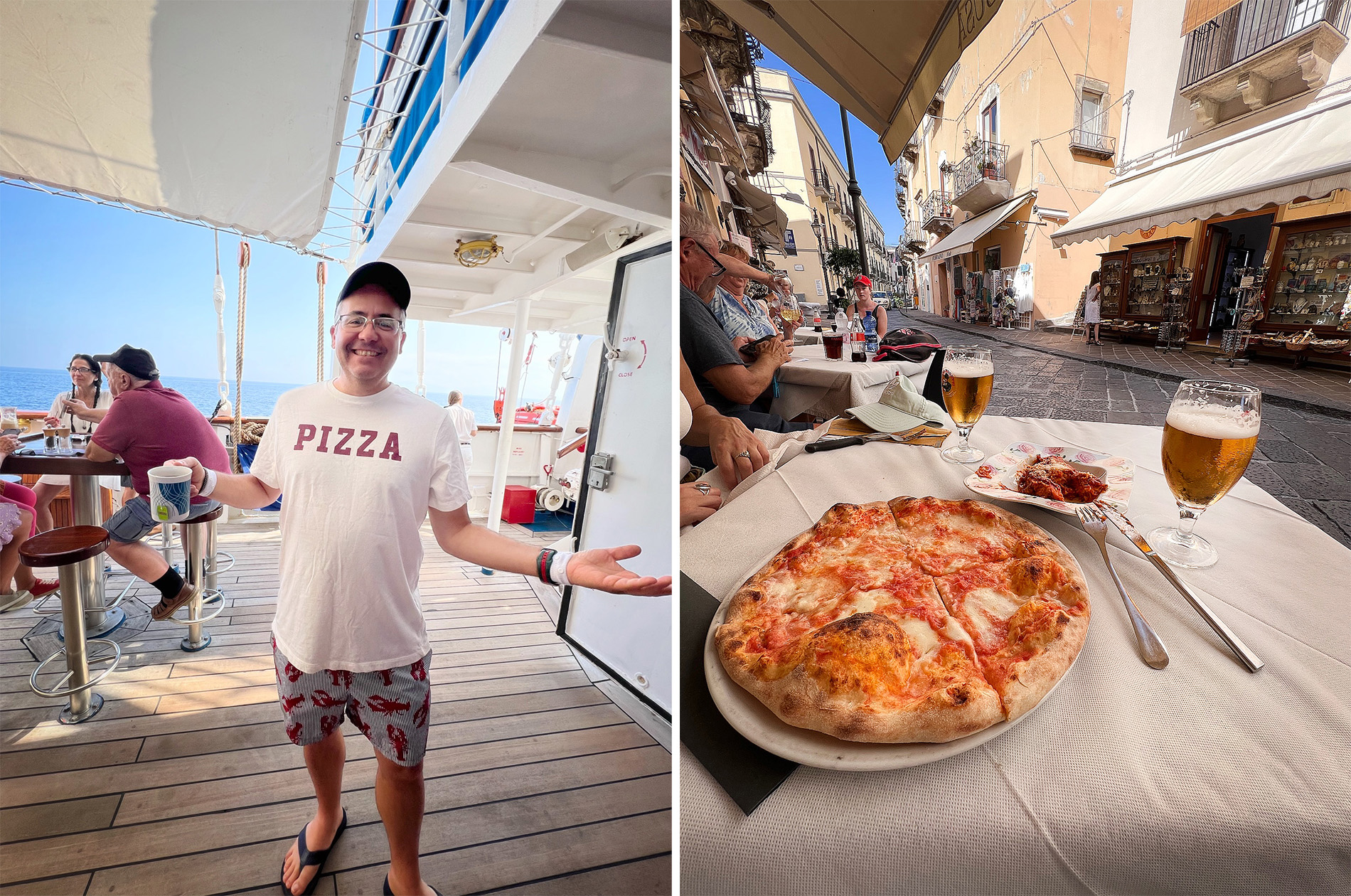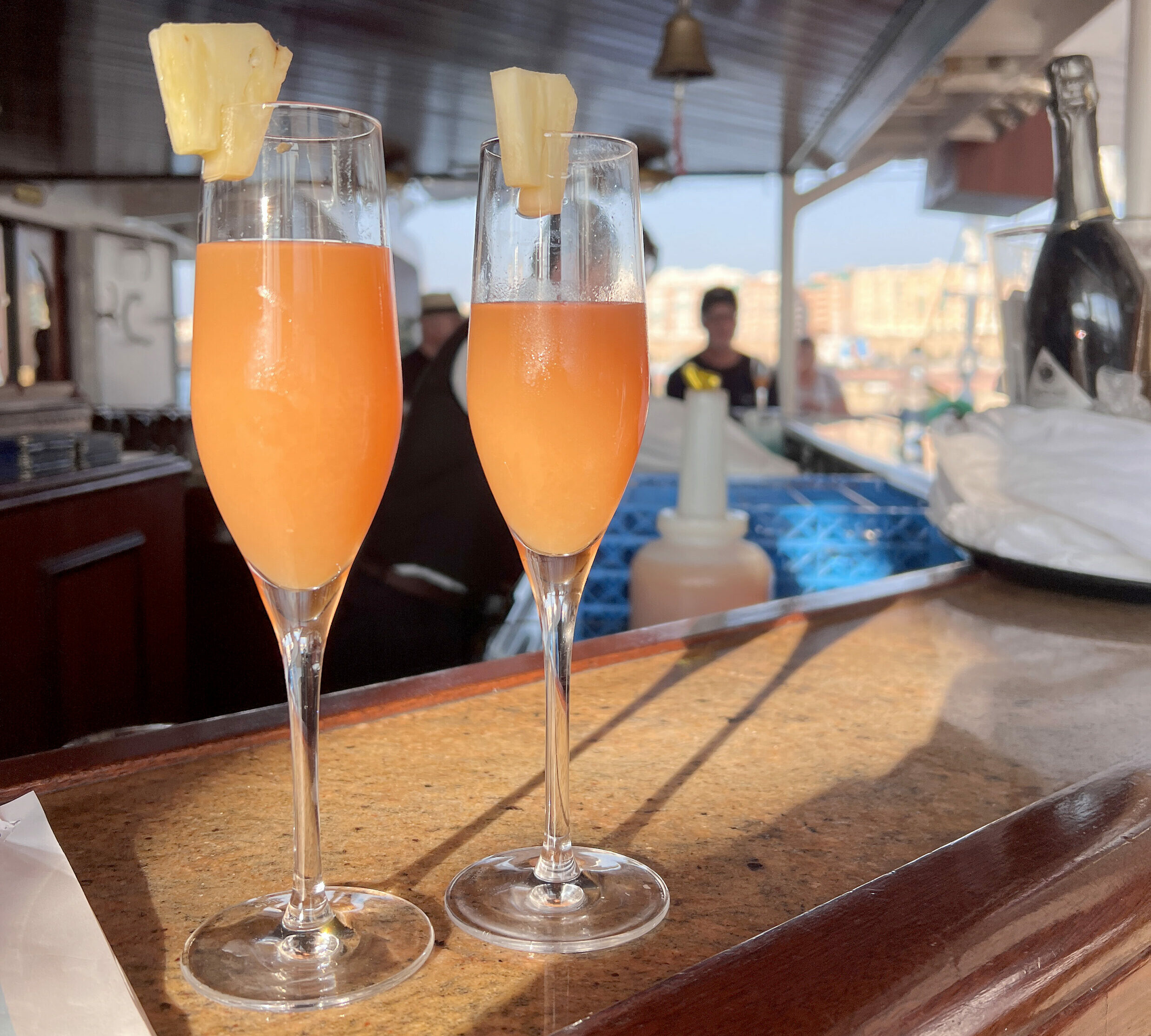 The Ship
"A big part of the charm of traveling with Star Clippers is the opportunity to have a unique sailing experience. The decor of the Star Clipper and Star Flyer is reminiscent of the grand age of sailing but with modern touches. Antique prints and paintings of famous sailing vessels adorn the walls. Polished teak decks and gleaming mahogany rails run the length of the ship. I was surprised to learn that these ships offer more outdoor space per passenger than most conventional cruise ships. In fact, much of my week was spent outside of my cabin, relaxing in one of the lounges or bars (the lively Tropical Bar was my favorite!), and sitting on the deck, enjoying the sea breeze and gorgeous views. There's ample seating on the spacious decks, perfect for strolling or sitting and chatting with fellow passengers, watching the world go by."
Don't Miss…
"The raising of the sails! The opportunity to raise the sails with the crew was so fun! Also, the photo ops. Being an avid photographer, this trip was a photographer's dream trip with amazing views of the Mediterranean coastline and the breathtaking scenery every single day."

A big thanks to our partner June Muenzer and the entire team at Star Clippers for hosting Mark!
Ready to start planning your sailing adventure with Star Clippers? Our expert team is ready to help! Drop us a line!
CIRE Travel is a full-service travel agency headquartered in New York, NY. Our expert corporate travel planners, honeymoon travel agents, and luxury travel planners support clients across the country and around the world.
---
Where in the World Do You Want to Go?
Inspired to plan your next weekend getaway, vacation or trip of a lifetime? See that form below? That's all it takes to begin your next epic travel story.