I try to avoid the word 'perfect' when I write. It's deliberate, as there really is no perfect. Perfect can set us up for failure, and often does. Whether I'm writing about a meal, a bottle of wine, or a hotel, perfection simply doesn't exist. But striving for perfection? Well, that's a different story altogether.
A few summers ago, a group of friends from our ex-pat days in Tokyo wanted to reunite. At the time, we were scattered across the globe—Sweden, New York, Los Angeles, and Hong Kong. For reasons I can't quite recall, we decided that Italy would be the best location to gather. I need no encouragement to travel to Italy, a country that has my ideal travel trifecta; fabulous food, wine, and culture.
Tasked with finding the 'perfect' villa, I started my research, aka making a call to the team at CIRE.
To Villa, Or Not To Villa?
A good question. Unless you have been living on the moon the past two years, it's pretty clear that vacations, where we interact with fewer people on a daily basis, have risen in popularity. There are obvious perks of villa life; home-like accommodations in a gorgeous setting, a personal chef to whip up local feasts, beach access, and luxurious pools.The less obvious perks are endless. A villa may include an organic kitchen garden where vegetables and herbs can be hand-picked for dinner. A state-of-the-art gym or glass-enclosed yoga studio to shed holiday calories in real-time. Some villas have on-site mokes (motorized beach buggies) or golf carts, on-demand masseuses, or energy healers. Others have olive groves, lemon trees, and vineyards.
When I seek out a villa, I first consider my audience. In this case, we had six families including 10 kids ranging from 5-12 years old. It needed to have child-friendly amenities without feeling kid-centric. I envisioned multiple spaces to eat, drink, and lounge. Cozy nooks to read or nap, and a central enough location for those who wanted to explore the surrounding Italian countryside. A tall order, indeed.
Ciao, Villa Laura
Villa Laura is a sweeping property just outside of the walled Italian village of Cortona, on the border of Tuscany and Umbria. It was used as the location for the 2003 romantic comedy, Under the Tuscan Sun. The movie and book are based upon author Frances Mayes' life-changing experience when she bought a fixer-upper villa in Tuscany. For anyone who has yet to see Diane Lane's Golden Globe-nominated performance, find your TV remote and cozy up on the couch. I'll wait.In the film version, Villa Laura is referred to as Bramasole, which means 'to yearn for the sun'. That's something we never did, as the property absorbed every ray of sunlight, whether indoors, or out. Frances Mayes realized the imperfections of the villa and embraced them. She saw the diamond in the rough and rebuilt her life and the villa simultaneously.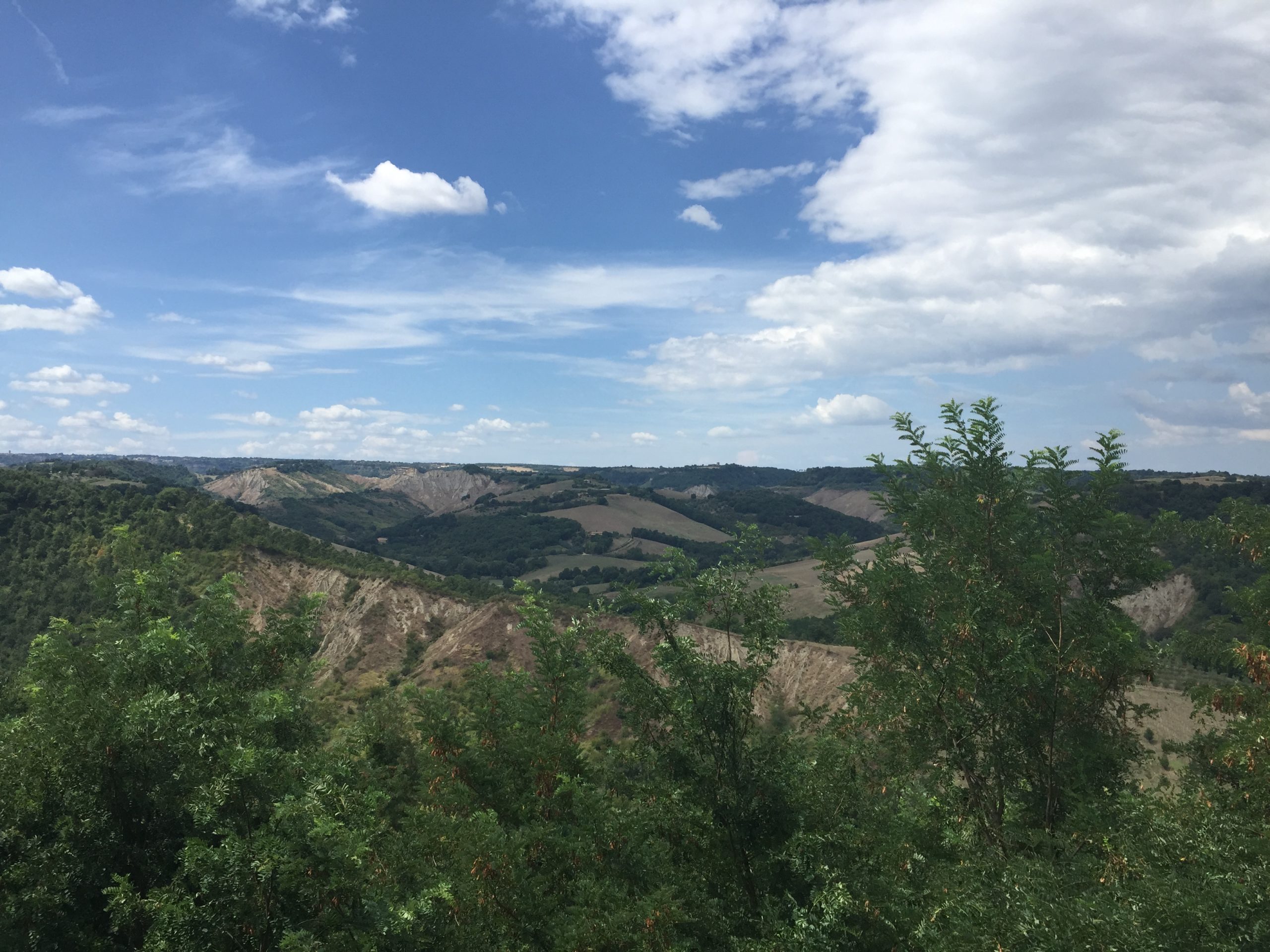 Villa Laura dates back to 600 AD. Its charm was palpable, and I sensed its history while exploring the grounds. The washed stucco villa, with sage green, painted shutters, changed color from pale yellow to rich gold over the course of the day. The light shifted and unfolded over the distant fields. Sage green, a color that will forever capture the essence of our summer in Italy.
Meandering became an activity I looked forward to each day. I rarely meander in my DC life. I race, run, and jump through hoops. I tick things off of my to-do list. Meandering—far better for the mind, body, and soul.
Striking Gold
It takes more than a pretty setting in a European country to create a villa worth traveling for. A villa should strike the optimal balance of homey creature comforts, the indulgences and amenities of a 5-star hotel, and over-the-top culinary experiences to boot.
Villa Laura struck proverbial gold. The well-curated welcome hamper of local treats that greeted us upon arrival marked the beginning of many surprises ahead. Our property manager introduced us to the ins and outs of our home away from home. I found myself always one step behind her, my mouth agape, visually and mentally overwhelmed.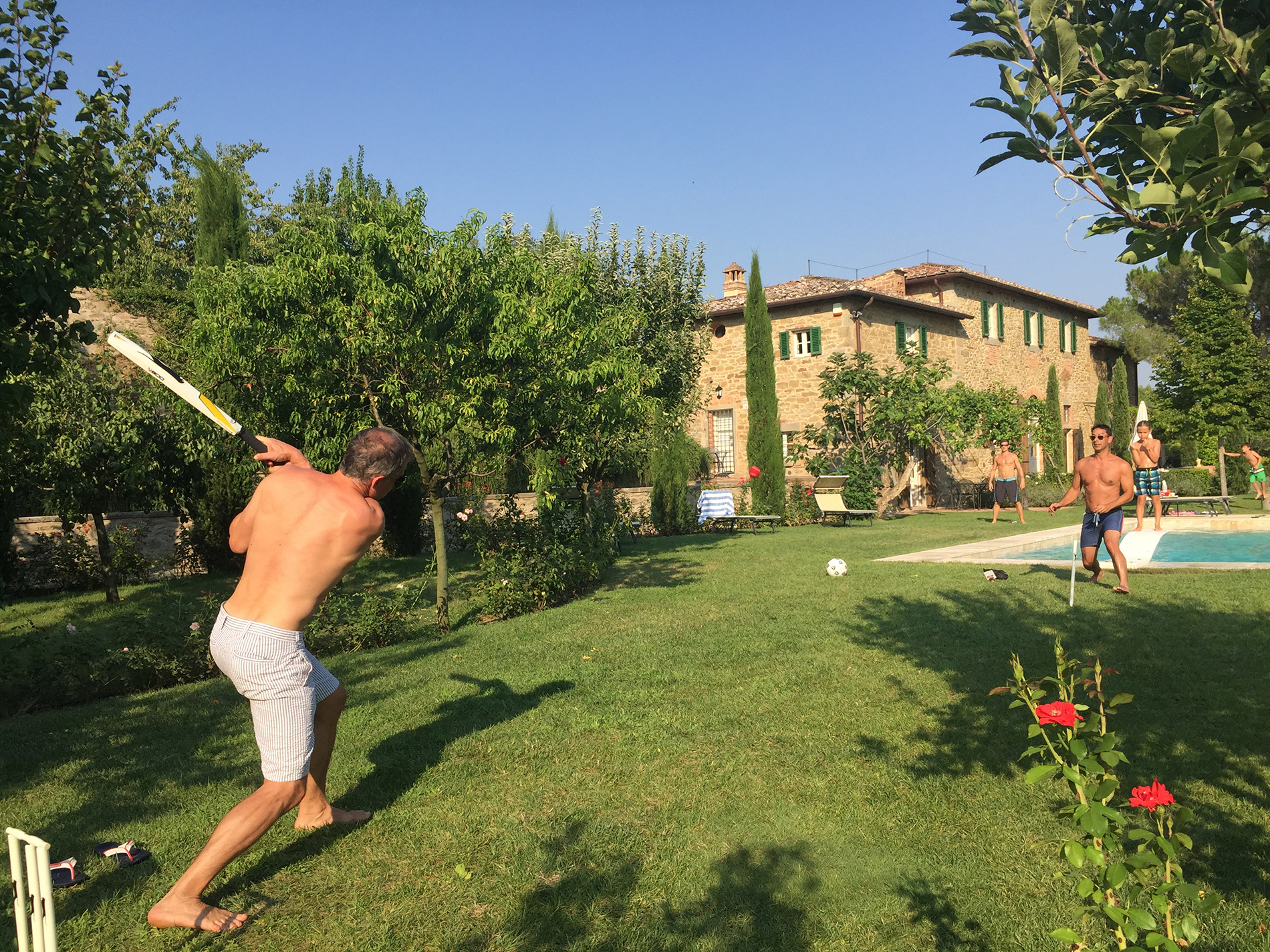 The grounds were idyllic, with lush green grass for the group to play soccer and frisbee. As we strolled, I heard lyrical Italian voices of locals rising beyond our tall, stone walls. I mused (not for the first time) what it would be like to stay in Tuscany indefinitely.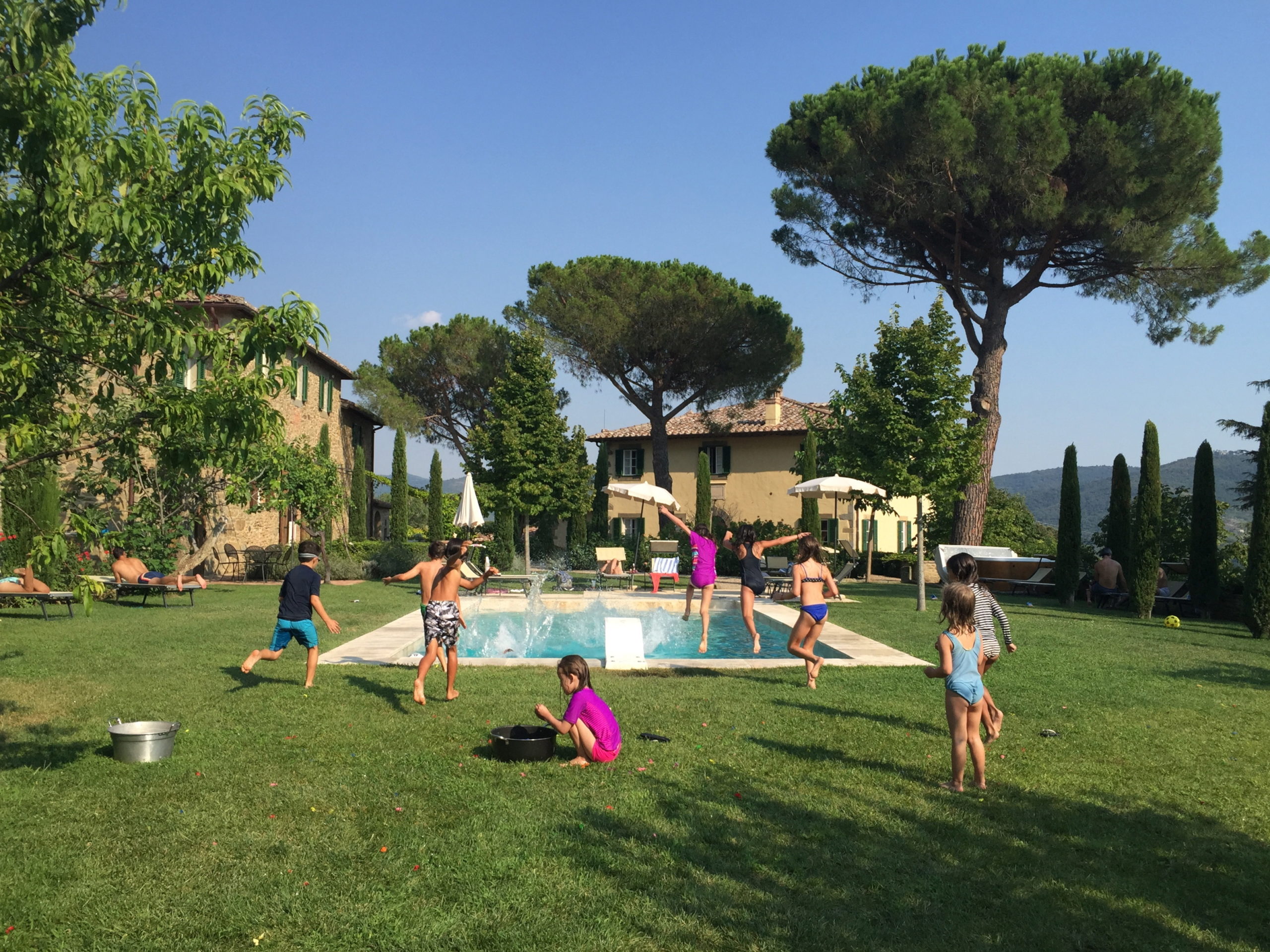 A jacuzzi and large heated pool were set within the villa's rose-laden walls. The scent was intoxicating. Poplars dotted the perimeter along with enough seating for a group of our size to always find space. Vine-trellised outdoor seating areas and hammocks were placed with care, with views to the countryside in all of its glory. Lavender, ancient fruit trees, and other native flowers lived in botanical harmony.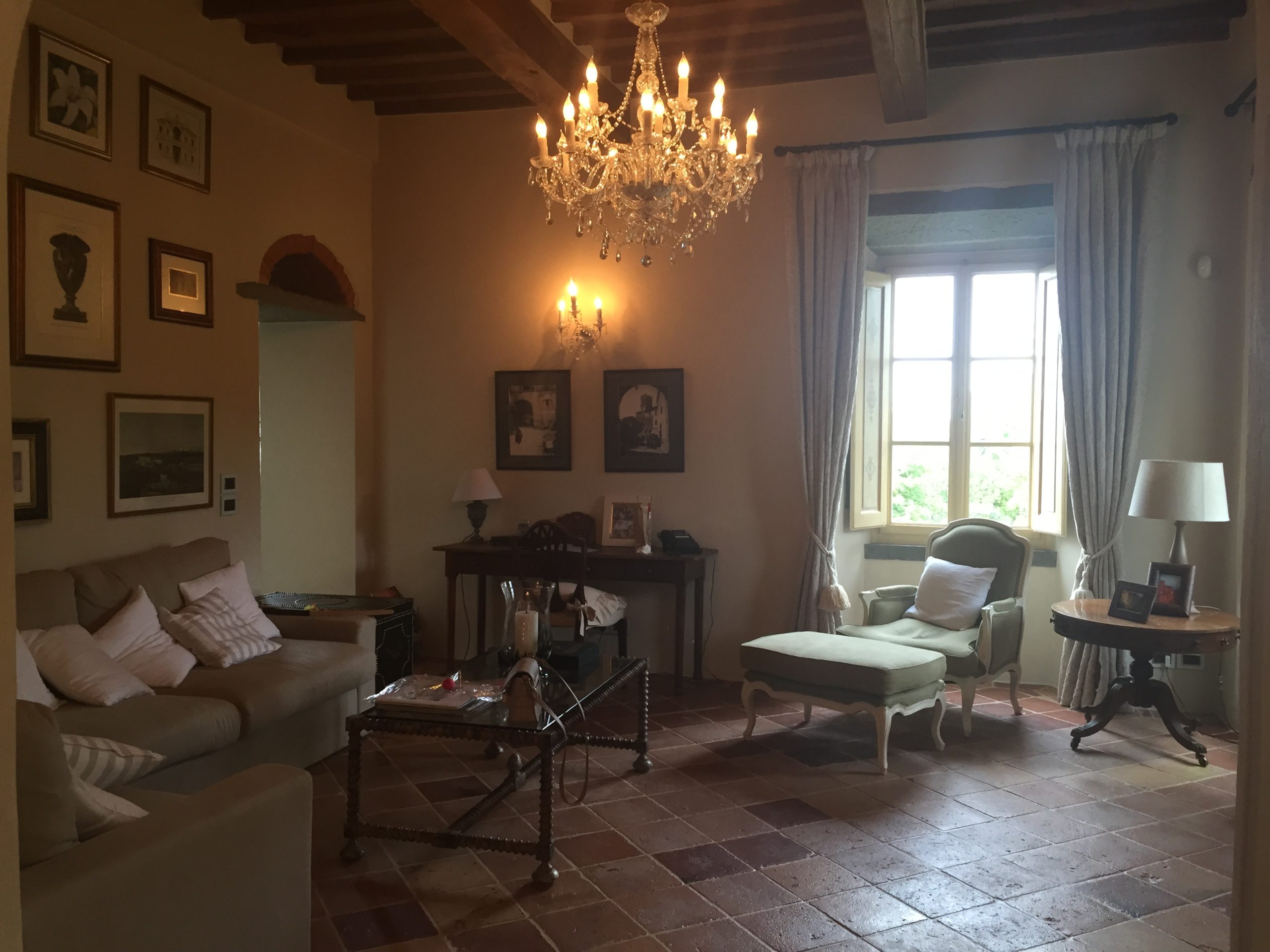 Inner Beauty
Villa Laura's interior was as spectacular as its exterior. Each of the ten bedrooms had en-suite bathrooms, kitted out with cozy, plush robes, high-end natural bath products, and travertine limestone floors. A study in Tuscan sophistication.
The beds were topped with soft Egyptian linens and multiple cushy pillows that I propped up each morning to soak up the views. The only thing that could pry me from the bed was the scent of Italian coffee roasting in the kitchen.
The property manager continued her tour, showing us the fully-stocked wine cellar and wine tasting room. I was giddy at the thought of choosing wines each evening. The kitchen, with an original stone pizza oven, was soon put to good use.
A game room on the lower floor had plenty of activities to keep us engaged; a pool table, board games, and TV lounge where we cozied up to watch, you guessed it—Under the Tuscan Sun. How meta.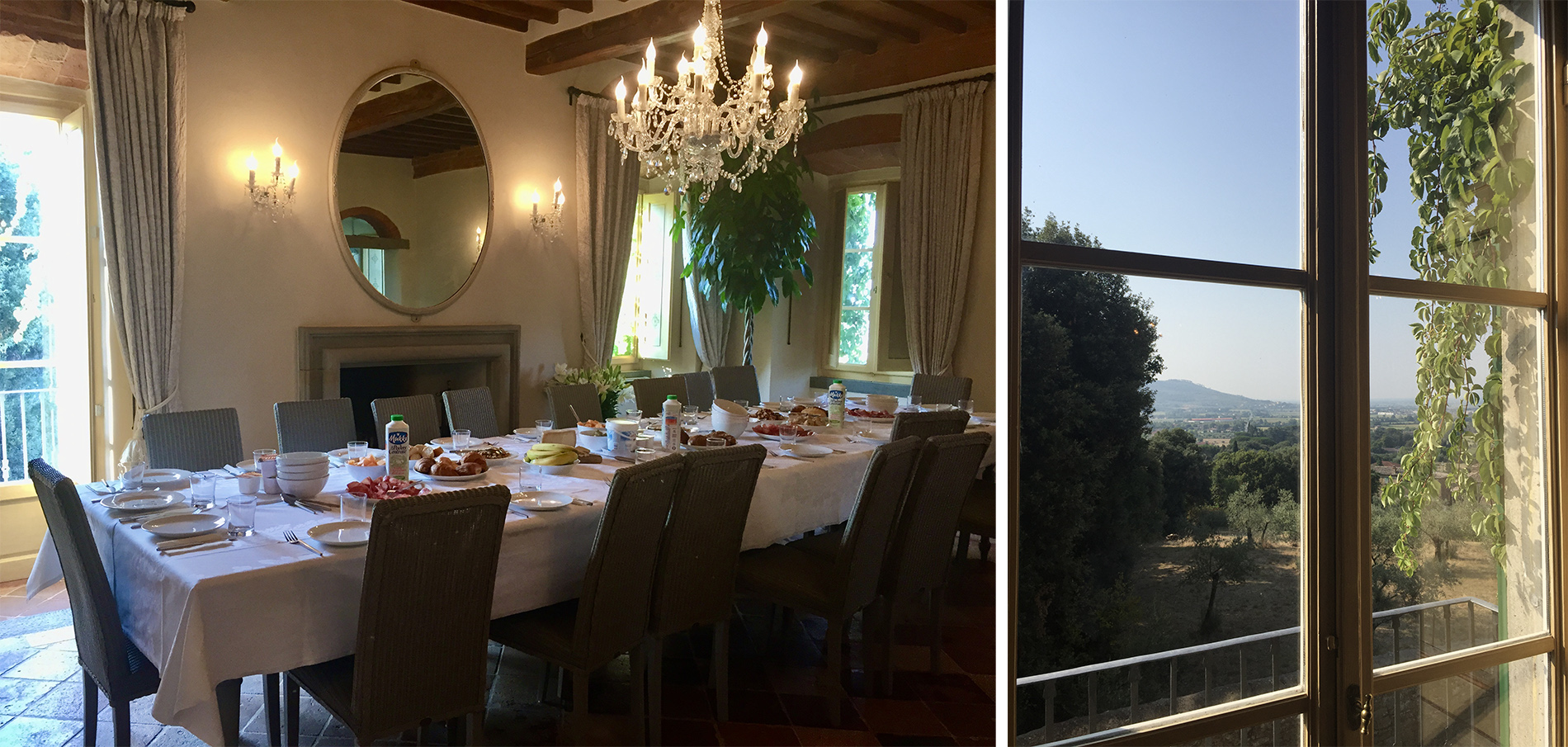 The formal and elegant dining room became our breakfast HQ. An ornate crystal chandelier hung majestically over the dining table. The neutral colors of the room created an ethereal touch. Ever enhanced by the morning light that poured in from the tall, narrow windows.
We hired a local chef for daily breakfasts and a few in-villa dinners. Omelets on demand, French toast, crepes, fresh fruit, and mouth-watering local pastries filled the kitchen banquette each morning. No one started the day without a full stomach. For me, not having to cook or clean up after breakfast was a gift that kept on giving.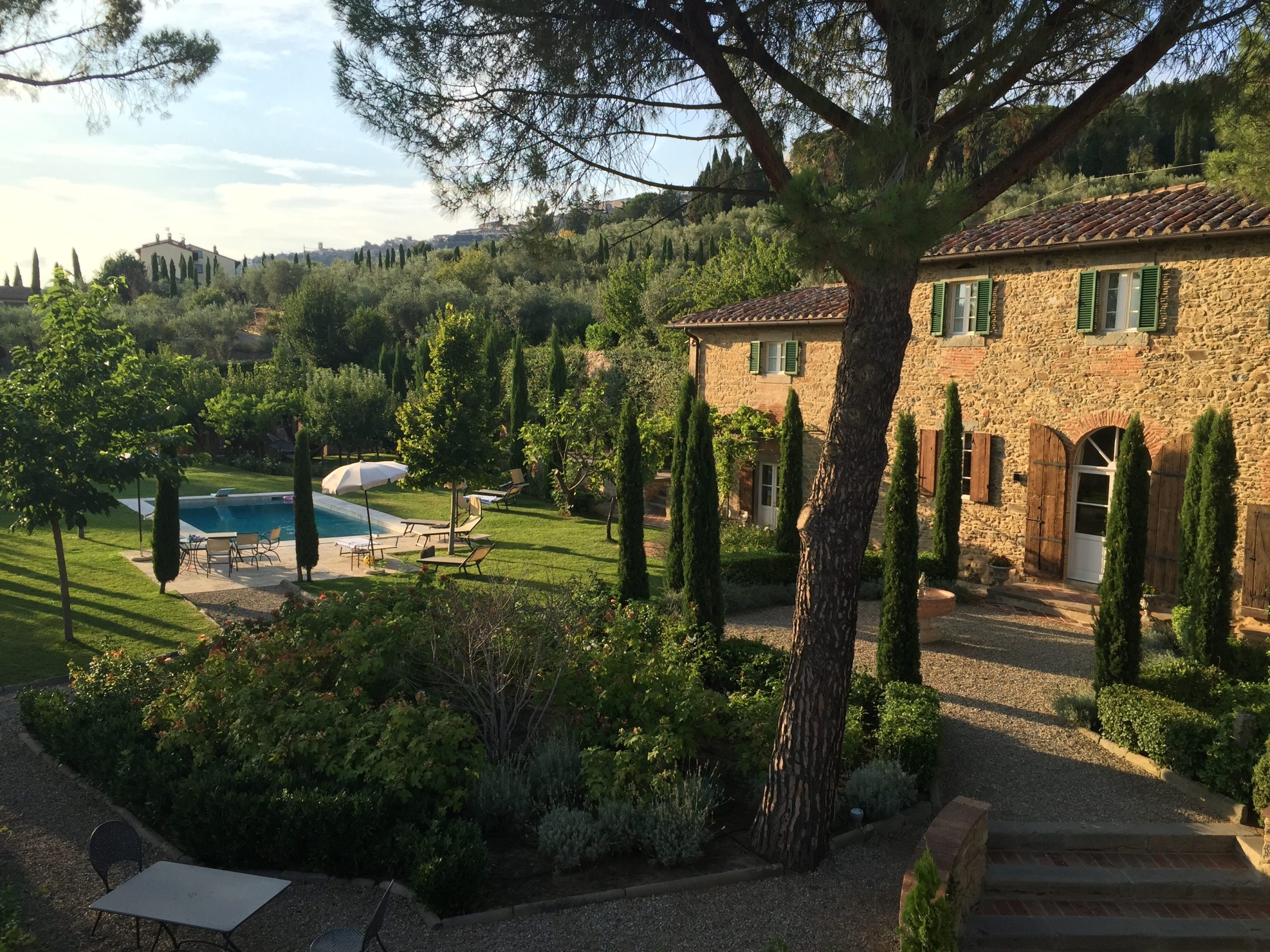 Room For All
Villa Laura's grandeur is inescapable, and the three buildings that make up the property each had their own inherent charm.
The 'Villa' had five bedrooms, each appointed with antique furniture, hand-woven fabrics and wrought-iron four-poster beds. The color palettes were soft and neutral, amber sunlight flooded the rooms. In the mornings I would often lay awake, savoring the delicate sounds of birds drifting in through the windows as the sun came up.
The refurbished 'Farmhouse', with its stone-arched doorway and golden stucco exterior, had four additional bedrooms on two floors. It was a quintessential Italian farmhouse, square, with a slightly pitched terra cotta tiled roof and views to the fountains and gardens.
The 'Limonaia' was especially unique. A stand-alone building comprised of a double-suite bedroom, a living area, and a private terrace. It was the ideal space for one family to take over as their own Tuscan hideaway. The Limonaia harkens back to its 17th-century roots with an original fresco that covers the domed ceiling of the living space.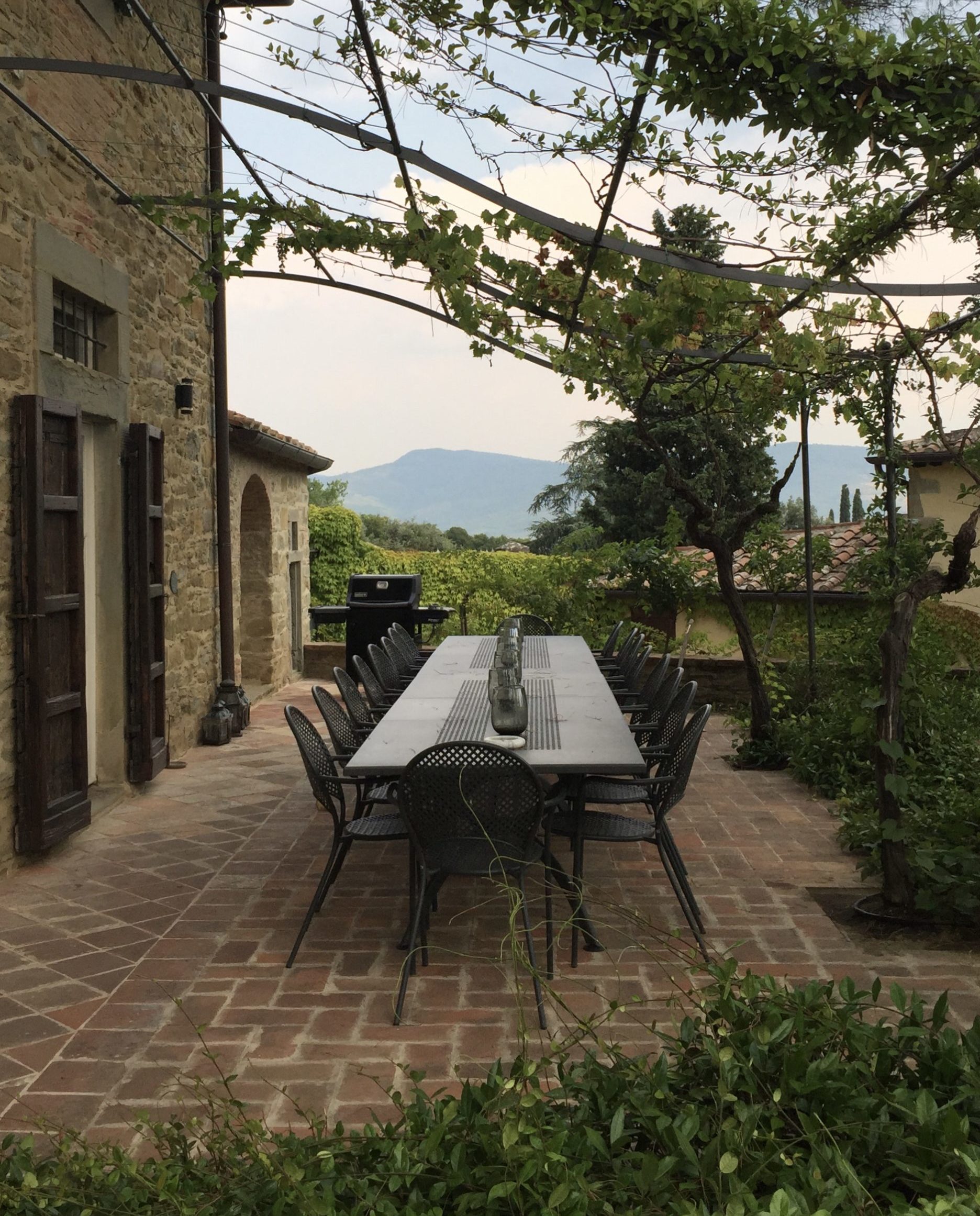 Buon Appetito!
When visiting a country known for its food and wine, expectations are understandably high. Villa Laura happily provided us with a chef for evenings we weren't dining in Cortona. Platters of antipasto, warm, local mozzarella cheese, locally raised lamb, and fresh vegetables donned the tables each night. Taking long, hilly walks to work off dinner calories became essential.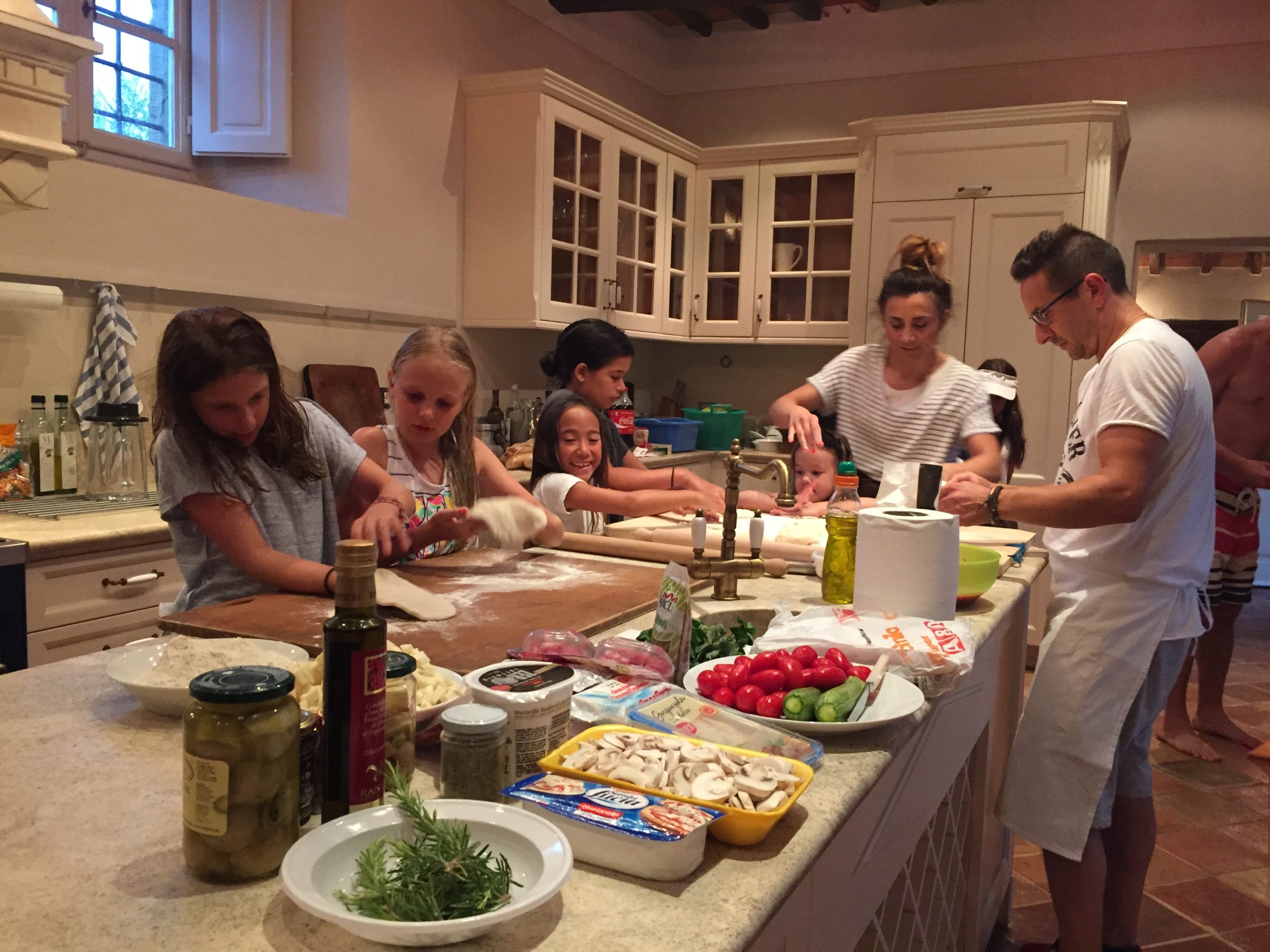 Baking homemade pizzas was a fun-filled activity for kids and grown-ups alike. Not to mention a way to get creative with food. The kids plucked basil and other herbs from the kitchen garden, set up an array of toppings (salami, pecorino cheese, mozzarella, and colorful peppers) and got kneading. Twenty-five individual pizzas later, we called for culinary mercy.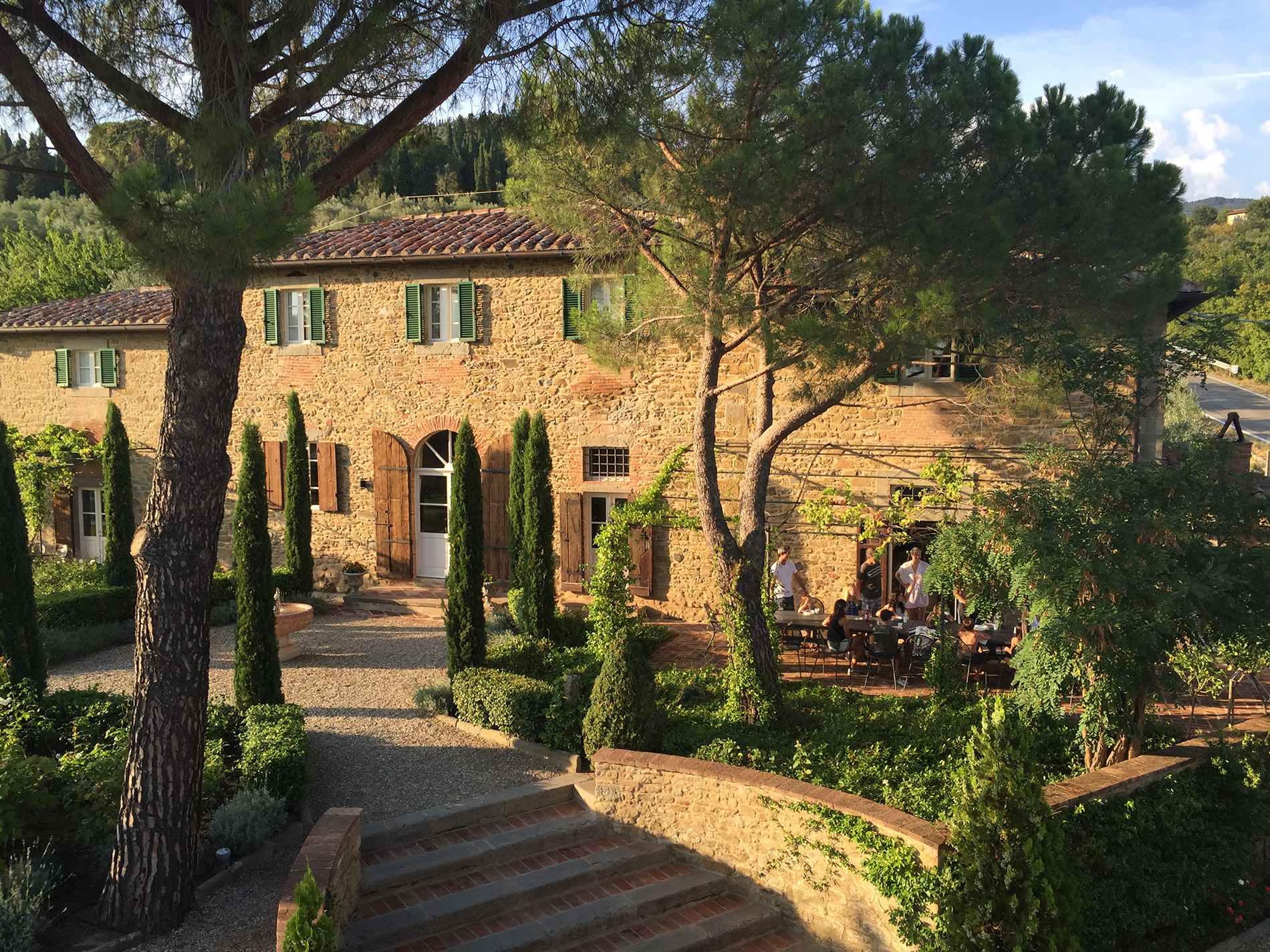 Tuscan life revolves around food, so it was no surprise that the food was not only delicious but served in overly generous portions. Our days orbited around meals. The simple pleasure of a warm pain au chocolate at breakfast was followed by a few leisurely poolside hours.
Then, a light workout or jog before a lunch feast of local cheeses, Tuscan soup, and hearty bread. A game of backgammon or a swimming relay before a much-needed siesta. Later, poolside cocktails appeared as we geared up for a long, leisurely al fresco dinner. A late-night dip in the pool or jacuzzi with an after-dinner drink rounded out the day.
Tomorrow's plan? Repeat.
Something For Everyone
The property manager at Villa Laura happily organized activities to suit our group's individual wishes. Whether horseback riding, hot air ballooning, cooking lessons, wine tastings, Pilates, yoga, or guided tours of Cortona.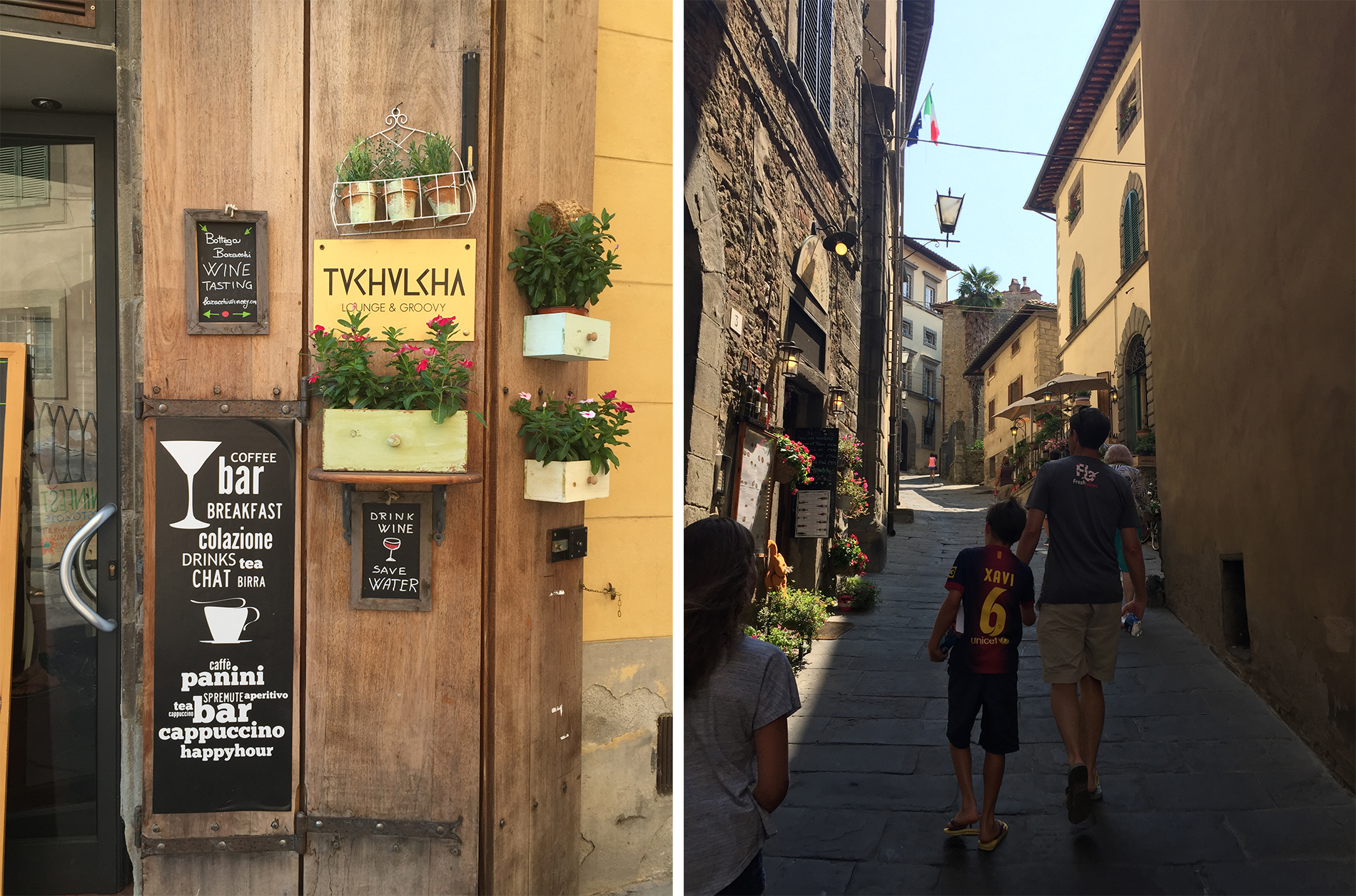 Some of us were interested in tackling the local streets on a Vespa, or by mountain bike. Others wanted to shop in Florence's designer outlets. Prada was calling.
While there was much to do and see, many of us couldn't be torn from the villa grounds, as they were so private and secluded. In the end, a fine balance was achieved.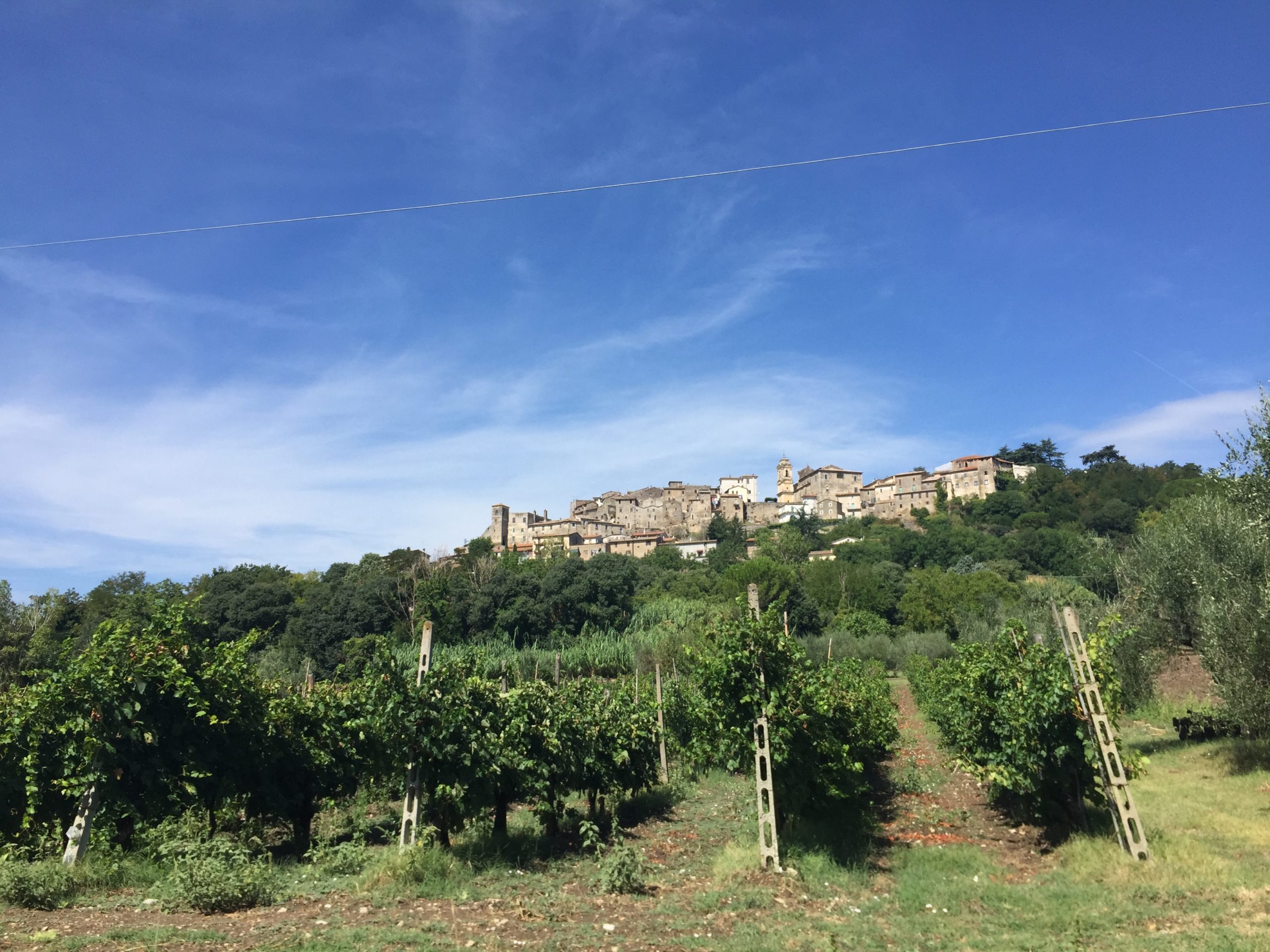 Good Morning, Cortona
Like a coiled snake spiraling skyward, the hilltop village of Cortona was as magical from a distance as it from within. The views were distractingly beautiful, and I often found myself gazing outward, getting lost in the open panorama over vineyards and towards Lake Trasimeno. Cortona sits 2000 feet above sea level and has steep narrow medieval streets lined with boutiques, restaurants, and art studios. My happy place—found.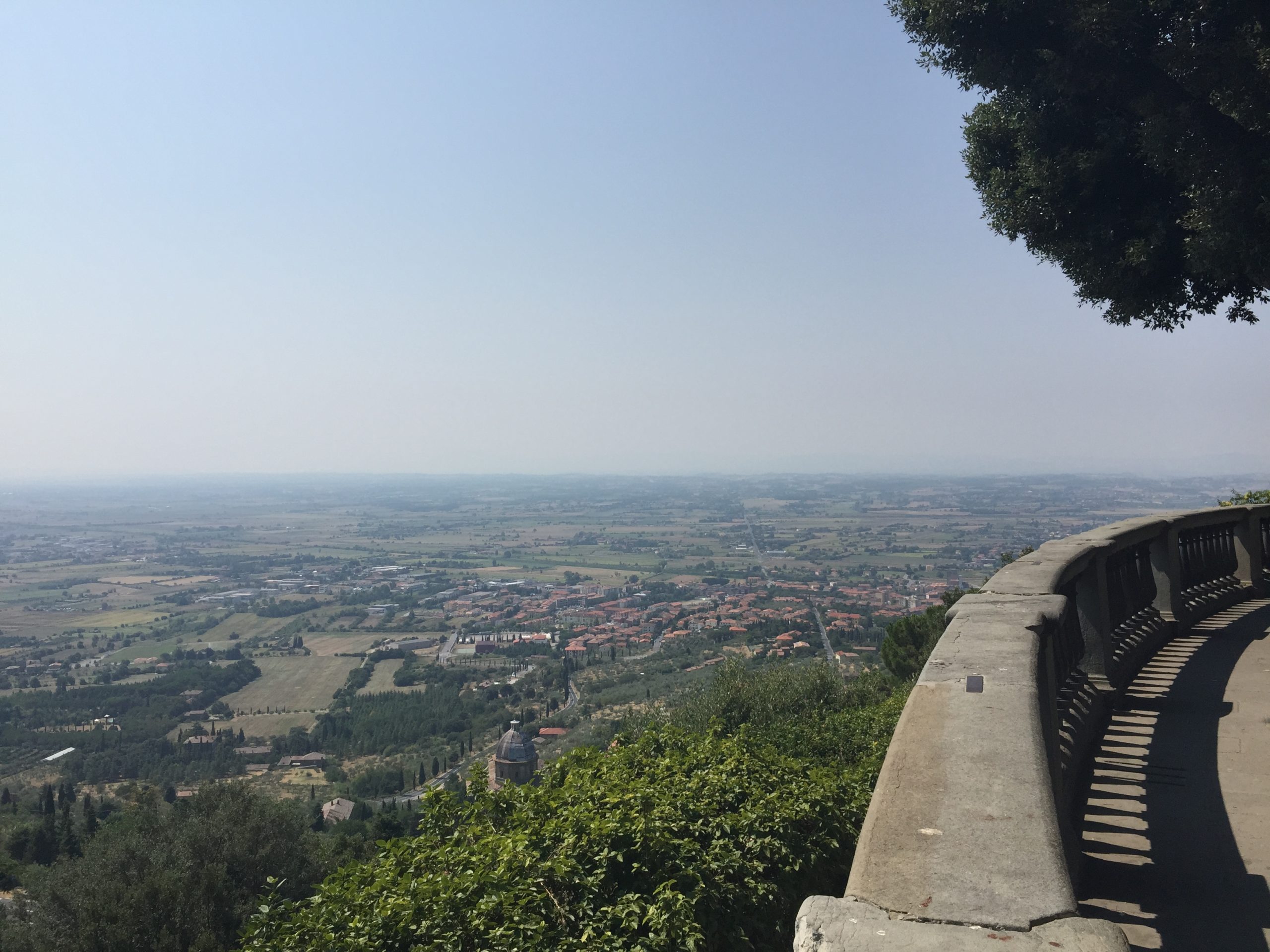 Renaissance architecture was revealed in museums, churches, and palazzos. The Museo dell'Accademia Etrusca exhibited items and artifacts of Etruscan, Roman, and Egyptian origin. History was everywhere we looked.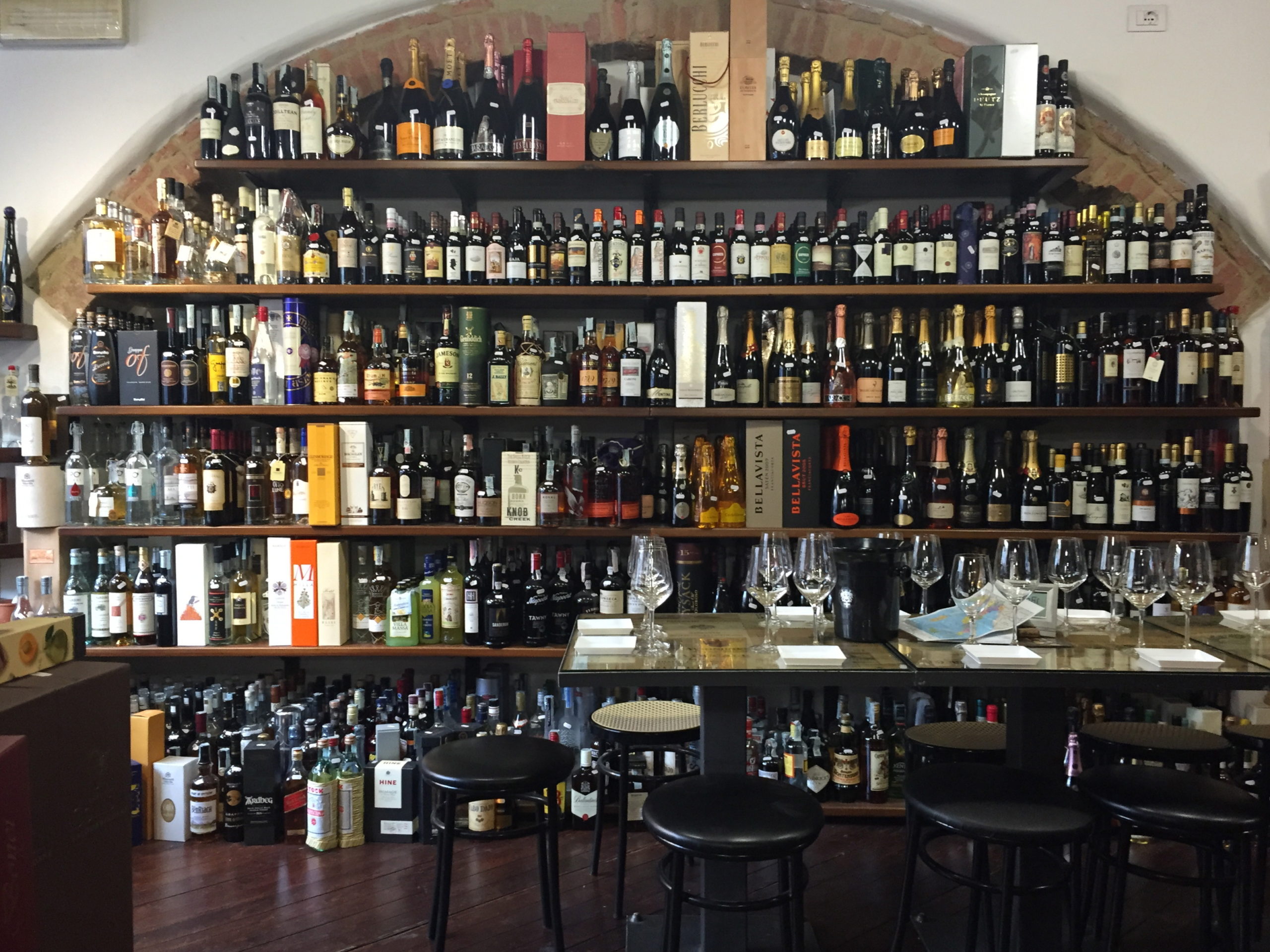 Cortona restaurants and gelaterias were bustling in late summer, as were wine shops that encouraged us to come in for a tasting. We dived headfirst into all that breathtaking Cortona had to offer.
We sat at local cafes and watched the world slowly pass by. Kids jumped rope and played soccer, their parents scolding them loudly from afar. Old men played cards and chess in the square. Chocolate gelato dripped down the chins of happy toddlers. As busy as it was, I was never bored watching the simple joys of Italian life unfold around me.
Cortona had much to offer, and I could have happily visited the village every day and seen something new. But other bucolic towns and villages were within reach, and I was keen to explore them.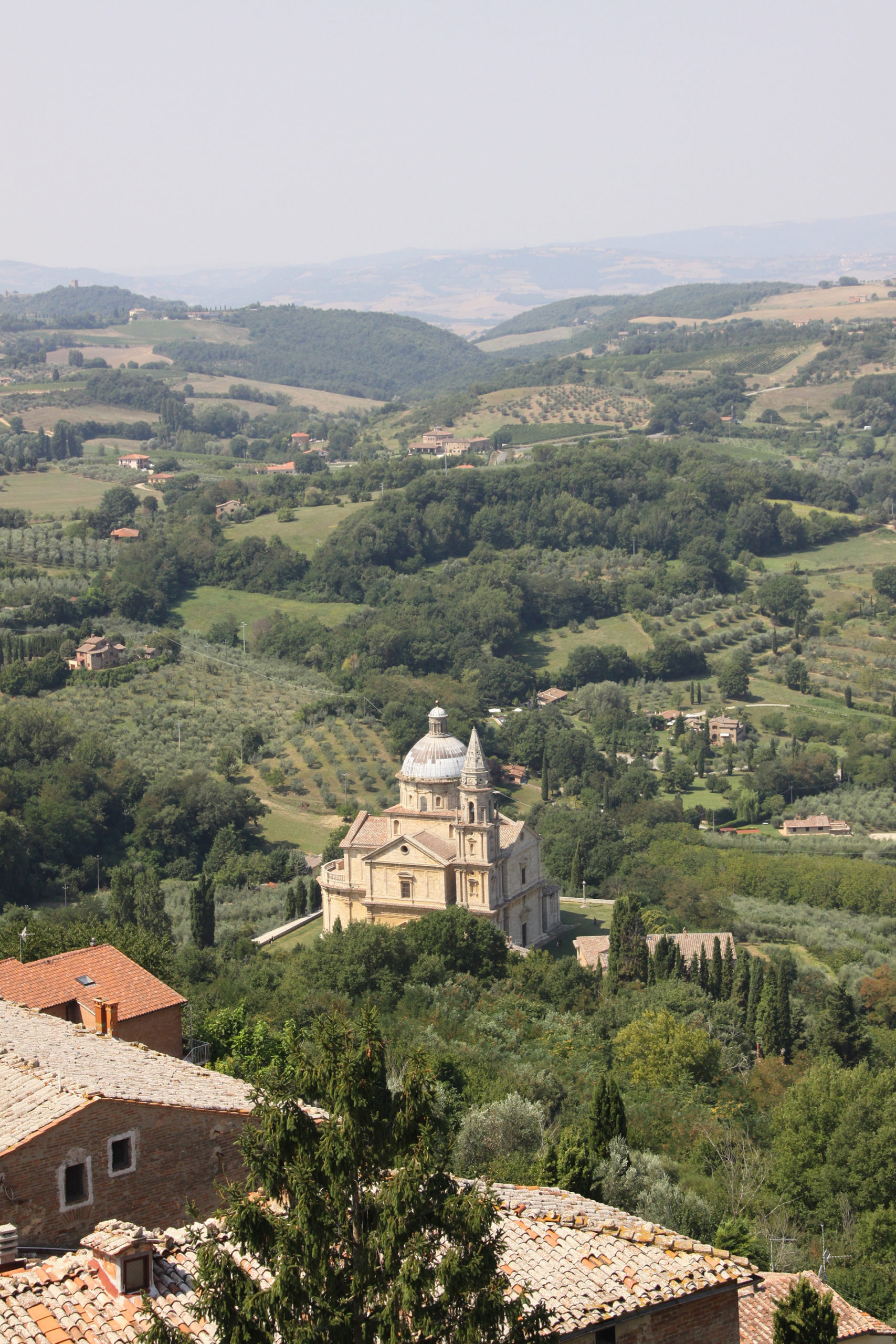 Location Is Everything
Cortona's location, only two hours from Rome, made it a relatively easy journey for everyone in our group. Some of us tacked on a few days in the capital city at the end of the trip. Geographically, I could even say that Villa Laura's location borders on perfect. Some of the prettiest towns and villages were within easy driving distance; Arezzo, Siena, Florence, Gubbio, and Perugia, among them.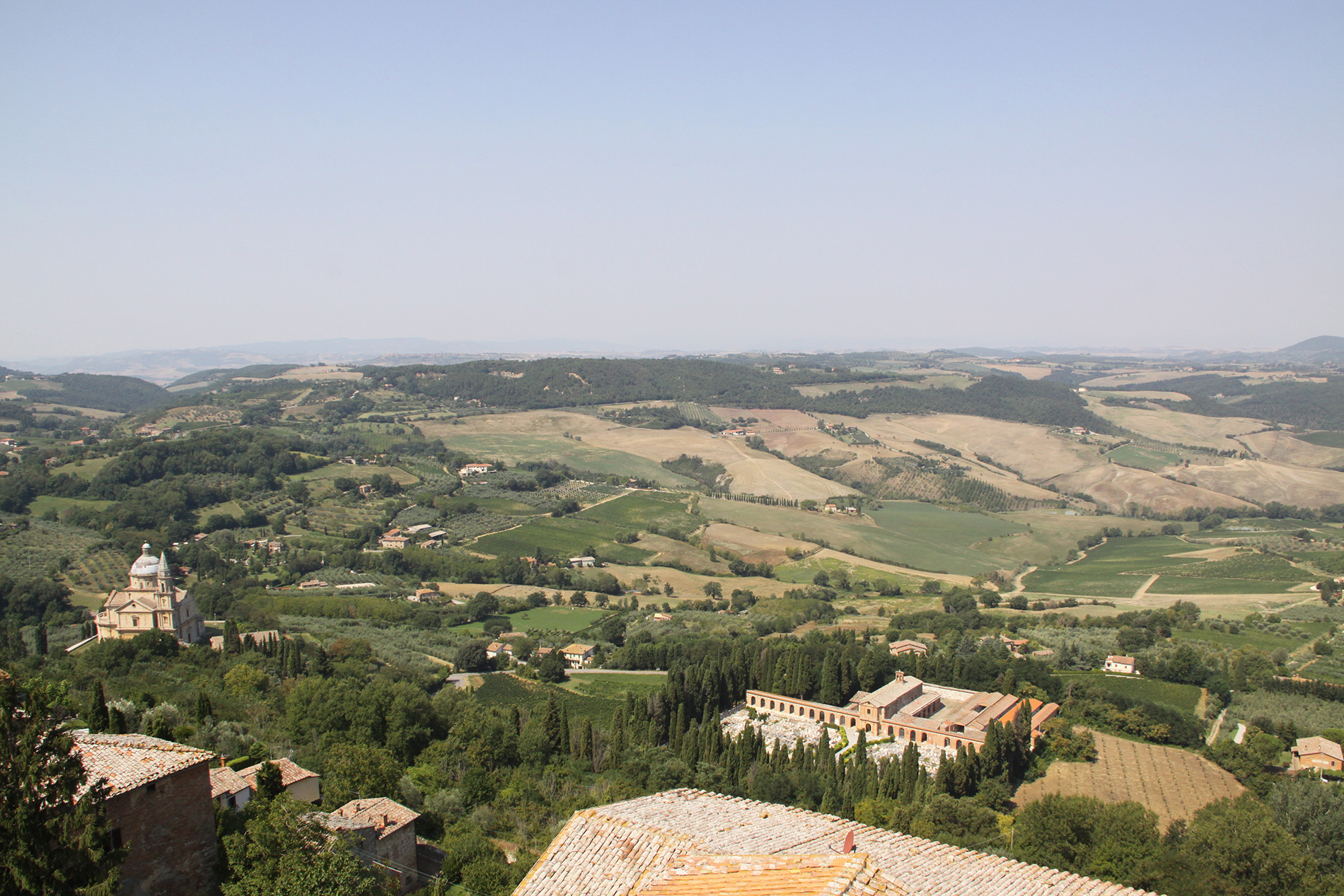 My favorite village, Montepulciano, was only 20 minutes from the villa. Known for its hilltop location and world-renowned wines, the village had spectacular views of the Val di Chiana. I wandered the narrow, cobbled streets aimlessly, hoping to find treasures and hidden cafes around each corner.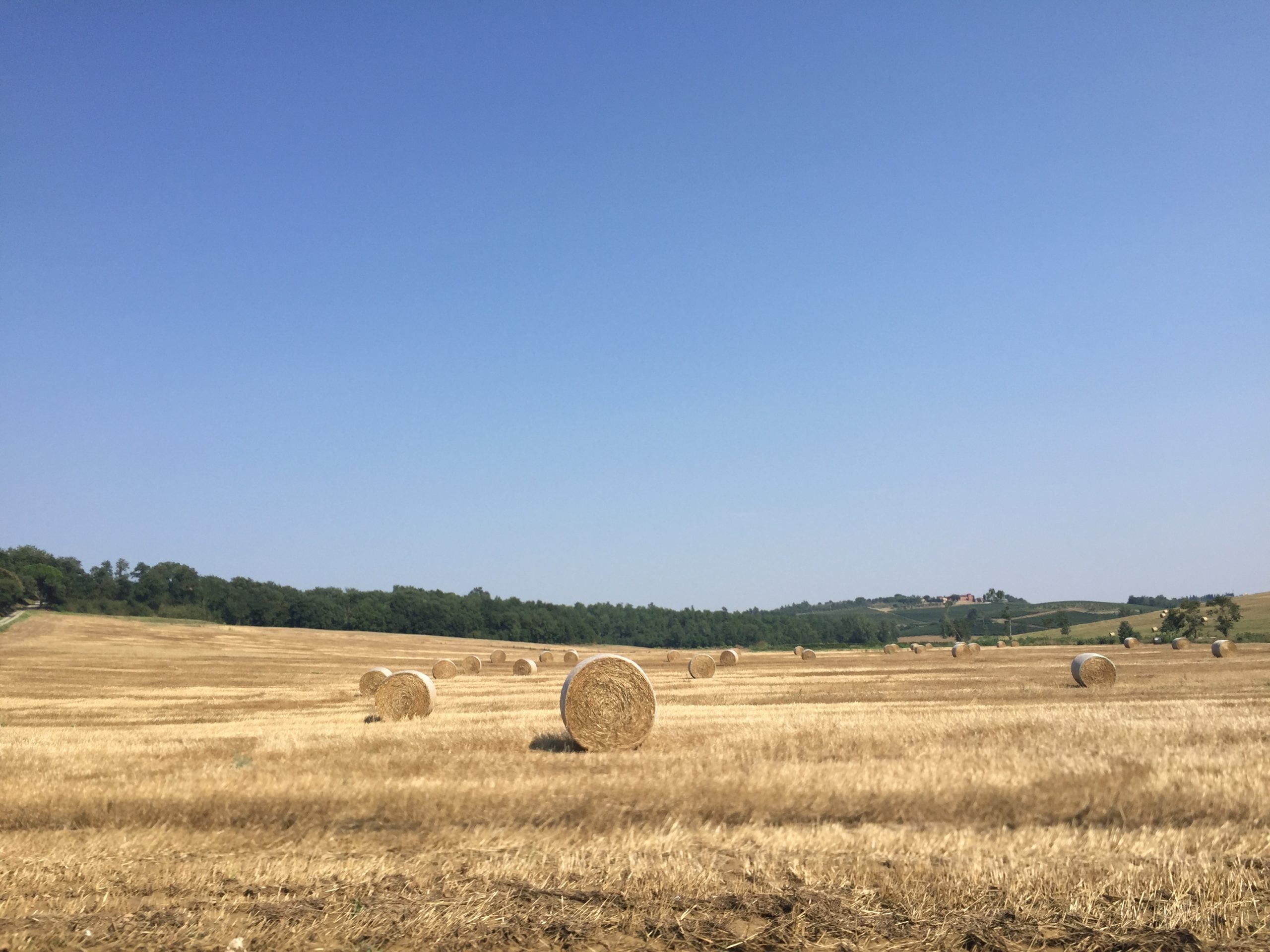 Under The Tuscan Sun, Literally
One week was not nearly enough time to fully explore this idyllic part of Italy, but we tried our best. The texture and rhythm of the days were different for each in our group. Villa Laura allowed everyone to find their own groove.
Finding a perfect villa for a group of 25 is no easy task. And as I said earlier, perfection is a setup for failure. That said, Villa Laura strived for perfection and did so with grace.
Frances Mayes lovingly restored her Italian villa. In doing so, she changed the course of her life. As for me, I created my own Tuscan memories at Villa Laura. Dare I say, even a few perfect ones.
*******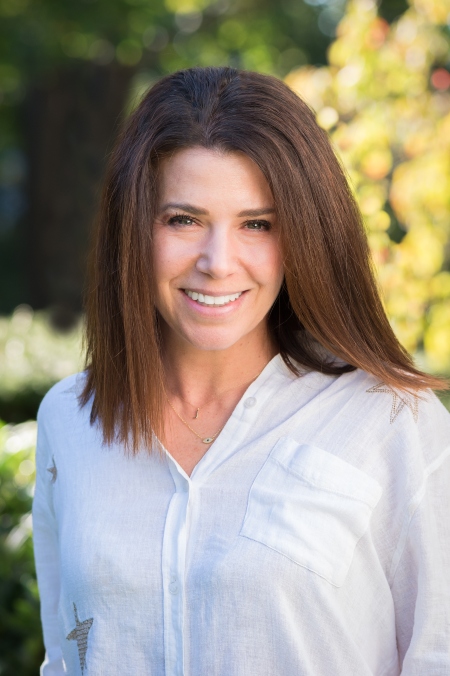 Jamie Edwards is an avid traveler, travel writer, and photographer. She launched I am Lost and Found, her adventure/luxury travel website after 25 years of living and traveling around the globe. Jamie's goal is simple: to inspire travel. Keep up with Jamie's adventures in travel here.
CIRE Travel is a full-service travel agency headquartered in New York, NY. Our expert team supports clients across the country and around the world.
---
Where in the World Do You Want to Go?
Inspired to plan your next weekend getaway, vacation or trip of a lifetime? See that form below? That's all it takes to begin your next epic travel story.