By Esther Klijn, Luxury Travel Planner and Honeymoon Travel Agent
As a travel advisor with a New York travel agency who's been fortunate enough to travel the world, I can honestly say I left my heart in Hwange National Park and the private Linkwasha concession. Between the guides and location, they instilled something in me that I cannot put into words and can only say that you just have to experience this luxury adventure for yourself.
Seeing Elephants for the First Time
After a 15-hour flight and a hop over to Victoria Falls, you sort of expect to feel disheveled. That wasn't the case for my first African safari as I could barely contain my excitement. We were in a shuttle traveling from the Victoria Falls airport to the dock for our boat ride to the lodge. We still didn't know what to totally expect, so we were scanning the road for any signs of life, seeing only barren bushveld. When we arrived at the dock, the group split between two boats for the 20-ish minute ride to the Victoria Falls River Lodge. Not ten minutes had gone by before we came across a herd of elephants splashing about on the riverbank. Whether you're in Africa for luxury travel, honeymoon travel, group travel or a corporate incentive trip, seeing elephants for the first time is an unforgettable moment.
Our guide, Casper, let the boat slowly drift toward the animals. They paid us no mind, and we were able to get so close that if I had reached out my arm, I could have touched them. There was a baby elephant trying to use his trunk to spray water into his mouth. After a few unsuccessful attempts, he dunked his entire head into the water for a drink. All those years of watching Animal Planet after school came to life.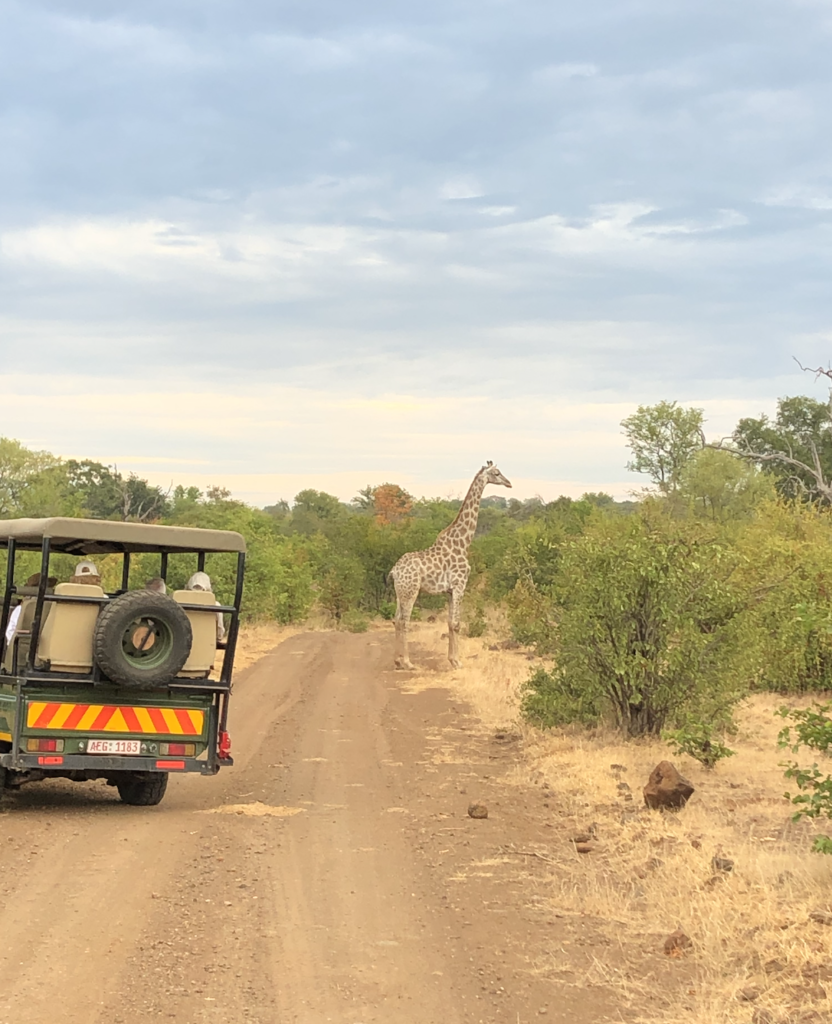 Victoria Falls Versus Niagara
Just two weeks before traveling to southern Africa, I spent the weekend in Toronto. I took a trip to Niagara Falls to see this spectacle of falling water for the first time in my life. It was the end of winter, yet the Falls were still a colossal sight despite not being in full throttle.
Two weeks later, there I was at Victoria Falls on a familiarization trip as a luxury travel planner and honeymoon travel agent. Just as Eleanor Roosevelt put it when she saw both world wonders 30 days apart, "Poor, poor Niagara." The width of Victoria Falls is a mile long. As you're walking along the paths, each lookout only further accentuates the natural wonder and every turn takes your breath away—an extraordinary experience for anyone searching for the perfect honeymoon or luxury vacation destination.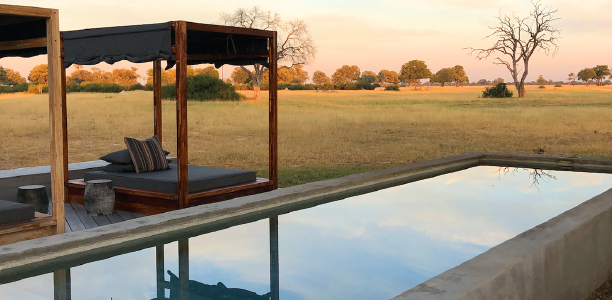 Sundowner Experience in Hwange
We had wrapped up a full day of activities and sunset was just a couple of hours away. As we drove back from the anti-poaching unit, we saw people setting up for our sundowner. They were equipped with a gin station, small bites, seating… the whole nine yards.
We parked our vehicles by the watering hole to enjoy the view. The sun was setting behind us and a hippo was in the water beside us. It could not have been any better.
Until…
We turned our heads and saw hundreds of water buffalo staring at us like we owed them money. Actually, we stood between them and their afternoon drink, but with us being there first, they seemed to defer the territory to us. We picked up our chairs and calmly, but swiftly, got out of their way. The buffalo trotted joyfully to the water's edge. The hippo grunted in disapproval, for a peaceful evening was now disrupted.
The sun was fully set and one of the three vehicles made its way back to the lodge. Our vehicle hung back for fear of leaving behind two people from the camp with some four hundred water buffalo ten feet away.
As the last few chairs were packed up, we heard a lion roar. Edison, our guide, dropped the chair he held and ran to the vehicle. He switched on a red light and pointed it toward the watering hole. Lo and behold, two lions had had enough of waiting around for their drink and came down to the water.
The hippos were further annoyed. The water buffalo were a bit on edge and began departing. When the light pointed back to the water, there was only one lion in sight. The water buffalo picked up their pace. We saw a set of flickering eyes in the tall grass. The lions were stalking the buffalo, which gathered their young in the center before turning to face the lions by stomping their hooves in the dirt to stand their ground. An elephant trumpeted behind us. Two adults and two calves walked out from the same bush as the lions and began to drink. The hippo trotted off, done at this point.
We had no idea where to shine the red light or where to look next. The water buffalo ready to take on the lions? The two lions stalking the water buffalo? The newly arrived elephants? Or the hippo? Mind you, all of this commotion occurred in the short span of some ten or fifteen minutes. As quickly as it happened, it ended. The lions retreated to rest by the water. The water buffalo continued their trek. The elephant receded back to the bush. And, who knows where the hippo went, but he was gone, too.
On our way back to camp, Edison asked if we were cold. With adrenaline pumping through our veins, we all agreed that we were perfectly fine. I knew I was incredibly lucky to be where I was and see what I'd just seen. A huge thanks to our amazing partners at African Travel, Inc. for being our hosts and guides throughout this amazing adventure…one I will never forget.
I'm just one of the luxury travel planners on the CIRE team who's had the thrill of a lifetime on safari in Africa. If it's an adventure you're seeking, let our travel advisors use our firsthand expertise to create your dream luxury vacation, honeymoon, incentive trip or group travel excursion.
CIRE Travel is a full-service travel agency headquartered in New York, NY. Our expert team supports clients across the country and around the world.
---
Where in the World Do You Want to Go?
Inspired to plan your next weekend getaway, vacation or trip of a lifetime? See that form below? That's all it takes to begin your next epic travel story.