A cozy, secluded cabin in the mountains. A private library. Hammocks, hot springs and hummingbirds. Read on for our monthly travel dispatch from Jamie Edwards. Jamie is an avid traveler, writer and photographer, and inspires us and others to travel on her luxury travel website, I am Lost and Found. Let's hit the road with Jamie to Dunton Hot Springs, Colorado, a home away from home.
******
Remote, restorative, and secluded, are buzzwords that have always piqued my curiosity when reading about travel, but never as much as they do at this particular moment in time. I long for fresh air and wide open spaces. I have a pressing need to immerse myself in Mother Nature, or in a cozy room with a blanket, and a heart-pumping page turner. These travel longings have zoomed, no pun intended, to the top of my bucket list. I crave the creature comforts of home, but somewhere that is anywhere but my home.
Likely, I am not alone in these cravings, or in these wistful dreams of travel. I'd like to sink into a bed made of clouds, without having to make it in the morning. I'd like to feast upon a wholesome, home-cooked meal. Yet, I don't want to go food shopping, order Instacart, or clean dishes afterwards. I'd love to open windows onto a field of wildflowers, and hear horses neighing in the distance, rather than the sirens that often pierce the silence of my neighborhood's otherwise quiet streets.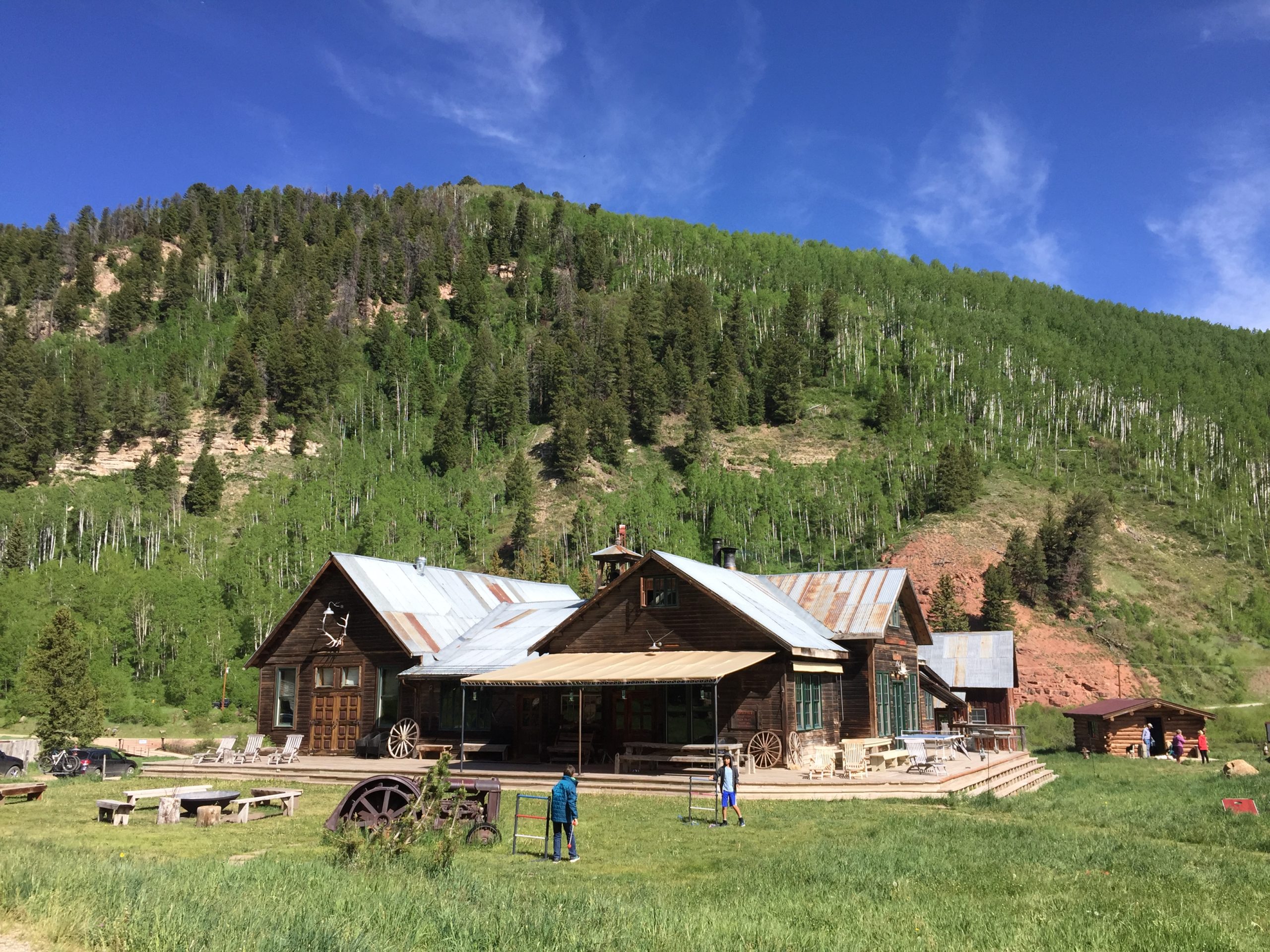 Hello, Dunton!
Tucked away in the southwest corner of Colorado, along the west fork of the Dolores River, and at nearly 9,000 feet in altitude, sits Dunton Hot Springs. My family visited Dunton a few summers ago, and I have been wondering why this particular place, of all places, is calling me back. Maybe it's because Dunton, quite naturally, delivers on that precise home away from home feeling I am currently craving.
The cluster of rustic log cabins at Dunton Hot Springs felt like a throwback to another era, or the set of an old-time western film. A collection of fourteen mining town log cabins of various shapes and sizes dotted the expansive property, some of which had been gently relocated from other parts of Colorado. Its vast 1500 acres, flanked by majestic mountains, cool waterfalls, and the serpentine Dolores River, together provided a natural playground for the multitude of activities Dunton offered.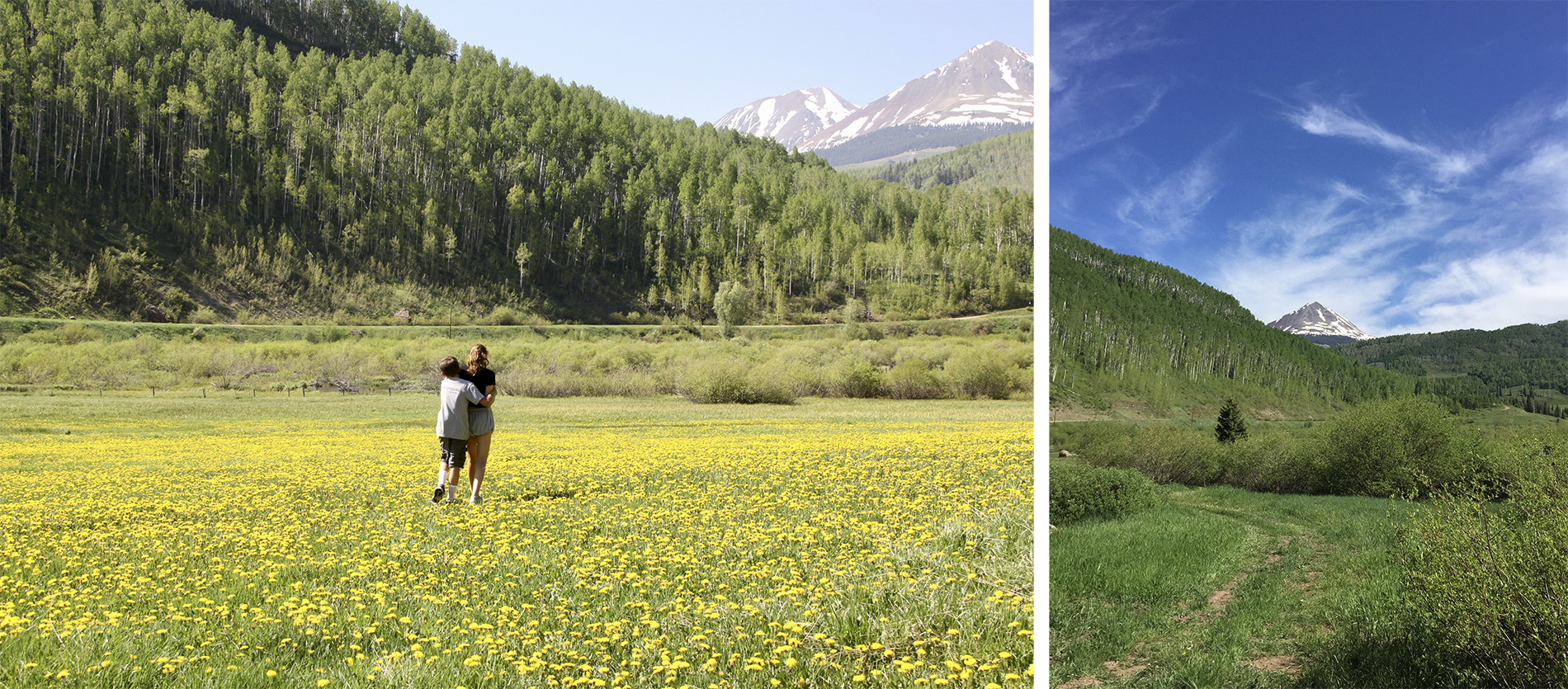 The inherent beauty of Dunton Hot Springs was evident from every angle. Look left—sprawling fields of buttercups stood vibrant and golden against the snow capped mountains in the distance. Look right—on-property trails led to an ice-cold gushing waterfall that was heard long before it was seen. The air was cleaner, and clearer, and all of our senses were as elevated as the mountaintops we looked out upon.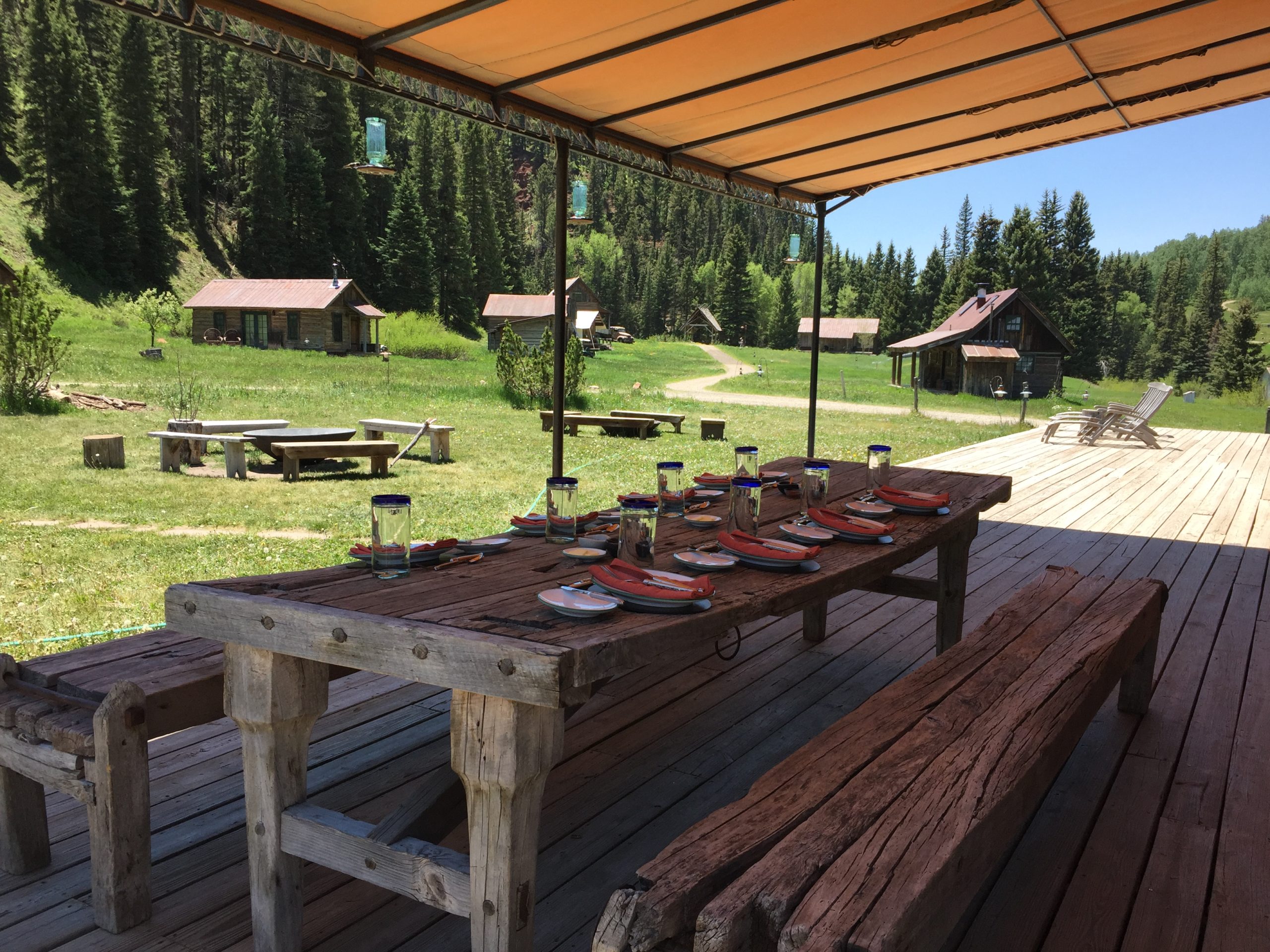 Dining, in and out
Our first meal was at a weather beaten picnic table on the deck outside of the saloon, a welcome way to settle in after two flights, and a scenic two-hour drive. A row of hummingbird feeders along the porch swayed gently in the crisp breeze. We watched intently as these tiny, mighty, birds vied for space to feed—buzzing, whirling, and hovering, all at once. Every so often, a larger bird would sharply dart towards a feeder, bumping a smaller one down the line. Hummingbirds—territorial little creatures.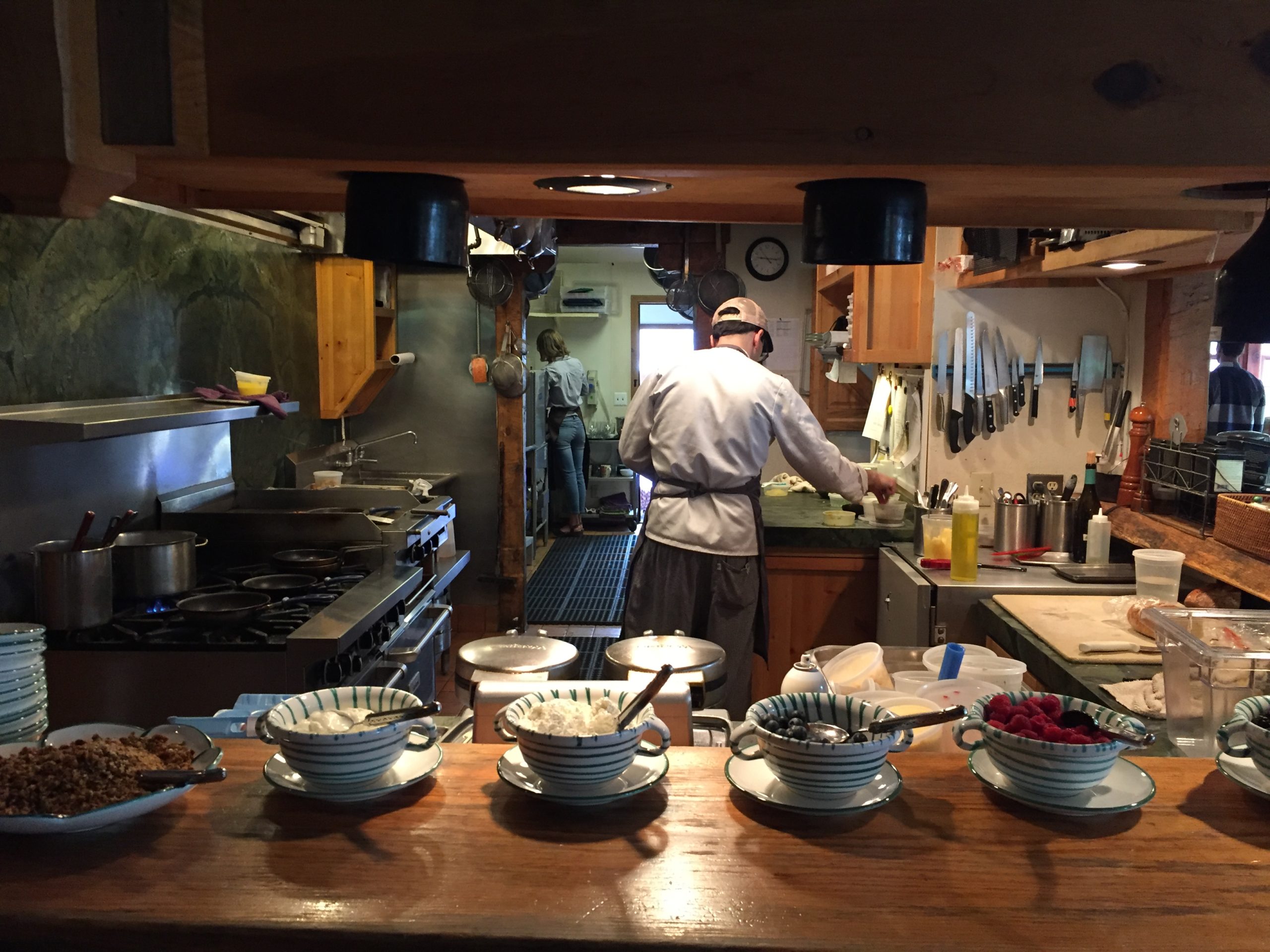 It was an amusing side show to our hearty, multi-course lunch, an added touch of theater. The food, with a new, locally-sourced menu prepared daily, was to be a big part of our western adventure. We dined on local elk and roasted vegetables from their farm—the first of many enticing meals we were to enjoy during our stay. Preparation took place in the open-plan kitchen, where guests were encouraged to watch and ask questions while the chef created the day's feast.
In the evenings, we gathered at the original, old-fashioned bar in the saloon to meet up with the bartender, and critique his latest cocktail. Oversized picture books of architecture, photography, and nature, lay atop a low coffee table for us to peruse. The kids headed outside to climb on a rusted-out tractor trailer, or play ring toss. A recently lit bonfire soared nearby, sheepskin throws waited on benches for cold shoulders to warm. The scene called for the gooey s'mores we were destined to devour later.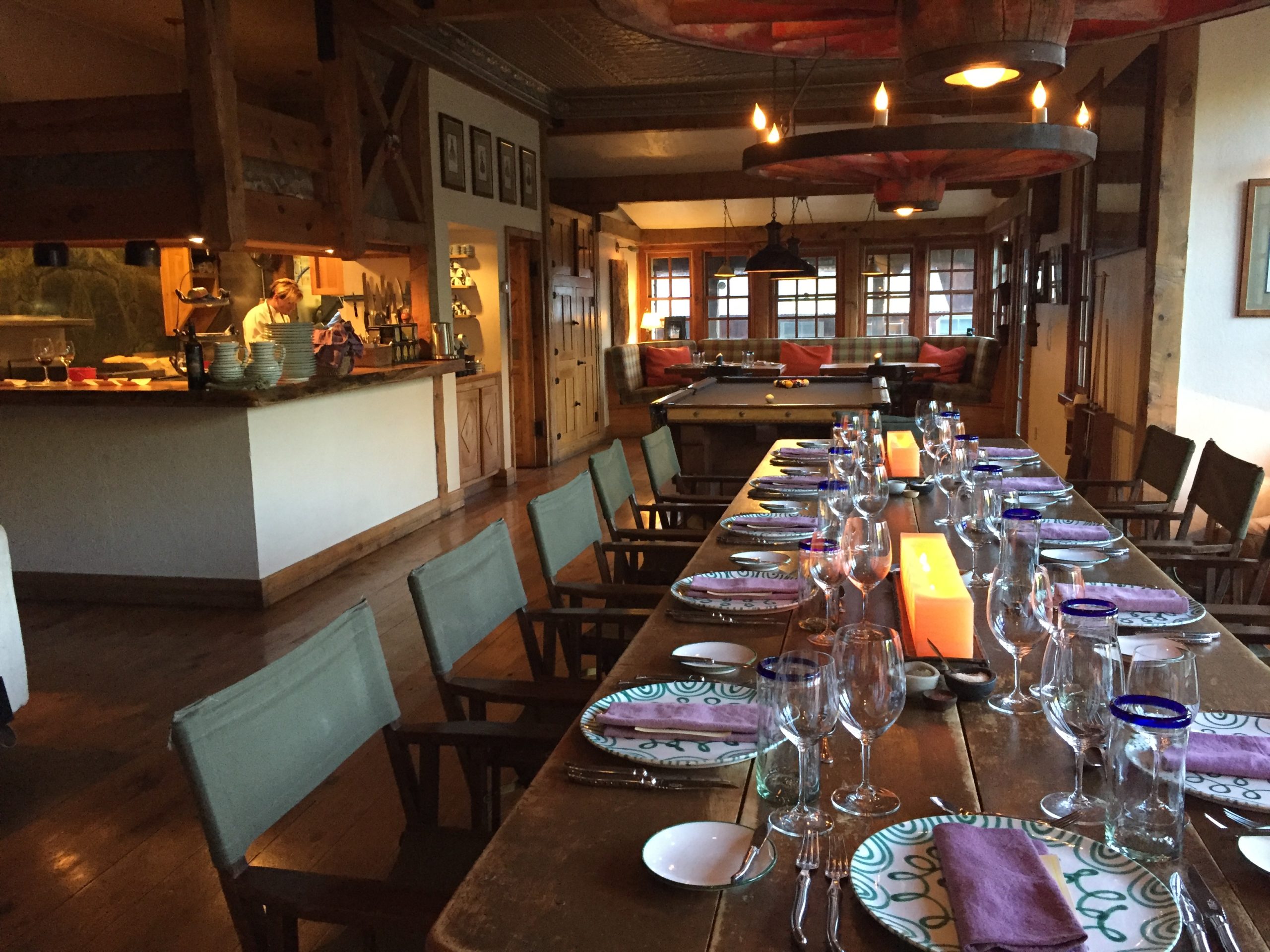 Later, we were seated at a long, communal, wooden farmhouse table, where we would relay the day's events, or lack thereof, to the other guests. A wagon-wheel light fixture hovered overhead, lights flickering. While some guests told tales of fly fishing, or their hike through the spruce and aspen forests, others had been content to spend the day reading, or soaking in the natural hot springs for which the resort is known.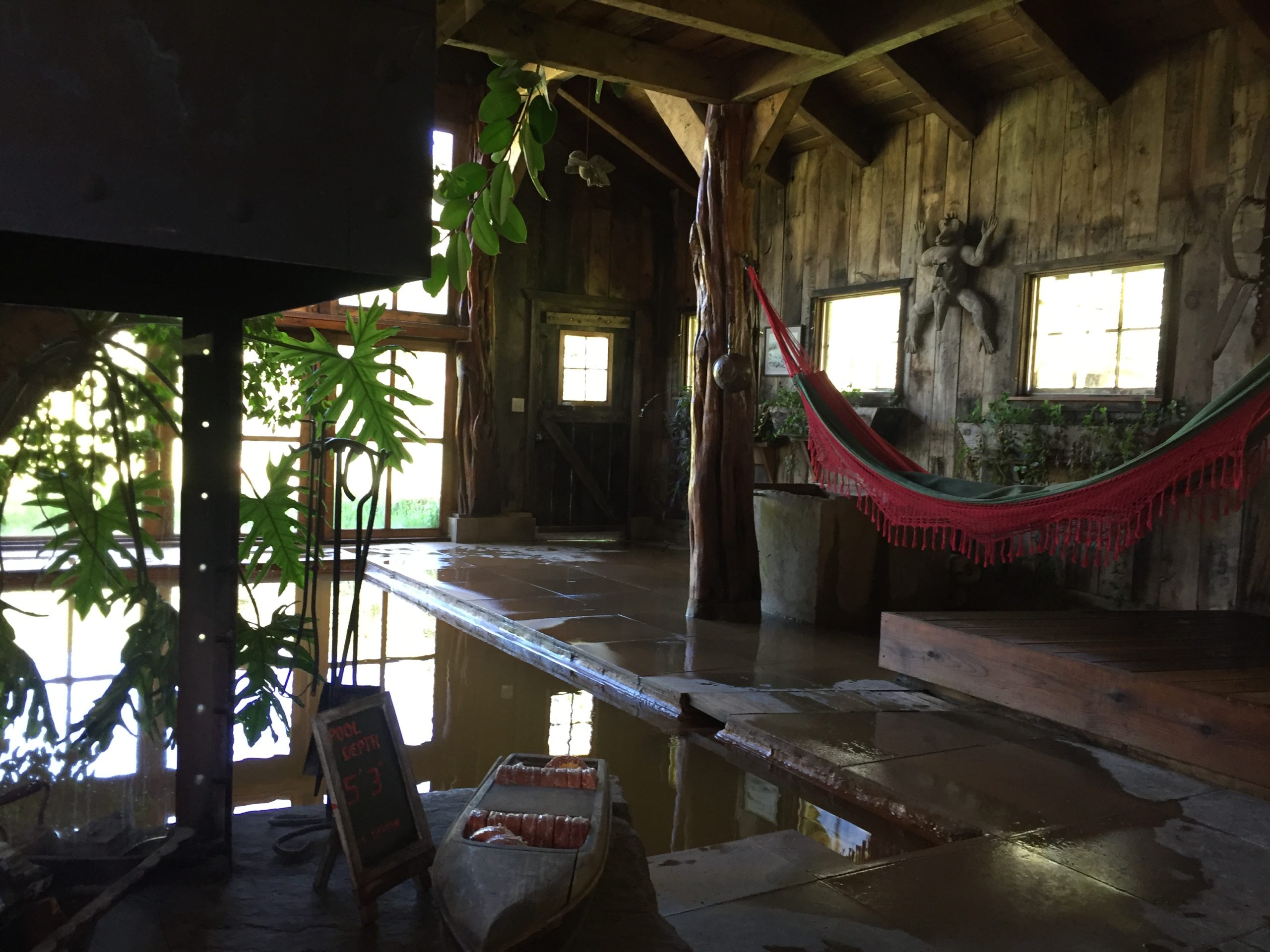 Hot enough?
Likely discovered by the Ute Native Americans, the soothing hot springs are a true focal point and highlight of the property. Resting somewhere between 85 and 106 degrees in temperature, part of the spring is enclosed within a 19th century bath house. Steam rose ethereally towards the vaulted ceilings, and gently fogged the tall glass-framed wall. A low-slung hammock, high-end bath products, and lush towels seemed wholly designed to keep us in a never-ending state of deep relaxation.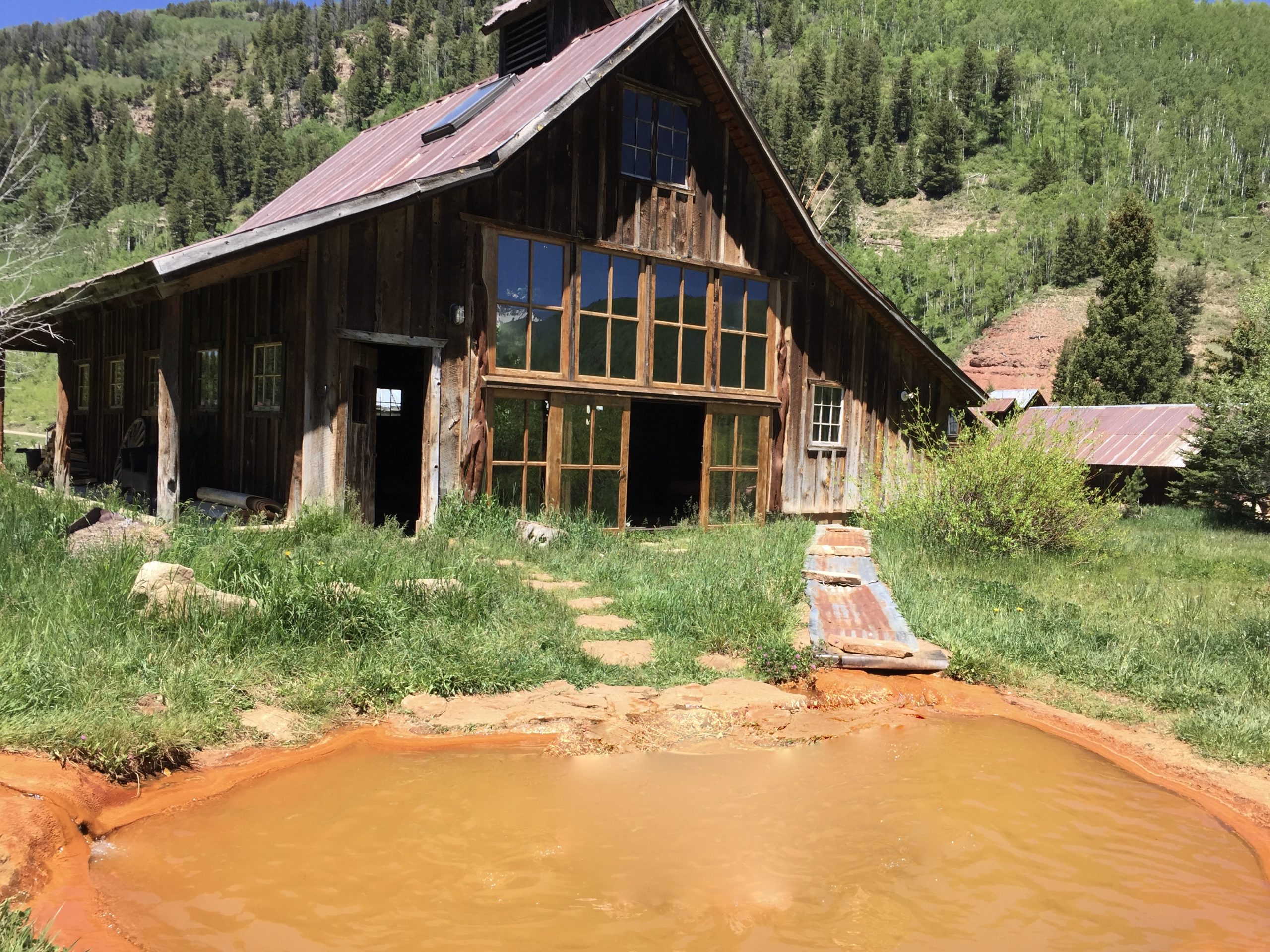 The outdoor area of the spring had unobstructed views of the San Juan mountains. Since the bath house and springs can be used at any hour of the day, we were able to watch the sky turn from subtle shades of blue, to inky black, over the course of the night. Stars blinked hello. It was so silent, I didn't trust it.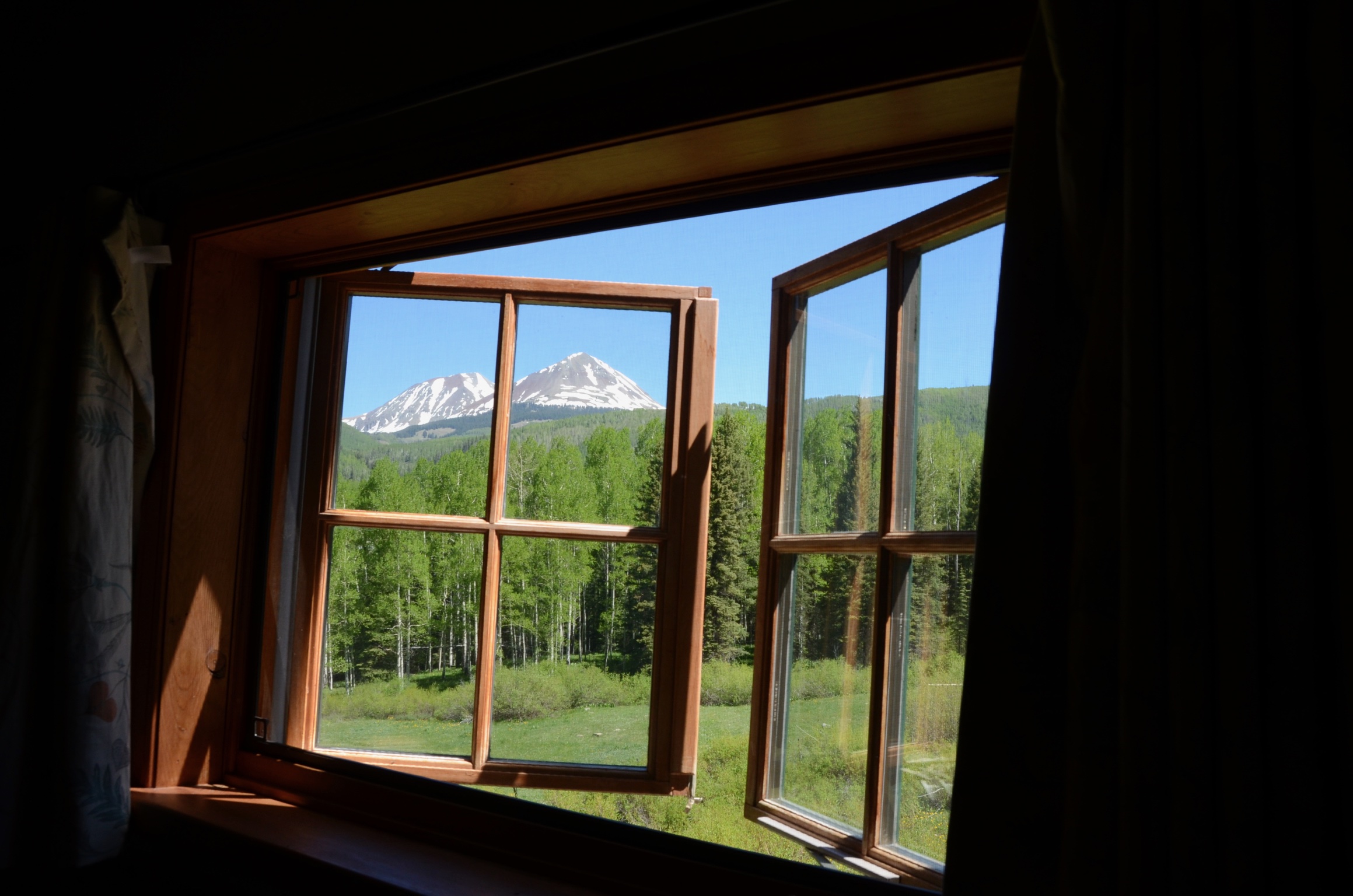 Rooms with a view
The decor of the cabins at Dunton are classic Americana, and had homespun touches like flannel blankets, and patterned rugs with hues of rich reds and federal blues. Vintage snowshoes might hang on the wall of one cabin, while framed vintage western movie posters may be on another.
The cabin named Dolores, for instance, boasted an original Rajasthan wedding bed, as well as a large, private viewing deck. The Dunton Store, one of the pet-friendly cabins, had its own private hot spring and a gas stove. Christy's Tent prided itself on its magnificent view from the oversized shower. The cabins varied in size, so that regardless of how many guests were in your group, you were likely to find a great fit.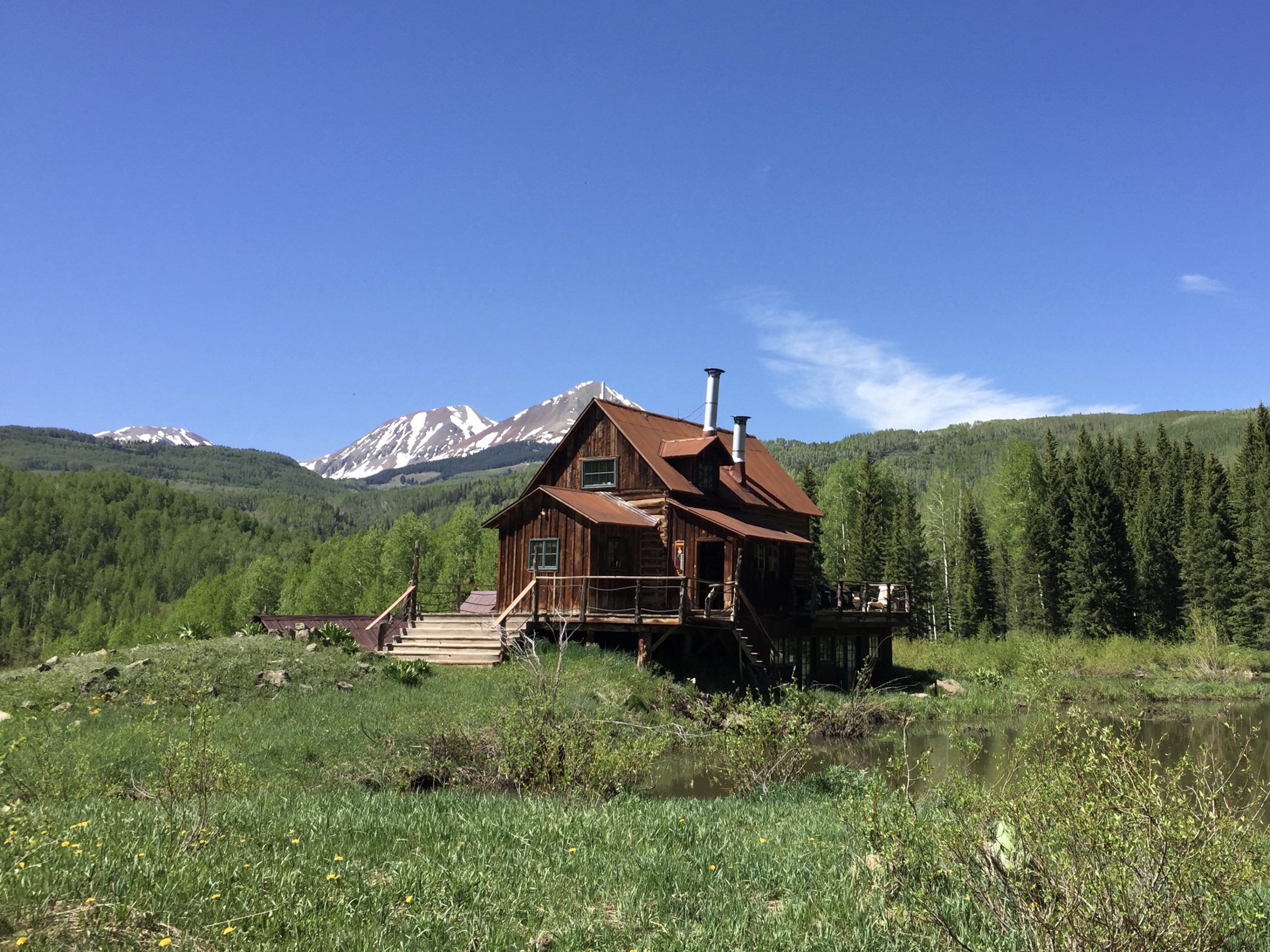 The Potter House
Since we were traveling with another family to Dunton, we opted for the Potter House, which slept ten people, and was adjacent to a lively beaver pond. The Potter House has five bedrooms and 3.5 baths laid out over three levels, a large kitchen, wraparound decks with 360 views, and all the cozy comforts a log cabin could muster. The fireplace was a welcomed luxury as it took the edge off of the cool, dry June nights.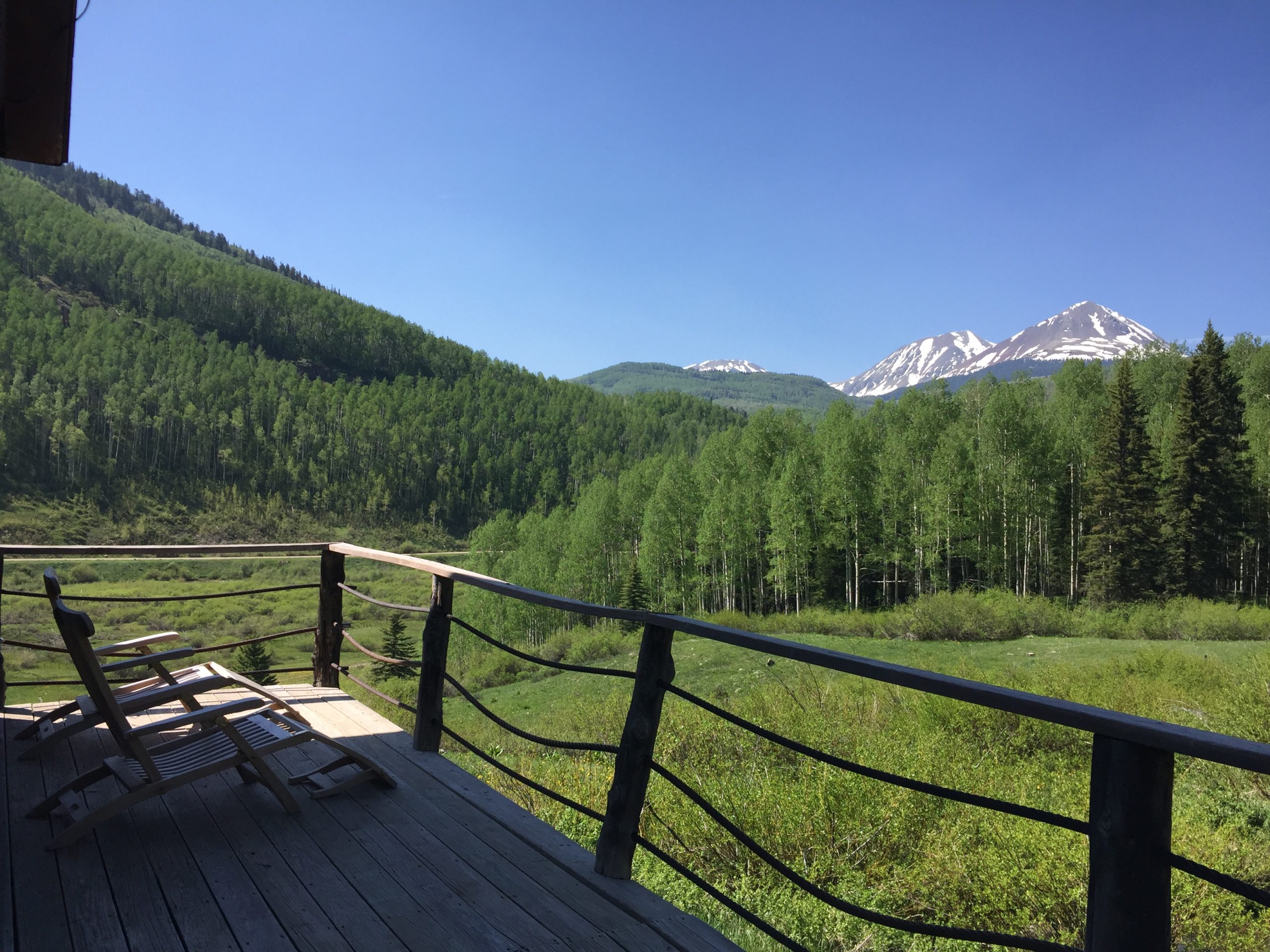 One morning, we opted out of any formal activities in favor of a 'day to do nothing' at our cabin. We called down to the saloon and asked if we could have some essential items brought up to accompany the 'nothing' we were planning to accomplish. Within 30 minutes, we had two bottles of rosé, four glasses, and enough chocolate and salty snacks to keep us in place for the afternoon.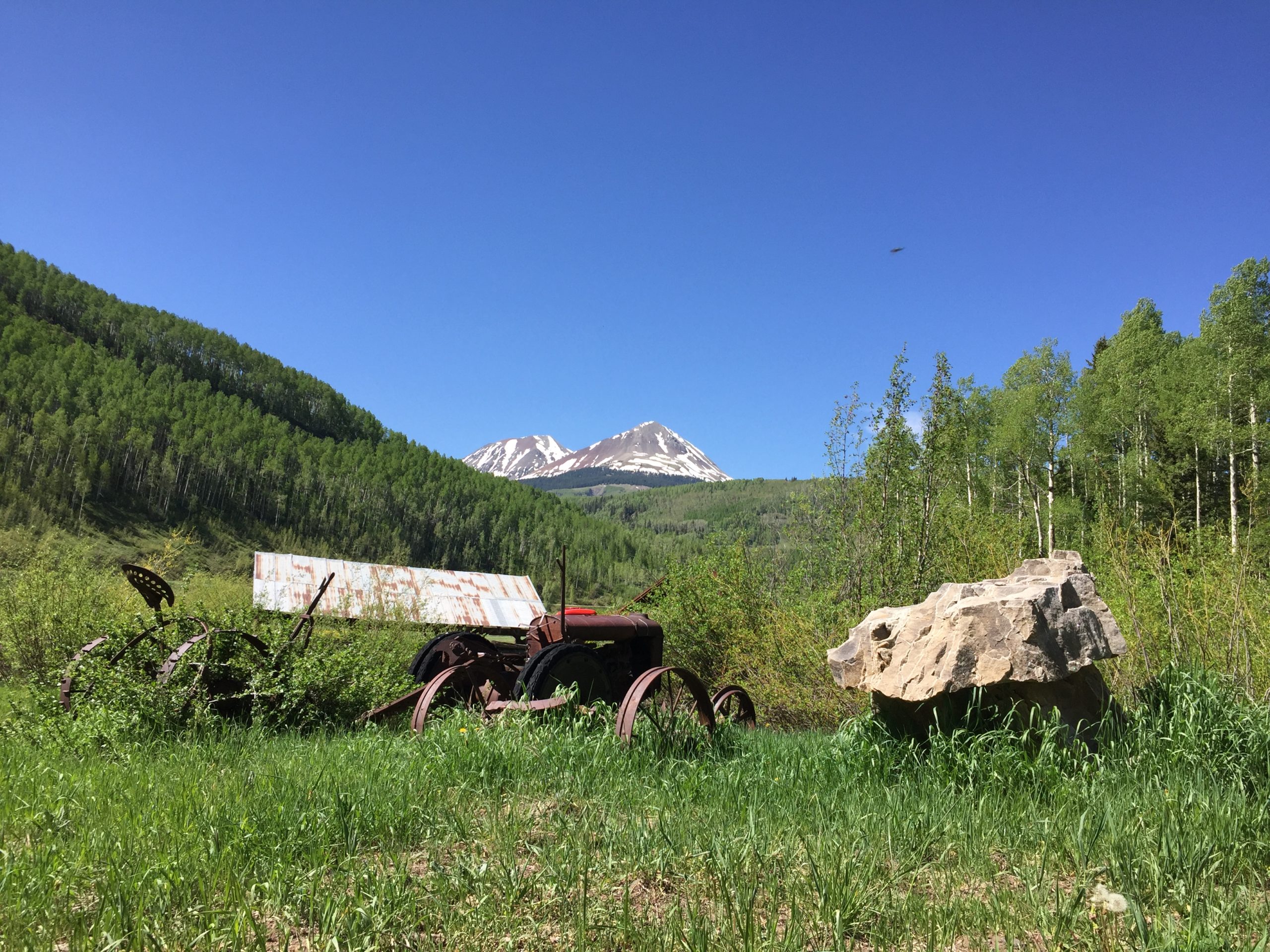 As we relaxed into our day, the kids went rogue. They climbed into an old tractor overrun with dandelions near the stables. They played corn hole and volleyball. They ran, they biked, stirred up the hot springs and swayed in the hammock. It was a detox from our electronically-controlled lives. The old fashioned setting suited us in a way we could never have imagined.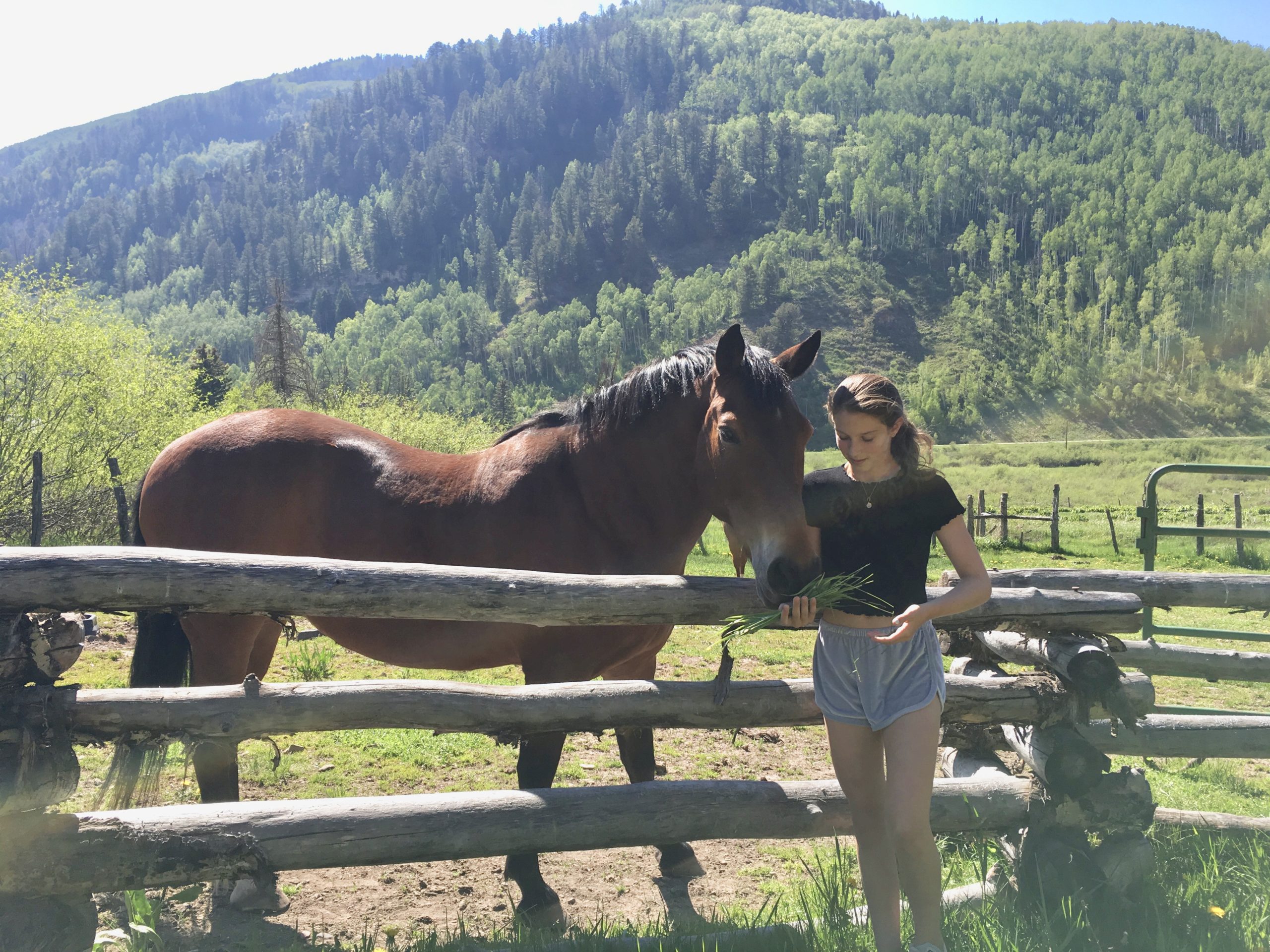 Do something, do everything, or do nothing
As tempting as it was to have another day of 'nothing', we managed to get out and experience the nature we traveled so far to enjoy. We ambled up into the mountains, traversed streams, watched for bears, and eventually stomped through lingering mushy, melting, mountain top snow. Horseback riding, mountain biking, and rock climbing, were available to those of us who wanted a bigger rush of adrenaline. I was happiest in the hot springs, or on the deck, where I watched a mama bird source food for her babies that lived in a nest under the eaves of Potter House. Nature was the main event, and it fed into every moment, big and small.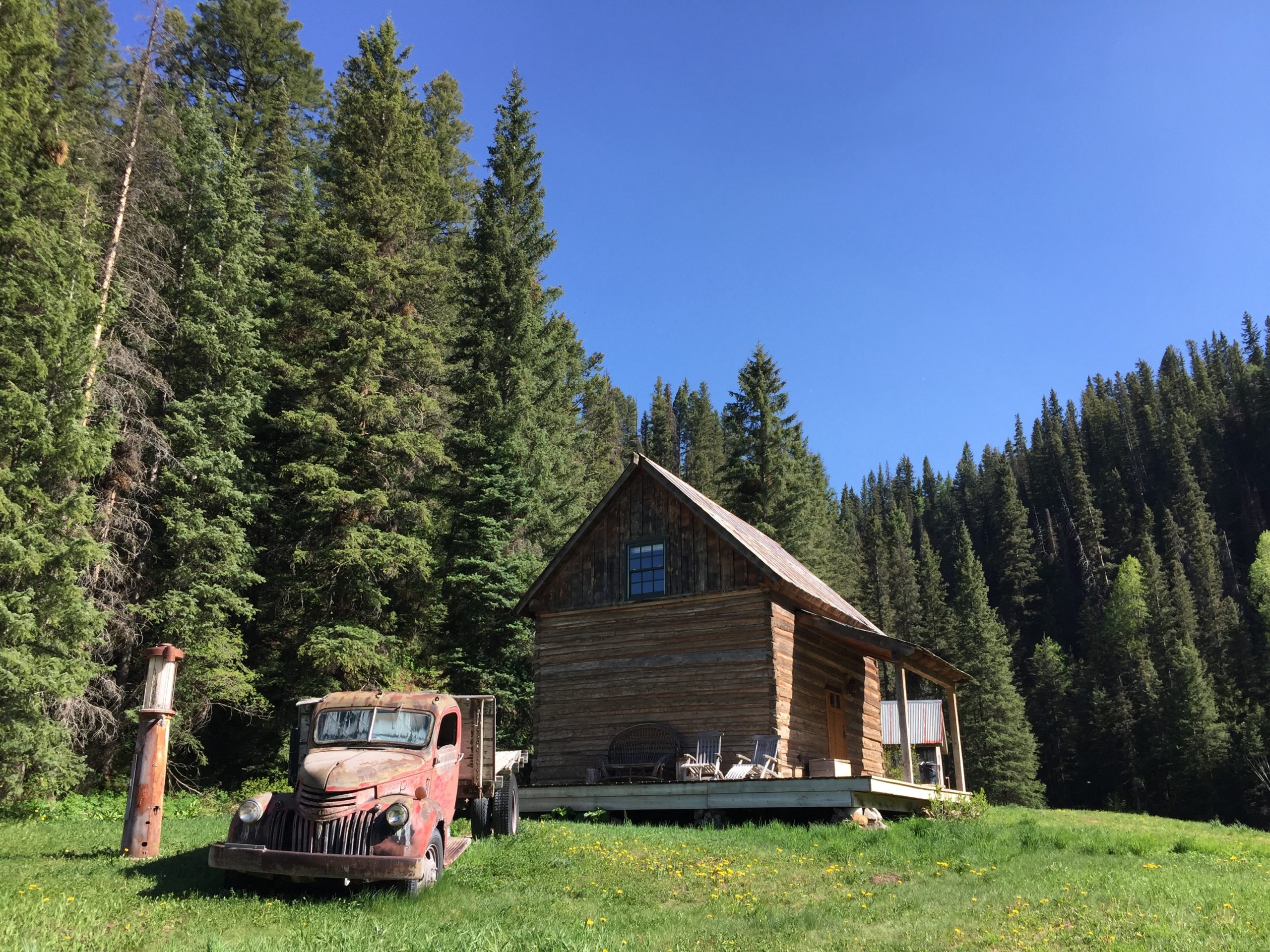 The Wife's Library
While walking late one afternoon, I stumbled upon a small cabin near the edge of the property. I peeked in to find a reader's paradise, a tiny, two-story library. Hundreds of well-curated and beautiful volumes—fiction, non-fiction, biographies, and memoirs. I settled into one of the mismatched armchairs, poured myself a little glass of port from a cut crystal decanter near the entry, and promptly got lost in a book. I was later told that the library was a present from the owner to his wife. I can't imagine a more thoughtful gift.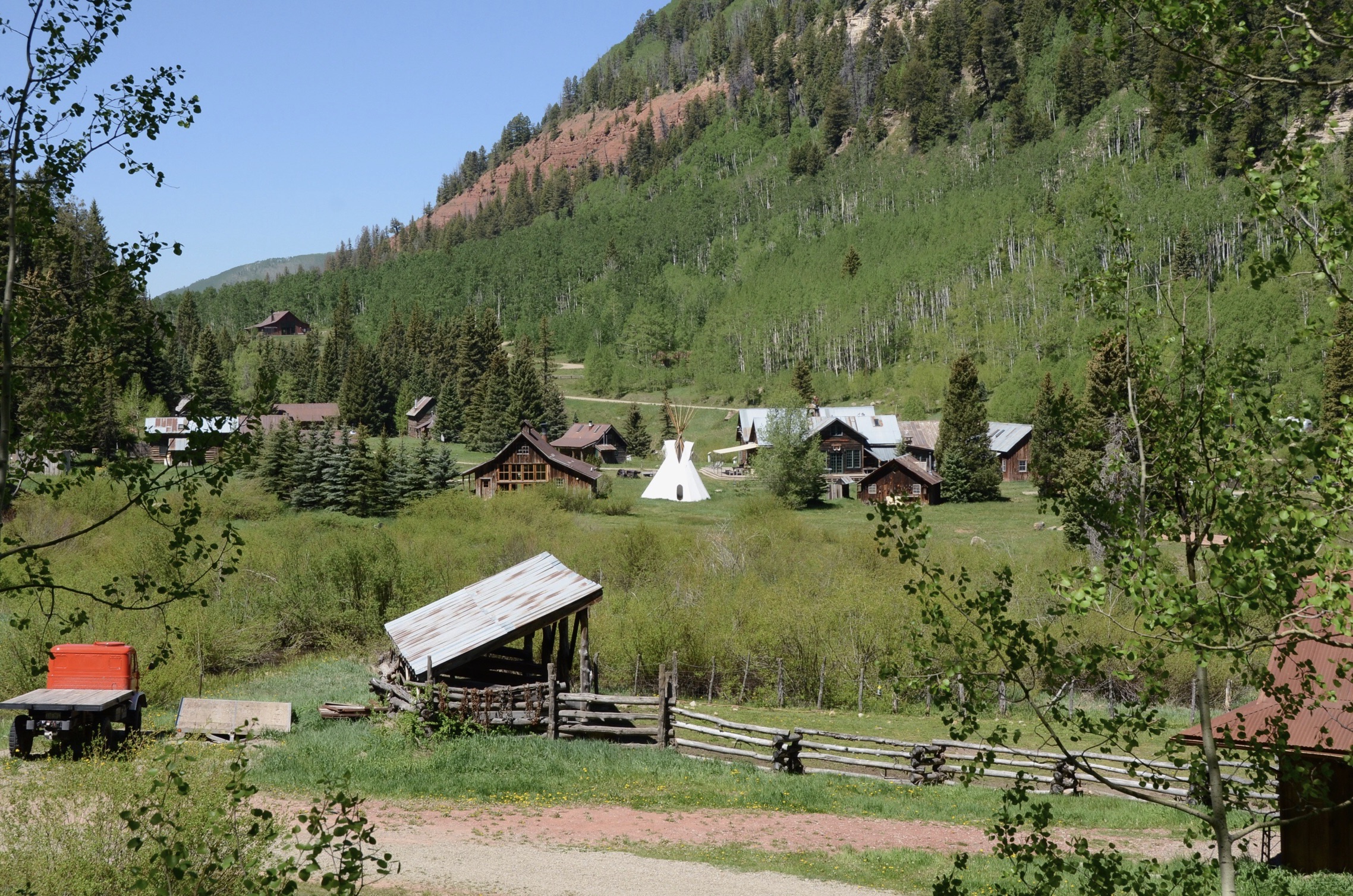 A place for all seasons
It wasn't very surprising to recently discover that Dunton Hot Springs made Conde Nast's coveted Gold List this year. A well-deserved accolade for a former sleepy mining town, far removed from civilization, nestled high in the San Juan mountains.
Although we visited Dunton Hot Springs in the summer, it is the kind of place that I imagine offers up a completely unique experience with each season. The landscape lends itself to endless activities, and ways to relax. While we usually don't find ourselves repeating the same trip twice, just this once, I could be tempted. The wide open spaces are calling.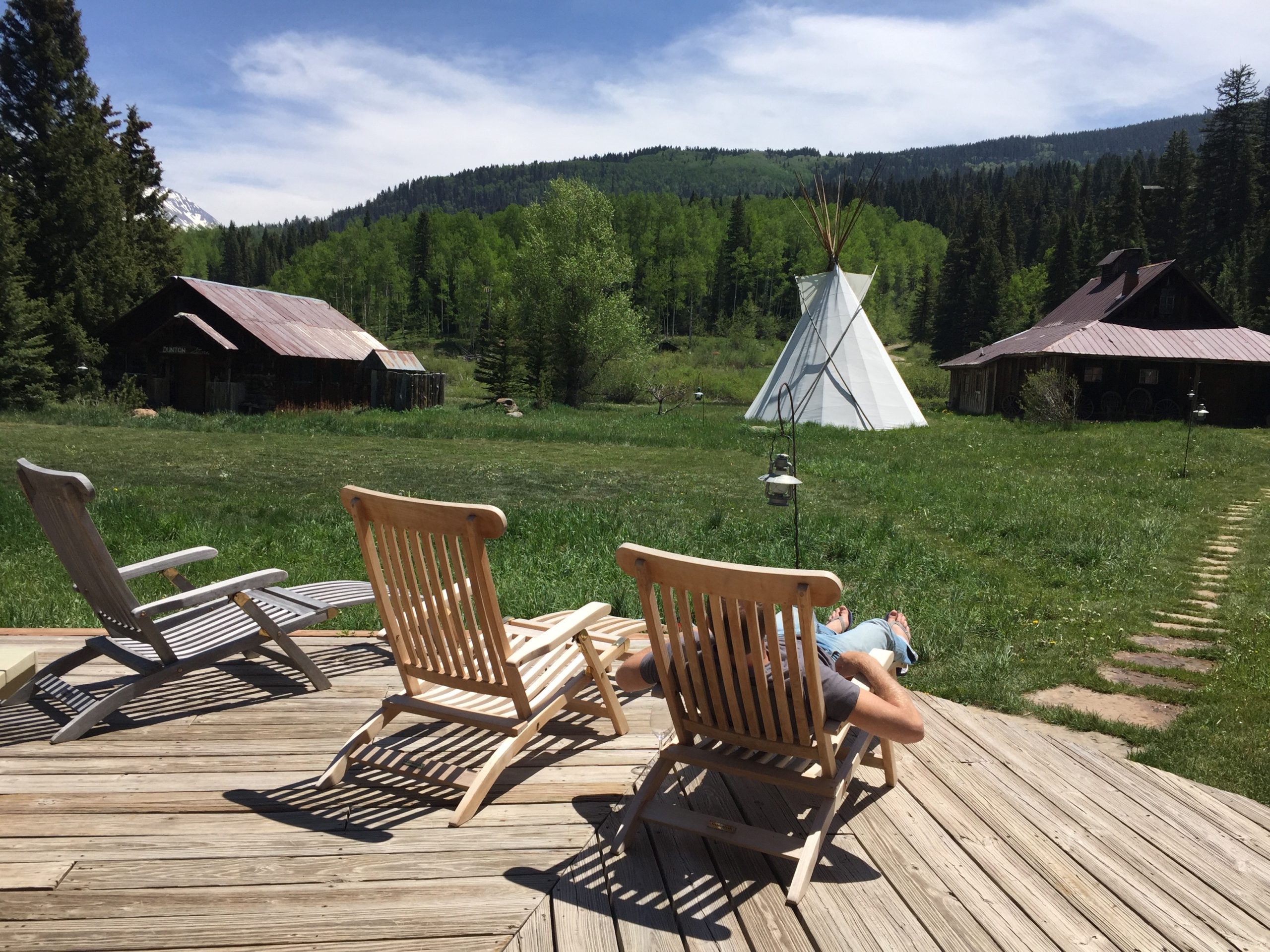 I think back to that summer at Dunton, and the memory snapshots that made it so unforgettable. I can't help but come back to the buzzwords that drew me there in the first place; remote, restorative, secluded. And the refrain that continues to echo in my mind—a home away from home.
*******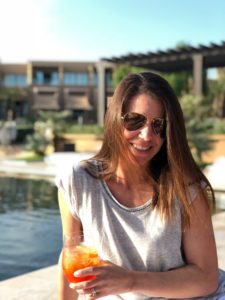 Jamie Edwards is an avid traveler, travel writer, and photographer. She launched I am Lost and Found, her adventure/luxury travel website after 25 years of living and traveling around the globe. Jamie's goal is simple: to inspire travel.
Keep up with Jamie's adventures in travel here.
CIRE Travel is a full-service travel agency headquartered in New York, NY. Our expert team supports clients across the country and around the world.
---
Where in the World Do You Want to Go?
Inspired to plan your next weekend getaway, vacation or trip of a lifetime? See that form below? That's all it takes to begin your next epic travel story.