If wide-open spaces, fresh air and clear blue skies sound good to you right about now, come on a virtual trip with us to the majestic Tetons as friend-of-CIRE, Jamie Edwards, shares her recent hiking adventure in Wyoming. Jamie, an avid traveler, travel writer, and photographer, inspires us and others to travel on her luxury travel website, I am Lost and Found, and through her regular guest blog posts for CIRE. Now take a deep breath…and enjoy the read!
******
'WOAH', said the red octagon at the intersection ahead. Not the expected, 'STOP', we've become conditioned to see. We'd been in Jackson a total of 30 minutes. Little did we know that 'Woah!' would become the buzzword of the next five days.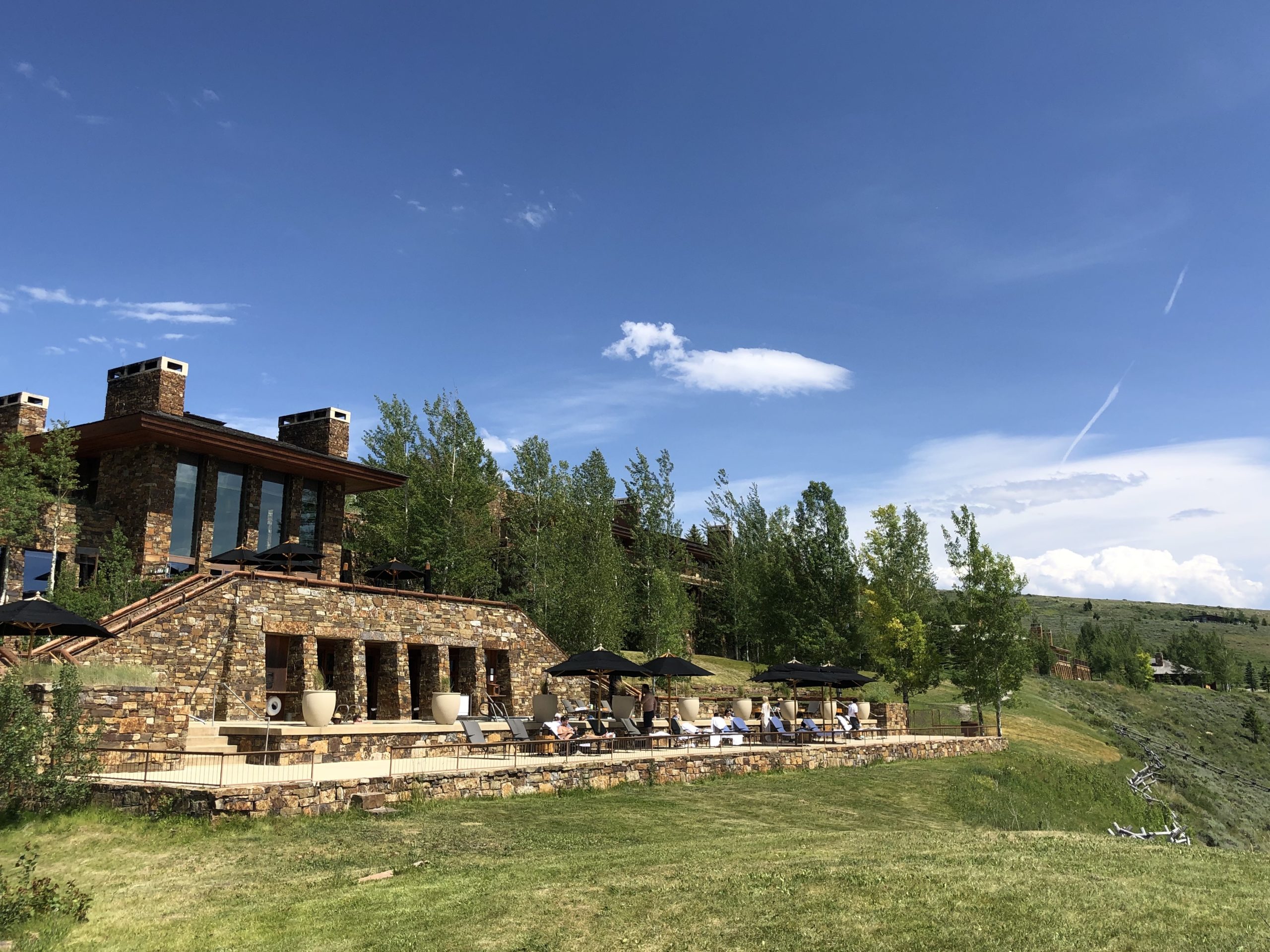 Nerves of steel
There have been precious few trips where wildlife has played such a central role in our experience. Safari in Botswana was certainly one of them, and
gorilla tracking in Uganda,
another. Closer to home, but no less adventurous, was Jackson, Wyoming. The impetus of the trip was three days of hiking in the Teton Mountain Range, planned by my husband, Daniel. I was nervous, I'll only admit now. Not only nervous that the hiking would get the best of me physically, but the bears. I was nervous about the bears.
Those who have grown up in the West might find my fears amusing. As a former New Yorker, I was never afraid of being mugged, or subway rats, for instance—but bears were another story. Being born and raised in the metropolitan northeast, where my most grizzly encounters were with the squeegee guys at the Lincoln Tunnel, the West meant 'wild', and I wasn't sure I was cut out for the wilderness.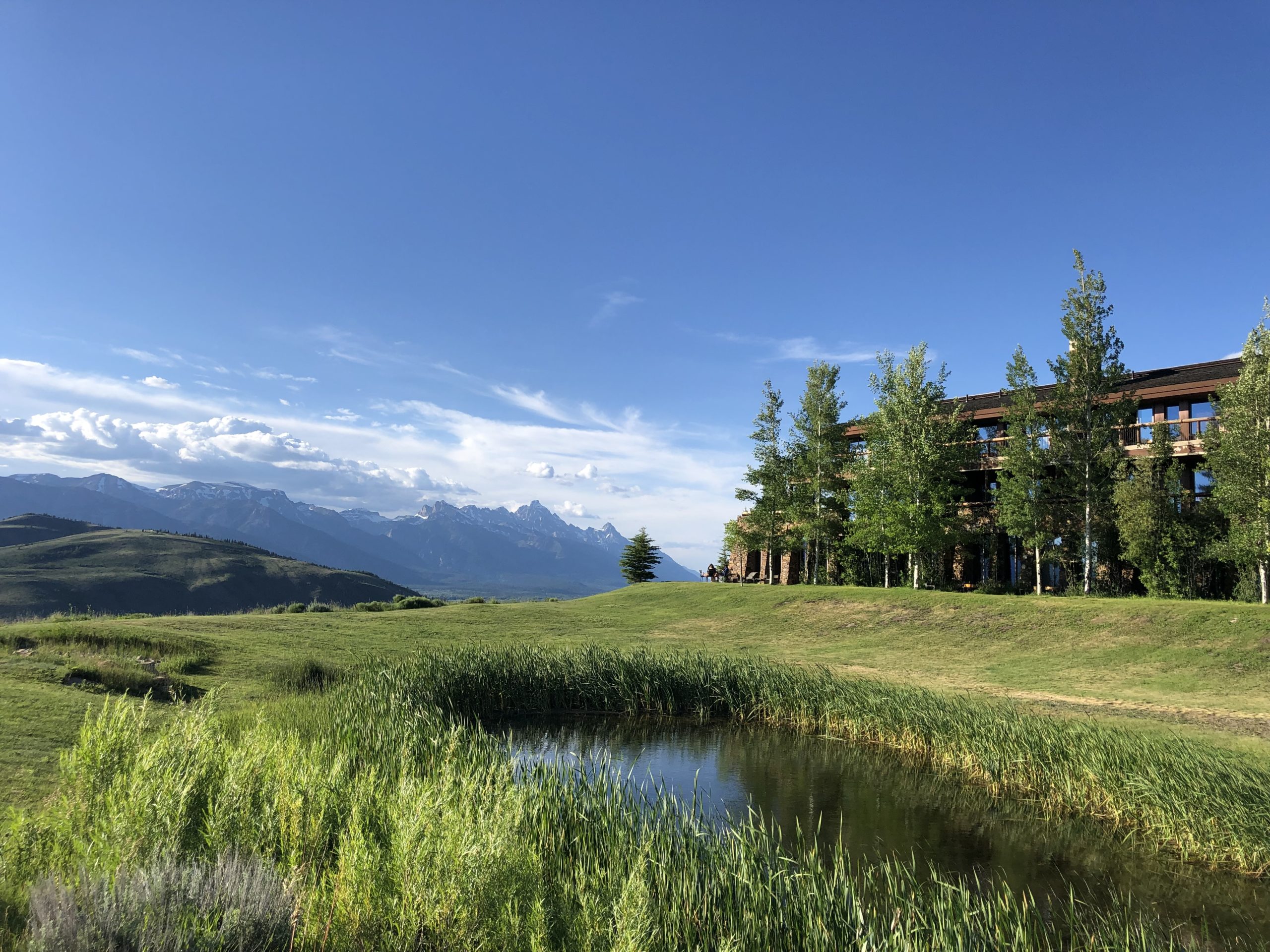 Softening the blow, my husband cushioned the trip by booking us into Amangani. Having spent time at Amangiri
,
in Utah, a few years ago, I knew we were in for a decadent experience.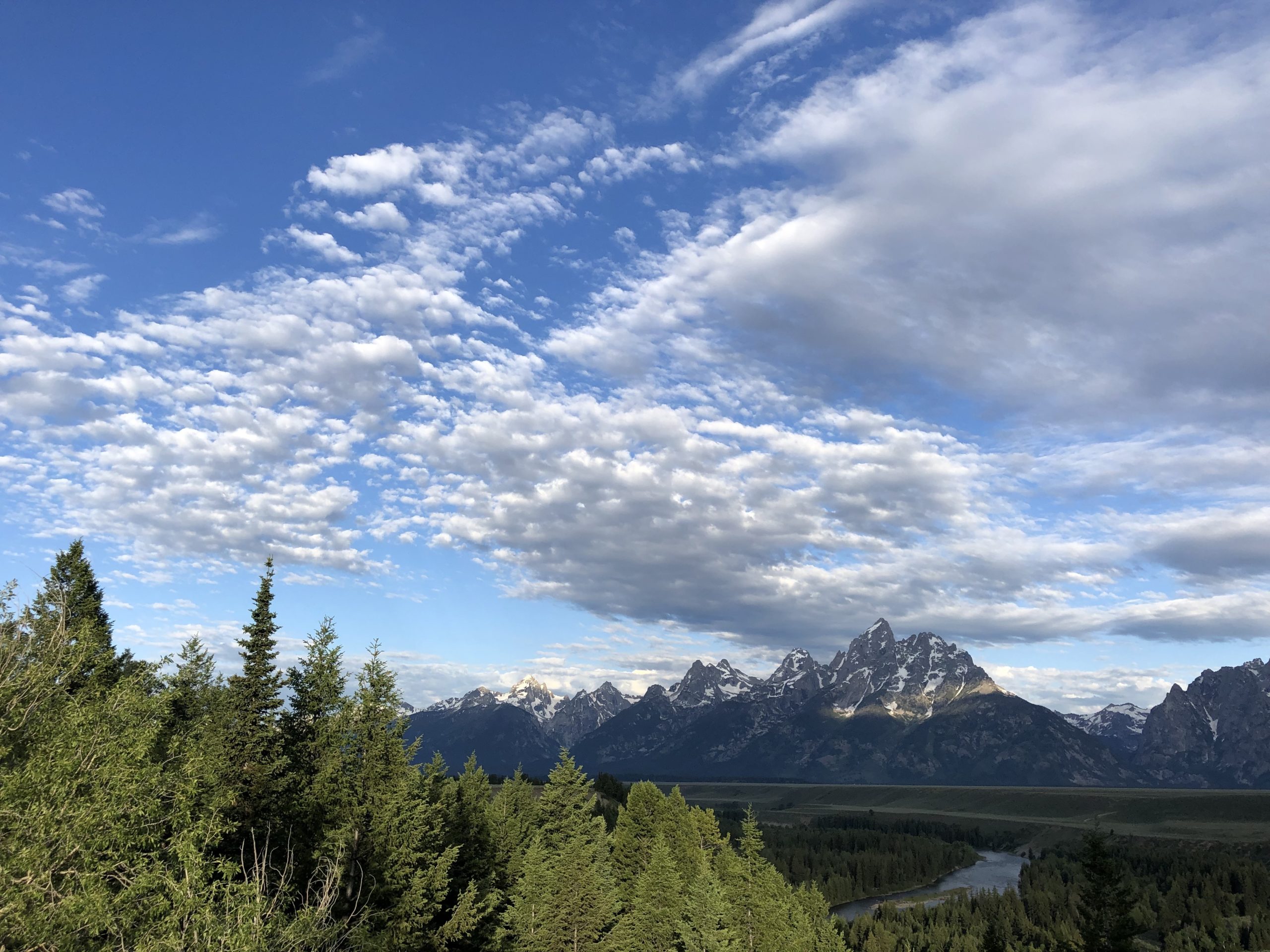 Bear Spray Rentals
After touching down at Jackson Hole Airport, we headed to baggage claim. While at the carousel, I spotted a kiosk called 'Bear Spray Rentals'. What a clever name for a car rental service, I first thought. It took another beat to register that the kiosk was actually renting bear spray. Did I mention that I spent all of my adult life in big cities?
According to the attendant, bear spray is rarely used, as the bears want to hang out with us about as much as we do with them. That said, I rented a can of bear insurance and went on my merry way.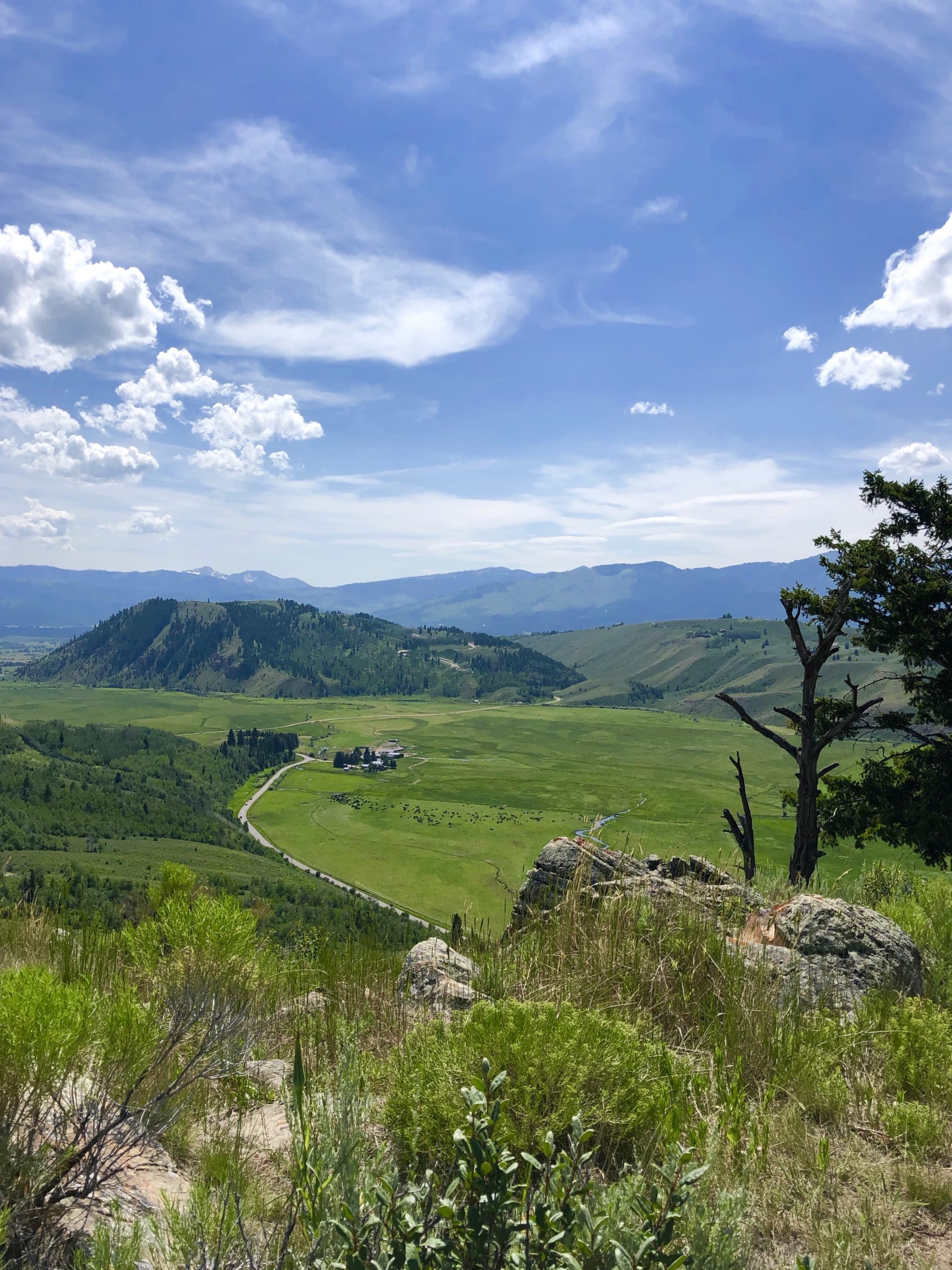 Love at first Woah!

Amangani is low-profile and high-impact—an architectural style we have noticed at many Aman properties. Perched upon a hilltop, with illustrative snow-capped mountain views in the distance (even in July) and green pastures of cows below, Amangani's vibe is modern rustic lodge-chic. The exterior is a lovely combination of redwood and stone and sits ever-so-comfortably in its surroundings.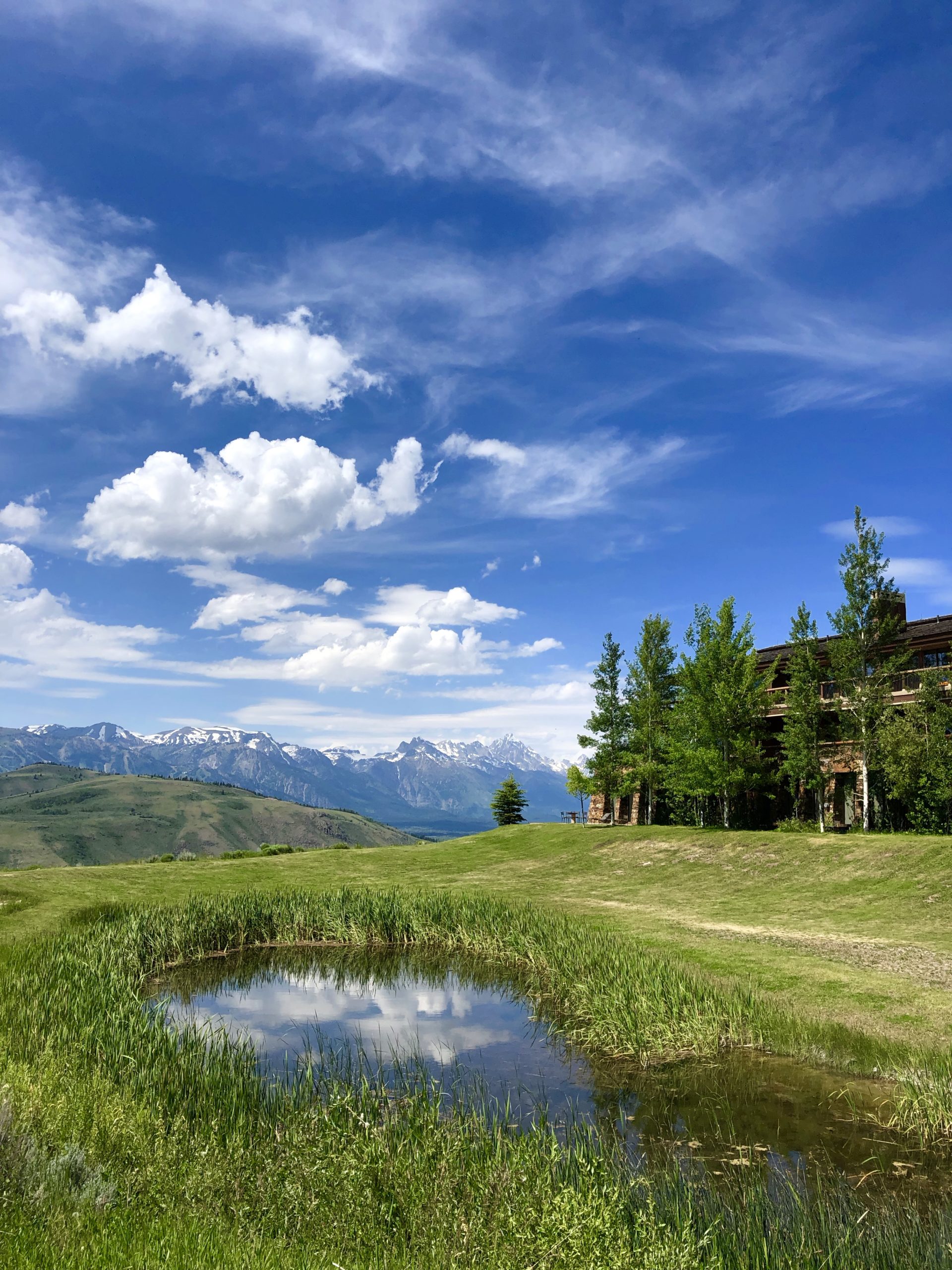 A small pond on the grounds, which later became a never-ending photo op for me, was a flourish on the bucolic scene. It acted as a backdrop to glorious mountain photos that changed with the light and mirrored the cloud formations that rolled past throughout the day. I was obsessively drawn to this spot, as is clearly evident from the absurd number of photos I took there.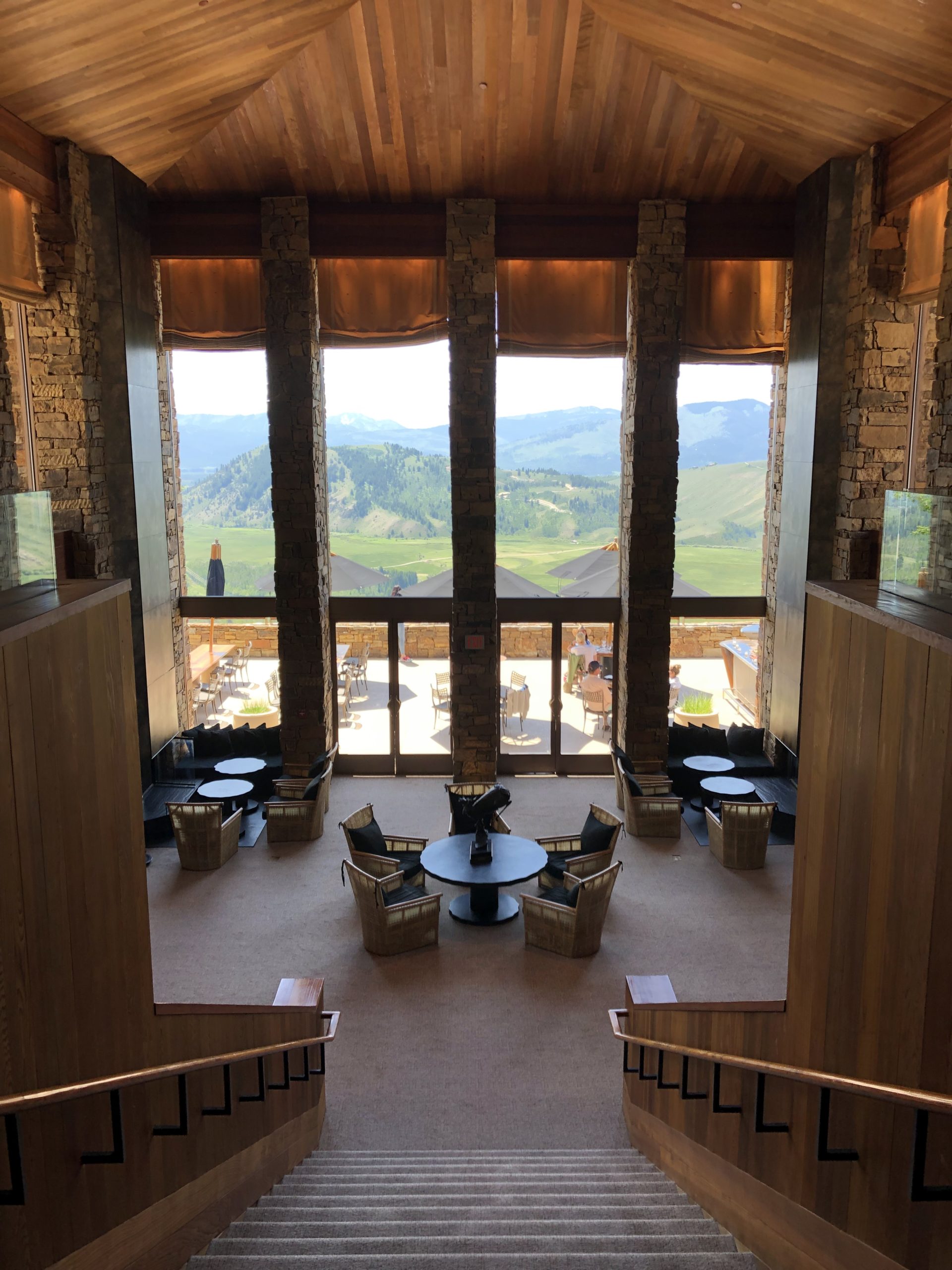 A sweeping welcome

Upon entering Amangani, which means 'peaceful home', a grand, sweeping staircase welcomed us. The staircase led down to a multi-level windowed wall that formally introduced us to the landscape. Hello, Tetons!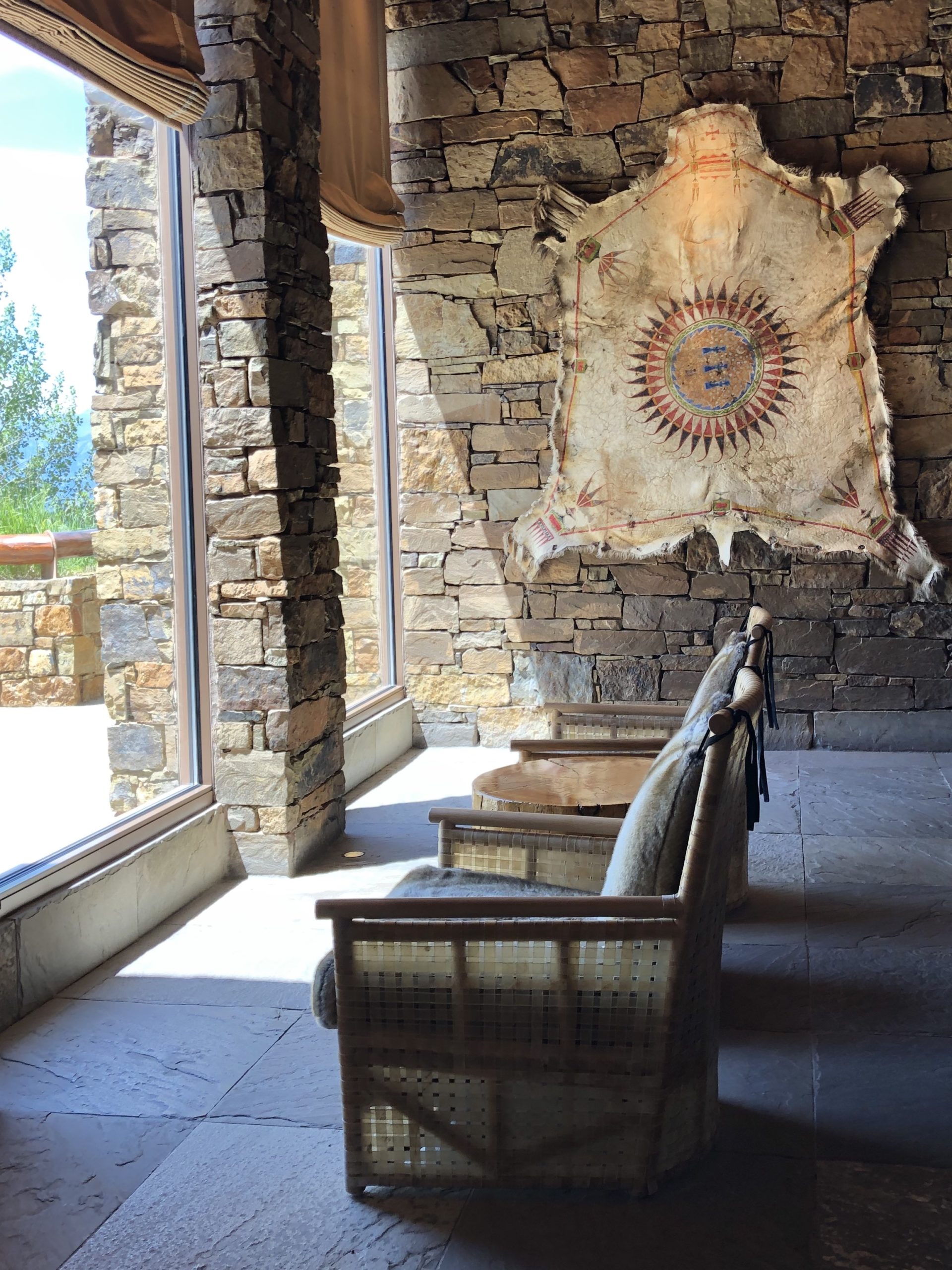 Within the property, there are plenty of spaces to find quiet. Comfy chairs were perfectly placed to maximize the panorama, whether in the lounge or the airy central sitting area. With larger than life windows, it also doubled as a gorgeous cocktail spot in the evenings. Native American touches, oversized sepia-tinted wildlife photography, painted cowhides, and textiles were on display, everything placed with a designer's touch.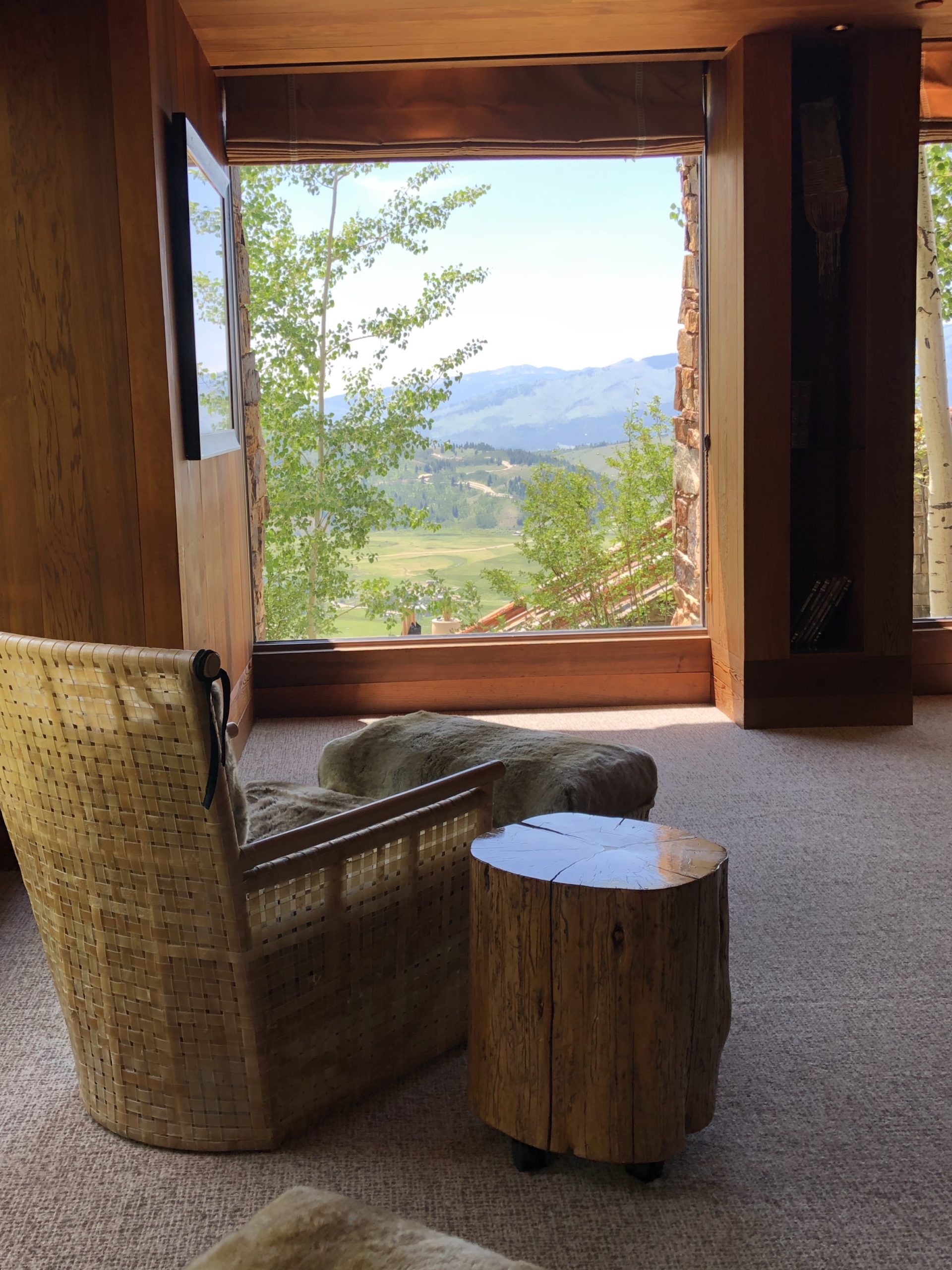 A room for all seasons

As tempting as it was to spend all of our time outside, the rooms at Amangani seemed designed to encourage us to stay in. Being an all-season destination, the rooms at Amangani had as much to offer comfort-wise as we could wish for.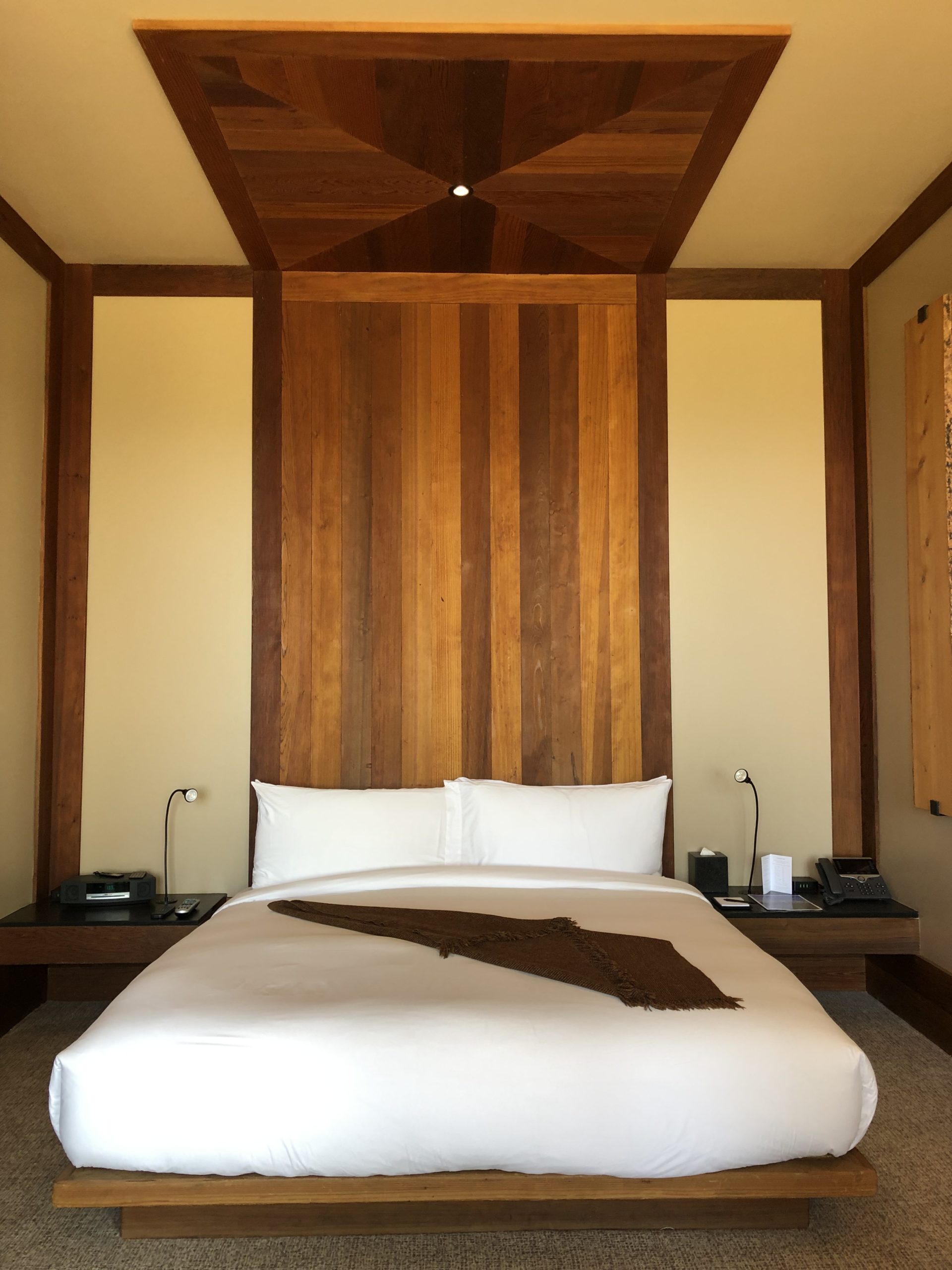 A raw-cut stone fireplace sat in the corner. A low platform bed, donned with crisp, white linens and a wooden headboard, that not only went floor-to-ceiling, but continued its design onto the ceiling itself, was the room's centerpiece. Natural materials in varying shades of gray and ecru, as well as ever-soft faux fur accents, completed the ambient atmosphere. A small, yet beautifully appointed balcony, highlighted the never-ending drama of the skies. We ordered a bottle of wine, then allowed the sounds of nature to take over.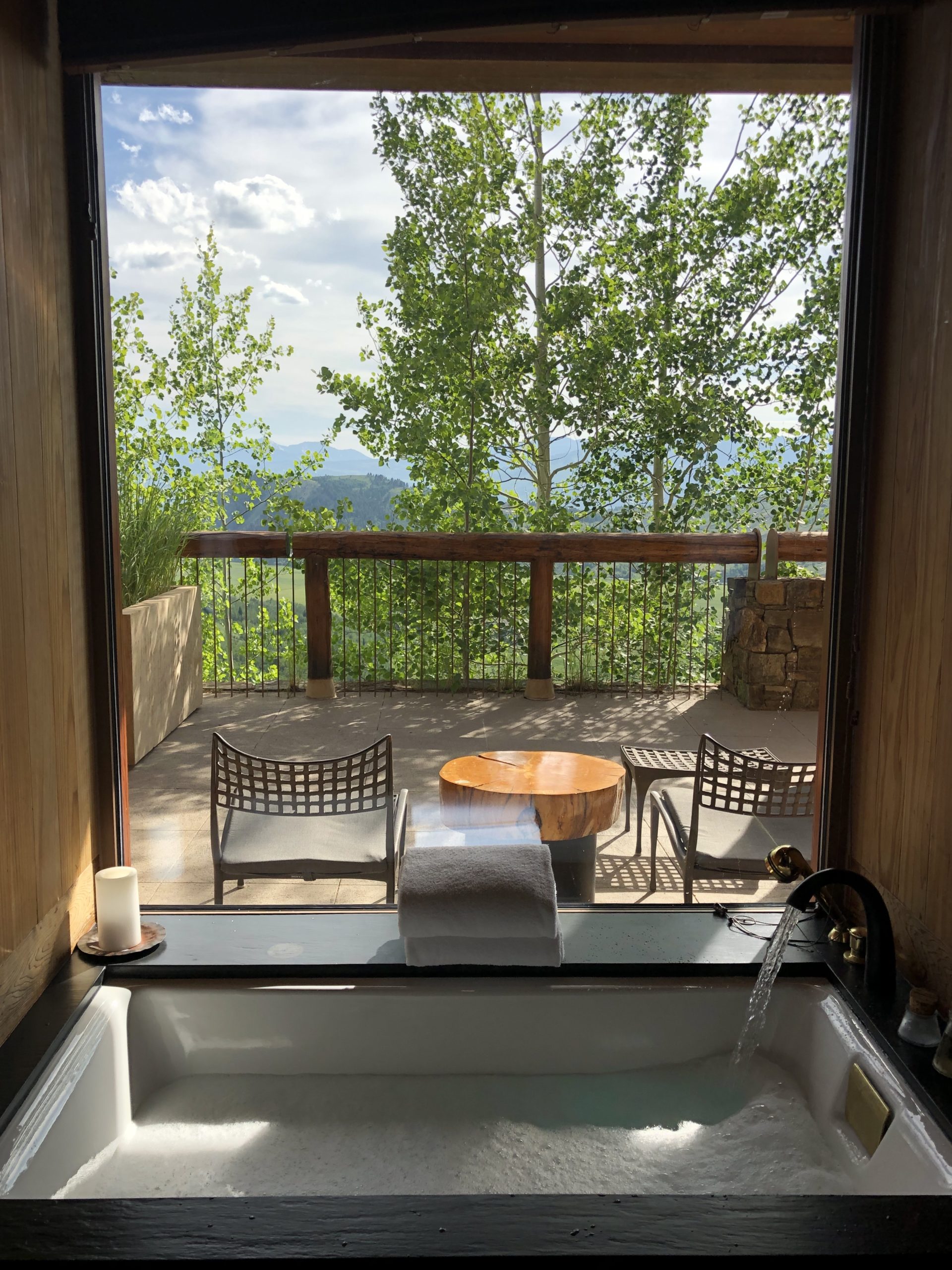 Truth be told, were it not for the showstopper of a pool, and the hiking ahead, I would have been hard-pressed to leave the walls of the lodge at all.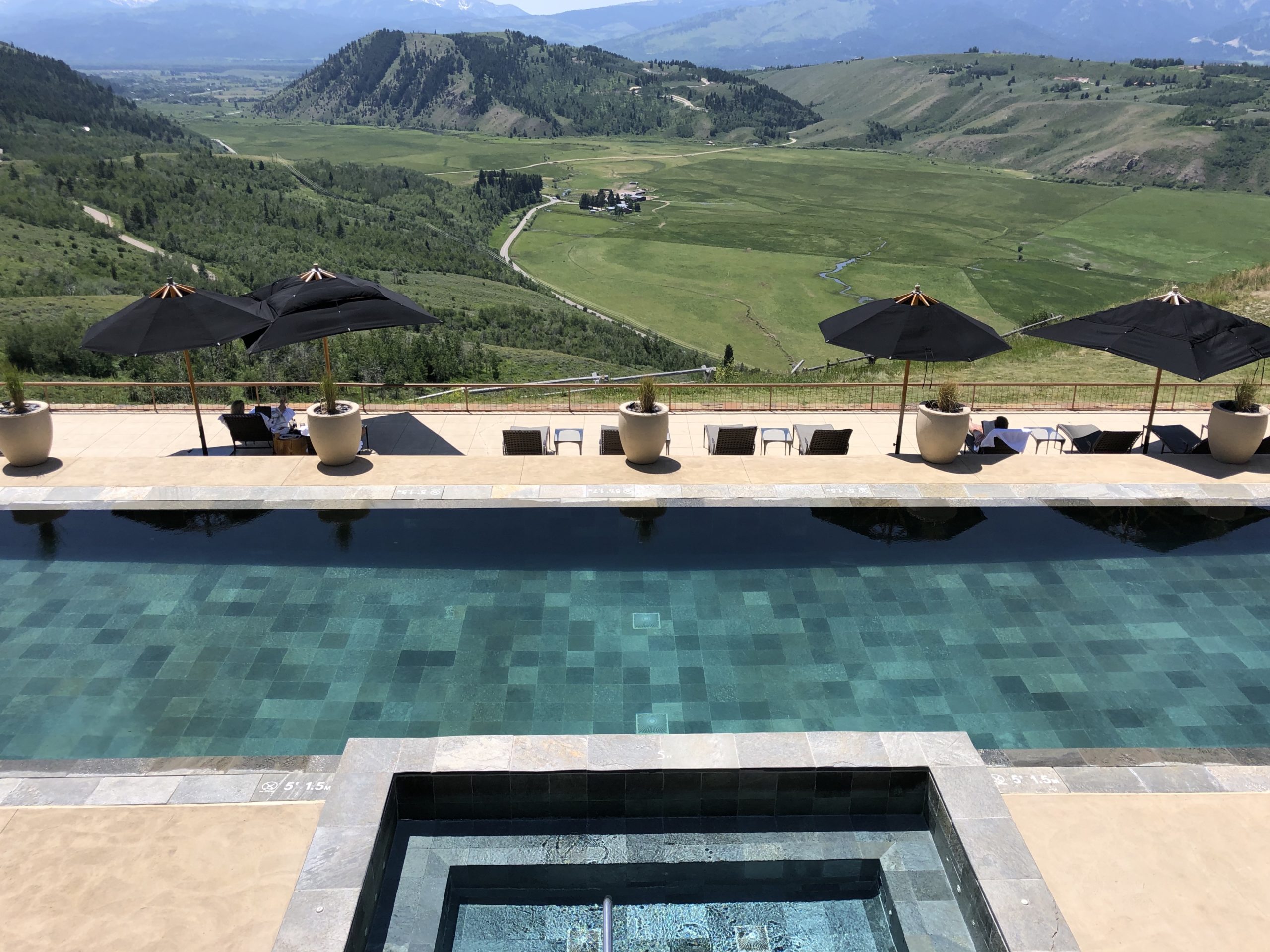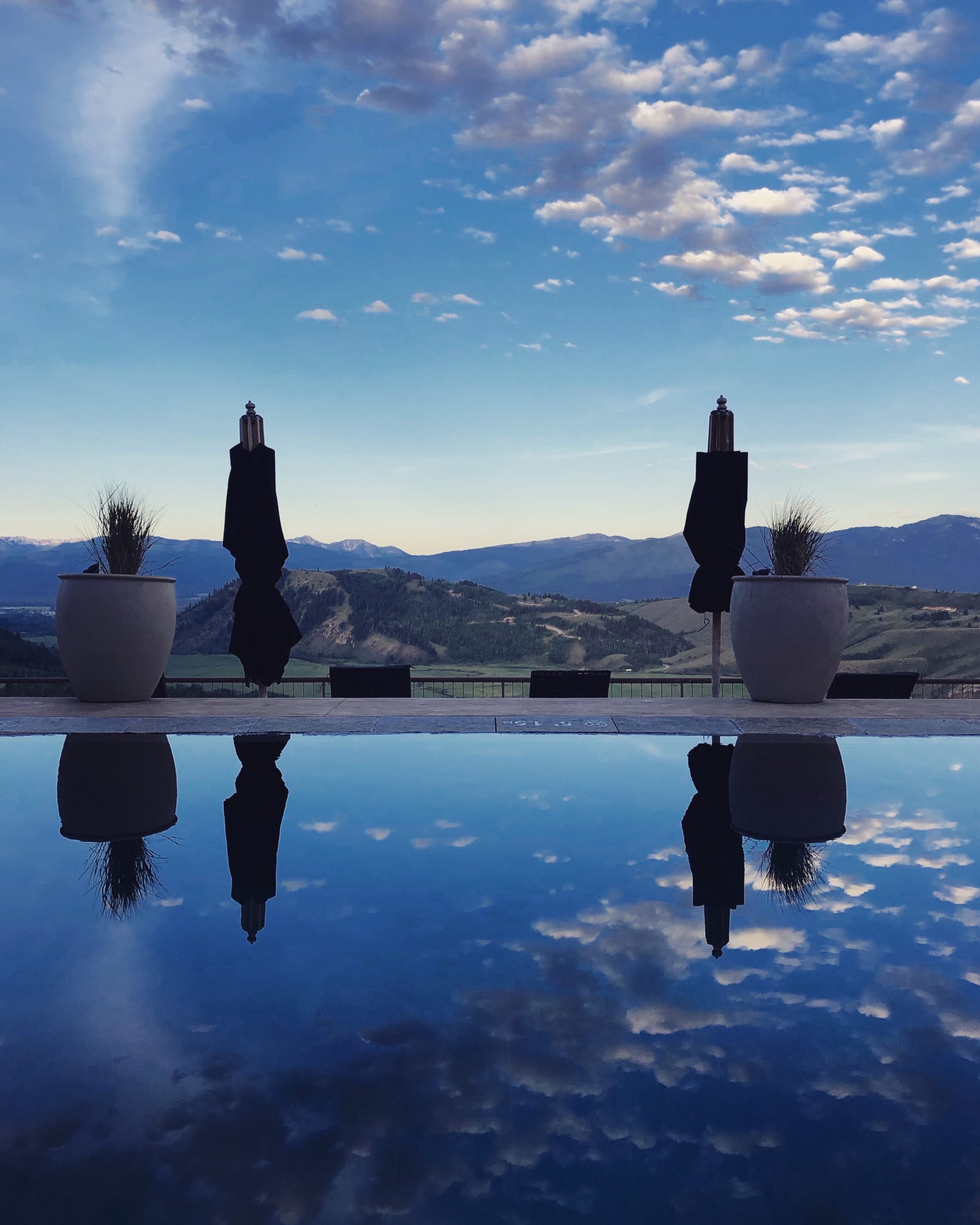 To infinity and beyond
One of the resort's unique selling points is its nearly 400 square foot heated outdoor infinity pool. The rectangular, blue-toned, mosaic-tiled pool spans just about the entire length of the main lodge and offers uninterrupted mountain views. The icing on the cake was the square, sunken hot tub that sat center stage along the top edge of the pool. Its idyllic positioning practically begged for a bottle of champagne on ice.
The row of loungers, each with a front row seat to the vistas, was a magical spot from which to watch the layers of blue sky deepen and evolve over the course of the afternoon. Jagged mountains cut into the sky farther in the distance, and puffy cloud formations floated effortlessly in the foreground.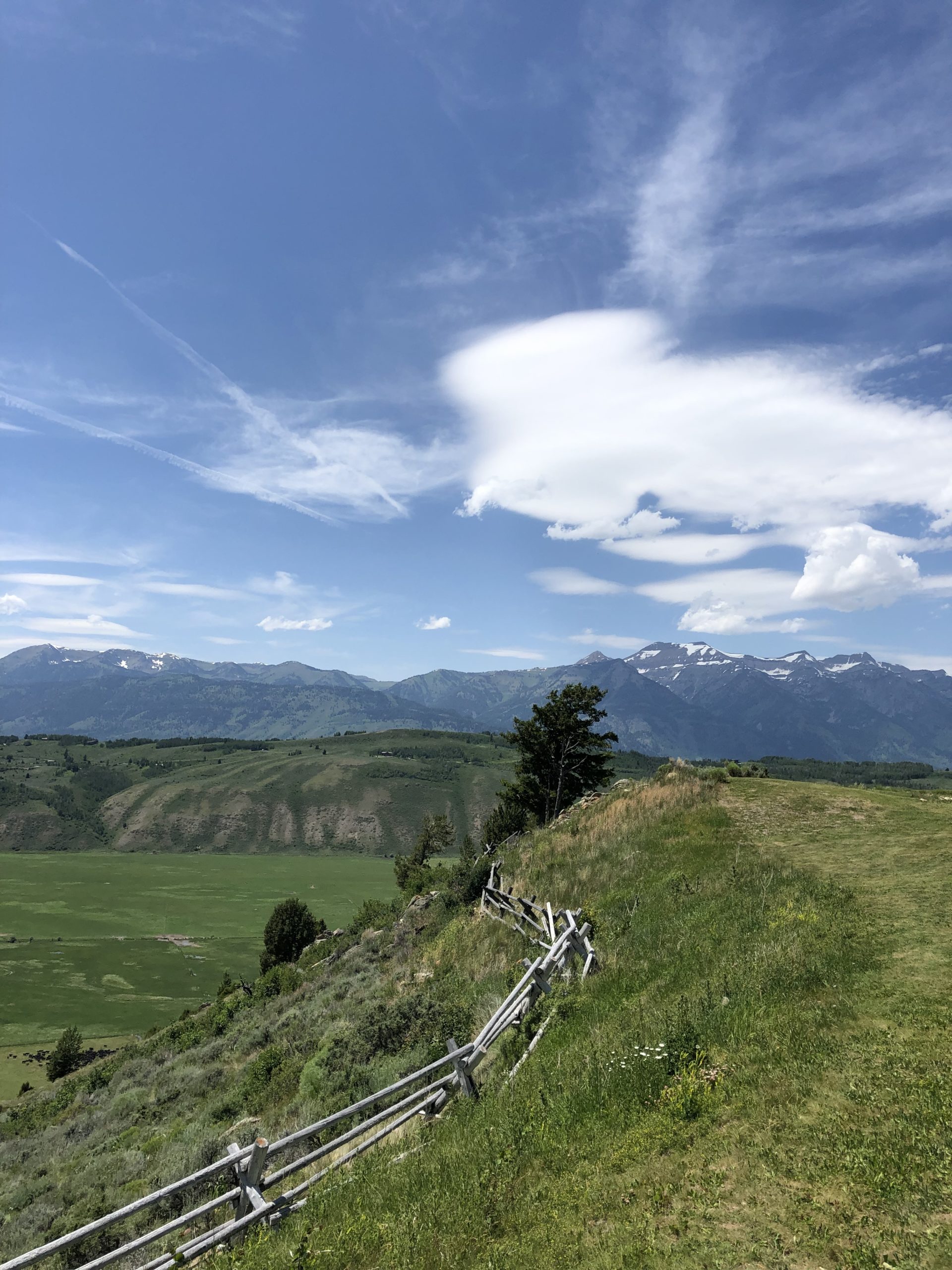 A rickety wooden fence edged the perimeter and beyond that, a steep slope towards flat green fields and cow pastures. From our aquatic perch, the cows looked no bigger than ants, and we dreamily watched them congregate and migrate across the pasture each day after our arduous hikes. My legs were rendered useless by then, and I was very happy to not have to use them for the remainder of the day.
The air was cool and dry. It felt charged. I watched a pair of red-tailed hawks crisscross the sky over our heads.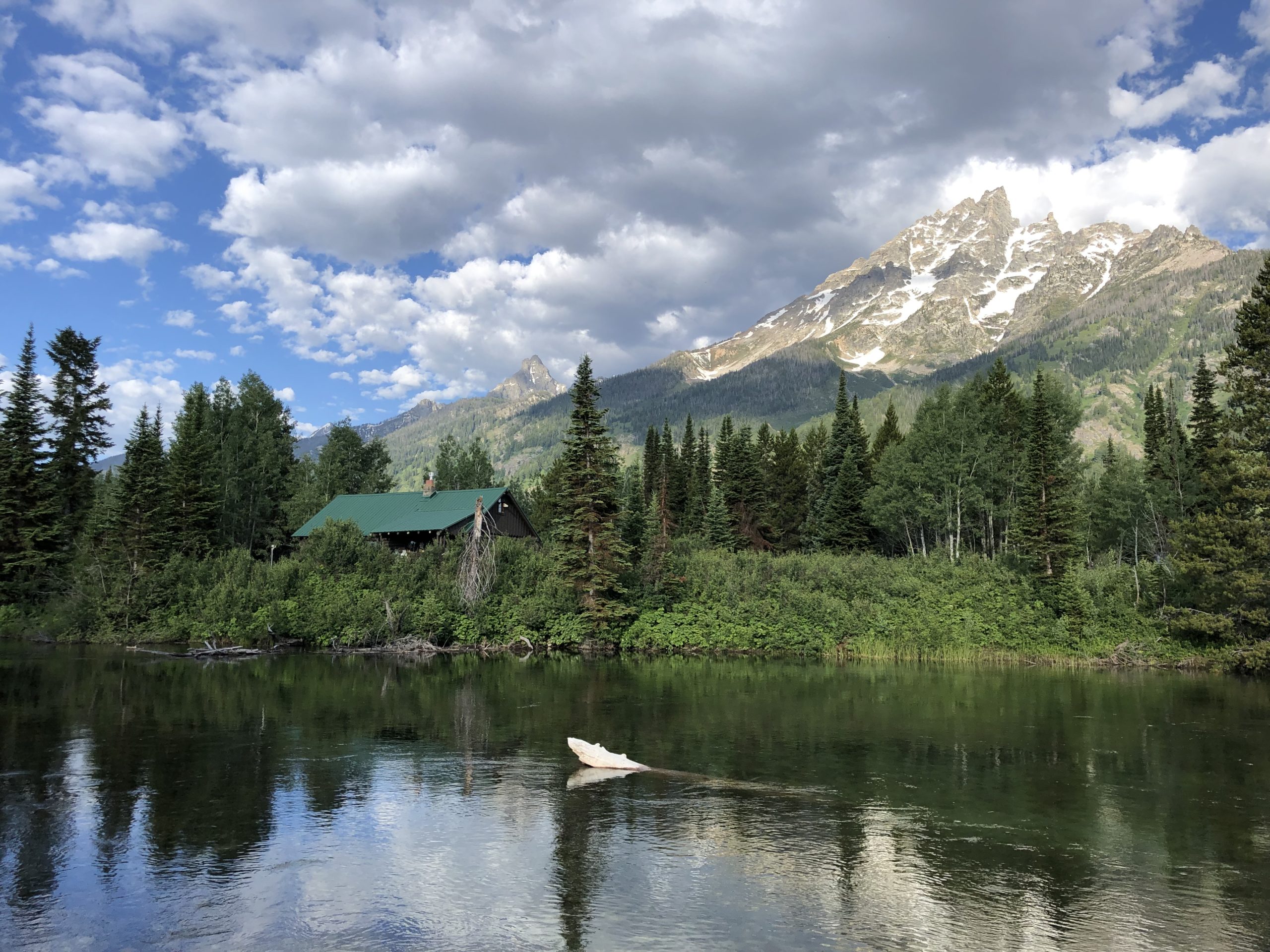 Cascade Canyon
At 6am, our alarm sounded. This was not my idea of a vacation. Although I knew that once I got going and had some caffeine, I'd be happy to start the morning. Daniel is obsessed with avoiding crowds. He hates parades, auctions, big parties, and just about any situation where he might have to engage in conversations with strangers. Hence, the early start time. I on the other hand, am obsessed with avoiding bears, and moose, which I'm told like to get a jump start on their day around the same time.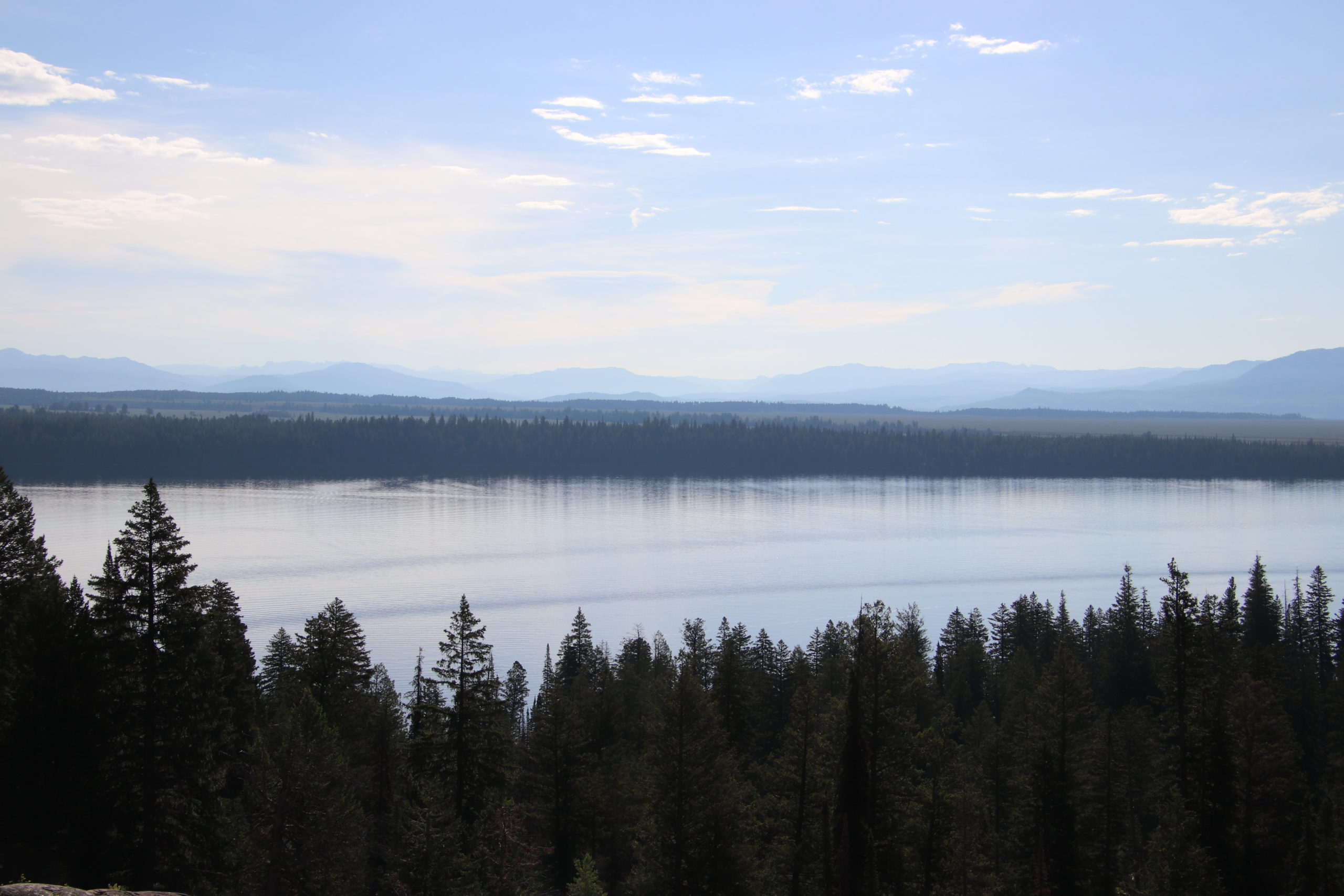 According to our guidebook, the Cascade Canyon hike is majestic, adorned with a canopy of Douglas firs, sheer canyon walls, and Teton views. However, it warned of the huckleberry bushes along the way that attract grizzlies. In this case, being first on the trail meant being first to greet the hungry huckleberry eaters. I took a long, deep breath, and we set off.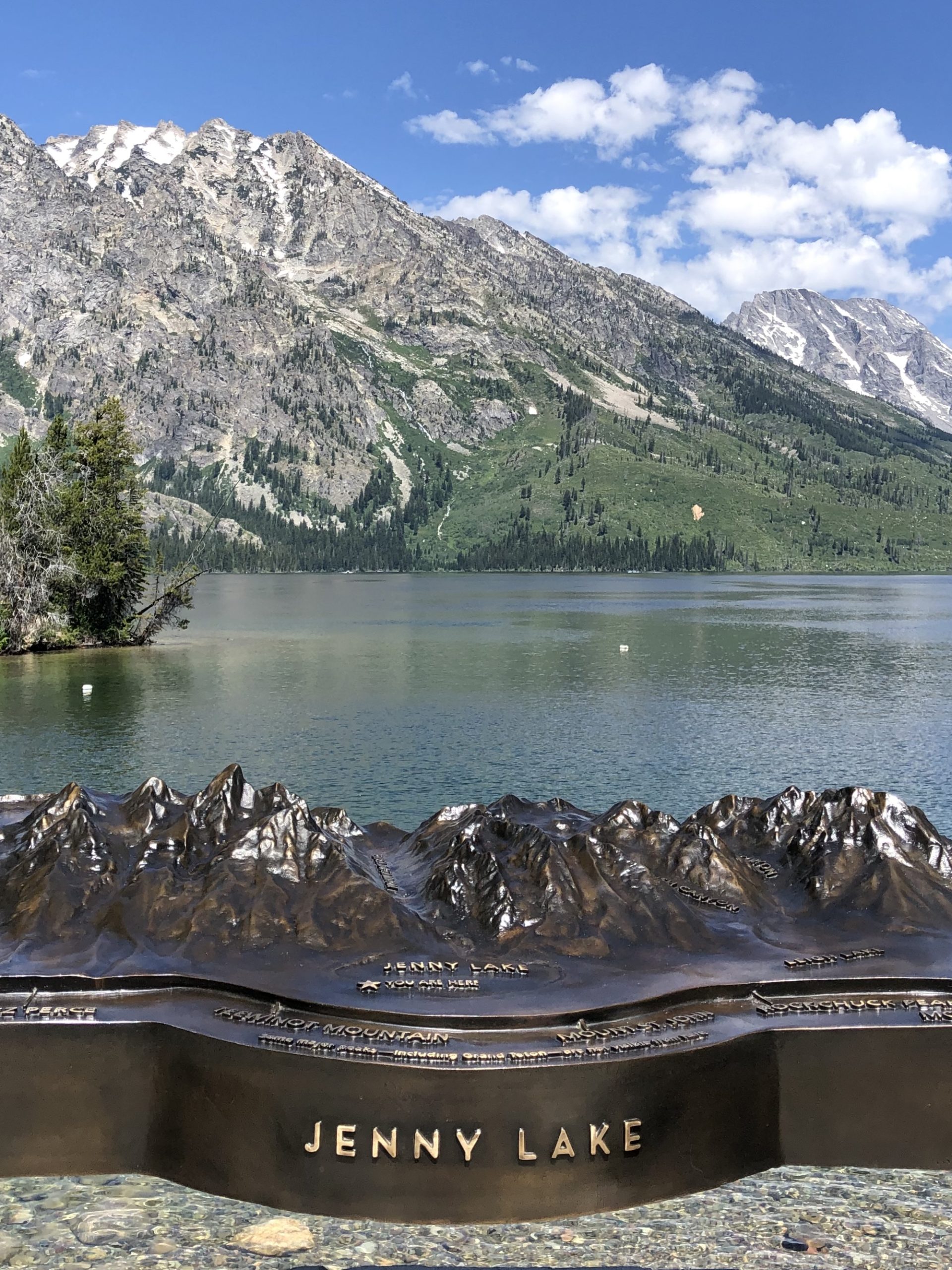 Jenny Lake
Crossing Jenny Lake to get to the trailhead made the early wake up worthwhile. The lake was flat and serene, mirroring the mountains and clouds, undulating ripples for as far as I could see. I quickly noticed that the few other passengers on the boat had bells, music, and whistles, to detract wildlife. We had nothing, so were told to keep up steady, and loud, conversation. Who has six hours of steady conversation after 17 years of marriage?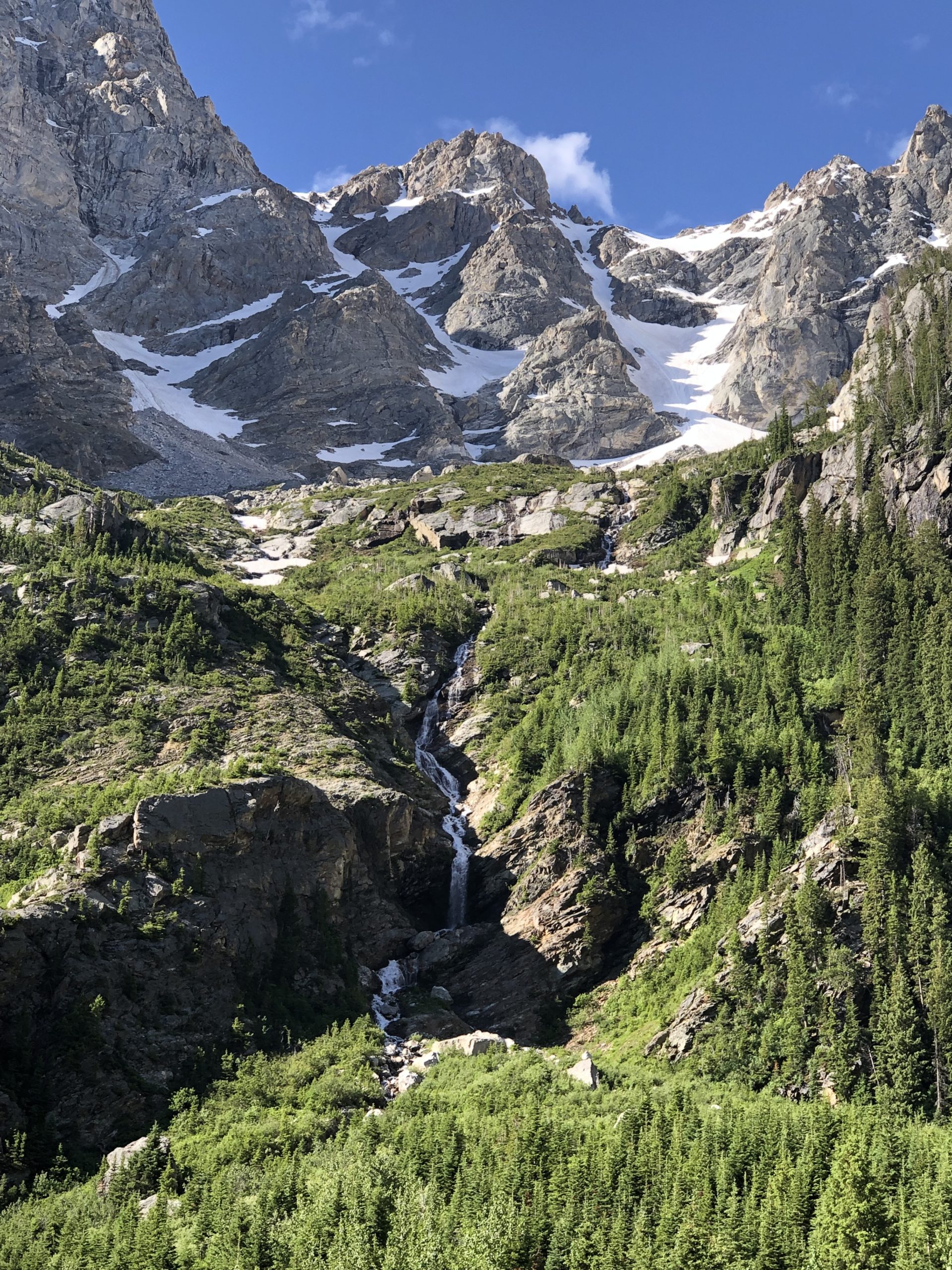 Noisy, gushing waterfalls, wooden foot bridges, and enormous pines, met us as we started our ascent. It couldn't have been more beautiful, and peaceful, especially due to the fact that there was no one else on the trail. We made it up the first steep pass to Inspiration Point, which offered uninterrupted views of Jenny Lake.
We saw signs of bears, like tree trunks that had been used for sharpening claws, but thankfully no actual bears. Daniel walked ahead carrying the bear spray, which was a clever ploy to get me to keep up with his faster pace. The 13.6-mile round-trip journey took us through spots called Paintbrush Divide and Hidden Falls, which looked as illustrative as their names implied. Birds of prey glided in the breeze overhead.
Snow-capped Grand Teton welcomed us in the distance like a beacon. I might have smirked more than once on our hike back towards the lake, as we passed hikers starting their climb as we were finishing ours. Thank you, Daniel.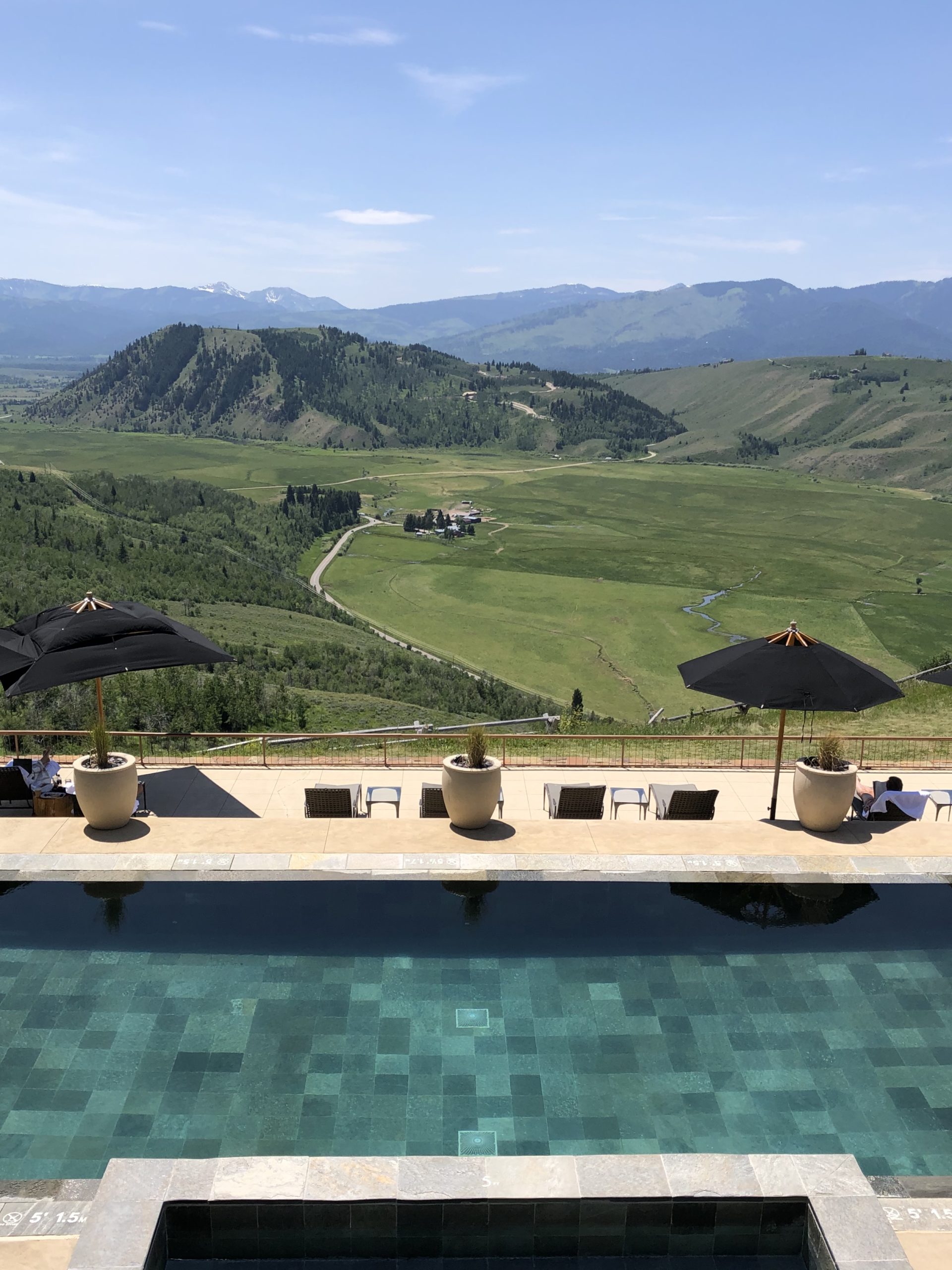 My weary legs earned the right to sit at the pool's edge and revel in the morning's accomplishment, book in one hand, a refreshing drink in the other. A true getaway, to me, includes a spa treatment or two, and Aman certainly knows how to cater to its clientele in that regard. A well-timed post-hike massage was the only thing that could lure me indoors during the day. With rewards like this, I could certainly get used to hiking.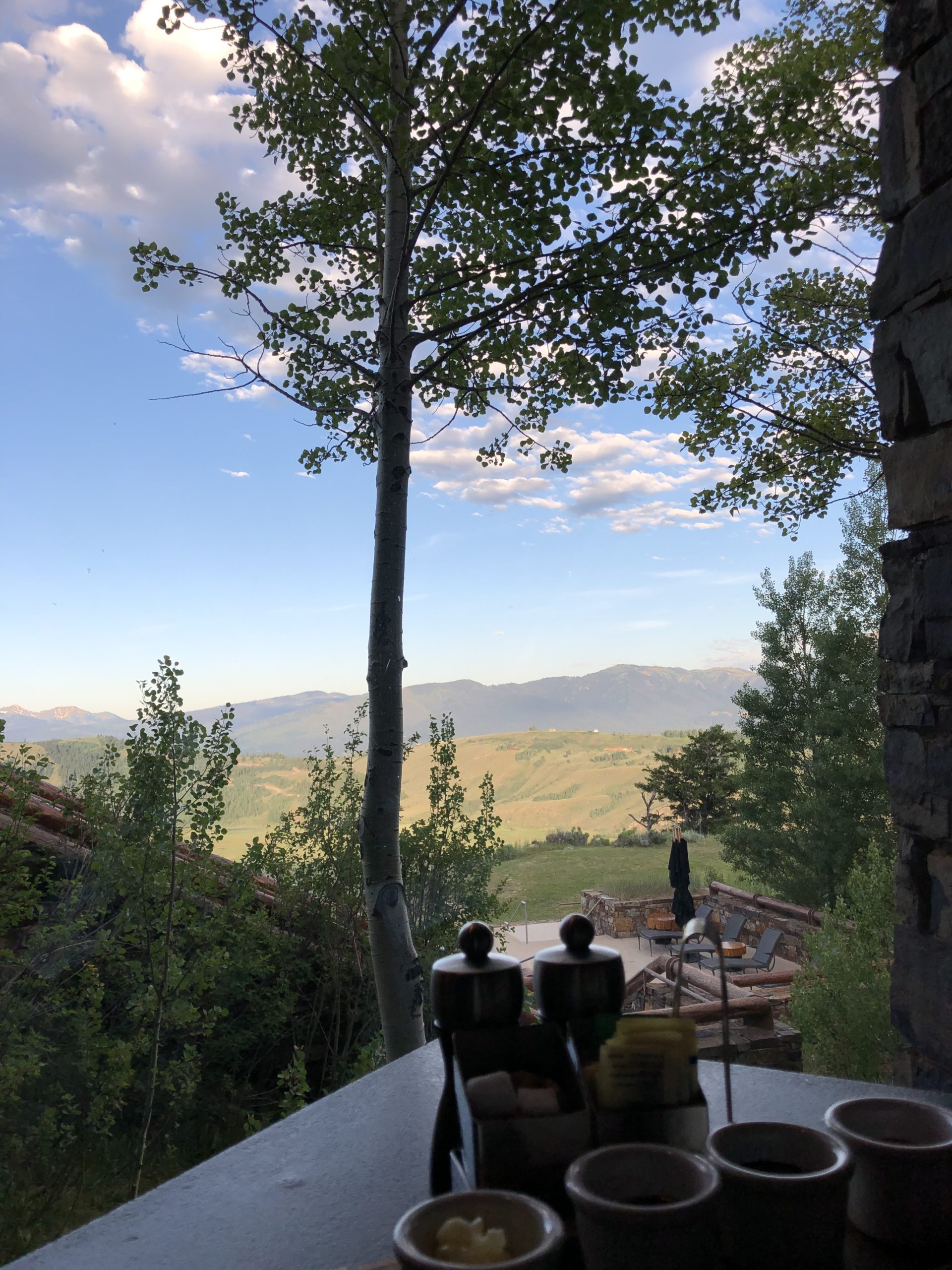 Dinners in, and out, but mostly in
While the town of Jackson and Teton Village were only a fifteen-minute drive from the resort, we ended up going out for dinner only twice in five nights. It was too hard to leave the nest after a day of hiking and sun soaking.
The dining room at Amangani was ambient and moody, with a menu that had enough variety to satisfy us for three dinners. The windows played a large role in the setting, as you might imagine, and it was hard to concentrate on anything when the views were as captivating as the Teton mountain range.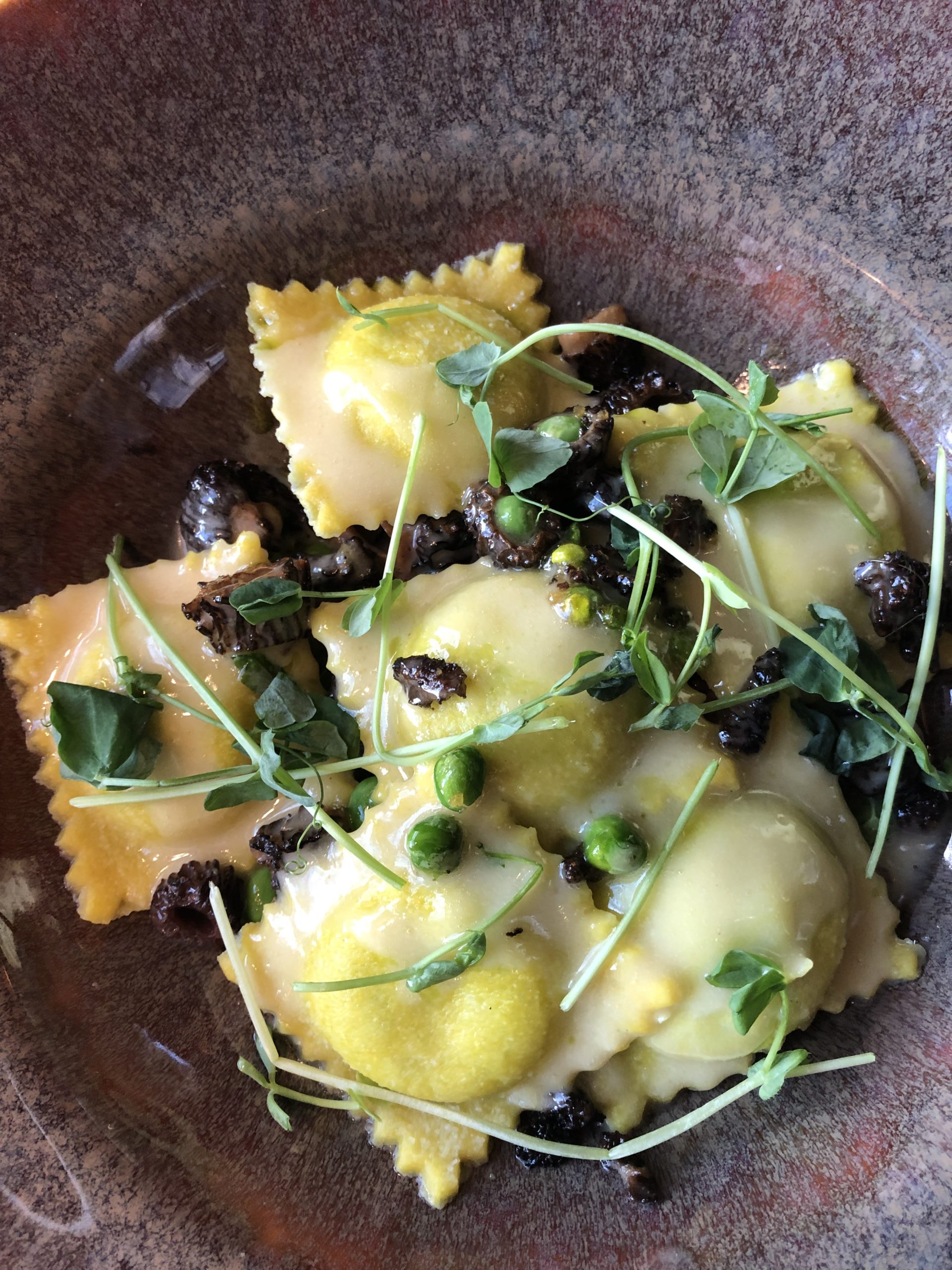 The menu, mainly regional American cuisine, was creative and ambitious. Bison short ribs accompanied by a shiitake mushroom and a black garlic sauce as well as White Hake with bacon dashi, shimeji mushrooms and sunchokes were a few highlights. One night, Daniel had a handmade ravioli in a caramelized, brown butter sage sauce, topped with crispy English peas (no that isn't an oxymoron). It was nice to find out that Amangani supports fisheries, ranches, and farms throughout the area.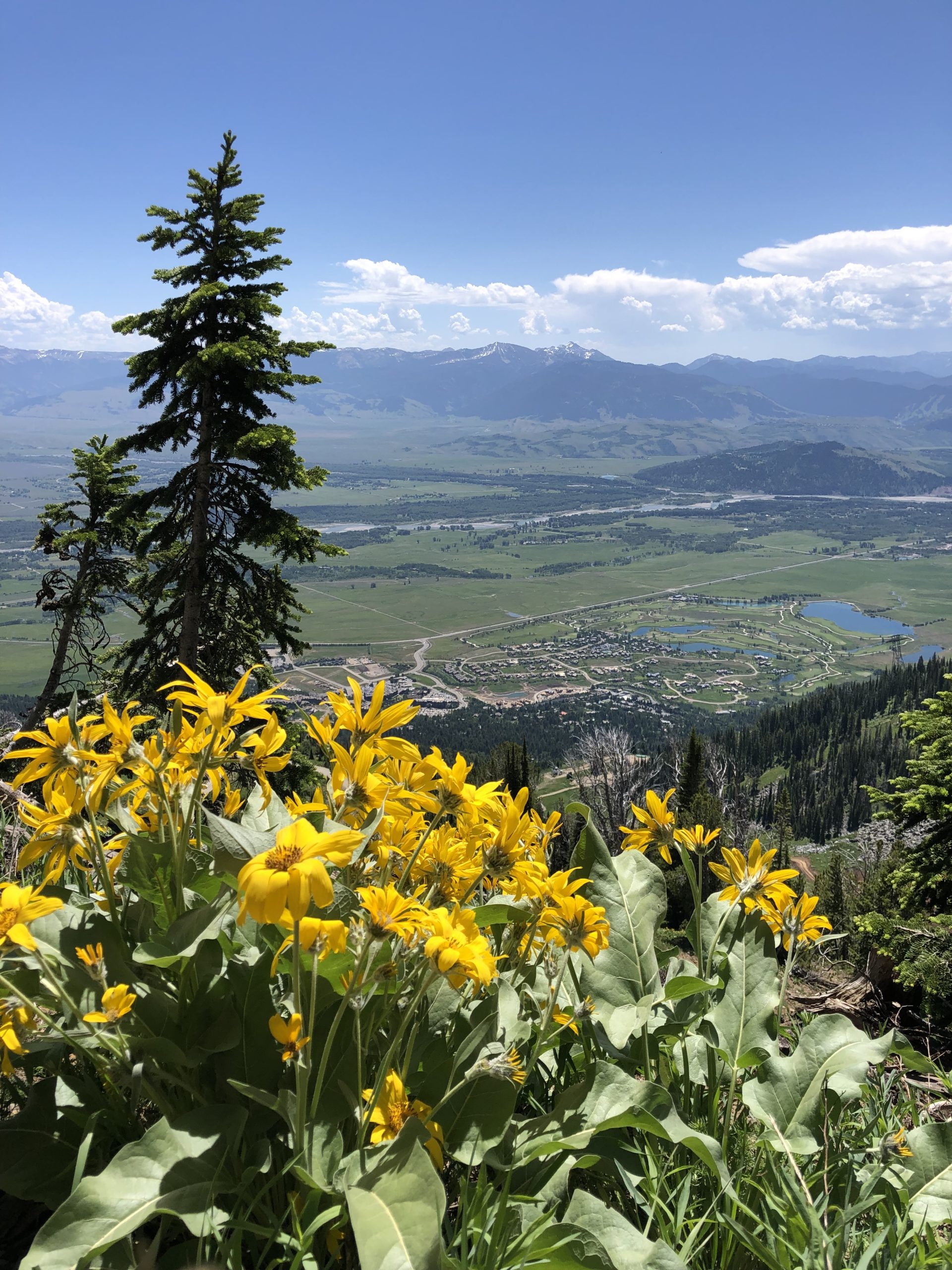 Conquering Delta Lake
The next morning came a little too soon, especially after a stomach full of bison, but I rallied, remembering the views and the scenery, forgetting, for a moment, about the bears. Daniel told me that we were going to hike to Delta Lake, a glacial lake at the base of Grand Teton.
What he didn't tell me was that to access this hidden gem, we needed to take unofficial, unmaintained trails, navigate several steep boulder fields, and bypass fallen trees along a rocky precipice.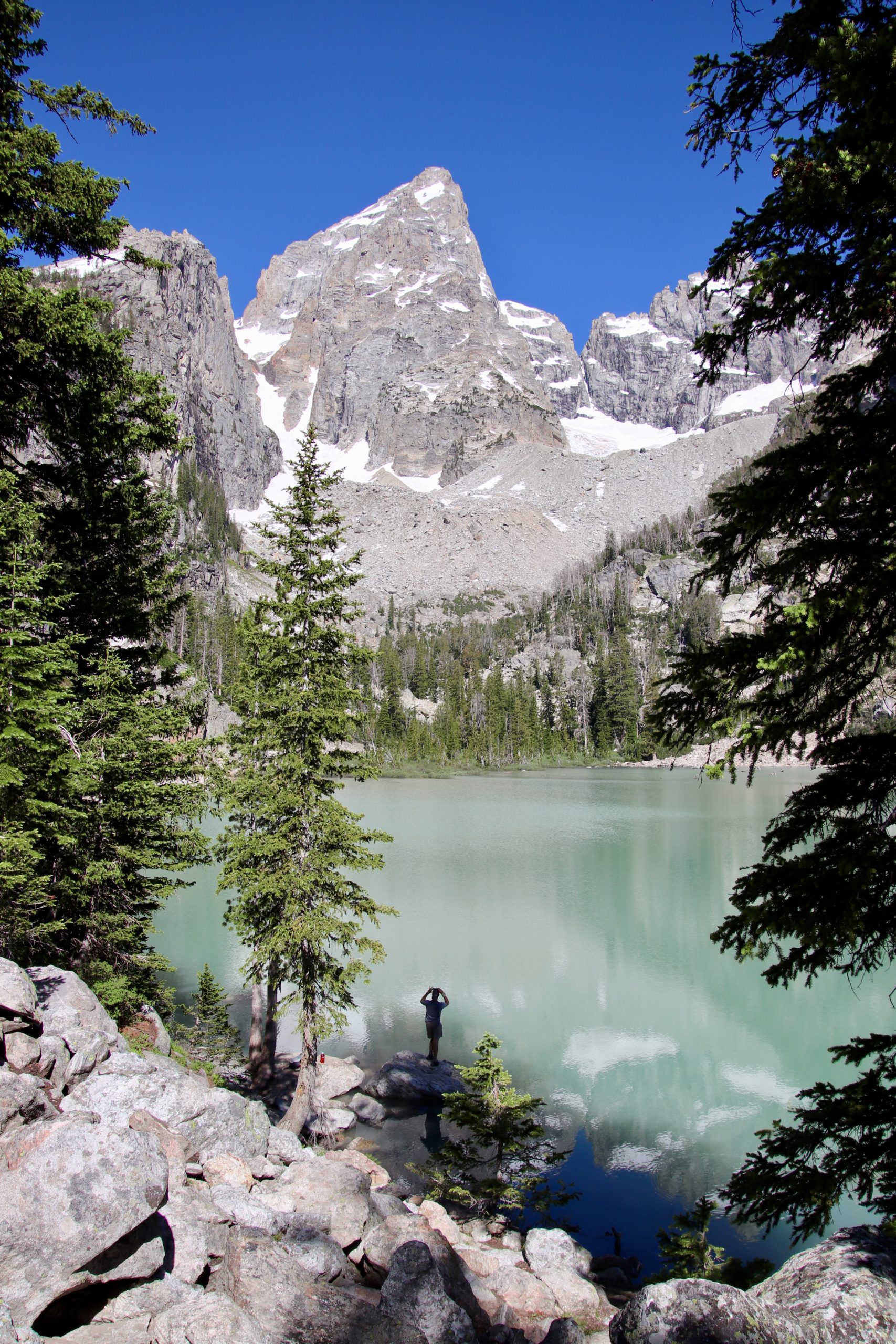 It's tempting to say it wasn't worth it—but I can't lie. It was as if we were discovering another world deep inside the natural wonderland of the Tetons. After about three hours of hiking, we finally caught sight of the lake—Woah! The lake was a luminous milky turquoise, the kind of color that is impossible to truly describe. I read later that Delta Lake gets its otherworldly hue from the glacial silt of the Teton Glacier. Wherever it gets it, I was sold. Hiking was my new favorite past time, bears or not.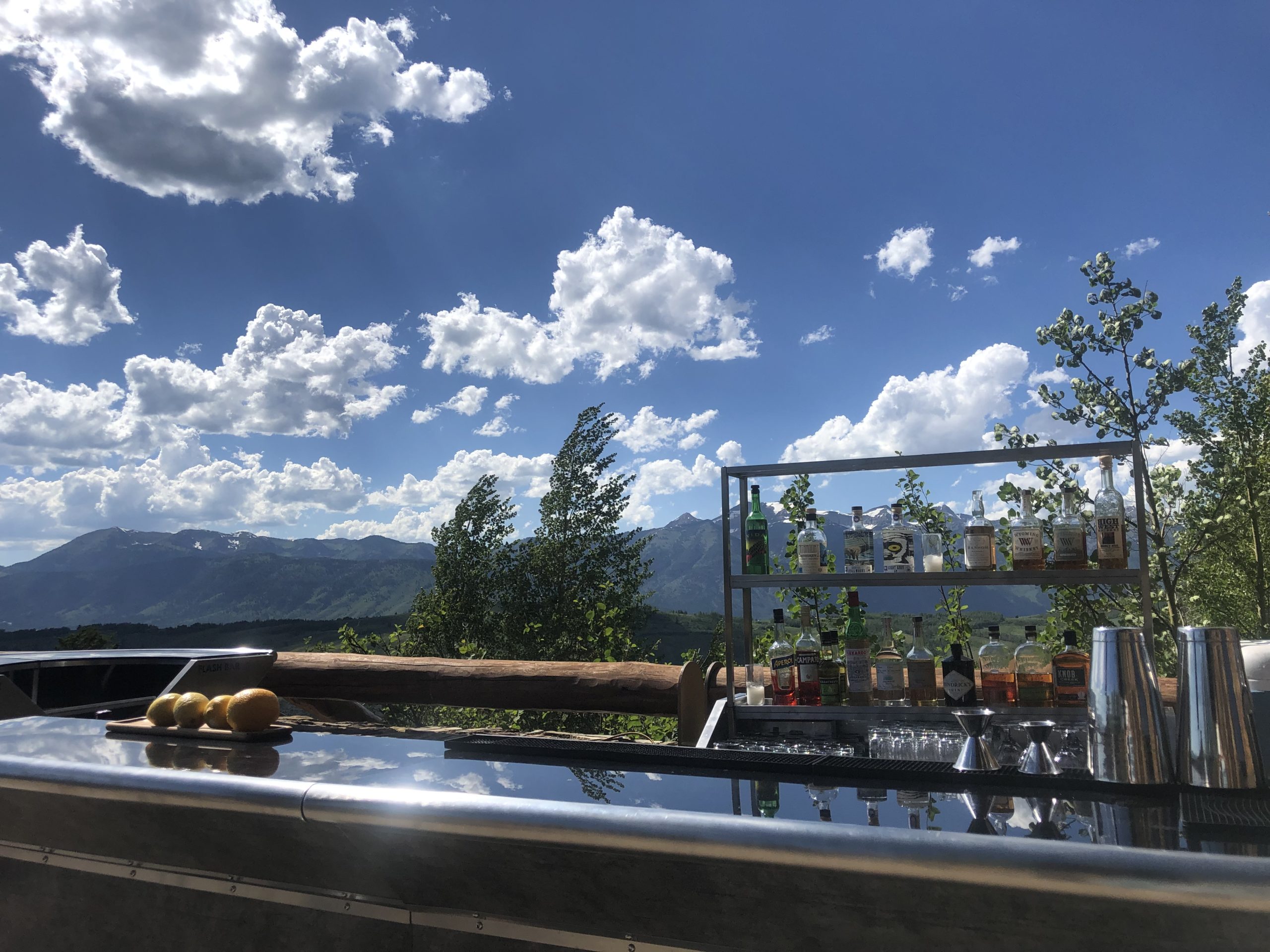 Drinks on deck
Day two of hiking (and surviving) behind us, we later celebrated with drinks outside on the veranda of Amangani. The fully stocked bar looked especially beautiful as the setting sun started to descend behind the glass bottles. Another pair of red-tailed hawks soared and circled above, as if delicately sewn into the fabric of the scene.
In the distance, dark storms gathered. The air smelled heavy. As it came closer, it became a game of chicken—which guests would abandon their seats first to take cover. The raindrops didn't slowly trickle, as much as they decided to whole-heartedly dump down on us at once. We dashed indoors.
The storm didn't disappoint. Jagged lightning bolts took turns bolting, thunder cracks intermittently cracked. Then, as dramatically as it had started—it stopped. The rainclouds were beyond us, heading towards and eventually obscuring Grand Teton, before making their way swiftly across the range. What the storm left behind was a sky of violent color, dramatic clouds, and crisp mountain silhouettes. Woah.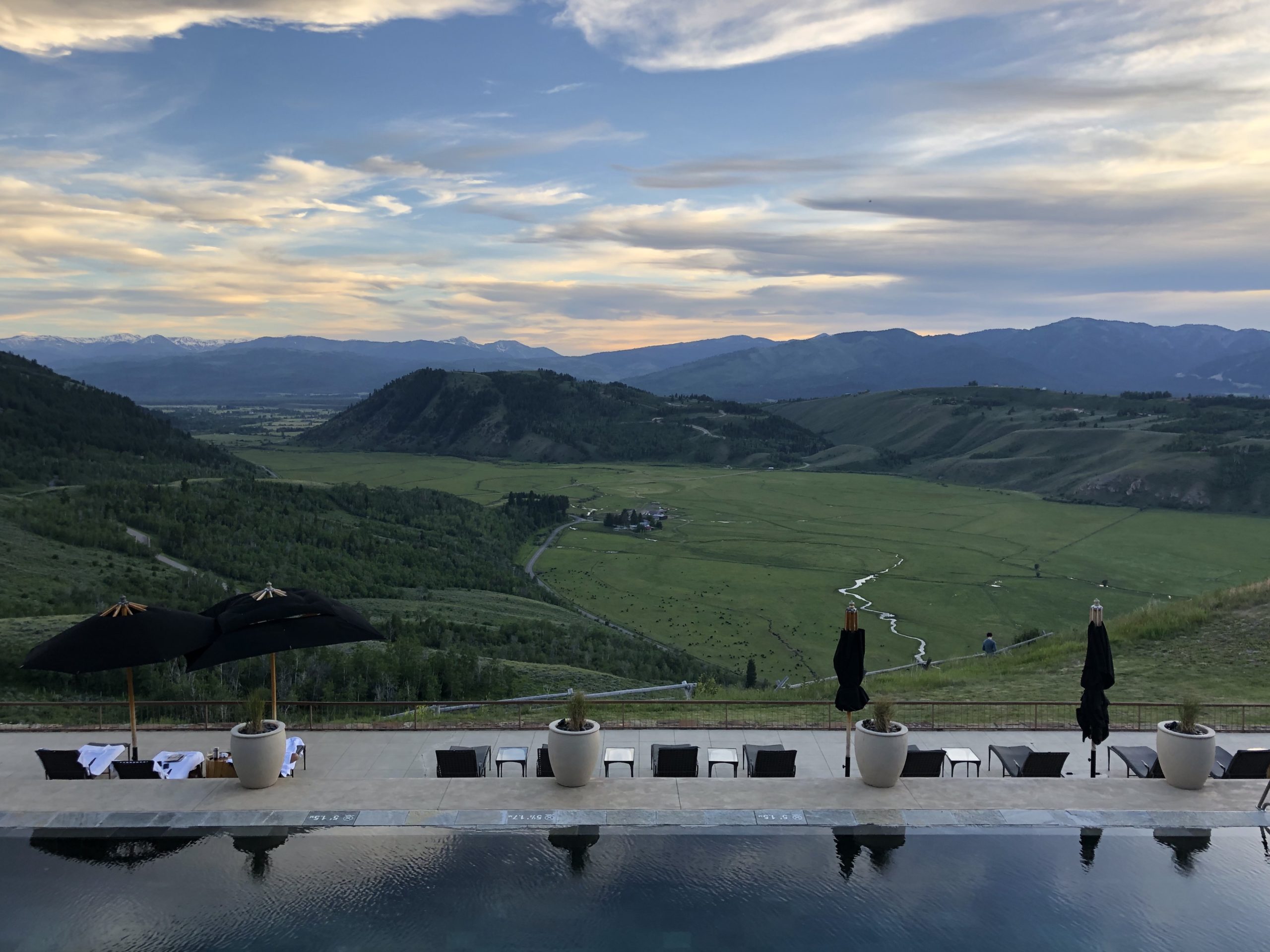 Photo Safari
With our hikes firmly behind us, we headed out with a guide on a land safari in Grand Teton National Park. Our guide was a vessel of wildlife information—mating calls, obscure species, flora, and fauna. I didn't have the bandwidth in my brain to keep up. I did try to impress him with my mating knowledge of the sage grouse, having read about it while at the airport, but it seems he was already up to speed on that. Show off.
I was excited for a day of photographic soul food. Searching for wildlife from the safety of a car? Now I was in my happy place.

Again, an early morning beckoned, as that is when the wildlife is easiest to spot. Right away we came upon a herd of lovely chocolate brown elk silently grazing in a barely sun-touched field. Soon after that, we spotted a pair of bison on the road's edge. Bison have an awkward body shape, with a massive hairy head and front quarters, compared to their somewhat skinny, spindly hindquarters. I was taken by surprise when we witnessed these large mammals elegantly jump a fence to get to more food. Shockingly limber creatures!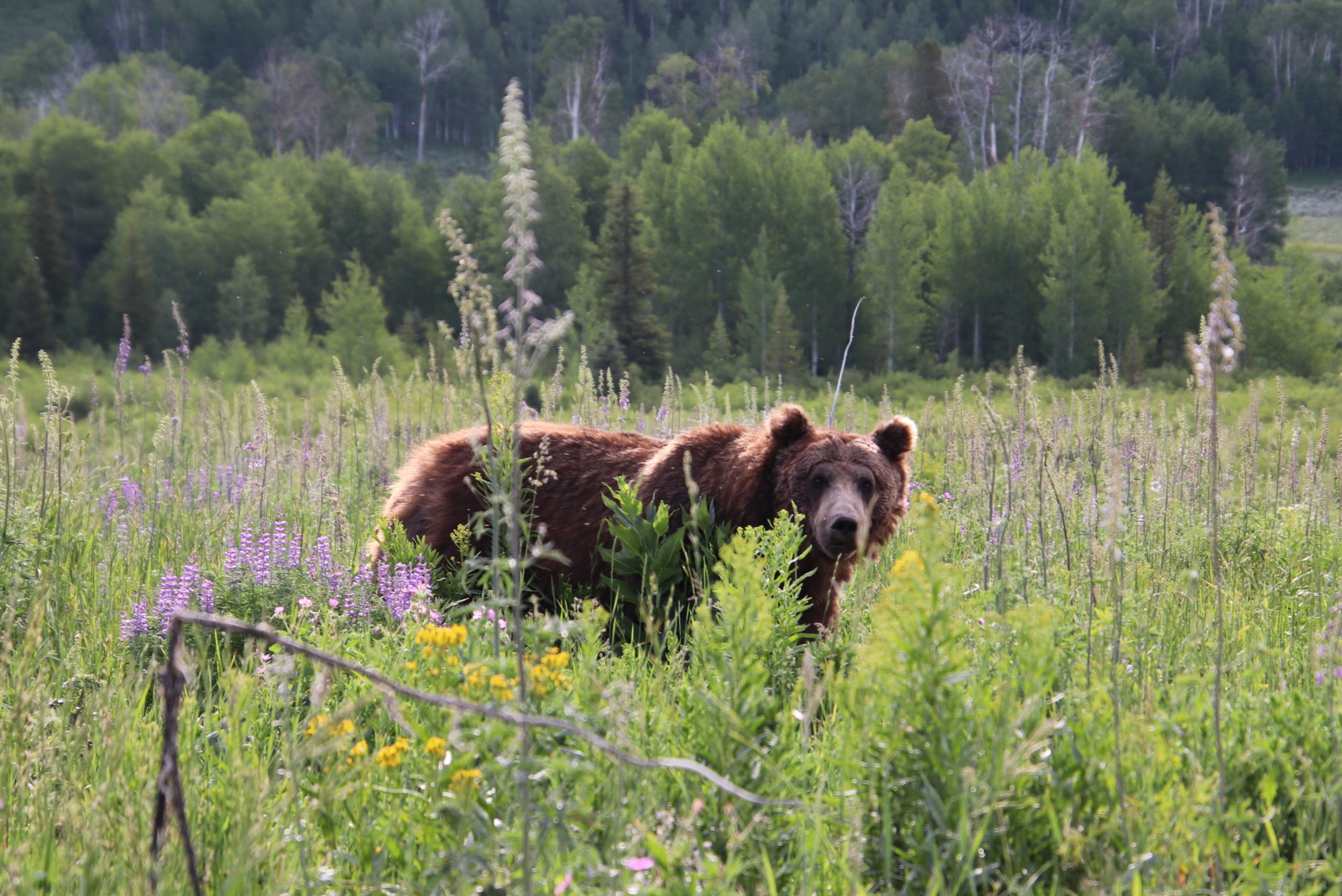 Grizzly encounter
The crowning moment of the morning, without question, was when we drove directly past an enormous grizzly bear grazing just off the side of the road. With wildflowers in the foreground, fields and mountains in the background, it felt like he had been planted there for camera-armed tourists like me.
We watched this lovely, old, grizzly slowly saunter around, munching plants, minding his own bucolic existence. Woah. One of the best wildlife moments of all time. Who needs Africa?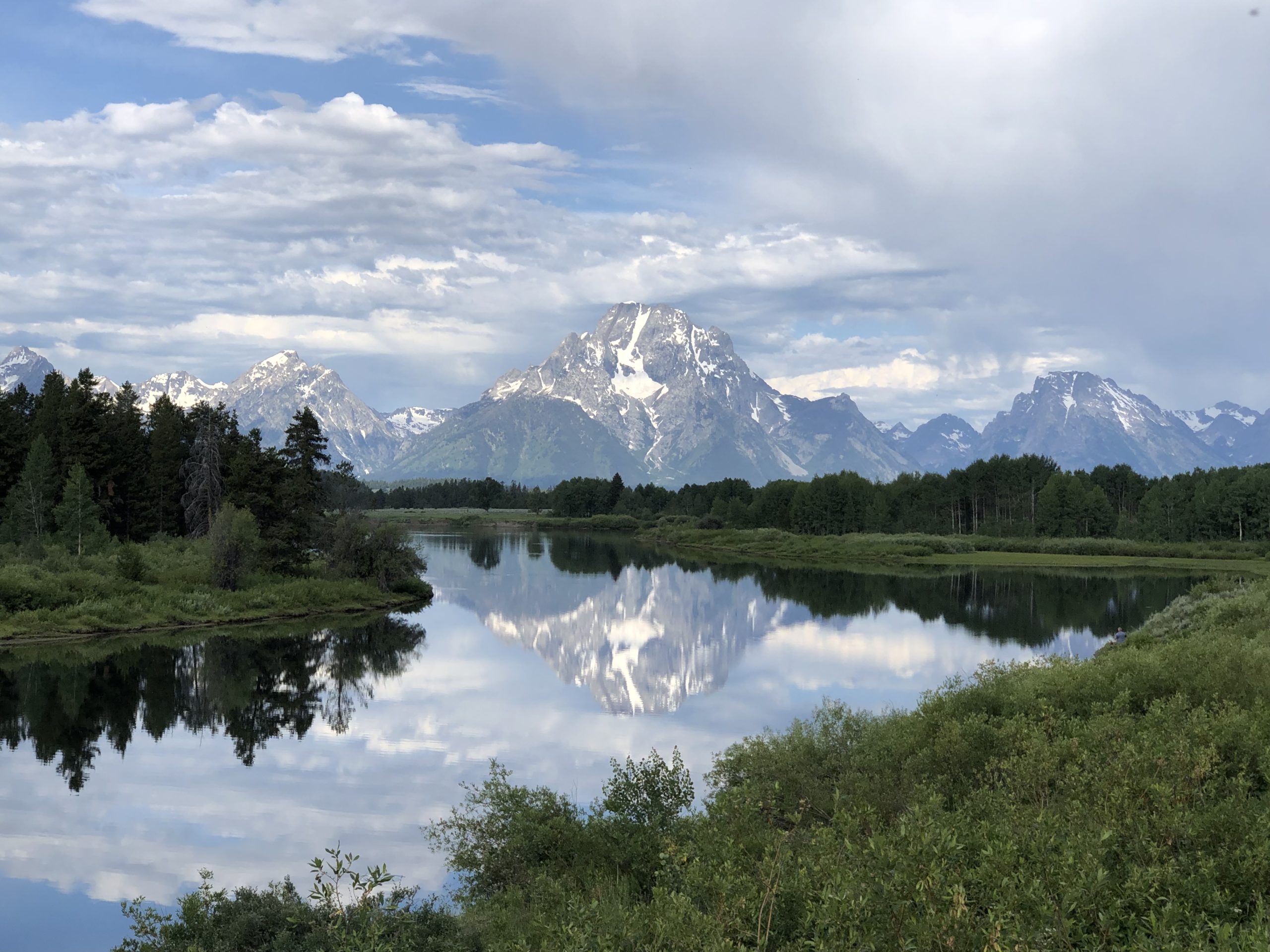 Save it for another day
Prior to our trip, we were given so many recommendations from well-intended friends: the best hikes to tackle, the best restaurants to reserve, the best things to do. In five days, it just wasn't possible to see and do it all. And maybe that is for the best— to leave something behind for another day —to have a reason to return. We had seen our fair share of Jackson, more than our fair share of mountain views, and epic hiking adventures. Until next time, Jackson.
*******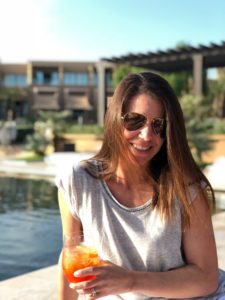 Jamie Edwards is an avid traveler, travel writer, and photographer. She launched I am Lost and Found, her adventure/luxury travel website after 25 years of living and traveling around the globe. Jamie's goal is simple: to inspire travel.
Keep up with Jamie's adventures in travel here.
CIRE Travel is a full-service travel agency headquartered in New York, NY. Our expert team supports clients across the country and around the world.
---
Where in the World Do You Want to Go?
Inspired to plan your next weekend getaway, vacation or trip of a lifetime? See that form below? That's all it takes to begin your next epic travel story.