With travel restrictions ongoing, many of our CIRE clients are desperate for a getaway. When we get those calls, spa and wellness vacations come up more and more often. After months of stay-at-home orders, travelers not only want to get away, they want to feel both healthy and safe. CIRE COO Amy Brueckner visited the award-winning Grand Velas Riviera Maya in Playa del Carmen, Mexico this past January, before the current health crisis. And CIRE partner, Jackie Roby of Inspired Journey Consulting visited just last month. Both had unique and inspiring wellness experiences. Read on for their personal stories…
******
Amy's Corn Massage
A corn massage? Sounds crazy, right? Well, don't make up your mind just yet. First, let me tell you how we got to Mexico…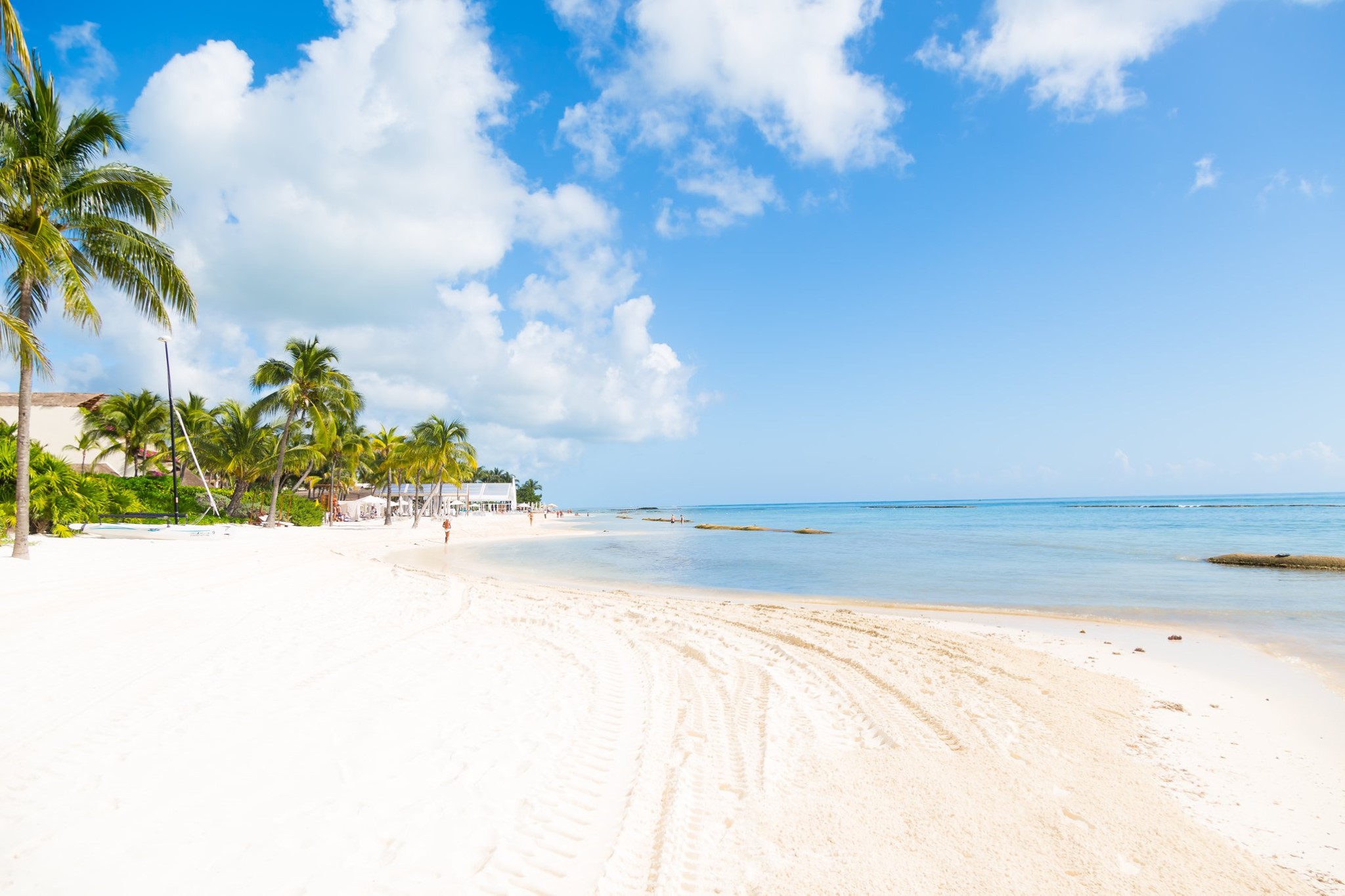 Like many of you, the months of November and December are jam-packed for me and my husband with shopping, holiday parties, family, friends and food. While we never consciously plan it, we tend to take an annual vacation in January or February. After the madness of the holiday season, and the cold (very cold) weather in Maine, a winter break is just what's needed. Mexico was at the top of our list. Perfect warm weather and an easy flight from Boston.
We knew we wanted to spend some time in Mexico City, but I also wanted some relaxing resort time. I've worked with Eric for a while now and he knows I run at about 100 mph most of the time. He suggested, if I really wanted some R&R, to stay at the Grand Velas Riviera Maya. I trust Eric and his on-point travel advice. He did not steer us wrong!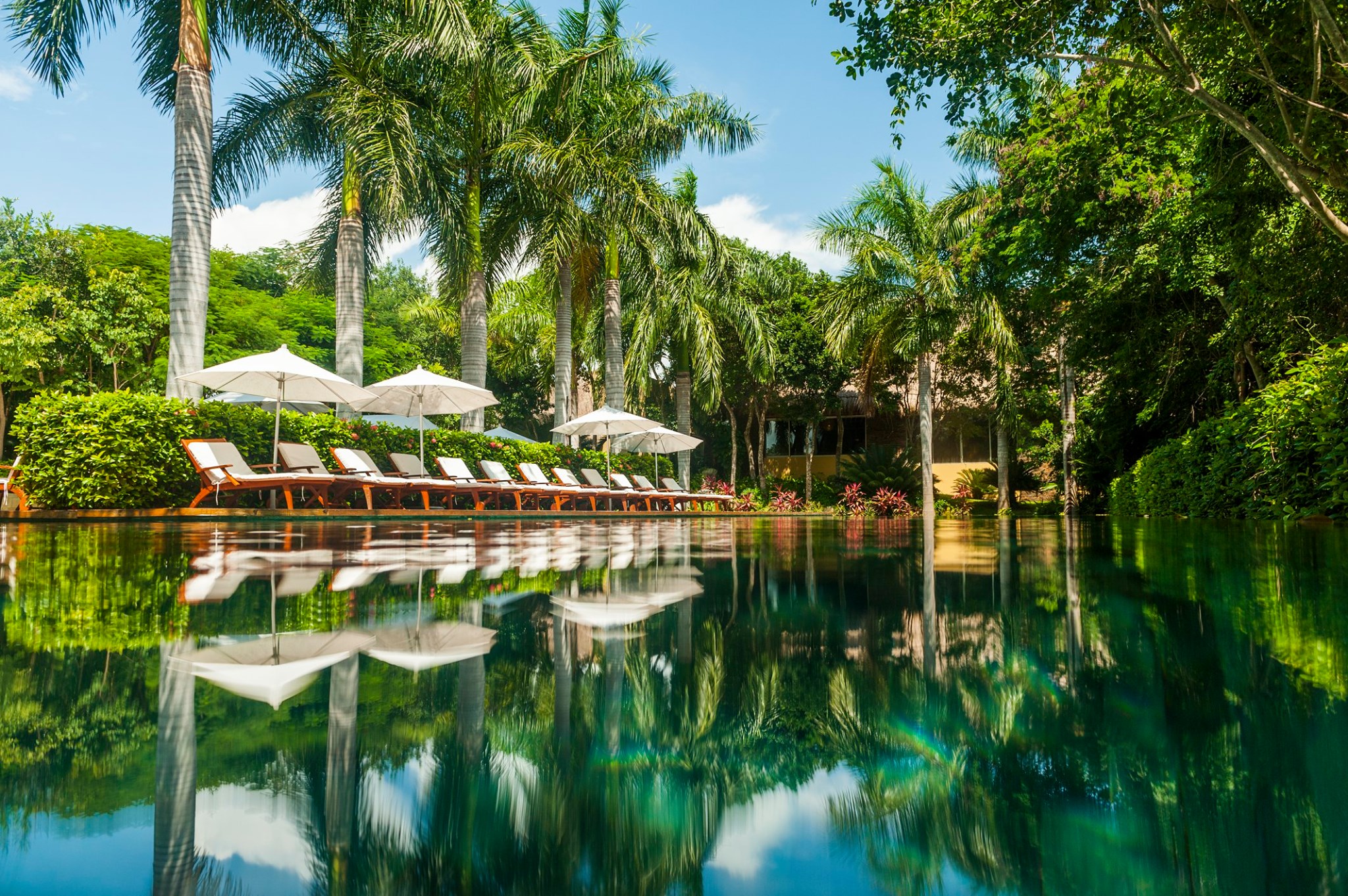 I'm going to write another post about our overall experience at the Grand Velas (which was amazing), but for this post, I'll just focus on their wonderful spa, SE Spa. To start with their auspices, SE Spa is the most awarded spa in Mexico, including a coveted 5-star (highest) ranking from Forbes Travel Guide. I had lunch my first day at the resort with the effervescent spa manager, Leticia Fernandez. It was clear to me how much Leticia loves her job and how much of herself she pours into managing every detail, from the treatments they provide, to the products they use, to the wonderful staff.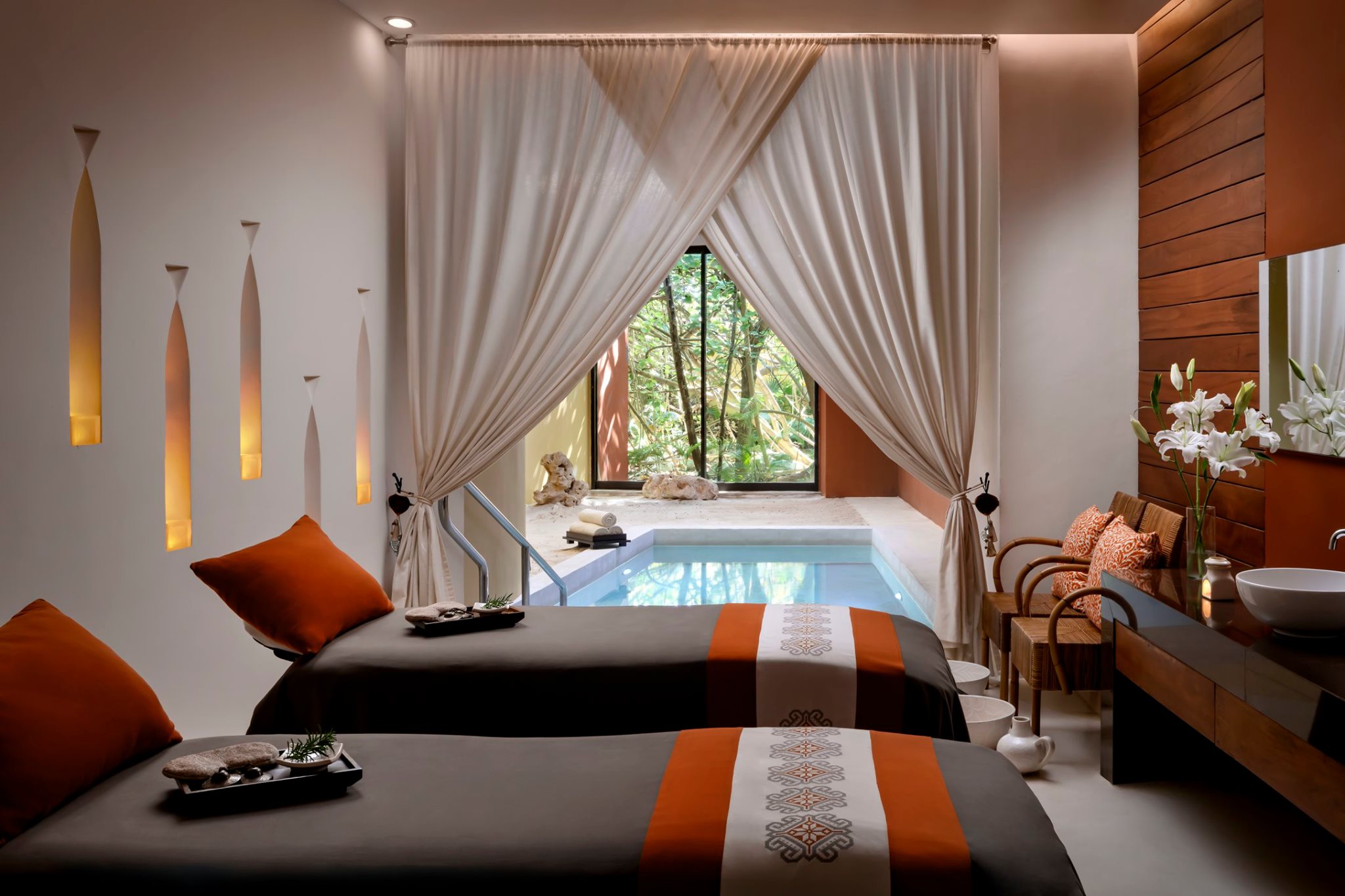 I would have to say that SE Spa is more than just a spa, it's an oasis. From the moment you enter and meet some of the genuinely warm staff, you feel transported. Leticia told me that their staff is long-tenured and most of them work their way up through the different positions…from cleaning, to valet, to the three different levels of therapist. You are assigned a valet during your treatment(s) and they guide you through the spa. The valets get many of the treatments on the spa menu so they can help you to make decisions on various facials, scrubs, massages, et al.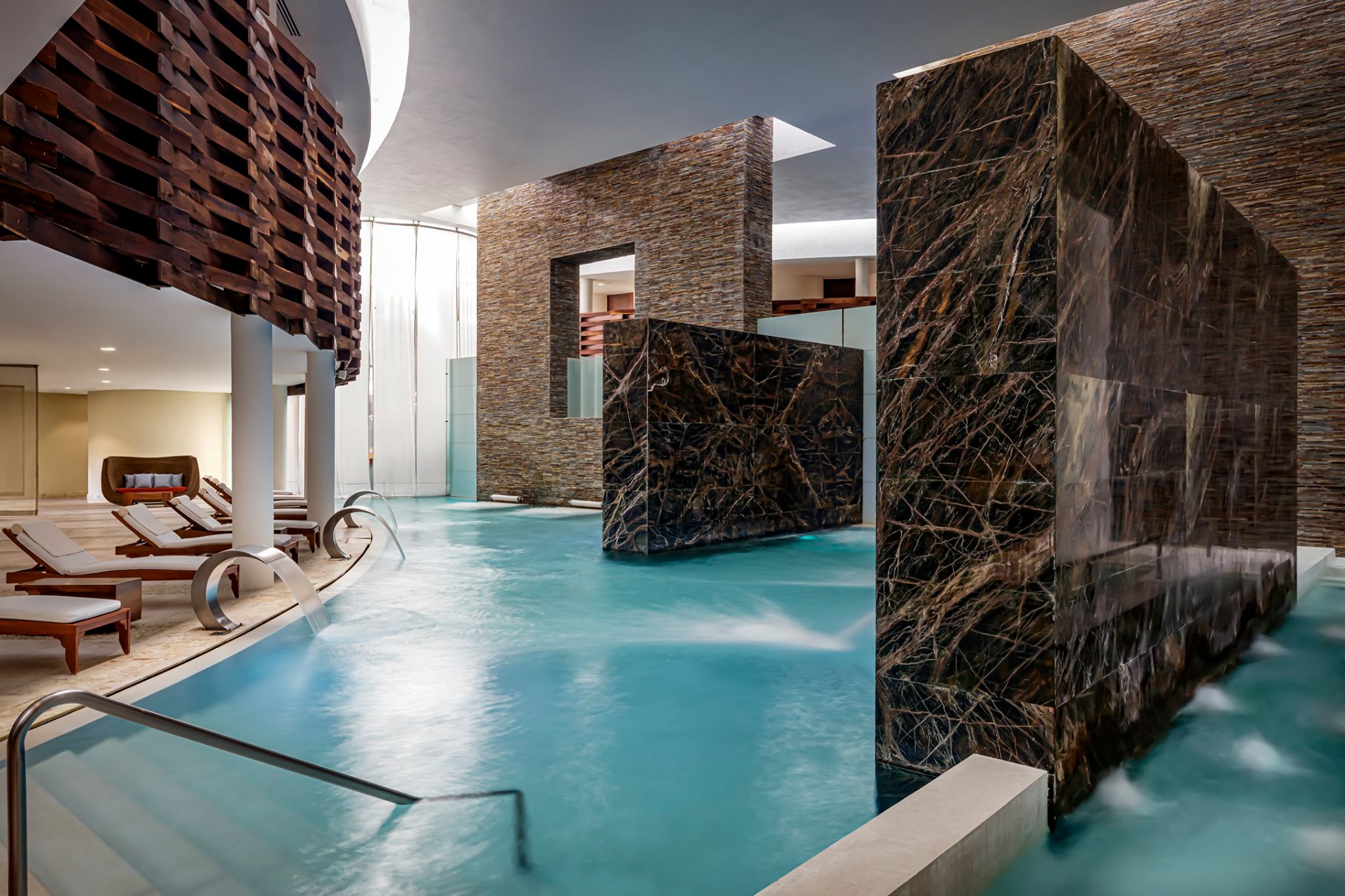 I started with the water ceremony which Leticia highly recommended. "The water is the most important part!" She stressed that water helps to destress and detoxify, which is key for most visitors to Grand Velas who are primarily from bustling east coast cities. "Tears…sweat…water is 100% related to our emotions and memories."
The water ceremony (more commonly called hydrotherapy) is a guided ritual through various rooms: a clay room, steam room, ice room, sauna, polar pool, color showers… At one point, you're walking in knee-deep water, cobblestones underfoot and jets shooting from every which way, massaging your calves. In a large pool, I swam to a "bubble bed" that you lay down on and hundreds of tiny jets shoot up to massage your back. I did giggle a bit…it tickled! But laughing is therapy, too, right? I must say, after an hour or so of walking this path, I felt completely relaxed. Ready for my massage!
At lunch the previous day, I asked Leticia what her favorite treatment was. She did not hesitate. The Bacal Massage. "Bacal" translates to "corn cob" in Mayan. And the treatment is based on the Mayan god of corn. To ancient Mayans, corn was extremely important. Obviously, you can eat it in various forms (whole, breads, flour, et cetera), but it can also be used for fuel, weaving baskets, and more. Leticia shared how important it is for their spa and the resort as a whole to be connected to the history and traditions of the Mayans and Atzecs, and their Mexican heritage. When you stay at the Grand Velas Riviera Maya, you really feel like you are experiencing Mexico, rather than just a luxury resort/property that could have been anywhere. This Mexican authenticity was wonderful.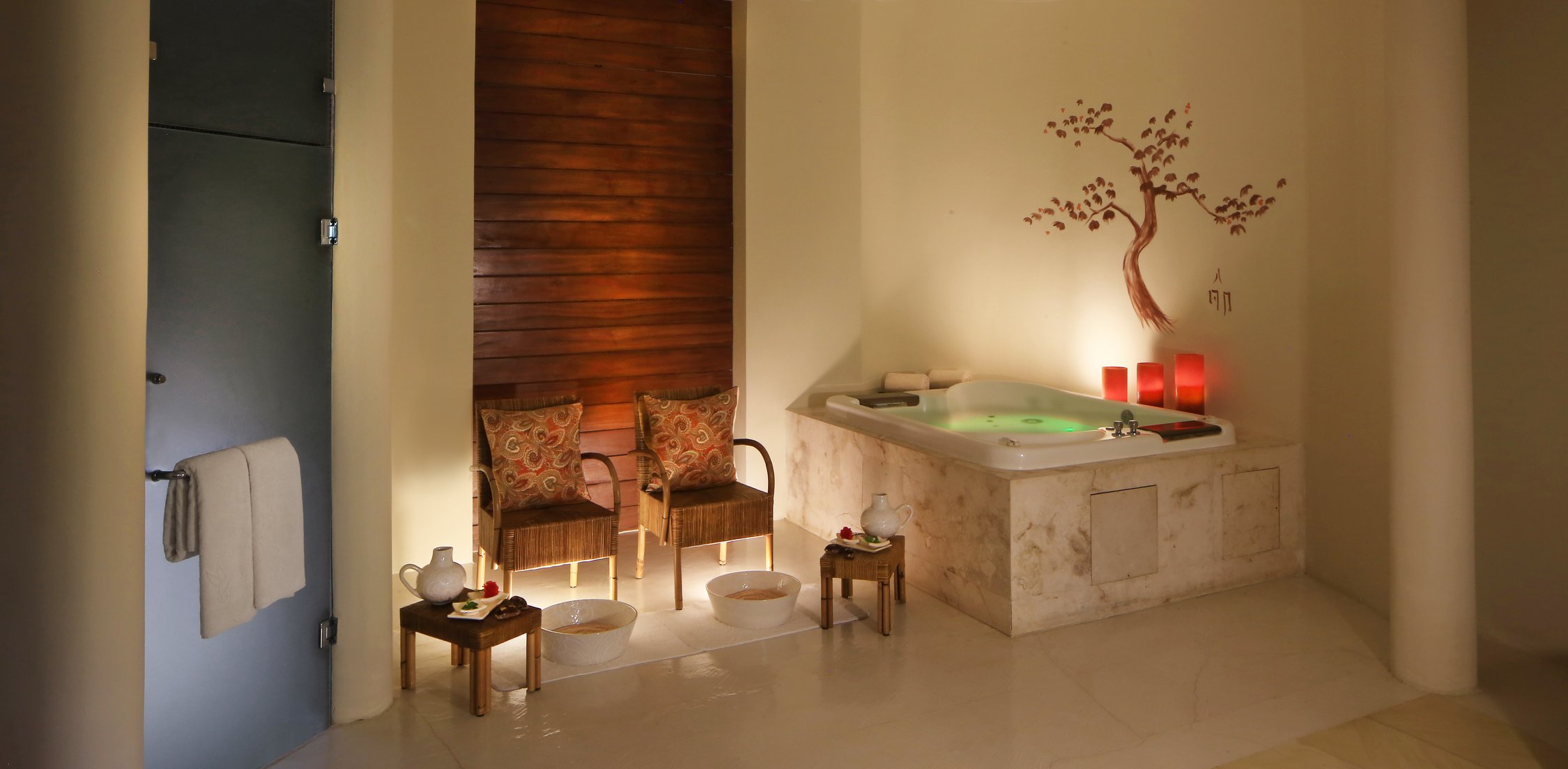 The Bacal massage started by sitting in a chair and plunging your feet into a bowl of dried corn kernels. Your eyes were covered with a heated mask and wonderful aromatherapy scents filled the room. It further set the tone (post-water ceremony) of relaxation. The massage itself was like none other I've experienced. The therapists used hot corn cobs (kept quite hot in not-quite boiling water) to massage every stress point. The kernels were still on the cobs so it had a very soft, smooth feeling…very much like it was the therapist's hands massaging me and not a corn cob! And the cobs really retain the heat for a constant warm, lovely sensation. After the massage, there was a full body scrub made of ground corn and local honey. After a rinse, more massage and lovely scented oils and lotions. By the time the treatment was over, I was in a state of blissful relaxation. I feel like my skin glowed, my muscles were as loose as gelatin, and my smile was ear-to-ear (pun very much intended).
I can't wait to return to the Grand Velas Riviera Maya. And I thought I would have to wait longer but Mexico is currently open for Americans and my good friend and colleague Jackie Roby went to GVRM last month! Read about her full experience here. And read about her incredible shaman experience below.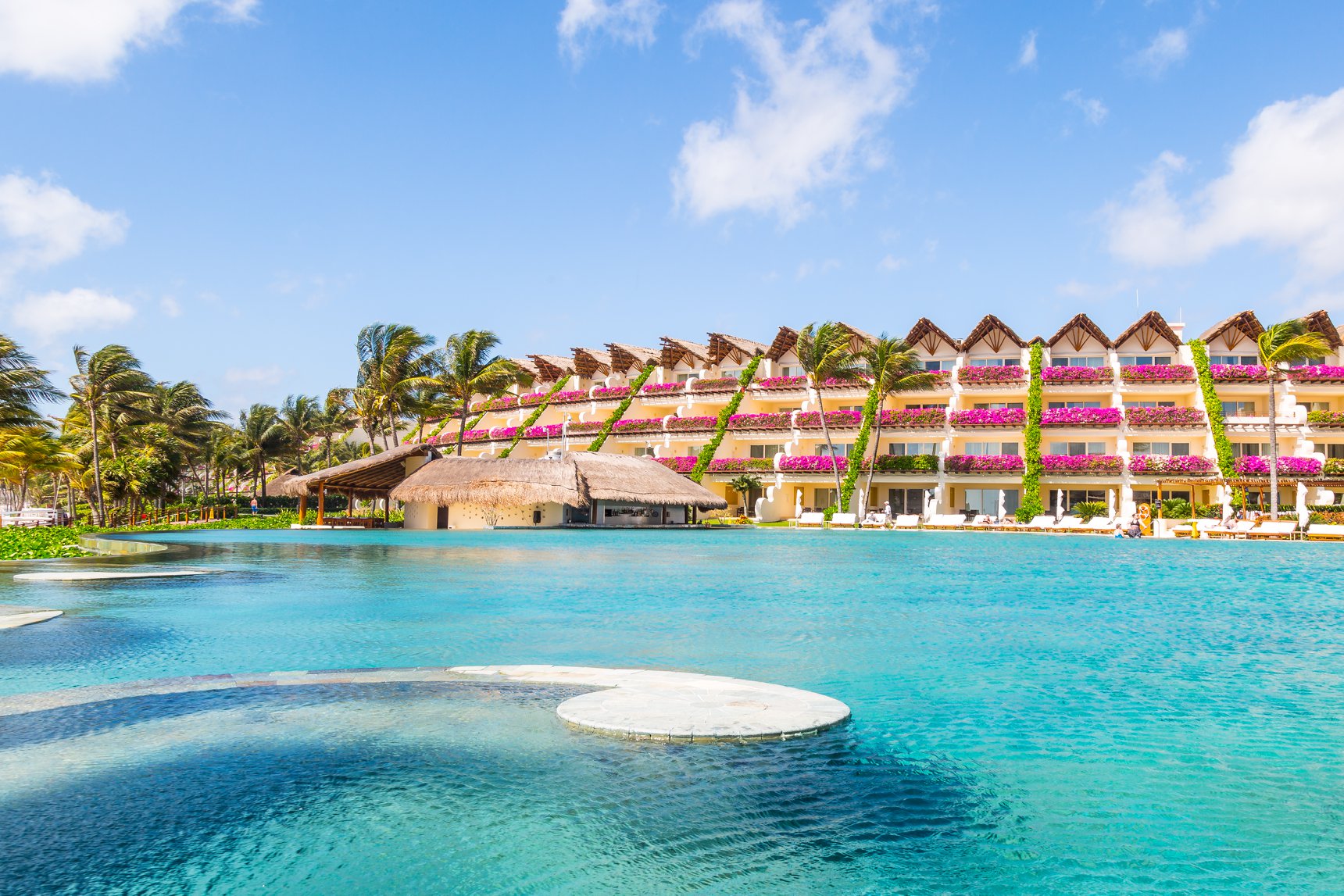 Jackie's Shaman Experience
After four months of sheltering-at-home in a Boston apartment, I needed to get back to traveling. Per usual, CIRE Travel was ready to help. Off to Grand Velas Riviera Maya for alone time with my husband, David. (You can't see this but I'm doing a happy dance.) I wanted to make the most of this time, experience the wellness offerings at the resort, and immerse myself in the cultural history of Quintana Roo. Now try doing that during a pandemic. Bring this to Eric… challenge accepted! Being the professional he is, Eric was also encouraging me to enjoy the relaxation available. I get very excited… Since he knows me, how I can over plan versus what I actually need, I listened. Thank you, Eric.
Due to the ever-changing nature of this season (no "c word" for me), the archeological sites were closed. What now? Then Eric unveiled a hidden gem. Did you know Grand Velas works with a Mayan shaman? I certainly didn't. Adding a cultural experience at the resort rather than driving 90 minutes round trip contributes to that relaxation goal I mentioned. Game changer.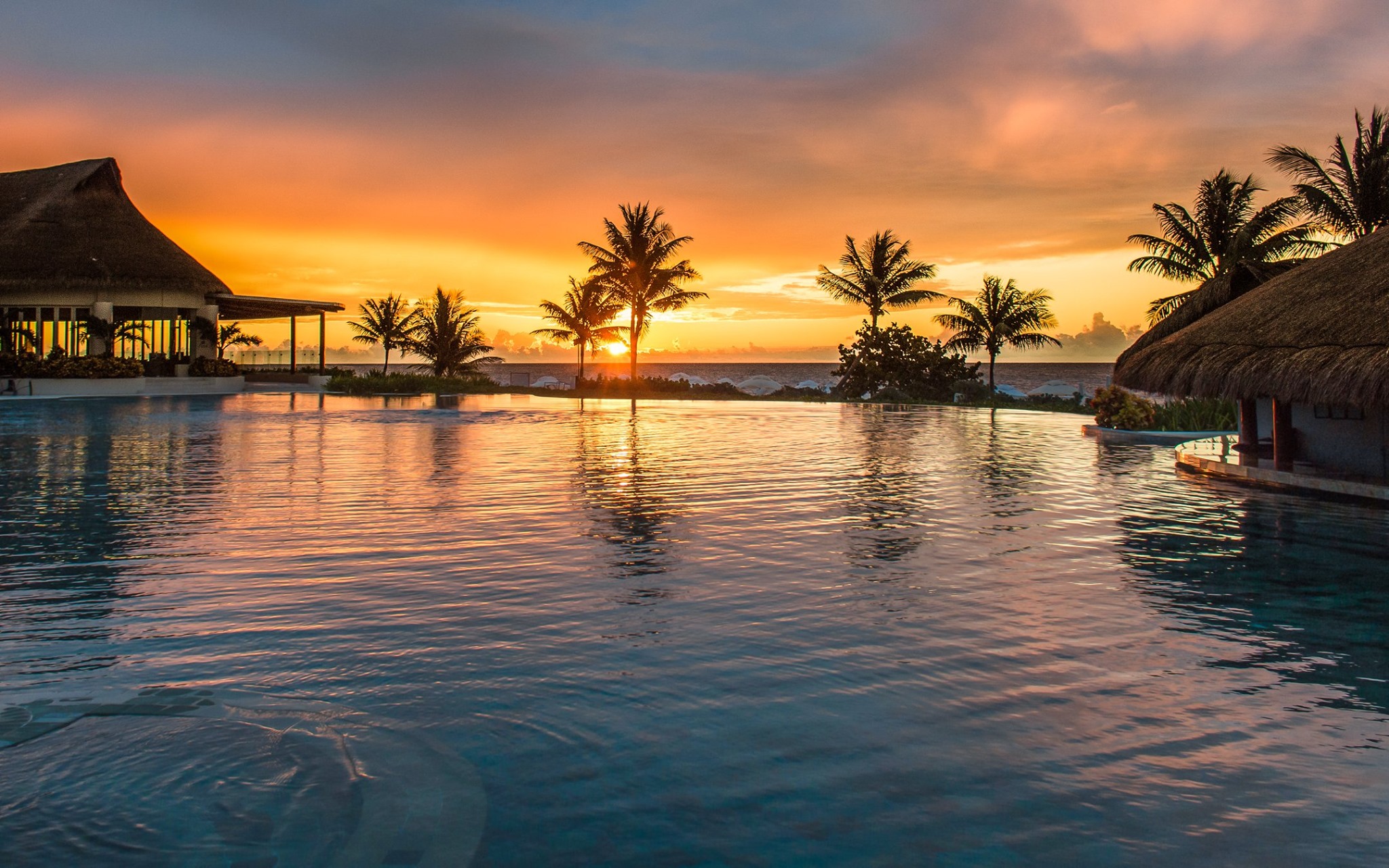 I decided this would be a surprise for my husband on our first full day at the resort. All we had to do was show up and be present with open hearts. As we waited on the beach, three Mayan tribe members met us. The shaman was accompanied by two dancers, all with different roles in this morning ritual. The colors red, black, white, and yellow were present in their traditional dress. These represent the four types of corn and the four elements of the body.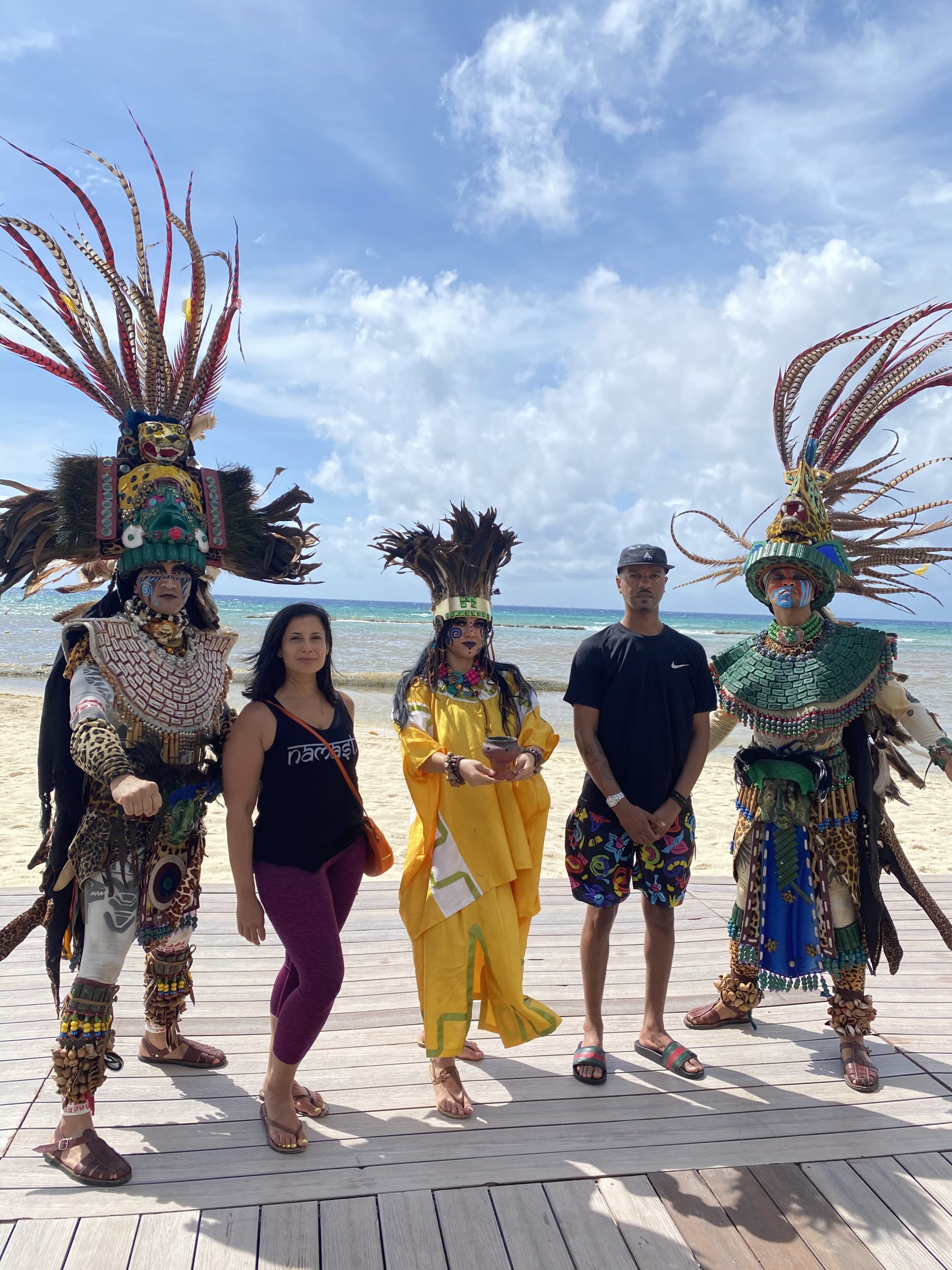 David and I are each given a piece of rose quartz from the shaman; a stone that symbolizes universal love. While the drum is beating, there is singing, dancing, and incense is prepared for the blessing. Simply watching the beautiful dance throughout the ceremony was moving. Each word was sung with power. I felt honored to be in their presence. Then came the blessing from the shaman spoken in Mayan and kindly reiterated in English. He blessed us with good health, love, and inner peace.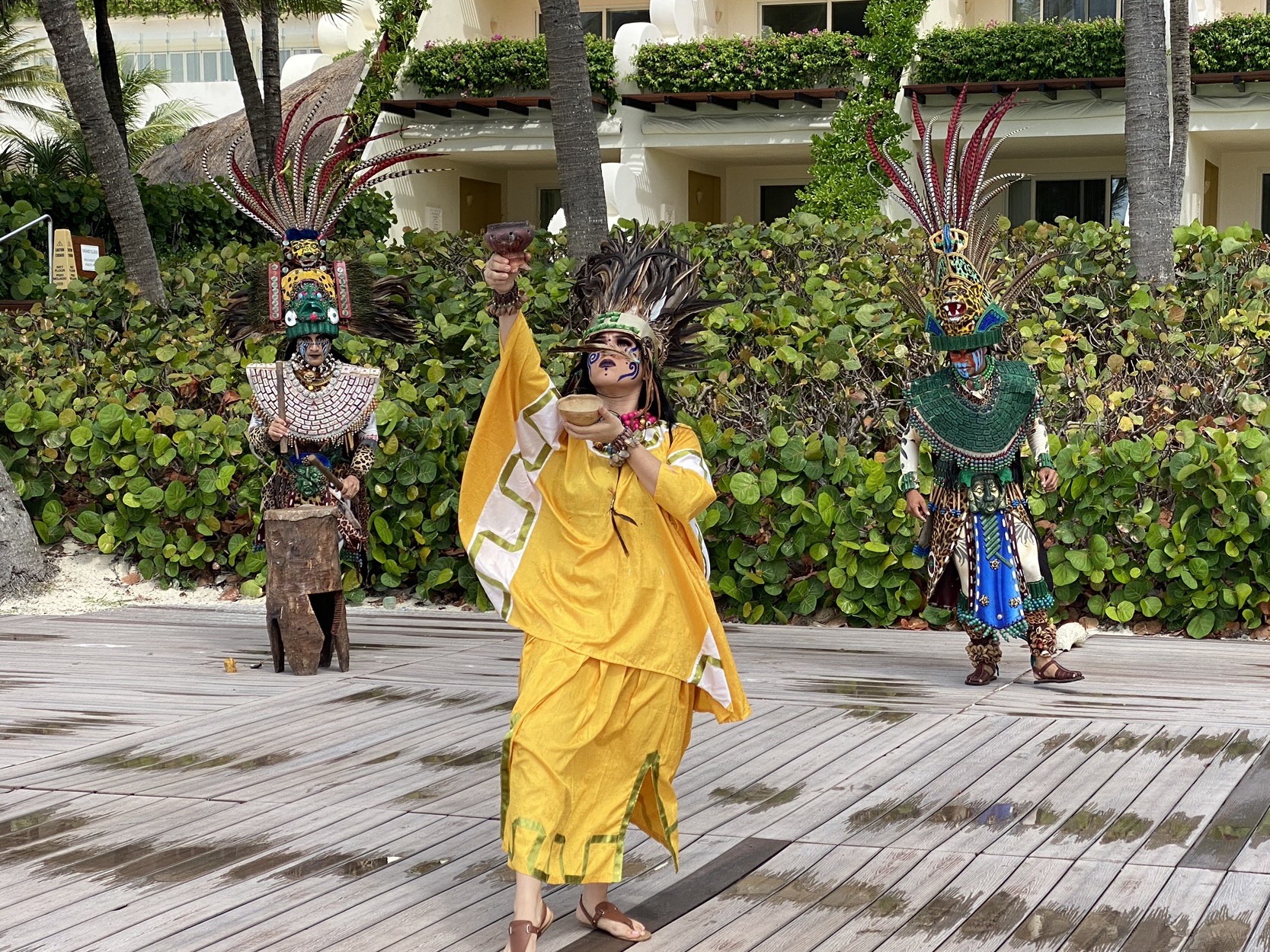 As the ceremony came to a close, we learned that its purpose was to balance the four elements (earth, air, wind, and fire). These relate to our bodies and minds, so imbalance can be disruptive. Creating this space of harmony was the ideal way to begin our time away. I wanted us to be focused on our positive intentions for this trip, to be engaged throughout our travels, and release the emotions that no longer served us.
Participating in ceremonies is an important part of transformational travel. It teaches you about other cultures and gives you a chance to look within. I tested my own comfort zone by not asking questions ahead of time, standing in the unknown, and being fully present in an unfamiliar experience. Afterwards, David and I talked about each of our impressions to properly reflect. It was a memorable and important cleansing; a true gift to be a part of something this sacred.
******
If you're looking for a wellness retreat, or just a relaxing beach vacation, CIRE has deep contacts at the Grand Velas Riviera Maya. We can put together a customized itinerary for you in lovely Playa del Carmen. Be on the lookout for a future post from Amy that elaborates on her winter getaway to glorious Mexico.
CIRE Travel is a full-service travel agency headquartered in New York, NY. Our expert team supports clients across the country and around the world.
---
Where in the World Do You Want to Go?
Inspired to plan your next weekend getaway, vacation or trip of a lifetime? See that form below? That's all it takes to begin your next epic travel story.