Just off the heels of a $19 million dollar renovation, Affinia 50 is a residential retreat perfect for business and leisure travelers on extended or short stays. The upscale boutique hotel artfully captures New York City's spirit and vibrant energy with its local artwork collection, eclectic treasures, luxurious furnishings and the technology travelers expect today.
Of Affinia 50's 251 beautifully redesigned rooms, 100 of them feature kitchens complete with refrigerators, stoves, microwaves and toasters. Nineteen rooms are terrace suites. Curated furnishings, little touches like bookends and pillows, thought-provoking artwork and bathroom graffiti art recreate the area's vibe in each room. While interesting textures, rich woods, classic lines and juxtaposed traditional and contemporary elements blend to feel like a very residential space. This unique balance is what makes Affinia 50 both a home away from home and uniquely Manhattan for guests.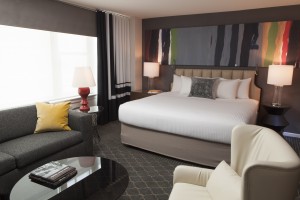 For taking care of business, there's an oversized desk with voicemail, dataport and high-speed Internet access. All rooms feature a flat-screen TV with Web browser and a signature Affinia Bed topped by your choice of pillow so you'll sleep just as well, if not better, than you do at home. The private Club Room on the second floor is an inviting space with lounge seating, complimentary Wi-Fi, an art collection, a fireplace and a nightly wine hour. Hotel guests can visit The Cupboard for snacks, beverages, sundries and curated merchandise. A gym with free weights and Life Fitness equipment is available 24/7.
Located on 50th Street and Third Avenue near Rockefeller Center & Fifth Avenue, Affinia 50 is in the heart of Midtown and just around the corner from the 51st Street subway if business or pleasure takes you outside the area.
I recommend Affinia 50 to my clients whether they're visiting Manhattan for the first or the hundredth time. It is one of my favorite places because the renovated design and rooms deliver on a true Midtown residential feel. The hotel's accommodations are the closest thing to staying in a New York City apartment without signing a lease.
---
Where in the World Do You Want to Go?
Inspired to plan your next weekend getaway, vacation or trip of a lifetime? See that form below? That's all it takes to begin your next epic travel story.