If you're anything like us, you're dreaming of your next epic vacation and wanderlusting your way around the web for some travel inspiration. Well let us introduce you to friend-of-CIRE, Jamie Edwards. For those of you who haven't read Jamie's earlier posts, she's an avid traveler, travel writer, and photographer. Jamie inspires us and others to travel via her luxury travel website, I am Lost and Found, and through her regular guest blog posts for CIRE. Below is her latest article about her amazing adventure in Uganda last year.
******
Last January, I received a text from a friend of a friend: 'Happy New Year! Would you like to go gorilla tracking with me in Uganda?' I stared at the screen for a nanosecond and wrote back, 'Yes!'
A nanosecond later, I wrote, 'Wait… what?'
So began nine months of planning that would eventually take us to the shore of Lake Victoria, into the Bwindi Impenetrable Forest National Park, and ultimately, to the magical moment of finding our first family of silverback mountain gorillas.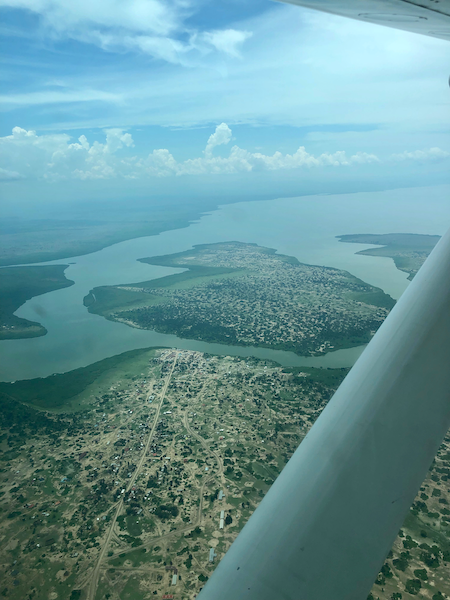 Sabotage
Up until even a few weeks before our trip, I still couldn't believe that I was going to Uganda. Sabotage seemed to follow from the start. In March, the plane on which we were supposed to be flying, the Boeing MAX 737, was grounded after mechanical failures led it to crash. In April, a solo female traveler and her guide were kidnapped in Uganda, held for ransom, then released.
I kept my worries at bay, prayed that my parents didn't read the news, and remained on track. My friend and I were convinced we would make it home with more than a few wild stories to tell. Our husbands started saving ransom money—just in case.
Equatorial Entebbe
Uganda is a landlocked country in eastern Africa. The town of Entebbe, about 20 miles from the bustling capital of Kampala, is where Uganda's only international airport resides. Entebbe sits on a peninsula on the northern shore of Uganda's largest lake, Lake Victoria.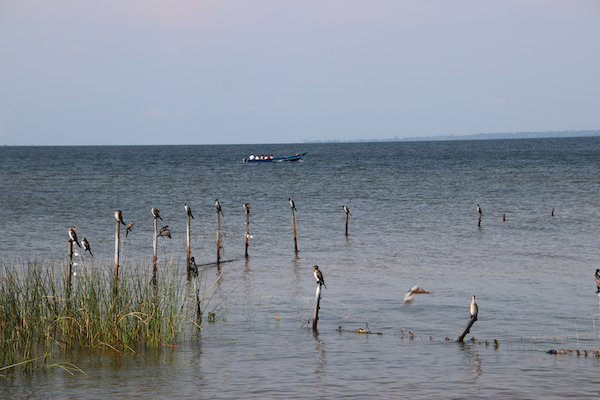 Opting to spend a night in Entebbe before heading towards the silverbacks was a needed reprieve — a great way to recover from the exhaustion of the long flights and begin to immerse ourselves in local culture. Having a day to spare, we got our adventure on, and headed towards Lake Victoria to visit the Ngamba Island Chimpanzee Sanctuary.
The lake seemed angry that day, and our little boat was tossed around violently for nearly an hour. Spray came at us from every angle, the boat pounded the waves. My eyes remained firmly shut to keep nausea at bay. Uganda—unpredictable from the start.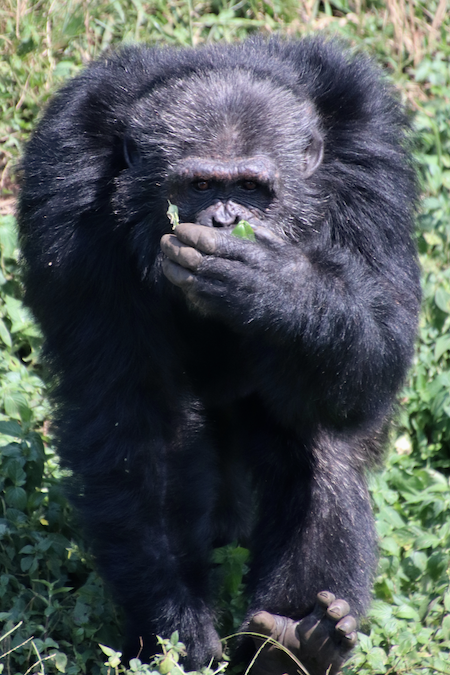 Hungry Chimps
We arrived at the sanctuary bedraggled and soaking wet, yet enthusiastic to see the 49 orphaned chimpanzees who roam the 40 acre island. That's in comparison to the single acre allotted to the workers and medical crew who lovingly rehabilitate them. The hungry chimps come to a wire barrier four times a day for food, all the while wrestling and rollicking in their very toddler-like manner. Fully satiated, they eventually slink back into the overgrowth until the next feeding.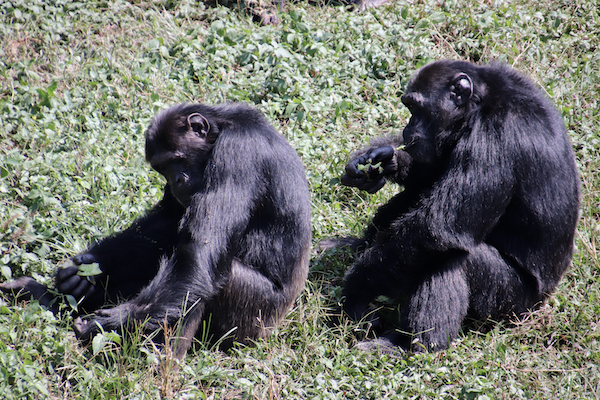 Although the feeding ritual was exciting, we were glad we didn't plan it for after our gorilla tracking later that week, as it seemed a much more commercial endeavor. Yet, it was nice to see how well the orphaned chimps were cared for, with medical attention on-demand should they need it.
Up, Up, and Away
The next morning, after a good sleep, we hopped into our bush plane the way a New Yorker might hop into a taxi. No paperwork or wait time, we climbed in and were on our way. Upon landing, our driver and guide, Ham, was waiting and again, we were whisked away without logistics or red tape.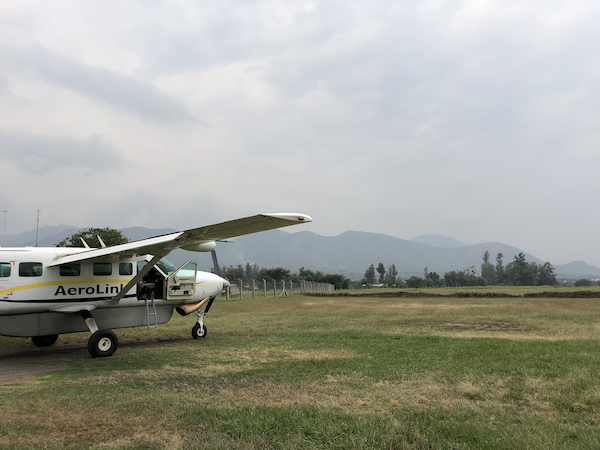 In Africa, the adventures don't start at your destination, they are everywhere, if you choose to look for them. The jeep ride from the tiny airstrip towards Bwindi was just the first of many eye-opening and unique opportunities to get a closer look into this lovely, rugged country.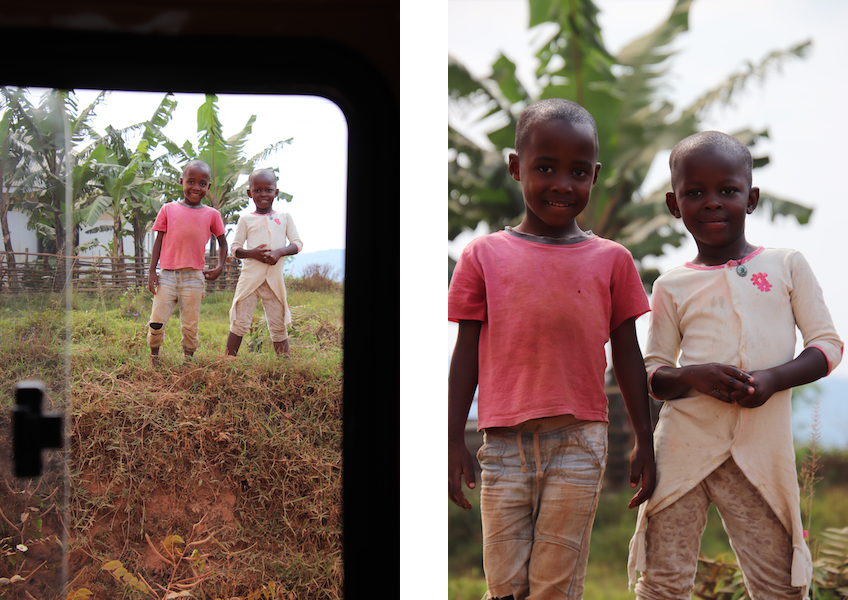 From the window, I caught passing glimpses of rural Ugandan life: little girls danced in open wooden door frames flaked with colorful paint; women peeled green bananas for makote (cooked plantains), toddlers shaved sugar cane with pangas (machetes). Mopeds kicked up clouds of red dust along the unpaved roads. Vegetable stands, roaming goats, pigs on leashes, women with bushels of fruit on their heads—an evolving portrait of village life.
The jeep rides were an unexpected gift. Quietly, I observed the villagers and thought to myself how I'd forgotten how often the simplest things in life are the best.
Four Nights, Two Camps
Before long, we arrived at Buhoma Lodge, which immediately felt like a home away from home. Not fancy or modern, it nailed the unassuming, homespun vibe I was hoping for during our few days of gorilla tracking. Buhoma Lodge and Sanctuary Gorilla Forest Camp are the only two lodges located within the park boundaries. My friend and I decided to spend two nights at each.
Although Buhoma Lodge and Sanctuary Gorilla Forest Camp are right beside one another in proximity, they are quite different in many ways.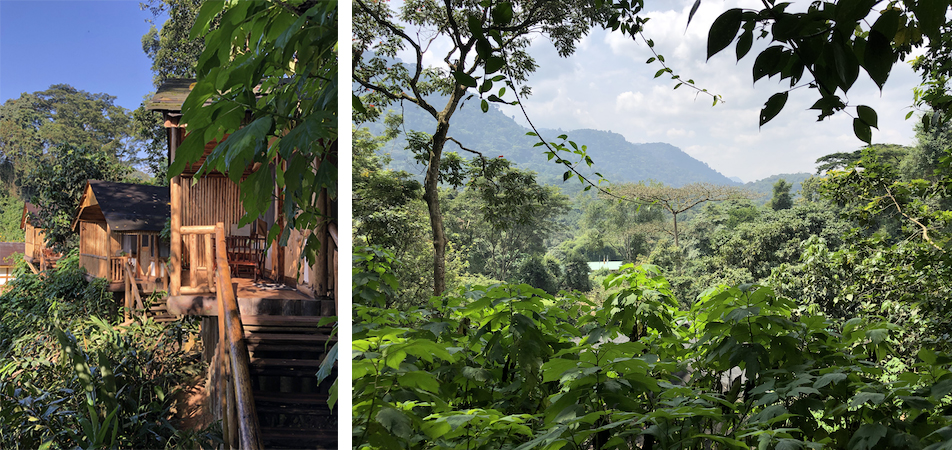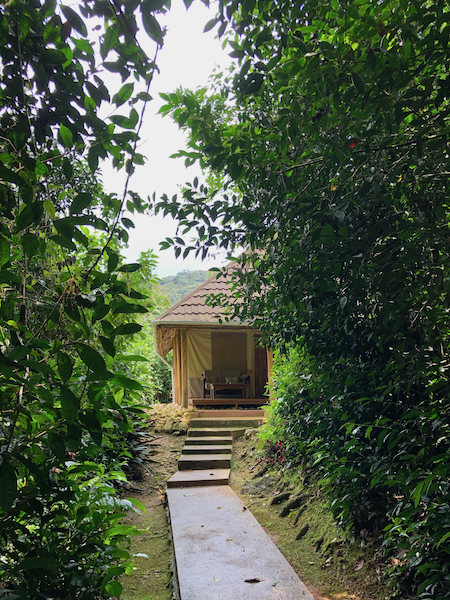 Buhoma v. GFC
The rooms at Buhoma climb up a steep hillside, and required an amount of stair climbing that I hadn't encountered since the Eiffel Tower. The views of the rainforest from our balcony made the climb worthwhile, and my aching quads eventually forgave me. Good practice for the gorilla tracking in the days ahead.
This differed greatly from GFC, whose eight tents are much lower to the ground, nestled, and virtually secluded in the foliage, and had a much more private, romantic feeling.
Buhoma's effervescent staff acted like extended family, always with a warm smile and polite conversation. My favorite time of day was when everyone would come together after the day's trek and swap stories like old friends. GFC's staff was a touch more formal, and allowed the guests to mingle among themselves. The managers of both lodges were as lovely and warm as the rainforest air, and made many daily appearances to catch up with us.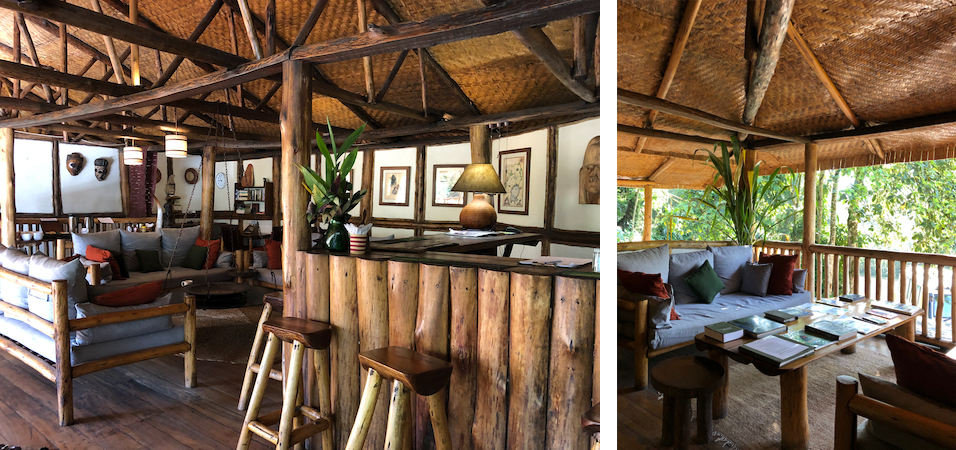 At both lodges, wine was ever-flowing. At Buhoma, hors d'oeuvres were passed and a hanging iron fire pit completed the convivial scene.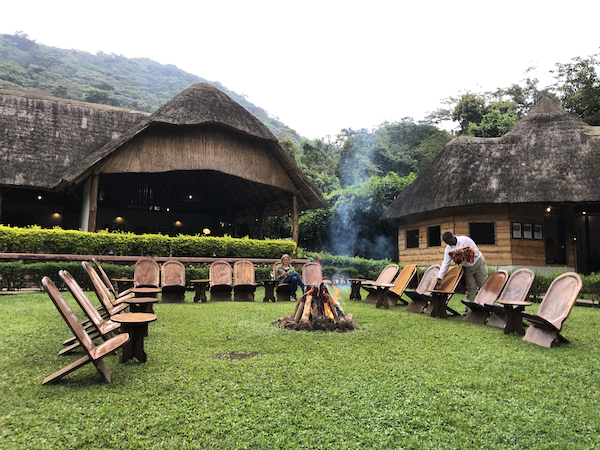 GFC had an inviting nightly bonfire surrounded by a circle of chairs where we would curl up with a blanket, and watch the flames with a glass of wine in hand. An occasional storm would pass by, thunder and lightning in the distance. I felt like we were as far off the beaten path as the world would allow.
Thoughtful touches appeared at both lodges; at Buhoma, a hot water bottle on the bed at night. At GFC, toasty electric blankets and a large soaking tub.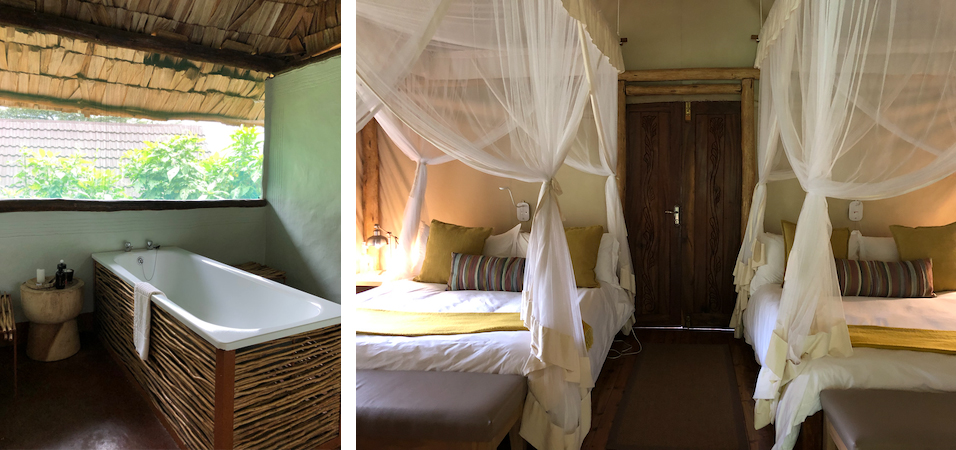 Each lodge had convenient charging stations in the common areas so that one would never be caught with a dead battery. GFC offered coffee, tea, and wine service in your tent, and Buhoma's open-air areas were piled high with coffee table photo books about Ugandan wildlife.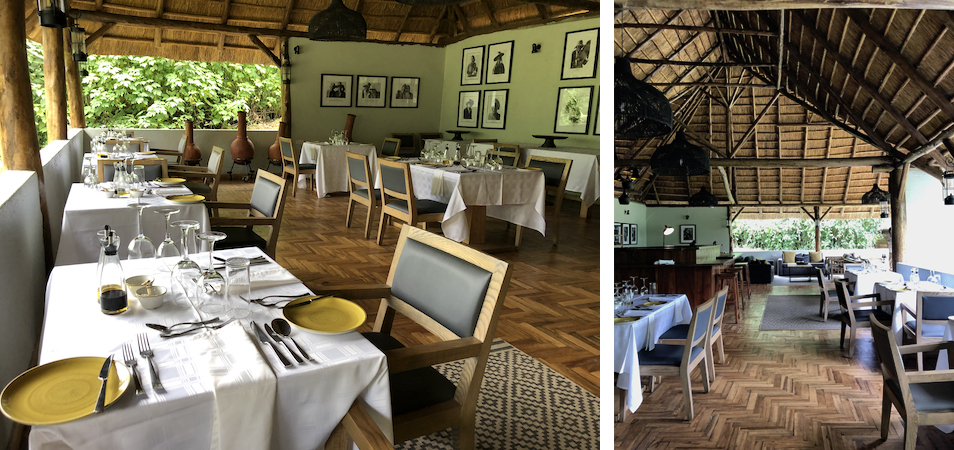 GFC was a more modern and upscale lodge, overall. The parent company, Sanctuary, is steeped in philanthropy all over Africa, and in Uganda especially. A few of their impressive philanthropic efforts include supporting the Bwindi Community Hospital (which we visited), The Ebenezer Nursery and Primary School, as well as the Bwindi Women Bicycle Enterprise.
In all of our lodges, we discovered the Ugandan effort to reduce plastic waste. We were encouraged to use reusable water bottles and had access to water stations to refill.
While both lodges exceeded expectations, I'll admit, that if I were to go back with friends, I would opt for the more rustic Buhoma Lodge due to its more relaxed vibe. Alternatively, GFC would be my choice if I wanted a more romantic atmosphere.
Ham, our All-Knowing Guide
I immediately adored our guide, Ham. Guiding since 1999, Ham had gentle, soulful eyes, and an understated demeanor. Ham was filled with local knowledge and stories from growing up in western Uganda. He told us that he didn't get his first pair of shoes until he was twelve years old. I tucked that piece of info away in my head to pass on to my kids as soon as I got home.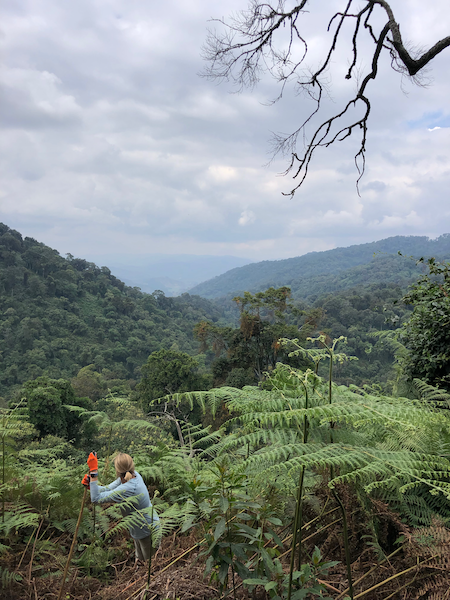 The Impenetrable Forest
There is something quite fantastical about the word 'impenetrable'. I felt like I was in a scene from one of my favorite films, The Princess Bride. At any moment I wondered what would leap out from the thick foliage, what would surprisingly cross our path or catch our eyes. Ham, being not only all-knowing, was also all-seeing, and didn't miss a thing. A baby baboon, a three-horned lizard, or a blue turaco? He saw them all long before we did.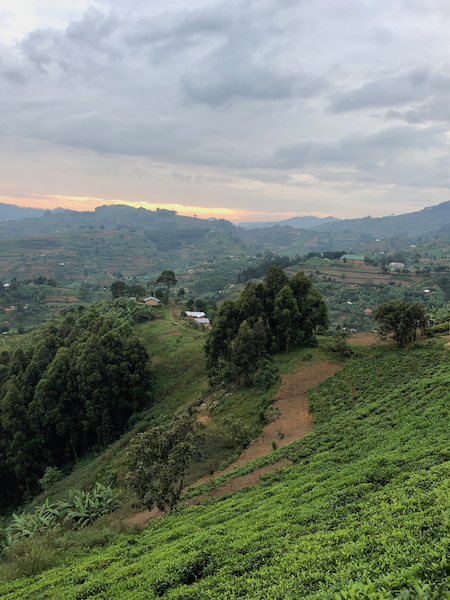 The Bwindi Impenetrable National Park, and its surroundings, is a never-ending panorama of steep, rounded hillsides, interlocking and overlapping in muted shades of green. Dense foliage, and steep, verdant tea fields replaced the flat, open vistas near the airstrip. Often, a heavy mist would enshroud the landscape, and then suddenly the sun would break through. The rainforest did not disappoint.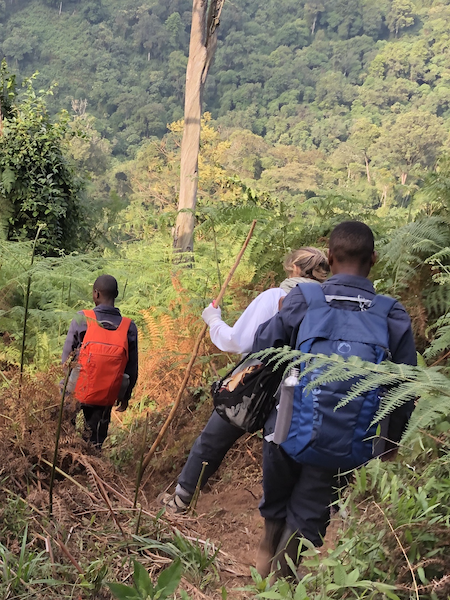 Bwindi is accessible only by foot, and is home to nearly 400 silverback mountain gorillas over 124 square miles. It is protected and owned by the Uganda Wildlife Authority and is a World Heritage Site. An impressive resume, indeed.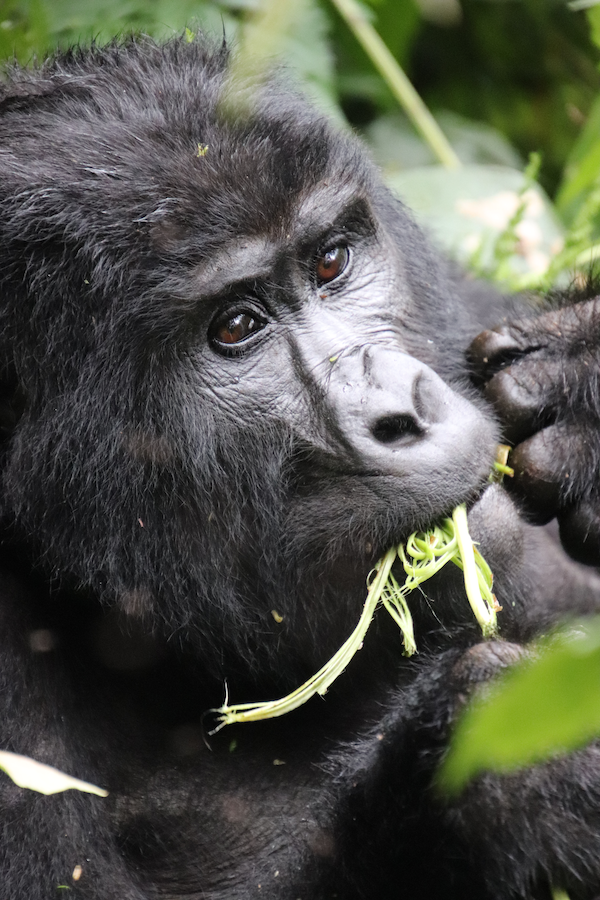 The Mighty Silverbacks
The draw of this tiny patch of the globe, where Uganda, Rwanda, and The Democratic Republic of the Congo meet, is the endangered silverback mountain gorillas. There are none in captivity, and only about 1000 left in the world, all found in this one remote spot. In order to see these noble animals, who, as an aside, share 98 percent of our DNA, I knew I had to be prepared to travel far, hike treacherous terrain, and have oodles of patience.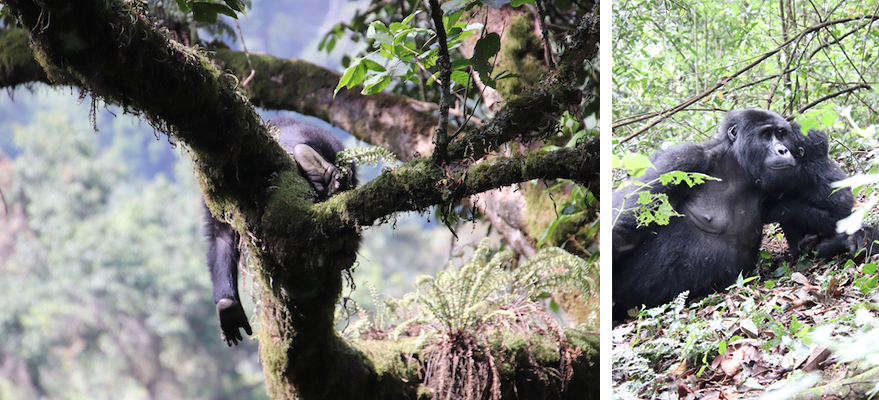 As you may have guessed, the silverbacks get their name from the saddle of silver hair that develops on their backs as they age. Only the males, who can grow to nearly 500lbs have this defining feature.
We had permits for two separate treks. Since we had booked this trip late (by Africa standards), we could only get permits for the Ruhija park entrance, which was two bumpy, pre-dawn hours away from our lodge. At first, this seemed like a setback, and we tried to change the permits, to no avail. In hindsight, it was a blessing.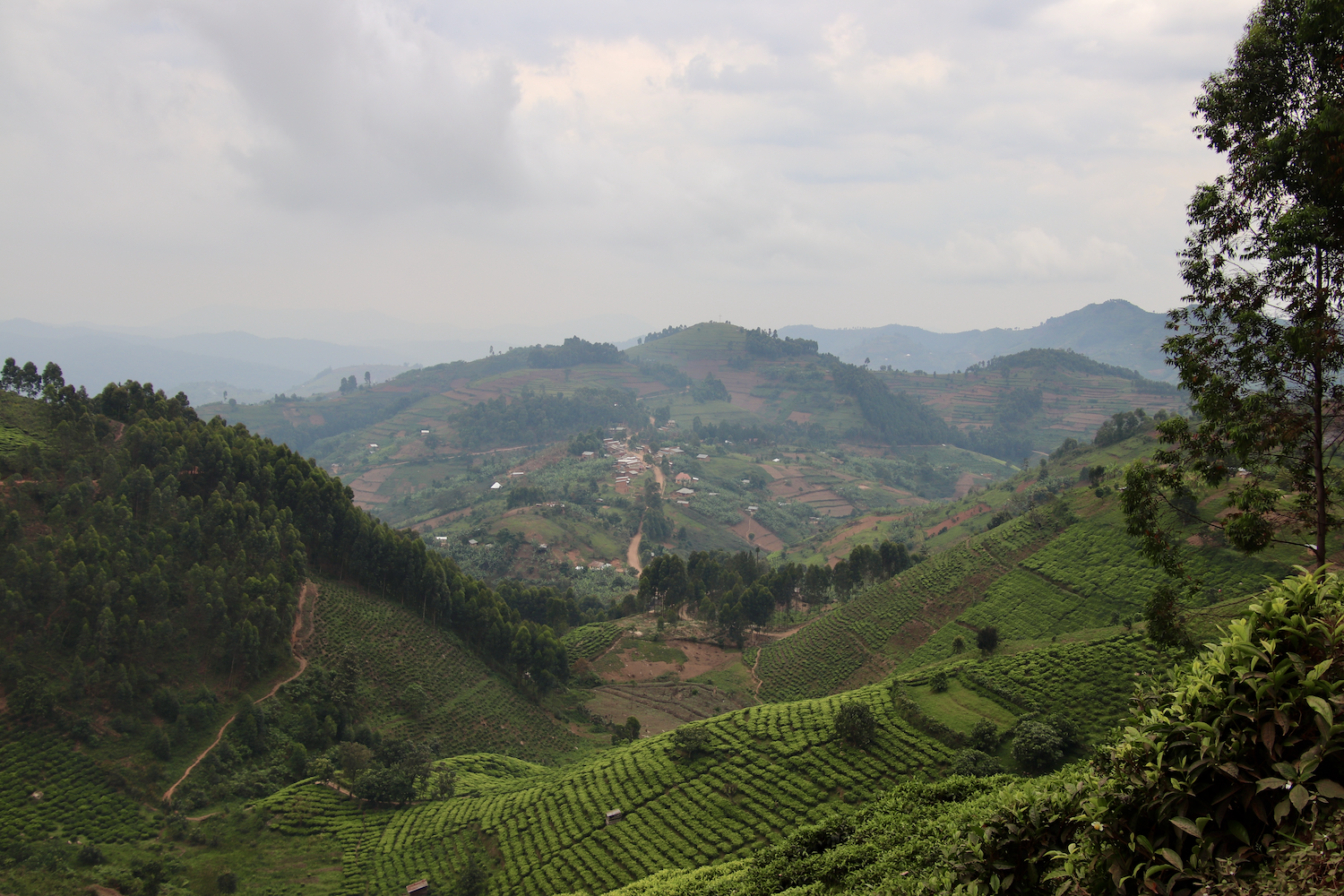 While the early morning wake up was painful, the drive to the Ruhija entrance was breathtaking. We were able to watch the sunrise over the hilly tea fields, the sky changing from night to day before our sleepy eyes. We passed women carrying plastic water jugs to the communal wells, farmers tending the land, and the barefoot freedom of kids. All this would have been missed if our permits were at the Buhoma entrance. A serendipitous gift.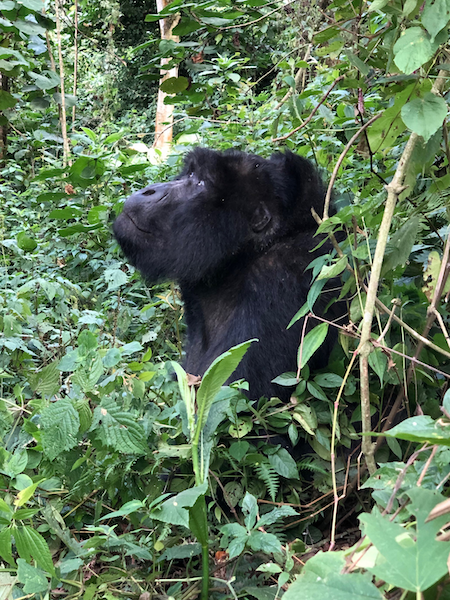 Off the Beaten Path, Literally
Advance trackers go out in the early morning hours to help locate the meandering gorilla families. They then radio ahead to the main trackers, so that visitors can find them. Even though their whereabouts are generally known each morning, getting to them is still no easy feat.
Gorillas, unfortunately, do not stick to the paths. They roam. Hiking to them required climbing over thick undergrowth, up and around cumbersome tree roots, dodging biting safari ants, with the help of machetes to carve the way.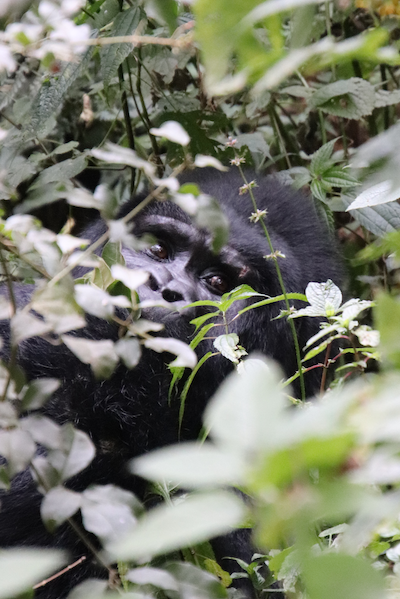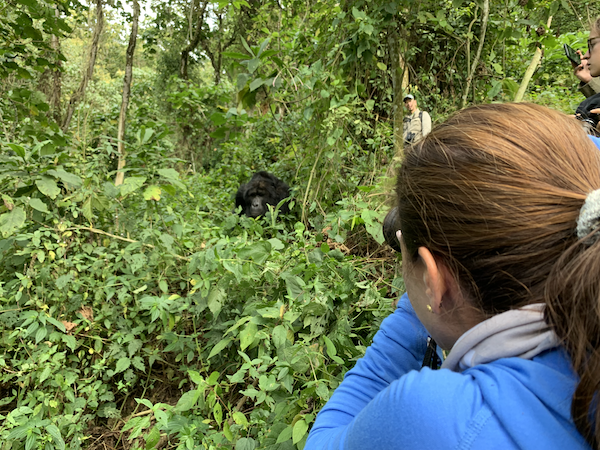 Vegetation nearly swallowed me whole, and I lost my footing countless times. Safari ants somehow got into unimaginable places, despite my pants being tucked firmly into my socks. For $20 USD, I had hired a porter to carry my backpack. Money well spent, I thought, as she crushed a few safari ants on my back while I navigated the steep and unsteady terrain.
There are about 13 habituated silverback families in Bwindi, and strict rules govern viewings. Once we found our family, which took nearly two hours on our second trek, we had one hour to observe and photograph them. 'Habituated' refers to the fact that the gorilla family has been exposed to humans for enough time that they react normally in their presence.
Bitukura Group
The moment I saw my first silverback will be forever etched in my mind, no photo necessary. We were tracking the Bitukura group that morning, and came upon the mighty dominant male silverback, Mugisha, sitting on the ground eating shoots and leaves. The rest of his family, 12 in total, were mostly arboreal, swinging from the leafy canopy. The juveniles beat their chests (isn't that a myth?) enjoying forest life. Barely noticing our existence, we were able to get as close as five feet away.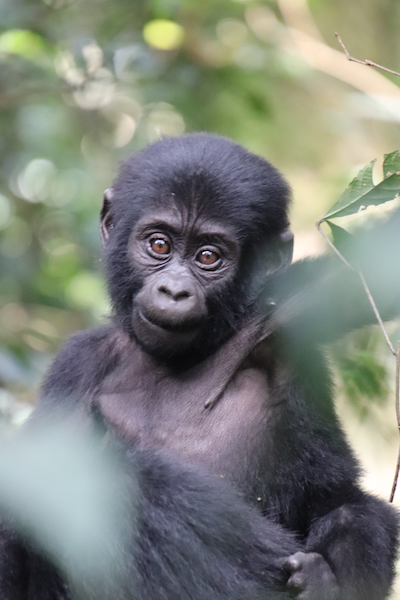 A dense, deep quiet enveloped me and warmed me from the inside out. The only sounds; the rustling of branches, the low guttural grunts of the silverbacks, and the click click click of eight SLRs shooting simultaneously. Our group sat in relative silence, in mutual awe of the experience. At times, we jostled for better positioning, and the trackers used their pangas to help us get a clearer view, effortlessly chopping down anything that was in our way.
And then, just like that, it was over. Our time was up. Who knew an hour could go by that quickly? We reluctantly made our way back to the lodge, thankful we had another day of gorilla tracking ahead.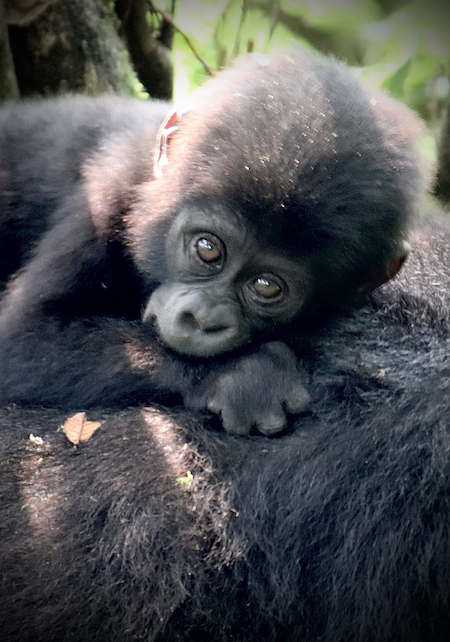 Muzika Group
Our second trek managed to outdo our first, in the sense that most of the family was on the ground, and in a group, versus leaping from the treetops. The Muzika group was lively and rambunctious that morning, and after two arduous hours of trekking, we were ready to sit and watch the primate show.
The highlight that day was when the enormous silverback, and patriarch of the group, Muzika, walked right past me, so close that if I had moved my arm at all, I would have felt his bristly hair on my skin. As per the guides instructions, I stayed frozen, allowing him to pass.
Under the dense canopy of the Bwindi forest, the world dimmed. Every so often, a streak of sunlight found its way to the understory, illuminating the foliage, or, if we were lucky, the profile of a gorilla's face. As much as I wanted to stop taking photos and purely observe, it was a challenging task. The silverbacks are natural models, and the clock was ticking.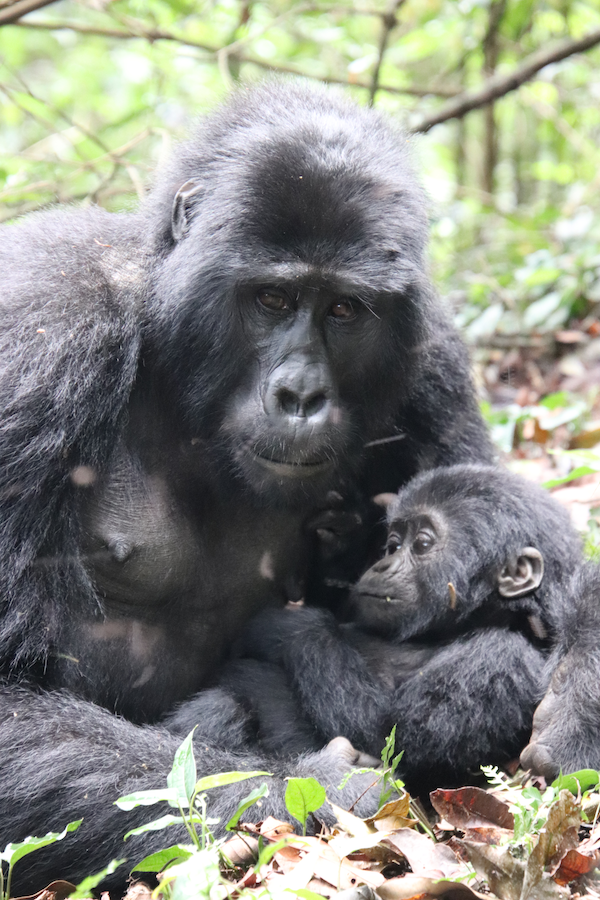 Being such familial animals, I witnessed intimate moments between the silverbacks and their young that felt all too human. Mothers cuddling babies up to their faces, juveniles pushing each other around, and human-like grooming, not unlike the Lice Patrol in the DC School System, I thought.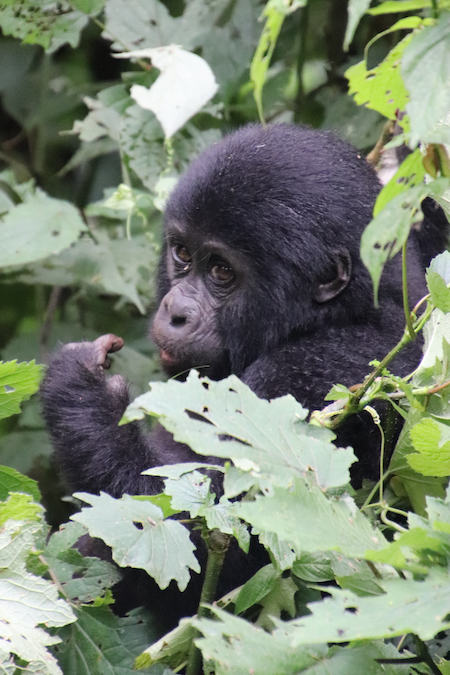 Silverbacks are distinguished by their nose prints, much in the way we are identified by our fingerprints. Apparently, no two are alike. Even after just an hour with the Muzika family, I could see how the trackers could begin to know one gorilla from another, both through their features, as well as their personalities. And then again, time ran out, we began our long exit from the forest, happy and sad all at once.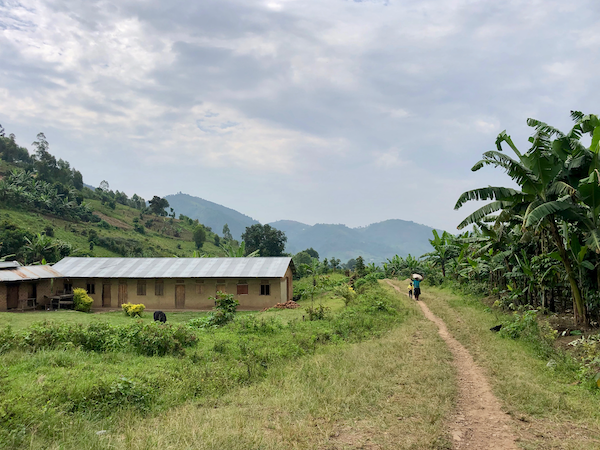 Homeward-Bound
Fast forward three flights and 7,000 Ethiopian Airlines miles. I'm at home, curled up on my couch, searching for Gorillas in the Mist on TV. The silverbacks, I imagine, are peacefully roaming the forest, thirty lucky visitors on deck to watch them. Looking back, I am grateful to my friend for sending the text that set this entire experience into motion. Time to look ahead.
*******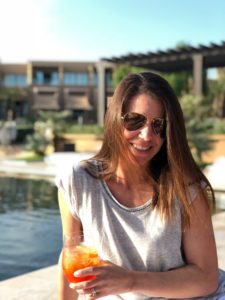 Jamie Edwards is an avid traveler, travel writer, and photographer. She launched I am Lost and Found, her adventure/luxury travel website after 25 years of living and traveling around the globe. Jamie's goal is simple: to inspire travel.
Keep up with Jamie's adventures in travel here.
CIRE Travel is a full-service travel agency headquartered in New York, NY. Our expert team supports clients across the country and around the world.
---
Where in the World Do You Want to Go?
Inspired to plan your next weekend getaway, vacation or trip of a lifetime? See that form below? That's all it takes to begin your next epic travel story.