Private suites and shower spas in first class. Flat bed seats in business class. Extra room and ambient lighting in economy. Inflight Wi-Fi throughout the aircraft. The Emirates Airbus A380 comes as close as it gets to flying in a private jet, only it's a lot bigger. Oh, and it has a bar in the business class.
Emirates new TV commercial starring Jennifer Aniston is a nightmare. Just watch. You'll see what we mean.
Things we love about flying Emirates
1. Their first and business classes on their fleets of Airbus A380s
First class passengers can freshen up with a mid-flight shower or close the door to their own private suite. In Emirates' business class, you can stretch your legs in the onboard lounge or in your flat bed seats. Feast on five-star delicacies or savor a fine wine carefully chosen by their sommeliers.
2. Relaxing and comfortable economy cabins
Emirates makes every effort to increase your personal comfort — from extra seating space and massage functionality, to ambient lighting designed to reduce the effects of jetlag and help you adjust to your new time zone.
And in every cabin, telephone, SMS and email services, along with an in-seat power supply, make it easy to stay in touch.
3. Regionally-inspired cuisine from locally sourced ingredients
With their signature Healthy Options menu, multi-course meals and kid-friendly offerings, Emirates offers a variety of dining choices. Emirates' chefs create dishes to reflect cuisine from different regions around the globe. Their sommelier selects wines suited to withstand the rigors of air travel. And extras like high tea, hors d'oeuvres in the lounge and on-demand dining satisfies all kinds of cravings.
4. The ice entertainment system
Get what you want, when you want it. Emirates ice entertainment system offers up to 2,000 channels of on-demand diversions. Enjoy an enormous selection of movies and TV programs from around the world, as well as music, video games and the latest news.
5. Emirates' airport lounges
There are dedicated Emirates Lounges as well as partnered lounges in more than 90 airports around the globe. Have a snack, enjoy a beverage, or catch up on business before your flight.
Emirates Lounges at Dubai International Airport and at more than 50 international airports across six continents are available to passengers in upper cabin classes and from their elite frequent flyer tiers. Spas and beauty treatments, gourmet buffets and bar service, or just a comfortable armchair with your favorite newspaper, time in one of their lounges is time well spent.
When it comes to Emirates, it's the journey we love, not only the destination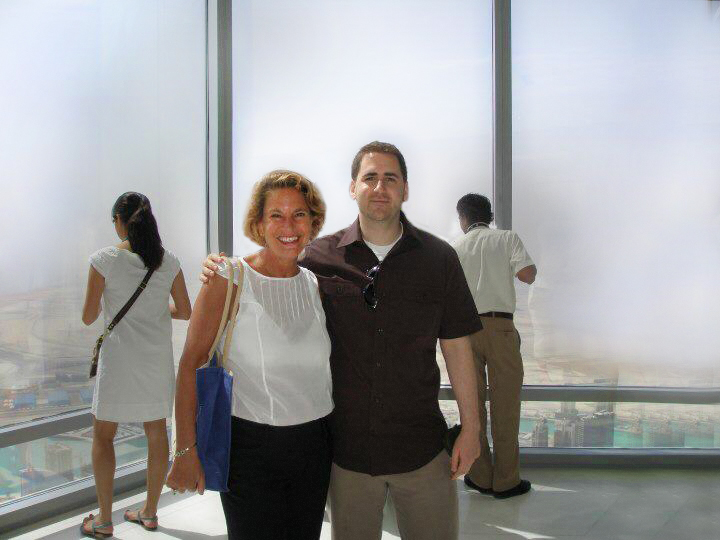 Karin (Emirates representative) and Eric (CIRE) in Dubai at the top of Burj Khalifa.
Emirates and CIRE Travel share the same goals. We both put our business and leisure travel clients first and foremost. For us, that means forging and maintaining relationships with airlines like Emirates to ensure you receive the best service, along with the perks that come from our alliances. For Emirates, it means putting you first with comfort and attention to detail that their passengers have come to rely on whenever they fly to over 140 destinations in six continents.
Traveling to the UAE? Talk to one of our travel planning experts. We'd love to introduce you to flying Emirates or plan your next trip with them.
---
Where in the World Do You Want to Go?
Inspired to plan your next weekend getaway, vacation or trip of a lifetime? See that form below? That's all it takes to begin your next epic travel story.