The sea is still. My kayak bobs gently among the growlers, bergy bits, and brash—words for ice I never knew existed before today. A low rumbling sound breaks the stillness. That low rumble turns into a loud grumble. In the distance, I watch a large ice shelf funnel into the sea like sand inside an hourglass. The deafening roar silences our group of 12 for one long and powerful minute. I look towards Bea, our kayaking expedition guide. Does she look nervous? It's hard to tell.
Once the noise dissipates, Bea pulls down her black buff as an enormous smile spreads across her face. "Our first glacier calving!", she exclaims with the excitement of a toddler on Christmas morning. Our group is mesmerized. Then one by one our faces break out into wide smiles, too. It's an otherworldly experience.
I'm in Antarctica—the most extreme place on Earth. A place where expecting the unexpected is par for the course. I'm ready for it.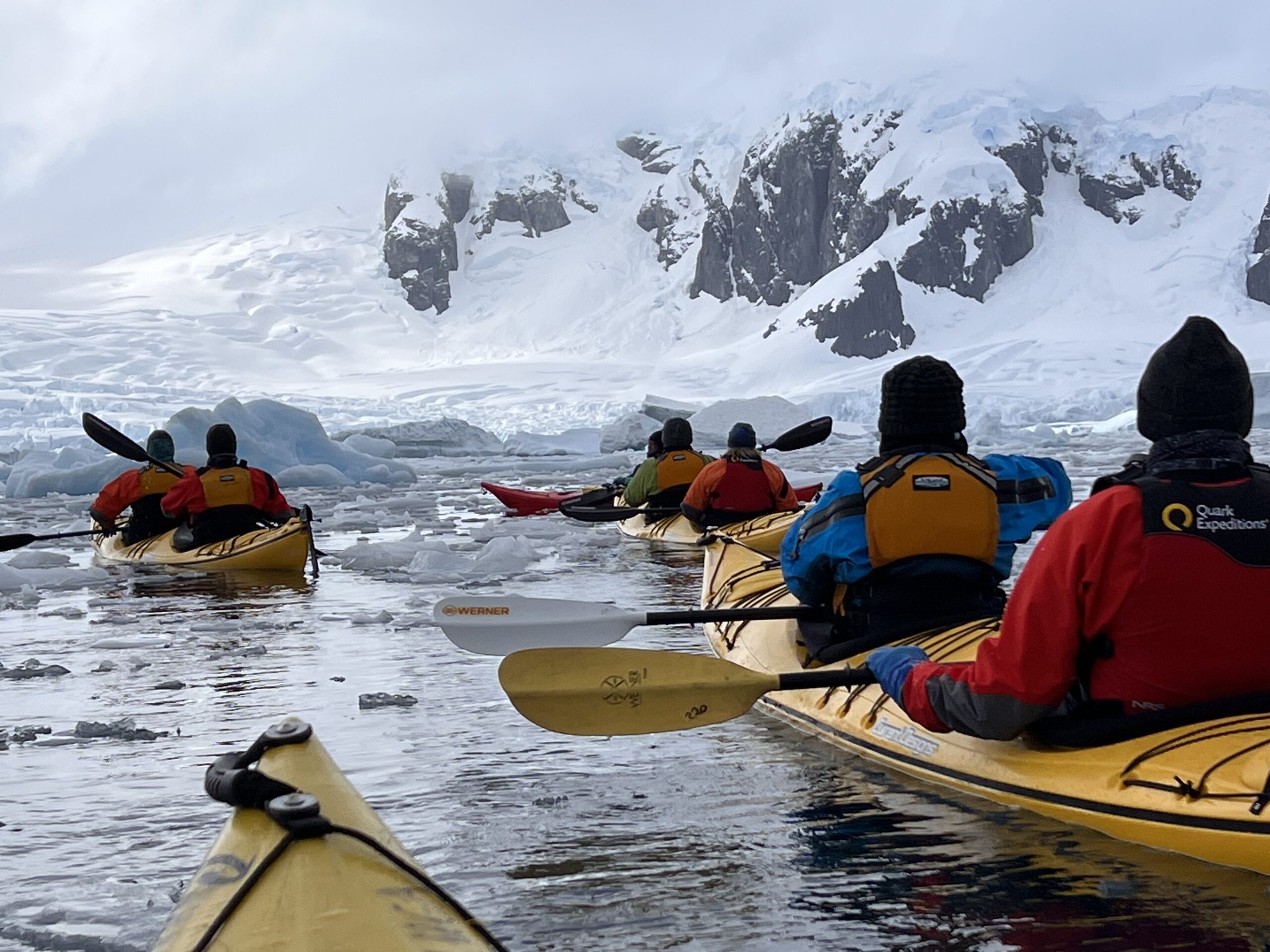 Antarctica is the 'trip of a lifetime'
If the southernmost part of the world is on your mind these days, you're not alone. Antarctic expeditions are on the rise. Between October 2019 and April 2020, 74,401 visitors journeyed to the southernmost part of the planet. In the 2022-23 season, that number surpassed 100,000. More than ever, travelers want to explore the White Continent, its wildlife, and vast, mountainous terrain.
With Antarctic travel gaining traction, it's important to plan far in advance. A trip of this nature, often referred to as the 'trip of a lifetime,' requires a set of gear most people don't already own. High-end expedition companies may supply travelers with some of the most important gear, like polar jackets, and muck boots, but the remainder of the packing list requires research.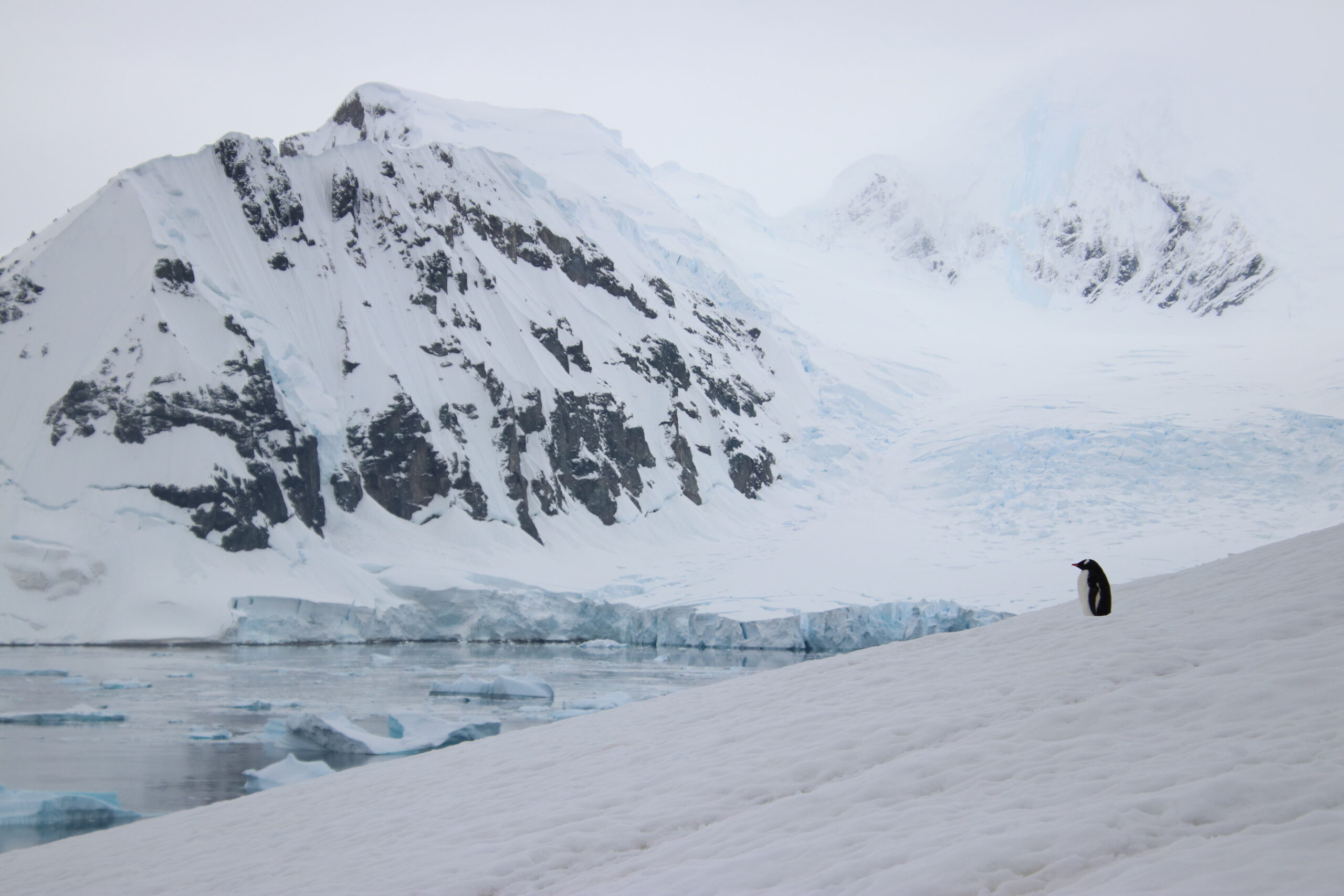 Who travels to Antarctica?
People choose to visit Antarctica for a variety of reasons. Some are history buffs who've grown up listening to stories about Shackleton's famous voyage. Others are keen to tick the last continent from their bucket lists, having already seen the Big Five in Africa, the castles of Europe, and the reefs of Oceania.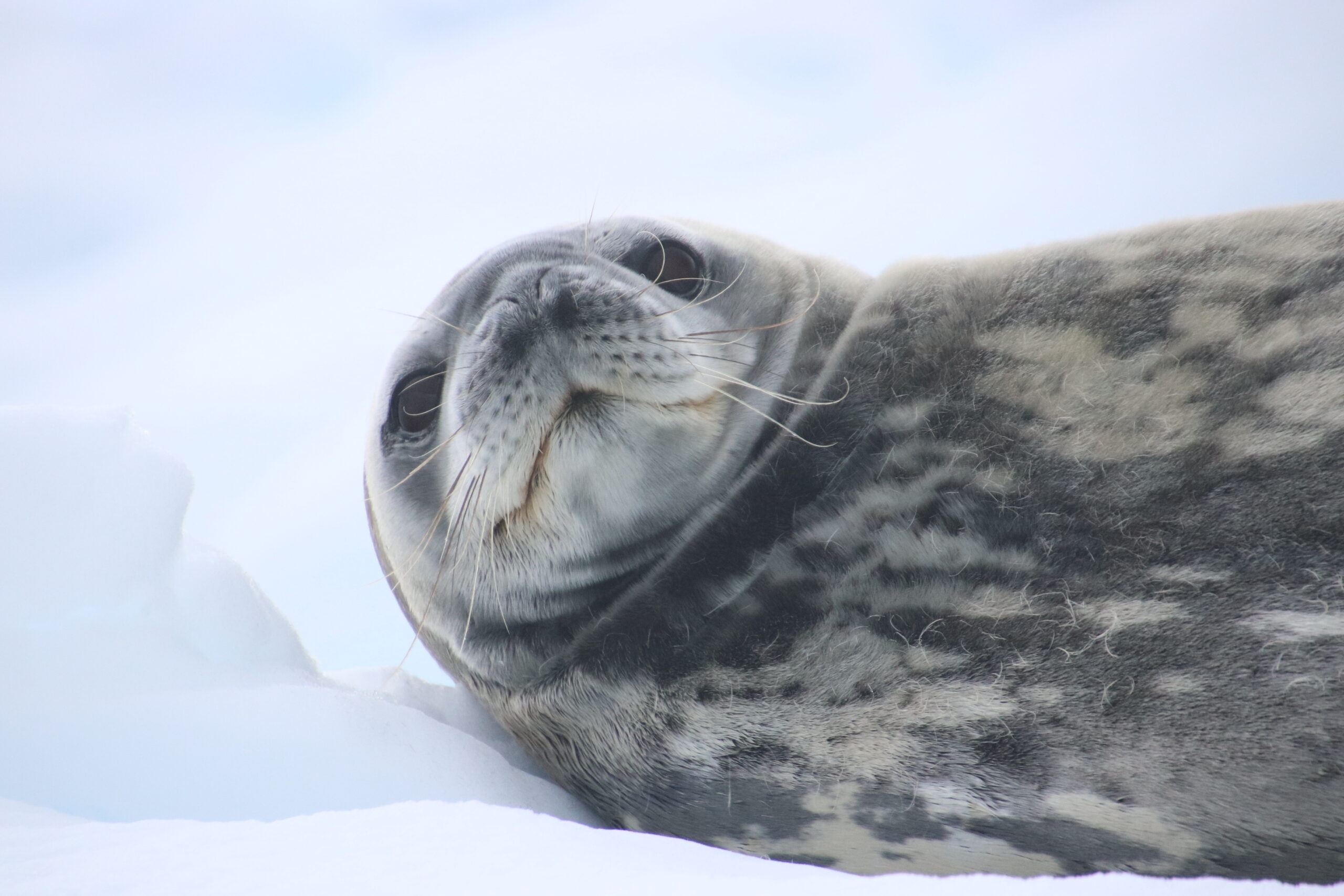 Still others, like me, visit with the intention of viewing and photographing wildlife that can't be seen anywhere else in the world—to witness seals, whales, and penguins living together in a remote world of white.
Prior to setting sail, I made sure my equipment was clean and ready to go. Once on board, I met Jonas, one of the photography guides for our expedition. He spent an hour helping me calibrate my camera for polar conditions, ensuring I was set up properly. Throughout the trip, Jonas checked in on me and asked if I had any questions. His attention to my photography needs went well beyond my expectations.
One common thread tightly knits Antarctic visitors together, however: A deep sense of adventure. This is Antarctica after all, where anything can happen.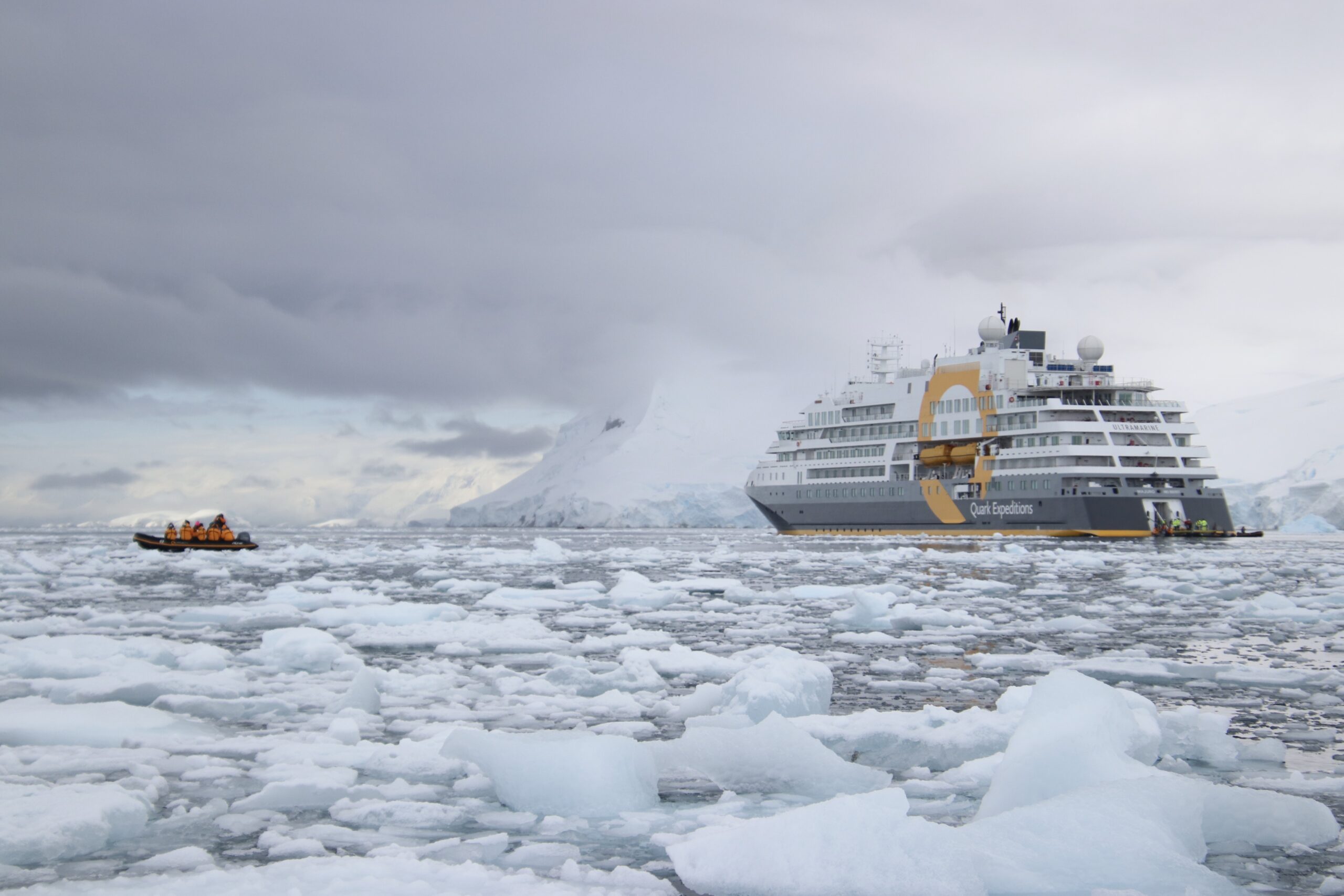 Choose your Antarctic expedition wisely
The most popular way to visit Antarctica is by ship. Expedition companies offer a variety of ways to get from Ushuaia (the southernmost point of Argentina) to the Antarctic peninsula. But be warned, not all are alike, so it's important to research carefully.
For instance, some ships merely pass by Antarctica, without giving guests the opportunity to walk on the continent itself. Others make multiple continental landings and prioritize sustainable practices and conservation.
Not all ships are created equal
Define your polar goals in advance. Ask yourself if you are interested in a trip that is solely adventure-based. One that has activities like sea kayaking, glacier trekking, and stand-up paddle boarding. Our ship had twin, state-of-the-art helicopters for guests interested in seeing the landscape from above. The furious whir of the blades and a swift lift-off from the ship's helipad was nothing short of James Bond material. I still dream about it.
Understandably, other travelers might prefer 'adventure-lite'—finding a ship that prioritizes luxury and leisure. Many vessels have onboard spas to help passengers relax after hours of whale watching. My favorite part of the day was sitting in our ship's Panorama Lounge with a cocktail and a pair of binoculars, swapping stories with other guests about what they saw that day.
As for dining, would you like meals to be formal or would you rather be able to come to the table unshowered and in sweatpants? Our ship was in the come-as-you-are camp, which meant some guests wore athleisure wear and others wore trousers and button-down shirts. Our lunches were buffet-style and dinners were waiter service which suited our travel style well. Having the option to sit at larger tables with guests or at a table for two was welcomed.
Answering questions like these are a few ways travelers can begin to narrow down their voyage options and find the expedition that suits them best.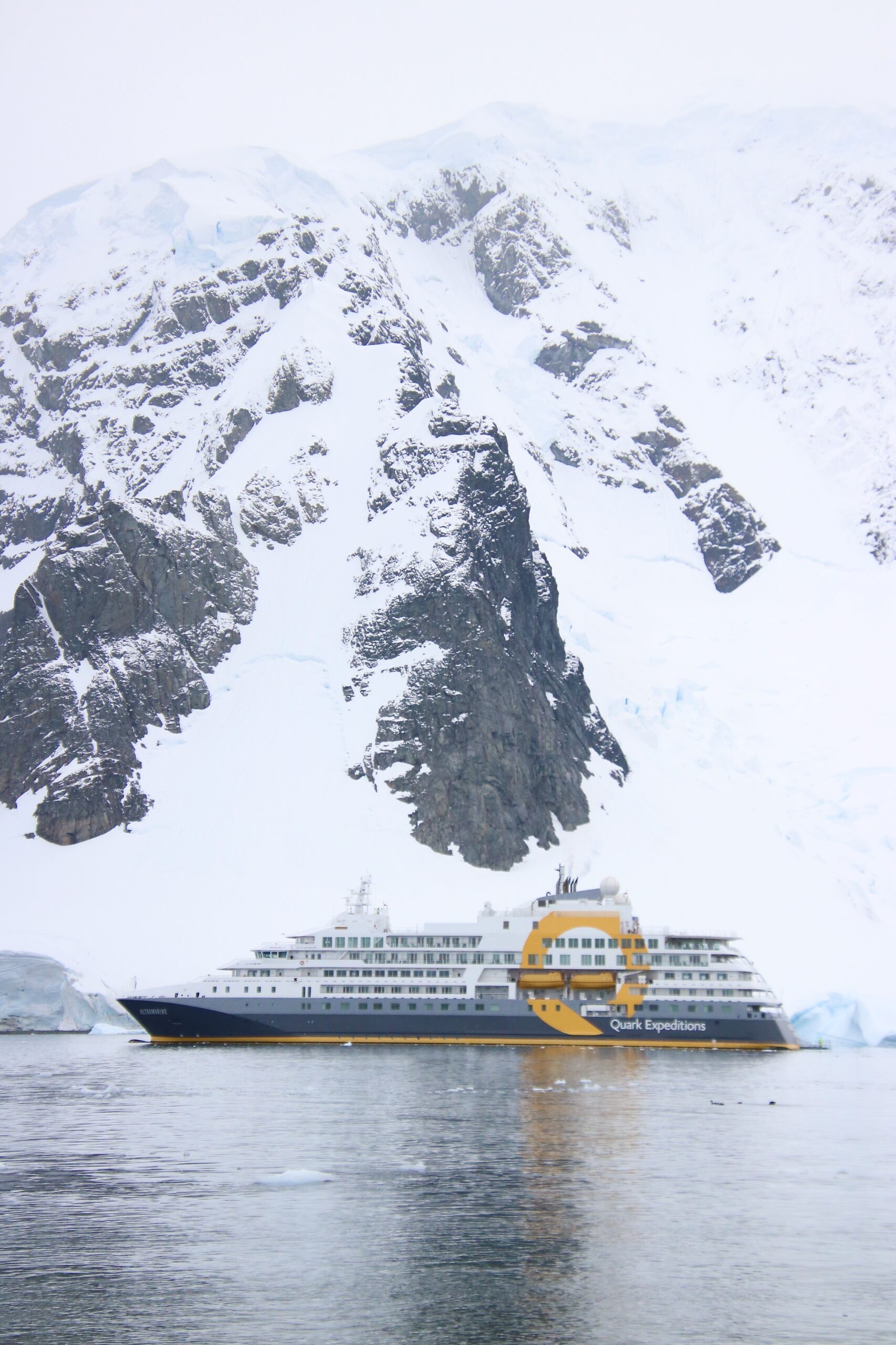 What does purpose-built mean?
Many ships sail to Antarctica. But some are built specifically with polar exploration in mind. This means they aren't retrofitted from vessels that once took passengers around the Caribbean islands or around Europe. Some perks of a purpose-built ship follow:
1. Easily accessible inflatable Zodiac boats mean guests won't miss getting out onto the sea when a pod of orcas is in sight.
2. Purpose-built boats typically have stabilizers that help guests better cope with shaky Drake Passage crossings.
3. A purpose-built boat may have more modern and eco-friendly amenities, like heated bathroom floors and water refill stations, for example.
Get on board and find your people
One of the best parts of an Antarctic expedition is being surrounded by people with a similar adventure mindset. This not only includes the passengers, but the crew and guides, as well. I traveled on the Ultramarine, Quark Expeditions' newest vessel. Among the 136 passengers on board, I met a farmer from Wisconsin, a group of 15 marathoners looking to tick off a run on their final continent, and a dynamic mother-son duo from Germany.
Our guides were equally diverse and impressive. I met Sam, the 26-year-old historian, who had me riveted to presentations about my least favorite subject in high school. Fabrice, the French ornithologist, turned each passenger into a bird nerd with his joie de vivre about everything avian.
Our ship had much to offer guests on board. The Polar Plunge is entertaining whether one chooses to fling themselves off into the icy Southern Sea or not. The viewing decks filled to capacity as over 70 of us tested our mental limits. A post-plunge shot of vodka and a warm towel momentarily took the edge off the chill, but the bragging rights lasted far longer.
Other on-board highlights include nightly cocktail hours, post-dinner presentations, and a well-stocked library for those wishing to unwind with a cup of tea or coffee.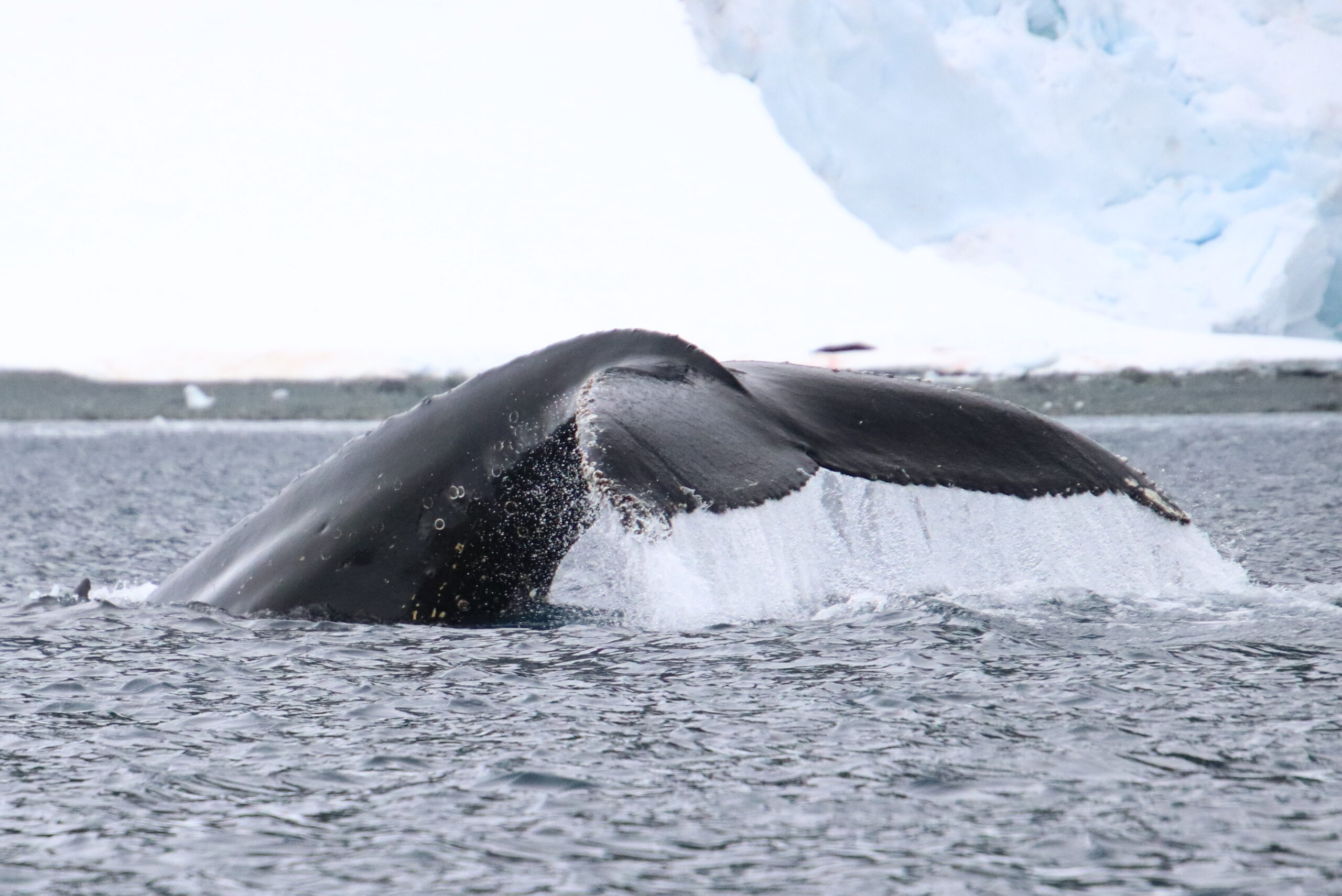 Advance planning for the 'trip of a lifetime'
Want to travel to Antarctica but not entirely sure where to start? Choosing the right expedition company is key. A list of things to ask yourself as you decide follows:
1. What is the most important thing I want to see? What you'd like to see in Antarctica will help determine the time of year you visit. For example, if you are most interested in whale watching and the hatching of baby penguins, December to February is a good time to visit. If you'd like to see icebergs at their greatest mass, consider traveling between November and December.
2. How many days do I want to be away? Determining how long you'd like to be away is another good place to start. Some voyages are as short as 8 days, while others can be as long as 15, and tack on destinations like the Chilean fjords and Torres del Paine in Patagonia.
3. How big a ship would I like? Ships come in a variety of sizes. Smaller ships have perks like better guide-to-guest ratios and more personalized services. Smaller boats also have the luxury of getting into certain bays and closer to the mainland. Bigger ships offer more people with whom to mingle and meet. Think about your comfort level on a ship in regards to size and passenger count as you plan.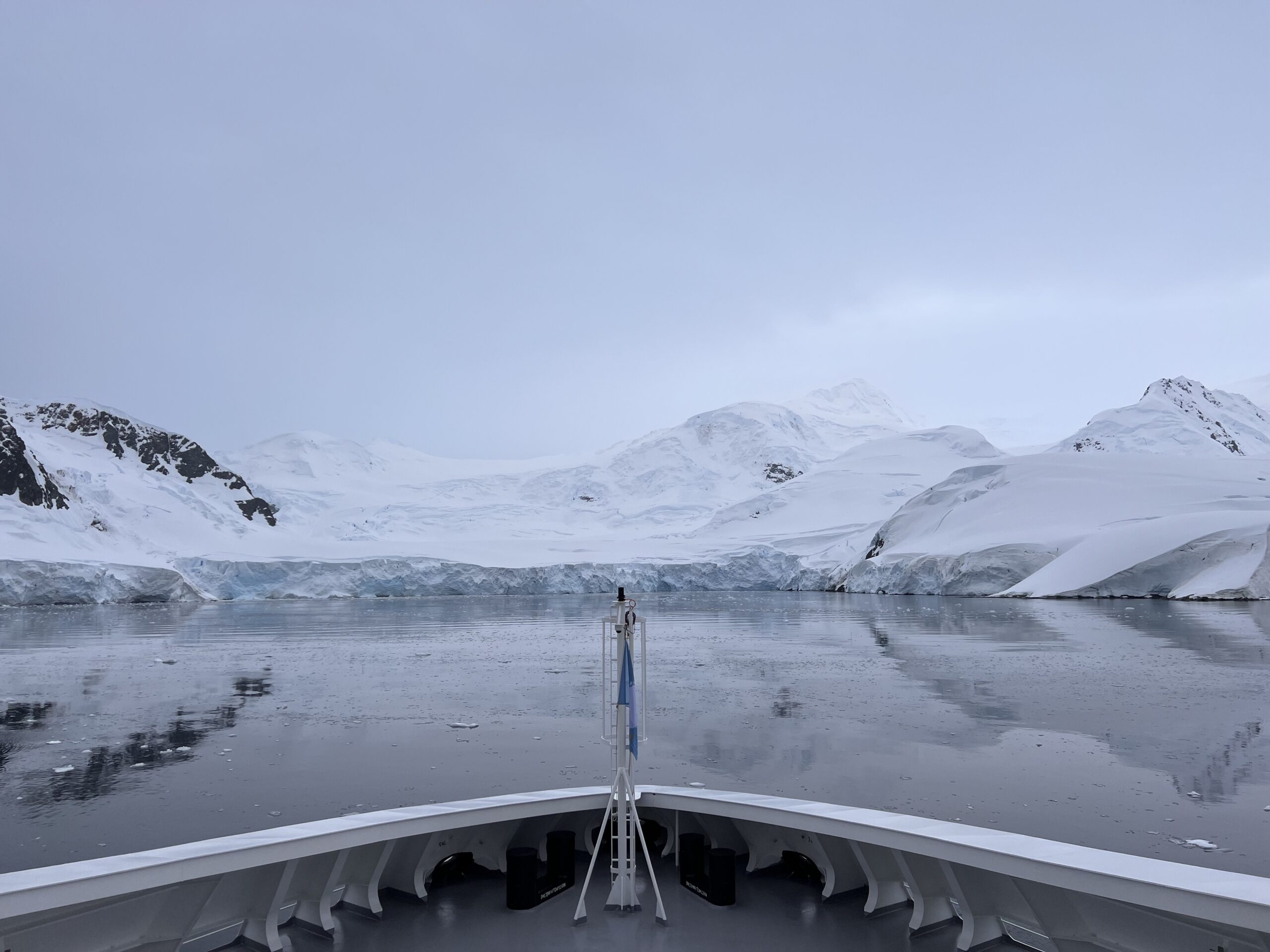 4. Drake Shake, Lake, or pass? The Drake Passage is the body of water that lies between South America's Cape Horn and the South Shetland Islands of Antarctica. It's perhaps the most unpredictable channel of water on Earth. Guests will no doubt experience a range of conditions during their two-day crossing (each way). For those who don't feel comfortable with this aspect of the journey, or have limited time, some companies provide air travel over the passage. Personally, I believe the Drake Passage is a badge of honor for any Antarctic expedition—the rockier the crossing, the better stories one will have to tell.
5. Am I fit enough to go to Antarctica? While it's very important to be in good health for a trip of this magnitude, there's an expedition to suit just about any level of fitness. Many ships offer a range of activities to ensure everyone can partake in the adventure. Inflatable Zodiac boats are the primary way most guests get up close and personal with the sights and are suitable for most travelers. Many ships will have at least one doctor on board. If having a doctor on board is especially important to you, it's critical to know this piece of information in advance.
6. How will I be entertained? Among Antarctic expeditions, some are geared towards intellectuals and others towards hard-core adventurers. Naturally, there are quite a few that satisfy both. Knowing what you'd like to get out of the trip is vital. It will also increase the likelihood of meeting like-minded travelers, the ones who share your polar goals. Many ships have talented guides who give fascinating presentations interspersed with polar-based movies and cocktail hours. Some ships provide entertainment more commonly found on cruise ships. Deciding in advance what style appeals to you will make your experience all the better.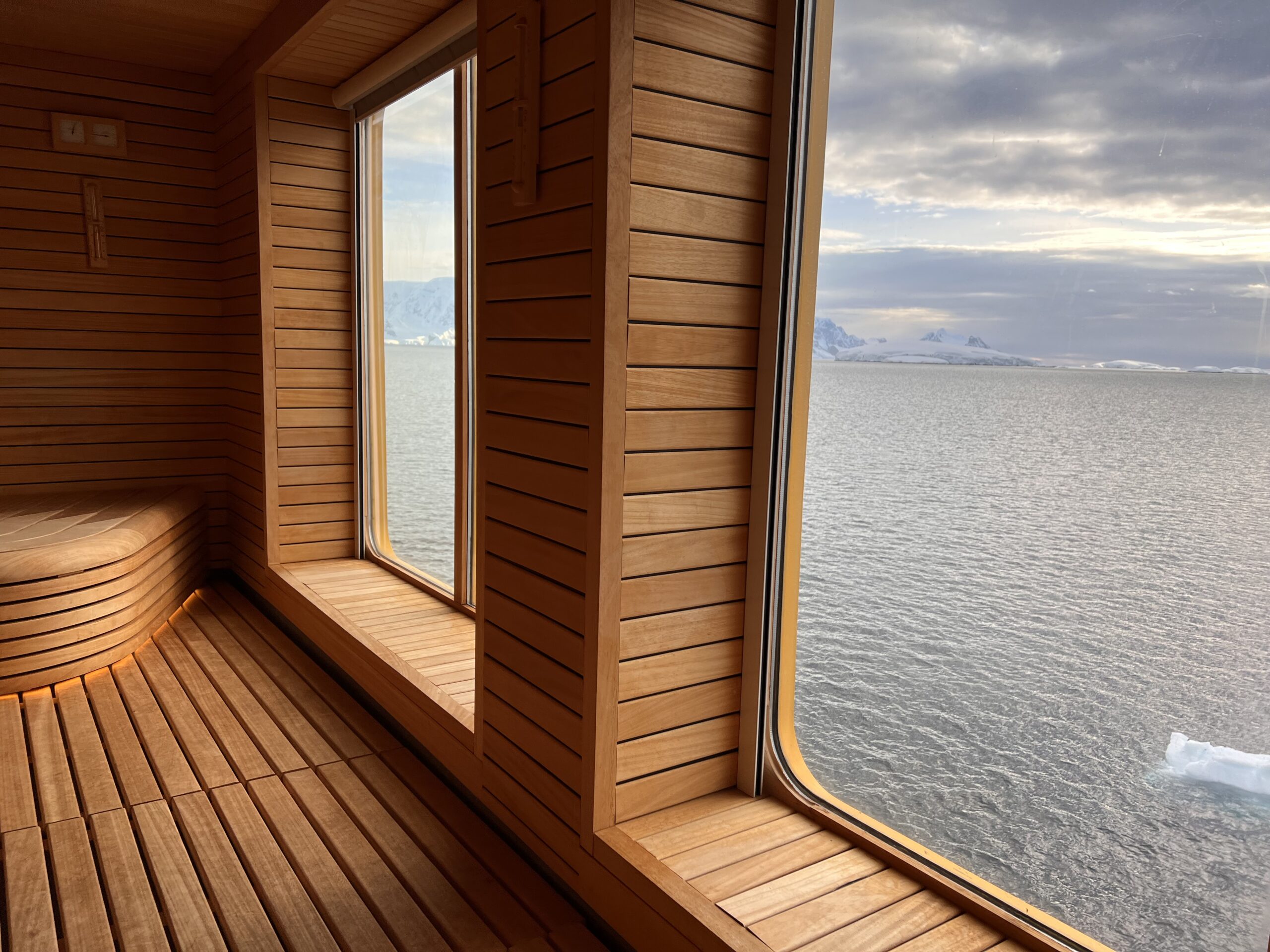 7. What is there to do on the ship all day? It's easy to think you will have lots of downtime. There is less than you'd think. Because the nature of polar travel is unpredictable, the crew makes sure every guest is fully prepared. There are mandatory safety briefings that are dependent upon your chosen activities. Then there are wonderful talks given by the onboard ornithologists, professional photographers, and historians. Although I brought a few books to read between Zodiac outings and meals, I found myself on the breezy outer decks with binoculars spotting the unlimited supply of wildlife on display. A spa, sauna, and gym with floor-to-ceiling windows ensured that I didn't miss a thing, even when indoors.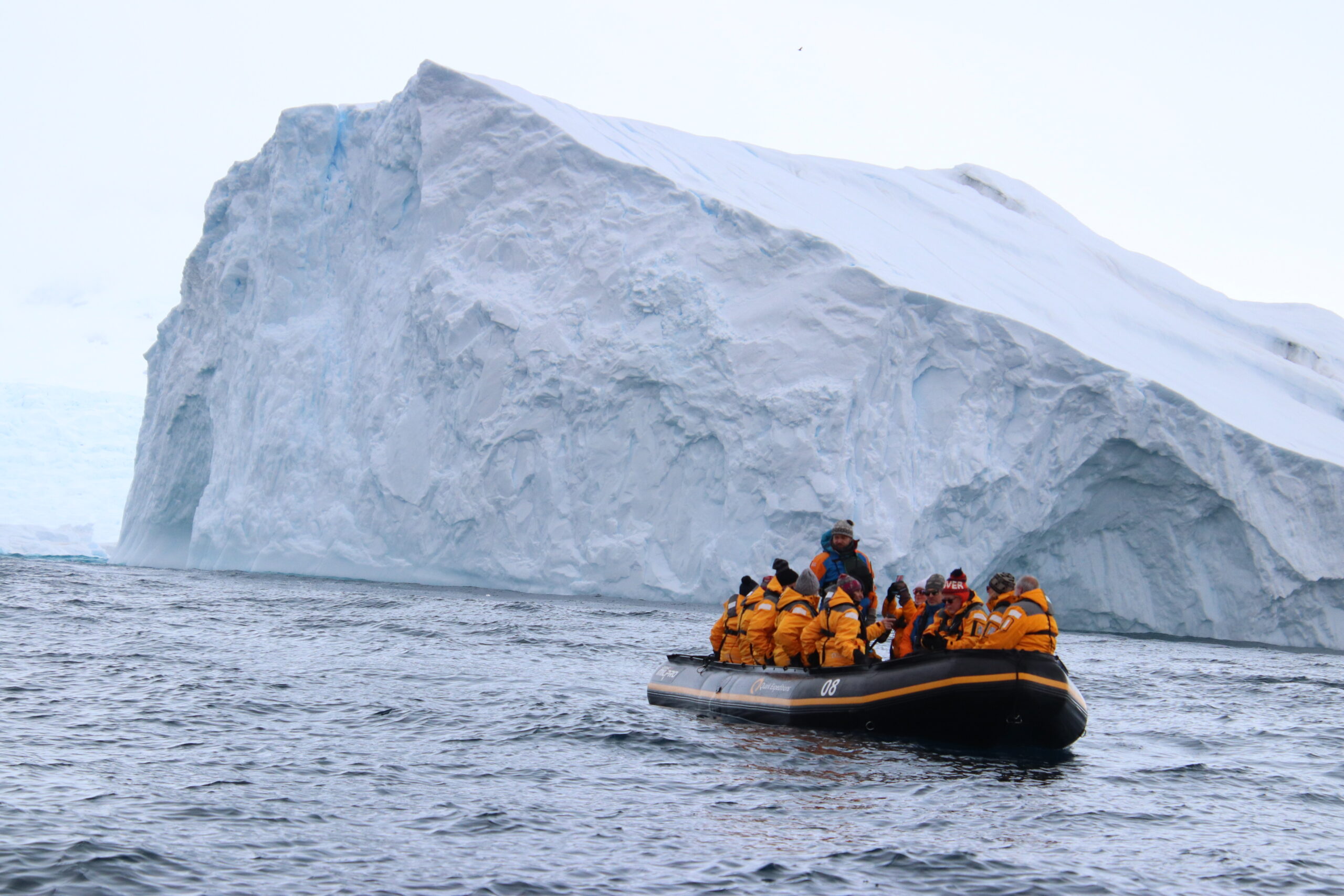 In Antarctica, always expect the unexpected
Regardless of ship size, number of days you are at sea, or what time of year you choose to visit, Antarctica will be filled with surprises. No two people will have the same experience. A guest on the ship's starboard side may see a pair of Wandering Albatrosses in flight while a guest on the port side may watch an orca hunt a Weddell Seal. One Zodiac may spend an hour watching Gentoo penguins waddle while another witnesses a humpback whale breach.
Bring your sense of adventure and expect the unexpected. It's what makes the 7th continent so alluring. Yet, the easier it becomes to visit Antarctica, the more crowded it will get. Now is the time to plan.
The team at CIRE has vast amounts of experience getting guests to and from the polar regions. Count on them to help you plan an Antarctic adventure that suits your travel style. No doubt you will come home with several thousand photos of Gentoo penguins, a deep appreciation for Mother Nature, and more than a few new words to describe ice.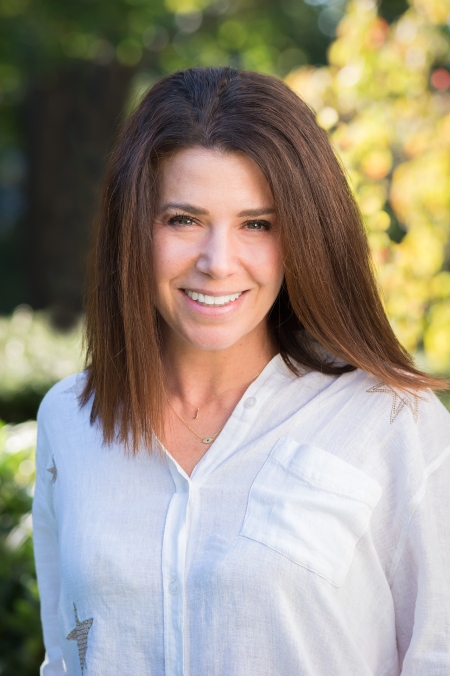 Jamie Edwards is an avid traveler, travel writer, and photographer. She launched I am Lost and Found, her adventure/luxury travel website after 25 years of living and traveling around the globe. Jamie's goal is simple, to inspire travel.
CIRE Travel is a full-service travel agency headquartered in New York, NY. Our expert corporate travel planners, honeymoon travel agents, and luxury travel planners support clients across the country and around the world.
---
Where in the World Do You Want to Go?
Inspired to plan your next weekend getaway, vacation or trip of a lifetime? See that form below? That's all it takes to begin your next epic travel story.