Great minds think alike. And all the other phrases explaining the Law of Attraction. That's how it is between CIRE Travel and The Art of Hospitality's Suzanne Goldberg. Booking a hotel for a client is never random. We cater to style and budget. And once the reservation is made, we contact our hotel partners so our clients receive VIP treatment. The Art of Hospitality represents beautiful, boutique hotels, and I trust any hotel they represent, including our favorite place this month: The Lenox Hotel in Boston.
The Lenox Hotel is located on the Back Bay and steps from Copley Square, which makes it the ideal choice for both business and leisure travelers who gravitate toward a boutique hotel experience. In fact, The Lenox is known as the original boutique hotel. When it opened in 1900 it was Boston's tallest building and The Boston Post proclaimed it "the Waldorf-Astoria of Boston."
Ever since, The Lenox has been a Boston landmark attracting notable guests like Judy Garland, Enrico Caruso, Babe Ruth, Ryan O'Neal and Ali McGraw, George H.W. Bush and a host of other celebs in the arts, entertainment, sports and political worlds. Unique and extraordinary service are a given.
Four reasons we love The Lenox in Boston:
Three words: wood-burning fireplaces
Five rooftop beehives
Complimentary electric car charging service, just outside the hotel's door
An entire floor dedicated to people with allergies/sensitivities
Yes, wood-burning fireplaces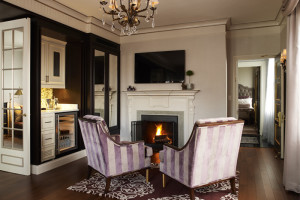 The Lenox Hotel represents the very best of what Boston hotels have to offer, delivering an artful blend of historically elegant design, personalized intuitive service and upscale comfort. Our guest rooms also feature a dedicated work area with full writing desk and ergonomic chair.
Many of The Lenox's spacious corner rooms offer working fireplaces – an exclusive feature in all of Boston luxury hotels. Cozy. Romantic. Memorable. Plus, The Lenox is conveniently located steps away from Boston's renowned cultural institutions, shopping, dining and nightlife destinations and America's most beloved landmarks.
Beehives create a huge buzz
The Lenox is home to five rooftop beehives, and the girls are getting ready to hit Boston Common in preparation of making amazing honey! You can enjoy it in the hotel restaurant, CITY TABLE, and in their bars, for they have wonderful honey inspired cocktails! CITY BAR is a winner of CONDE NAST's Best Hotel Bars.
You have your choice of three restaurants and bars – City Table, City Bar, and Sólás – as well as 24-hour in-room dining for myriad of culinary options. Combined with complimentary wireless internet, a fully equipped 24-hour business center, a 24-hour fitness center, valet parking, and so much more, The Lenox caters to discriminating travelers. There's a reason dignitaries and celebs swarm to this landmark hotel.
Charge your electric car, on the house
Environmentally conscious and luxurious are synonymous at The Lenox. The hotel offers a complimentary EV charging station just outside the hotel's front door. If you prefer, feel free to take advantage of the complimentary in-town drop-off service. The Lenox also provides 24-hour valet parking.
Pure floor is pure heaven for allergy sufferers
The Lenox has a "pure floor" dedicated to people with allergies and sensitivities. Experts treat all of the pure floor rooms with a 5-step process of medically approved hypoallergenic products. All pure floor rooms have state-of-the-art air purifiers. Pure floor rooms are a breath of fresh air for allergy sufferers.
Staying at Lenox isn't just making a hotel reservation, it's making history
It's our travel planners' honor to make your reservation at The Lenox Hotel in Boston, MA. It's more than a reservation, it's your chance to be a part of a storied past as well as make your own history.
---
Where in the World Do You Want to Go?
Inspired to plan your next weekend getaway, vacation or trip of a lifetime? See that form below? That's all it takes to begin your next epic travel story.