I love traveling to hidden, off-the-beaten-path, inaccessible, far-flung destinations. I love hotels that are boutique in size, blend seamlessly into the environment, and whose entrances are easily passed unnoticed.
The Four Seasons Punta Mita is not one of those places.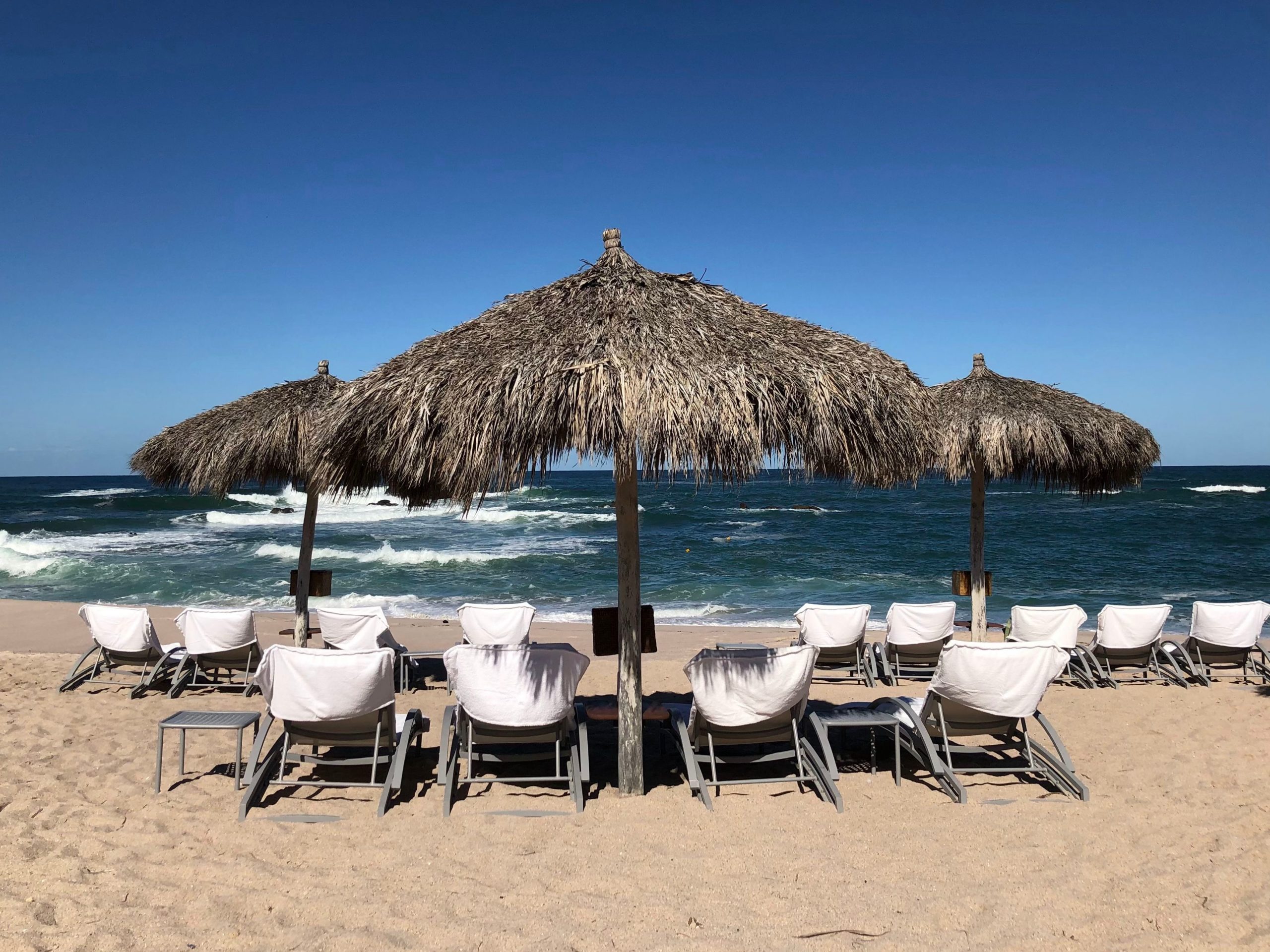 Yet, it is as close to resort perfection as one can find. Anyone who has been there can write effusive reviews; wax lyrical of its well-appointed rooms, its impeccable grounds, and define the nuances between each of the five on-site restaurants. Anyone can describe this stunning property that hangs magnificently off of a jagged peninsula.
There are countless typical luxuries that we have come to expect from world-class resorts. Yet, I wonder if there are new table stakes at play? Is there a new set of expectations, now as we begin to crawl out of our bubbles, and into a decidedly different world of travel?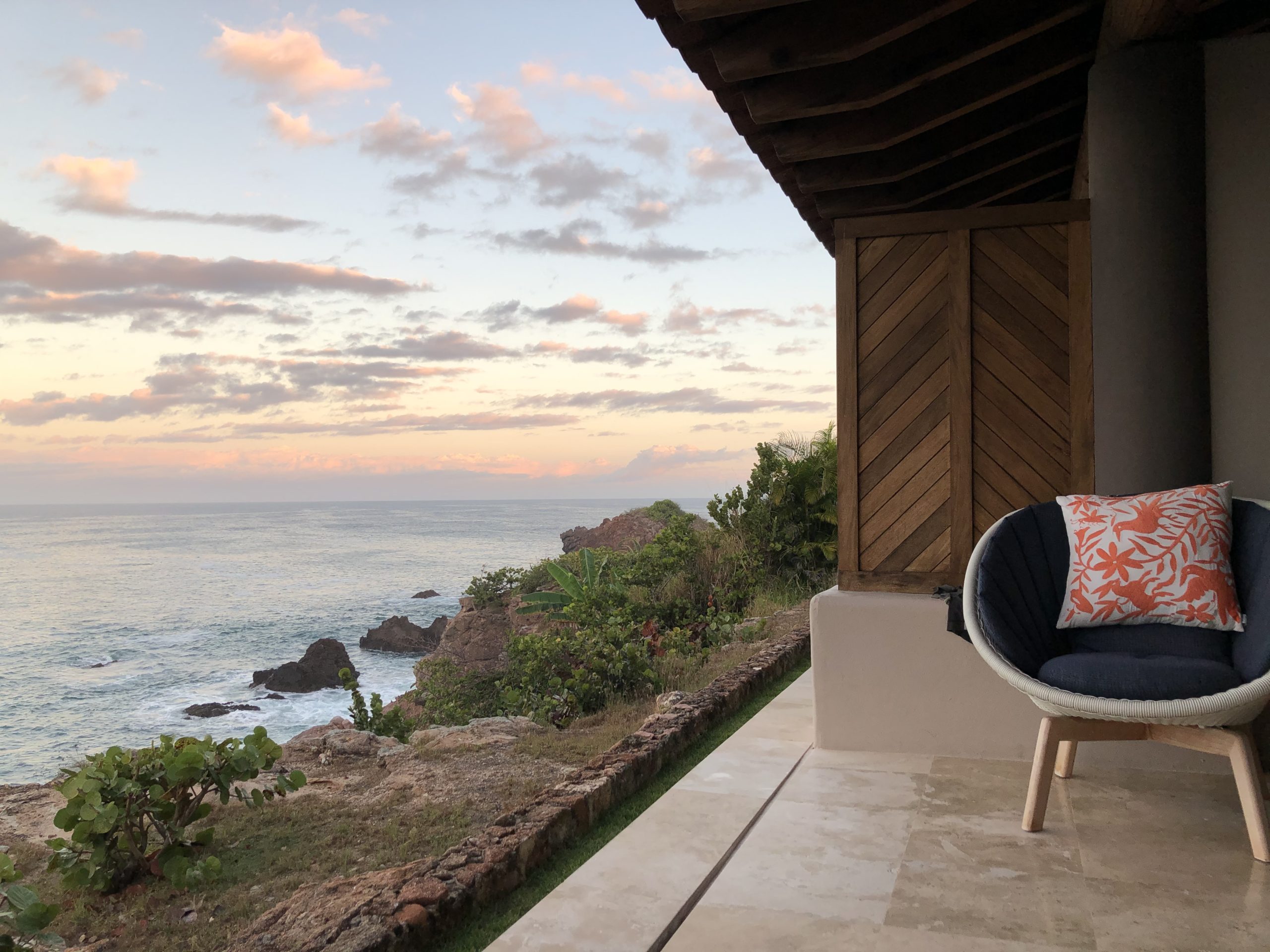 Are these new luxury amenities tangible, intangible, or both? Does the Four Seasons in Punta Mita deliver them? And what role, if any, does Mother Nature play?
Setting the stage
Punta Mita is a 1500-acre private peninsula in Nayarit, Mexico. The peninsula, surrounded by the mighty Pacific on three sides, is a gated community of perfectly extravagant villas, perfectly pristine beach resorts, and perfectly manicured golf courses. Do you detect a theme? Perfect, read on.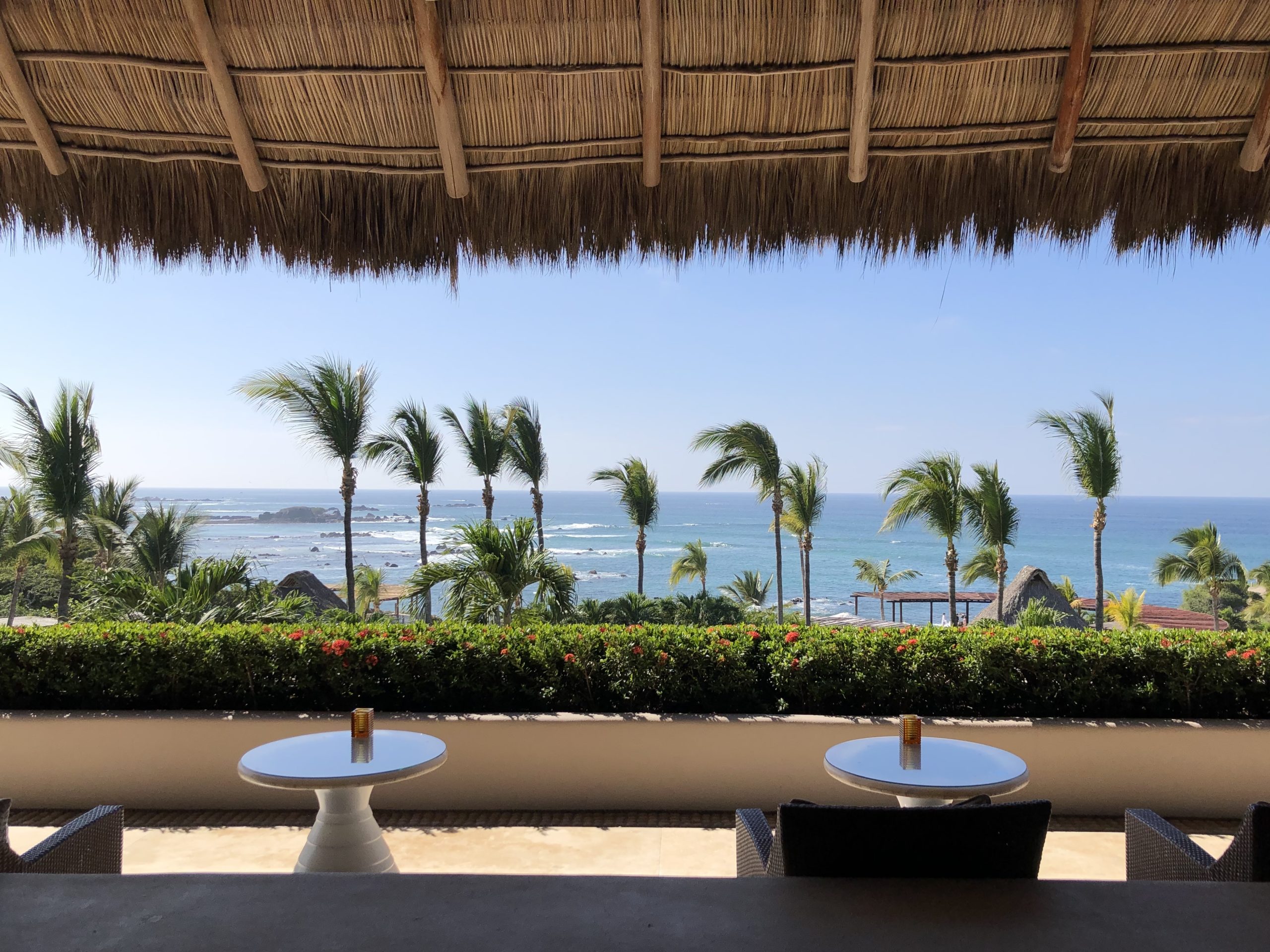 Upon arriving at the richly colored garden entrance of the Four Seasons, we were whisked through the open-air lobby towards the hotel's money view—an expansive 360-degree panorama of the ocean and grounds. Liliana, our concierge, treated us to the new-ish hospitality trend, the 'non' check-in, check-in.
We were invited to sit and relax. A server stood nearby with glasses of ruby-red fruit punch, and a carafe of tequila (for those of us keen to start the festivities right away).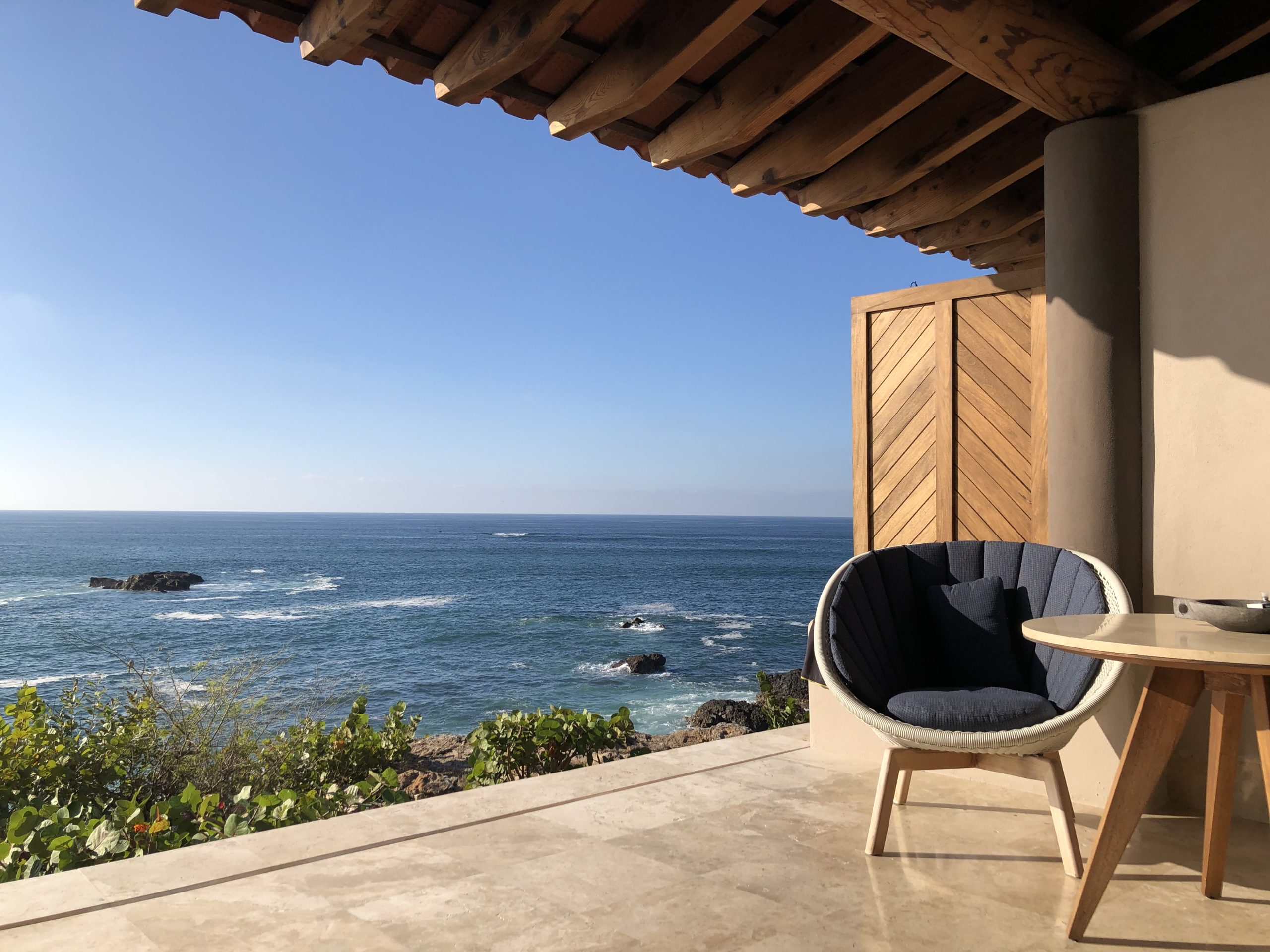 Our bags were swiftly transferred to our rooms. No fussy front desk, no wasted minutes waiting for a room key, no delays.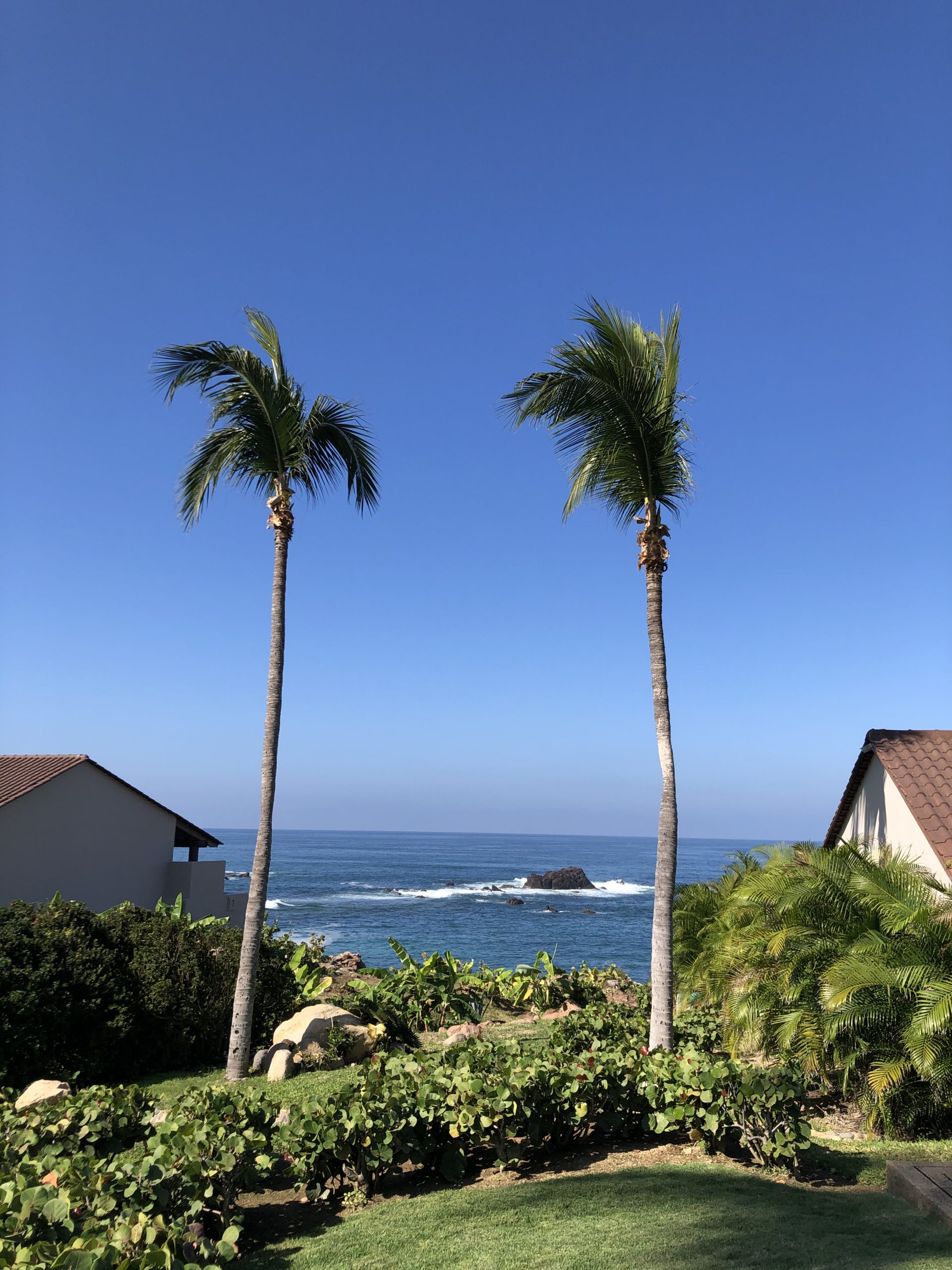 The Oceanfront Casita was true to its name. It isn't unusual for a resort to claim an oceanfront room that is actually not quite 'fronting' the ocean. Anyone who says a hotel room is just a place to rest their head at night, hasn't been to this room.
Our casita was close enough to the sea that I tasted the salt in the air when I stood on the veranda. All that lay between us and the water's edge were a few low-lying desert plants and a lone cactus.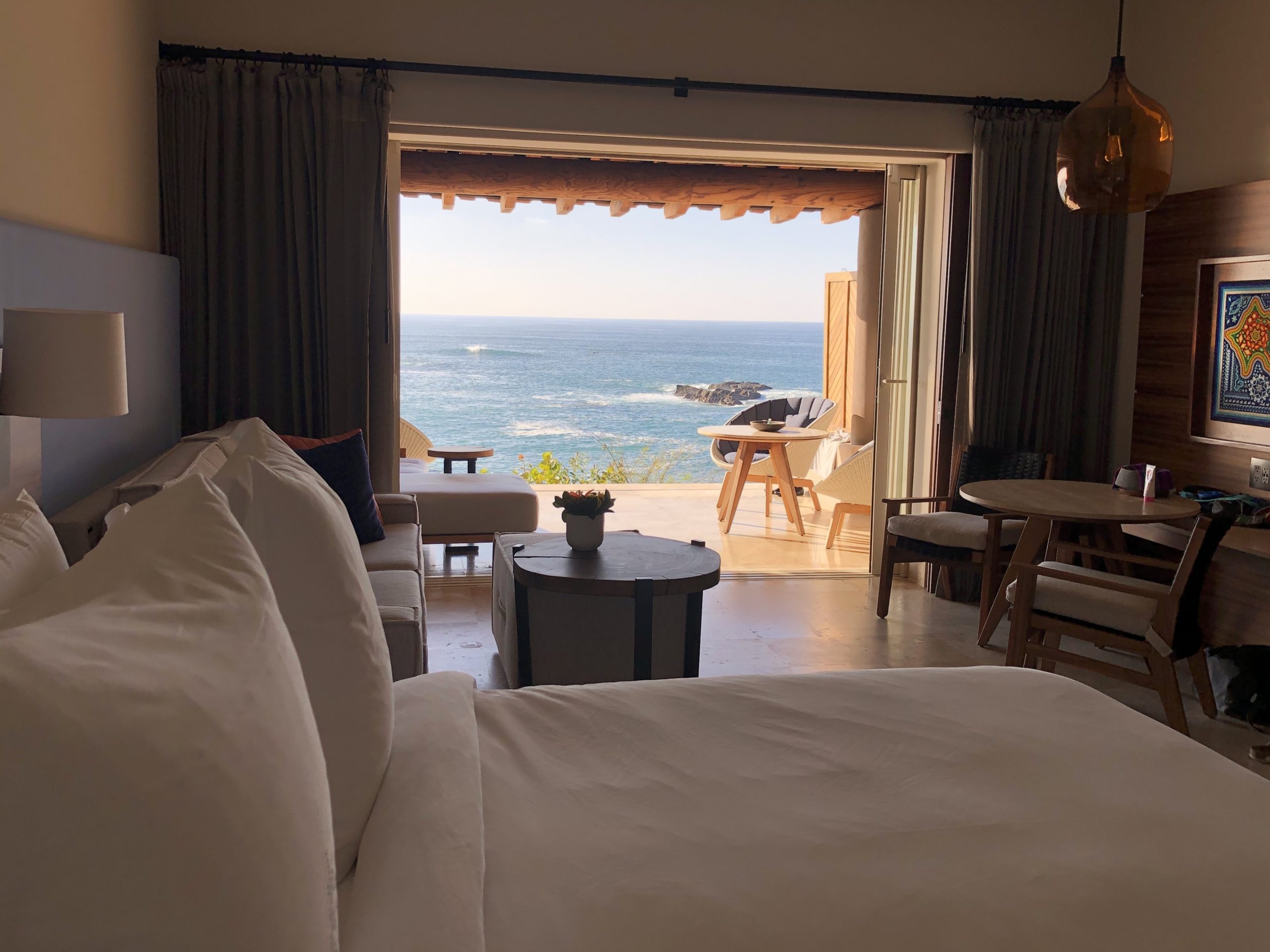 Floor-to-ceiling doors slid open to the outermost edges of the room—a stage welcoming us to the Pacific. The room itself was simple, modern—each piece of furniture arranged to maximize the view. A table filled with homemade chips, guacamole and yet more tequila sat nearby.
A flock of seagulls skimmed the water's surface in front of me, as if on cue from the front desk. An enormous, perfectly placed boulder broke the surface of the water in the near distance. Later that evening, we discovered it lit by spotlight, creating an ethereal shimmer to the otherwise inky, black sea.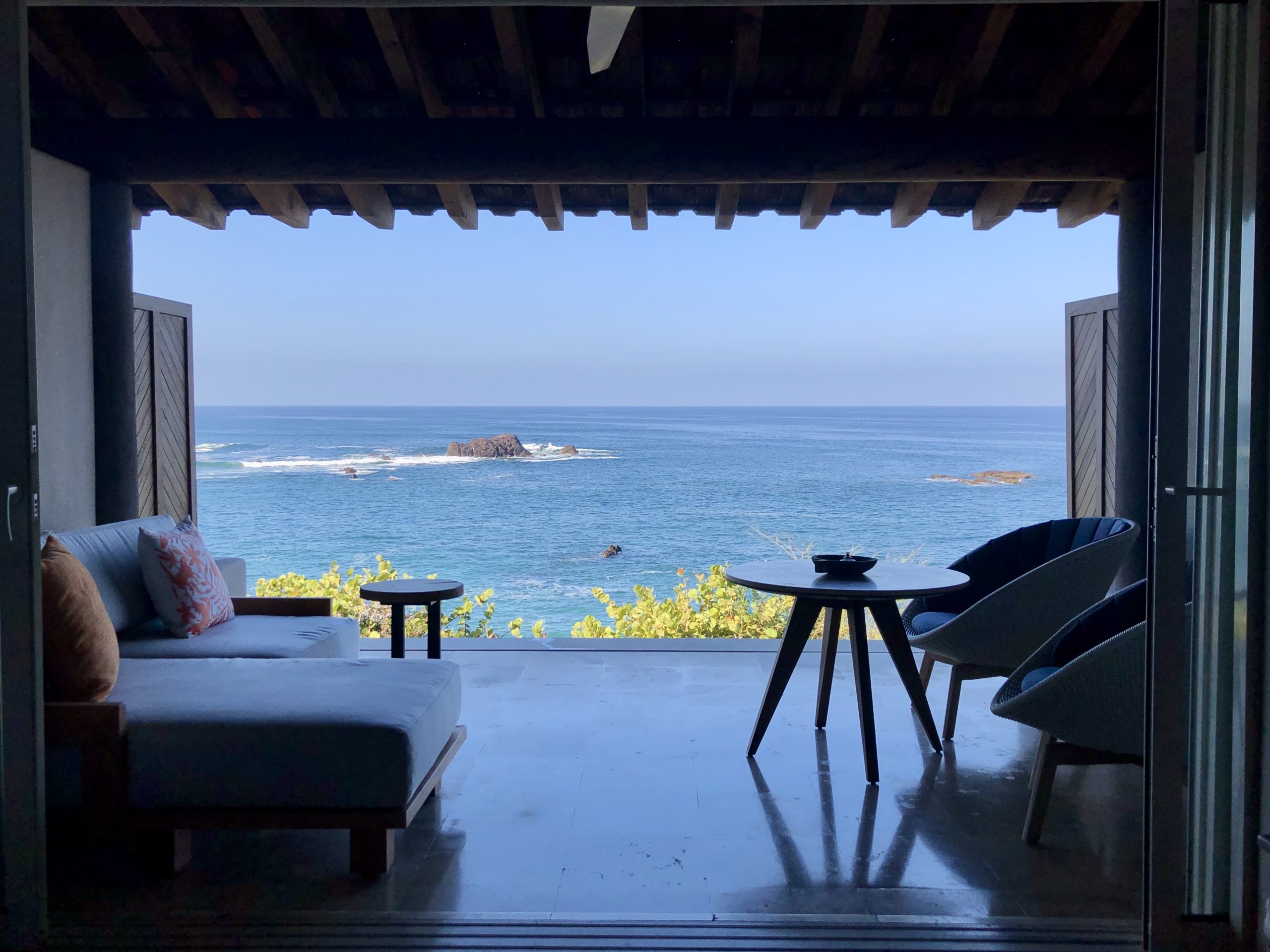 Which was here first, I wondered, the rock or the resort? My money was on the rock, whose starring role at the resort was likely discovered by a group of clever architects.
Start your day with a smize
I am biased towards Mexico. It is a country whose hospitality has welcomed us countless times over the years. Whether a villa vacation, a swanky beach resort, or a wind sports mecca in a sleepy fishing village, Mexico overdelivers. Where is the Mexican hospitality manual hiding, and why won't they share it with the rest of the world?
The main restaurant, Dos Catrinas, opened up towards the Pacific Ocean. Rafael greeted me each morning and caught on to my breakfast routine immediately. A creature of habit, I like to sit leisurely with my first cappuccino, sometimes writing, sometimes watching for whales, always observing and overhearing, before I move on towards anything food related.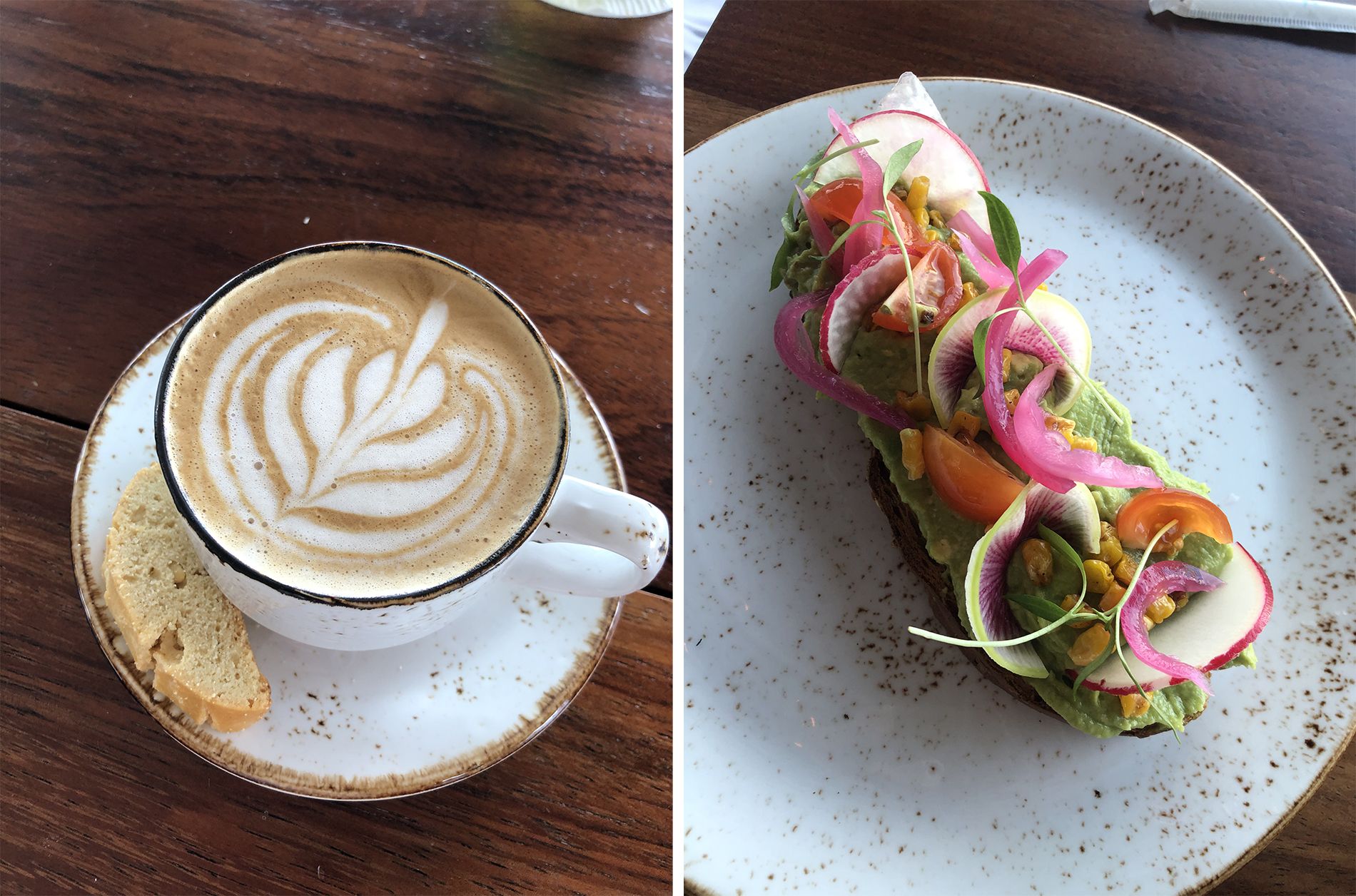 A man at the next table appeared to have a serendipitous encounter with an old acquaintance. Without a trace of irony, he asked, "So, have you had a good year?" I cringed. At another table, I heard a toddler ask her dad, "What's your spirit animal?" What's mine, I thought? Overhearing, a favorite vacation pastime.
Rafael had an endearing way of smiling with his eyes. In our current mask-wearing world, a 'smize', or eye smile, is a thing. Just ask supermodel Tyra Banks who coined the term back in 2009 on her TV series, America's Next Top Model. Rafael nailed the smize—Tyra would have been impressed.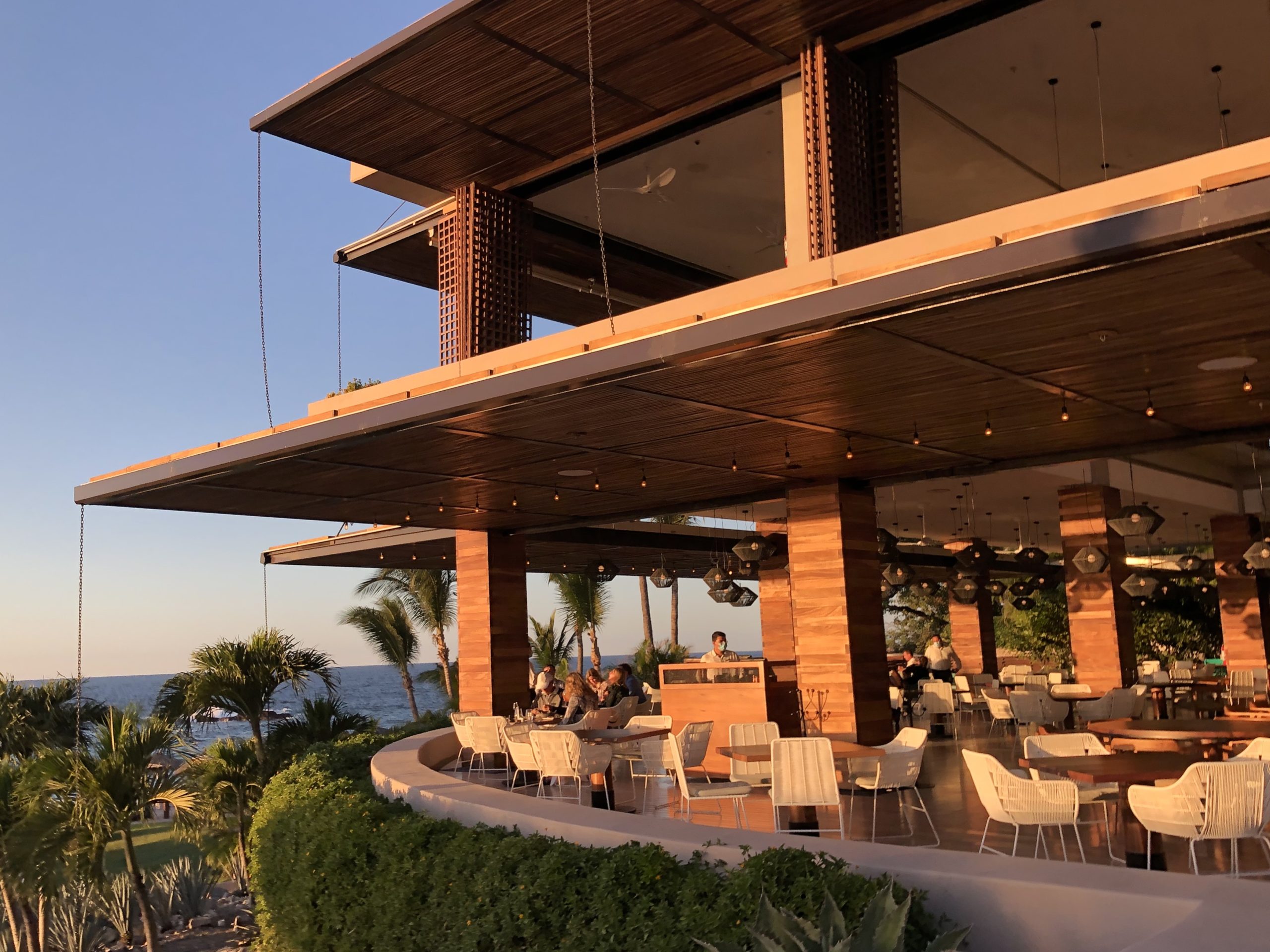 The staff's graciousness was a thread that ran deep and wide throughout the resort. While one could argue that that kind of hospitality is table stakes at a luxury resort (and I agree, it is) somehow, the Four Seasons took it much further. They made a 170+ room resort feel as small and personal as a boutique hotel.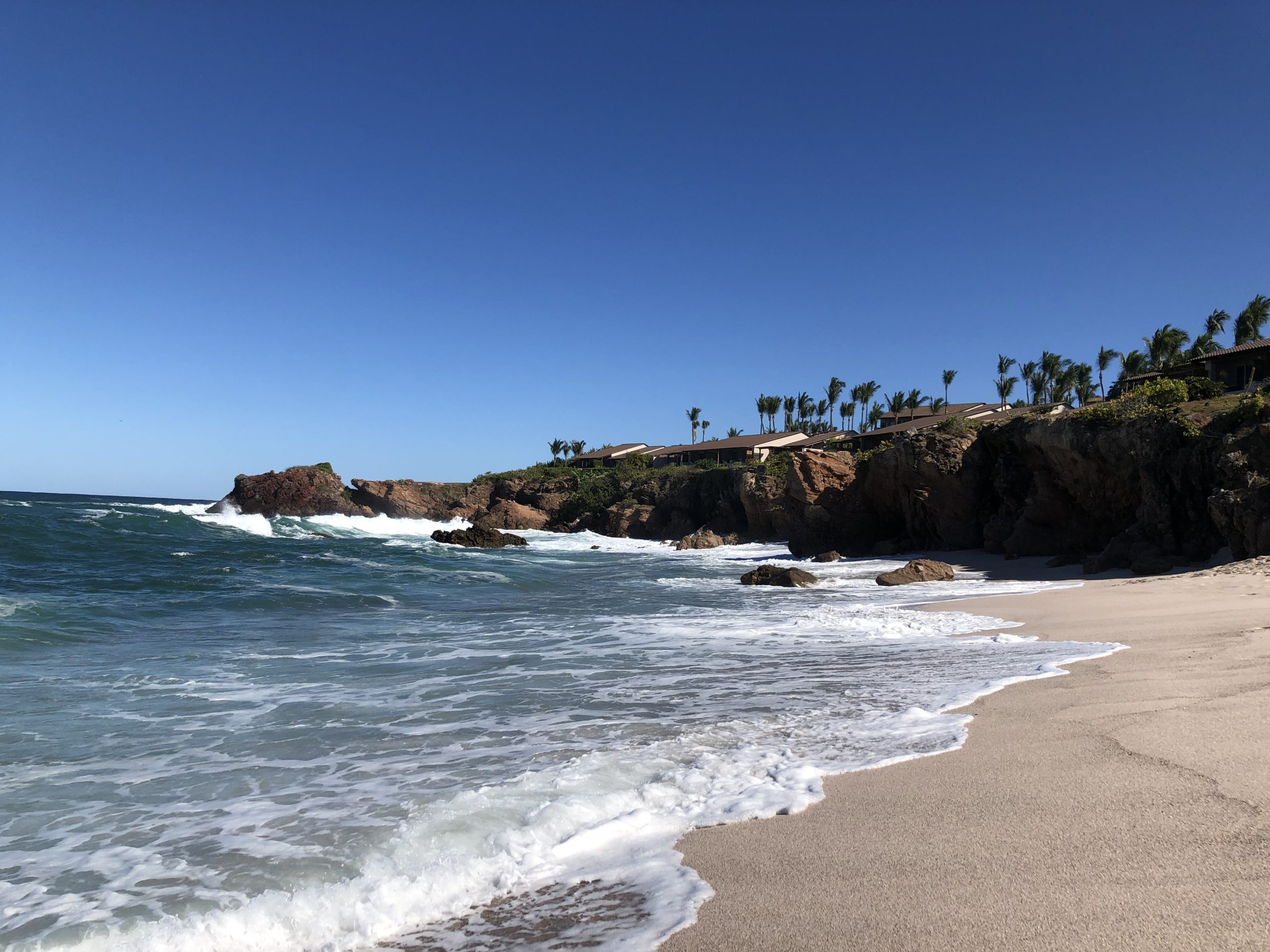 Beaching, the sport
The two, wide crescent beaches that flanked the property equally captured my attention. More naturally placed boulders and rocks jutted out from the sea, and foamy, white waves crashed against them with wild abandon.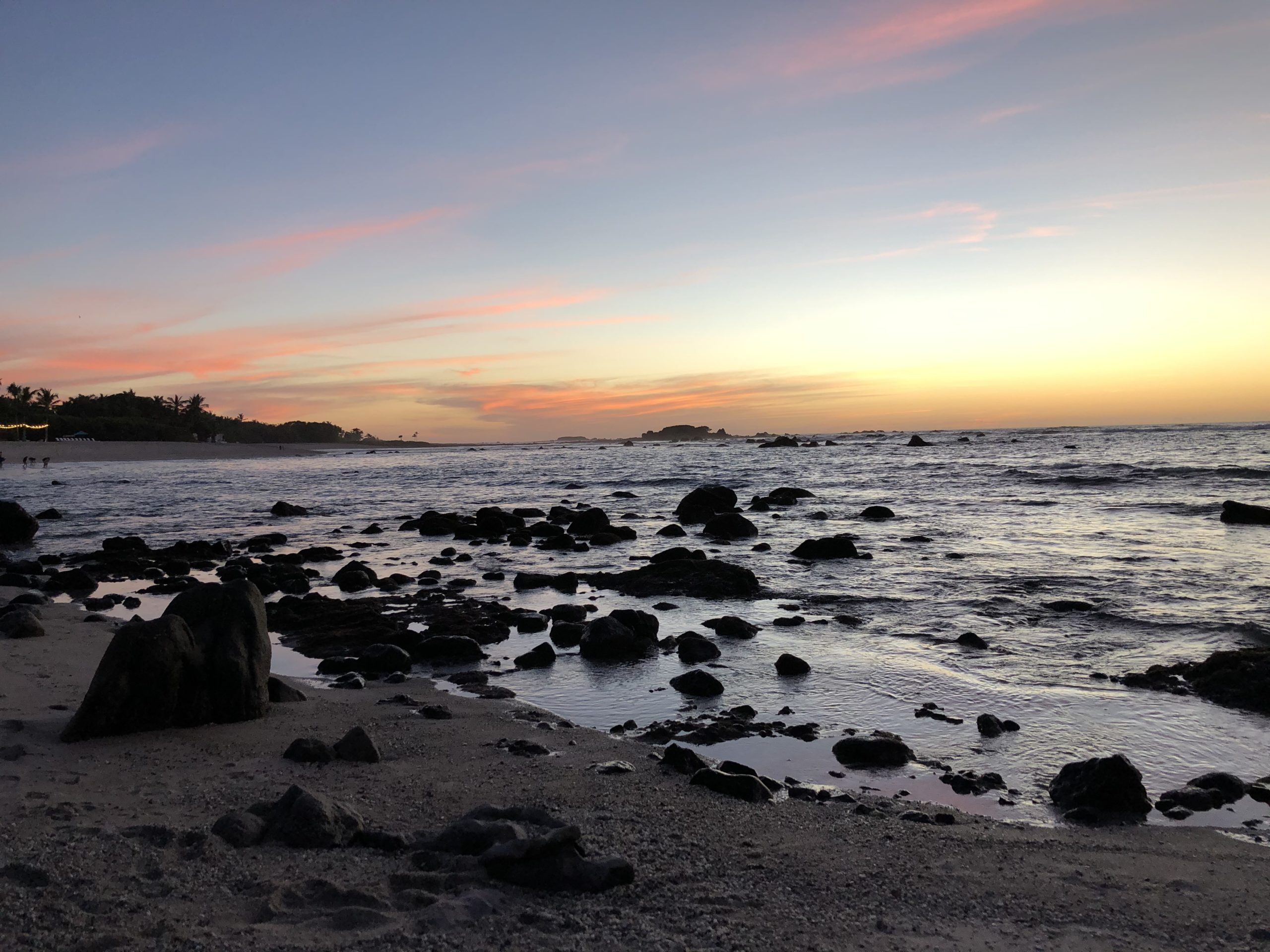 At the start of sunset, when the tide was low, we walked far out into the tidal pools and admired the views of the coastline from afar.
We are beach people, and settled ourselves on loungers under wide, thatched umbrellas each morning. Hours melted away. All meals and drinks were conveniently delivered to us. I looked at my step counter for the day: 26. Yikes.

Food and drinks delivered beachside—standard fare for a high-end resort, you're thinking? Definitely.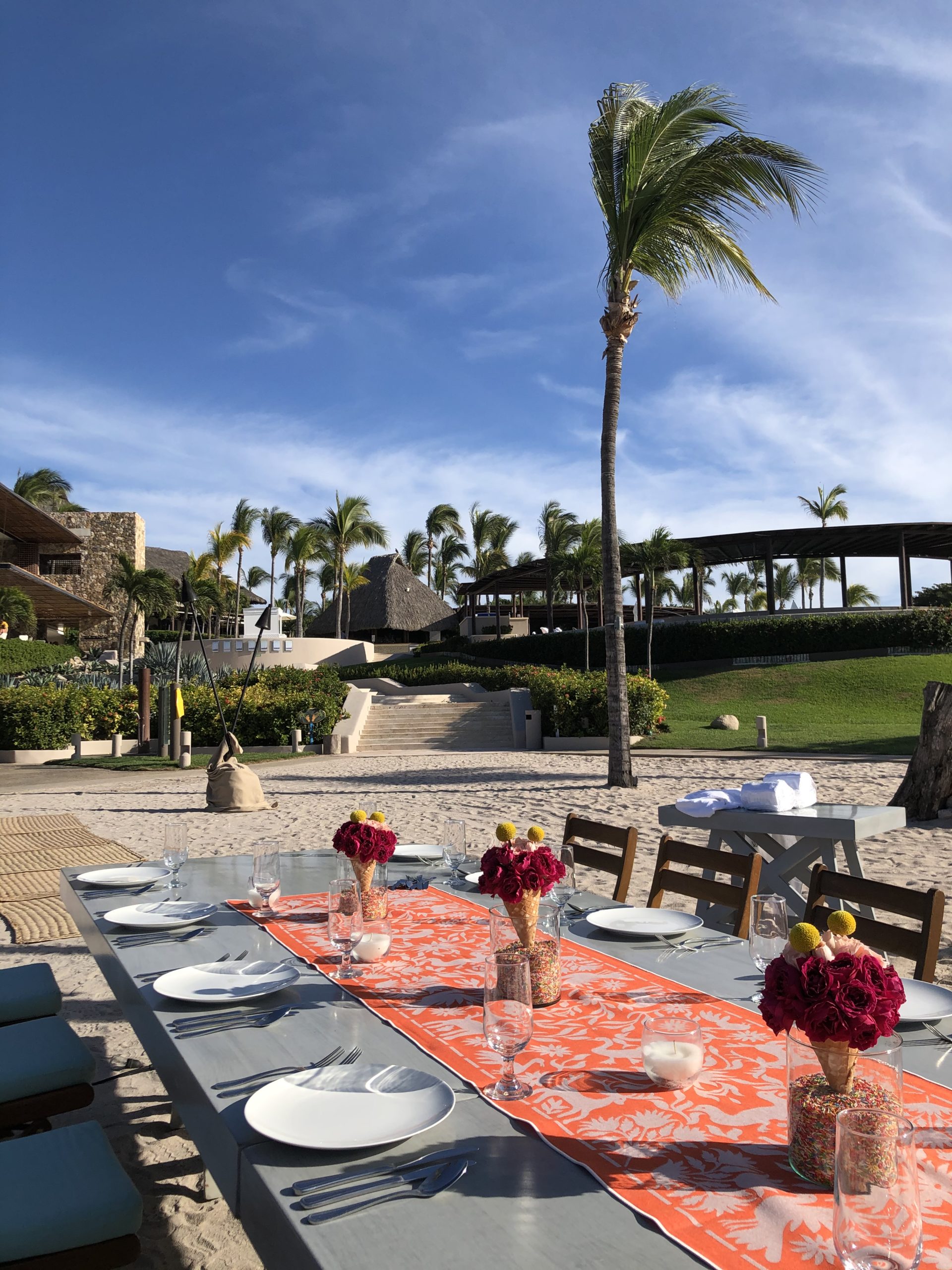 Perhaps less typical, was a pop-up catered birthday party on the sand. Or the roving foot masseuses that could be booked on-demand. A daily 'treat' (ice-pop, fruit, iced drink), was offered each afternoon, along with the resort's ice cream cart that had kids and adults alike lining up.
A sandy taco stand was nestled between the two coastal crescents and served up trios of made-to-order tacos. Home-made pico de gallo topped the pork carnitas and low-key wooden picnic tables made for a lazy, boozy, lunch.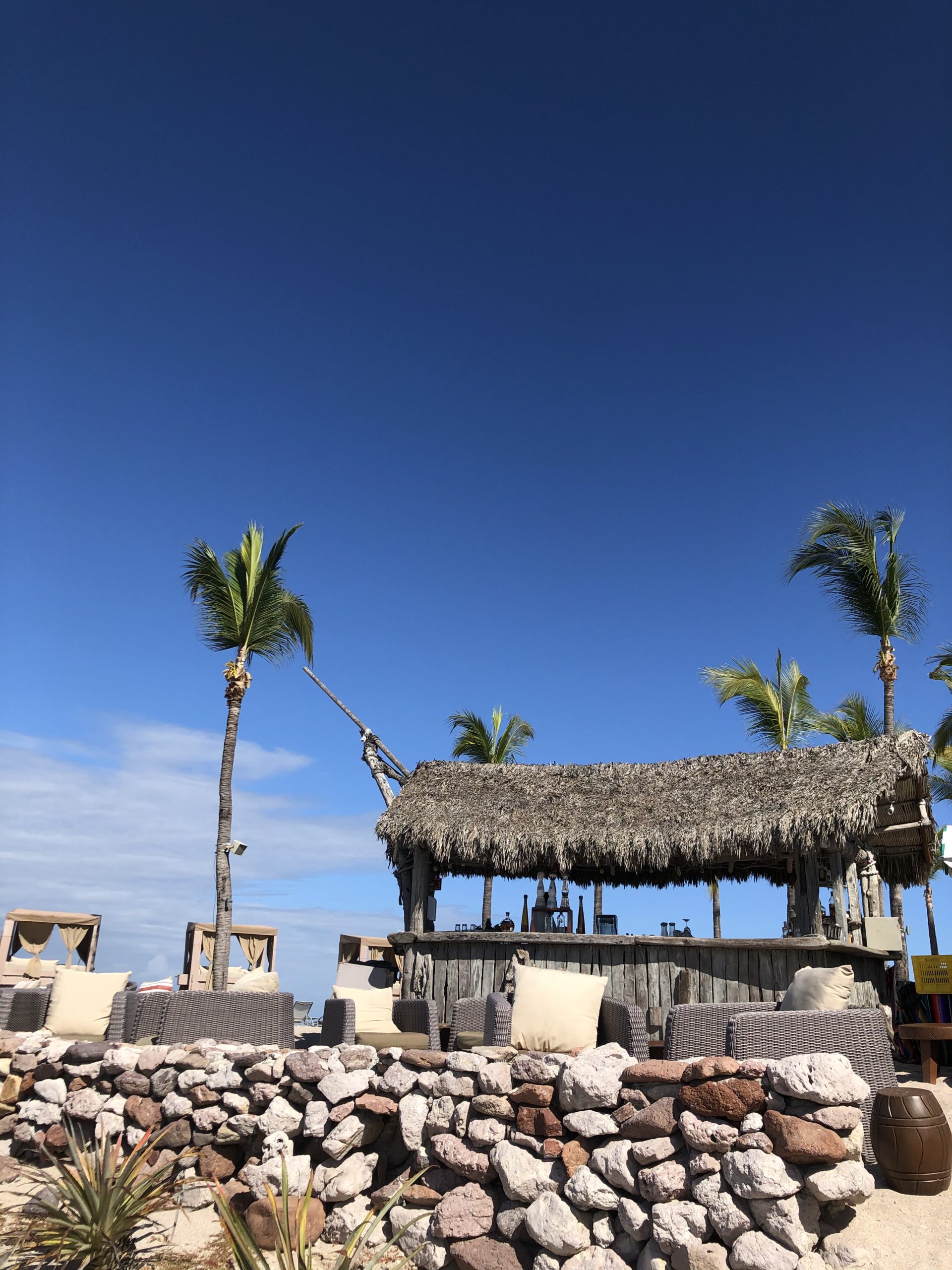 An Evian spritz, and a white, chilled towel, came by just when the sun was at its peak. And although I didn't meet him, the resort had a roaming 'sunglass doctor', for those who may have had an icky smudge on their Maui Jims. Over the top? For sure. Yet, all these perks were somehow delivered in an unobtrusive, dare I say, understated way.
The most clever beach amenity, however, was not on the beach. Two regal resident hawks swiftly flew overhead throughout the day. Originally, I assumed the hawks and their falconer were there as entertainment for the kids.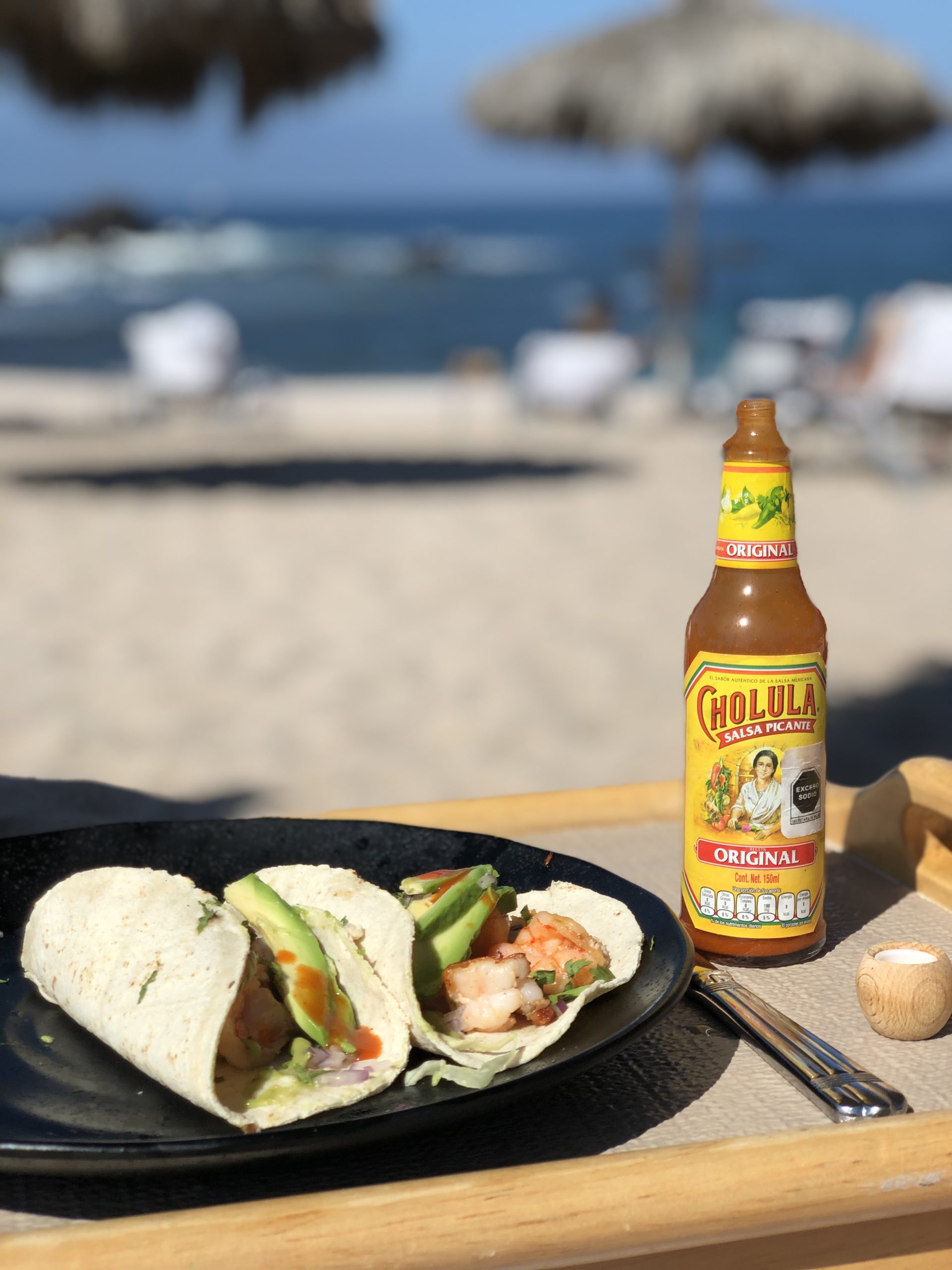 In fact, they were there to scare away greedy crows and any other birds that attempted to steal a guest's guacamole when they were otherwise snoozing or deep into the latest Kristin Hannah novel. A natural way to eradicate a simple nuisance. Novel, indeed!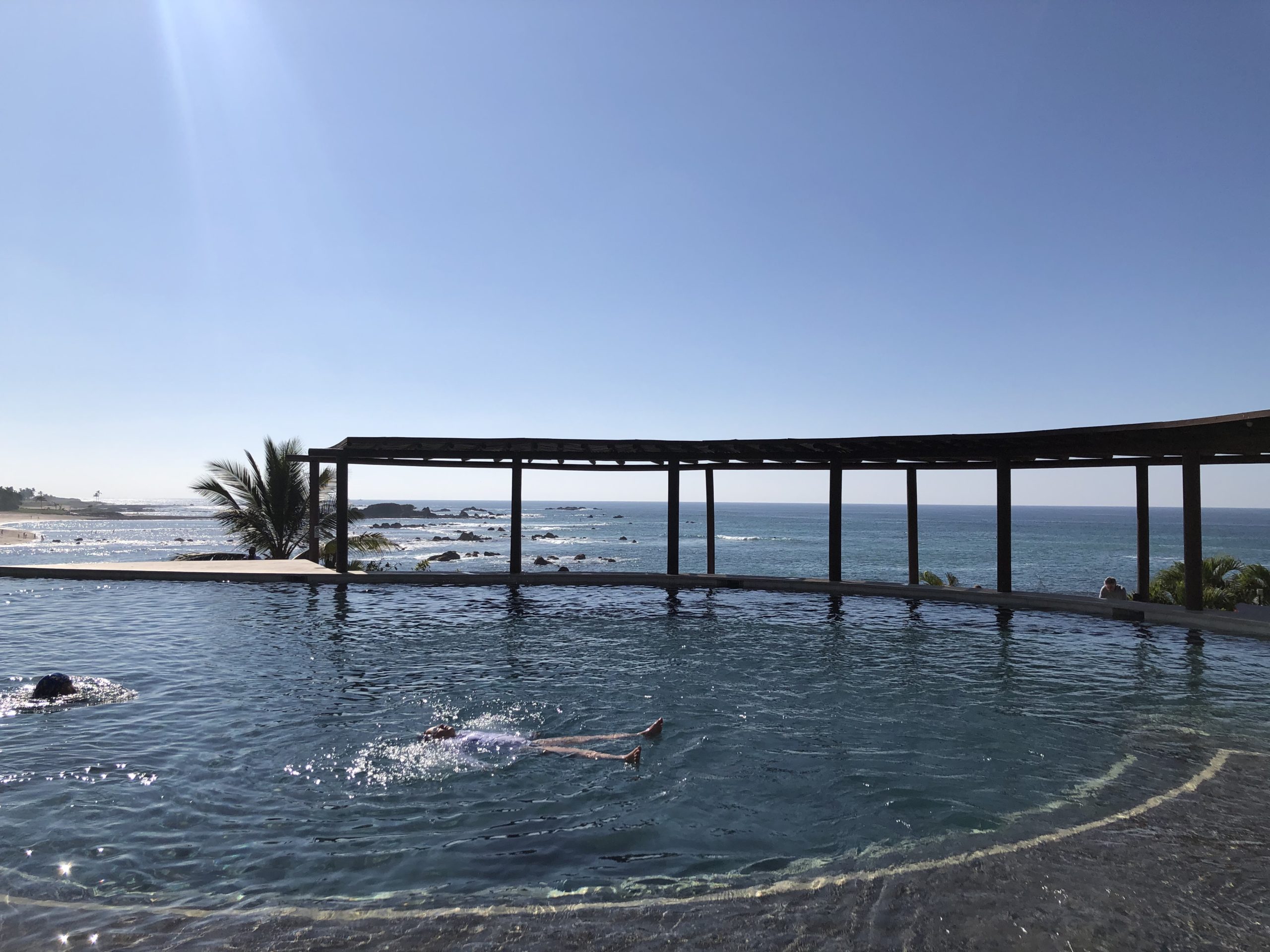 Insta-pooling
I'd be remiss if I didn't mention Nuna, the resort's stunningly designed infinity-edged pool. Nuna could have had its own Instagram account, and perhaps it does. By day, its glassy surface mirrored the tall palms and the clouds above. At sunset, it reflected the prismatic patterns of orange, red, and purple that took over the sky.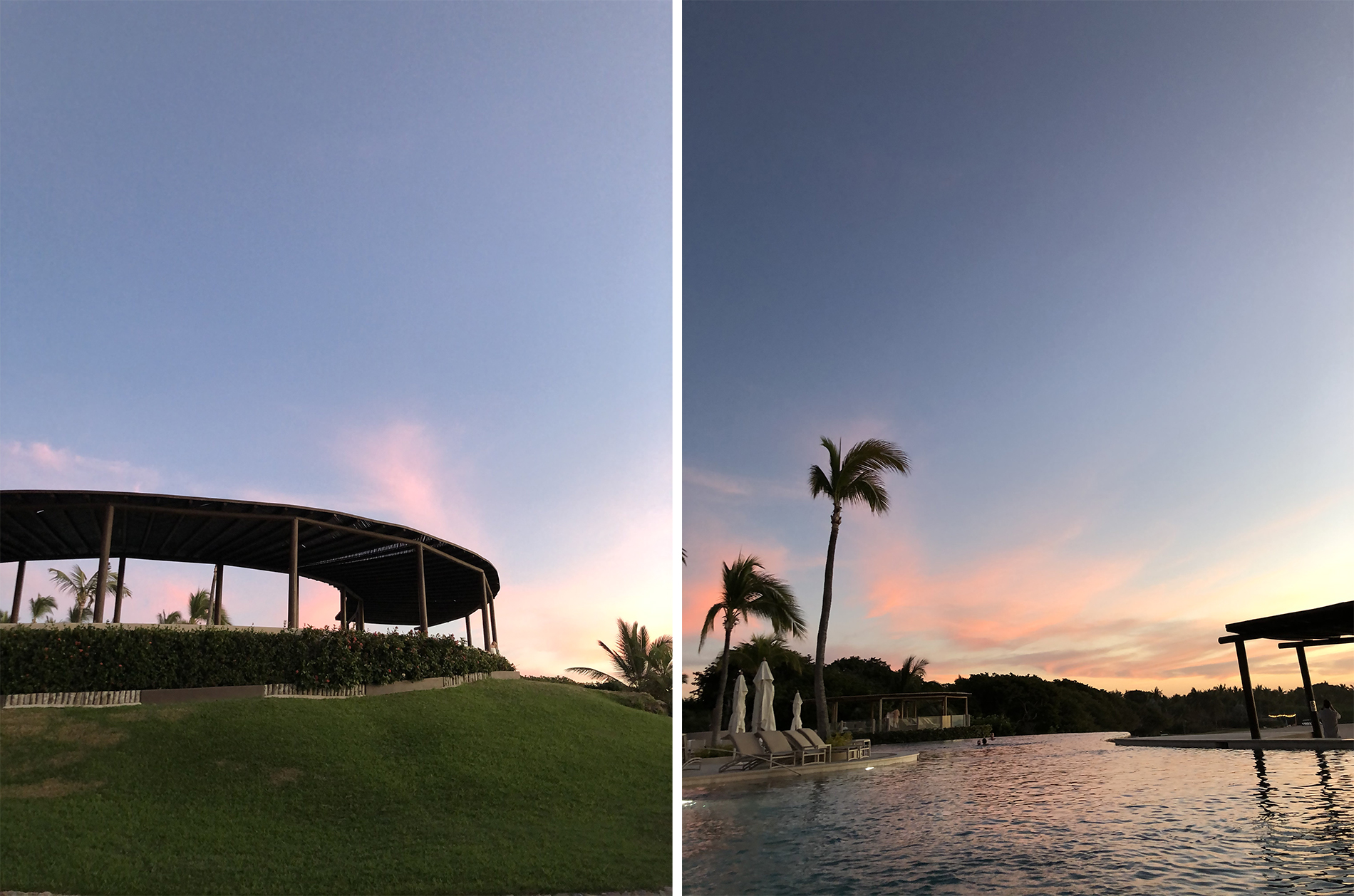 The pool was a showstopper. Even the semicircular shaded awning, for those who prefer less sun, was photo worthy. Uniquely designed, guests could enjoy both the pool and its views over the ocean, simultaneously.
We lost our younger kids to the lazy river for a few hours each day. I tend to associate a lazy river with an opulent, over-the-top, behemoth of a hotel on an island in the Atlantic. The Four Seasons interpretation was tasteful and nestled deeply enough into the resort where one might miss it if unaware of its presence.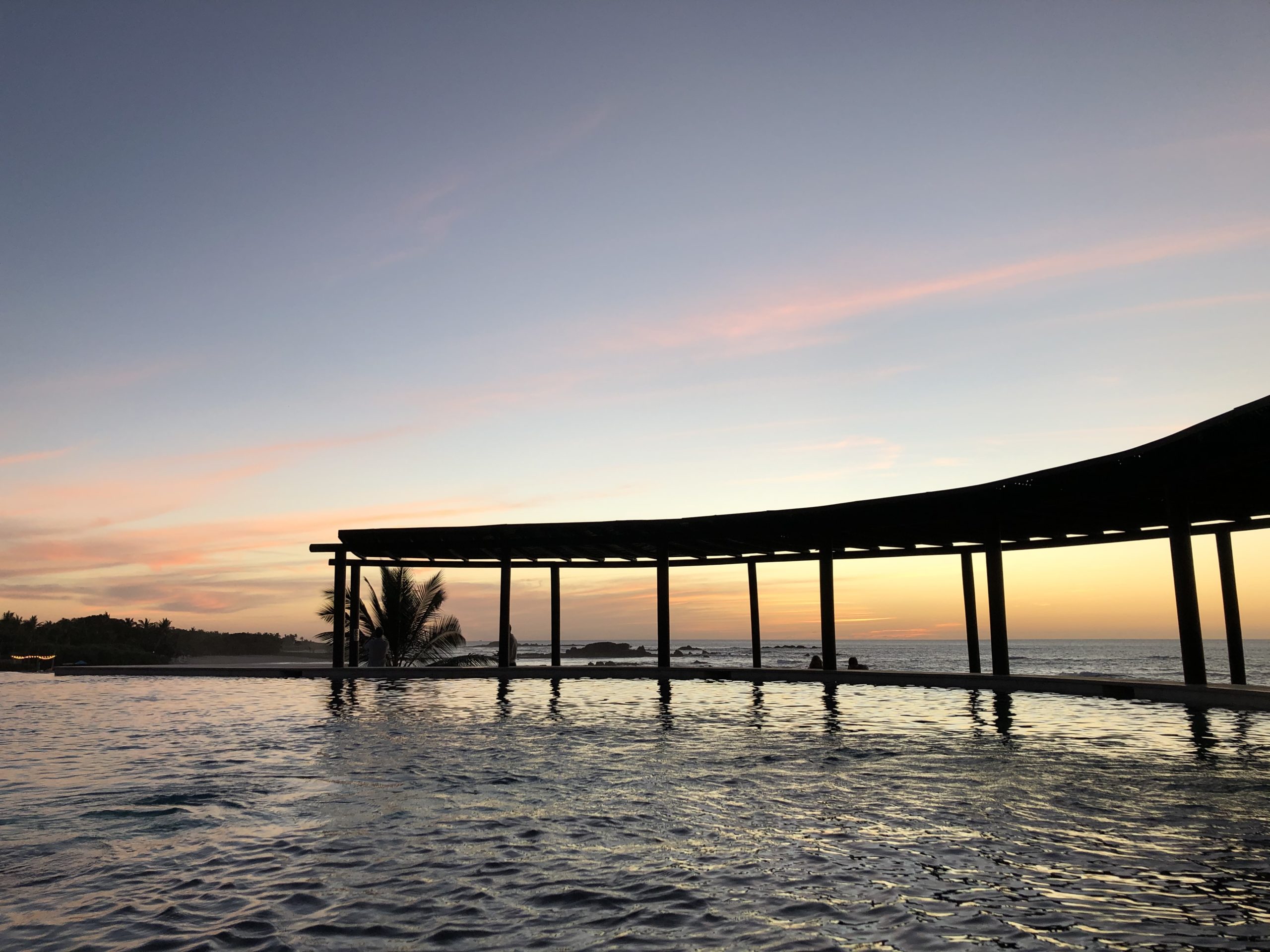 The lazy river, combined with a large game room (ping pong, air hockey, and about a dozen large, flat-screen, Playstations), made the resort kid-friendly without being kid-centric. The game room was also an ideal way to protect them from the sun's midday rays for a bit. Win, win.
Wildlife, if you know where to look
Diego, one of the many personable waiters, told me that whales usually passed by the resort between 3-4pm, on their way from Puerto Vallarta. I didn't doubt Diego, but only hoped the whales were punctual, as I was excited to enjoy the whale procession with my afternoon latte.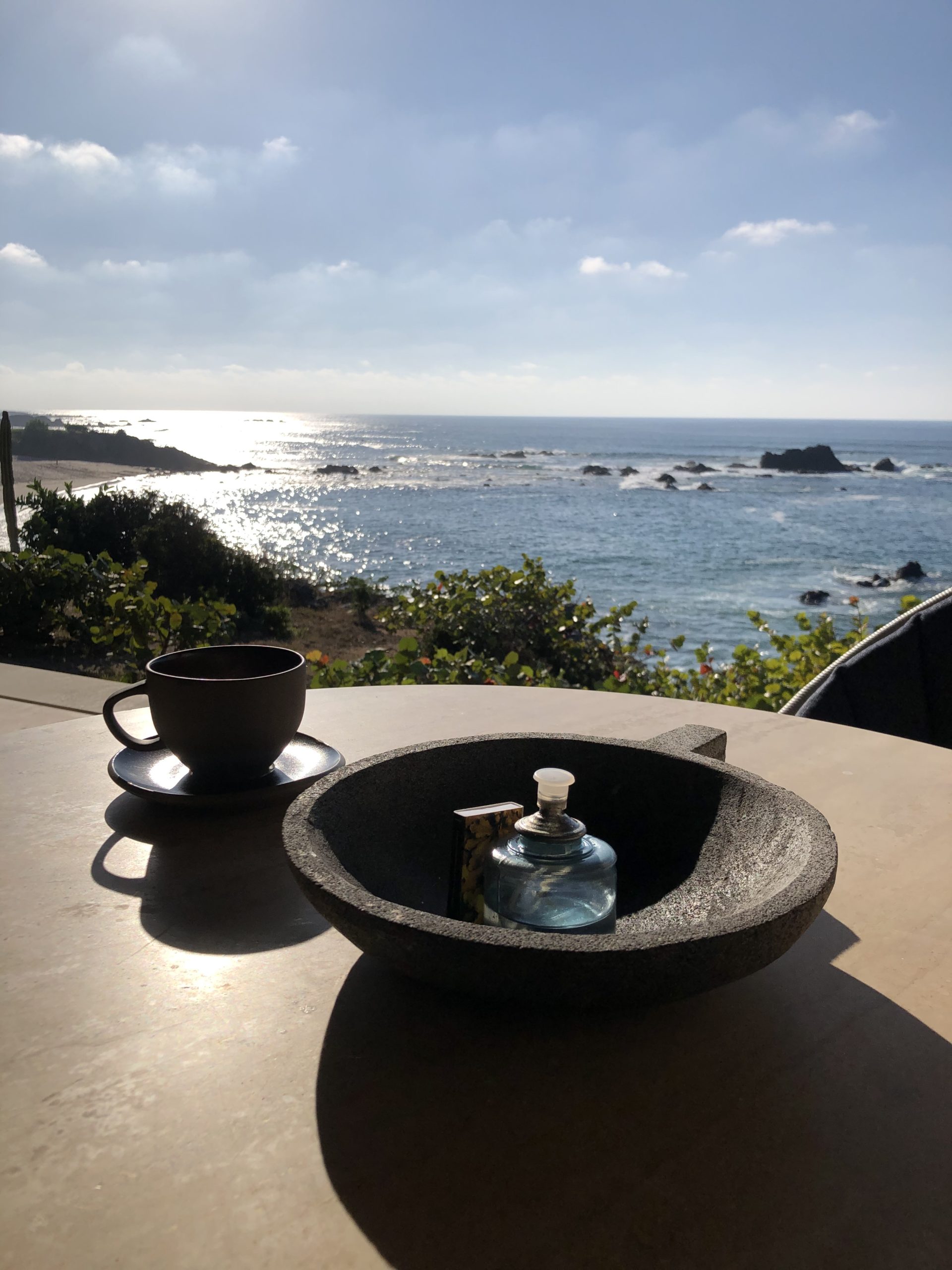 Whale watching has always been one of my favorite sports in Mexico. I only wish it burned more calories.
As it turns out, the whales were in good form that week, maybe celebrating the end of 2020 with the same enthusiasm that we were. My binoculars were constantly scanning the sea for the tell-tale ocean spray. A clue that a whale will soon break the surface for air.
Later in the evening, dozens of baby sea turtles were released into the Pacific, their tiny flippers pushing through the sand. Shallow waves knocked them off balance for a moment while they once again found their bearings.
It was impossible not to root for them as they blindly struggled to reach the sea. Mother Nature in all her glory.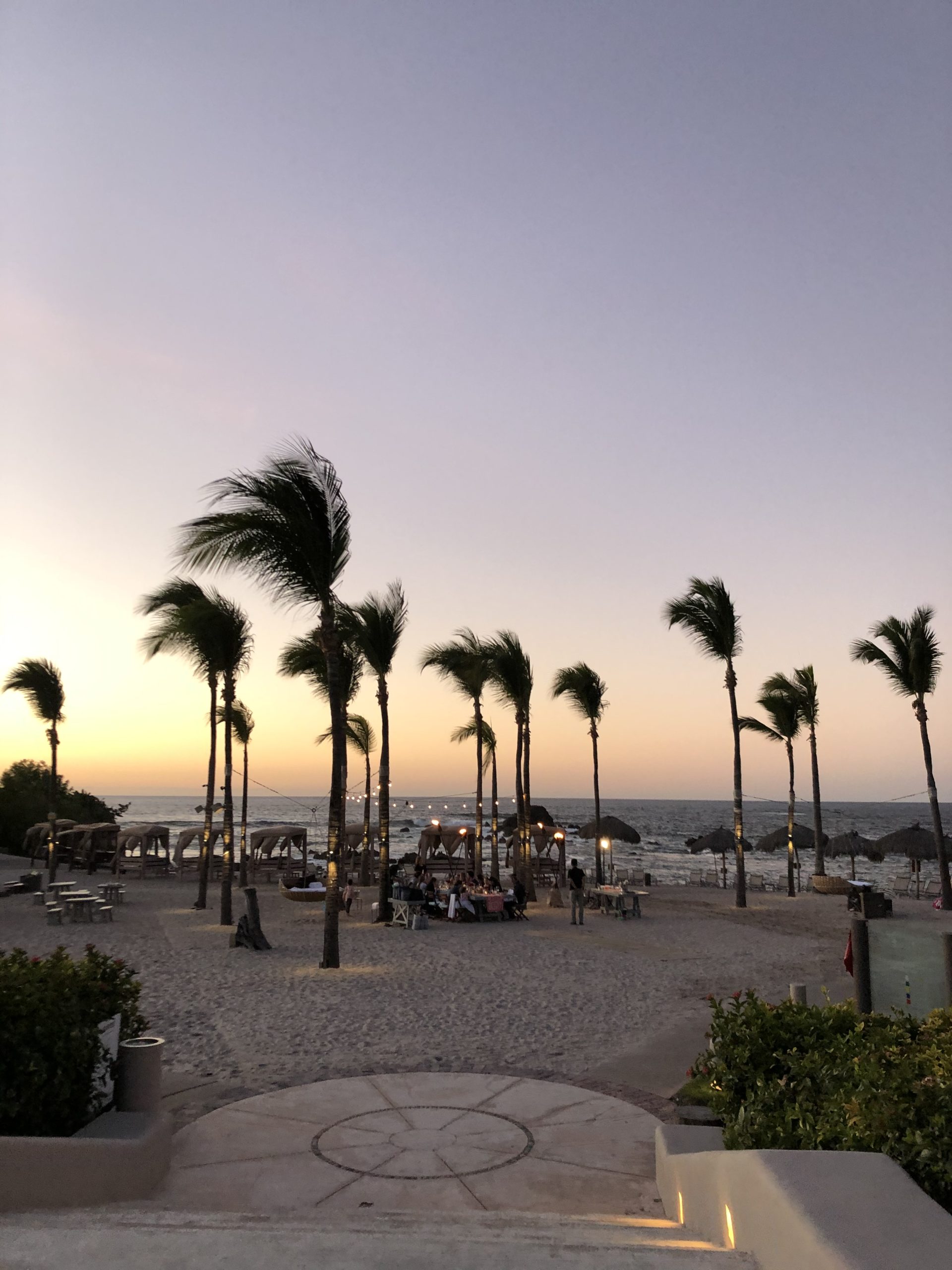 Nothing is perfect
I am reluctant to use the word 'perfect' in travel writing. Perfect has a ceiling. It doesn't allow room for improvement—and who doesn't have room to improve? Here, I've used "perfect" in order to question the perception of perfection; to think about my own ideals and needs.
Time, as my Soul Cycle instructor, Tanysha, proclaims, is one thing we can never get back. There is a time and place for adventure, and a time and place for pure luxury, both tangible and intangible.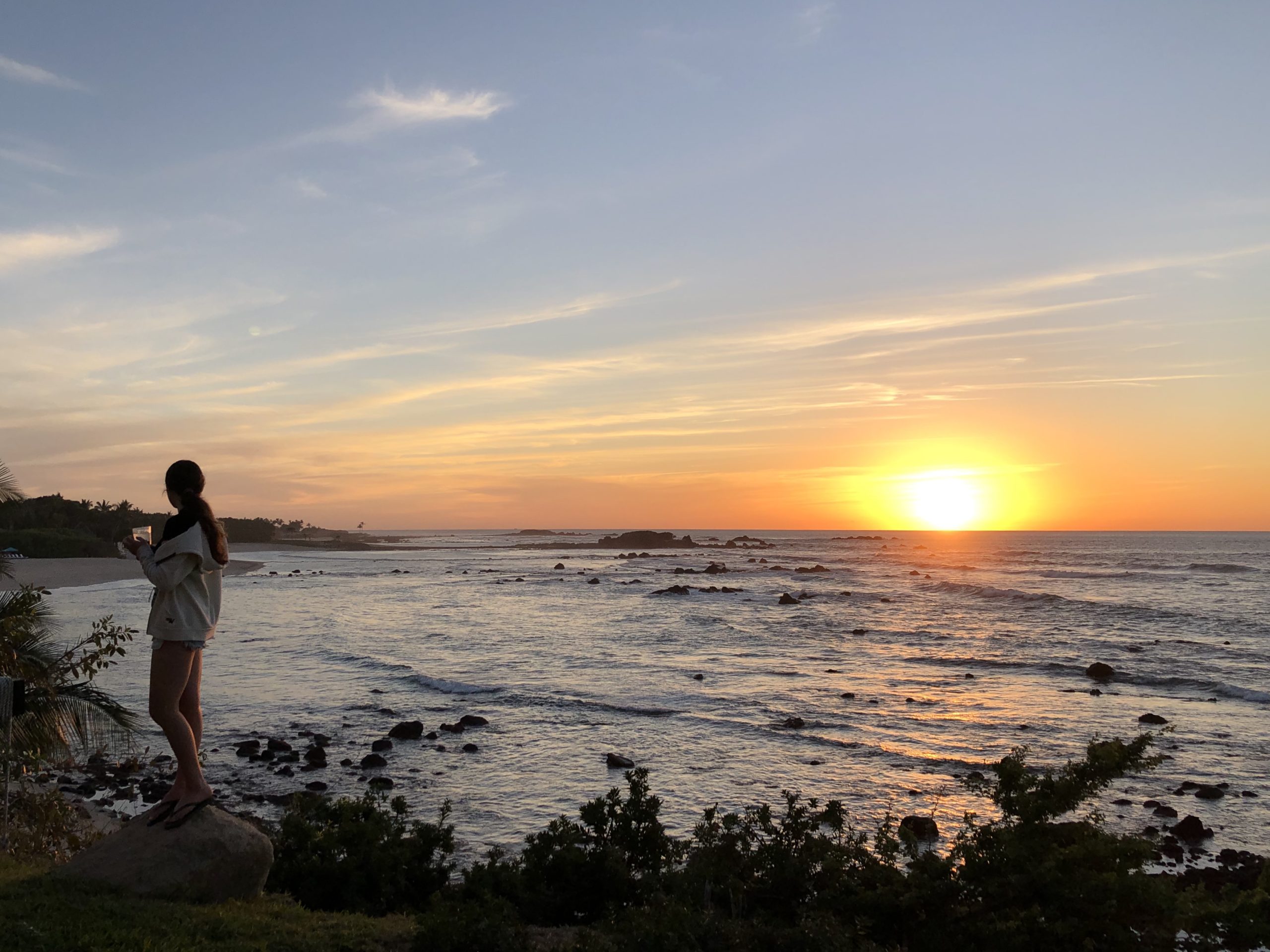 The Four Seasons Punta Mita might, in some ways, be considered a 'typical' luxury beach resort. Yet, it found atypical ways to push the envelope in new travel expectations (with a little help from Mother Nature). Some might even say, perfect.
*******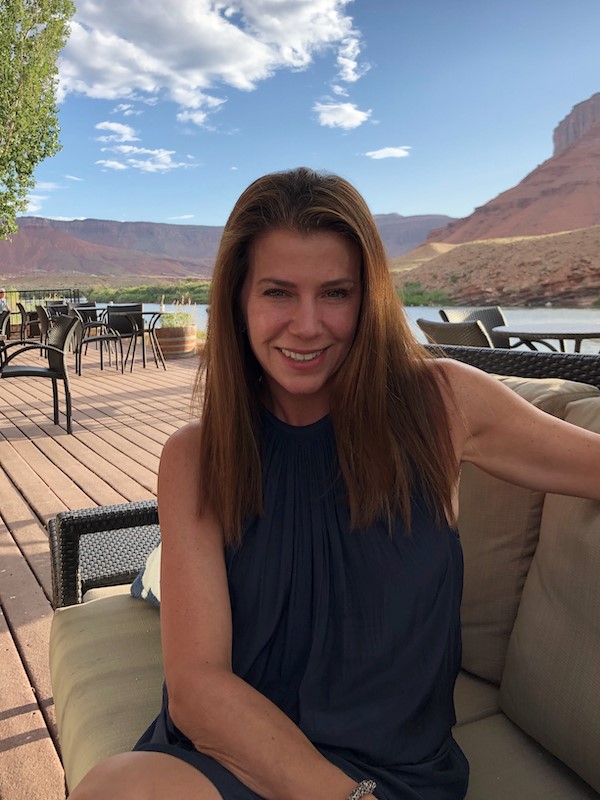 Jamie Edwards is an avid traveler, travel writer, and photographer. She launched I am Lost and Found, her adventure/luxury travel website after 25 years of living and traveling around the globe. Jamie's goal is simple: to inspire travel. Keep up with Jamie's adventures in travel here.
CIRE Travel is a full-service travel agency headquartered in New York, NY. Our expert team supports clients across the country and around the world.
---
Where in the World Do You Want to Go?
Inspired to plan your next weekend getaway, vacation or trip of a lifetime? See that form below? That's all it takes to begin your next epic travel story.