by Eric Hrubant
I am wild about Willamette Valley, Oregon. Early pioneers traveled on the Oregon Trail for months before discovering the perpetually green forests, ever-changing multi-colored meadows and the expansive fertile valley perfect for planting vineyards. Today Willamette (pronounced wuh·LA·muht) Valley is Oregon's largest and most important wine-growing region. Come experience the luxury, the fabulous cuisine, and the first-class wine in this stunning region of the Pacific Northwest.
The Allison Inn & Spa
The Allison Inn & Spa is tucked away in Oregon's Willamette Valley foothills approximately 45 minutes south of Portland, Oregon. Views from the resort feature snow-capped mountains, colorful vineyards, and rich farmland. Tantalize your taste buds at JORY restaurant and indulge your senses with a signature treatment at the spa. Take time to savor your overnight accommodations by reading a book or sipping a glass of local wine on your private balcony or by the fireplace in your luxurious room or suite.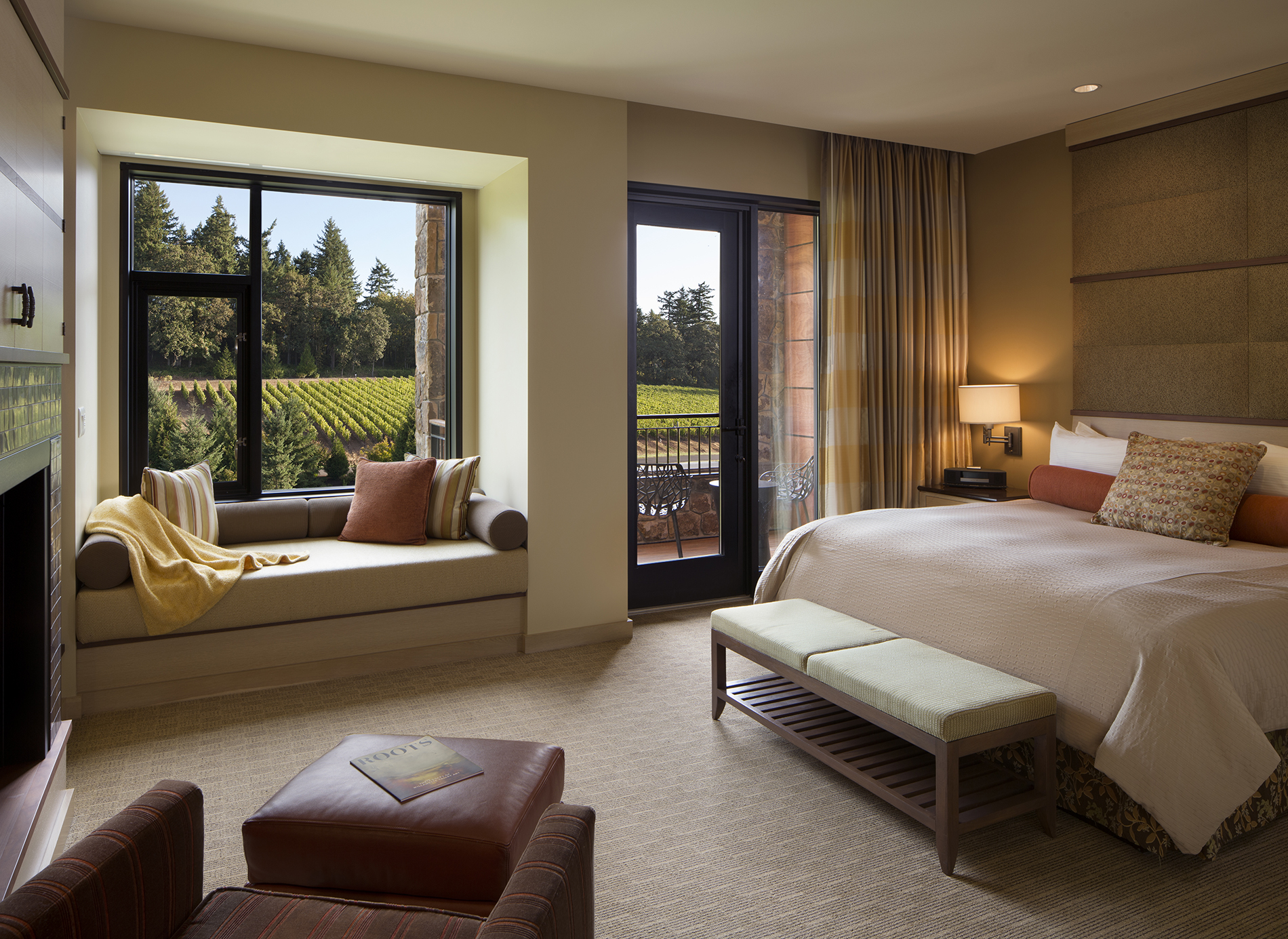 Well-appointed furnishings, handcrafted Oregon wood details and stunning artwork give The Allison a timeless, welcoming and contemporary feel. The Inn's design incorporates indigenous wood, natural stone, copper accents, steel and glass, and the same attention to detail is found on the grounds outside.
The Allison's late owner and philanthropist, Joan Austin, had a particular vision for the Art at The Allison collection before passing away. Her daughter, Loni Parrish, curated more than 500 original art pieces from 100 local artists in Oregon. The art is integrated into the Inn's design and found in guest rooms, hallways, and outside paths. There are many elegant and modern pieces and some that are just plain fun like the Boys Night Out sculpture. Wander the 32 acres of pristine walking trails that wind throughout the property showcasing the open-air art gallery, magnificent flower and herb gardens, groves of trees and carefully cultivated vineyards.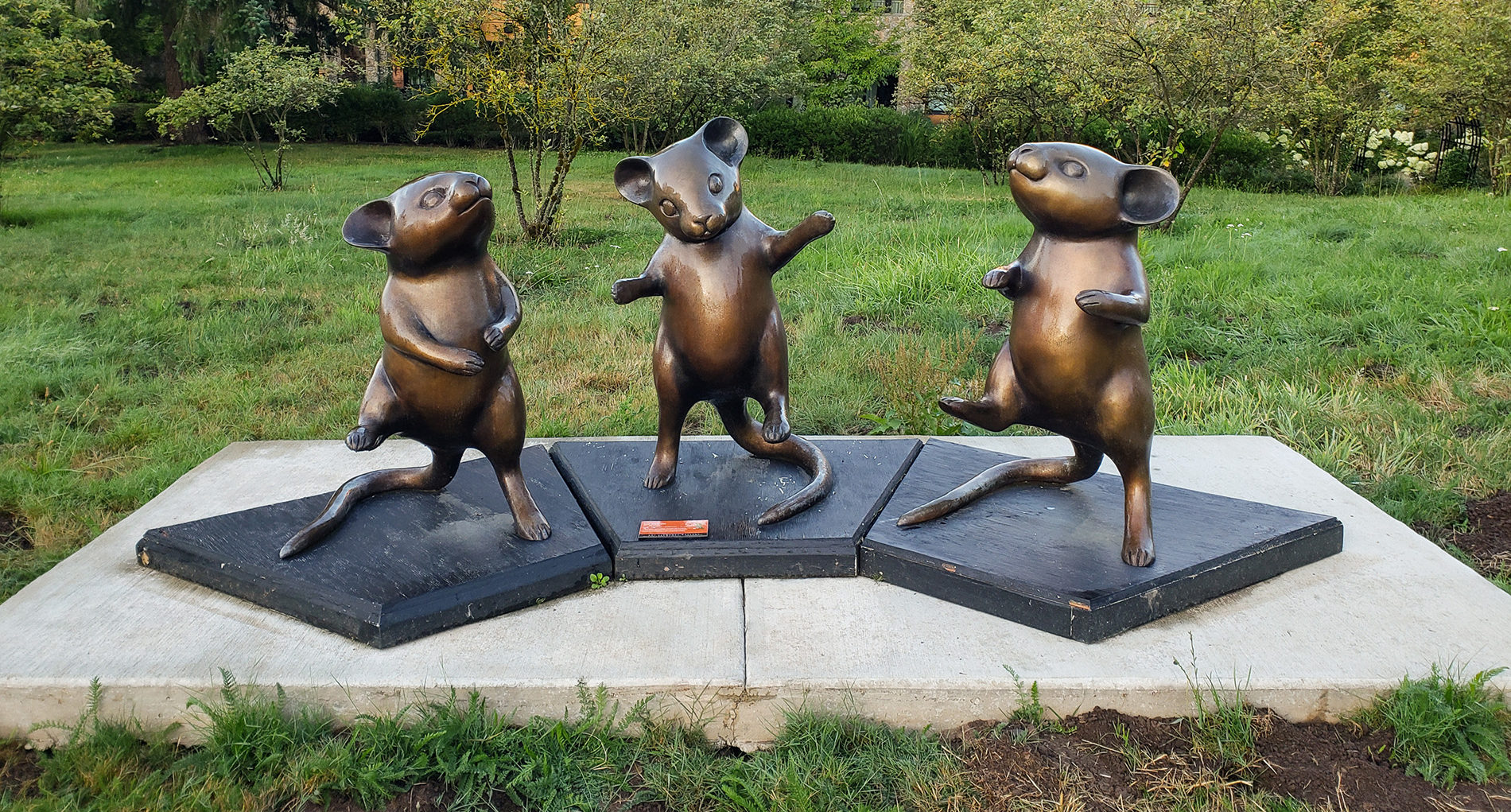 When visiting The Allison, indulge in luscious wine from the resort's extensive wine list—one of the most wide-ranging in the local area and the Pacific Northwest. Don't miss the complimentary wine tasting on Thursday nights and live jazz music on most Friday and Saturday evenings.
The Allison Inn & Spa is LEED Gold certified. Treatments at the spa are top-notch. During the Inn's construction, mature trees and gardens were imported to increase the net agricultural gain, ensuring that more trees and vegetation were brought in to compensate for the plants lost during construction.
Dining in the Valley
The Painted Lady
Executive Chef Allen Routt and Jessica Bagley fell in love with Newberg, Oregon, back in 2005. The couple transformed a charming Victorian restaurant into a fine dining destination, The Painted Lady. People worldwide come to savor their delicious cuisine and to taste the incredible wines from their collection curated from more than 200 wineries in the Willamette Valley.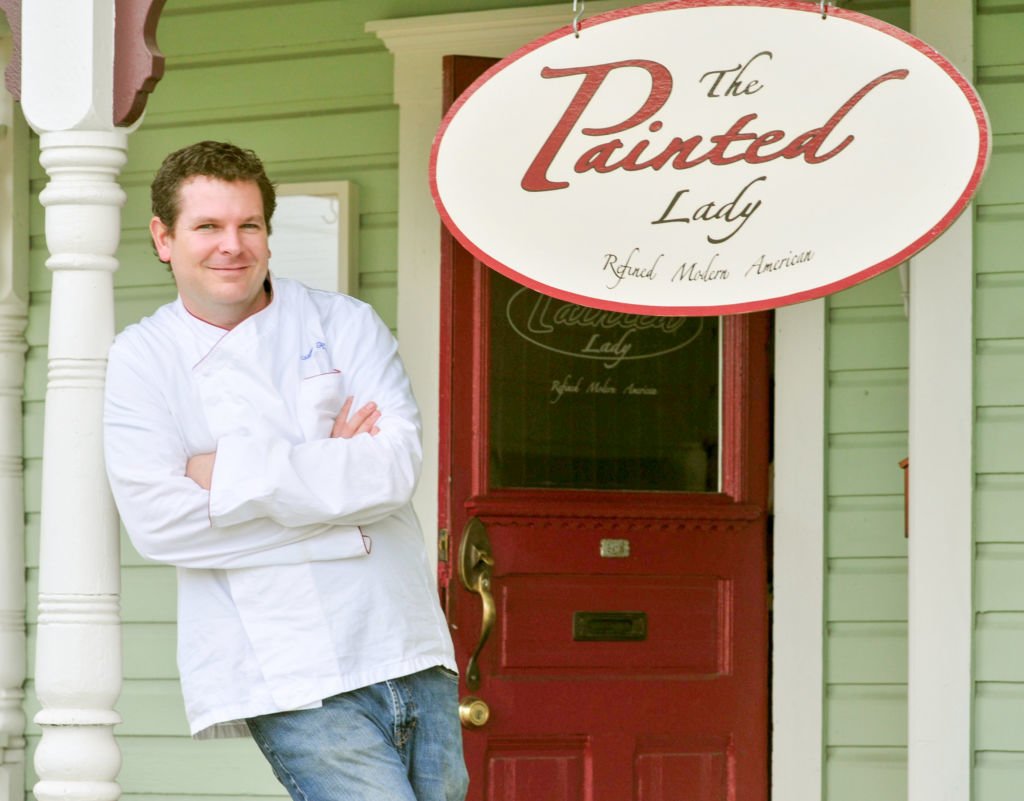 Allen and his wife Jessica use their creativity to design edible works of art. You can order individual dishes, but I highly recommend the nine-course tasting menu paired with their selection of wines. The menu changes year-round depending on what is available each season. Certain items remain on the menu for an extended time, while others are changed weekly or monthly. Allen and Jessica have built an exceptional establishment. Allen said, "We wanted to design a place where people enjoy an elegant evening out, get dressed up, and can still share the occasion with their children—a place with a nurturing environment where guests are still surprised with the cuisine."
Chef Allen purchases products locally whenever possible, but sometimes it's necessary to source outside the area for specific items. A favorite on the menu is the silky Miso Custard baked in the bottom of a specially crafted serving bowl sculpted by a local potter. The custard is topped with fresh Dungeness crab and garnished with sesame powder, mushrooms, pickled onions, sesame seeds and daikon radish for texture.
Frankie's
Chef Cody Utzman, a winner on the culinary show Chopped, opened Frankie's because he wanted to create a farm-to-table restaurant that provided a family-friendly, fine-dining experience in Albany, Oregon. After six years, Cody sold Frankie's to his bartender Kevin Fujikawa. Kevin continues to provide meals using locally grown products hoping to strengthen the relationship between the people in the community and the food they eat. The current executive chef, Nichol Bate, trained under Cody.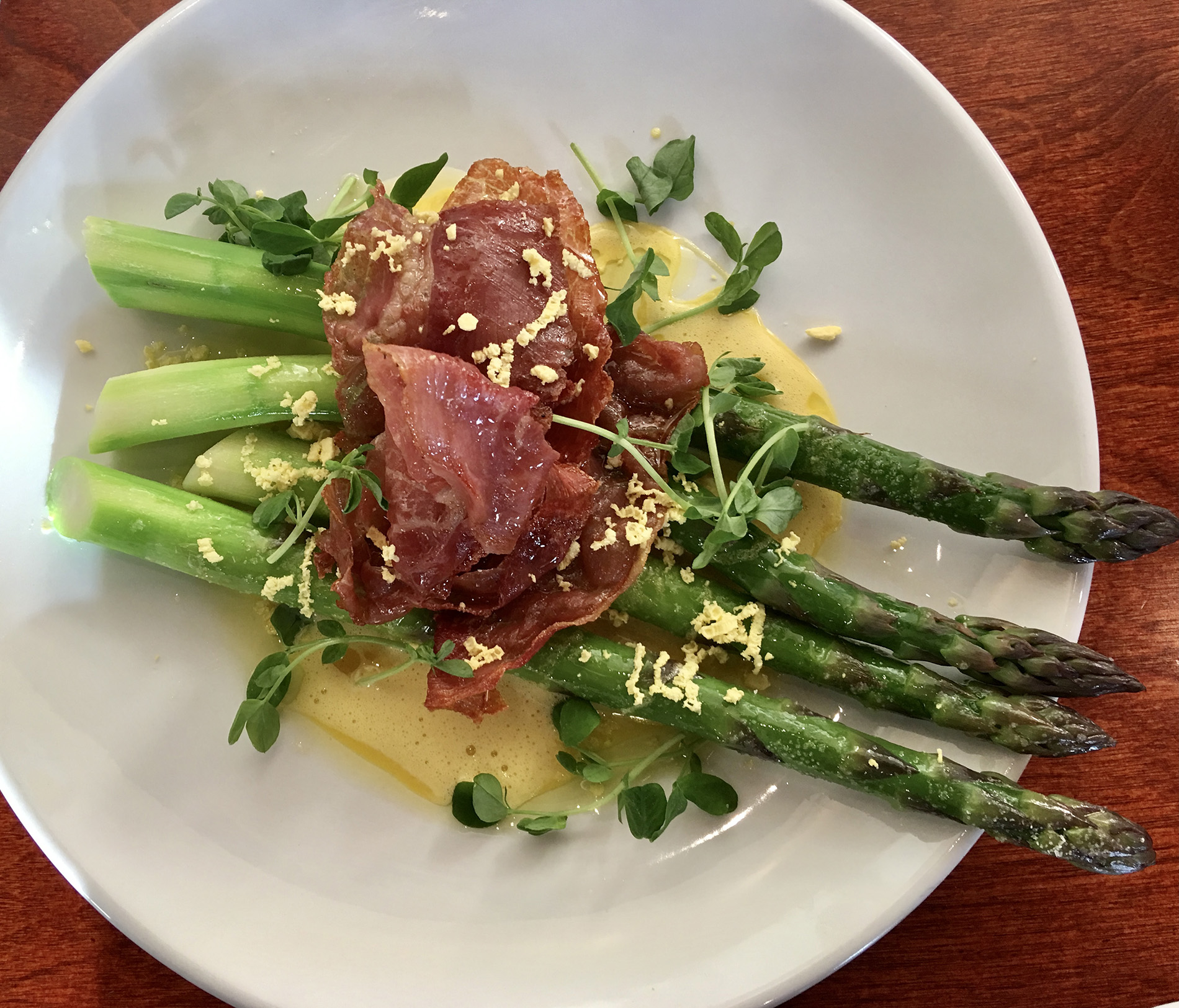 You will find amazing seafood, meat and dessert dishes at Frankie's, but I am especially thrilled when a chef can turn vegetables into something spectacular. The asparagus with hollandaise, topped with baby greens and crispy prosciutto, gets excellent reviews.
Sybaris
Chef Matt Bennett and his wife Janel are dedicated to bringing the best Oregon has to offer to your table. The food at Sybaris features Matt's eclectic and innovative style. This has earned him two nominations for Best Chef: Northwest by the James Beard Foundation.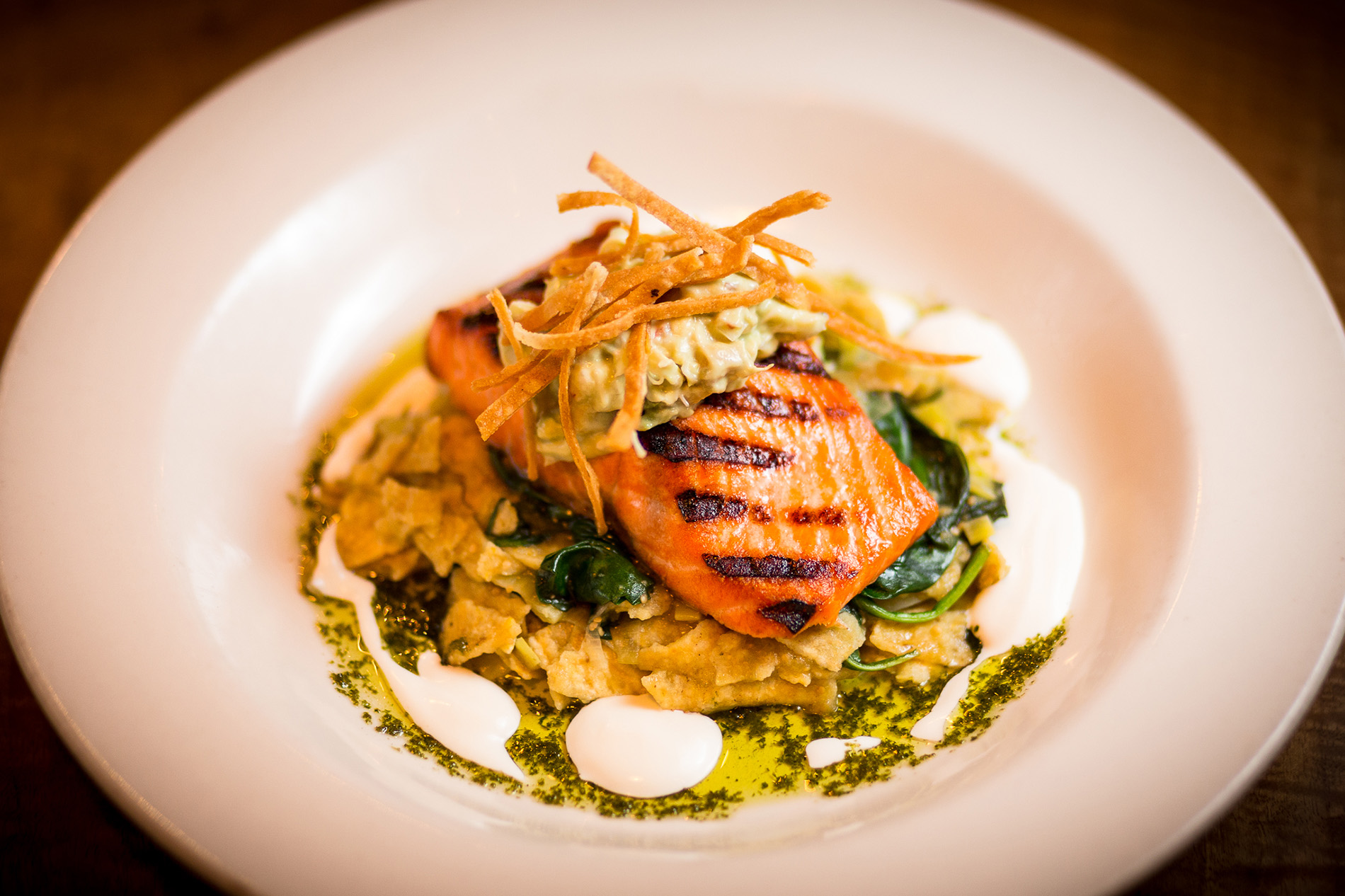 Chef Matt makes everything from scratch at Sybaris. His salmon dishes are consistently prepared in unique and delicious ways. The grilled Chinook salmon served over chilaquiles Verdes and cilantro oil is one of the most popular dishes. The fish is topped with Oregon shrimp, guacamole and fried tortilla strips.
Domaine Serene Winery
Ken and Grace Evenstad's love for French food and burgundy wine inspired the development of Domaine Serene Winery. In 2018, the Evenstads received the Distinguished Service Award honoring their efforts and contributions to the wine industry.
Ken and Grace, along with their winemaking team, craft a variety of award-winning wines. The pinot noirs are world-class, and the team also produces exceptional chardonnays and sparkling wines. The grounds at the winery are stunning, and the interior tasting rooms are exquisite. For years the team at Domaine Serene has partnered with the James Beard Foundation to put on wine-centric dinners with incredible chefs.
Adelsheim Vineyard
David and Ginny Adelsheim are one of the ten original families that made wine with local grapes before 1980 in the Willamette Valley. Adelsheim Vineyard continues to grow exceptional grapes and make first-class wines.
More than 50 years ago, the ten original families knew very little about wine and winemaking. David said, "Many things helped us. We became good friends and worked together because none of us had any money. We all wanted to make great wine which drove our decisions. We had to plant varietals that would work in this cold climate. We looked to Northern Europe, where they grow riesling, chardonnay and pinot noir grapes. No one really liked riesling unless it was from Germany. The weather in the Pacific Northwest was not warm enough for the newly accepted style of chardonnay, so we were left with pinot noir."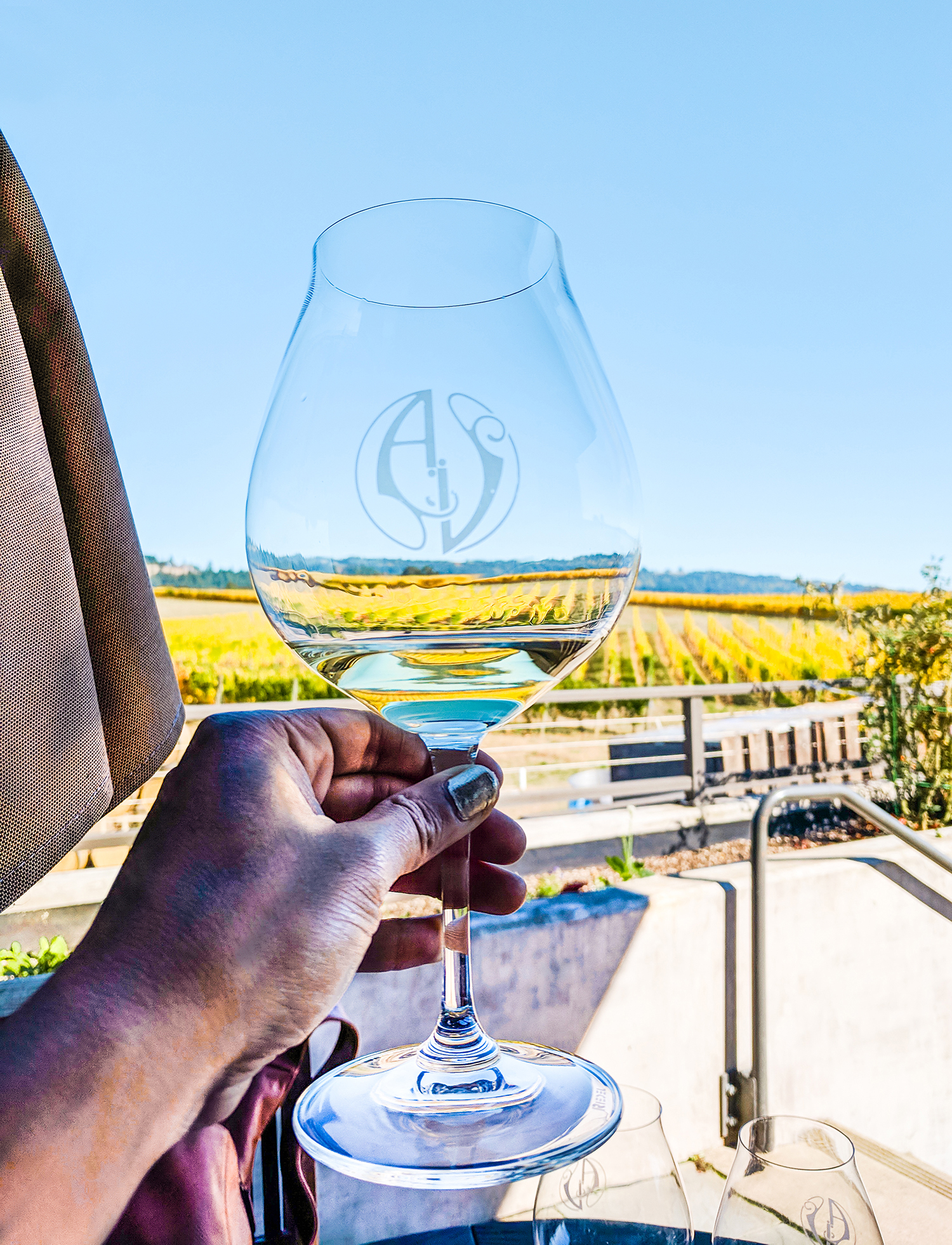 Making Oregon wine was a collaborative effort. David said, "Each summer we had several blind tastings and reported our findings to one another. We were brutal with our commentary regarding the wines, sometimes discovering that we were ripping apart our own product. We continued to taste wines and learn how each person crafted their own. We copied each other. After 30ish years, we put Willamette Valley on the wine map. By then, everyone in the area was making really great pinot noir."
Argyle Winery
Argyle Winery started in 1987 under the leadership of Rollin Soles. The current winemaking program features sparkling wines, chardonnays, pinot noirs and rieslings. Winemaker Nate Klostermann and his team love to work with small-lot estate fruit. Nate enjoys experimenting with various techniques to bring out the best qualities and complexity in each grape varietal. He said, "Forty percent of our wines are sparkling wines. They are fun because it takes a while for the nuances to really show up, and the final result is always exciting."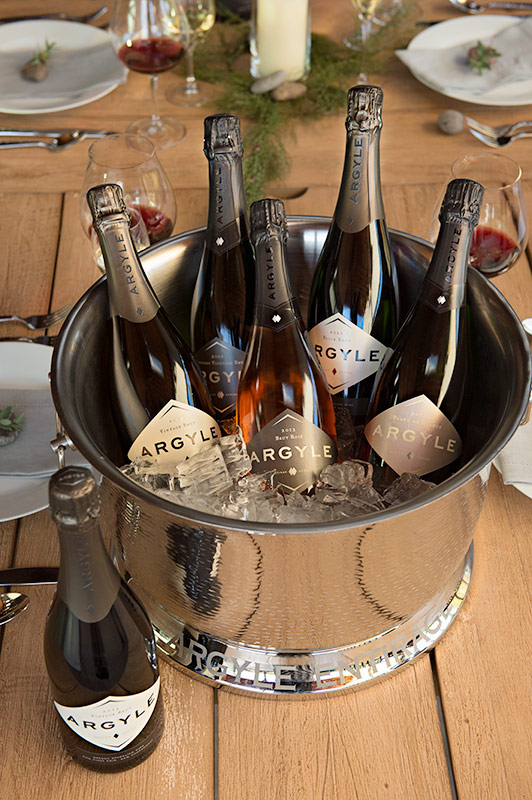 Durant
Durant is a one-stop shop. You can spend a few hours, the entire day or even stay overnight. Penny Durant, a botanist and lover of medicinal herbs, wanted to grow and sell her herbs and lavender from a roadside shack in the wine country; this idea quickly blossomed into something far more. Red Ridge Farms, part of Durant, began with a gift shop, nursery, lavender fields, a wisteria pergola and a few lovely accommodations upstairs. According to Lee McCollins, director of marketing and events at Durant, "The place was designed to be a respite, a place to stop and reflect, have lunch, and relax in wine country. One day when Penny was looking through a catalog hoping to purchase more plants, she noticed the olive trees and said, 'I have worked with wine, so why not olives?'" Lee explained that she promptly ordered approximately 10,000 olive trees, planted them and that during the first winter they all died. Penny, never one to give up, ordered more and planted 17 acres of olive trees.

It took years to coax this Mediterranean tree to thrive, but she succeeded. Today Durant makes olive oil in their mill with their estate olives. Visit Durant and discover excellent wine, tasty olive oil, gorgeous plants and more.
Equestrian Wine Tours
There are many ways to visit wineries and taste fabulous wine in the Willamette Valley. Drive your car, rent a limo or fly in by helicopter. But have you ever thought of meandering through the vineyards while riding on a well-trained Tennessee walking horse? Take in the sights and sounds traveling at the perfect pace with Equestrian Wine Tours. Hitch your horse to a post and sip on some sensational award-winning Oregon wines.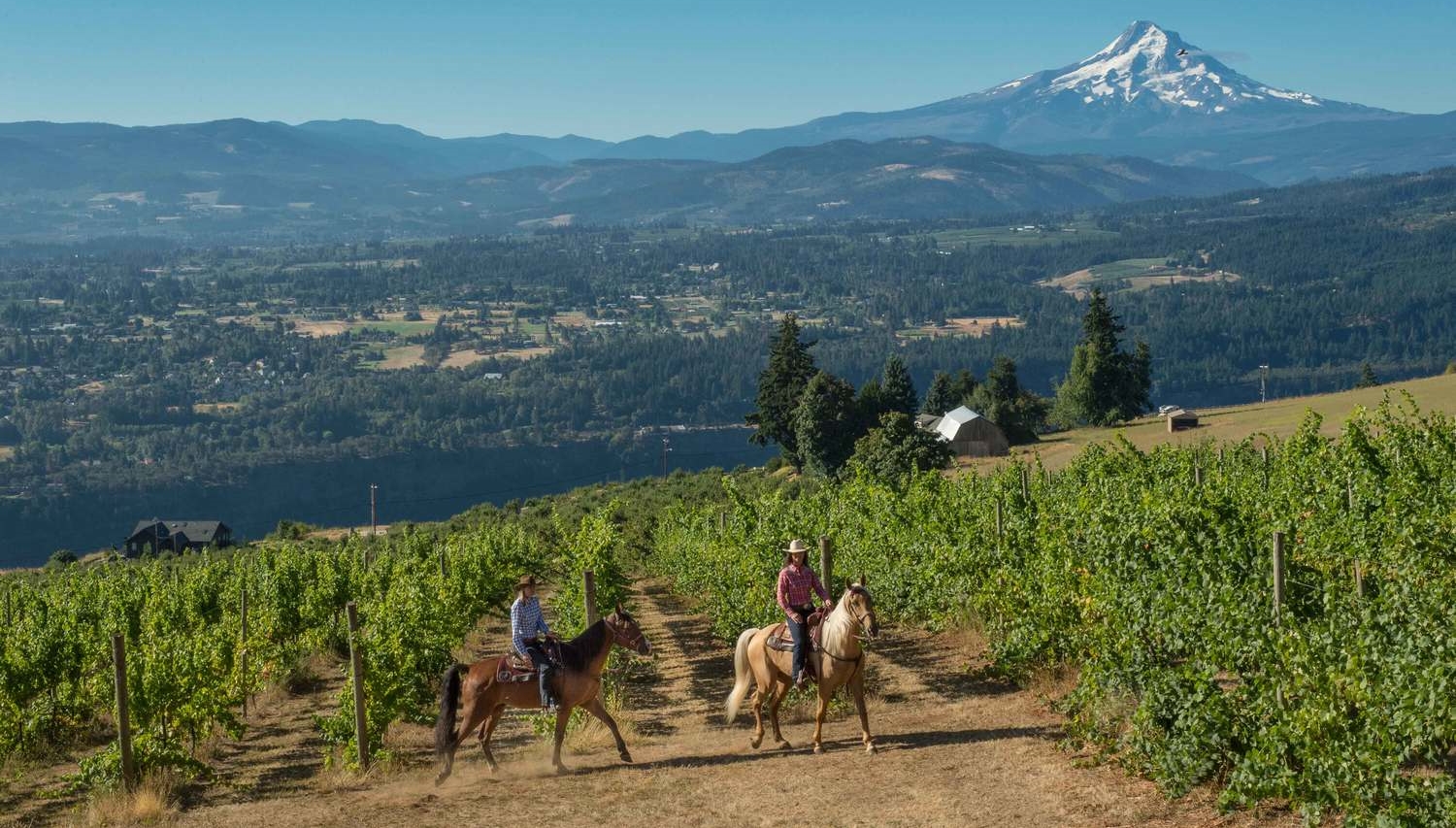 As you can tell, I love the Willamette Valley! And I'm confident you will, too. Drop a line if you're ready to embark on a luxurious adventure in Oregon.
CIRE Travel is a full-service travel agency headquartered in New York, NY. Our expert team supports clients across the country and around the world.
---
Where in the World Do You Want to Go?
Inspired to plan your next weekend getaway, vacation or trip of a lifetime? See that form below? That's all it takes to begin your next epic travel story.