Simply stated, a 'Bucket List' is a collection of goals, dreams, and experiences a person hopes to achieve in their lifetime. It stems from the old English idiom—kick the bucket. Understandably, there are those who shy away from this term and prefer friendlier alternatives like 'Dream List' or 'Wish List'.
The somber perception of a bucket list is usurped by the aspirational one these days. Ask around. Friends will likely be able to rattle off items on their bucket lists with ease. And while bucket lists aren't solely travel-related, travel experiences always seem to rank highly on them.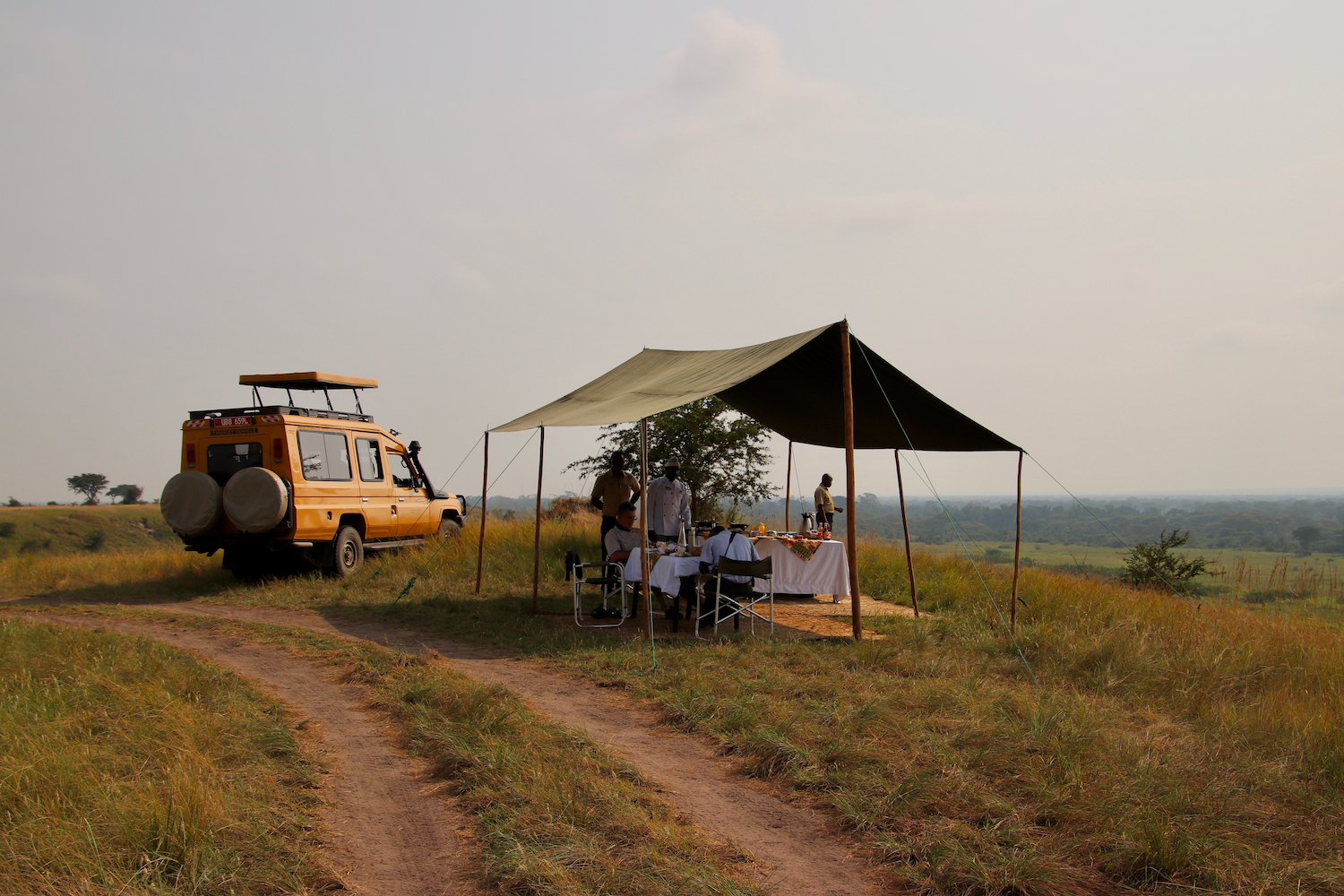 What's in a name?
Whatever you'd like to call it, the overarching sentiment of a bucket list is to live for the moment and enjoy life while we are healthy and able. Travel planning is a natural fit. In a (nearly) post-pandemic world, people are learning how to travel safely within their comfort zones. Whether that means domestic trips, road trips, staycations, traditional vacations, or faraway villas. The consensus is clear. We miss travel.
I've done a bit of informal research, asking ten travel-minded friends to rank dream destinations on their bucket lists. What follows are five fabulous trips worth planning now. If the details of organizing such a big trip make your knees buckle, have no fear. I know a guy who can help.
Ready to get inspired?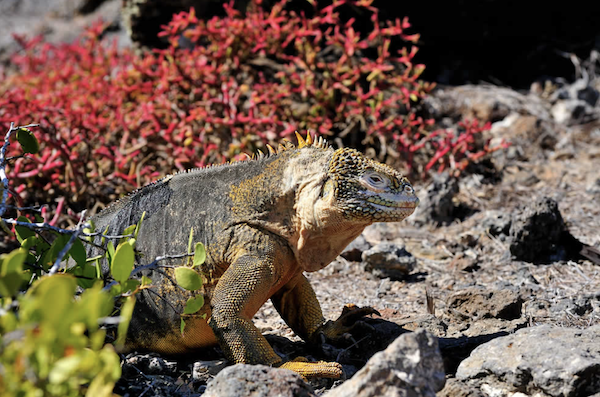 5. The Galápagos Islands
Why go?
One thousand kilometers off of the Ecuadorian coast lies an archipelago of marine wonders—the Galápagos Islands. The islands are often referred to as a 'unique living museum of evolution.' If that isn't a tempting soundbite, I don't know what is.
Named a UNESCO World Heritage Site in 1978, the Galápagos embrace their natural surroundings and provide visitors an intimate glimpse into the animal world. For instance, tourists can swim with sea lions, dolphins, and giant tortoises. They can admire exotic birds at close range and locate species that don't exist anywhere else in the world. Sunbathers can laze about at secluded and untouched beaches. In these dreamy islands, the temptations are never-ending.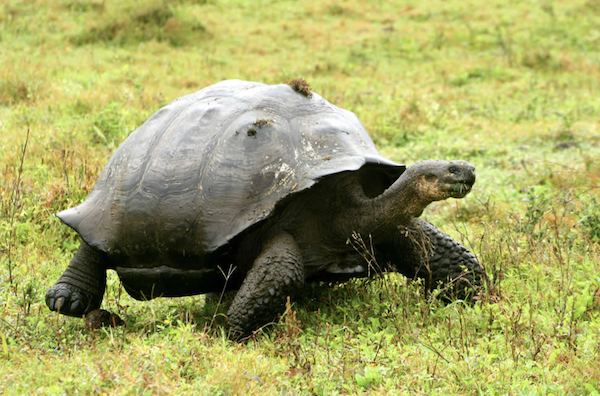 Interestingly, the Galápagos Islands' wildlife lacks natural predators. This is partly due to the islands' volcanic origin and extreme remoteness. For visitors, this means most animals are approachable and tame. The thought of being able to observe wildlife so closely is one of the reasons a trip to the Galápagos is so high on many lists. It's certainly on mine.
True, True, False:
Charles Darwin cited the Galápagos Islands to form the basis for his book, On the Origin of Species.
True: In 1835, Darwin spent five weeks in the Galápagos collecting specimens and gathering research for his well-known book. Two of his biggest takeaways were; 1.) diverse groups of animals evolve from one or a few common ancestors, and 2.) the means by which this evolution takes place is natural selection.
97% of the Galápagos is a national park.
True: In addition, the surrounding waters are a UNESCO Biosphere Reserve.
All of the volcanoes in the Galápagos archipelago are inactive.
False: In fact, there have been quite a few volcanic eruptions in the past century. But don't let that frighten you. Watching a volcano erupt is thrilling, and worthy of its own bucket list mention.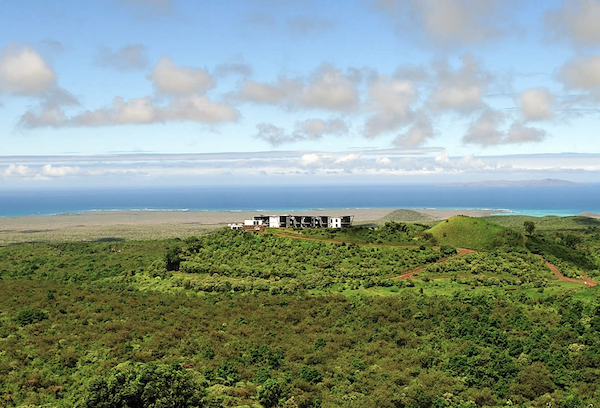 Where to stay:
Pikaia Lodge is considered a luxury eco-adventure lodge. It has a strong environmentally conscious mindset, not to mention cutting-edge architecture and design. Located on centrally located Santa Cruz Island, the lodge has access to fine white sand beaches and wildlife. It also boasts its own private giant tortoise reserve.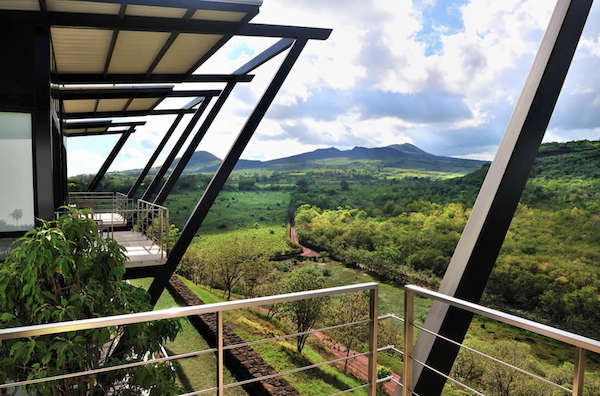 By far one of the most unique aspects of the property is its spectacular views. The 29-room lodge sits at 450 meters above sea level and on the edge of an extinct volcano. Sunny and dry most of the year, the microclimate at Pikaia deters mosquitos. I'm ready to book. CIRE, are you reading?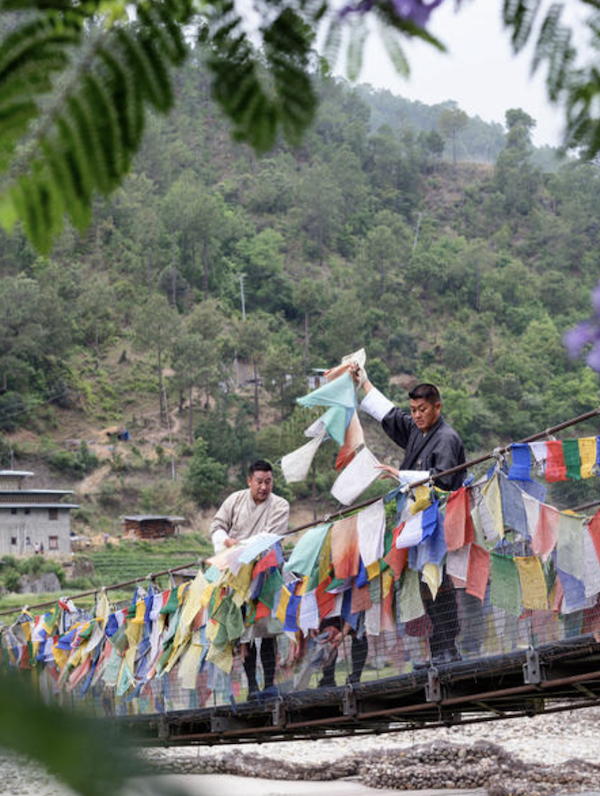 4. Bhutan
Why go?
A small, landlocked country located on the eastern ridge of the Himalayas mountain range, Bhutan is historically a remote kingdom. Nestled neatly between India and Tibet, Bhutan's isolated location, rich Buddhist culture, and high-adrenaline activities make it a utopian destination for the adventure-minded.
One highly sought-after experience in Bhutan is a visit to the famous Buddhist monastery, Taktsang Palphug, also known as The Tiger's Nest. This spiritual place in the Paro Valley literally clings to a rock face 3120 meters above sea level.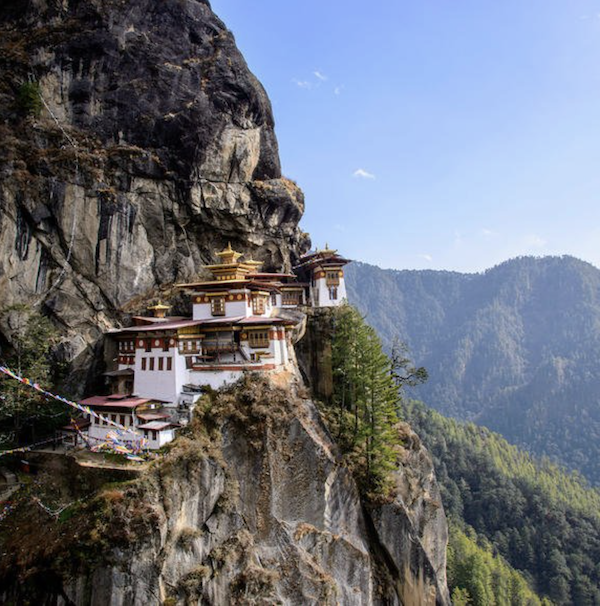 The hike to the Tiger's Nest is roughly four miles long and can take 3-5 hours to get to depending upon one's level of fitness. The strenuous endeavor will provide not only a sense of accomplishment but unparalleled views of the valley.
The monastery has eight caves, golden domes, and illuminated golden idols. Do you detect a golden pattern? A large statue of a tiger is situated in the hall of a Thousand Buddhas. Legend has it the location of the temple was chosen by a tigress, hence the name, The Tiger's Nest.
True, True, False:
Landing at Paro International Airport is considered one of the most dangerous airplane landings in the world.
True: There's no radar to guide planes through the 18,000 ft mountains and narrow valleys of Bhutan which makes the landing so tricky. Last I read, only eight pilots are currently qualified to land there.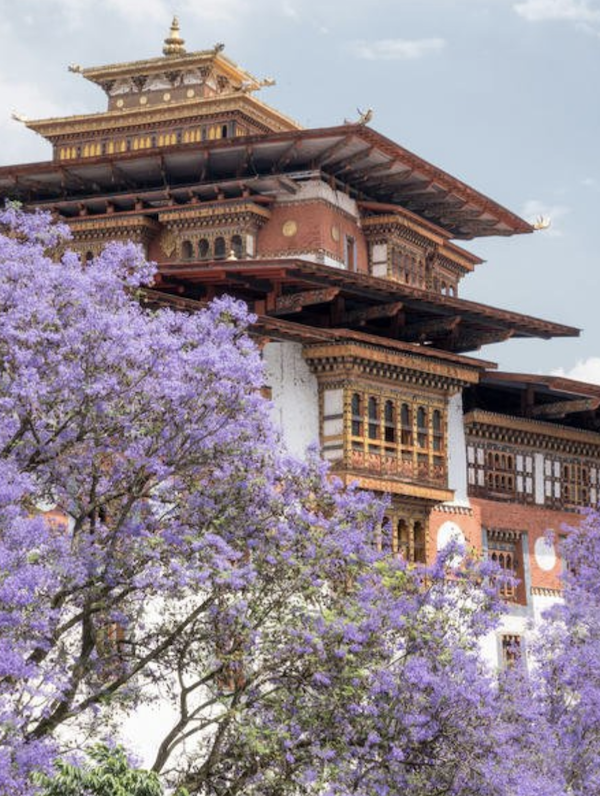 Bhutan measures national happiness with an index called Gross National Happiness (GNH).
True: The fourth King of Bhutan conceptualized GNH in 1972. He royally declared, "Gross National Happiness is more important than Gross Domestic Product." I like the way that king thinks. No wonder he's so popular.
There's only one traffic light in the entire country of Bhutan.
False: There are no traffic lights in Bhutan. A sole policeman directs traffic at the busiest intersection in Thimphu, Bhutan's capital city. It is said there once was a traffic light, but the Bhutanese didn't like it. So the King got rid of it.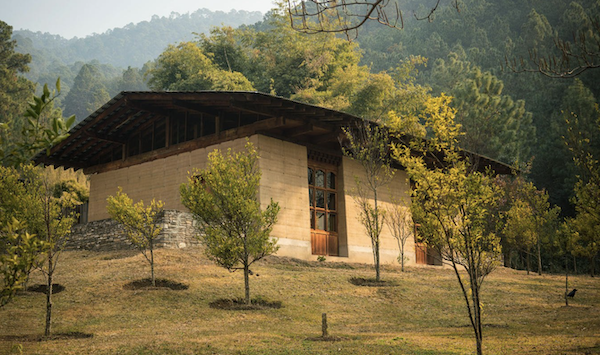 Where to stay:
Aman Resorts have always upheld the highest levels of adventure and luxury travel. Most Aman properties nestle seamlessly into their environments, and the Bhutan lodges are no exception.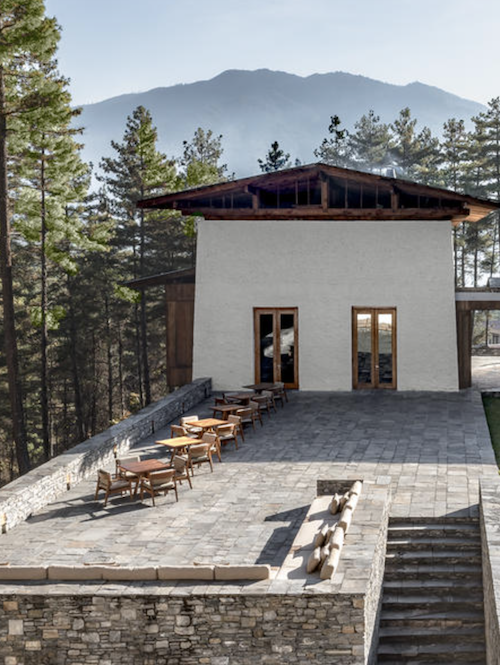 Bhutan's Amankora is comprised of five unique lodges which are scattered across five bucolic valleys. Each lodge is more remote and harder to find than the next. Whether you choose to stay at one, three, or five while visiting Bhutan, the traditional and cultural experiences at Amankora are incomparable, even by Aman standards.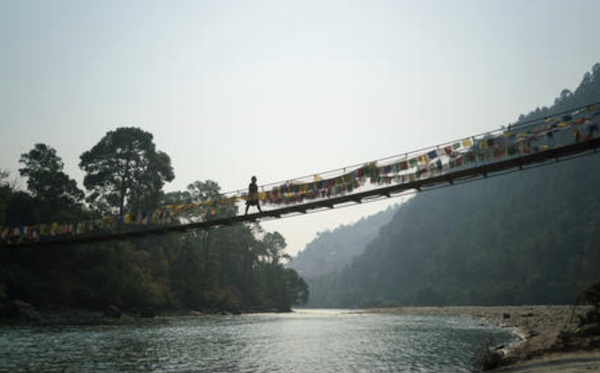 Guests can dine with a local Buddhist monk and ask the secret to a long and healthy life. My husband and I were fortunate enough to visit in 2011. We took guided treks across streams via rope bridges and encountered local yaks up close and personal. Mesmerizing and colorful, tattered prayer flags dotted the countryside.
In a place as isolated and unique as Bhutan, no doubt you will have countless stories to tell your friends and family upon your return.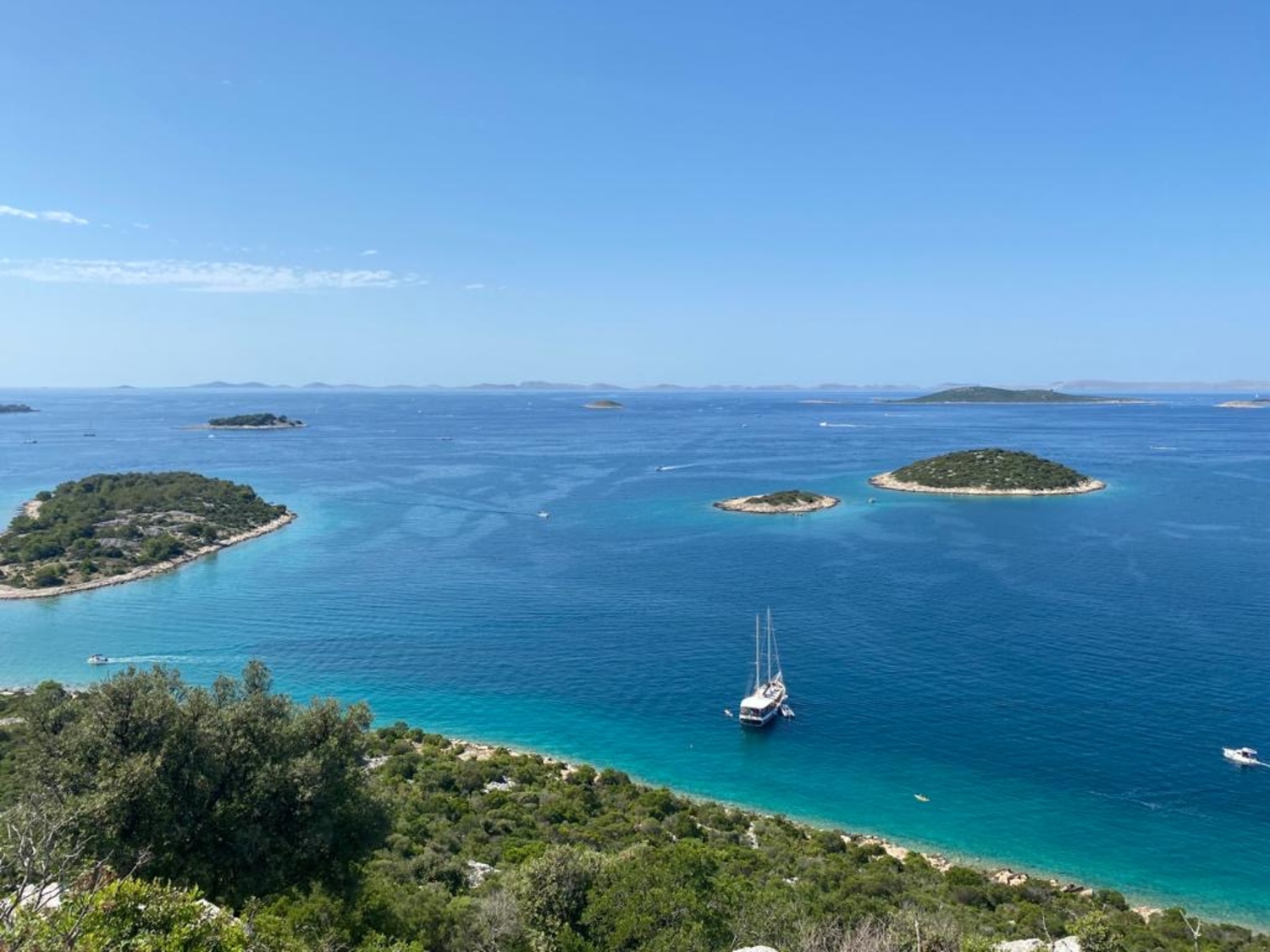 3. Gulet Croatia
Why go?
Perhaps the most liberating and low-maintenance luxury trip one can take is sailing along the Dalmatian Coast of Croatia in a privately-chartered gulet. Gulets (pronounced goo-lets) are traditional wooden sailing vessels that originated in the Mediterranean. They have since been repurposed to accommodate visitors seeking a different and unusual way to experience the country.
Sometimes called the land of 1000 islands, Croatia has much to offer. Islands like Korcula, Vis, Mljet, Hvar, and Brac each have their own unique vibe yet share the tranquil and warm Adriatic Sea.
Island hopping is a pleasure when you have a crew whose sole responsibility is to keep you in a perpetual state of contentment There is a chef to cook authentic Croatian meals and a captain to help find secluded bays to snorkel and water ski. Pack a bathing suit, flip-flops, and a few cover-ups. You won't need much else.
True, True, False:
HBO's popular series, Game of Thrones, was filmed in Dubrovnik, Croatia.
True: Die-hard fans can even take a bus tour to see their favorite show's location sites. For everyone else, exploring the hidden, steep, narrow streets of the old city of Dubrovnik will be equally entertaining.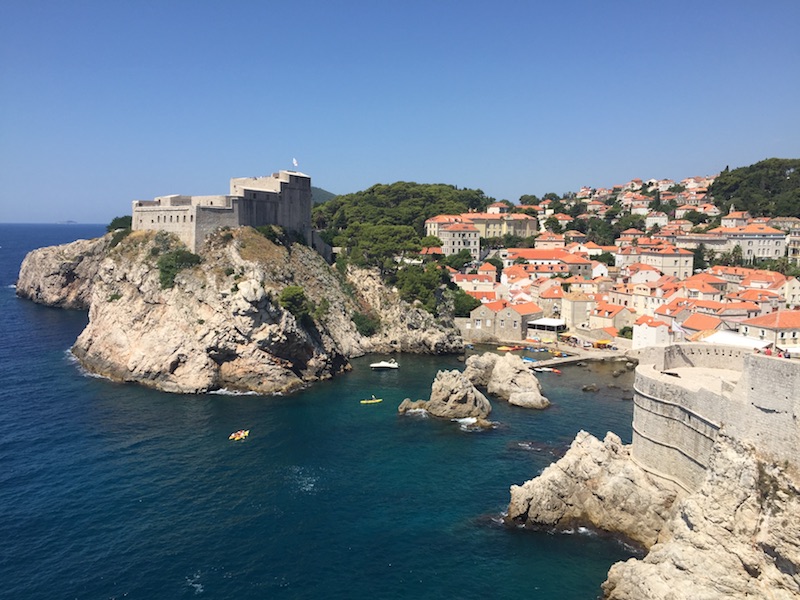 Croatia currency, the kuna, is named after a rodent.
True: Croatia named their money after a furry, ferret-like animal. Weird, but true.
While a popular summer destination, Croatia isn't very sunny.
False: In fact, Croatians enjoy 2,715 hours of sunshine each year. If that's not enough incentive to head to Croatia, I don't know what is.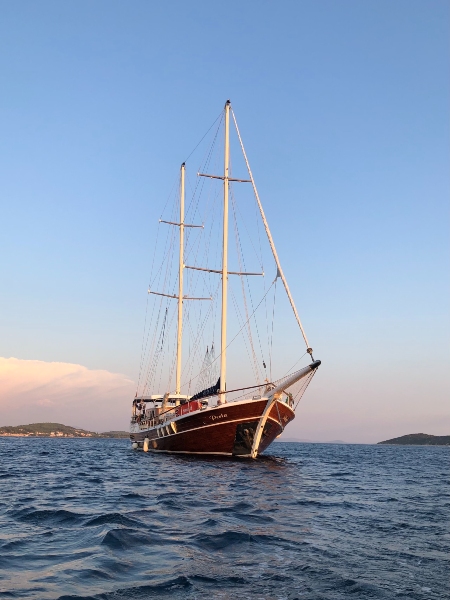 Where to stay:
Gulets come in sizes to fit just about any group. Whether that's a family of five or a multi-family reunion of 15. Gulets often come with lots of fantastic amenities such as hot tubs, kayaks, stand-up paddleboards, and windsurfing boards. You can be sure that by late afternoon, the crew will be serving up Aperol Spritzes at the bow for you to enjoy the mesmerizing sunsets.
Finding the right gulet for your trip is as simple as contacting the team at CIRE. But be warned, this may just be a bucket list adventure that bears repeating, as there are so many hidden coves and lovely islands to visit.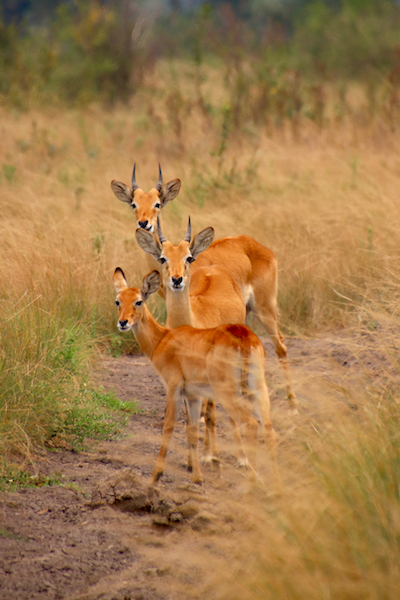 2. African Safari
Why go?
Nothing compares to the sounds and sights of African wildlife. A safari is a once-in-a-lifetime experience that travelers of nearly any age can appreciate. Observe a cheetah prowling near a herd of unsuspecting wildebeests.
Hear hippos croak and lions roar from the safety of your tent each night—a captivating chorus of animals. Seek out African Fish Eagles in the sky as they circle their prey. The sheer and vast landscape of the African plains is as alluring as the animals themselves.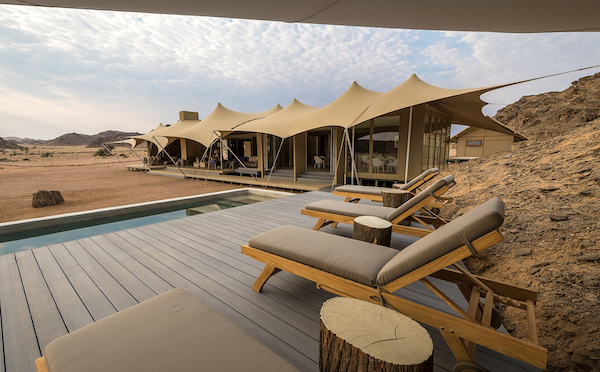 Whether you decide to take on the game reserves of South Africa, a tent camp in Namibia, or glamp along the Okavango Delta in Botswana, African safaris are designed to thrill. No two game drives are alike, which only adds to the adrenaline-filled adventures.
True, True, False:
A group of giraffes is called a 'tower'.
True: Perhaps you already knew this tidbit of mass animal trivia? Did you know that a group of giraffes is called a 'journey'? But only when they are walking. Good intel for Trivia Night, indeed.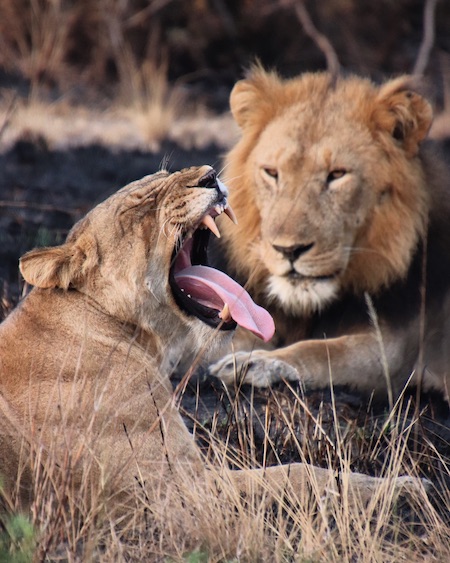 Lions sleep for up to 20 hours a day.
True: Lions are nocturnal and require lots of rest to help them hunt. Some of the best places to see lions in Africa are Tanzania and Zambia. Uganda is known for its unique climbing lions which, you guessed it, are often spotted in the trees. Climbing lions are solely found in Queen Elizabeth National Park. They climb acacia and sycamore-fig trees to seek shelter from the sun.
The ostrich is one of the largest birds in the world, but also one of the slowest.
False: It's true the ostrich is one of the largest birds, but they are far from slow. In fact, they can run more than 40 miles per hour due to their highly elastic joints. Seems like the Roadrunner has some hefty competition.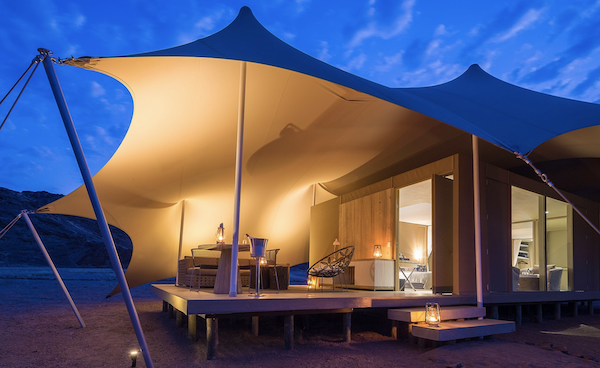 Where to stay:
Africa has more than its fair share of luxury lodges and tented camps across its vast continent. And the intimate Hoanib Skelton Coast Camp is certainly one of the most luxurious places to stay in Namibia's rugged desert landscape. With only seven twin-bed tents and one family tent, personalized service and tailor-made adventures are a given.
The Skeleton Coast is dotted with thousands of shipwreck remains, primarily due to rough seas and strong ocean currents over the centuries. Naturally, Namibia is home to plentiful wildlife, some species which are challenging to find anywhere else in Africa. The oryx antelope is one such example, which also happens to be the national animal of Namibia.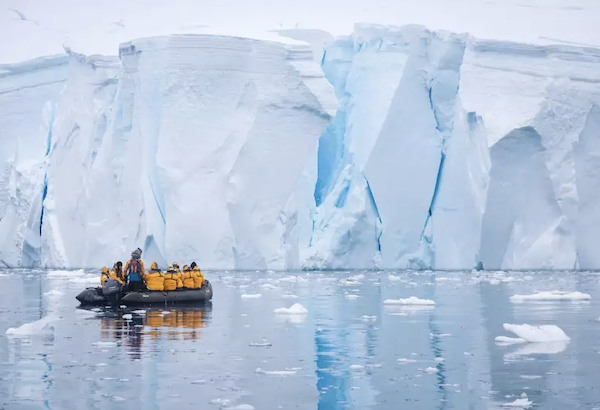 1. Antarctica
Why go?
Antarctica is widely considered the final frontier in adventure travel. A trip for those who want to seek out the most extreme, remote, and unusual landscapes on the planet. An expedition to Antarctica, often by boat, offers excursions that can't be replicated anywhere else, which surely adds to its allure.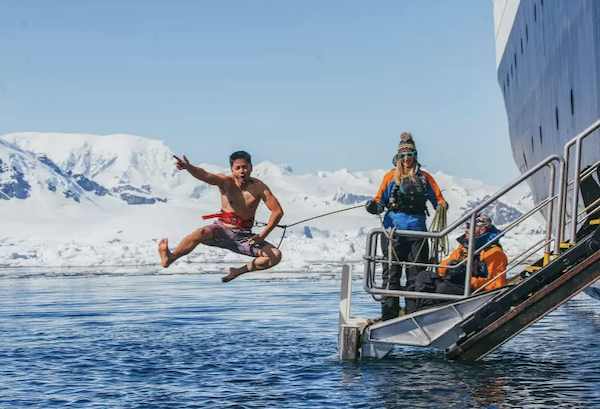 Take a helicopter to a glacier and imagine you are a polar explorer. Sea kayak with whales, dolphins, and seals gliding beside you. Take an invigorating polar plunge into the Southern Ocean. Or, simply take your camera and sense of awe to the bow. Consider that you are bearing witness to a part of the world most will never have a chance to see first-hand.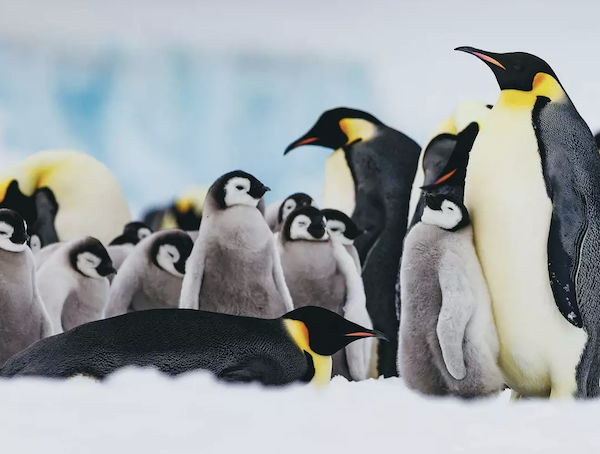 Antarctica is a prime destination for those interested in wildlife, historical exploration, and stargazing. Watch icebergs calve in real-time. Smile as a colony of Emperor penguins waddles about. Observe the top of the food chain in action, as Orcas break the surface of the sea in search of food.
True, True, False:
Antarctica covers 5.5 million square miles, which is about twice the size of Australia.
True: Antarctica is the 5th largest continent as well as the least populated. Antarctica inhabits 5000 people in the summer and 1000 in the winter.
Antarctica is a desert.
True: Even though Antarctica is the most isolated continent on the planet, it's considered a polar desert because of its extreme lack of precipitation.
Antarctica has its own time zone.
False: Antarctica doesn't have an official time zone. Most travelers stay in Ushuaia, Argentina time, which is +4GMT.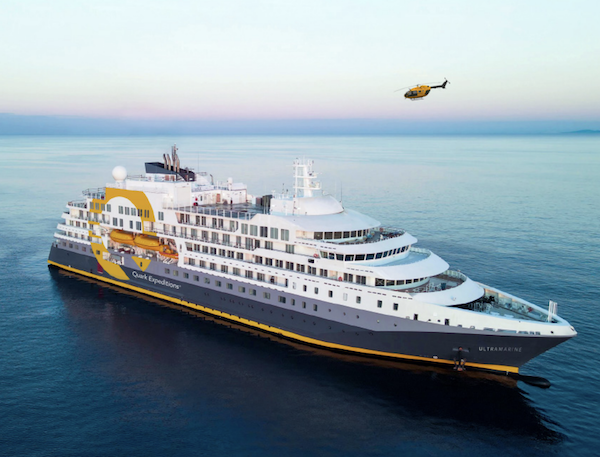 Where to stay:
Quark Expeditions is a leader in polar expeditions, taking commercial travelers to the poles since 1991. Quark offers super modern luxury expeditions to Antarctica from October through March on a variety of spectacular vessels.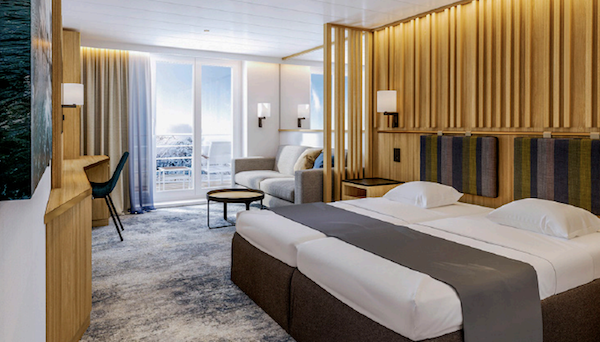 In 2019, Quark built its first purpose-built polar vessel, the Ultramarine. The Ultramarine is designed specifically for exploring the extreme ends of the planet. It accommodates 199 passengers and 140 staff. With two-twin-engine helicopters, 20 quick-launching Zodiac boats, a spa, and spacious suites, it's a decadent, yet adventurous way to travel to the 7th continent.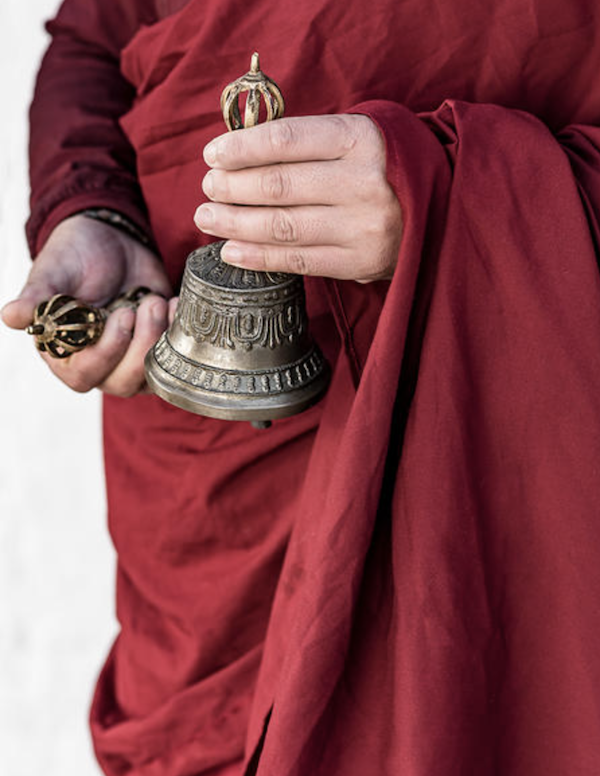 Make your bucket/dream/wish list a reality
There are countless books, blogs, vlogs, e-zines, and magazine articles written about bucket list travel. Why exactly are we so obsessed with it? Stanford Medicine cites that the symbolic meaning behind the term allows us to reflect on the most important parts of our lives. To realize what matters most to us and how best to mark milestones in our lives.
It's no surprise that experiences rank higher than things, and that travel experiences are so particularly valuable. The time we share with our friends and family brings us joy. Who doesn't want more of those?
Our bucket lists/dream lists/wish lists aren't static, as our goals and circumstances change. My ever-growing list is ever-changing, too. Especially after my informal poll among friends. Updating it is a big part of the fun. Is yours up to date? It might be worth ticking some off the list soon. Remember, you only live once.
Eric and the team at CIRE are ready and waiting.
*******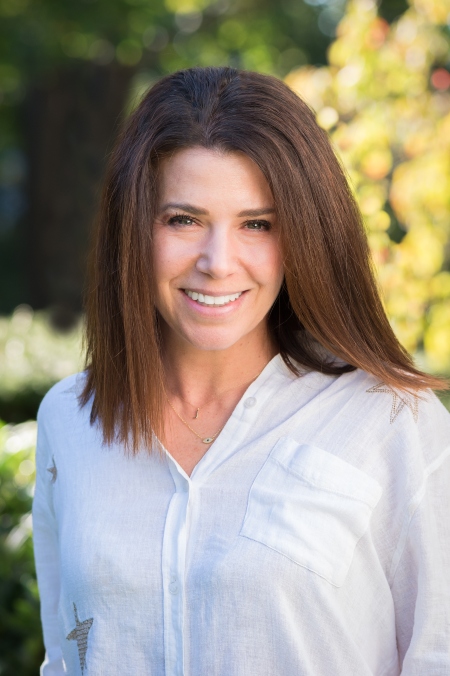 Jamie Edwards is an avid traveler, travel writer, and photographer. She launched I am Lost and Found, her adventure/luxury travel website after 25 years of living and traveling around the globe. Jamie's goal is simple: to inspire travel. Keep up with Jamie's adventures in travel here.
CIRE Travel is a full-service travel agency headquartered in New York, NY. Our expert team supports clients across the country and around the world.
---
Where in the World Do You Want to Go?
Inspired to plan your next weekend getaway, vacation or trip of a lifetime? See that form below? That's all it takes to begin your next epic travel story.