It's only early December but I feel a little voice in the back of my head saying if I don't jump on spring break soon, it's going to get away from me. Who wants to think about spring break when we are knee-deep in holiday planning? Well, me, for one. Sometimes the only thing that gets me through dark mornings post-daylight savings is knowing I already have spring break in the books.
My daughter is in her senior year of high school and knowing this is our last spring break as a family weighs on my mind. I recall our spring breaks from years past and treasure those memories all the more.
Some of our best family moments have been over that wonderful bridge between winter and spring. Those times we depart on a dark, bone-chilling morning and return to sunny, balmy weather and budding flowers.
Spring break.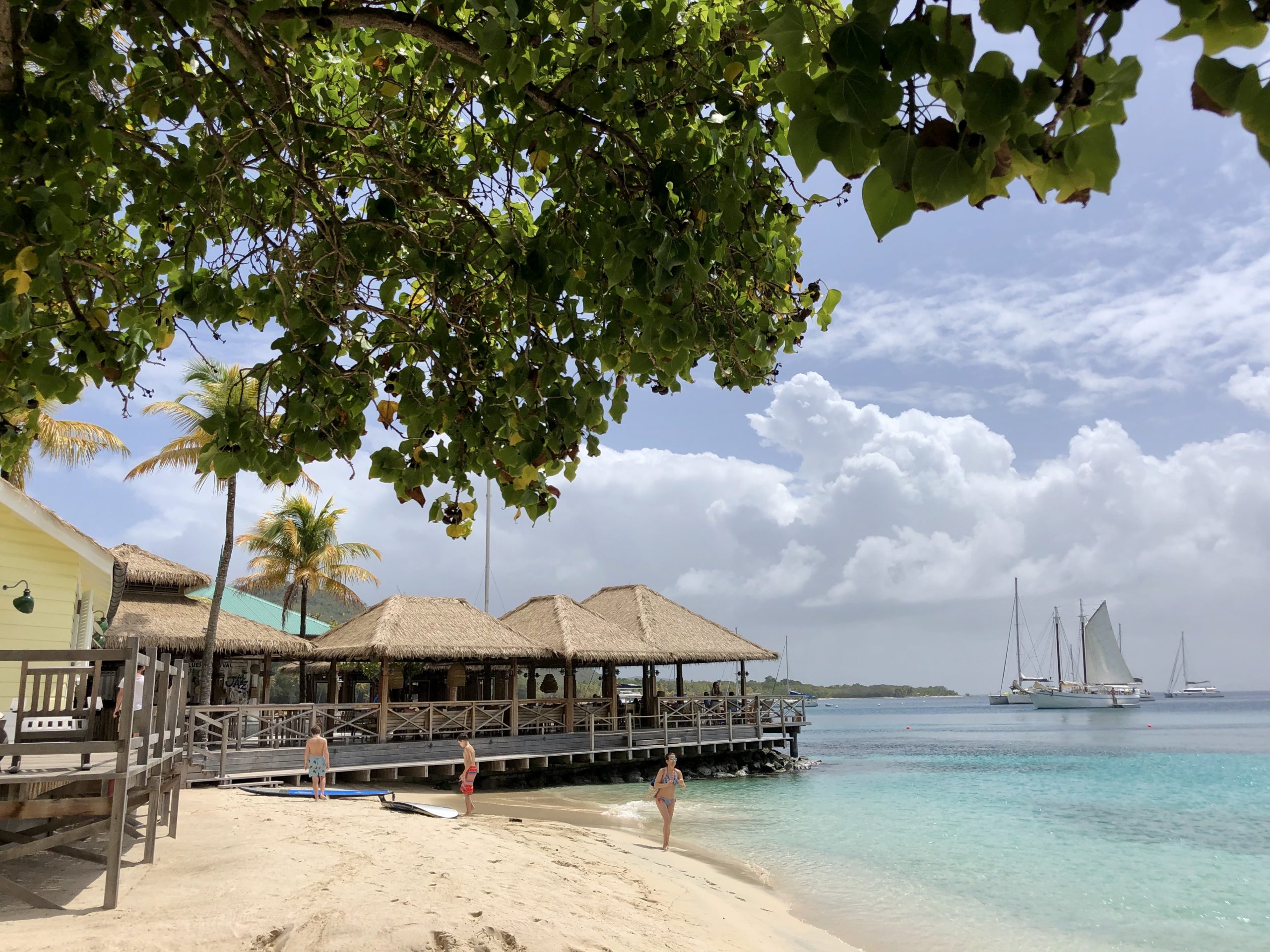 As I contemplate where to go next, I can't help thinking back to our best spring break trips of all time. The ones that pleased me, my husband, and our kids equally. Is spring break on your radar yet? Some of these destinations will inspire you, no doubt. It's never too soon to plan a family vacation.
I know a guy who can help.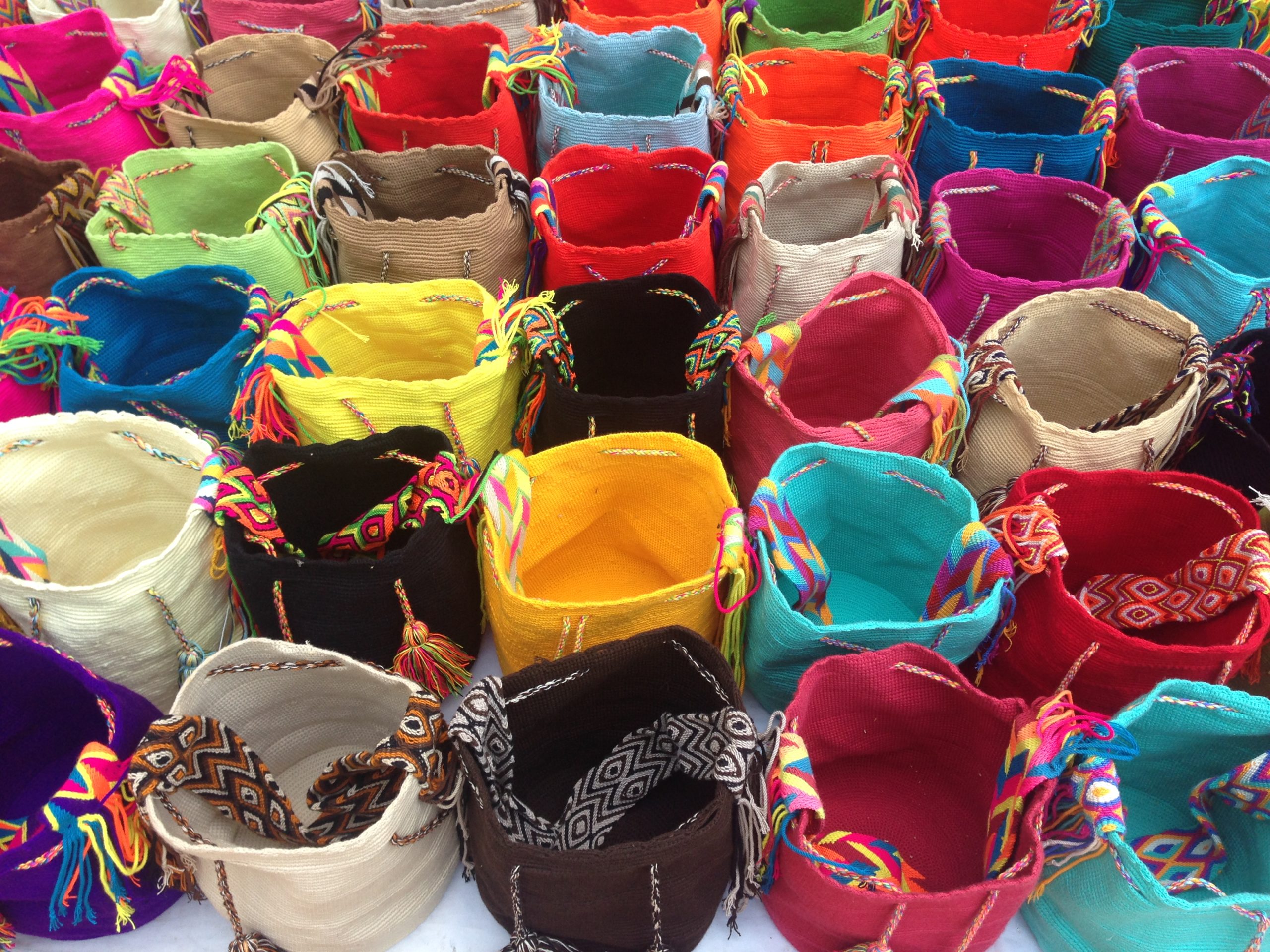 5. Cartagena, Colombia
Why Cartagena?
Trompe-l'oeil murals. White balconies on ochre-washed buildings overflow with flowers. Rhythmic salsa beats pulse from crowded plazas. Colombia, "The land of a thousand rhythms" welcomes you to the vibrant, melodious, and magical city of Cartagena.
Imagine loose-limbed jugglers sending multiple batons skyward. Picture a vibrantly-clothed fruit seller pushing a cart of ripe, prickly pineapples. Or, a troupe of musicians performing acrobatics on stilts. Do you feel the energy? In Cartagena, the epicenter of magical realism, anything is possible. A tornado of activity lies around each corner.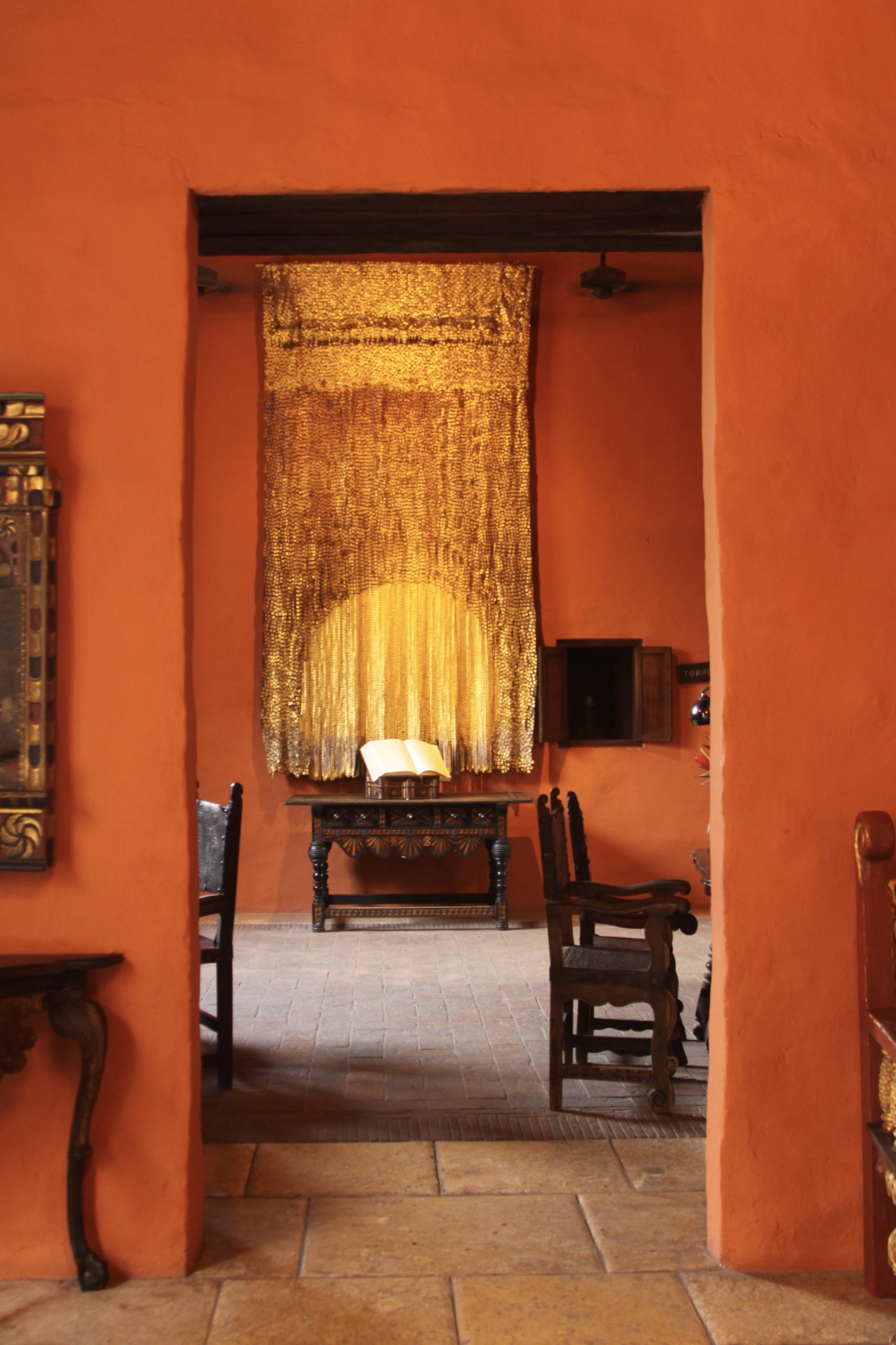 Where to stay?
The Sofitel Santa Clara Hotel is a former 17th-century nunnery and one of the city's most enchanting hotels. It's located on a lively plaza with convivial restaurants and colonial architecture that belies the hushed intimacy hiding within its ancient walls.
The Santa Clara Hotel is legendary. Checkered marble floors, subterranean altars, confessionals, crypts, ceramics, and centuries-old art abound. The traditional terra cotta-hued walls make guests feel they are constantly bathed in rich rose-tinted light.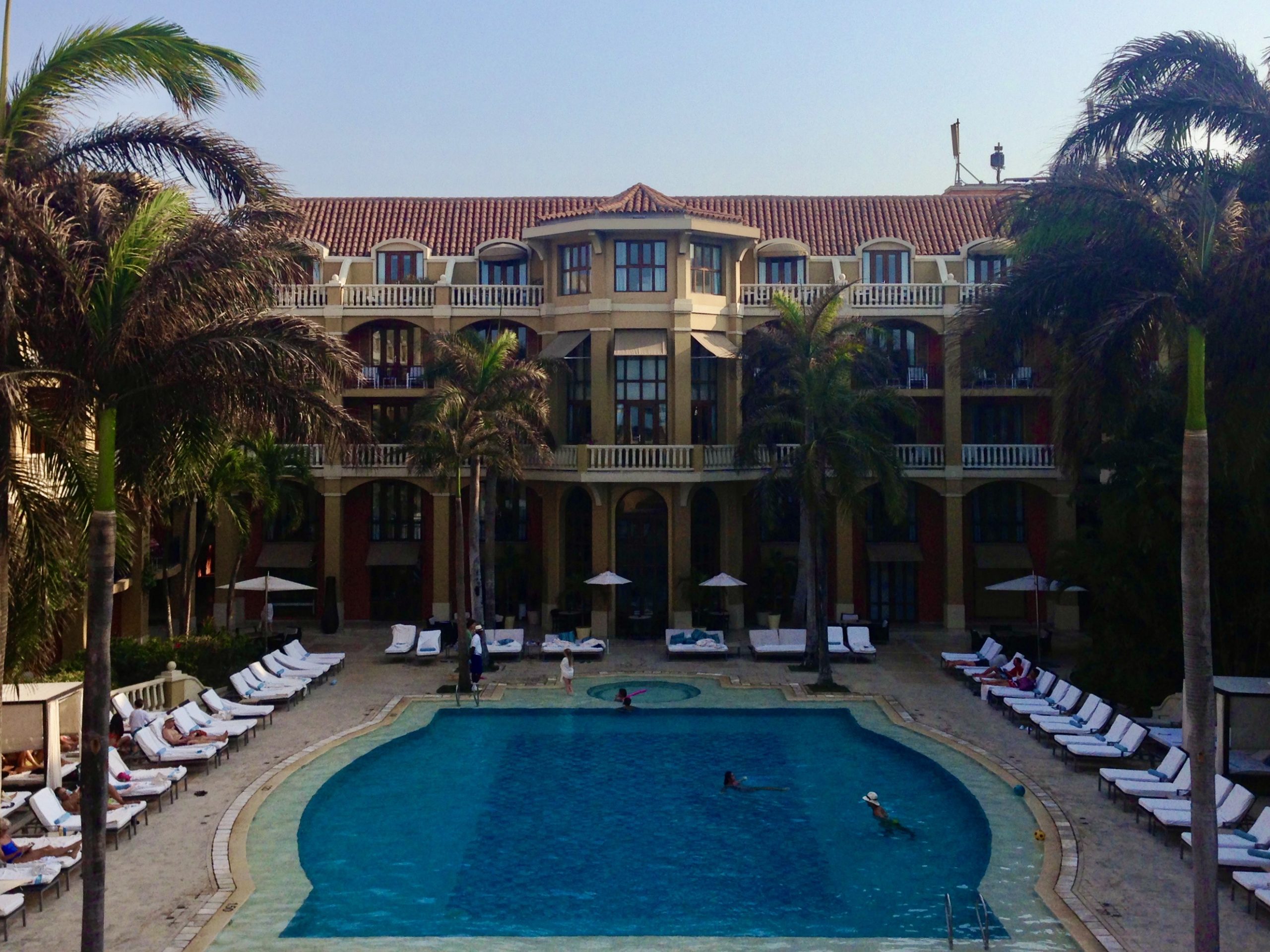 The enormous hotel pool is a centerpiece of the outdoor courtyard and is a secluded respite from the city's bustle. Herein lies the unique selling point of the Santa Clara Hotel. Kids can take a dip to escape the afternoon heat after a day of touring while the adults can read, order lunch, or take a luxurious nap. A win-win situation, indeed.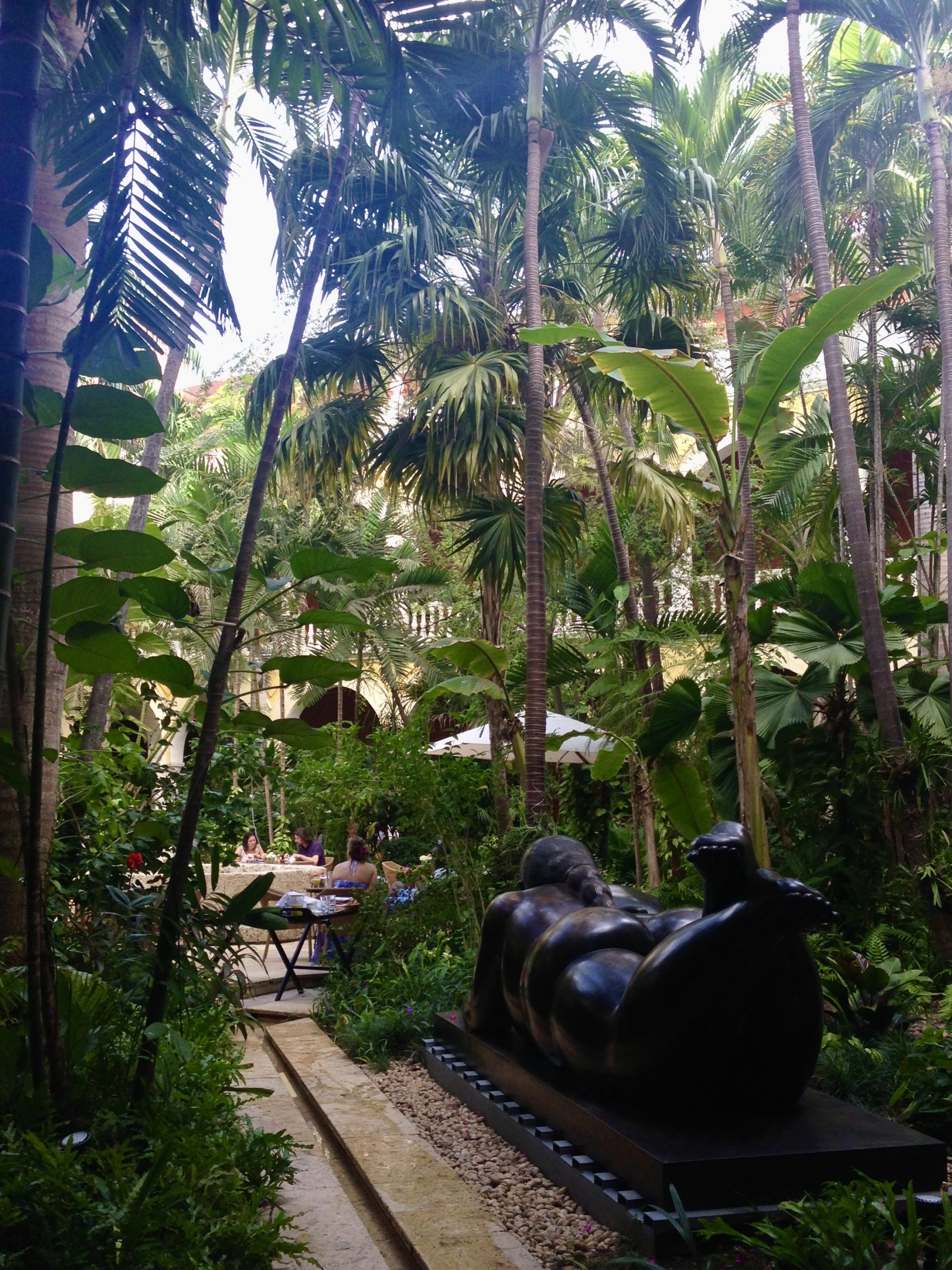 Jardín is the hotel's main restaurant. It opens onto another courtyard that is usurped by overgrown palm trees, native orchids, and fronds of oversized ferns. Tables surround a large, circular well, which was once the nun's main source of water.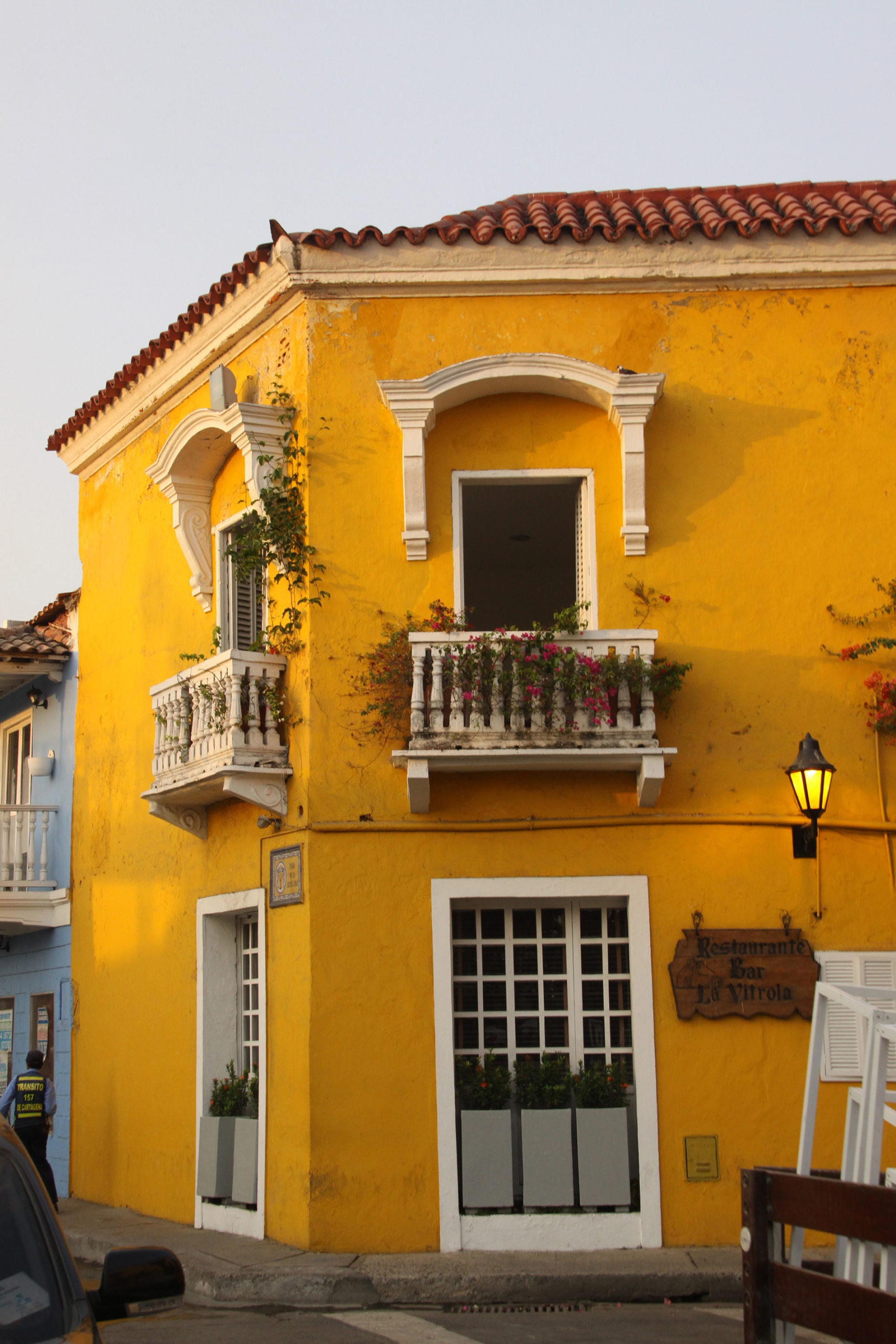 What to do?
Cartagena's main draw is its vibrant old city, which sits beside the Caribbean Sea. The primary entrance to the historic part of Cartagena is called the Clock Gate (Puerta del Reloj). Nearby is the famed Plaza de Bolivar and the Palace of Inquisition. Here tourists can see the ubiquitous balconied Spanish colonial buildings and dine at outdoor cafés.
The magic of the city is palpable, all one needs to do is sit back and watch. Exploring the narrow colorful streets of the walled city, and its colonial architecture could take days. Every corner or narrow street reveals something new and mesmerizing.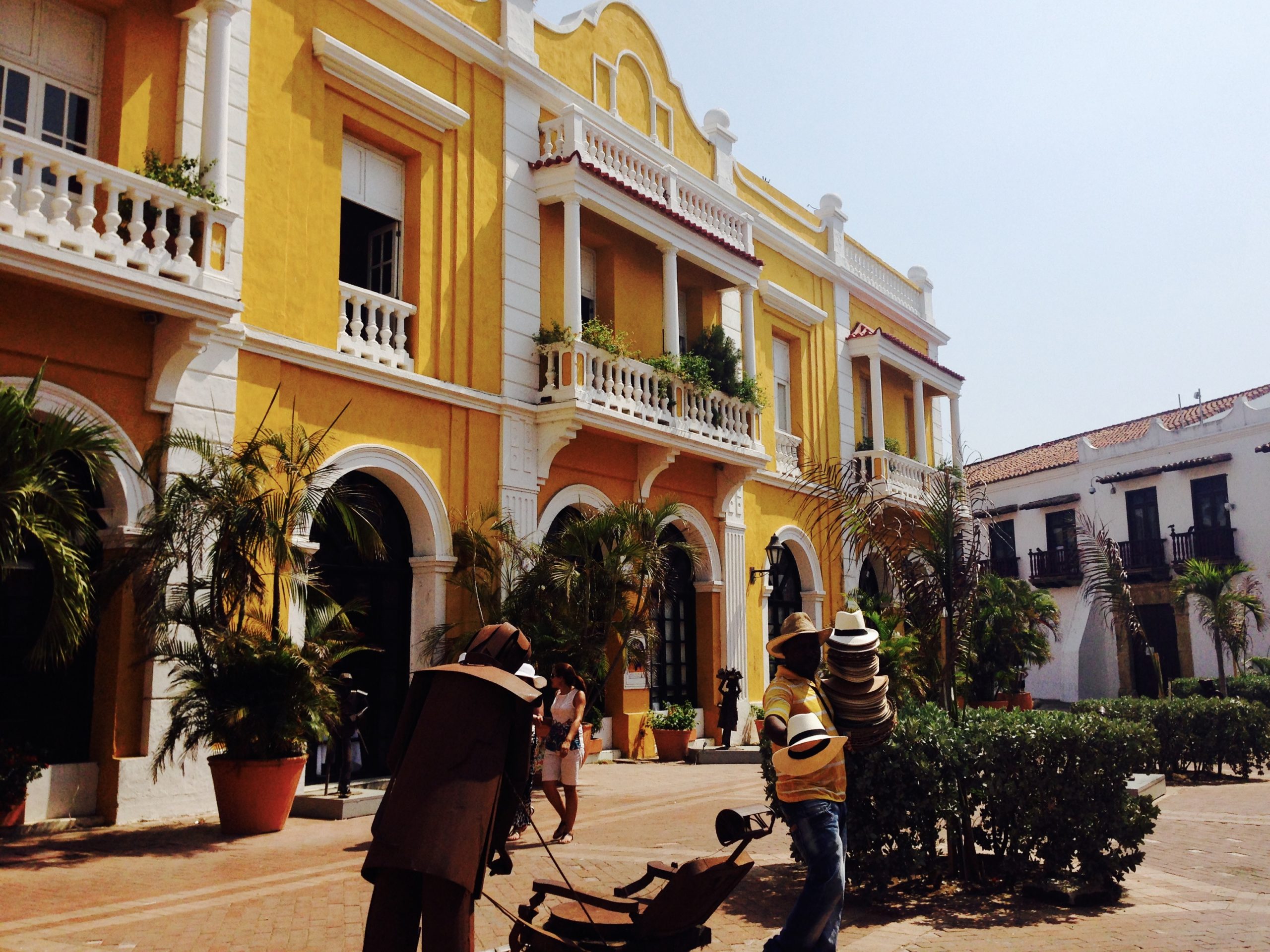 Watch the sunset from the top of the wall at Cafe del Mar after a late afternoon horse-drawn carriage ride. Step into the magnificent Cathedral Santa Catalina de Alejandra and soak up the ethereal light. Sip a cappuccino and ogle at the street performers in front of Torre del Reloj. Or, get super adventurous and take a day trip to the Rosario Islands, which are as rustic and lush as they have likely been for centuries.
Cartagena has much to offer adults and kids alike. It's certainly cut out for those whose spring break cravings go beyond the beach. That said, one could easily hunker down poolside at the oasis of the Santa Clara Hotel for a week and be equally content.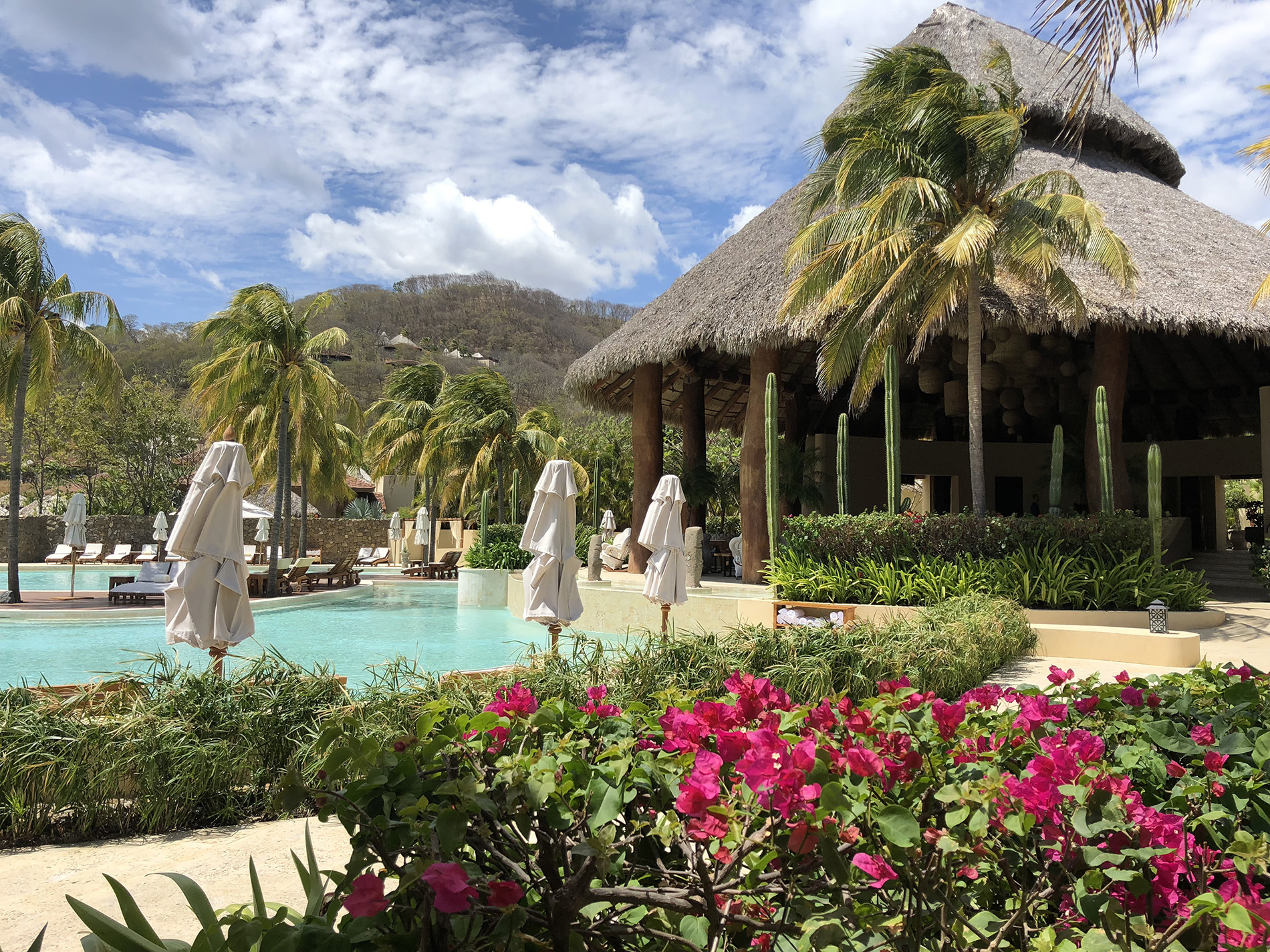 4. The Emerald Coast, Nicaragua
Why Nicaragua?
Nicaragua is a destination for families who like to push the boundaries of adventure travel. A mecca for surfing with breathtaking, remote, sandy beaches and 910 miles of coastline, Nicaragua will have sun-seekers wanting to keep the Emerald Coast a secret. Add volcanic landscapes and freshwater lakes to the mix and one can see why Nicaragua has all of the elements of an atypical spring break.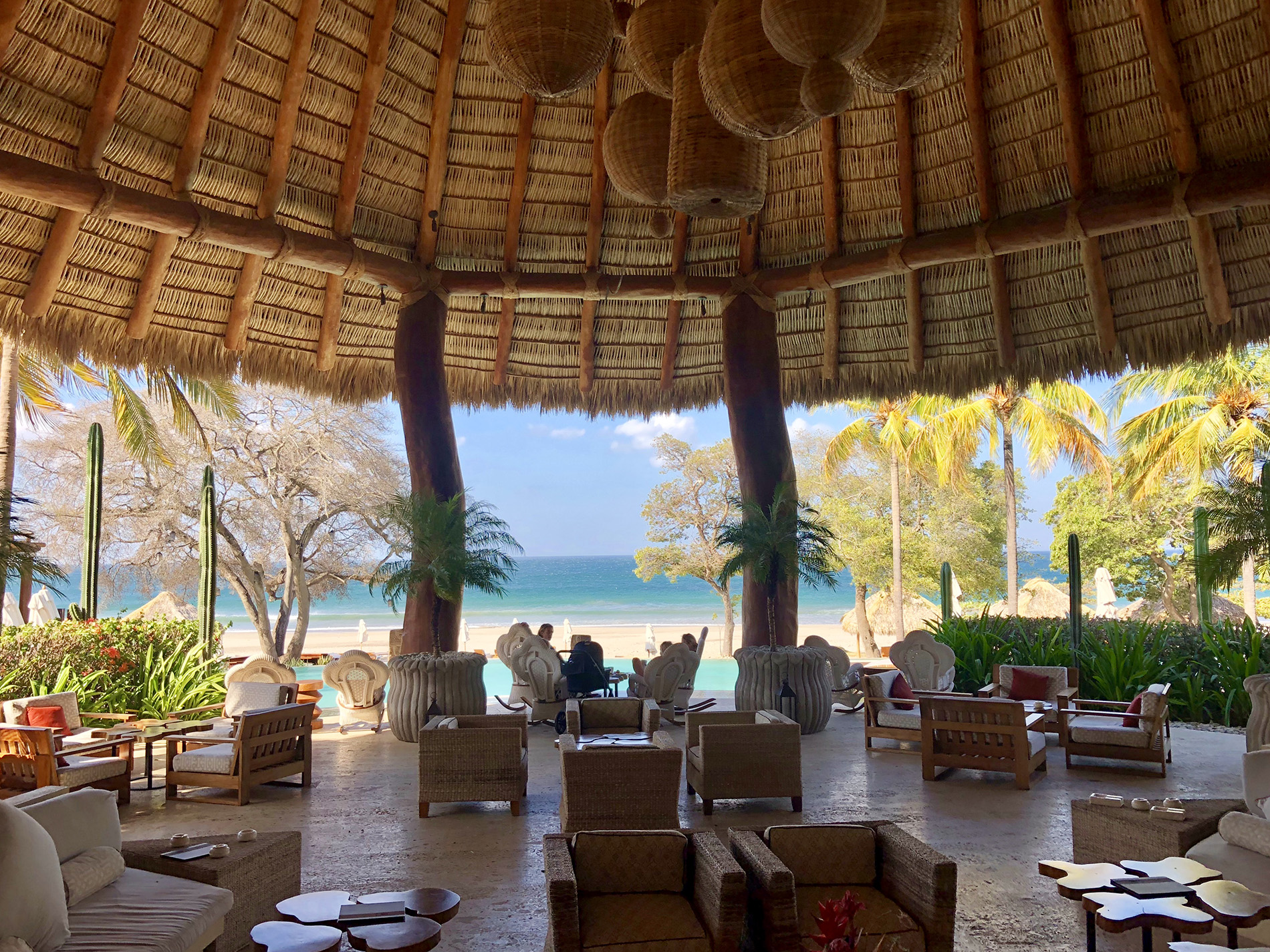 Where to stay?
Mukul, Beach, Golf &Spa's website touts; "Feel like the only person on Earth.' Located on over 1500 acres of Nicaragua's famed Emerald Coast, it is a self-contained haven for families seeking an off-the-beaten-path holiday. It strikes just the right balance of beach, wellness, and activities to suit every family member.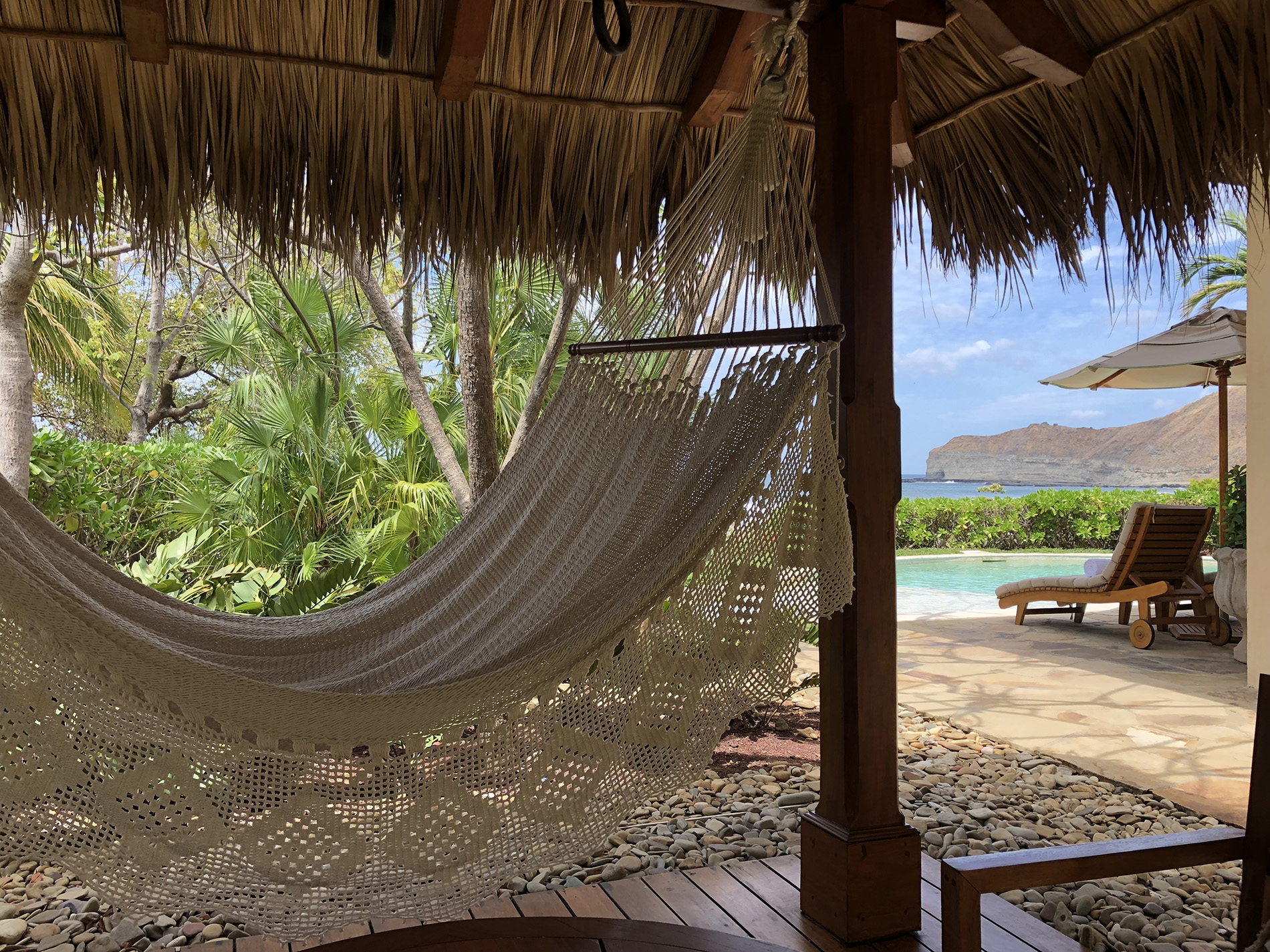 Mukul is a stand-alone property that offers a blend of luxurious beach villas, suites, and residences. Most villas have private pools that overlook the ocean to maximize fiery sunsets. The decor is crafted by Nicaraguan artisans and the vibe is distinctly tropical-chic.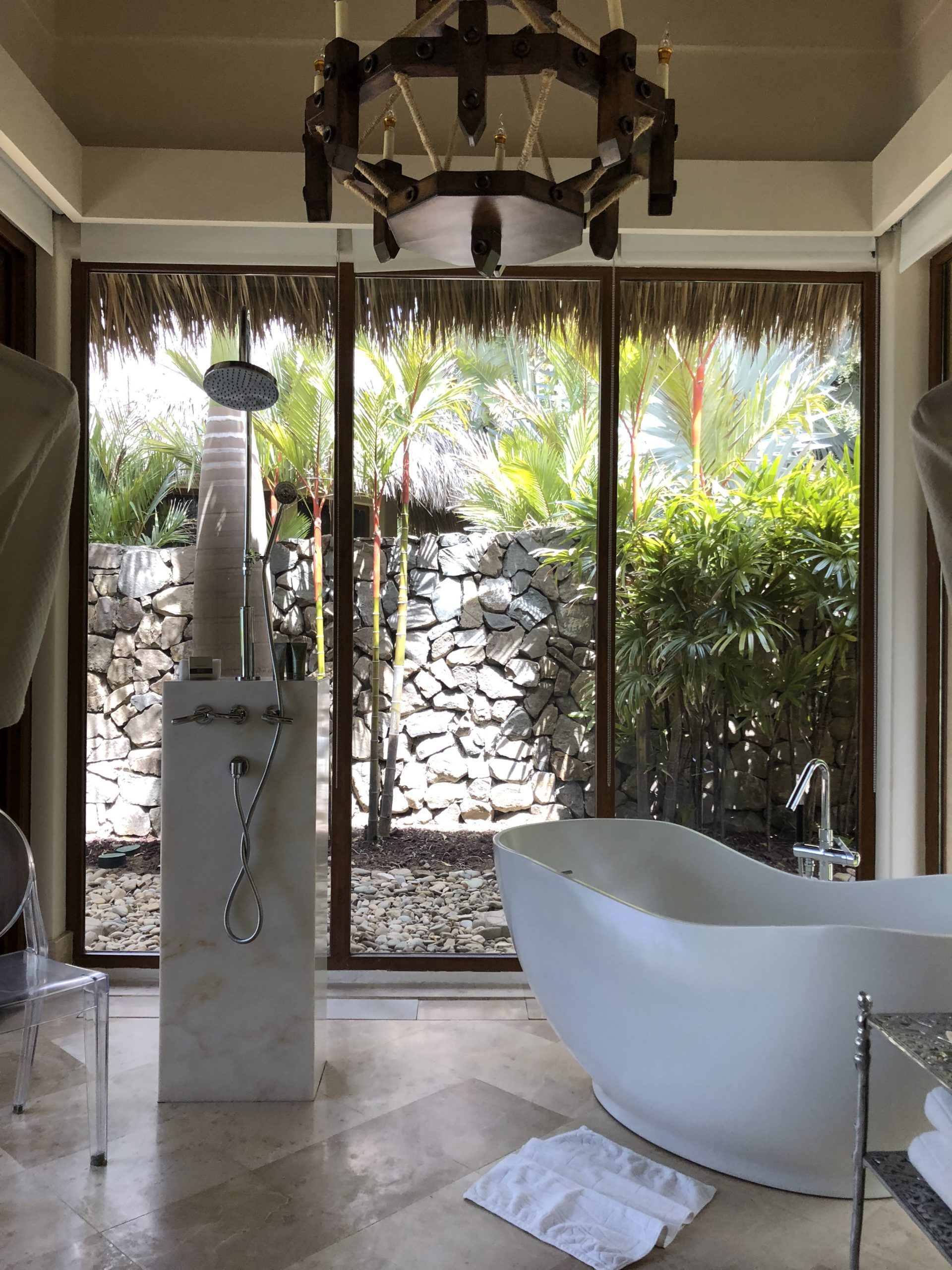 Deep soaking tubs, monsoon showers, and outdoor palapa lofts with hammocks make it a challenge to leave the villa grounds.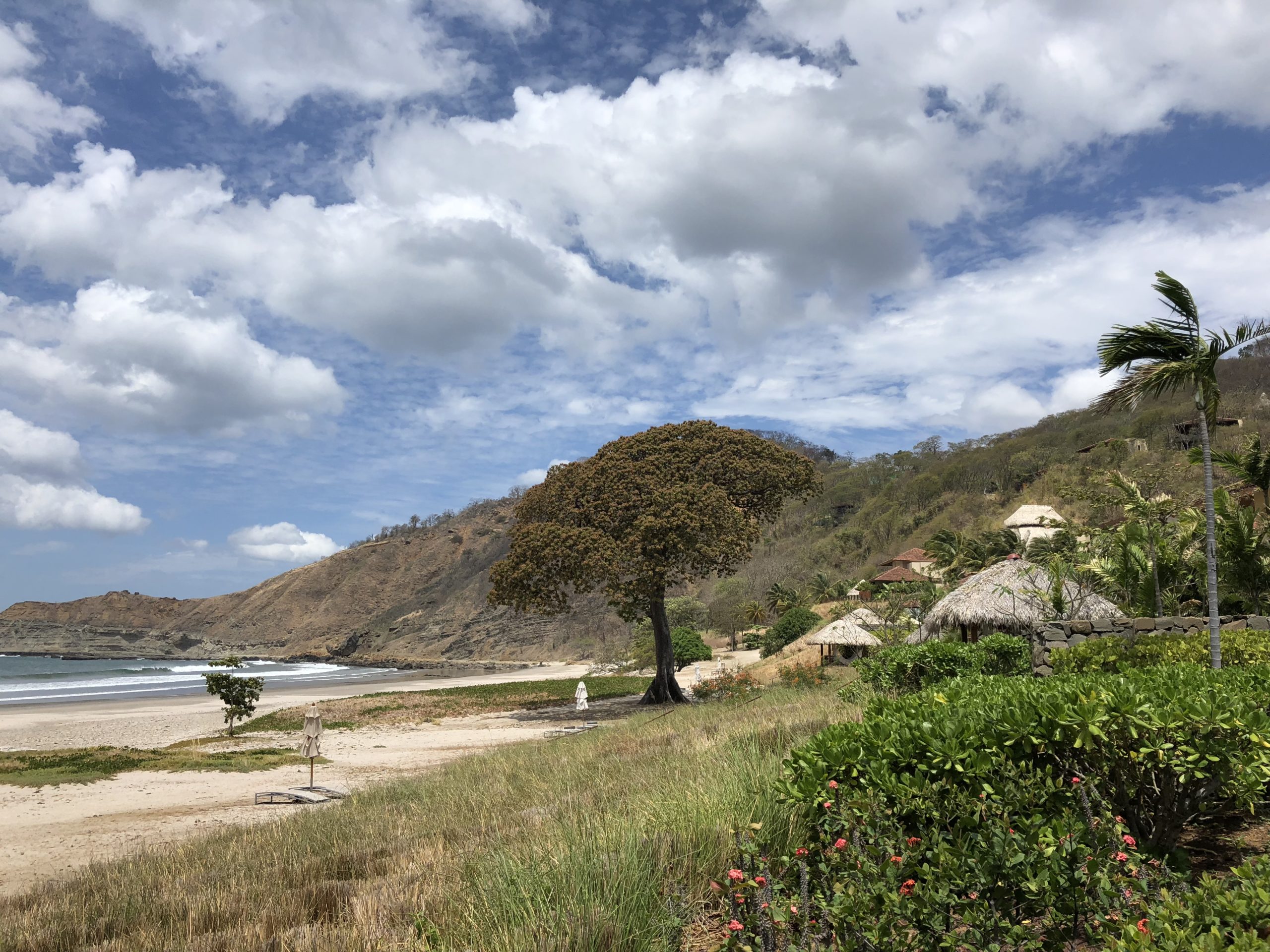 There are multiple restaurants to choose from, as well as private dining opportunities on the beach or in the villa. Open-air Tres Ceibas Beach Club is a relaxed family-friendly option with views of the pool and ocean. Chances are the kids will befriend one of the resident iguanas that may wander across the deck during dinner. They are natural models and love to pose for the camera.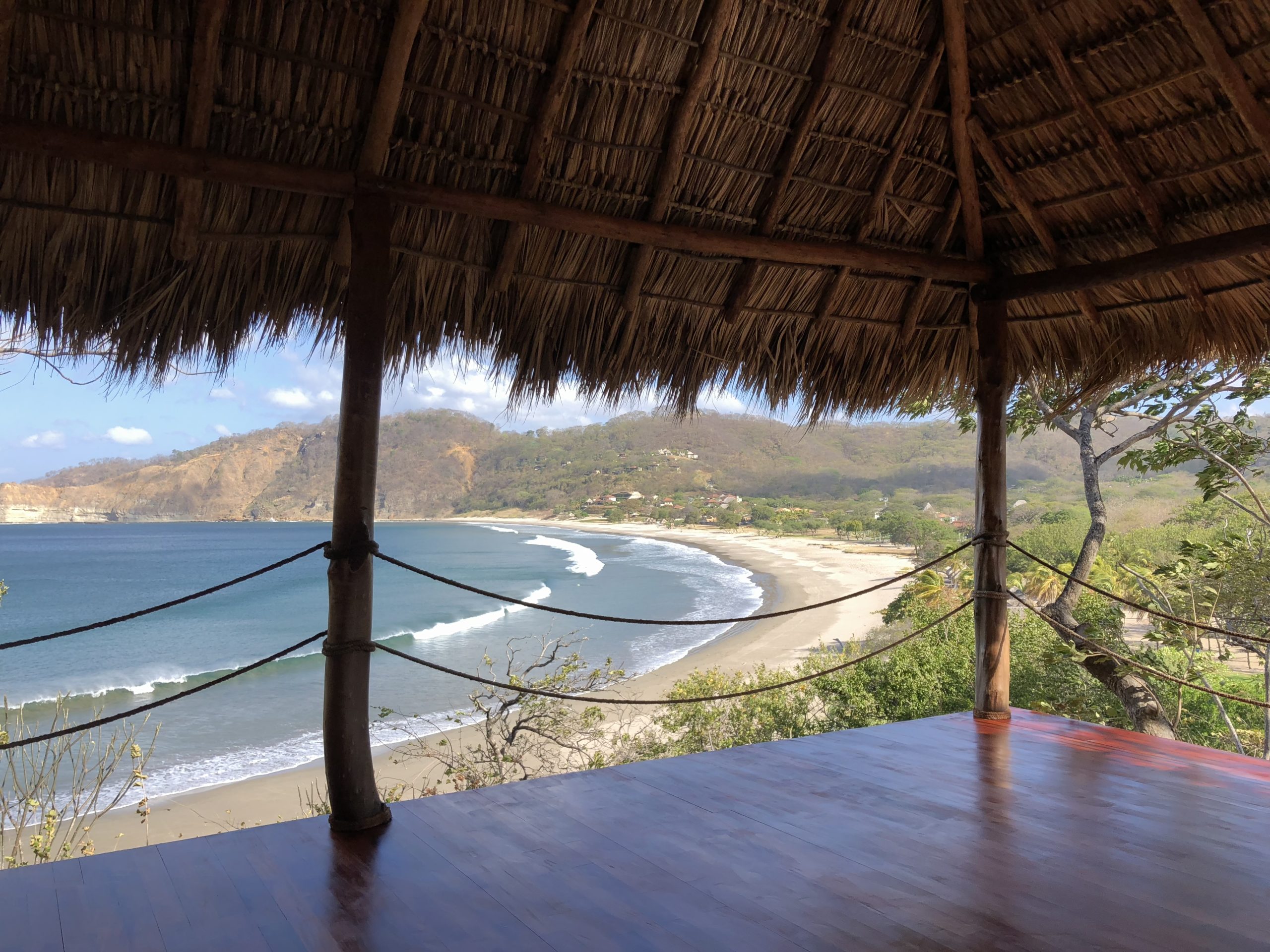 What to do?
The property is vast, so chauffeured golf carts and vans are on hand to shuttle guests around. Whether to the hilltop spa, perched high above the property with majestic bay views, or to the panoramic yoga tree deck at the far end of the crescent beach. But perhaps you'd rather work off those rum drinks with a long bike ride? Hop on, complimentary bicycles await.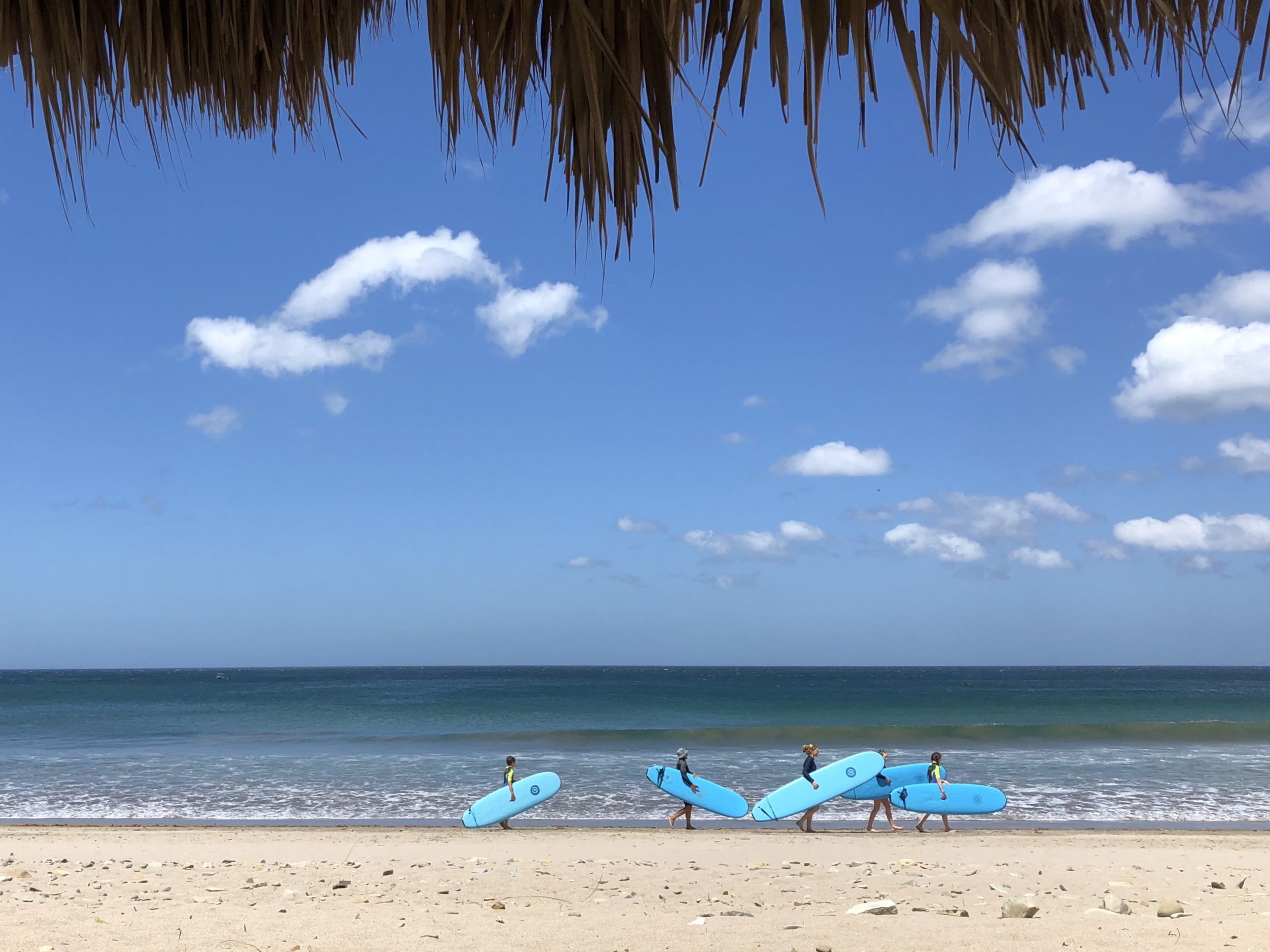 Surfing is on-site, which is one of the coolest perks of Mukul. Kids can take lessons while the parents sip Maucalitos (Mukul's signature rum drink) on the beach. TropicSurf's enthusiastic and welcoming instructors can make a surfer out of anyone. Trust me, I have first-hand knowledge.
It is hard to know who is having more fun out on the waves, the kids or the instructors.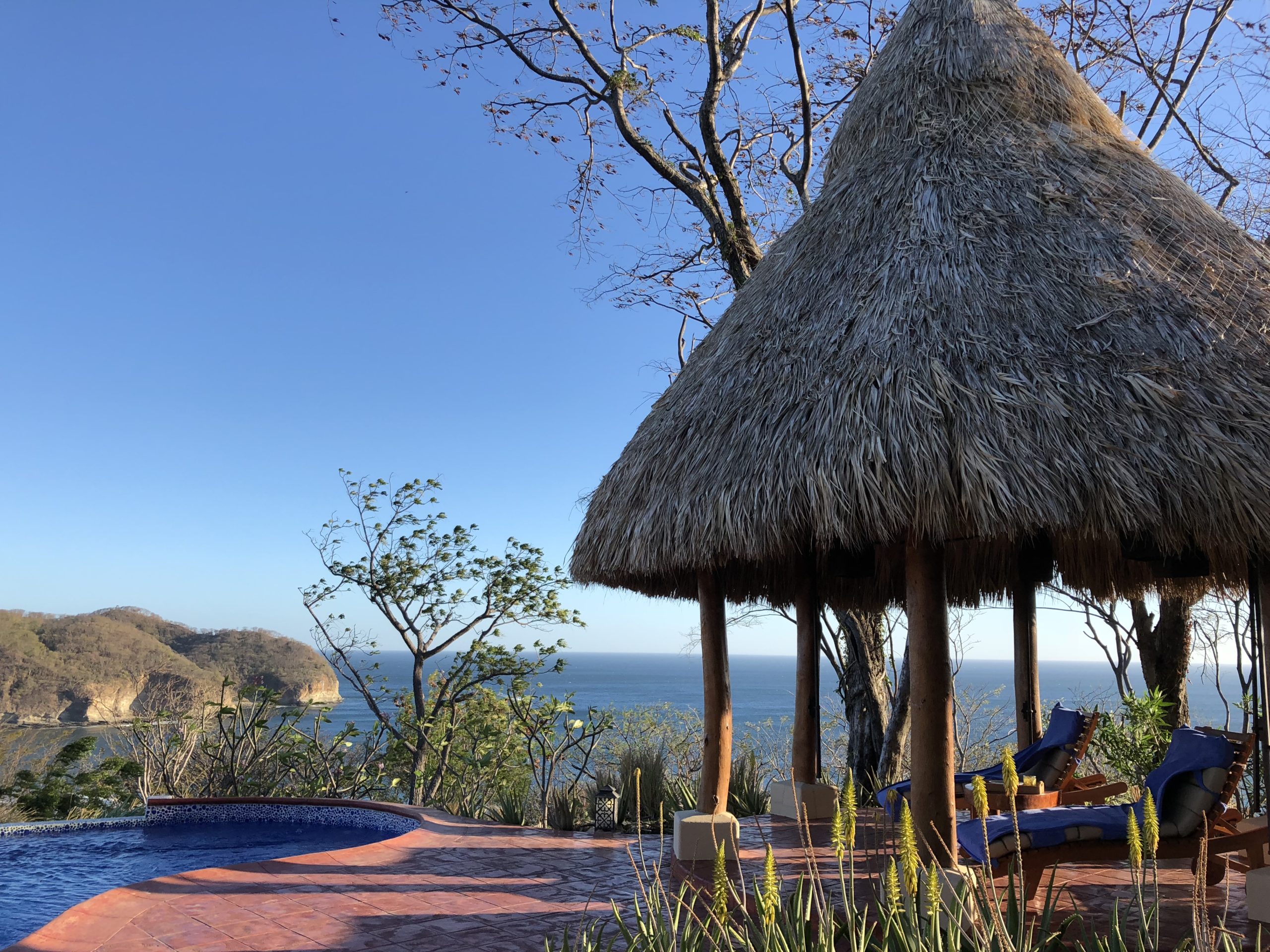 Hiking, tennis, spa, yoga and all of the other amenities one would want in a self-contained luxury resort are available. Have Mukul pack a picnic lunch and bike to secluded Guacalito Beach for a day of swimming and shell collecting. Arrange a private rum tasting before dinner one evening. Spend a few hours playing backgammon or checkers under the oversized main palapa loft.
Embrace adventure at this sandy paradise and surfing spot on the Emerald Coast of Nicaragua. You just might feel like the only people on Earth.
3. St. Lucia, Caribbean
Why St. Lucia?
Sometimes a true beach getaway is just what we need around mid-March. The Caribbean has dozens of fabulous islands, each with a distinct flavor and cultural vibe. But St. Lucia is especially special, in a sea of special islands. This is due to its mountainous landscape and in particular, its famed duo of volcanic spires, the pitons.
The Gros and Petit Pitons, which stand at 2,618 feet and 2,438 feet respectively, are the natural showstoppers of the island. A UNESCO World Heritage Site, they are magnificent around the clock.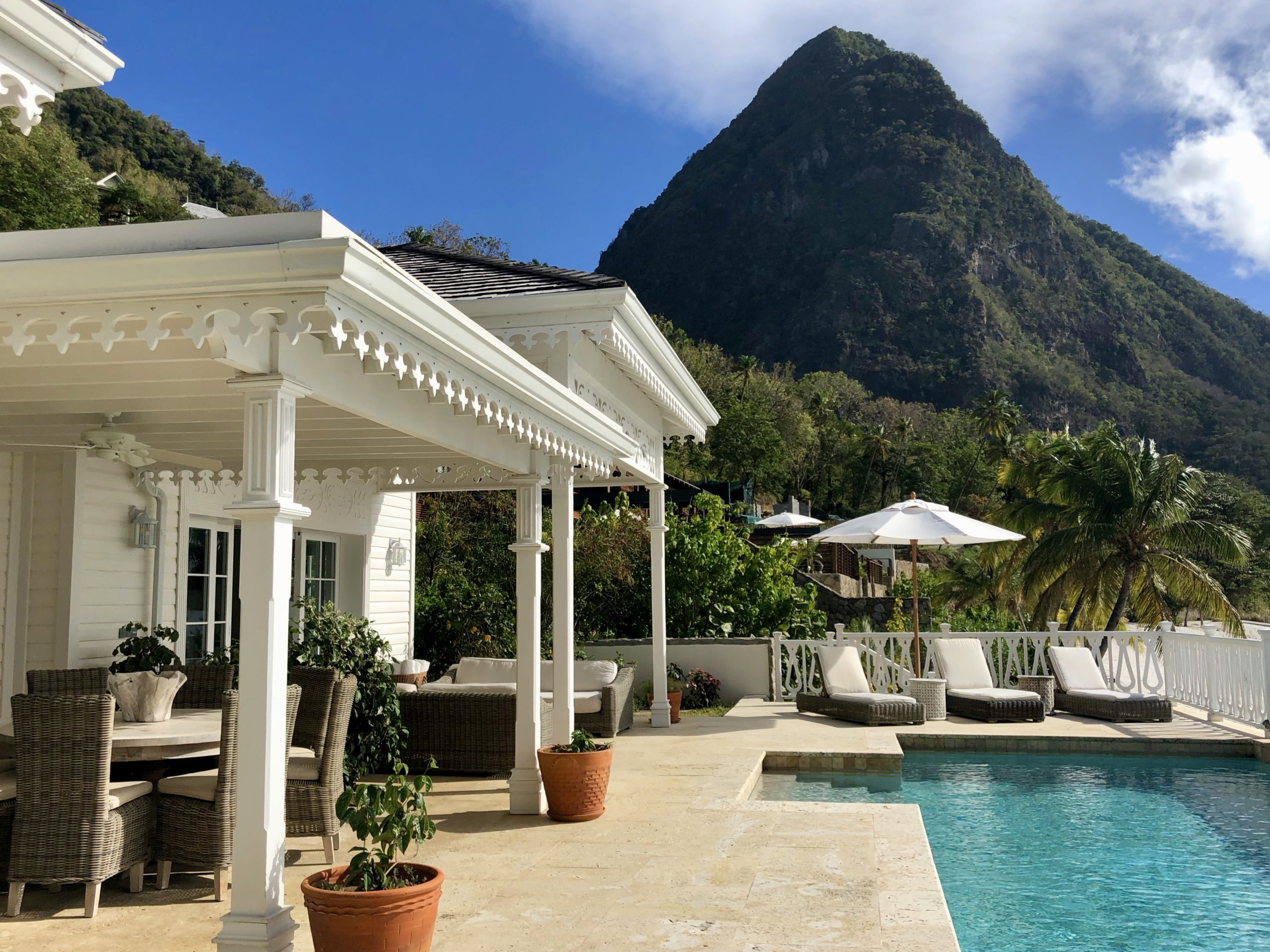 Where to stay?
The Viceroy Sugar Beach won the St. Lucia lottery on location, being one of only two resorts that nestle between the pitons, and the only one that is beachfront. Staying at a resort that lies between the pitons is unique in that at any given time of day, one piton is lit to perfection while the other lies in dramatic shadow.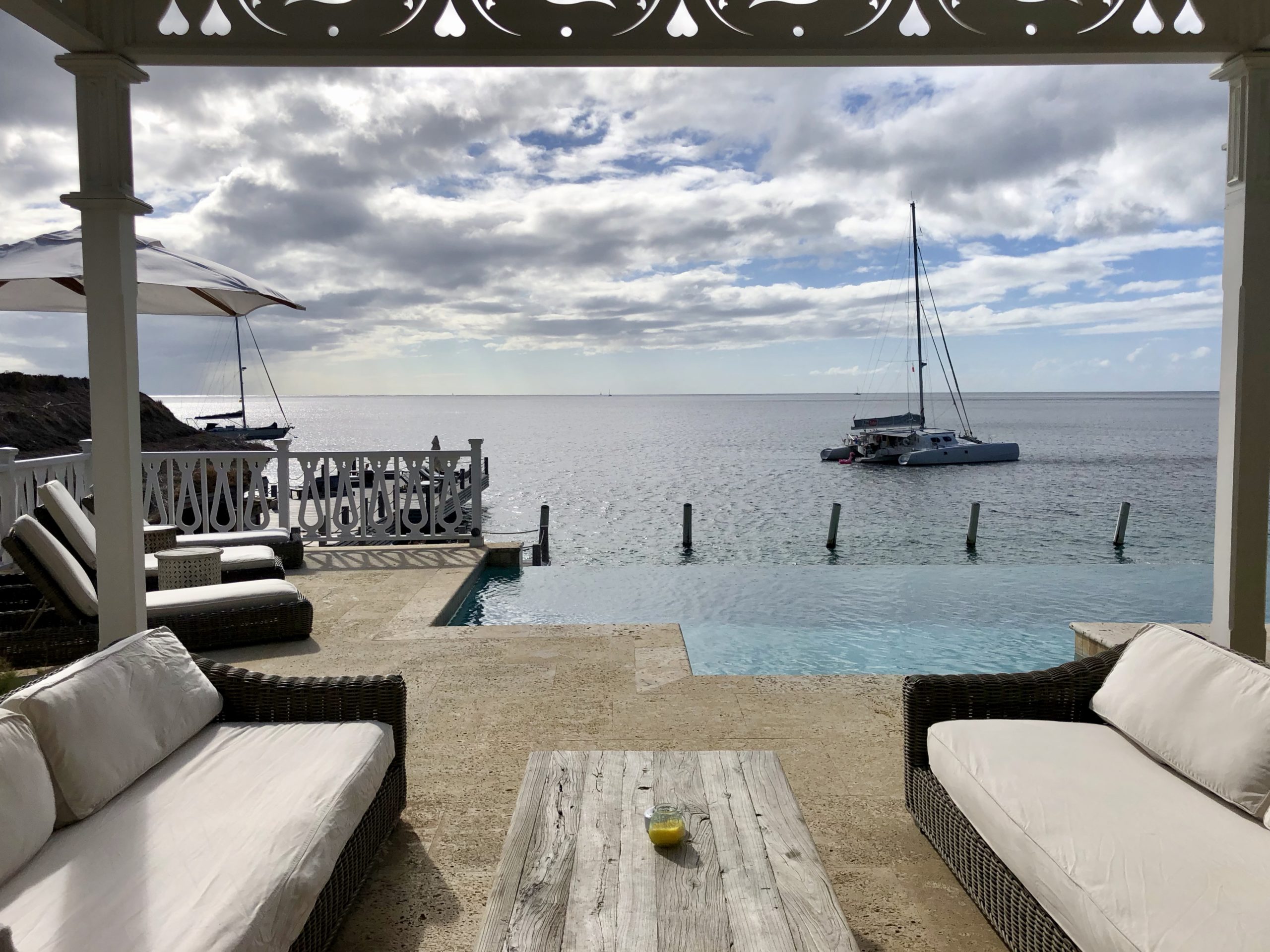 Sugar Beach has enough accommodation options to suit any family. From multi-room beachfront villas to plantation-style cottages hidden in the hills, and various options in between. Many cottages come with private plunge pools. Our beachfront villa had a long infinity pool that paralleled the sea. It hovered just high enough above it so that it felt like we were swimming laps alongside the horizon.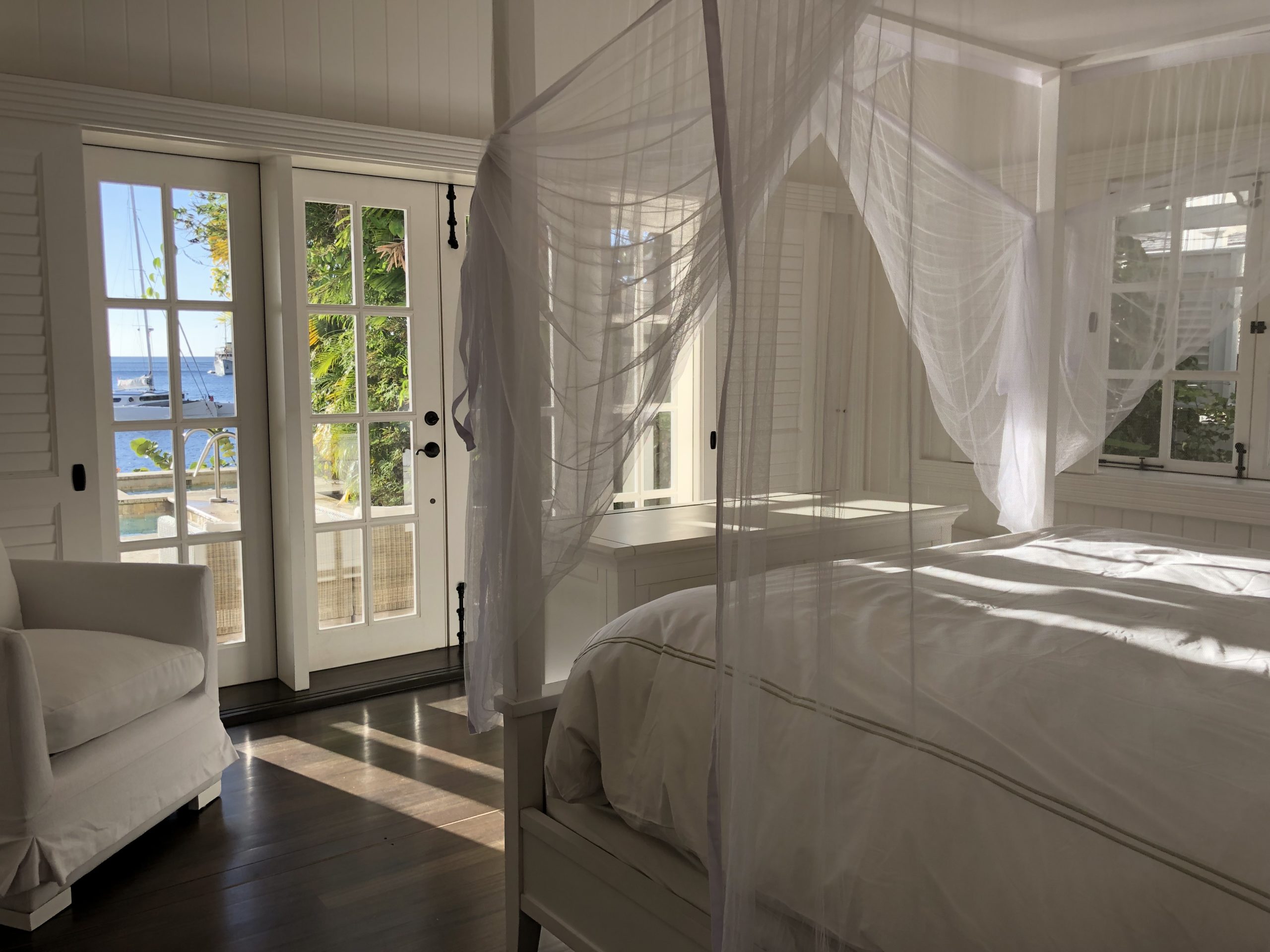 The white-on-white decor has touches of dark colonial wood. Yes, it's as breezy and comforting as it sounds. Four-poster beds with gauzy mosquito netting give the room a dream-like feeling. Windows are floor-to-ceiling and maximize the views so that the sun never sets without you knowing.
There are multiple lovely dining options at the resort, each with a unique slice of Caribbean character. Bayside is open-air and steps from, you got it, the bay. It serves fresh mahi-mahi and wood-fired pizzas among other delights.
The Great Room is a more formal dining experience. A picturesque throwback to colonial times. Yet, my favorite place to eat is the Cane Bar, an Asian-inspired restaurant tucked away inside the hotel. Its menu of fresh sushi, nigiri, and tempura is a nice change-up from traditional Caribbean options.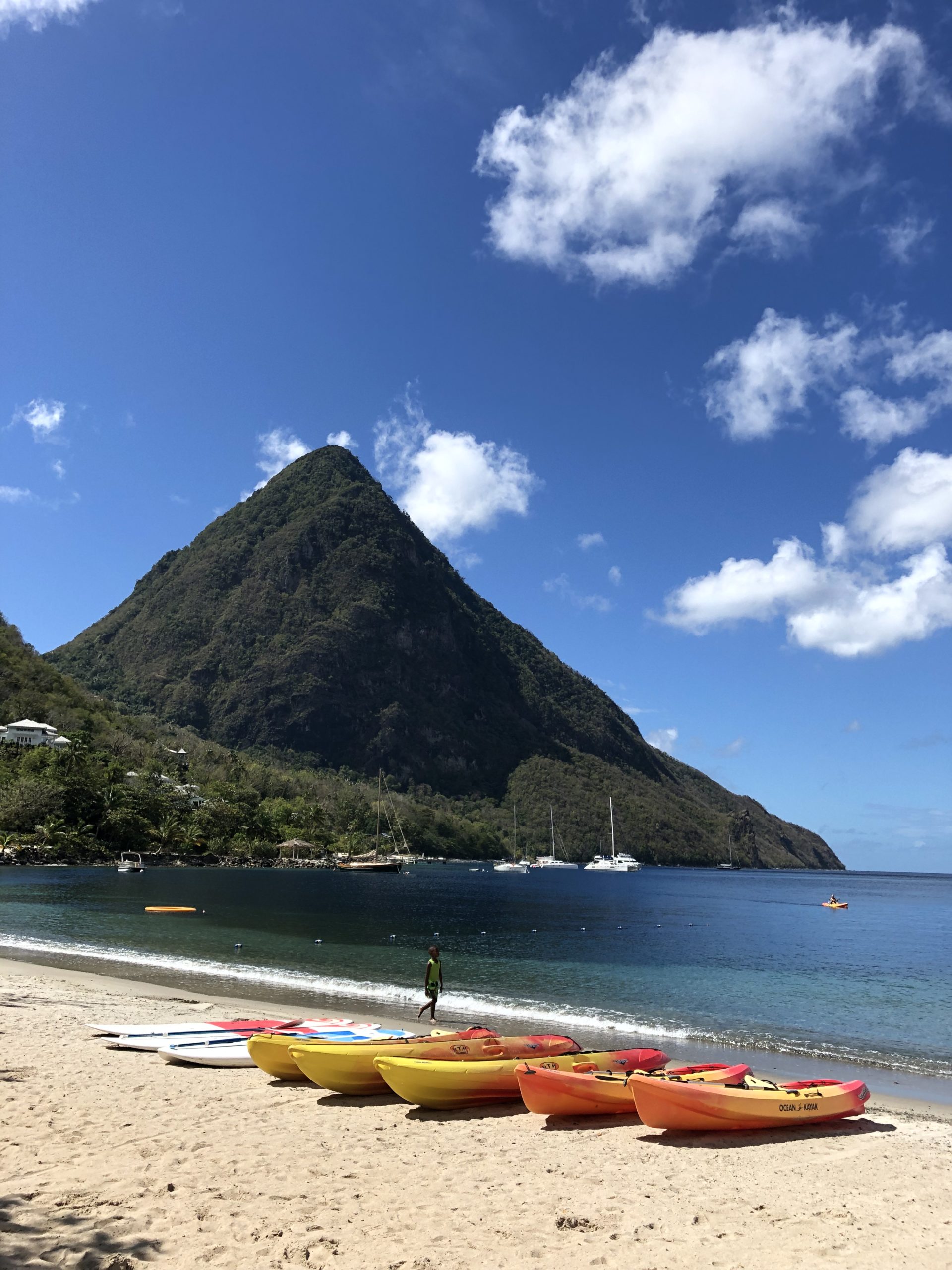 What to do?
The kids will be happy to bounce between the hammocks and beach soccer, the kid's club and the game room all day. Large yellow floating disks are anchored in the sea and provide endless leaping and jumping entertainment for kids and adults alike.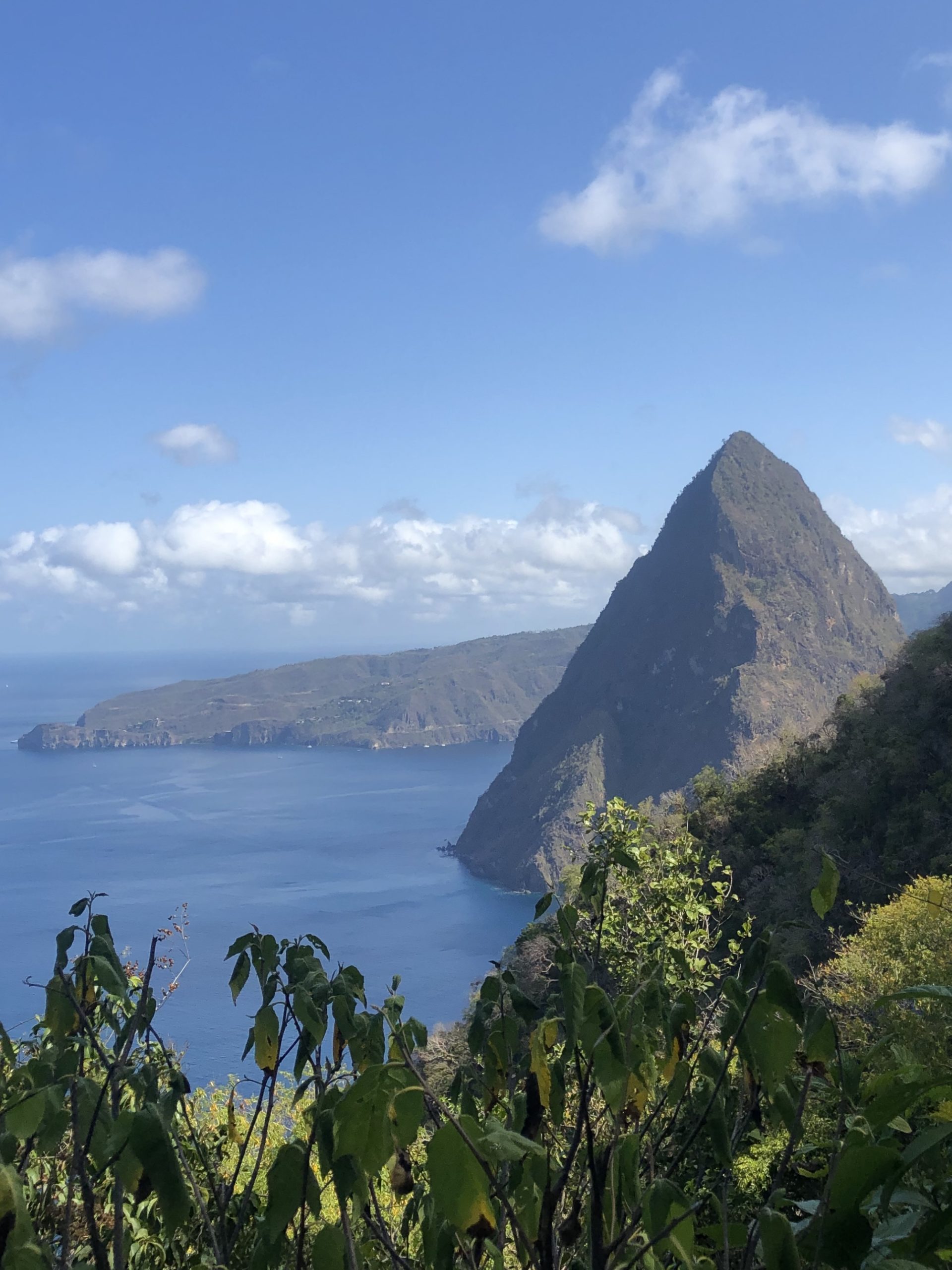 If you have family members who like to add a healthy dose of physical fitness to their beach holiday, hiking Gros Piton will no doubt fit the bill. It's a challenging hike, but worth every drop of sweat for the summit views. For those who find this endeavor a little intimidating, the mid-mountain viewpoint is just as lovely and much less arduous.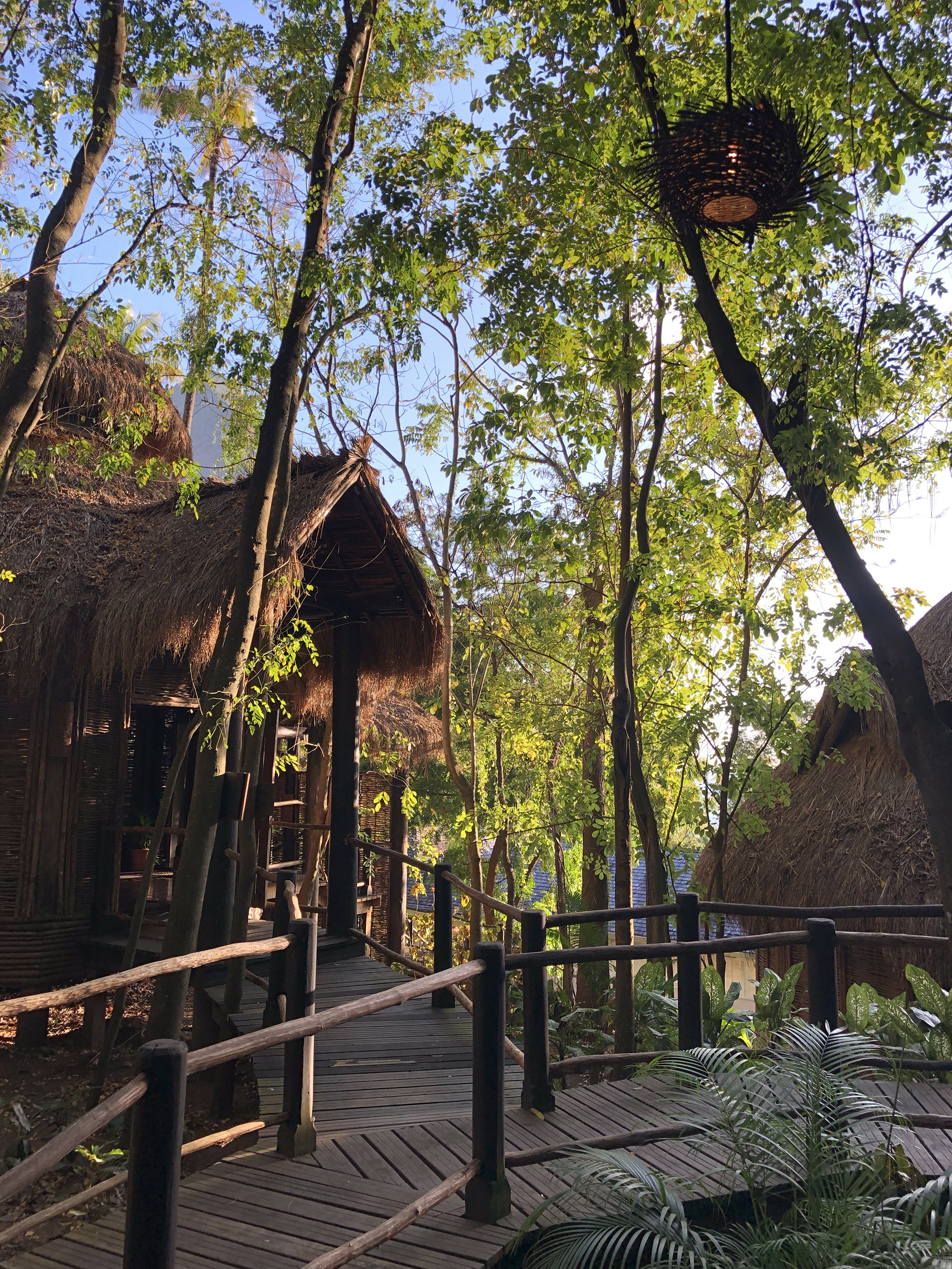 On-property, Sugar Beach offers waterskiing, scuba (day and night), snorkeling, sailing, kayaking, tennis, and tubing. There is also a secluded rainforest spa which consists of treehouse treatment rooms. Book during the golden hour before sunset and watch the dappled light between the trees set the spa aglow.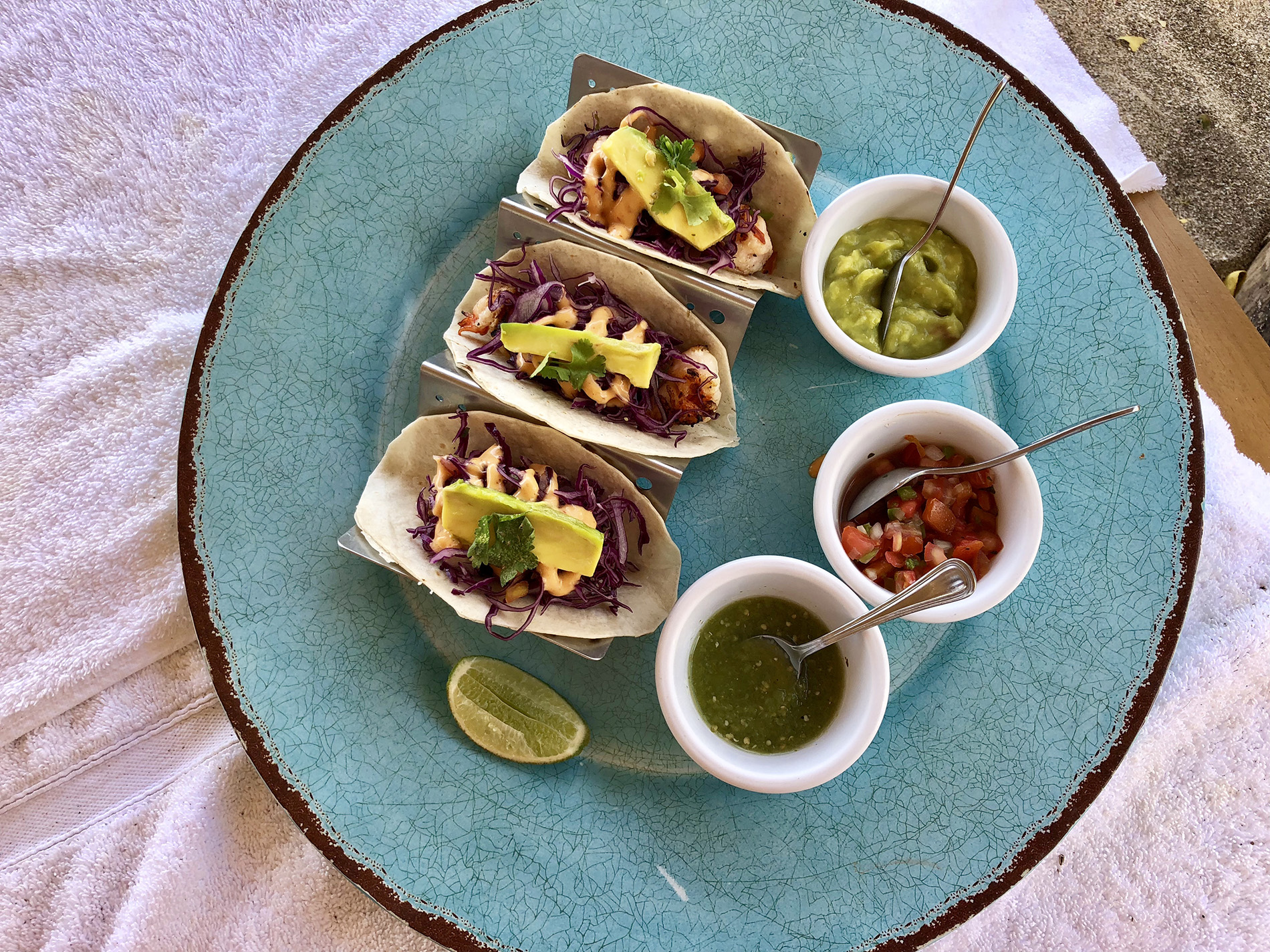 Given all of this, my favorite spot at Sugar Beach is under a shaggy, golden thatched umbrella with a plate of fresh shrimp tacos. As I said, there is something for everyone at Sugar Beach.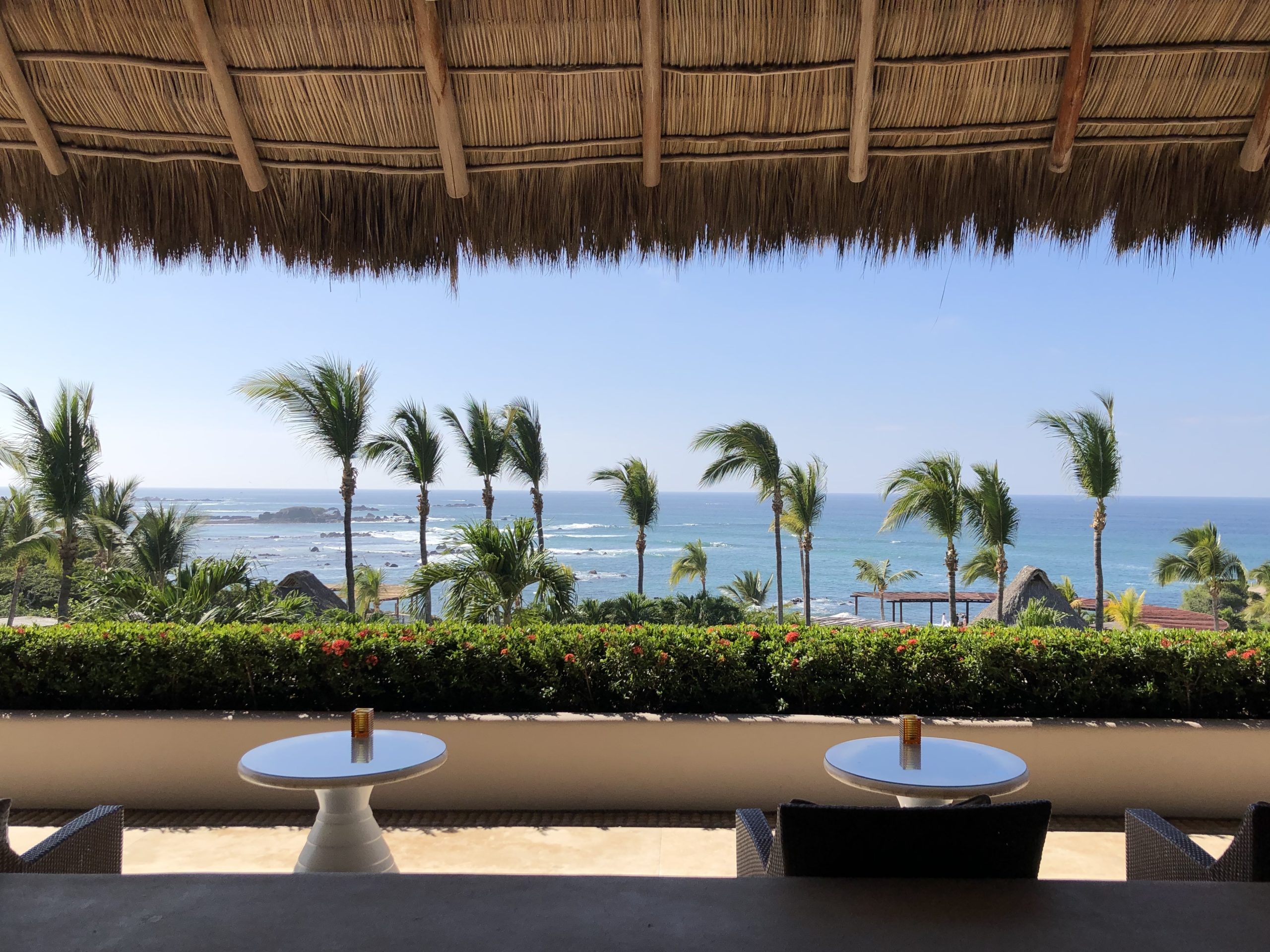 2. Punta Mita, Mexico
Why Punta Mita?
Have you heard of Punta Mita? The sun-soaked, palm tree-dotted peninsula on the west coast of Mexico? If not, allow me to sing its mariachi praises. Punta Mita is a 1500-acre private peninsula that boasts a string of luxury resorts, well-manicured golf courses, and exclusive villa communities. The Pacific Ocean's deep blue waters surround three sides and nearly ten miles of the peninsula. It has a mild tropical climate practically year-round. It's idyllic. Consider yourself informed.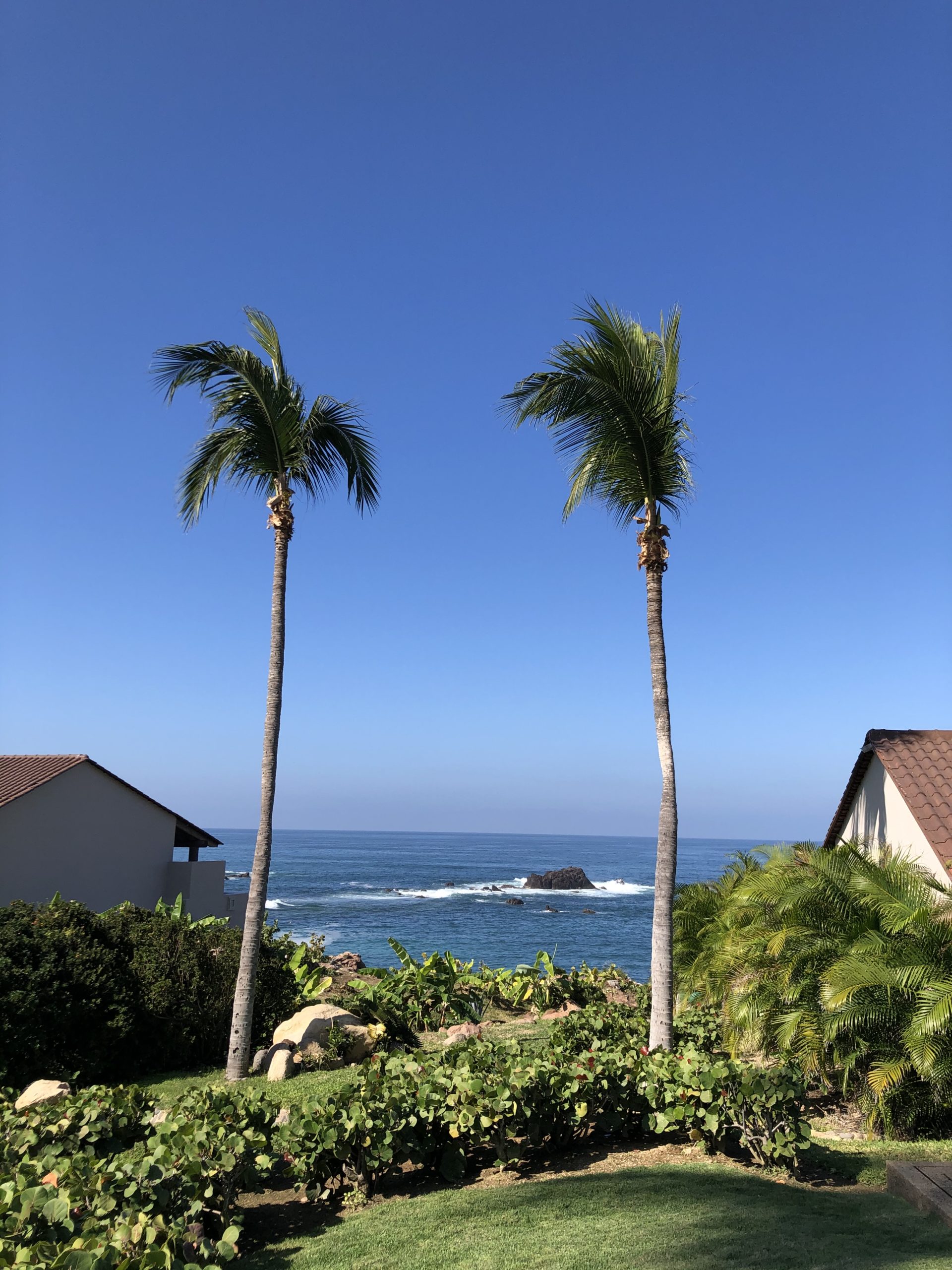 Where to stay?
The Four Seasons Punta Mita is as close to resort perfection as one can find. It somehow manages to strike the right combination of kid-friendly and adult-friendly activities. It's masterful, as one who has been to too many overly kid-centric resorts can attest.
The resort is sprawling yet doesn't feel overwhelming. There are rooms at many price points. Being true suckers for a view, we chose an Oceanfront Casita. The casita was close enough to the ocean for me to taste the salt in the air.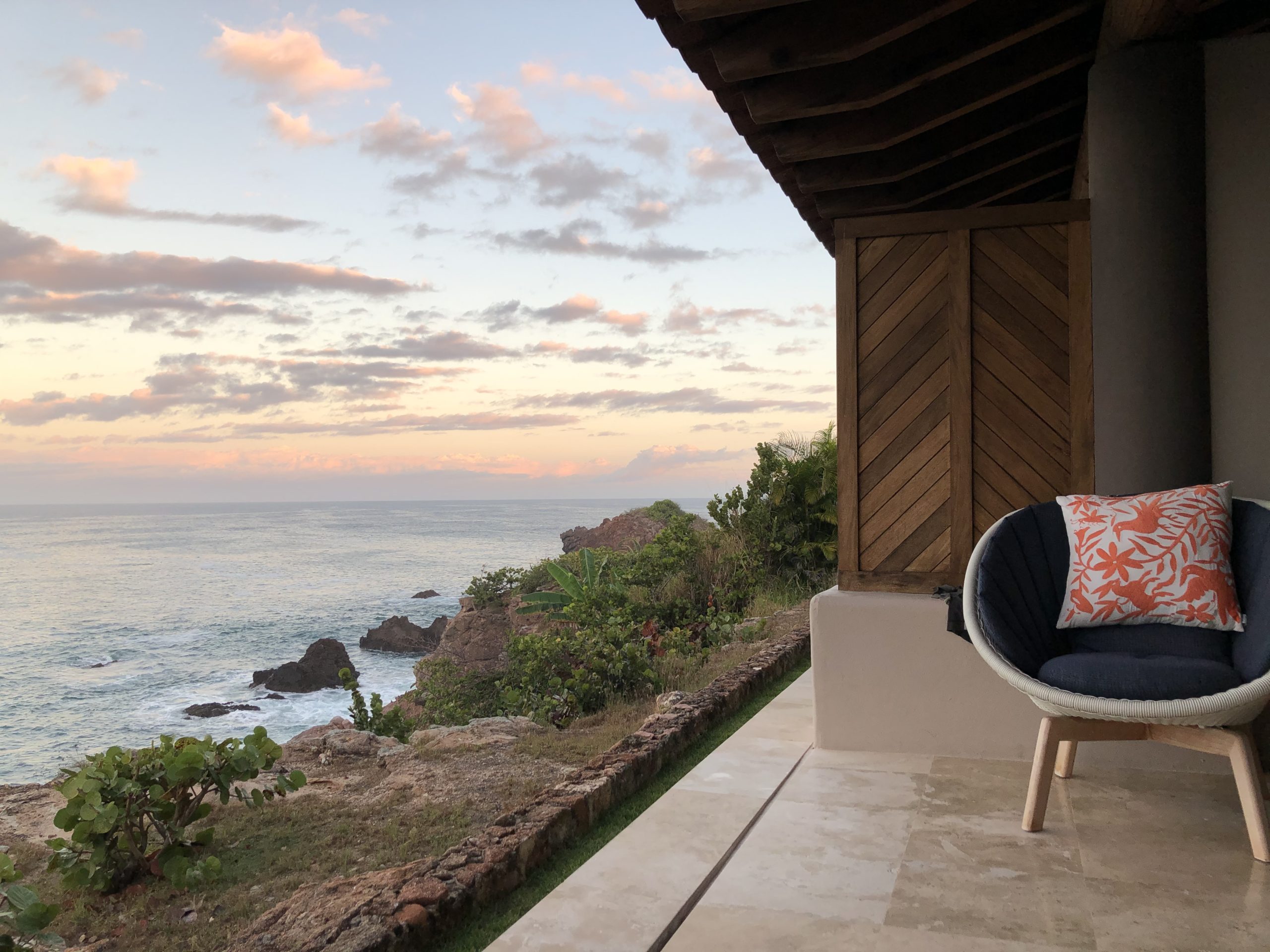 Floor-to-ceiling doors slide open to the outermost edges of the room. Good morning, mighty Pacific! Simple, modern Mexican decor is welcoming, and furniture is arranged to maximize the panoramic view. I immediately got out my binoculars and started to search for whales.
As I said earlier, the Four Seasons Punta Mita is as close to resort perfection as one can find. This bears repeating and certainly extends to its culinary options and service. Both are unparalleled, especially for a resort this size. Each morning I was greeted with a smile (or smize, as masks are worn, of course) and a server who remembers my name and coffee order.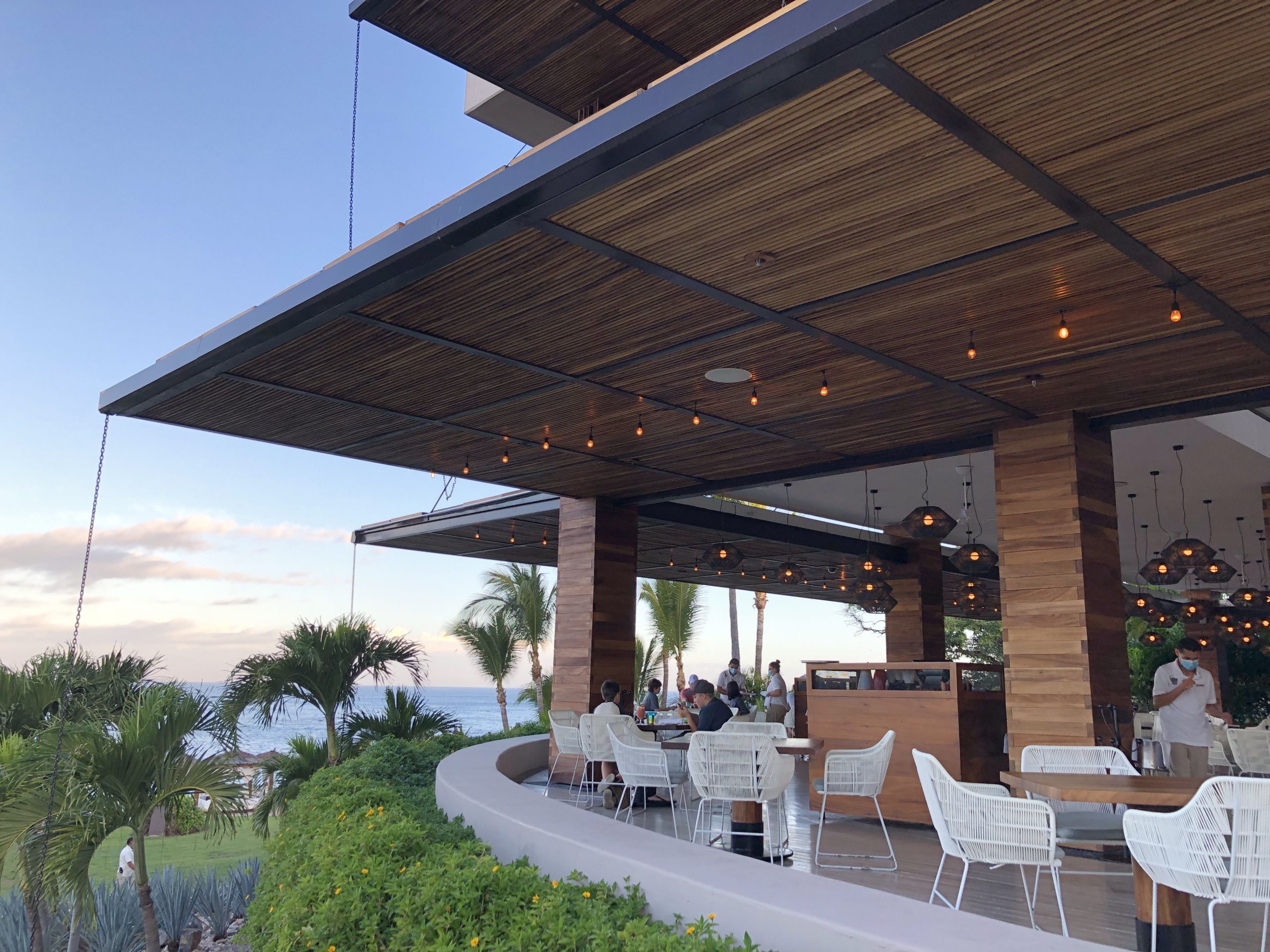 Dos Catrinas is the main restaurant. It opens up towards the ocean and is another idyllic spot to watch whales, which is exactly what I did each morning while sipping my cappuccino.
The staff's graciousness is a thread that runs deep throughout the property. Anyone can argue that this kind of hospitality is table stakes for a luxury resort (and I agree, it is). But the Four Seasons Punta Mita takes it further. It makes a 170+ room resort feel as personal as a boutique hotel.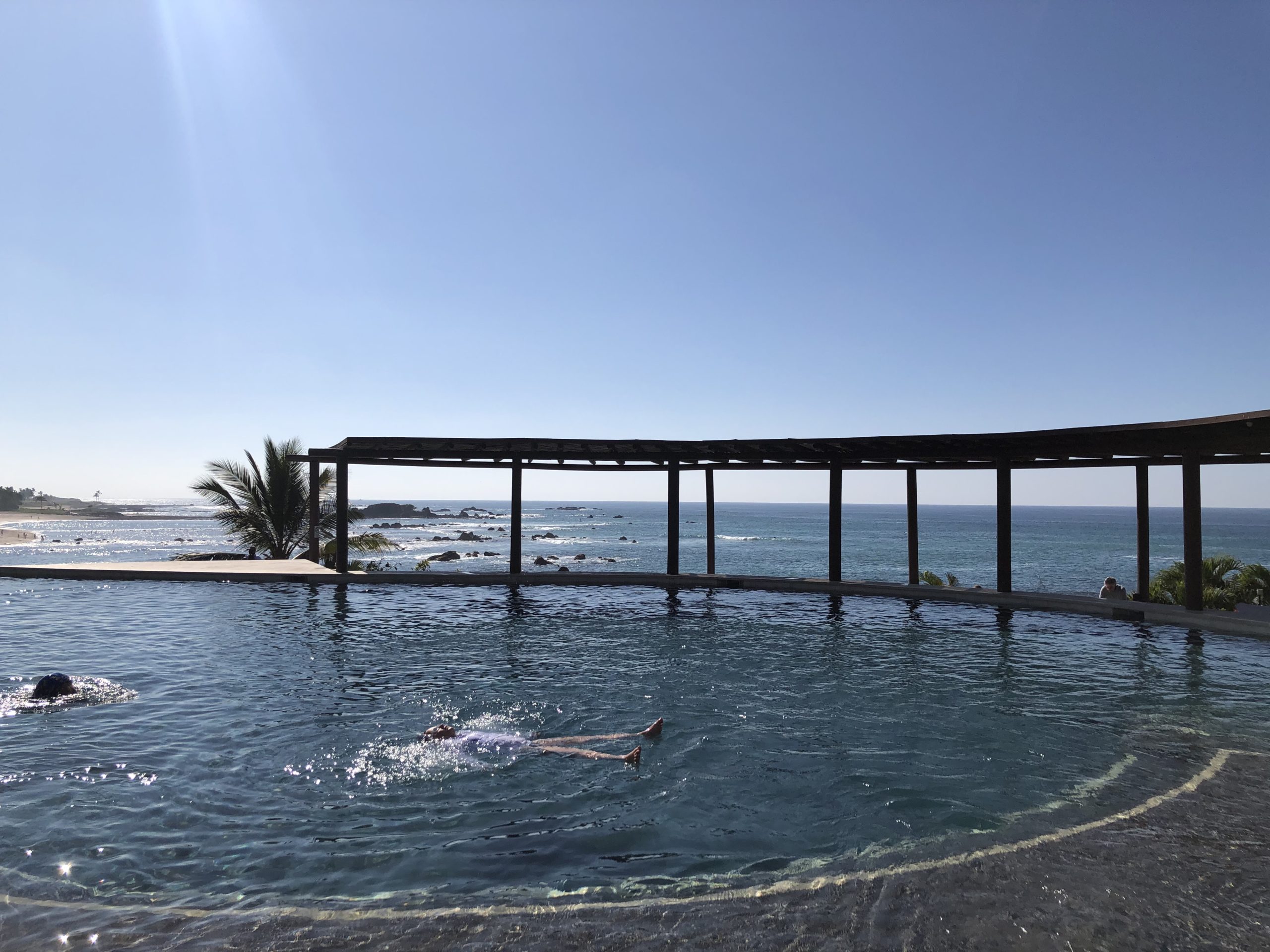 What to do?
Where to start? Aside from the typical luxury resort amenities, The Four Seasons Punta Mita has a lazy river that is so well hidden that you wouldn't know it existed unless someone told you. It has perhaps the most instagrammable infinity pool in Mexico, a beachside taco stand, a falconer with two falcons on-hand to scare away those pesky taco-eating birds.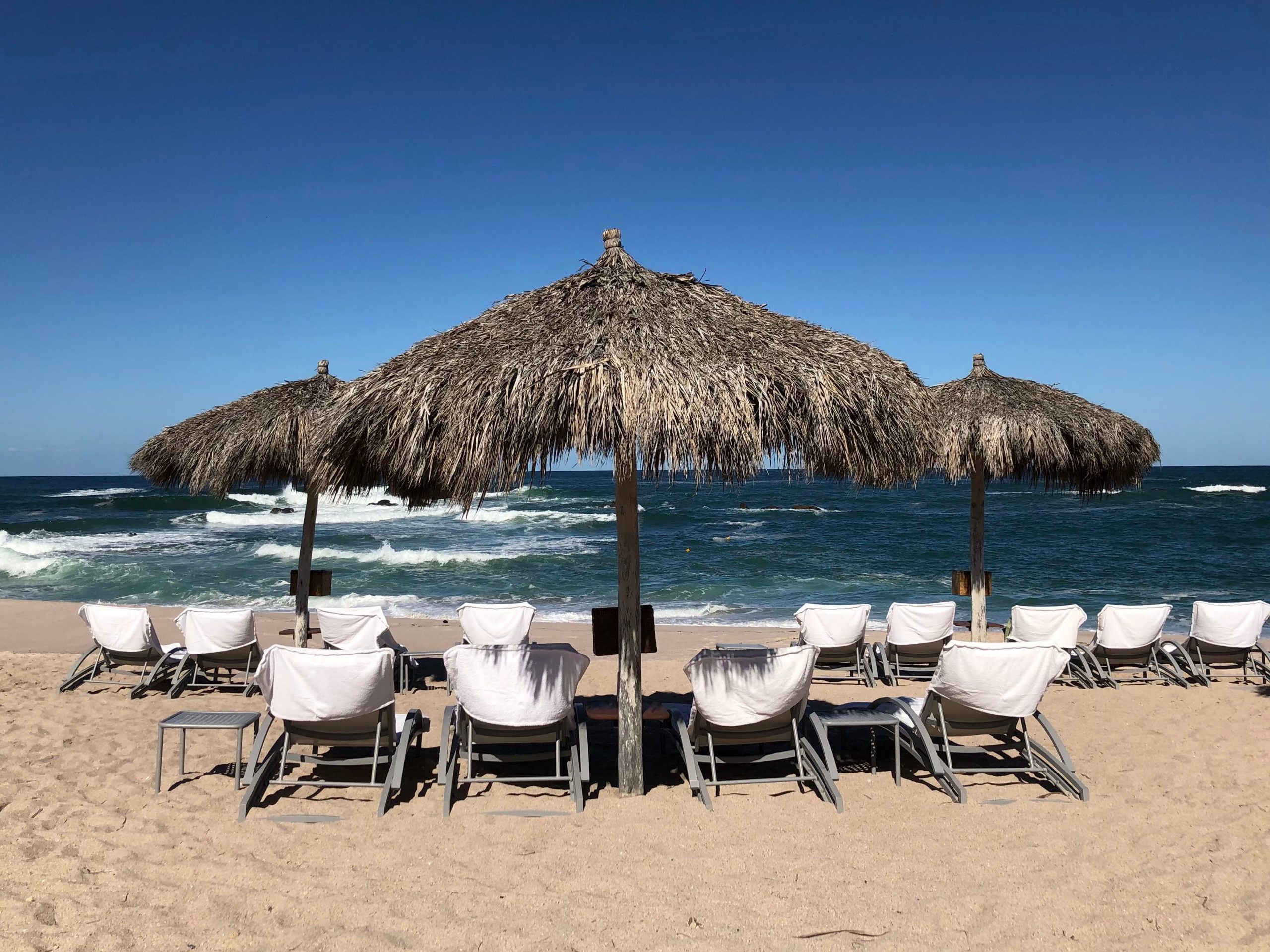 Would your kids like to release baby sea turtles on the beach? Would you like to go whale watching in the afternoon? Or perhaps practice yoga on the tip of a gorgeous rocky point? If you prefer to stay beachside, you never need to leave your chair. Not only can food and wine be delivered, so can foot massages, daily 'surprises' like mini-smoothies, and an Evian spritz from the resident 'sunglass doctor'. No one likes smudges on their Maui Jims.
TropicSurf appears again at the Four Seasons Punta Mita. The same class act as we found in Nicaragua, and also on-site. Every single one of our group of nine was able to ride a wave, regardless of age or fitness level. A family memory for the books.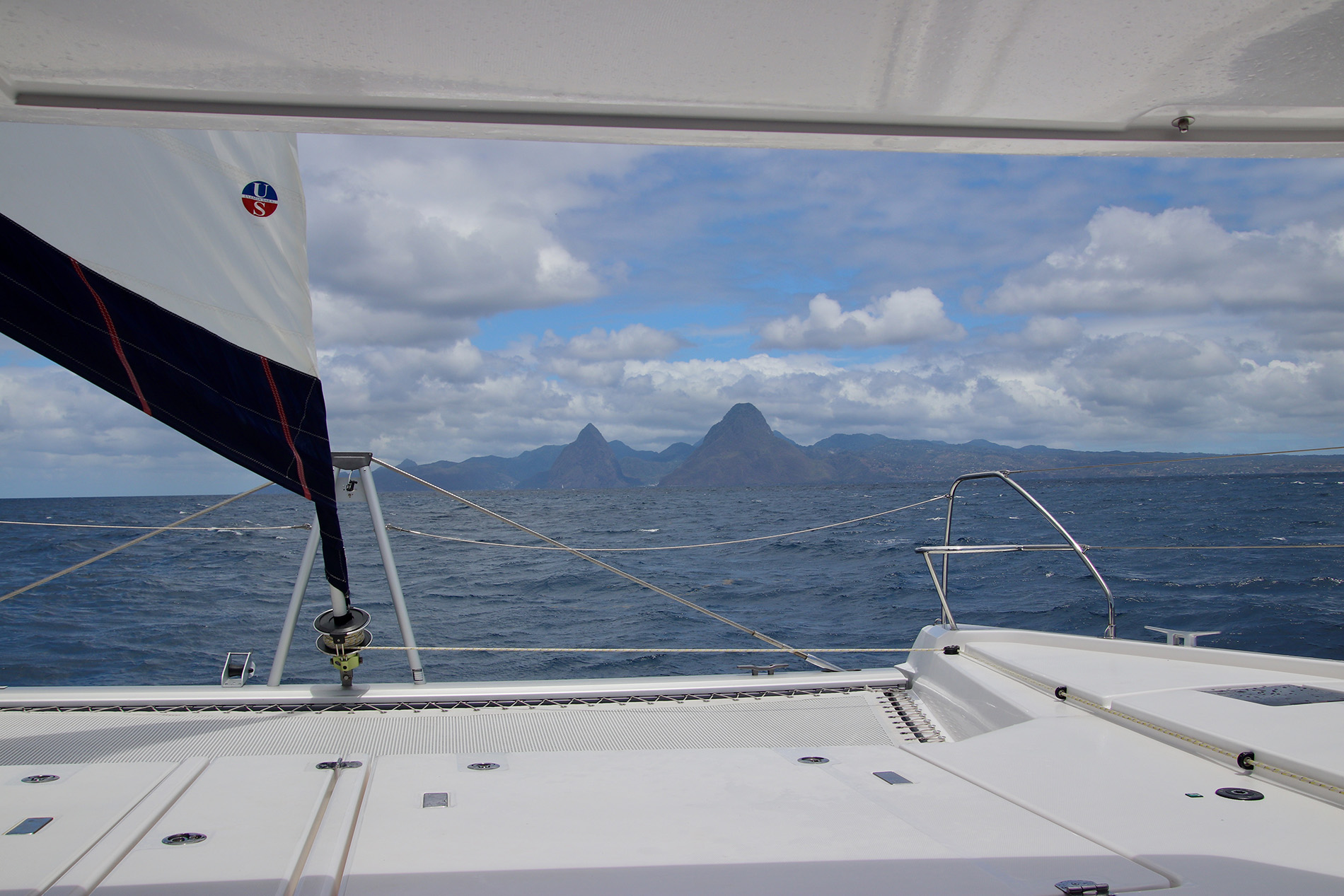 1. The Windward Islands, Caribbean
Why the Windward Islands?
The Windward Islands are some of the southernmost islands in the Caribbean and include St. Lucia, Saint Vincent, and the Grenadines. The fact that they are harder to reach than many of their Caribbean siblings is an inherent part of their charm. Fewer tourists. This string of idyllic islands will make one feel like an intrepid ocean explorer and is a worthwhile destination for families who want an off-the-beaten beach vacation, so to speak.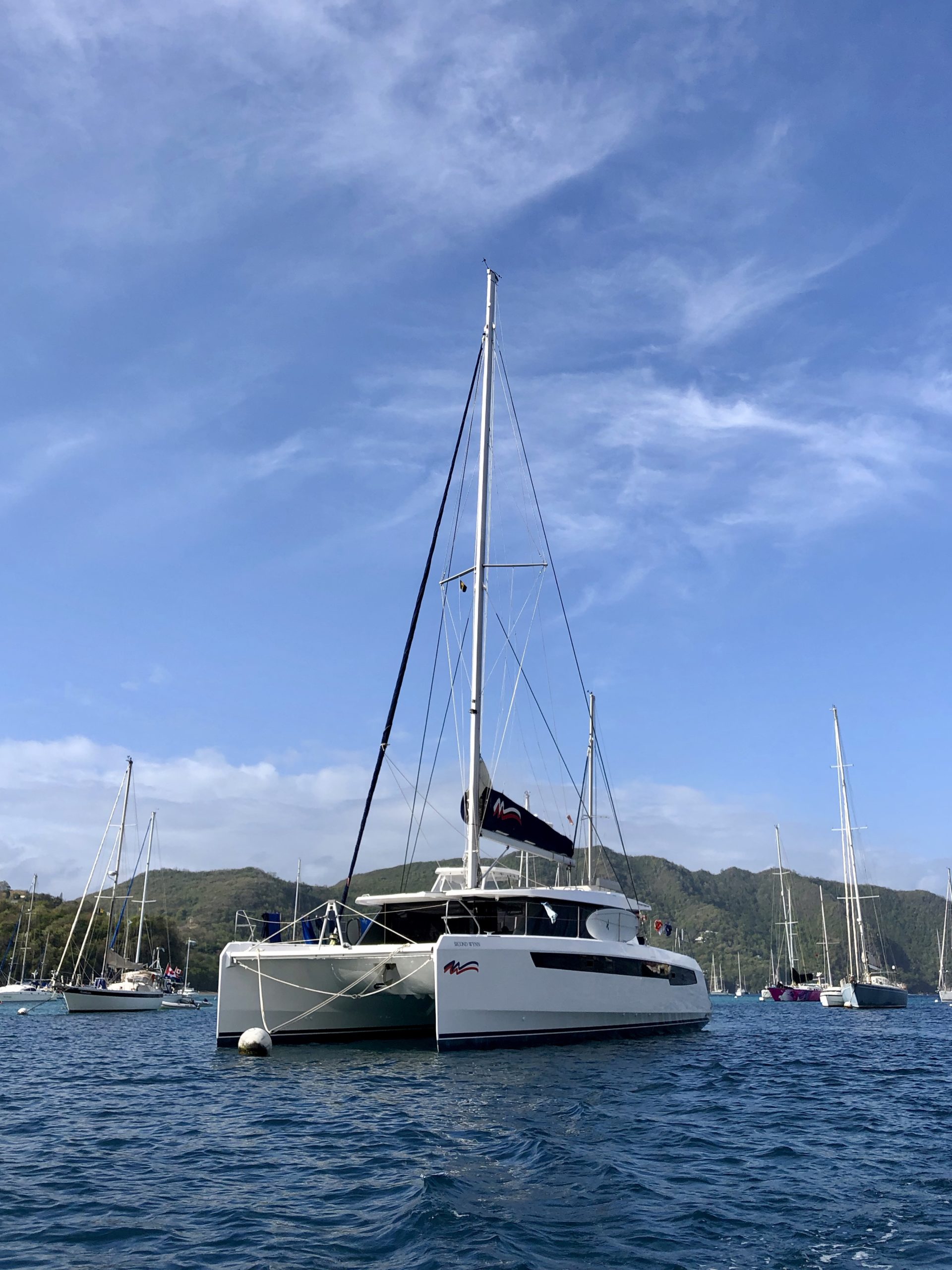 Where to stay?
There are many ways to explore the islands of the Caribbean, but none is more exhilarating than sailing. We decided to rent a 50-foot catamaran named Second Wynn, a new boat with all of the bells and whistles one would want on the open sea.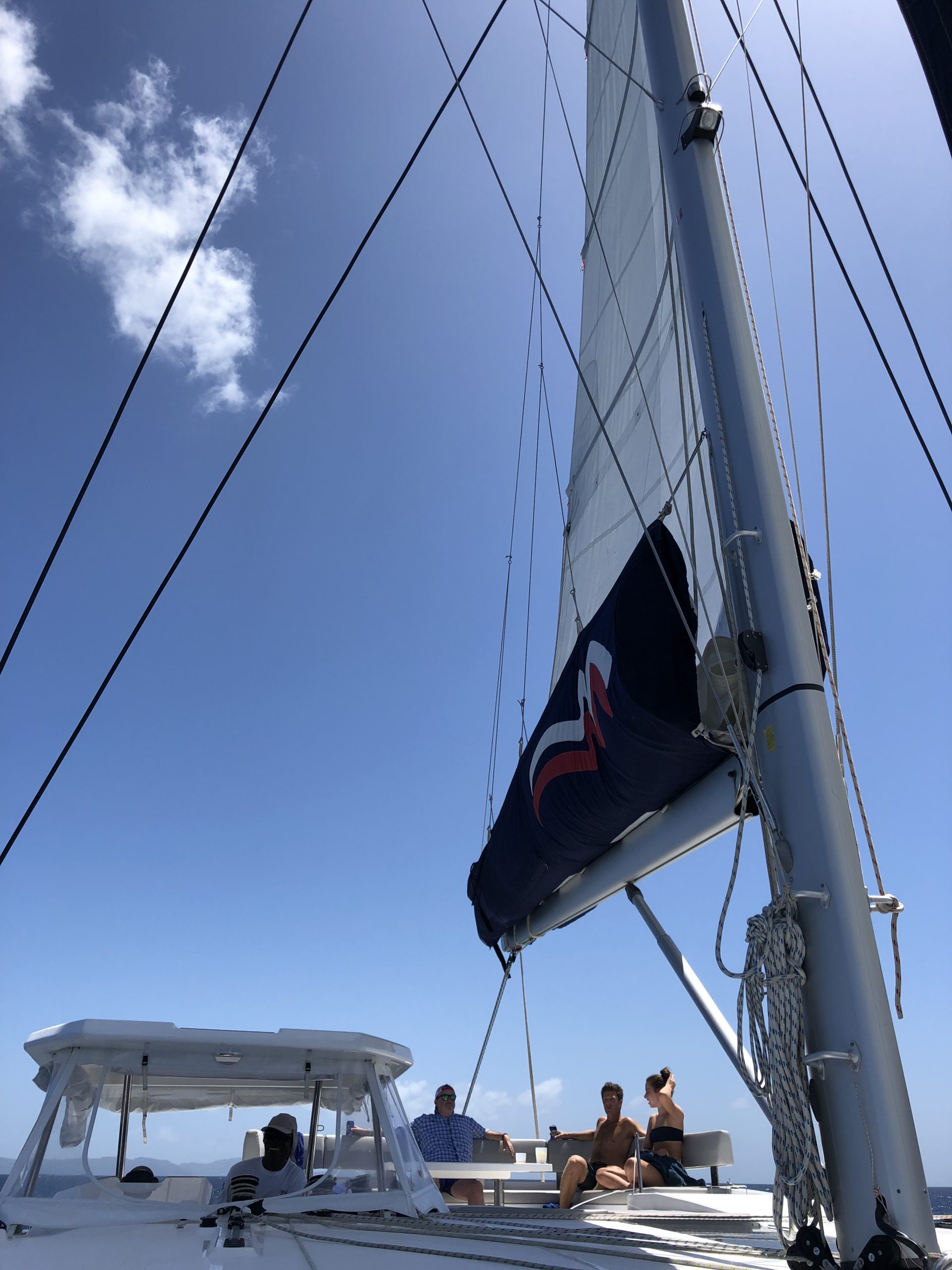 Clean, bright cabins. A cushy banquette on the upper deck for sunset views and cocktails. A built-in grill for the fish we tried to catch. Cozy nooks and crannies to read a book or take a midday snooze. Oh, and not to be overlooked—our trusty captain, George. Without him, we would never have been able to discover the secluded bays and remote beaches we sailed to each day.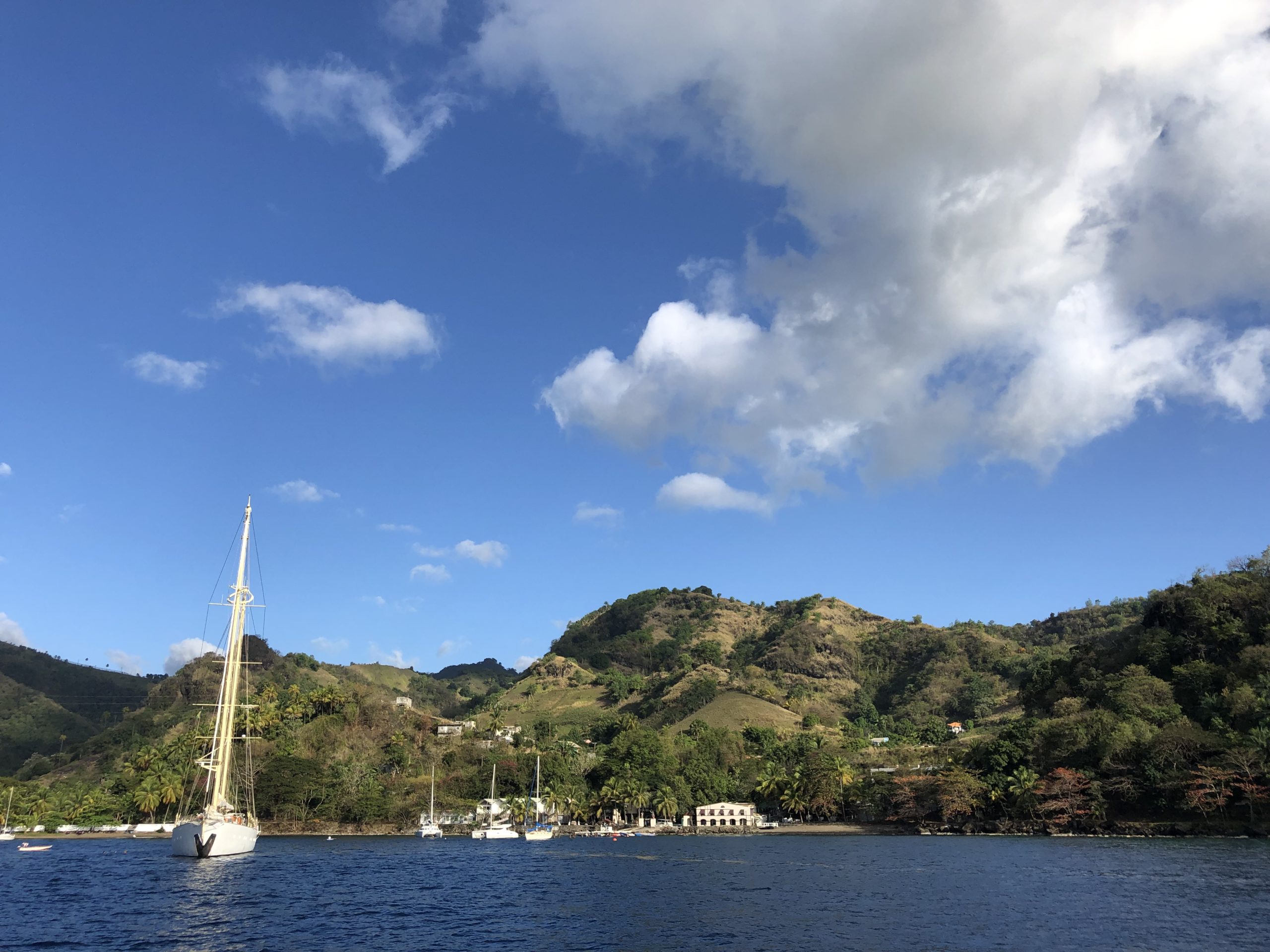 Tall, paperwhite masts of all shapes and sizes roll alongside us in the Windex-colored waters. An archipelago of islands with volcanic peaks rise up in the distance. We see untamed, palm tree-dotted coastline and lush green hills behind them. Untouched beauty rolls past us in every direction.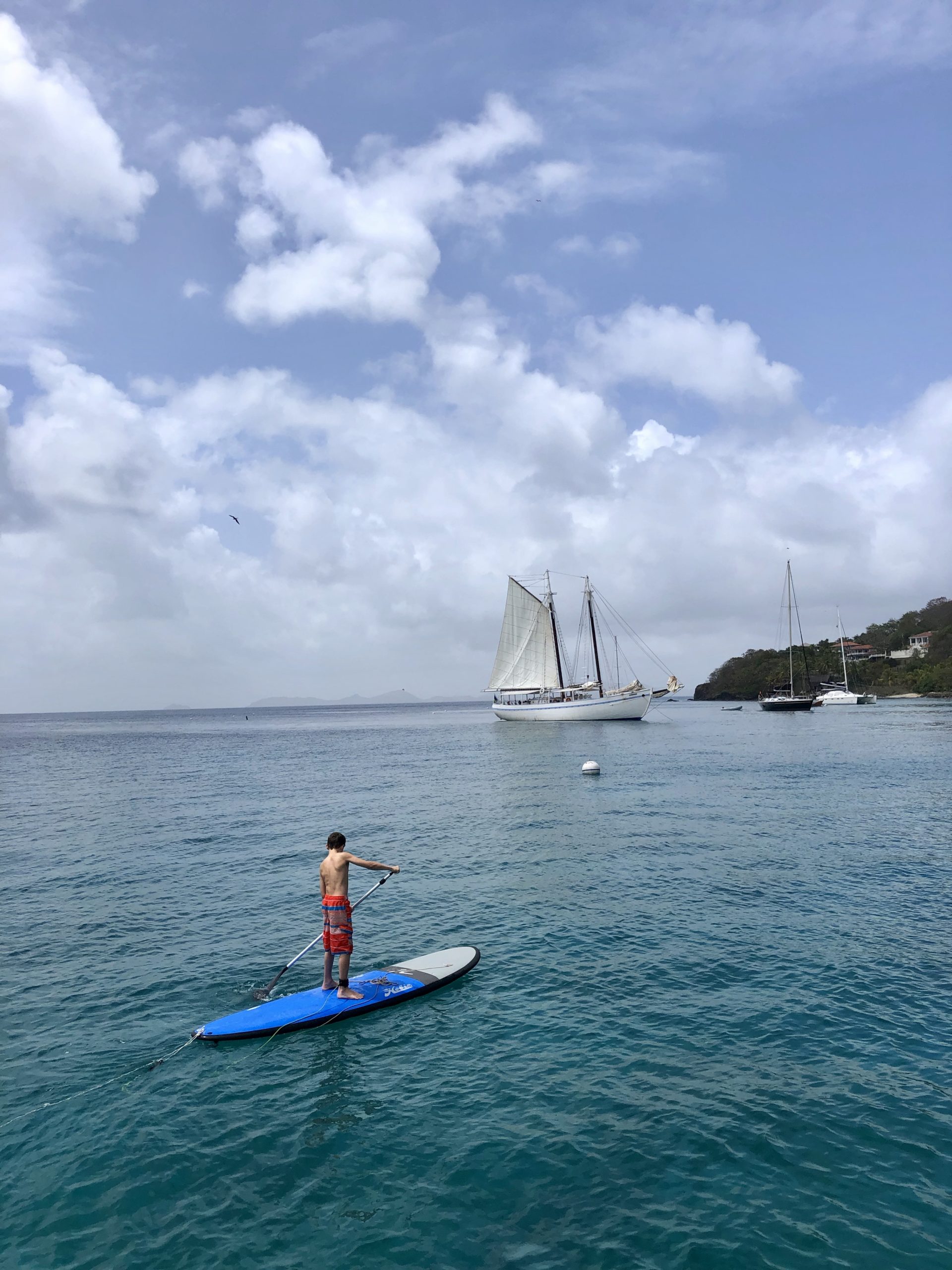 What to do?
Boat life has its own brand of built-in fun. Once anchored, jump into the warm water with wild abandon. You need not be 14 years old to appreciate the pure joy of a cannonball leap into the ocean, but I would seriously reconsider a backflip.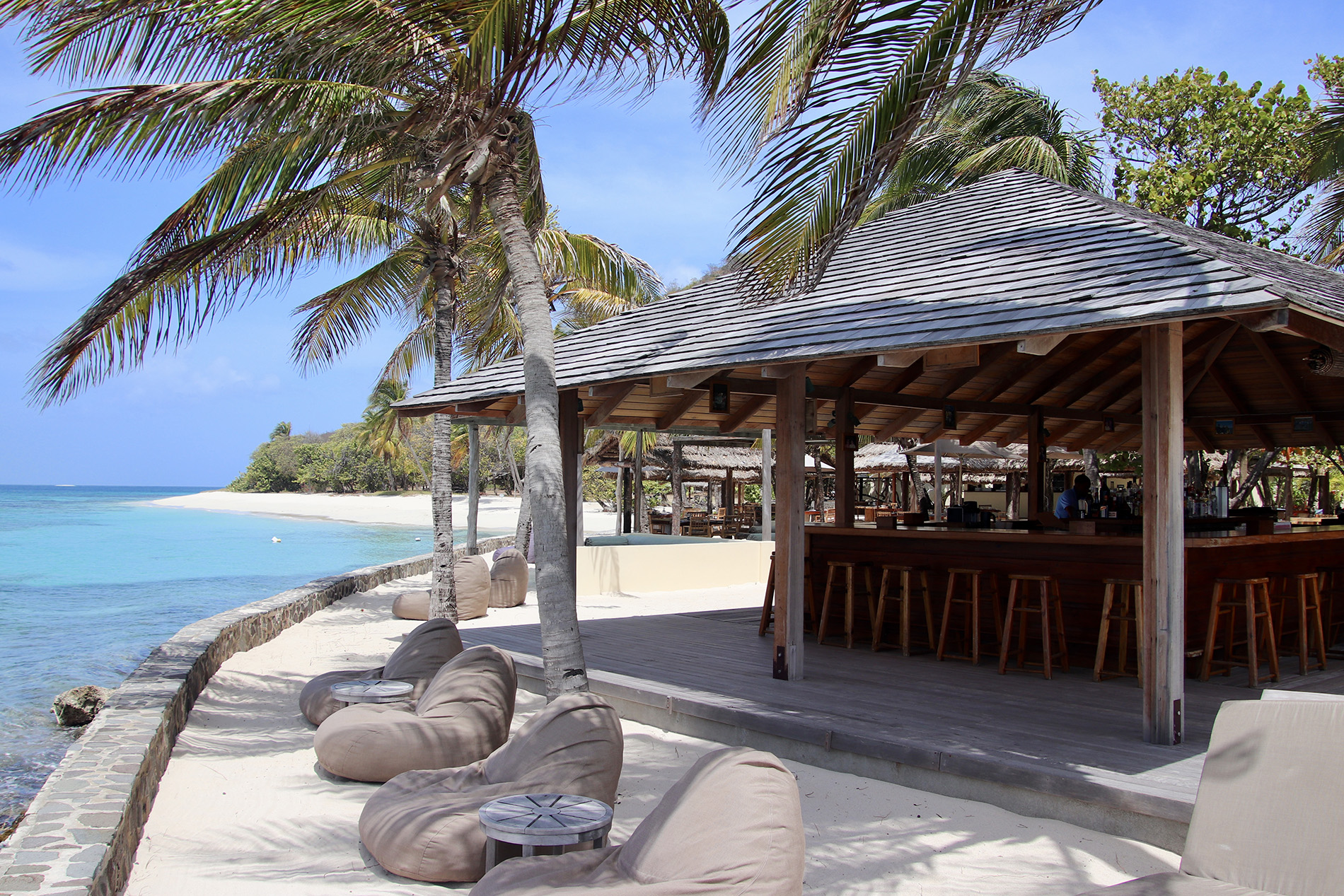 Aside from water sports, like snorkeling, swimming, and tubing, families can take advantage of local beach bars only accessible by boat. Enjoy a pop-up lobster dinner (bring your own drinks, forks, knives, cups, etc.) at Petit Bateau beach on remote Tobago Cays. Bring soccer balls or a football to the beach and have a family tournament. No doubt you will end up with other like-minded kids on your teams.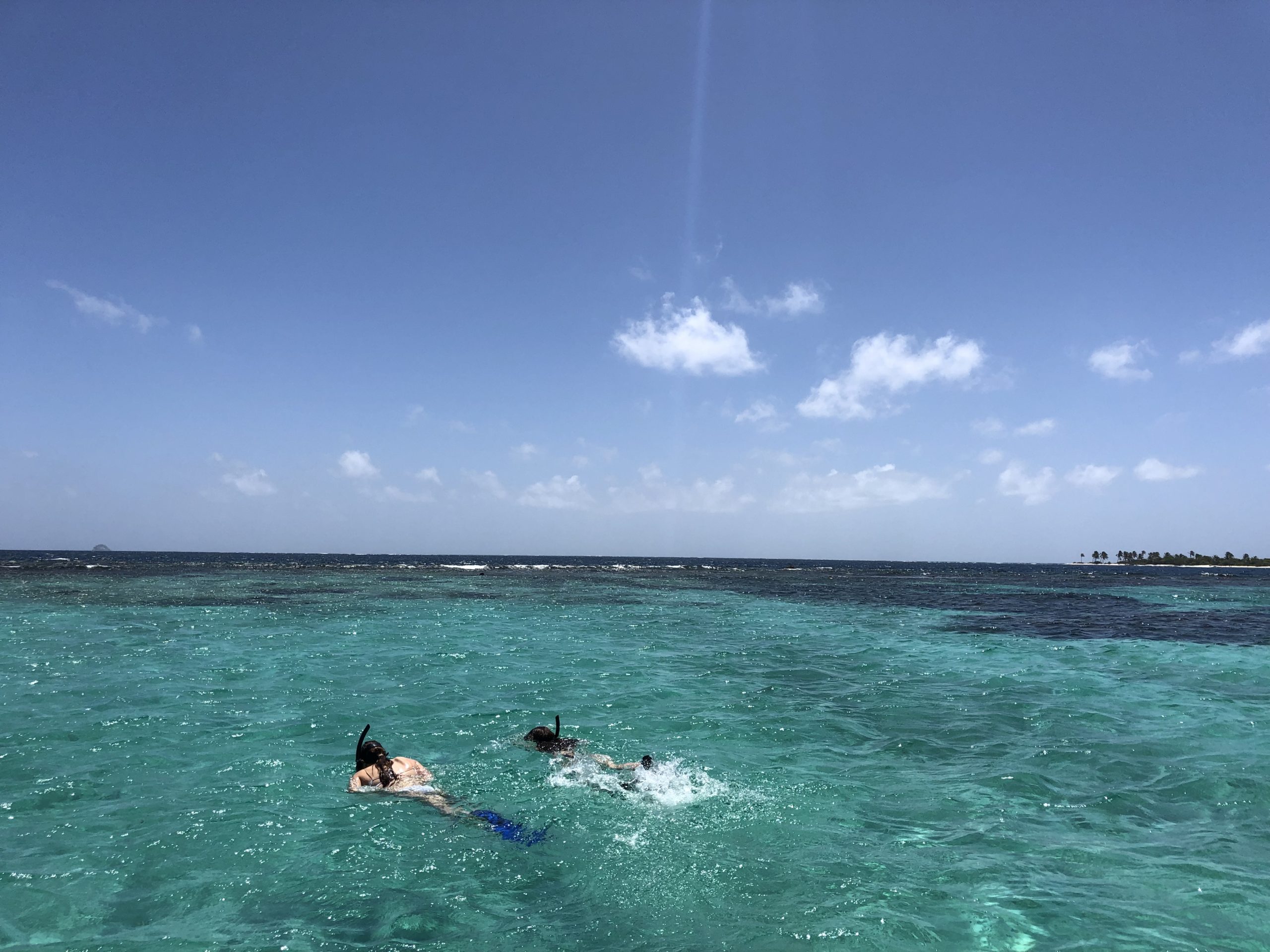 Snorkel with giant sea turtles, following their prehistoric bodies that hover just above the seafloor. A pod of dolphins might just follow your boat one day, anything can happen. The everyday surprises at sea will entertain everyone, no matter what age.
Winter is coming.
Back to December. The leaves have mostly fallen from the trees and there is a crisp chill in the air. Summer is a distant memory and winter is just about here. I'm looking ahead towards spring and ready to start planning. Are you ready?
*******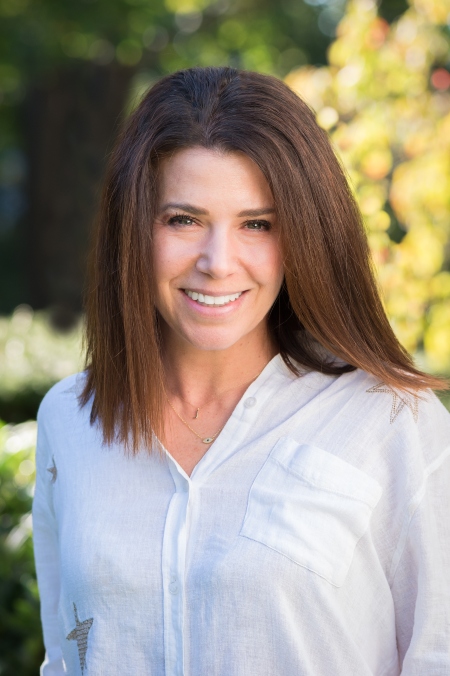 Jamie Edwards is an avid traveler, travel writer, and photographer. She launched I am Lost and Found, her adventure/luxury travel website after 25 years of living and traveling around the globe. Jamie's goal is simple: to inspire travel. Keep up with Jamie's adventures in travel here.
CIRE Travel is a full-service travel agency headquartered in New York, NY. Our expert team supports clients across the country and around the world.
---
Where in the World Do You Want to Go?
Inspired to plan your next weekend getaway, vacation or trip of a lifetime? See that form below? That's all it takes to begin your next epic travel story.