'Are you going to the Blue Lagoon?'
This was undoubtedly the first question everyone asked me before my trip to Iceland. It would lead one to think that it is the only place worth seeing in the entire country. The Blue Lagoon had not originally been on our "things to do in Reykjavik" list, as I thought it would be overcrowded and gimmicky. We ended up arranging it at the last minute, just 12 hours before boarding our flight home.
'Was it worth the hype?, everyone asked later. Read on.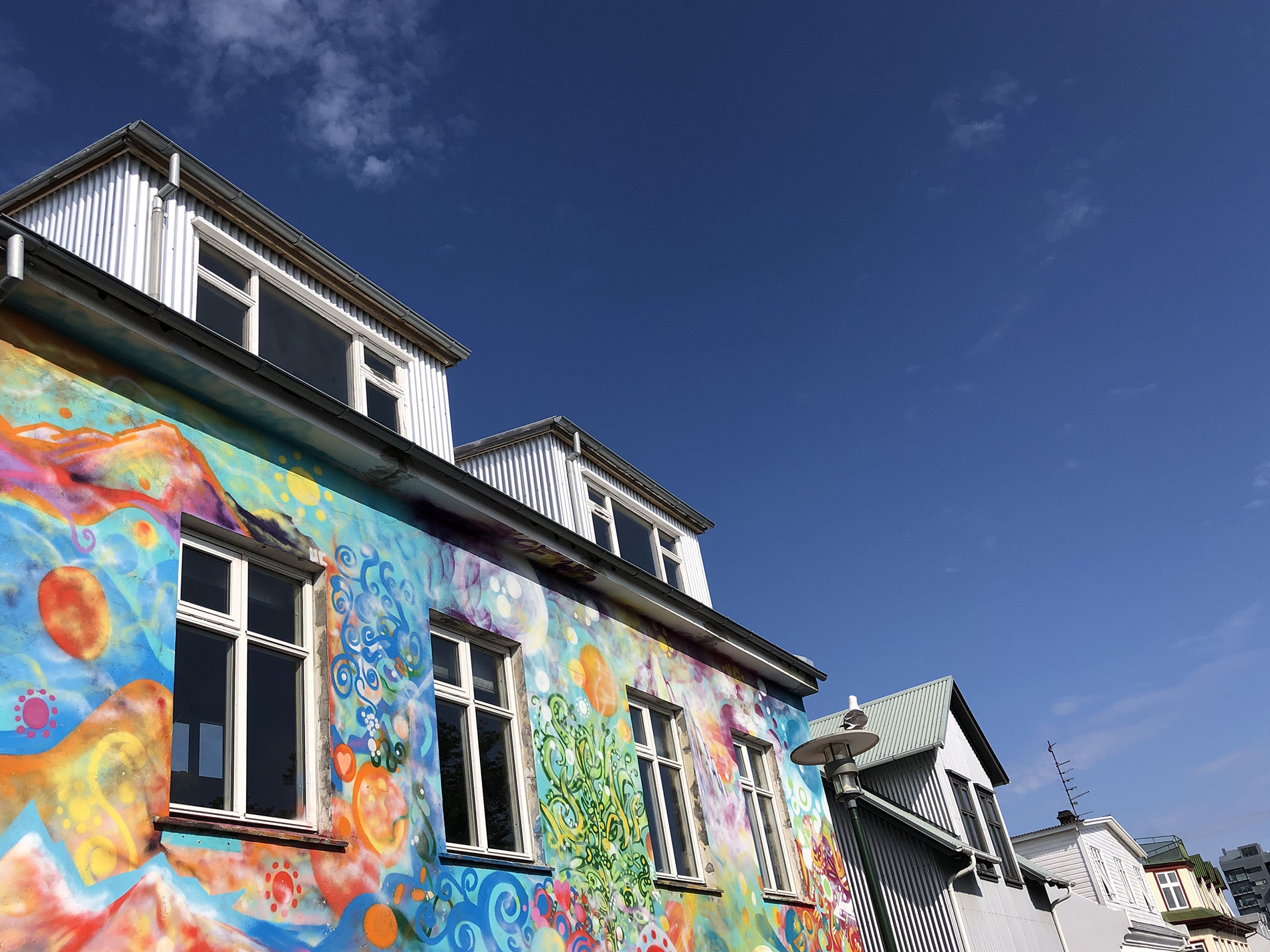 Capital charm

Let me back up a few large, Icelandic, steps. Reykjavík, the funky, progressive capital city of Iceland, was not our ultimate destination on our Icelandic travel itinerary. We were headed north, via another flight, to Deplar Farm for a week on the Troll Peninsula. We decided to spend two nights on the back end of our trip to get under the surface of 'the world's northernmost capital city'. Reykjavík is a small city, such that it can be explored in just a few days. But exploring, and genuinely getting under the surface, are two different things, and I would have loved a little more time given the chance.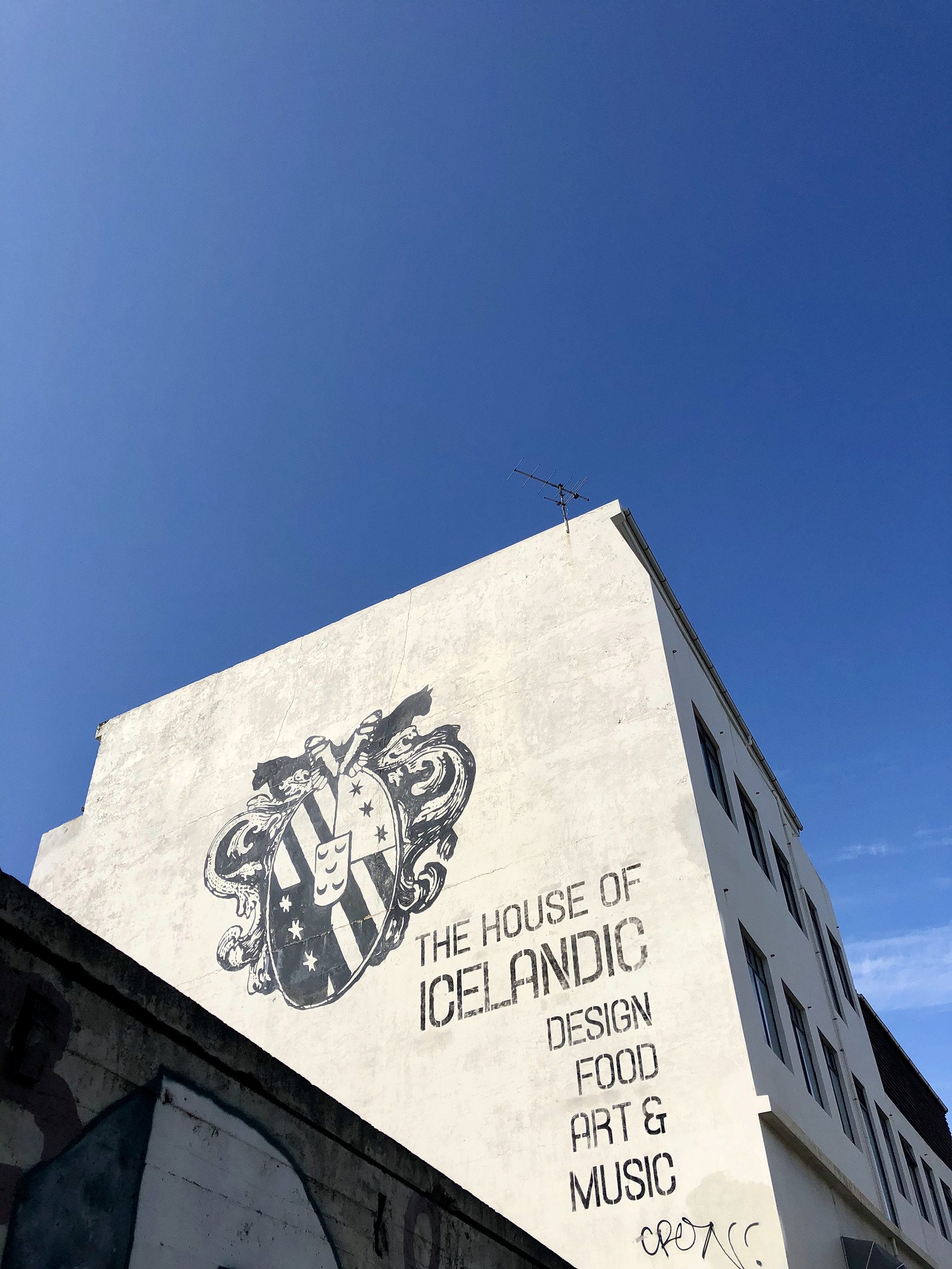 Small town vibes
Reykjavík has the appeal of a small town, with its cluster of trendy and interesting neighborhoods. It felt like a movie set, with a lively cast of characters milling about. Colorful, pitched rooftops, edgy mural-covered storefronts, and brightly painted houses, provided an endless visual panorama as we roamed. This is a city that is certainly not afraid to express itself, and what it lacked in size, it made up for in energy. Locals passed one another with a wave or a smile. Everyone seemed to know one another. With a population of only about 128,000, perhaps they did.
The Alda

City trips tend to overwhelm me, even though I have lived in big cities my entire adult life. I am often racing to get out of the city and into the countryside when on vacation. Reykjavík defied this anti-city mentality, and I found myself daydreaming about living there.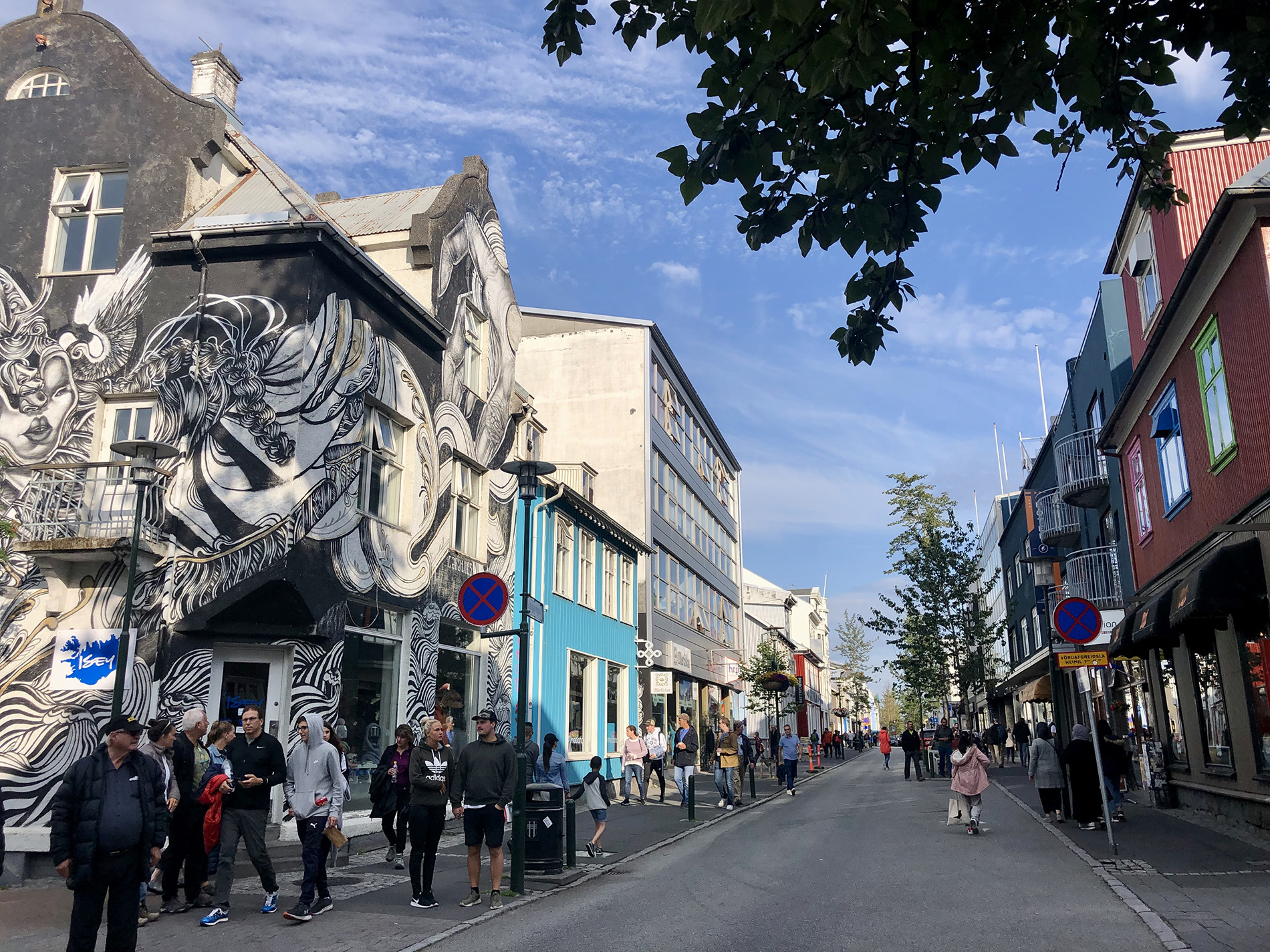 Given we only had two days, we chose a hotel from which we could access the main sights on foot. This turned out to be just about every hotel where you can stay in Reykjavík. The Alda Hotel is on Laugavegur, the main shopping street.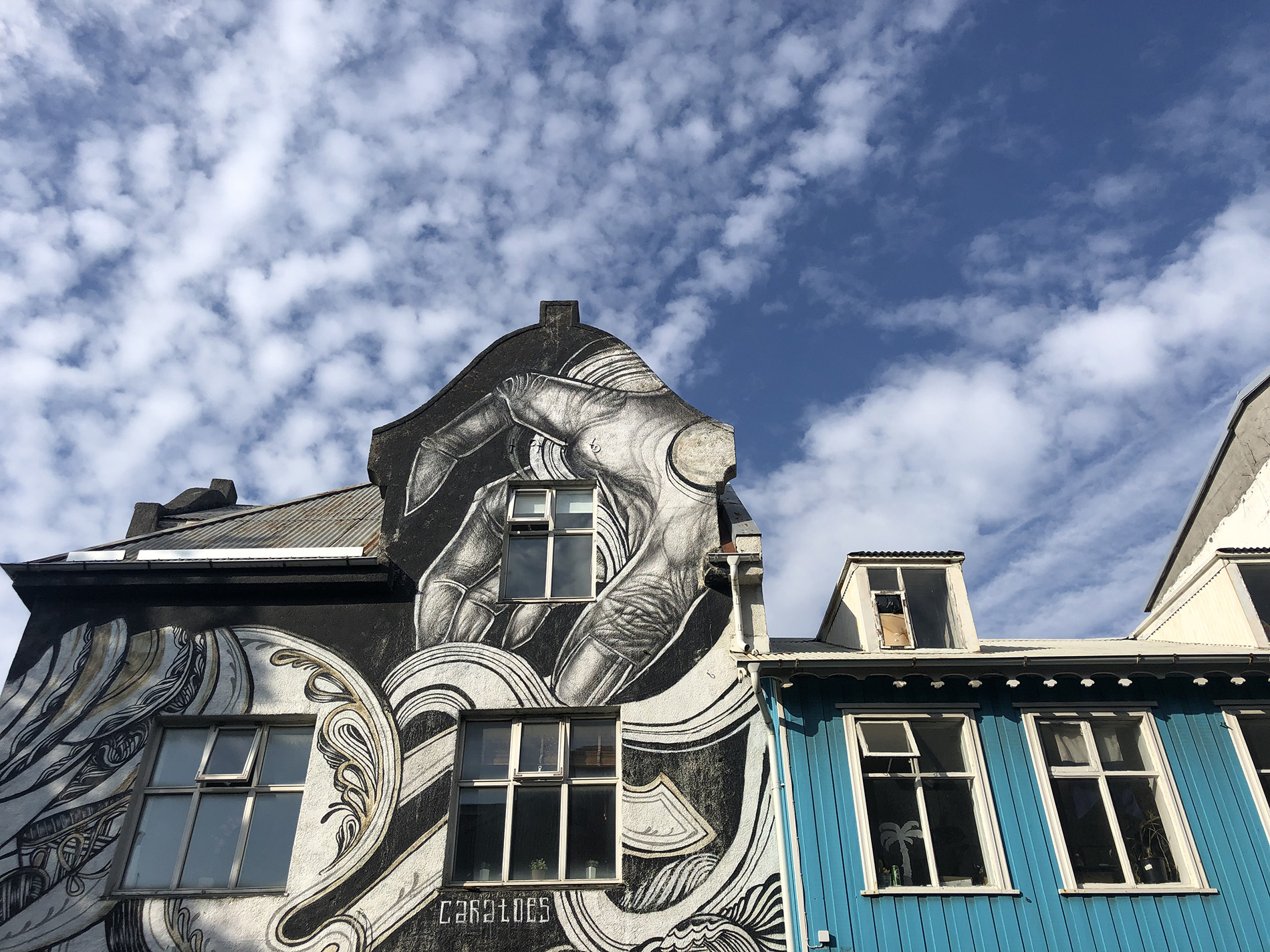 Boutique in style and size, the Alda was simple and modern, and had views of the rooftops across the low-lying city. Each room provided guests with a complimentary Android phone to be used throughout their stay. Although I am a diehard Apple fan, it was a nice touch.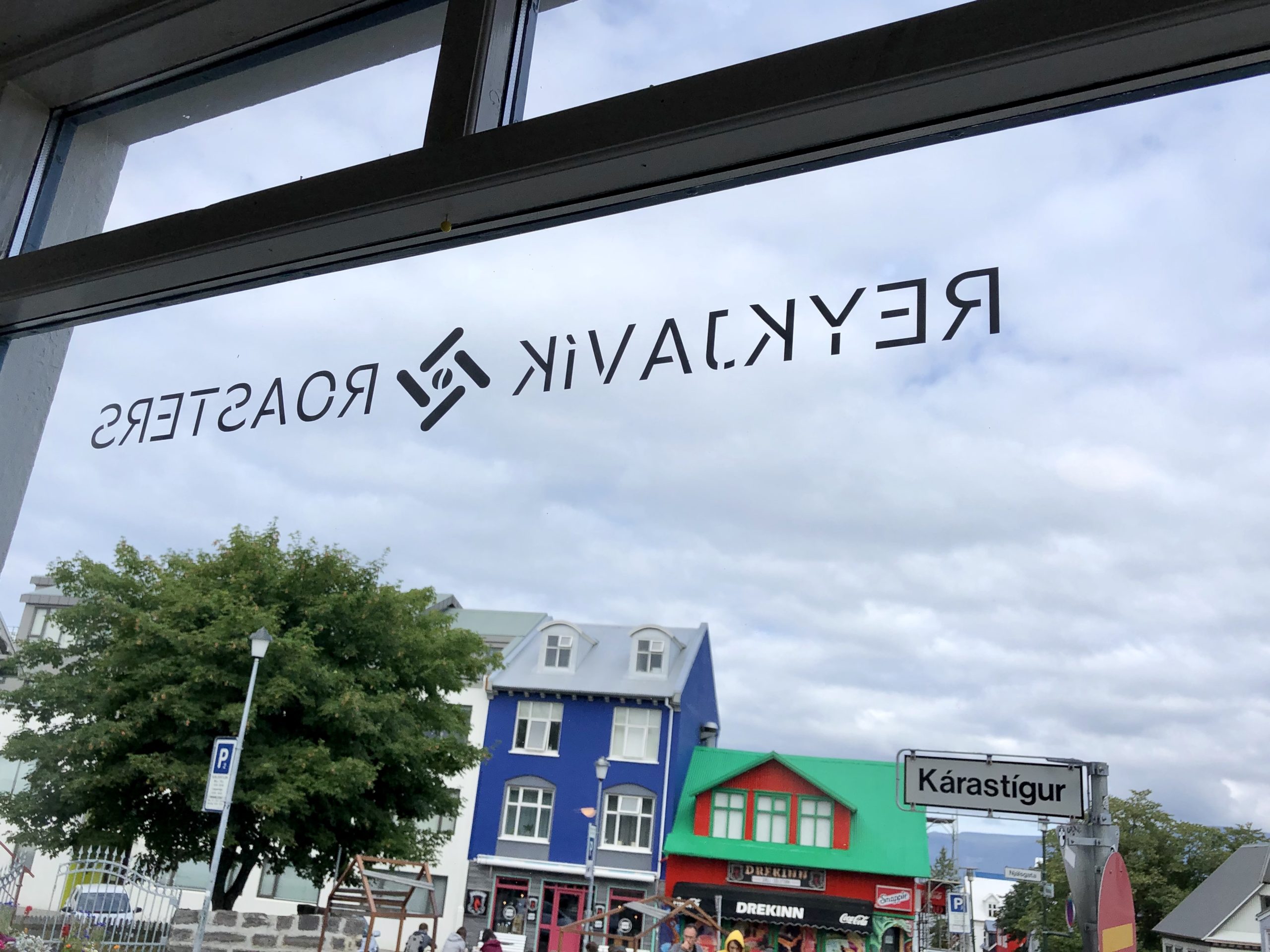 City essentials

In my opinion, every city should have a strong caffeine game. Selfishly, this is because there is nothing I enjoy more than sitting at an outdoor café with a cappuccino, watching the world go by. I especially love this in a foreign city, where I get to charge up and absorb the culture at the same time.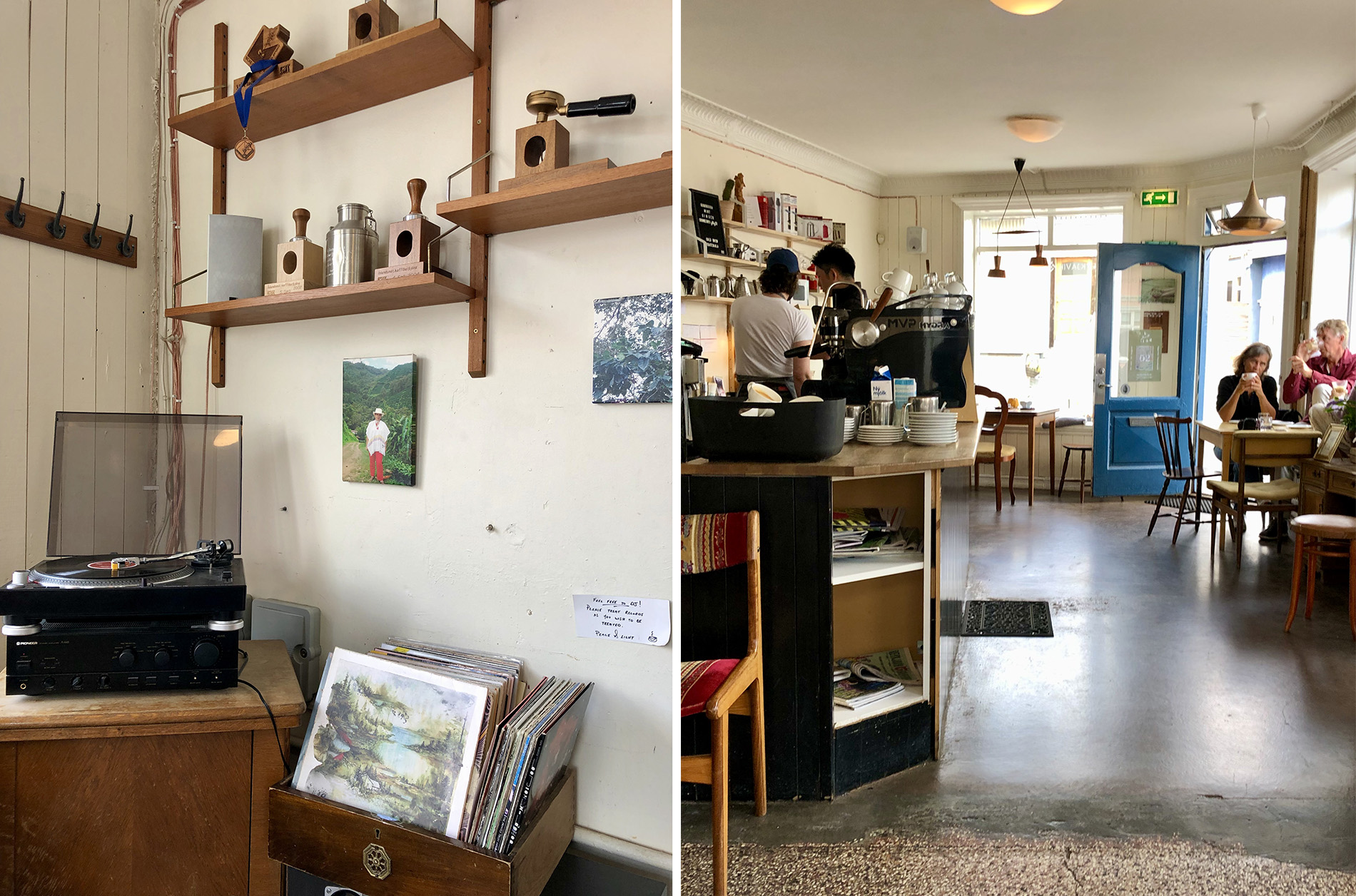 Cue Reykjavík Roasters, a hipster coffee joint if there ever was one. The design ethos is 'great-grandma's house chic'. With mismatched, upholstered furniture, vintage coffee accessories, and an old turntable with oldies to turn, Reykjavík Roasters, is ever-so-slightly full of itself. However, the coffee is really, really good, so I guess they can get away with it. Their coffee is meticulously sourced from Central and South America, Kenya, and Ethiopia. The cherry on top (or perhaps I should say, the crema on the espresso), is that one of their locations is just a few steps away from the most divine pastry shop in the city.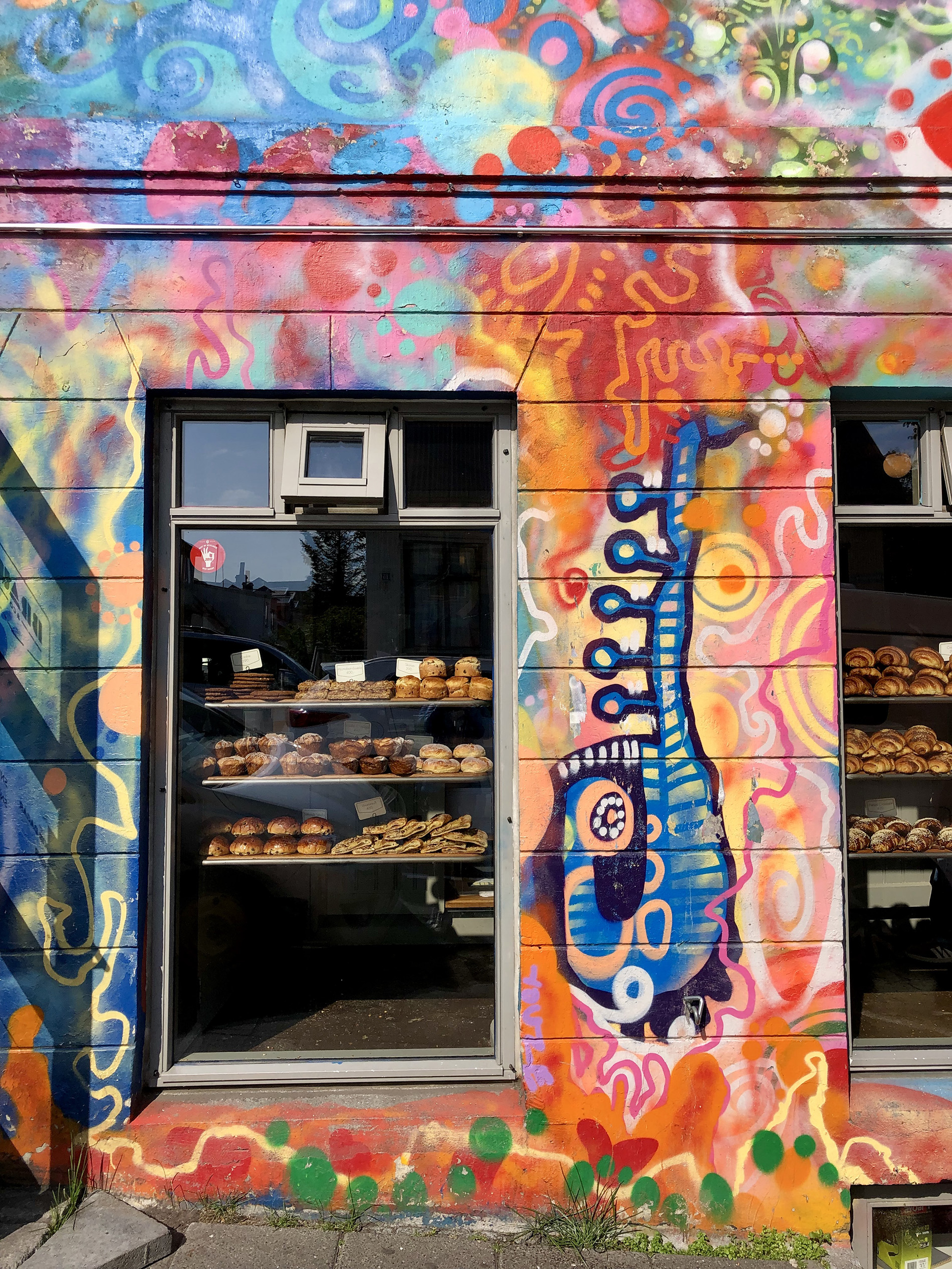 Braud & Co.

Trusted sources mentioned that if I didn't arrive early enough, I would miss out on the melt-in-your-mouth cinnamon buns from Braud & Co., the uber-popular Reykjavík pastry shop. I took this as a personal challenge, and despite the fact that I don't even eat cinnamon buns, it became an immediate priority.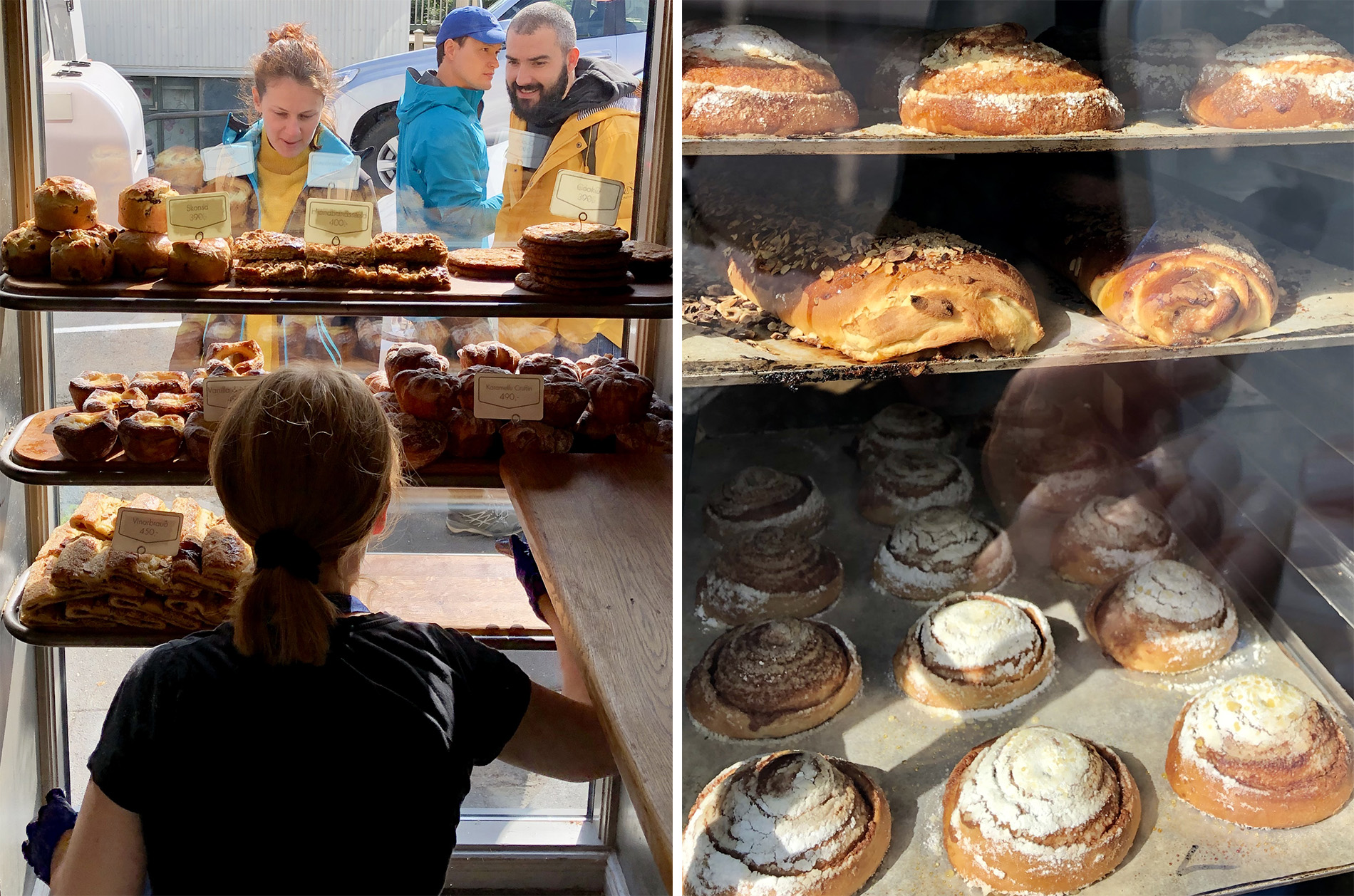 I couldn't pronounce most of the items on display; kanilbollur, Bláberja & Lakkrís, Danskt súrdeigsrúgbrauð, and Rabbarbarastykki, Brunsviger, prove my point. So, I did what any desperate sweet tooth (or greedy four-year old) would do, and just pointed to everything I wanted. We paid, took our treasures and coffees up the street, and sat outside to feast.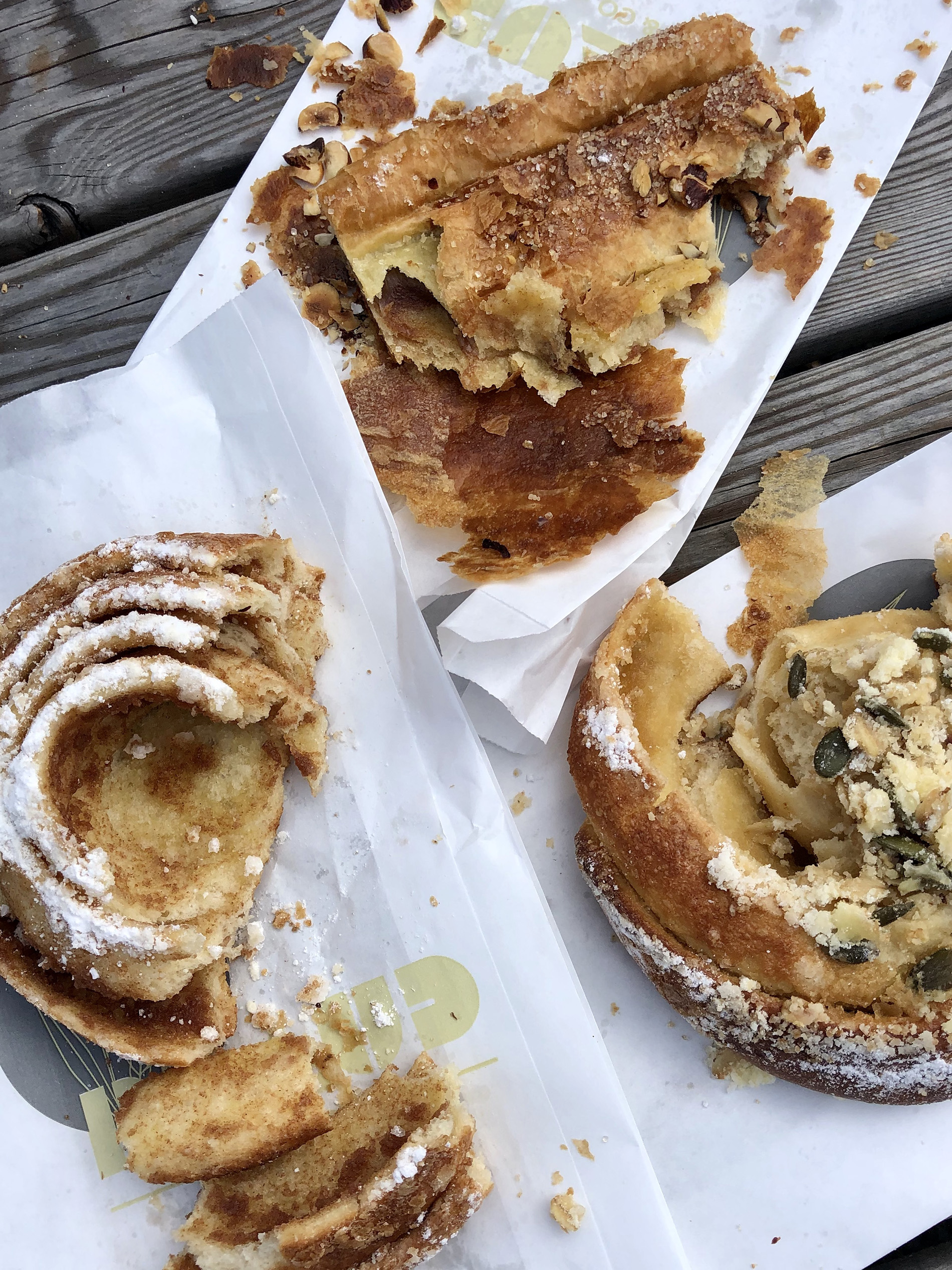 It is just as well that I don't make a living as a food blogger, as I am usually about halfway through any meal before I remember to snap a pic. That said, even a half-eaten rabbarbarastykki from Braud & Co. looked heavenly.
Eat, walk, eat, repeat

I've always had a soft spot for a good food hall. Borough Market, in London; Union Market, in
Washington DC
; and the Shibuya Food Hall, in
Tokyo
are a few notable faves. I love being able to sample lots of flavors and unusual cuisines in one handy place.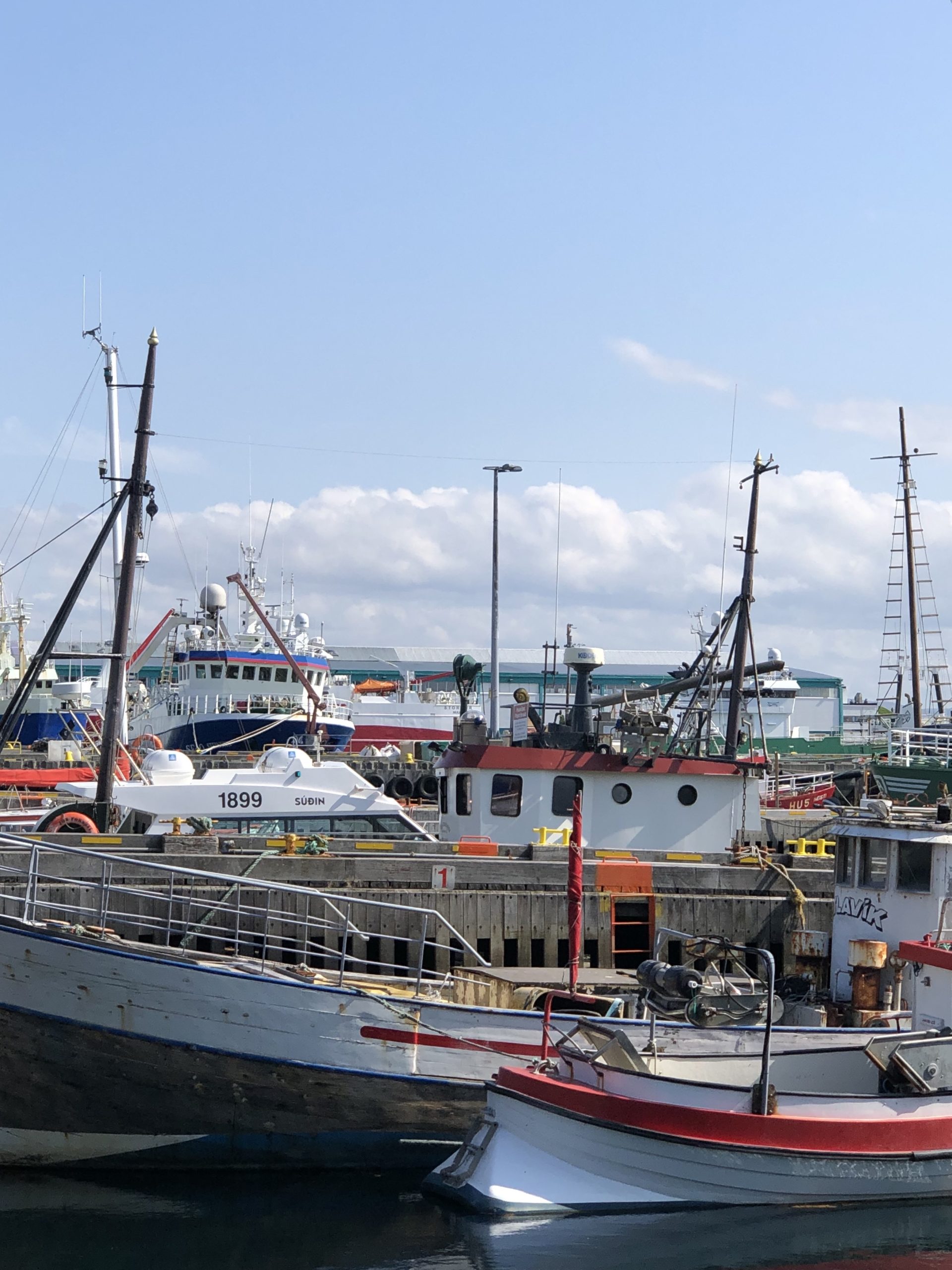 Reykjavík has a surprising number of food halls, for such a petite city. At the recommendation of one of our fearless guides from Deplar Farm, we headed towards Grandi Mathöll, aka old harbour. We passed fishing vessels hauling in the daily catch and soaked up the marina-vibes. The day was brisk, but sunny. A row of warehouses lined the marina, which is where we finally found Grandi Mathöll, the cavernous, savory-scented food hall.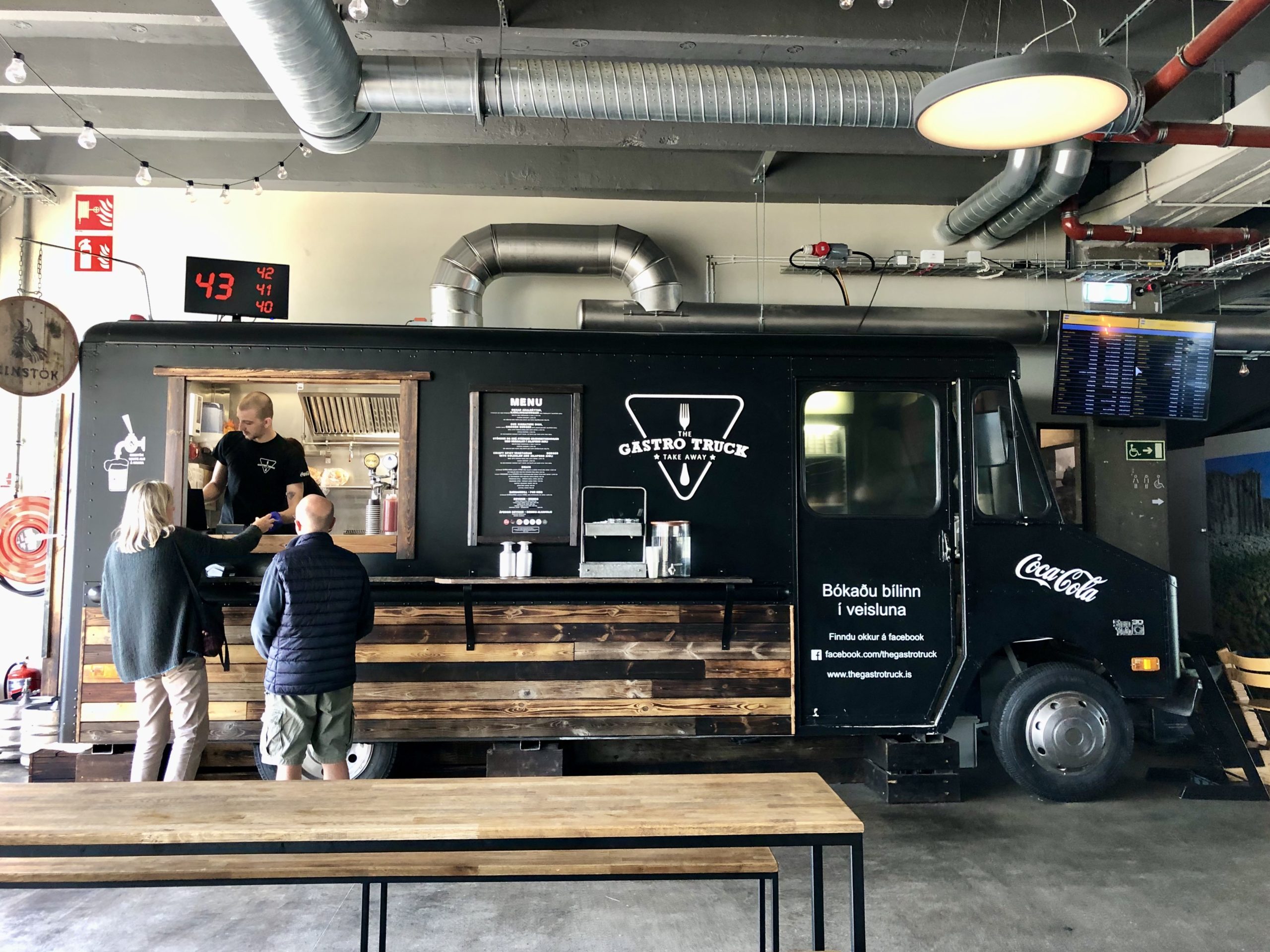 Rustic-chic picnic tables filled the space. Transitional square paneled floor-to-ceiling windows let in oodles of natural light and offered sweeping maritime views. Was I in the mood for kimchi, Icelandic lamb, or Cuban jalapeño poppers? Maybe pizza with a ketonic crust, or deep-fried fish and chips? Grandi Mathöll kicked each of our individual taste buds into overdrive.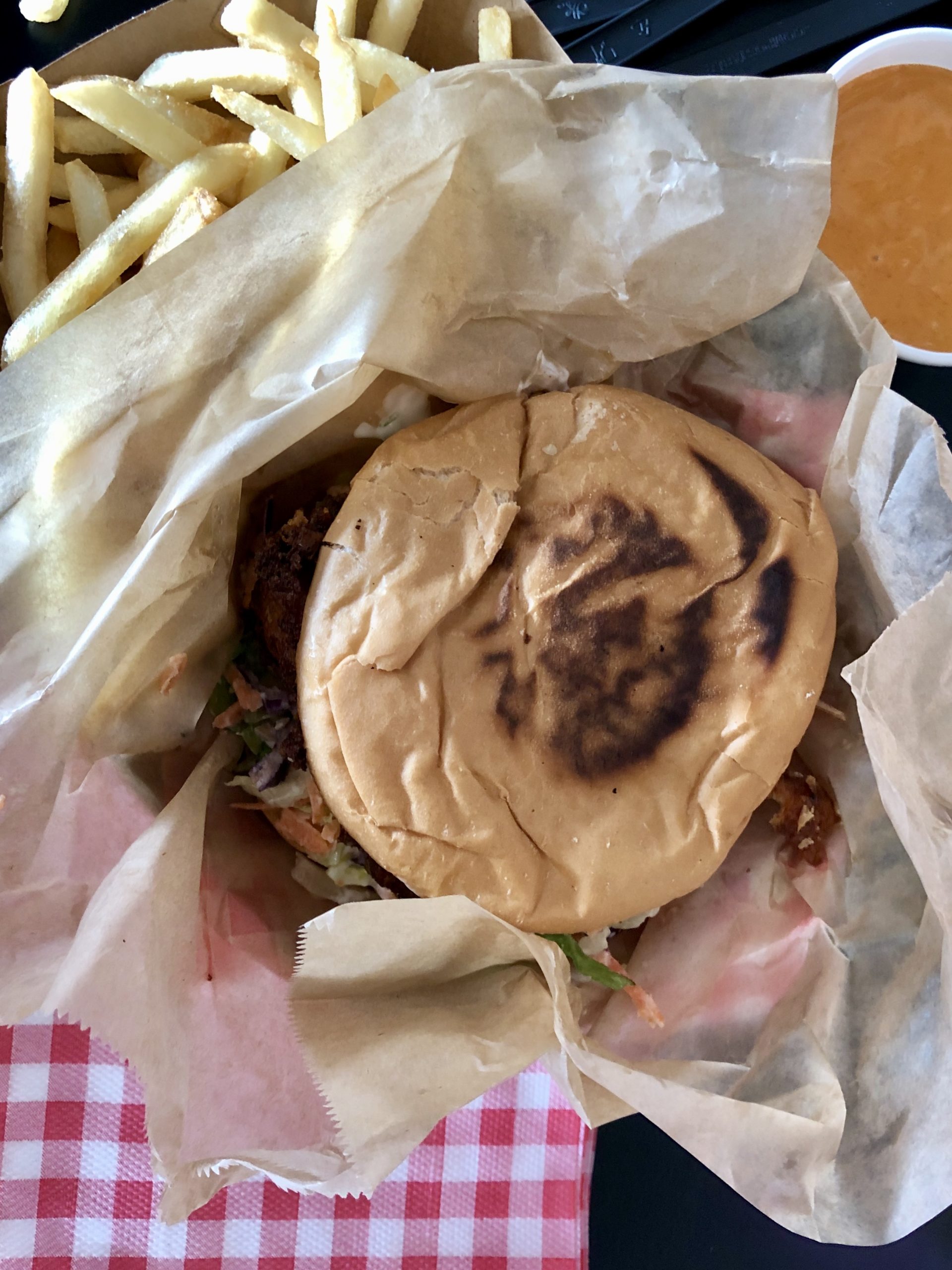 Gastro-what?

Be that as it may, my husband and I had one thing on our minds, the crispy, spicy, chicken burger from the mobile Gastro Truck. Another instagrammable moment, The Gastro Truck had a cool, matte black finish with unique wooden details. It prides itself on the idea of elevated street food. Whatever they want to call it, it was worth every crispy, spicy calorie, especially on an Iceland vacation.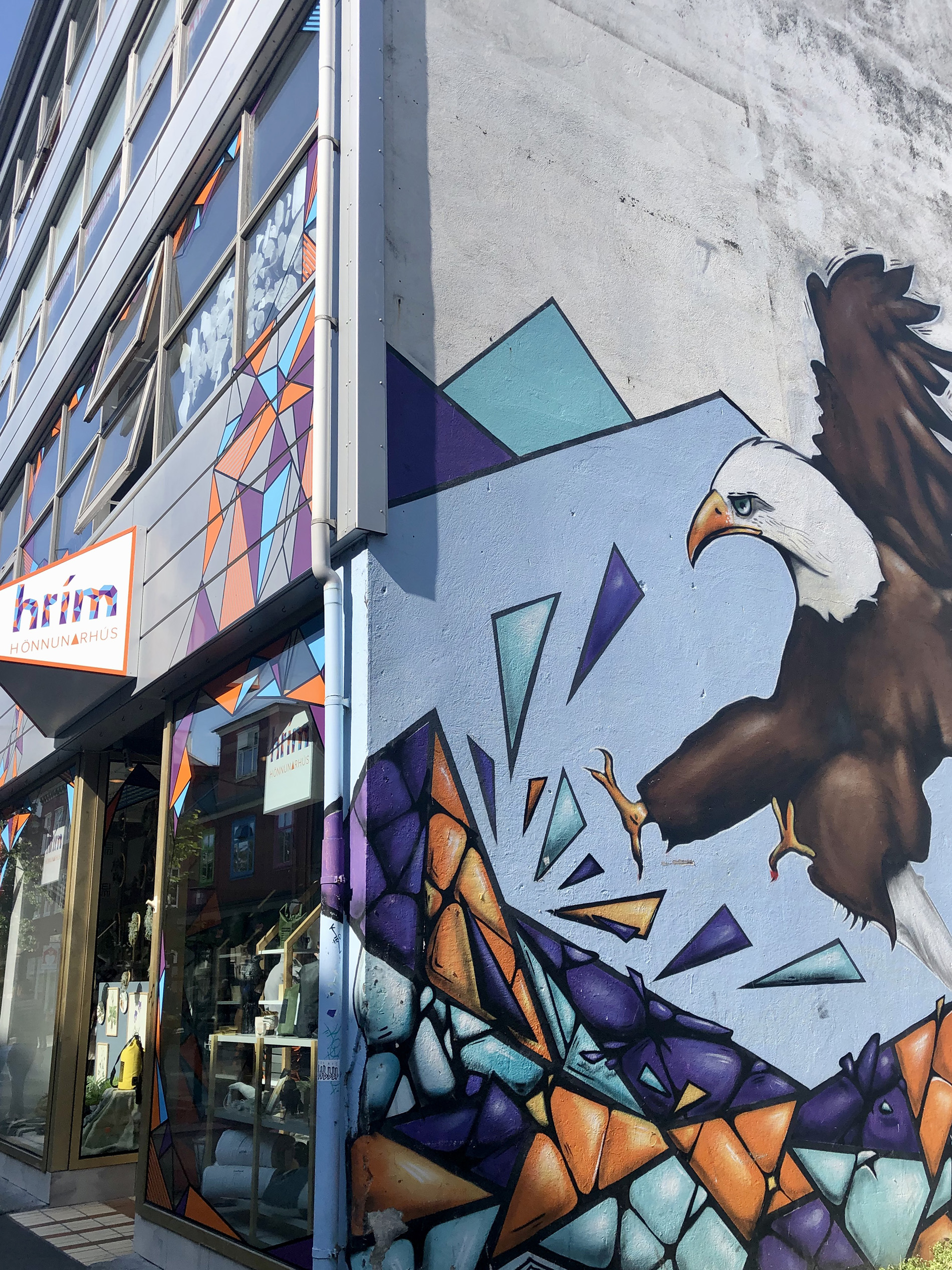 Wandering
In August, the sun didn't set until almost 11pm, which elongated our outdoor wanderings and allowed us to sleep late each morning. There was never a need to rush (cinnamon buns aside) and our two days felt especially leisurely.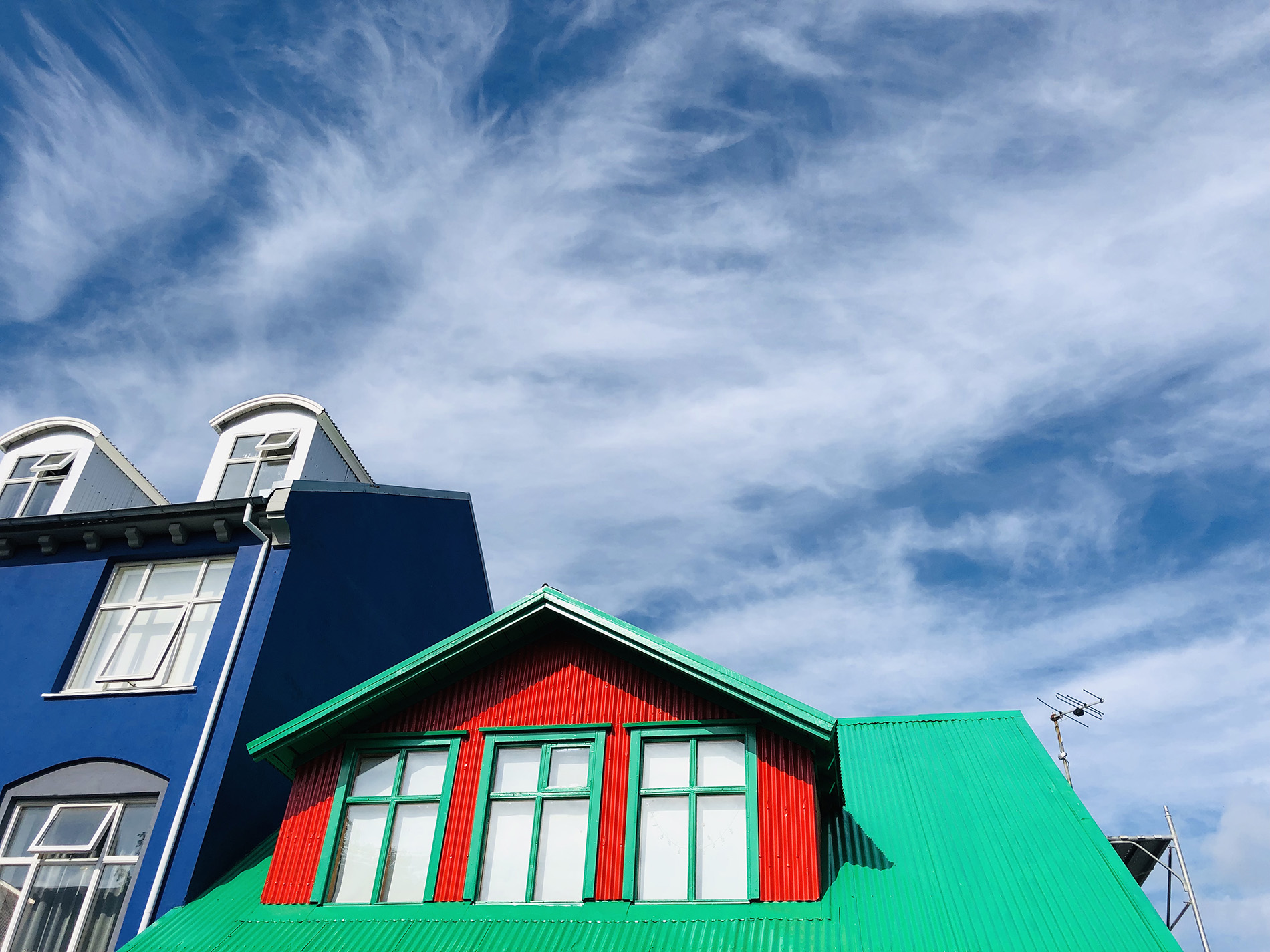 We ducked in and out of boutiques, the interiors just as interesting and decorative as the exteriors, due to a wealth of intricate murals, and richly colored painted shops.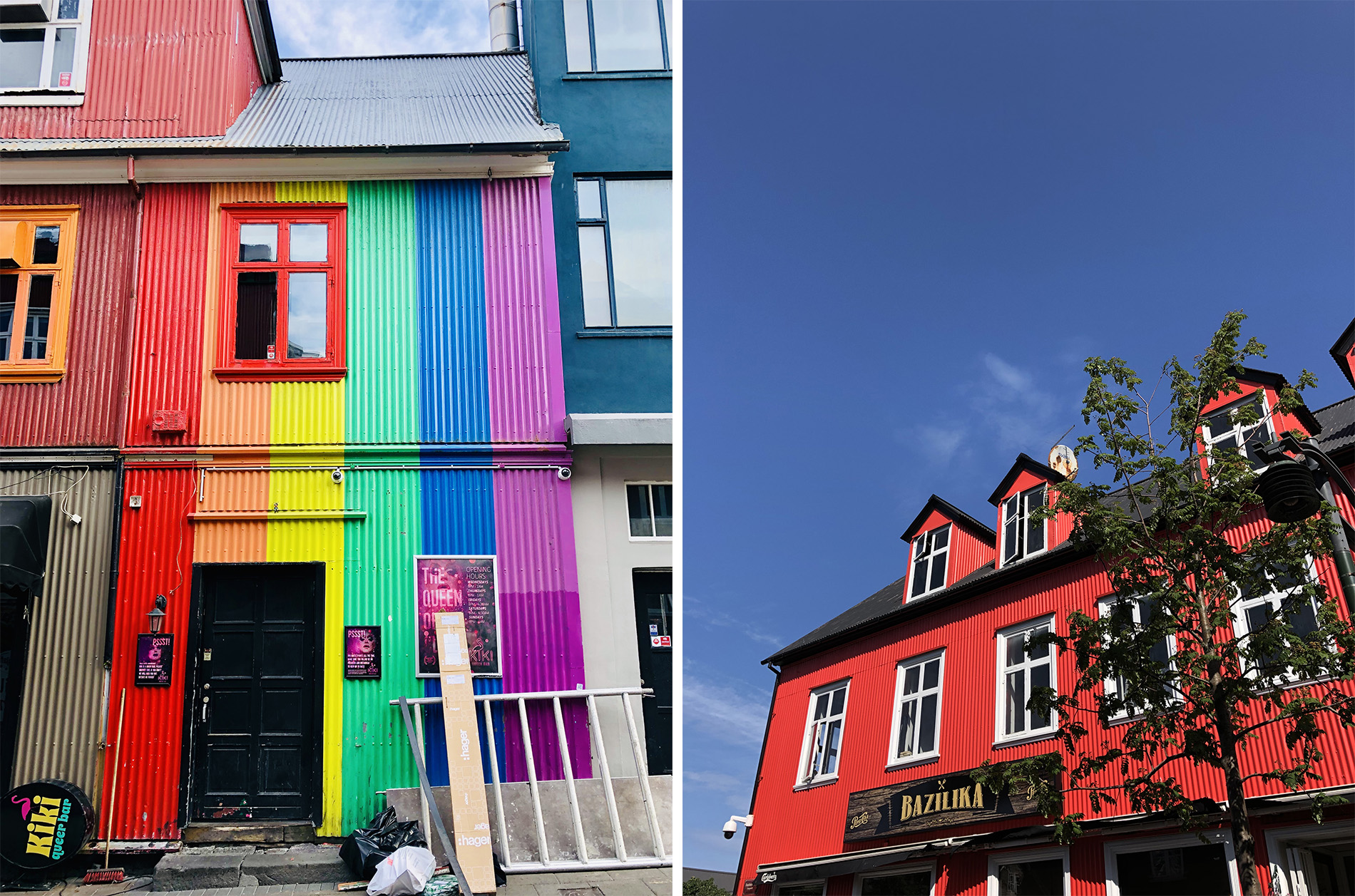 All along the main and back streets of the city were hidden gems; restaurants, bars, homeware and design shops, and art galleries. Every so often, we'd pass a tourist kiosk that promoted various day trips accessed from Reykjavík. Having just spent an adrenaline-induced week of adventure on the Troll Peninsula, we opted to stay in town. But, not necessarily on the ground.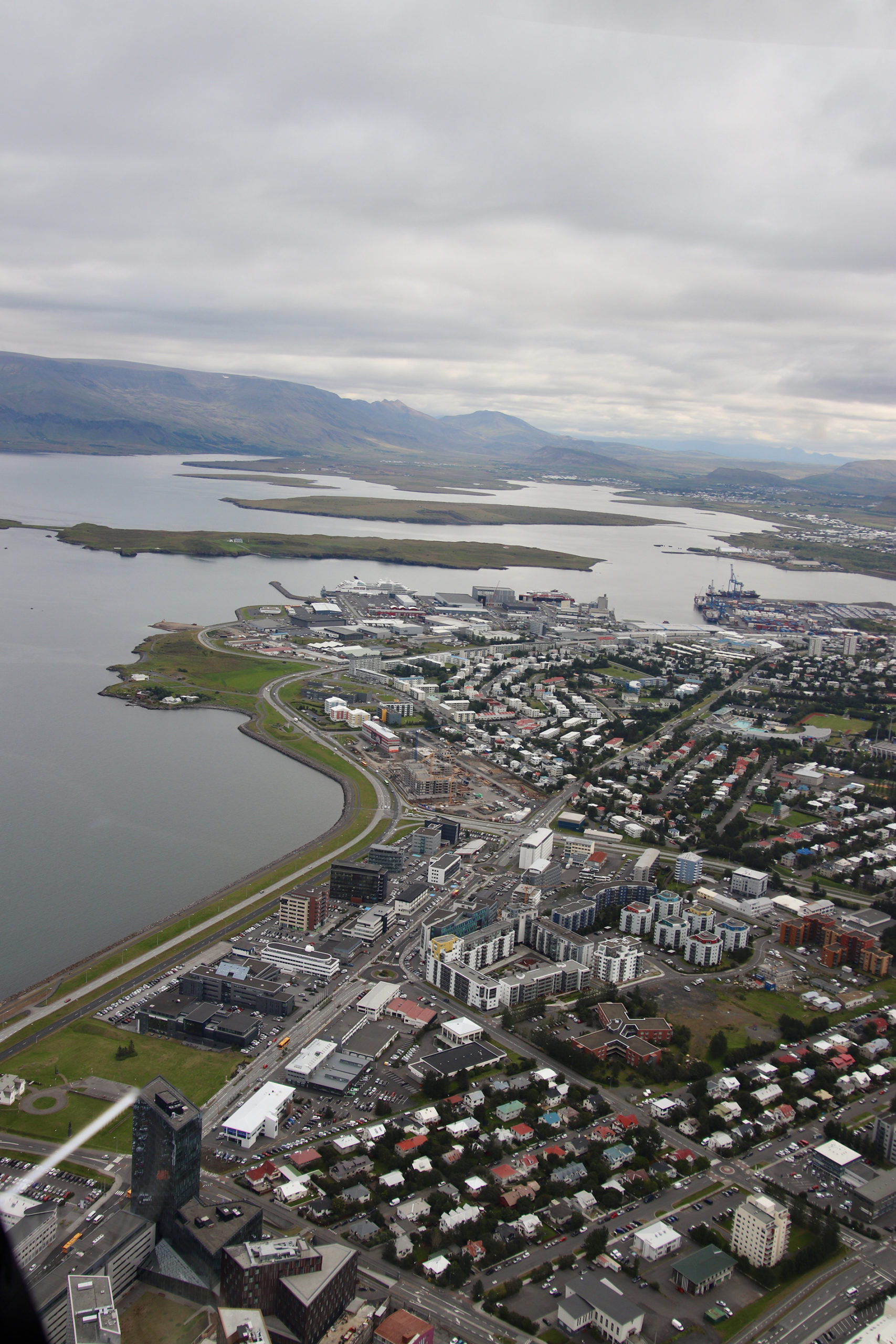 Yet, keen to see the country from a different angle, I stopped into one of the kiosks in search of a helicopter excursion. It took less than five minutes to organize a 90-minute helicopter ride for the following day. My husband and son politely opted out, which left my fearless daughter and I to catch a glimpse of Iceland from above.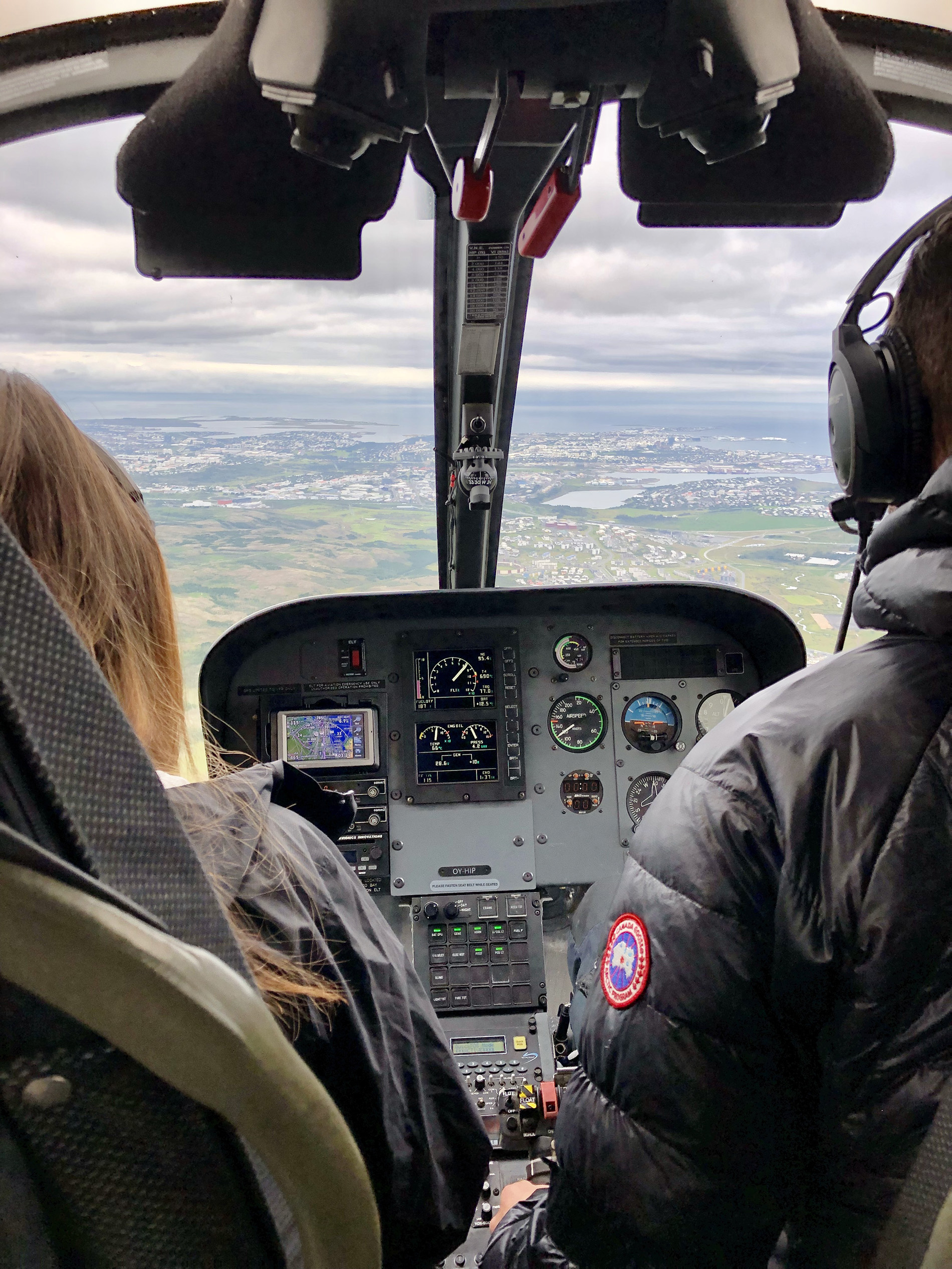 Up, up, up, and away
The next morning, a driver from Reykjavík Helicopters arrived at the hotel entrance and drove us ten minutes to tiny Reykjavík Domestic Airport. Within minutes of arriving, we were in the air with Thor, the pilot in whom we would put our trust for the next few hours.
Experienced and knowledgeable, Thor confidently swept us north, away from the city, over majestic waterfalls, and then eventually to a massive glacier.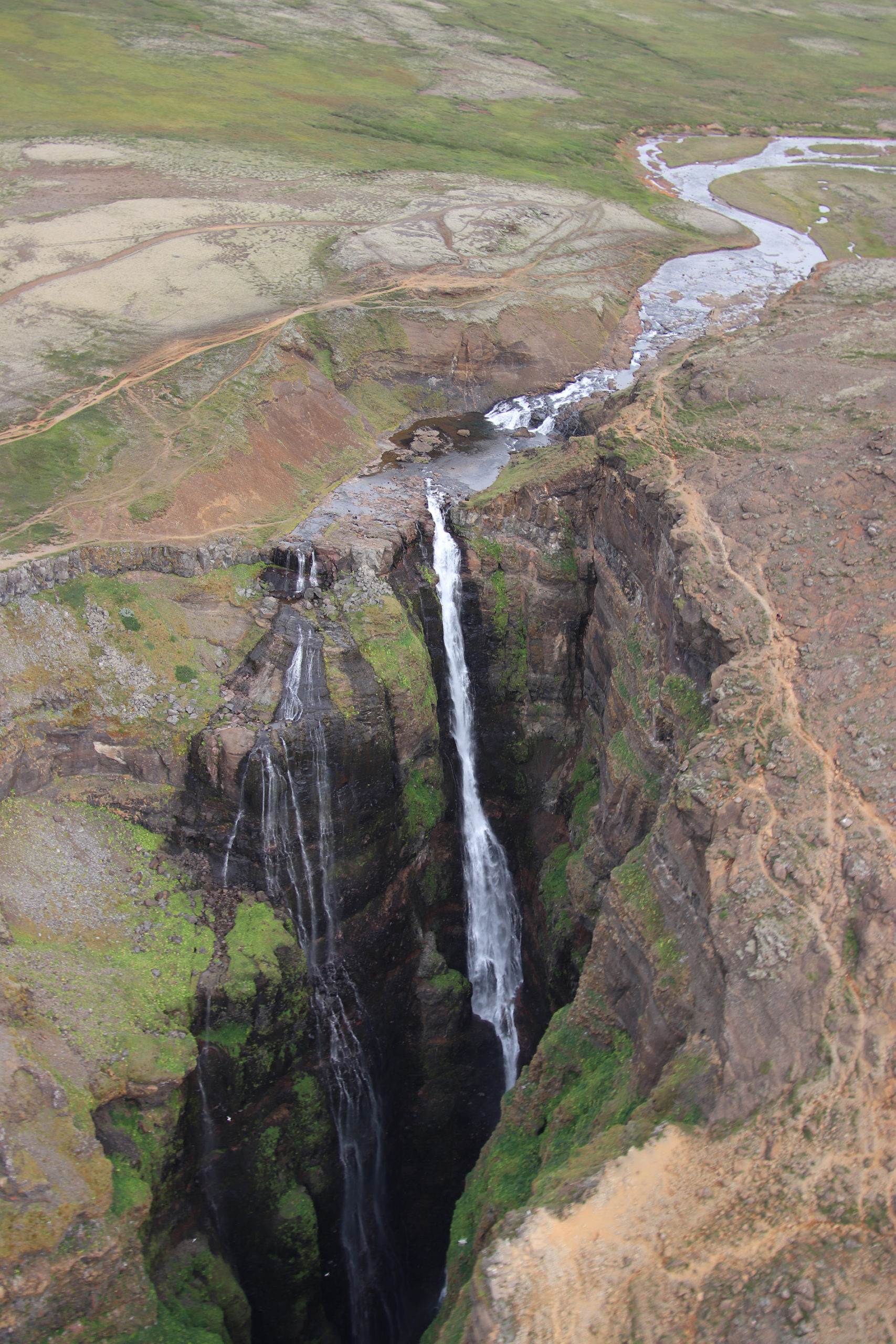 At 640 feet, Glymur holds the title as the tallest waterfall in Iceland. Glymur's gangly shape looked like a long, towering trickle from overhead. Thor circled to get a closer peek, and my stomach lurched as we dipped directly over the top of the waterfall. My daughter was in her element, thrilled yet relaxed, a huge smile across her face. Mother/daughter bonding at its best.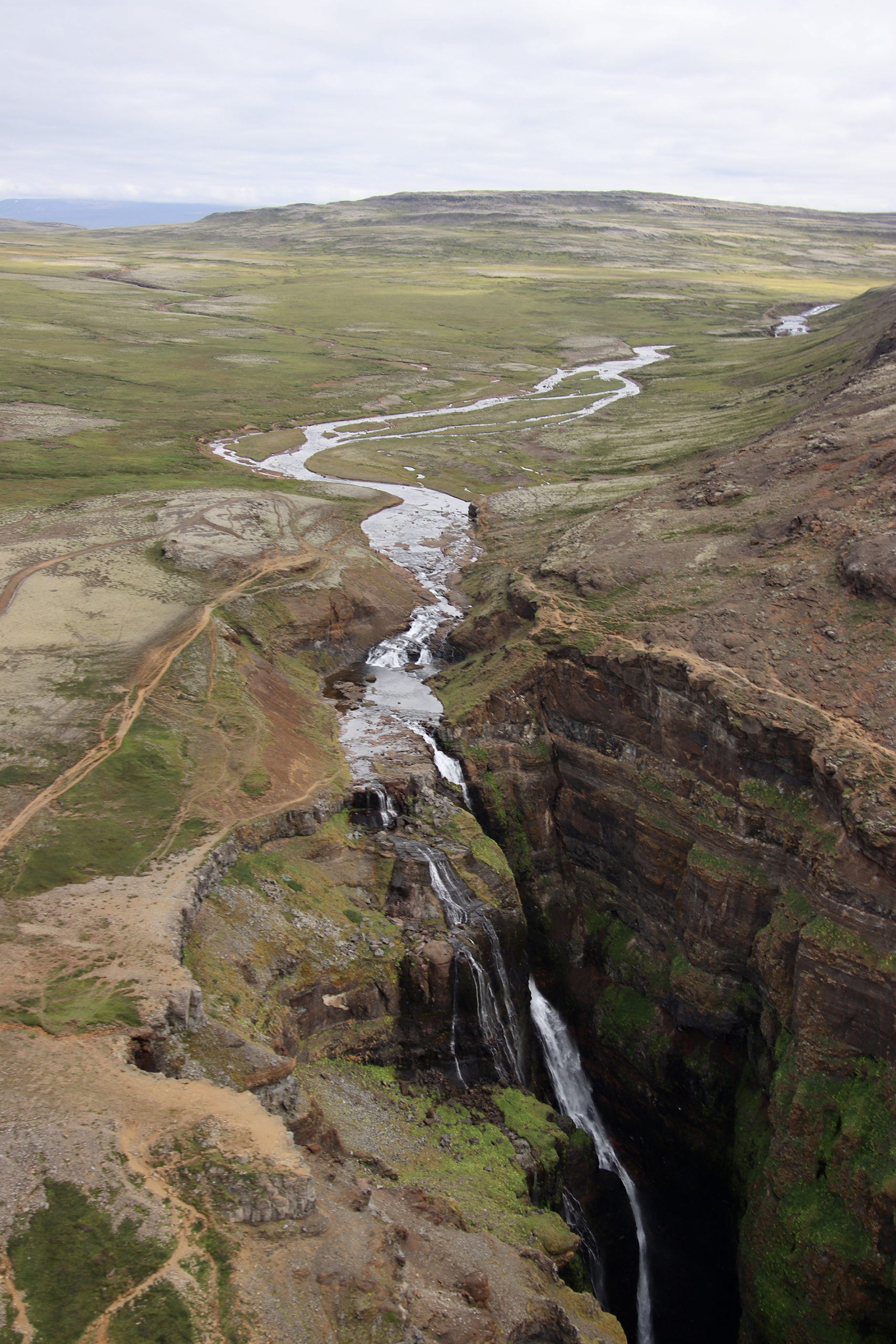 Thor had told us there was no guarantee we would be able to land on Langjökull Glacier "long glacier", as it was weather permitting. While it was cloudy and overcast in the city, by the time we got to the glacier, blue skies prevailed.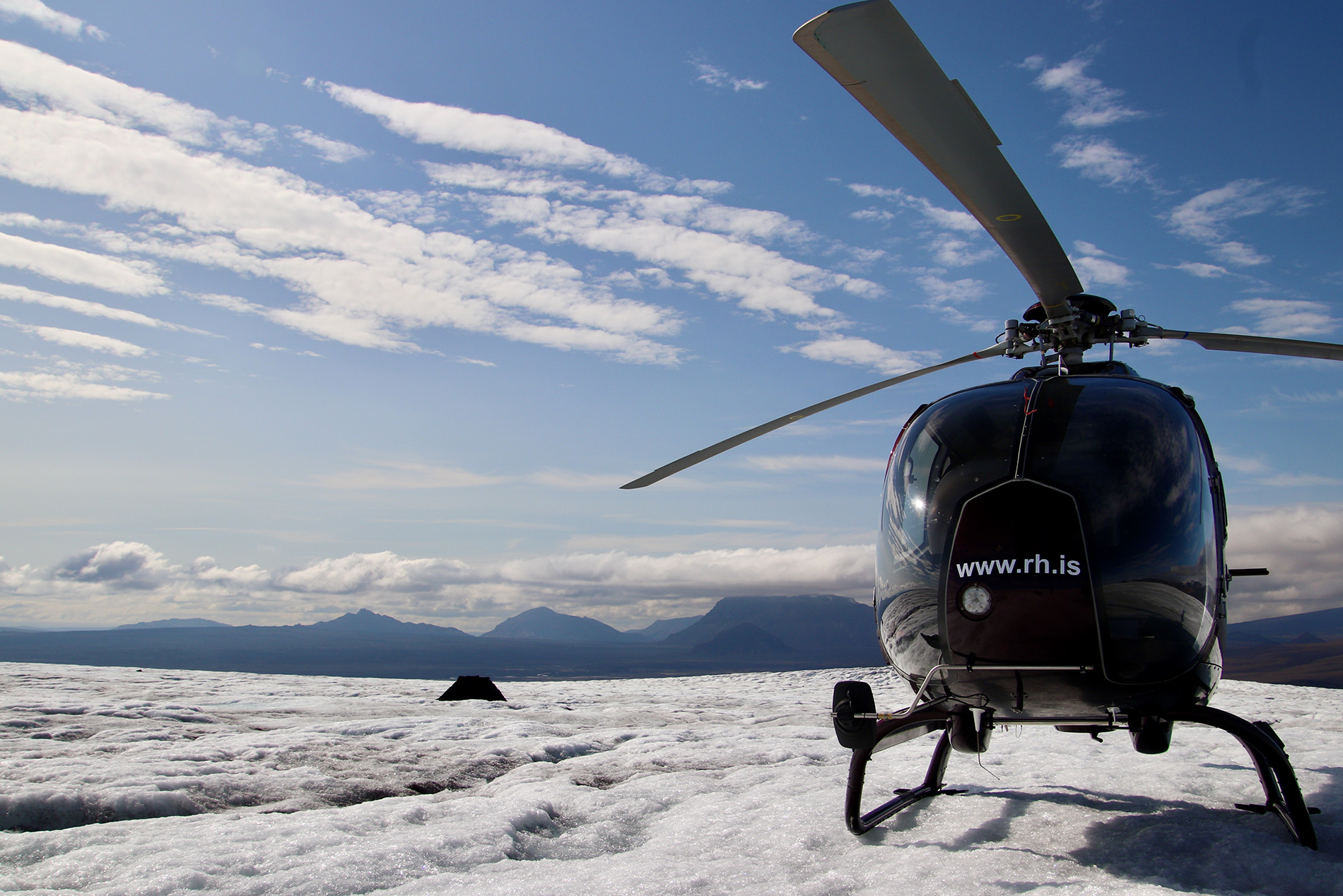 Glacial landing
I stepped out of the helicopter as if I was Neil Armstrong landing on the moon, each step tentative, my eyes wide in awe. Arctic nothingness in every direction. Langjökull glacier, at 30-miles long, is the second largest ice cap in Iceland. At 1,900 feet thick, I had little fear of falling through the ice. But we stayed close to the helicopter, as instructed, taking a few selfies and videos as proof of this magical tableau in the clouds.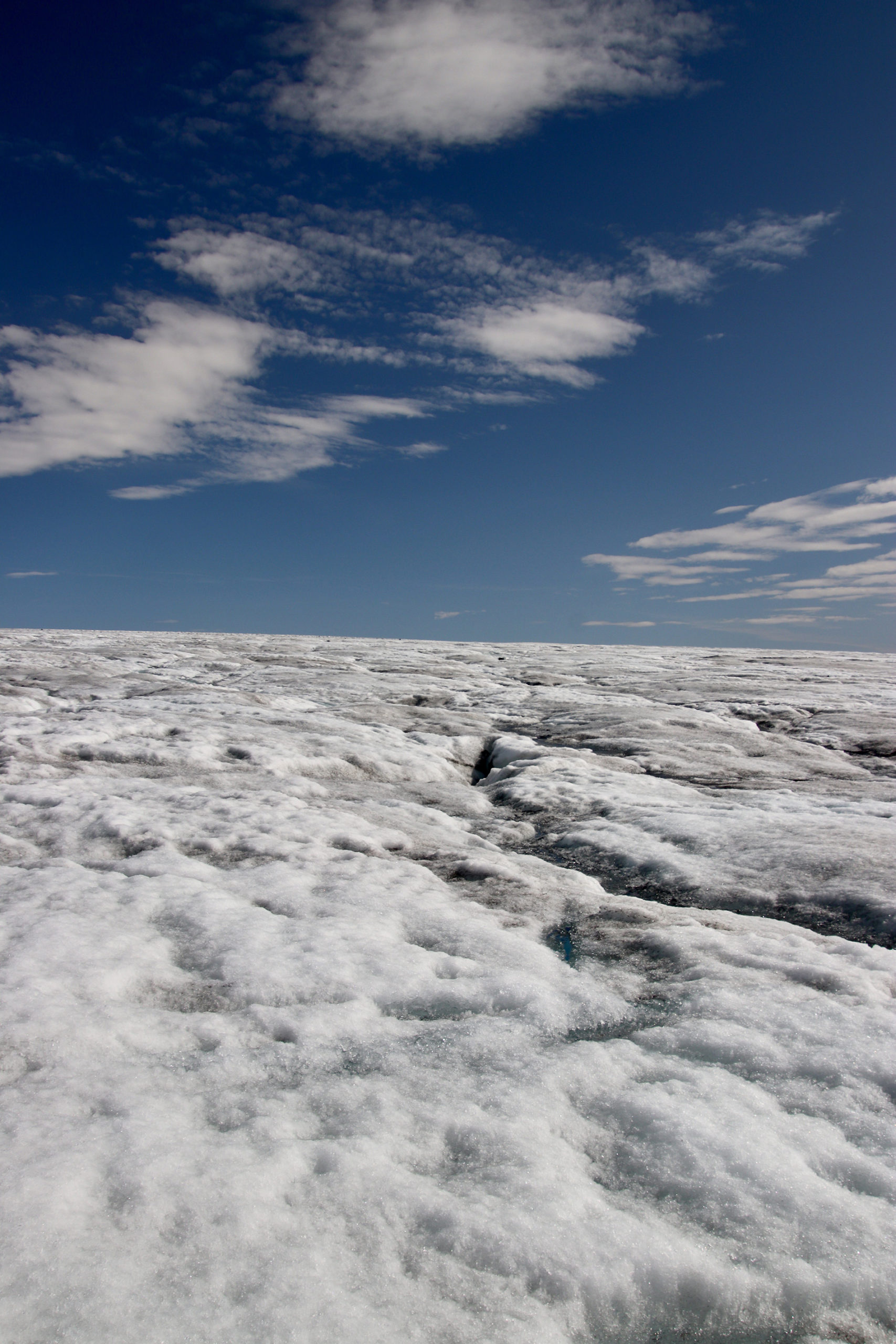 There are at least two active volcanic systems beneath Langjökull, and we saw one caldera, called Hveravellir, in the distance. The silence was deafening and ethereal. The air was completely still. My daughter and I savored the vistas until Thor said it was time to go.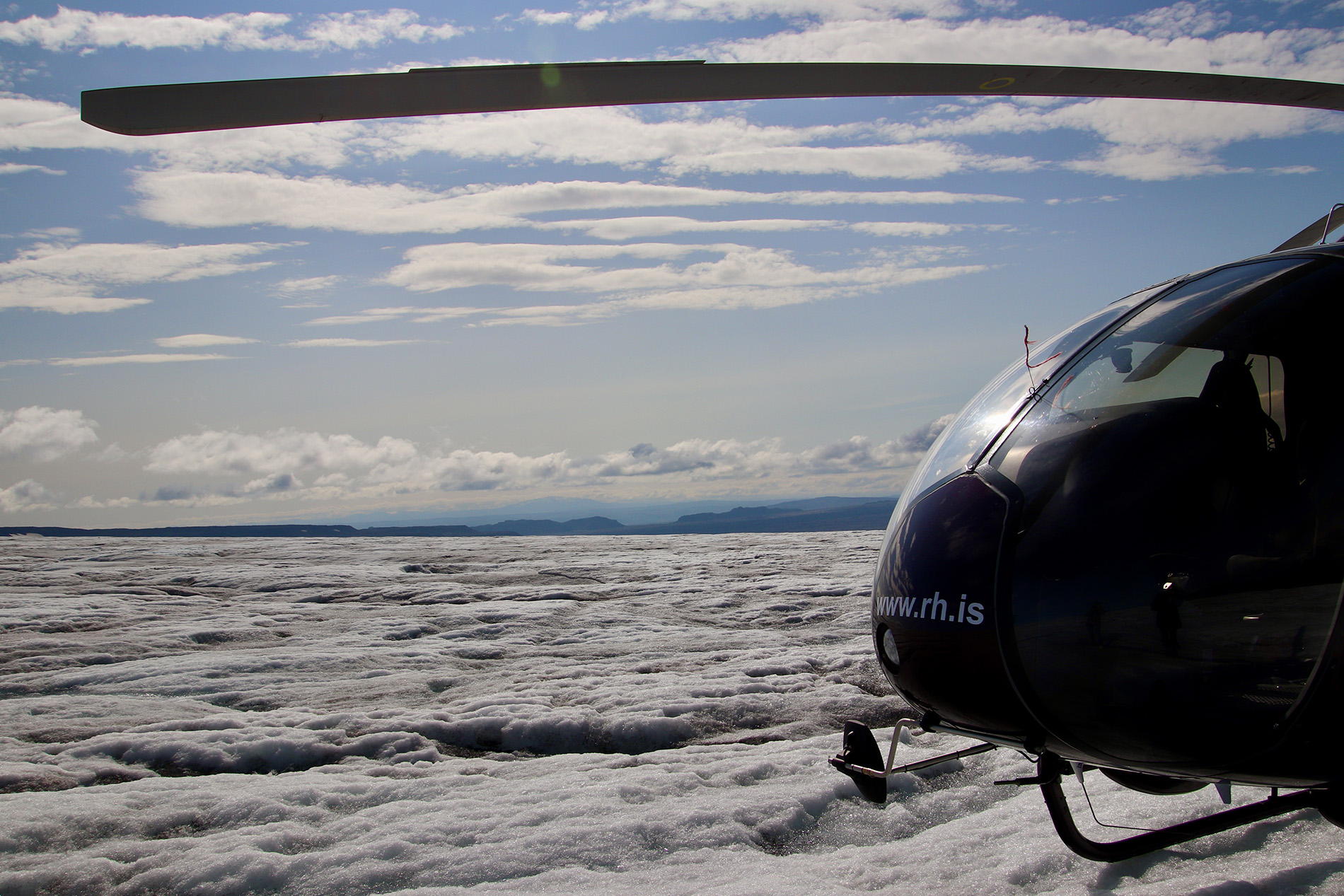 On the way back to the airport, we straddled North America and Europe from above, observing the continental drift between them. The rift of the tectonic plates was clearly visible from the air.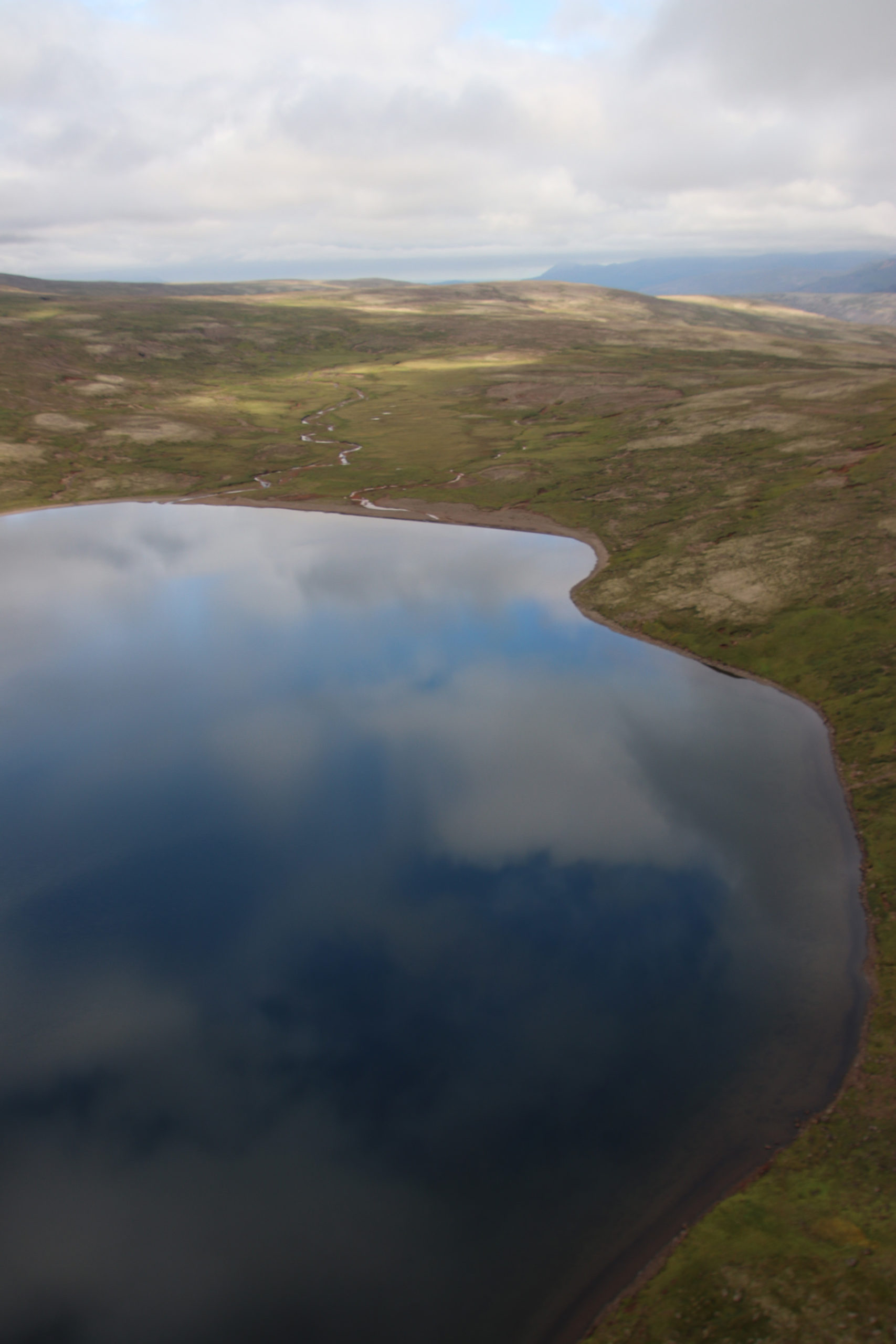 The largest natural lake in Iceland came into view, glassy and reflective, as we ended the tour. We reluctantly said goodbye to Thor, thinking he had the coolest job in the world and this adventure was, by far, one of the coolest things to do in Reykjavik.
Adventure capital
Extreme adventure opportunities during trips to Iceland are endless. With 10,000 waterfalls, 125 volcanoes, and 269 known glaciers, one could spend a lifetime exploring the natural elements alone. As the latest volcano eruption reminded me, the land of fire and ice is no joke.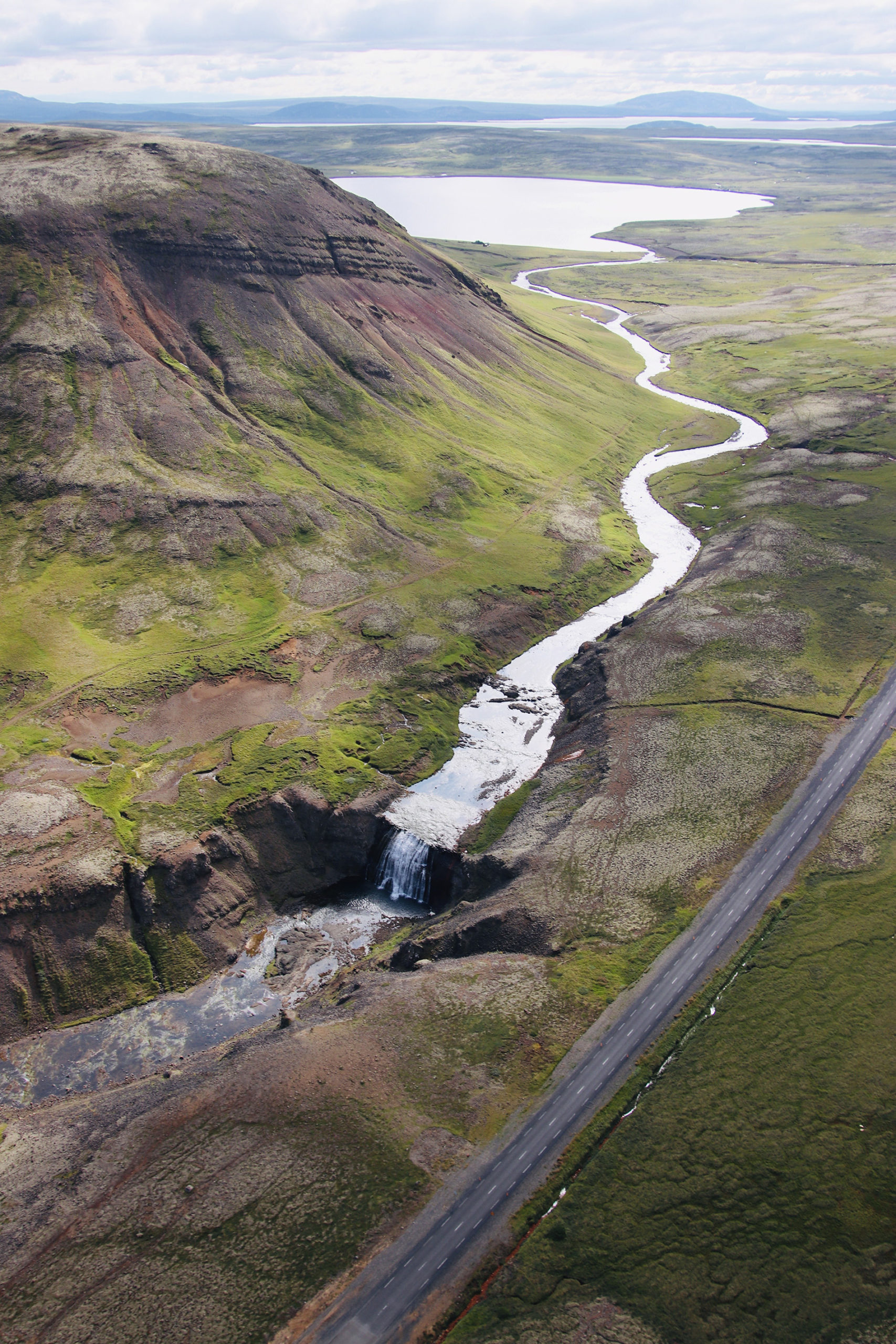 Yet, there is a time for adventure and a time to chill (no pun intended). With that said, I'll go back to the Blue Lagoon, was it worth the hype?
Change of plans
As I mentioned earlier, the Blue Lagoon was not part of our itinerary. Only when I serendipitously discovered A) it was halfway to the airport from our hotel, B) our flight wasn't until 6pm, and C) the overpopulated lagoon had a separate, more private area, called The Retreat, did I pick up the phone and book.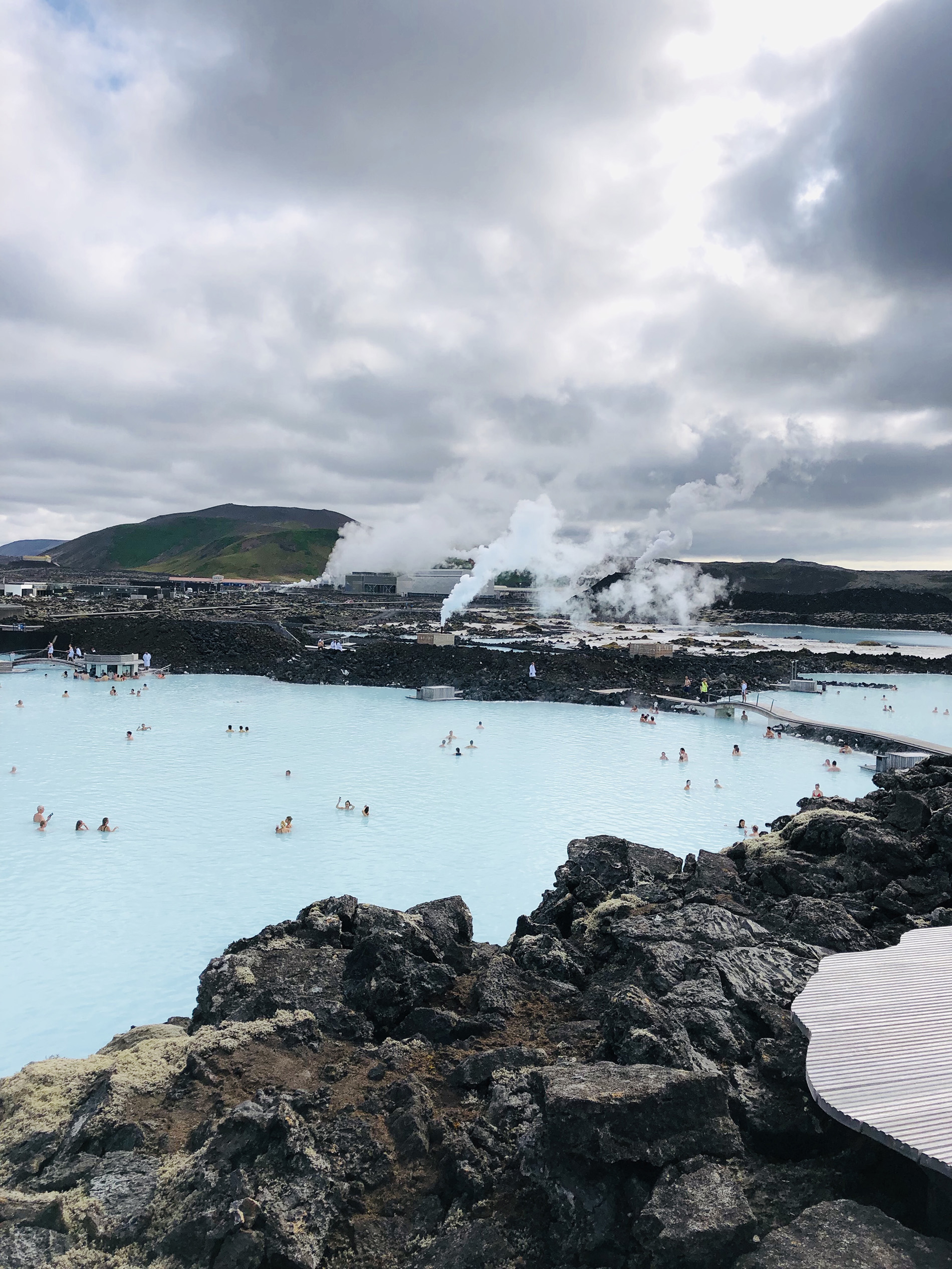 The Blue Lagoon, or Disney?
Calling the Blue Lagoon a tourist trap is the ultimate understatement. According to some guidebooks, the Blue Lagoon is the Disneyland of hot springs. It is unclear whether the writer thought that was a good or bad thing. I know what I thought.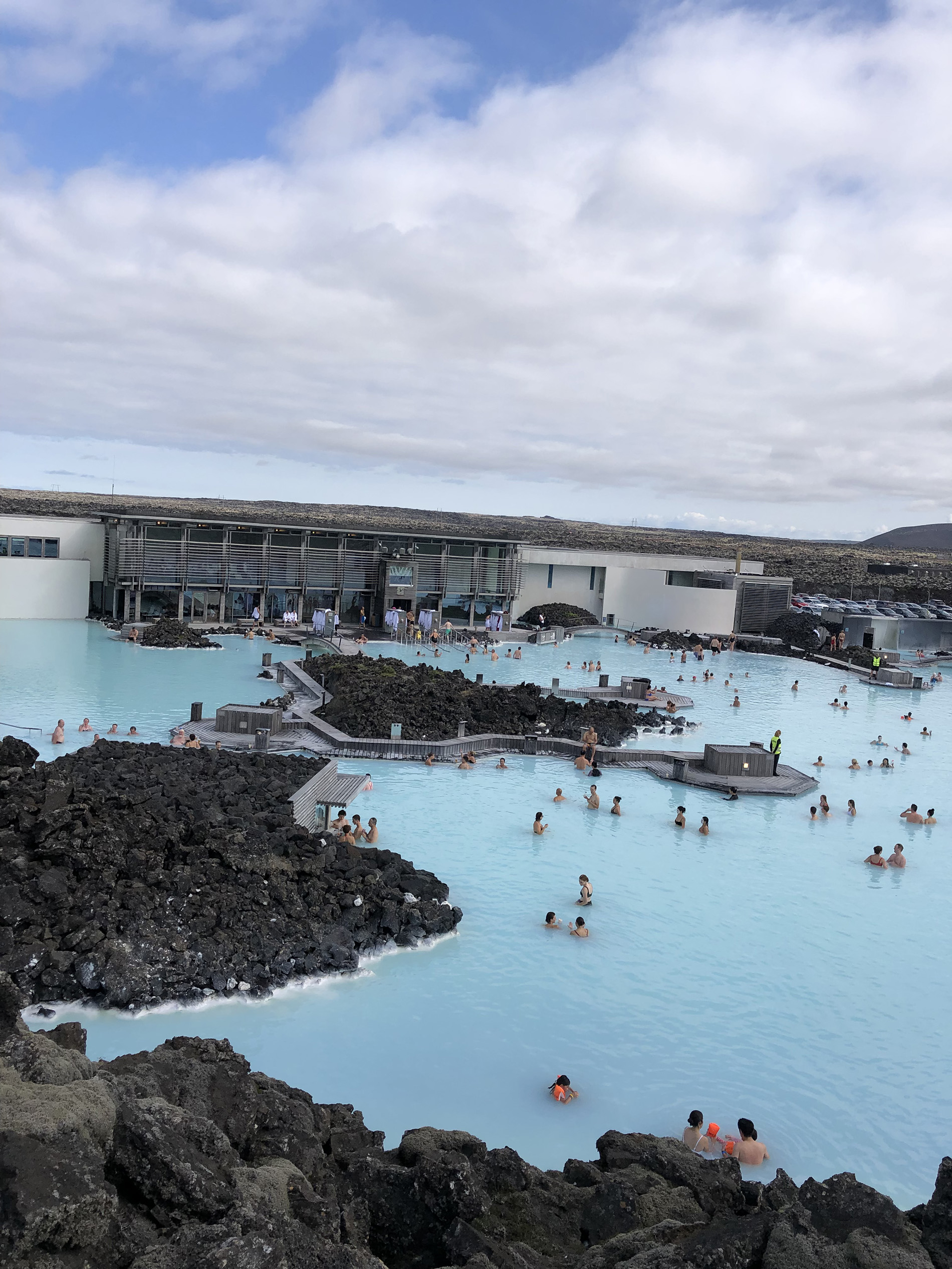 The area where the Blue Lagoon was built is a UNESCO Global Geopark, which sounds quite industrial. I imagine it is the bold and daring juxtaposition of the natural and the man-made that defines its intrigue and captivates so many tourists each year.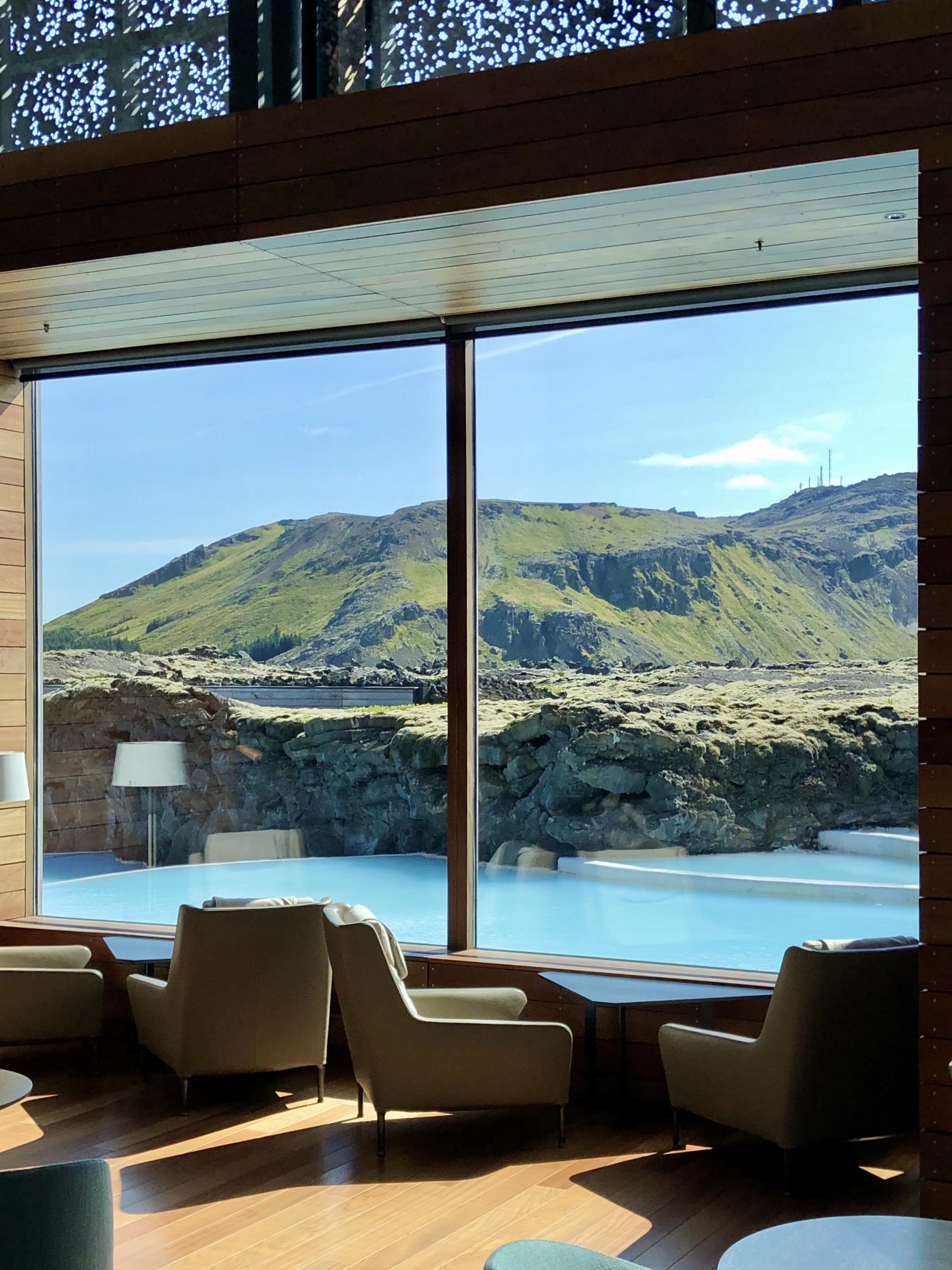 The Retreat
The addition of The Retreat Hotel was finished in 2014. With its own entrance, spa, restaurant, and lagoons, we had the experience of the geothermal spa without the crowds.
Basalt, the architecture firm that built it, cleverly incorporated natural elements, (wood and lava) with raw concrete to design a low-impact and modern structure. The result maximized the unique landscape, and complemented its natural beauty, making it a favorite recommendation among luxury travel advisors.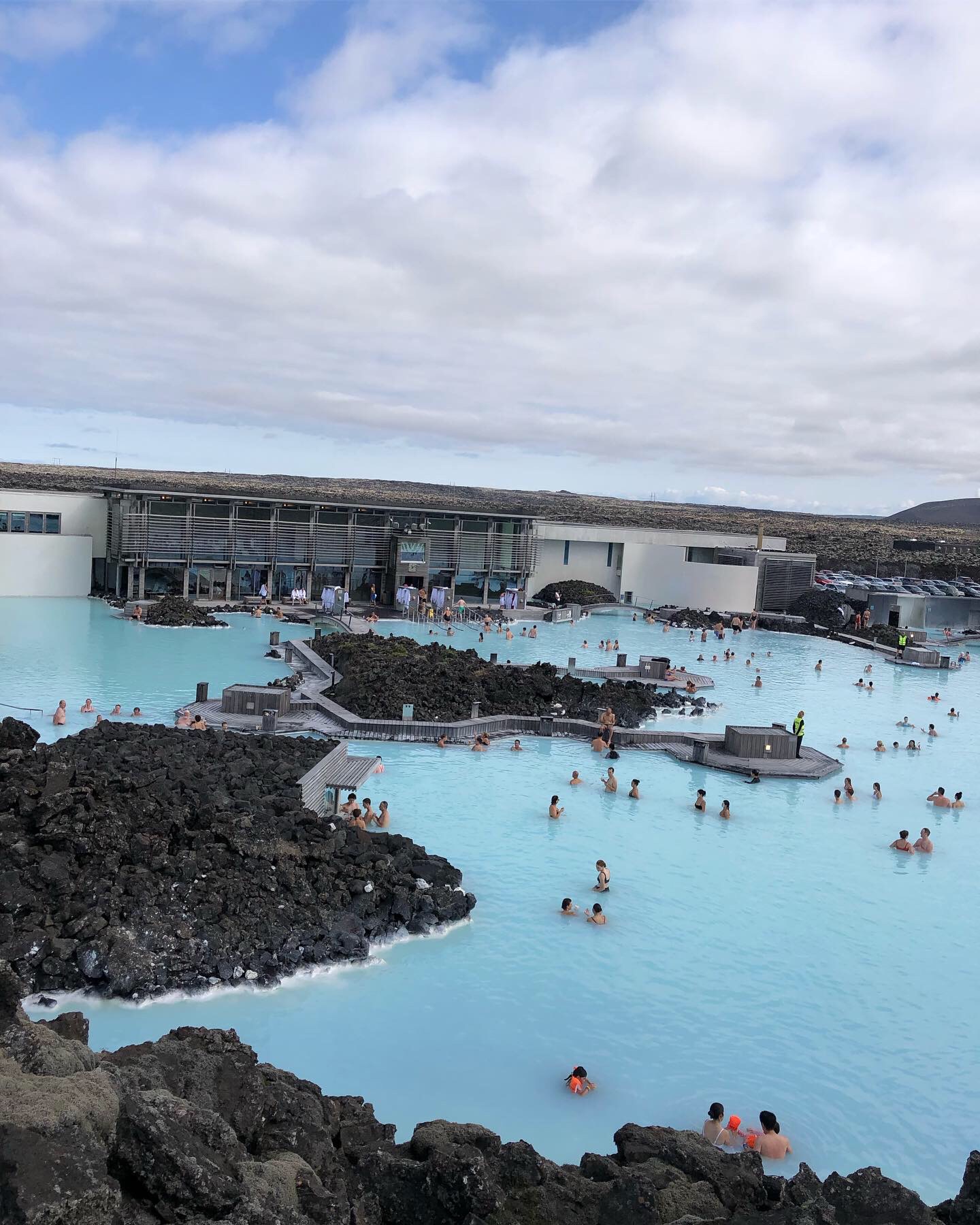 There was a viewing deck to look out over the main lagoon, and visually it was quite spectacular. A mass of people waded around the pools with the industrial geothermal plant smoking in the distance. The entire adventure was so otherworldly, I would be hard pressed to tell anyone to skip it, as we nearly did.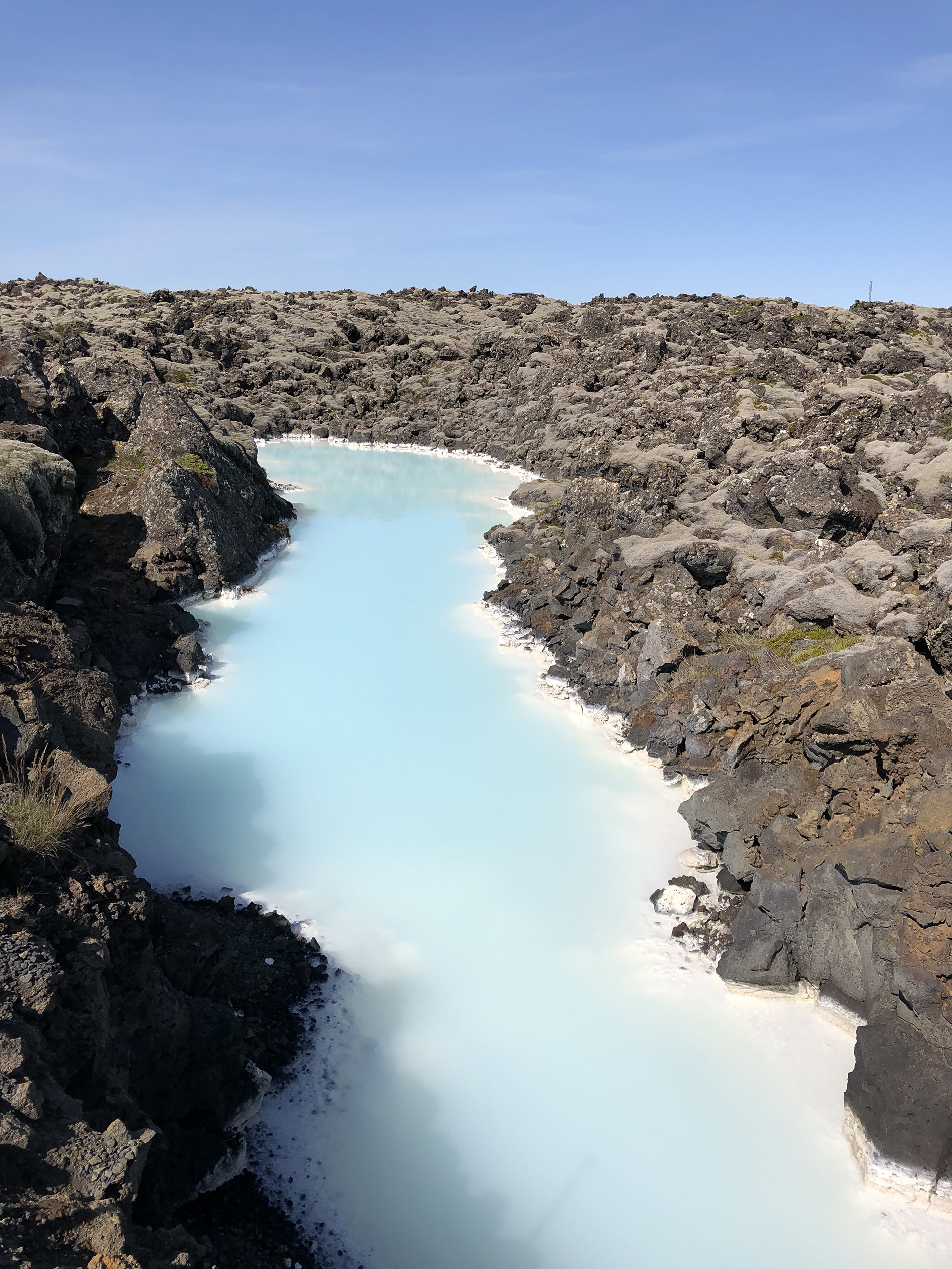 The area surrounding the Blue Lagoon was unlike any of the other places we visited in Iceland. Low, lava-crusted fields seemed to sprawl out for miles. The color of the milky blue water against the porous black lava was extraordinary and added to the magical aura.
At The Retreat, different levels of warm pools snaked around bridges and pathways. The soft mud that forms at the base of the pools is created by the high silica content, which gives it the iconic turquoise color. Unfortunately, photos at The Retreat are forbidden, but I took my fair share from the viewing deck into the main lagoon to capture the scene.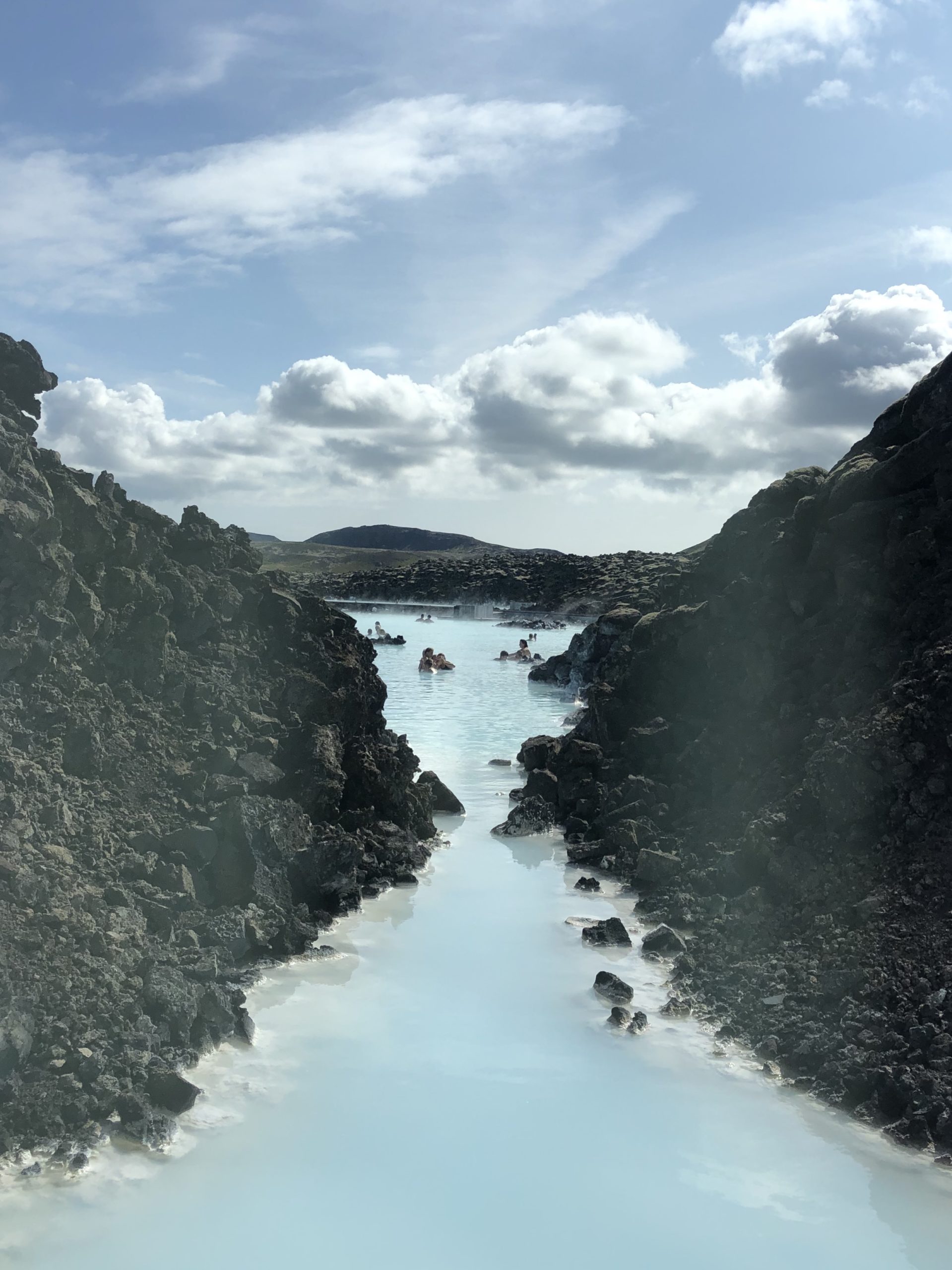 The water temps hovered around 100 degrees, and the combination of sulphur, silica, salt, and algae, felt soothing to the touch. I think I now know why slime was so popular with my kids a few years ago. Having the lagoons to ourselves, we felt like extras on a sci-fi movie set.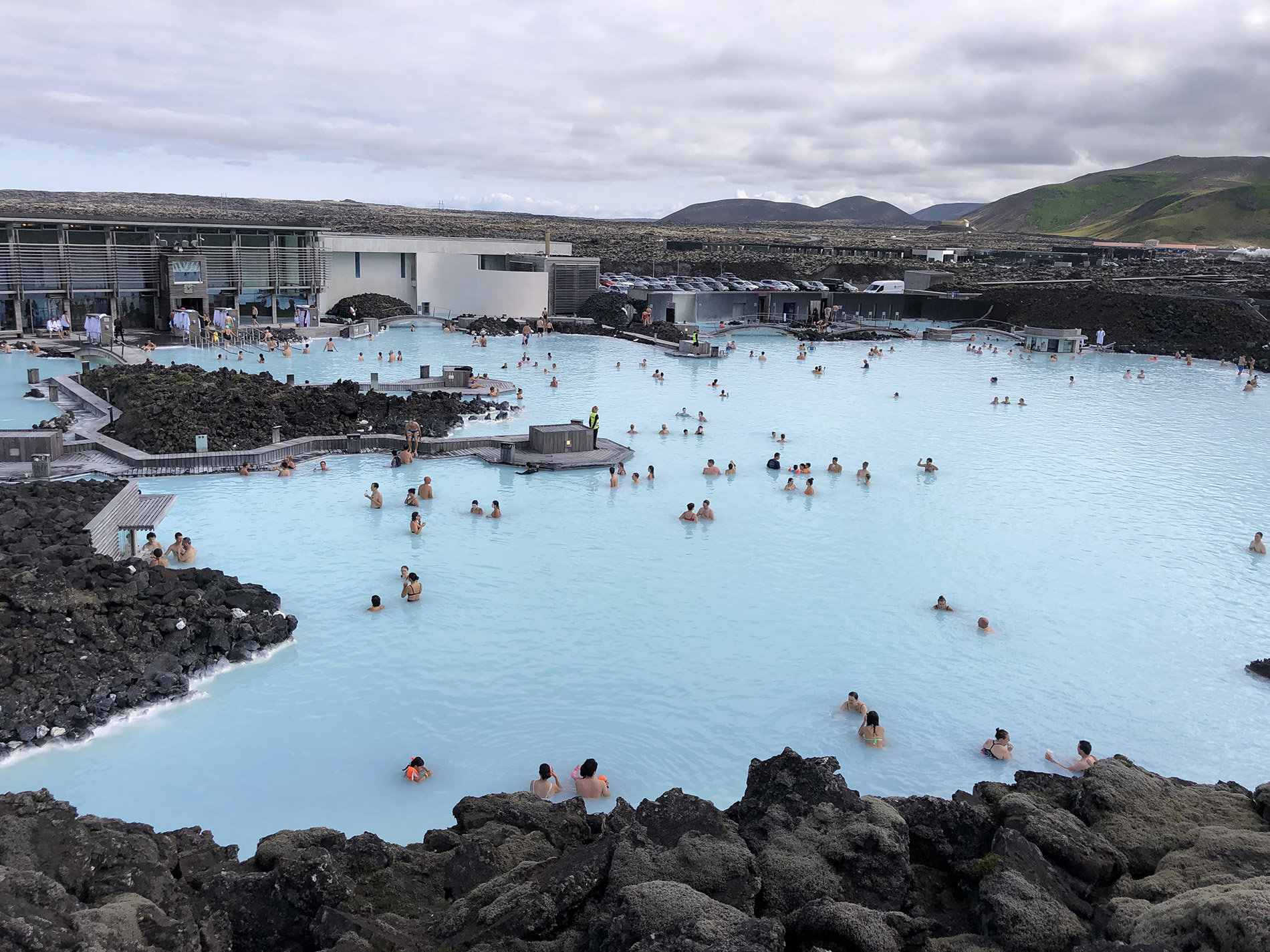 The geothermal waters are supposedly beneficial for skin, and we spent four hours pre-flight, in and out of the water, applying various mask treatments to ourselves while in the dark, subterranean spa. There were meditation rooms and swinging basket chairs to curl up with a book. Our kids got lost for a while, but thankfully we found them in time to head to the airport.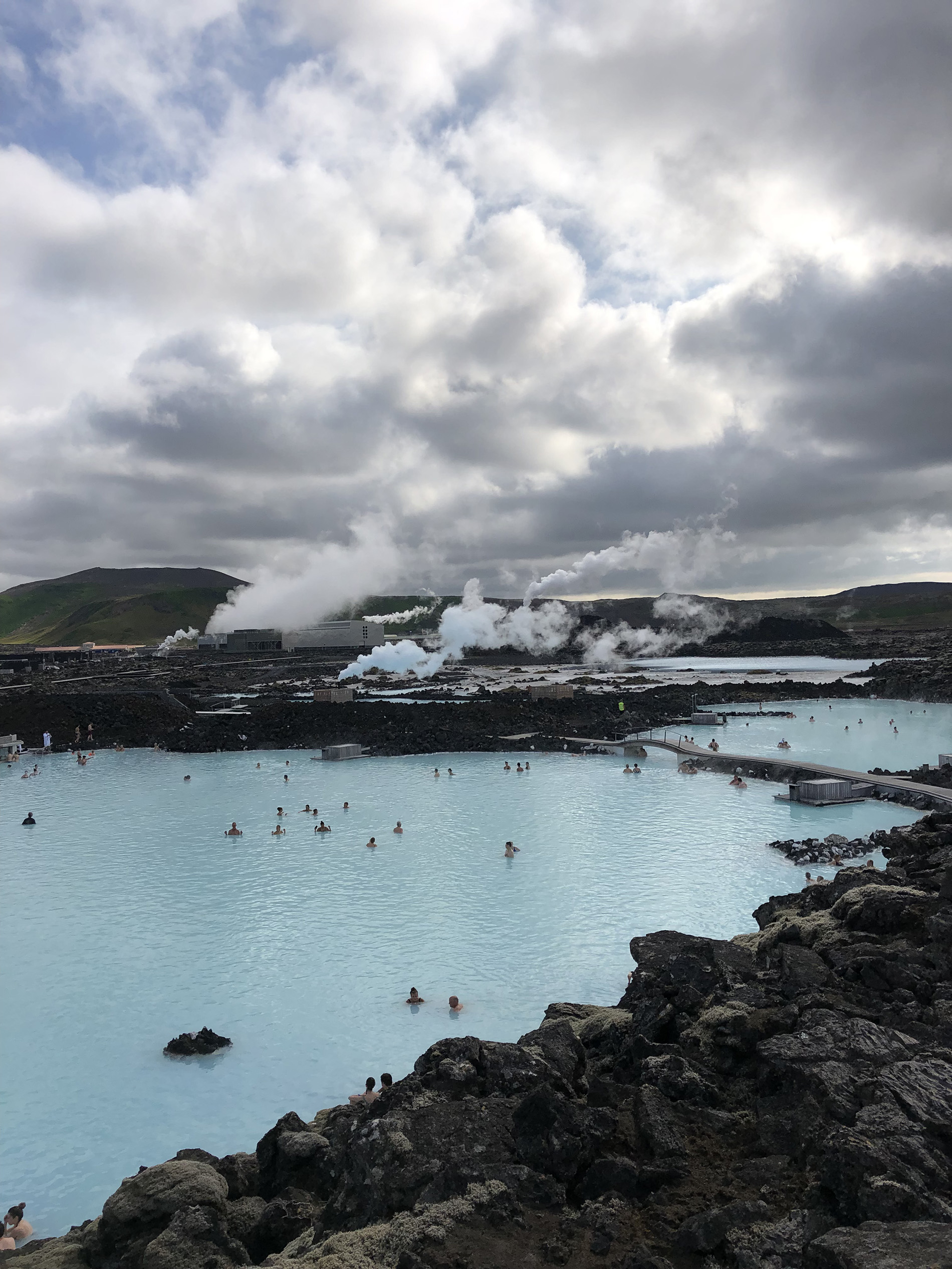 Hype? Believe it.
It was only a 4 1/2-hour flight home, but it seemed as if we had come from another planet. Our Icelandic vacation in August allowed us more daylight than we needed, nearly 20 hours. Not that I'm complaining, mind you.
In the winter, there is a mere 5 1/2 hours of light, and lessening each day. Winter—an entirely different way to experience Iceland. Northern Lights? Sign me up.
*******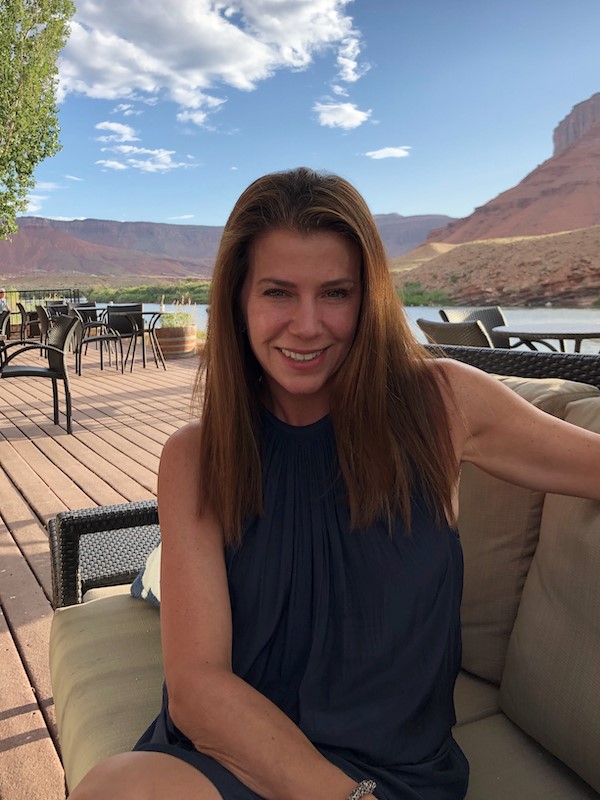 Jamie Edwards is an avid traveler, travel writer, and photographer. She launched I am Lost and Found, her adventure/luxury travel website after 25 years of living and traveling around the globe. Jamie's goal is simple: to inspire travel. Keep up with Jamie's adventures in travel here.
CIRE Travel is a full-service travel agency headquartered in New York, NY. Our expert team supports clients across the country and around the world.
---
Where in the World Do You Want to Go?
Inspired to plan your next weekend getaway, vacation or trip of a lifetime? See that form below? That's all it takes to begin your next epic travel story.