Author's note: I took this trip to Mexico in January, before any travel restrictions. But I'm happy to report that Mexico is open to Americans arriving by air, and the Grand Velas Riviera Maya is open and practicing exceptional health and safety protocols.
When the hubs and I were talking about where to go for our winter vacation, a warm-weather destination was a given, but I lobbied hard for a beach getaway. Granted, we live at the beach (in Maine, but still…). It was a long, busy holiday season and all I really wanted to do was sit on a lounge chair with my toes in the sand and have someone bring me frozen drinks. A lot of people do this as their annual vacation, but they're not married to Mr. B. My husband likes the beach, but he gets restless and needs something to keep him busy, like games, swimming, or pretending he's not looking at women in bikinis. 99% of our vacations together involve sight-seeing, sports, or other busy activities. I fondly remember the other 1%…it was a trip to Hawaii before we were married. We did a lot of sight-seeing and activities, naturally, but we also spent 2 glorious days at a luxury hotel in Lahaina, sipping drinks by the pool. I broke my personal Mai Tai record on that trip. It was wonderful.
One of the (many) perks of working for a luxury travel company is that everyone on the team wants to discuss your vacation and has great ideas and suggestions. Mexico was on our short list of destinations, and Eric, knowing that I wanted some serious R&R, recommended the Grand Velas Riviera Maya. He said it was an all-inclusive. I paused: I had only been to two all-inclusive resorts in the past and I wouldn't call either of them CIRE-worthy. But I trust Eric and all of his travel recommendations.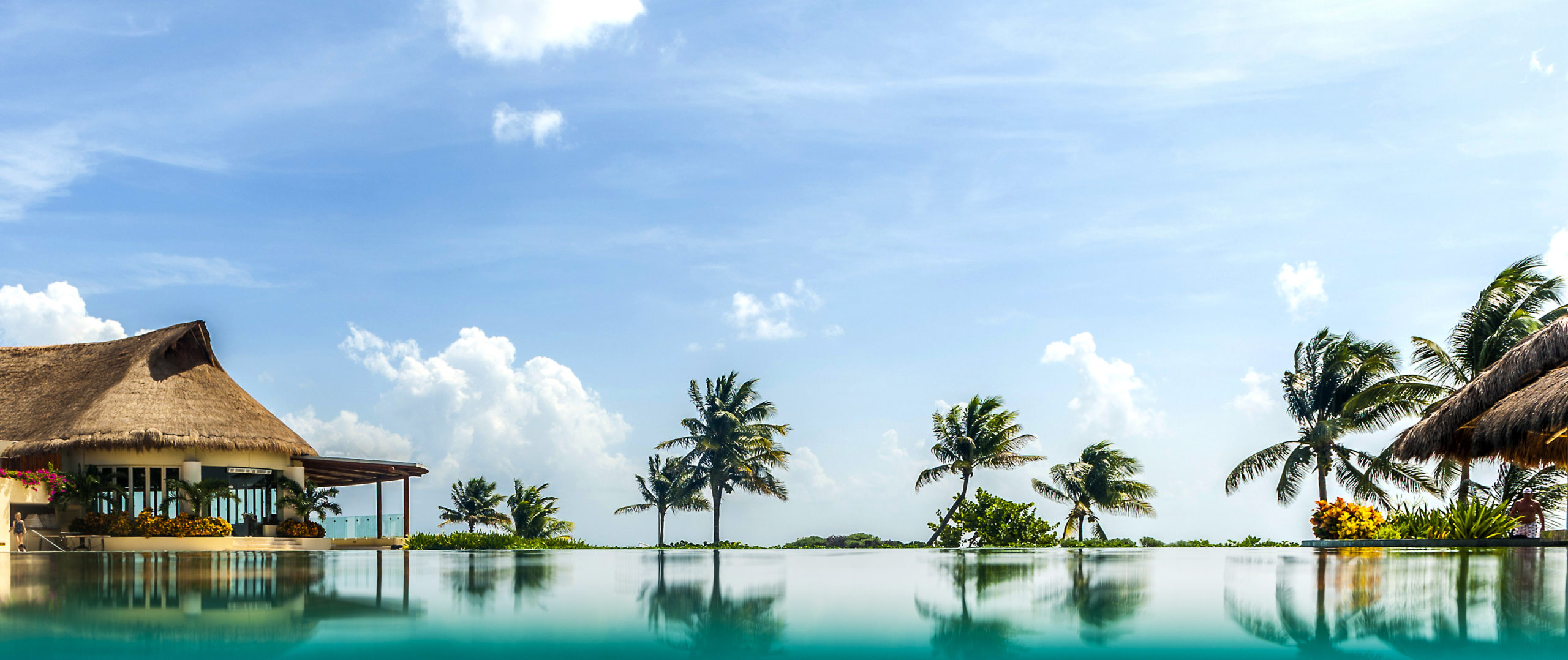 Grand Velas Riviera Maya was A+ from the get-go! When we arrived, an air-conditioned car was waiting to transfer us to the resort. The driver had cool damp towels for us and ice-cold water. Such a nice touch and so appreciated after a long journey. The ride from the Cancun airport is quick and easy, about a half-hour. When we pulled up to the resort, we were met with delicious juice and, instead of standing at a front desk, waiting to be checked in, our hosts directed us to comfy couches in the open, airy lobby to enjoy our drinks while we waited. Almost immediately, the delightful Xanath arrived to introduce herself as our personal concierge for the duration of our stay. Grand Velas is an all-suite property and each guest suite has a member of the guest services staff there to help them with any and all requests. Need to move your dinner reservation? No problem. Need to have laundry done (we did). No problem. Xanath was just a phone call away!

After just a bit of paperwork, we were brought to our room in the Zen Grand suites. There are three different buildings at Grand Velas Riviera Maya: The Zen Grand, the Ambassador and the Grand Class. Zen, as the name would indicate, is leafy and green, more lush jungle than beachy Mexico. We loved it. The spa was located in our section and it was definitely a quieter vibe…exactly what we wanted. The Ambassador and Grand Class suites are beachfront and amazing! All have balconies overlooking the ocean. Some have private plunge pools. And the Grand Class is adults only, for those interested in that. (*They are currently booking families in Grand Class suites, but this will likely go back to adults-only post-Covid. The pool and restaurant area remain adults -only.) We toured the property and were able to see suites in each of the different buildings. All were very spacious and comfortable, with all the modern amenities that you would expect.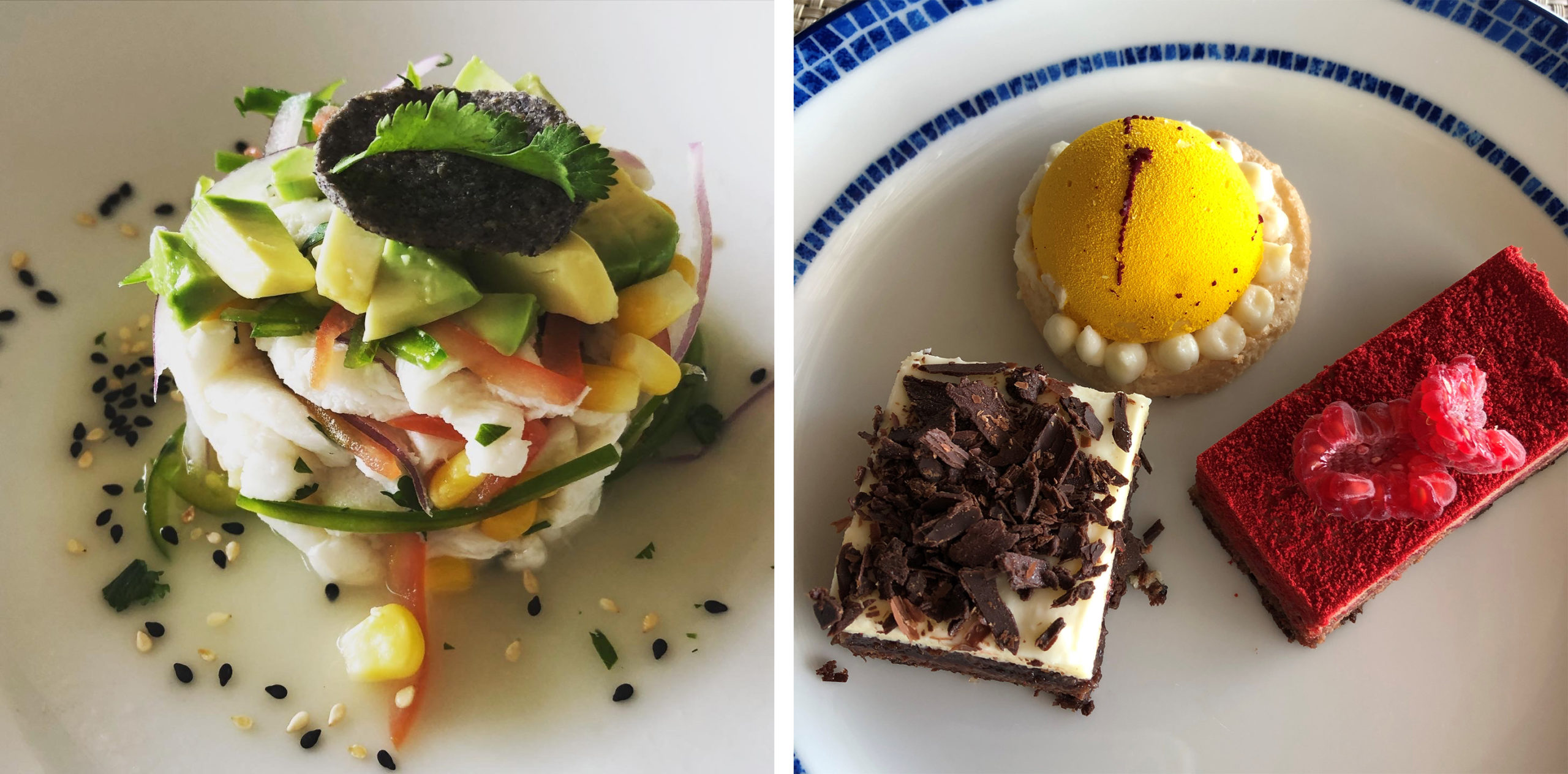 There are eight restaurants on the property, all part of the all-inclusive package. Two are buffet style and the rest are sit-down. I was EXTREMELY impressed with the food. I can't stress that enough. The Mexican cuisine was fantastic, of course, but we also had amazing French, Asian, Mediterranean and even one molecular gastronomy dinner at the resort's creative gourmet restaurant, Cocina de Autor. I was also very impressed with their food allergy program developed six years ago by Executive Chef Mario Lopez and Guest Experience Manager Amy Negrete. They can do Vegetarian, Vegan, Kosher and Halal meals, in addition to the usual suspects (nut-free, gluten-free, dairy-free). When you make a reservation at one of the restaurants, they ask if you have any food allergies. When you arrive at the restaurant, the host asks if you have any food allergies. When you're seated at your table and the waitstaff comes to greet you, they ask if you have any food allergies. If I had a serious food allergy, this is where I would vacation. The team at Grand Velas takes this very seriously.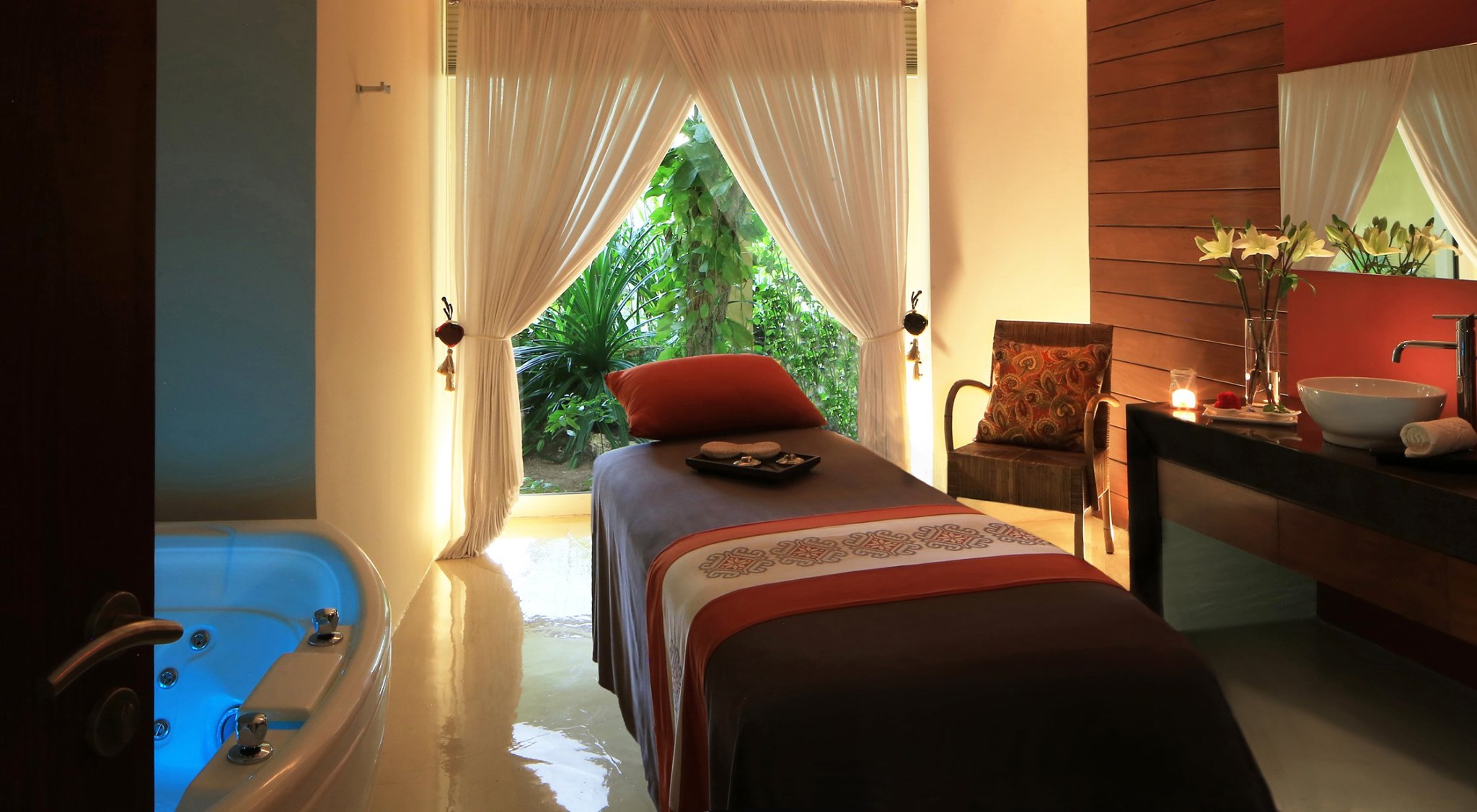 The spa at Grand Velas Riviera Maya, SE Spa, is the most awarded spa in Mexico and recently added another to their wall of fame: a Five-Star rating from Forbes Travel Guide in its 2020 Star Awards. It's well-deserved. I spent a glorious half-day at the spa and wish I had booked more treatments. It was really lovely. (You can read about my spa experience here.)
The Grand Velas has a calendar of events that's updated weekly and in your room when you arrive. Yoga, bike riding, boxing classes, kayaking, snorkeling, scuba, eco tours, beach volleyball, soccer, water polo, corn hole, darts, horseshoes, billiard tournaments, Zumba, salsa lessons and, yes, Bingo. So when I say they have something for everyone, you know this isn't hyperbole!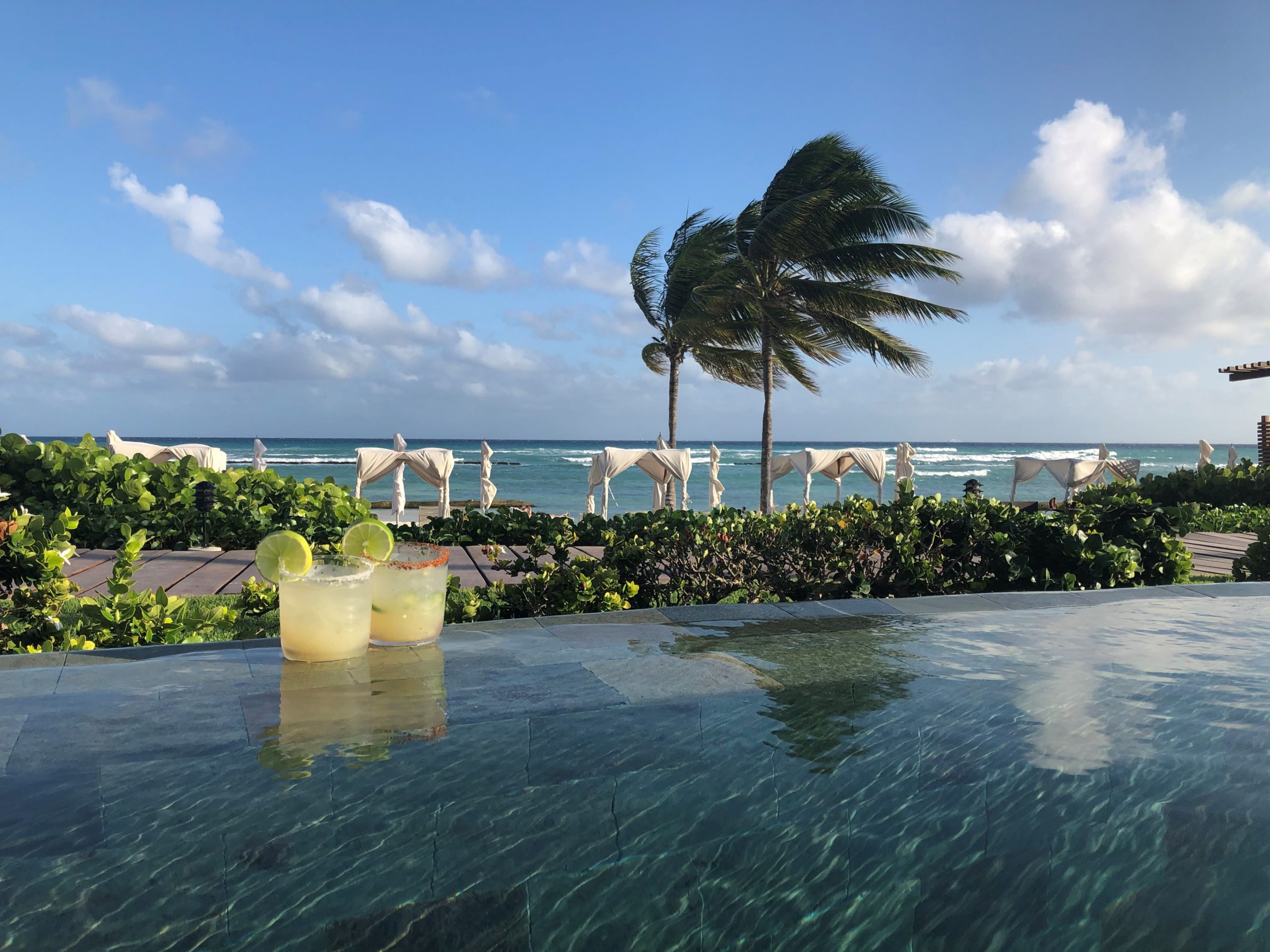 And for my main activity, pool sitting, there are several options! The largest and most lively pool is at the Ambassador suites with sweeping views of the Caribbean Sea and Cozumel in the distance. The pool at Grand Class is adults-only, a quieter vibe with gorgeous ocean views as well. And the Zen pool, as the name indicates, is very much zen with a lush, jungle vibe. While not adults only, since it's not on the beach, it's a quieter spot. I'm happy to report that all three have swim up bars with excellent drinks (frozen, on the rocks, beers, you name it). Sure, it was grueling research, but at CIRE, we work hard to get every detail so we can plan the exact vacation you're looking for. You're welcome.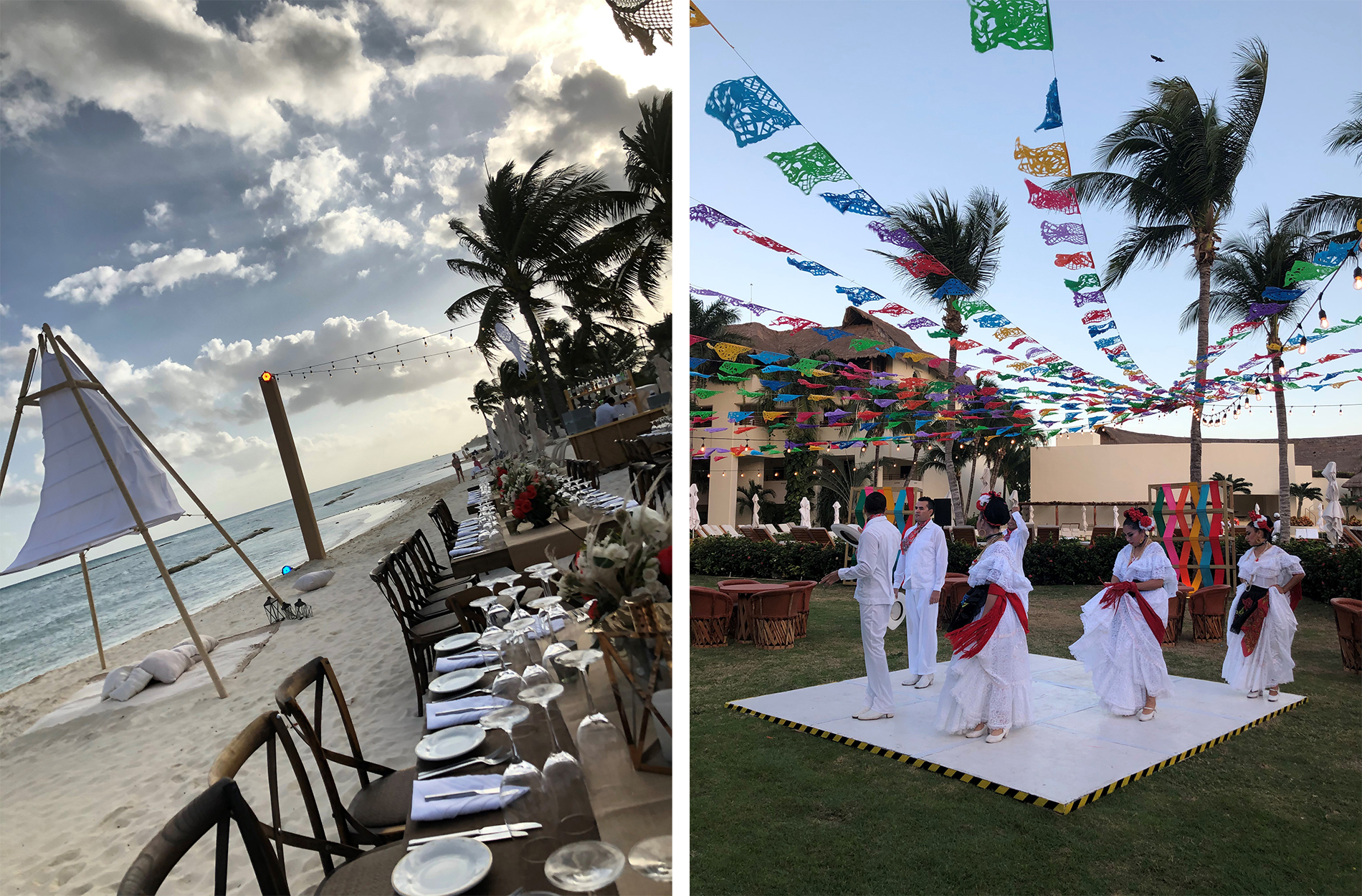 The Grand Velas Riviera Maya is definitely set up for special events but I didn't find its size overwhelming. Conferences, corporate off-sites, weddings and family reunions…there's plenty of meeting rooms and ball rooms and separate spaces to have a function, but not take over the whole resort (which was nice if you're just regular guests, like the mister and I were). There was a banking conference going on when we were there, but we wouldn't have known except for a conversation with one of the attendees at the pool bar. Grand Velas also has an amazing Kids' Club and Teens' Club program for families traveling with children. The cool thing I remember about the Teens' Club is that after 8pm each evening, the club is closed to adults (except for the staff, of course), so the teens get their own space to have fun. Also, have you ever heard of a "Baby Concierge?" Me neither, but it's an incredible service Grand Velas offers. They say, "just bring your baby, we'll provide the rest."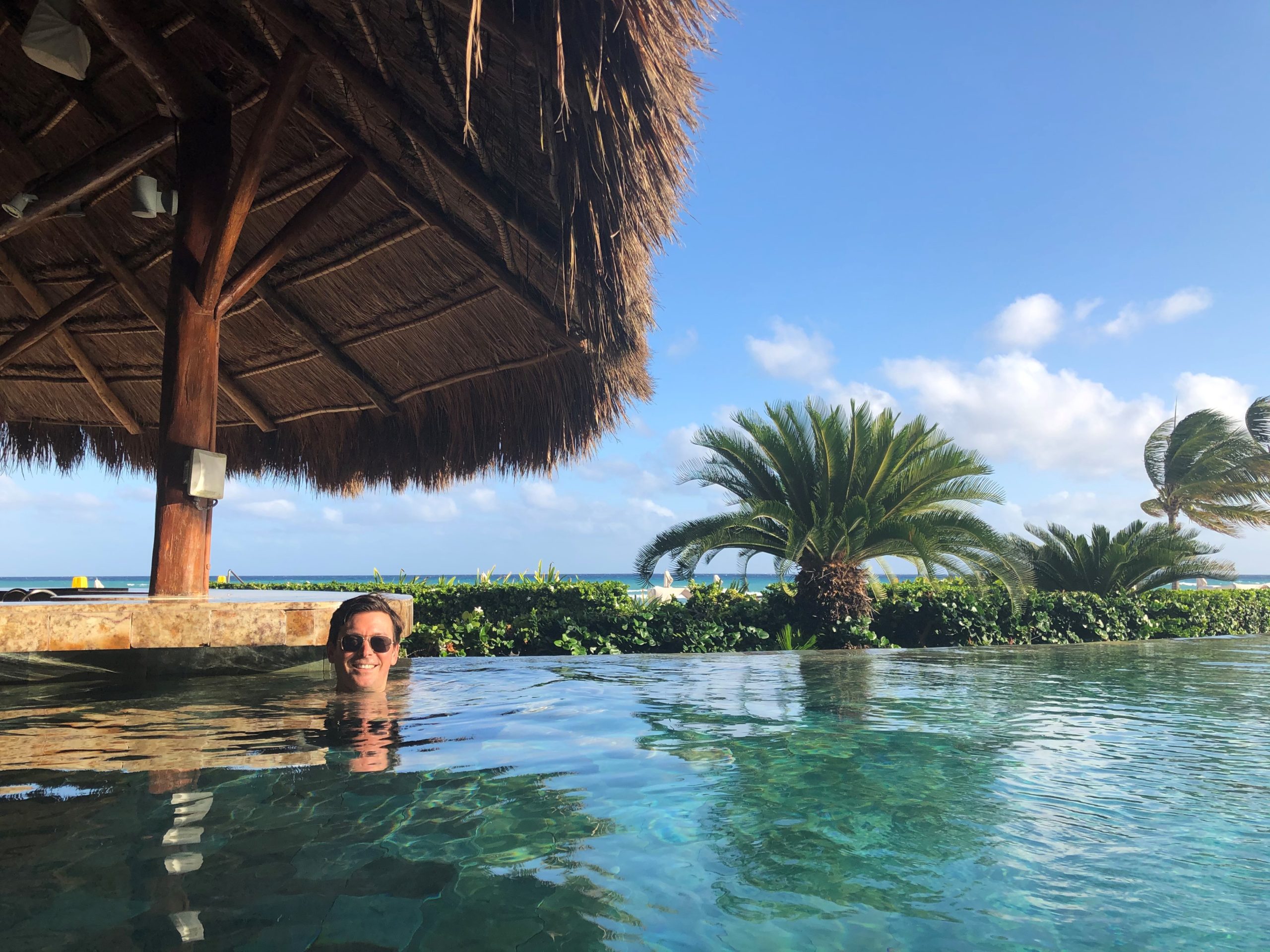 The Grand Velas Riviera Maya was everything I'd hoped for: great food, attentive staff, a world-class spa, and, of course, I got to have some drinks with my toes in the sand. Meanwhile, Mr. B got to enjoy a spa treatment, swim in his choice of pools, play a few games of beach volleyball, and, yes, join me for those relaxed umbrella drinks on the beach. I didn't break my personal Mai Tai record, but after a deep-tissue massage, a few margaritas, and a good meal, who's counting?
CIRE Travel is a full-service travel agency headquartered in New York, NY. Our expert team supports clients across the country and around the world.
---
Where in the World Do You Want to Go?
Inspired to plan your next weekend getaway, vacation or trip of a lifetime? See that form below? That's all it takes to begin your next epic travel story.