It's that time again. That time of year when we choose clothes with expanding waistlines or no waistlines at all. The festive season. Personally, I'm in favor of embracing the holiday spirit in the form of great food and wine and letting my New Year's resolutions work extra hard starting January 2nd. Or, maybe the 3rd.
Let's treat ourselves to over-the-top merriment and festivities and ring in the New Year with gusto. If our waistlines happen to veer ever-so-slightly towards the Santa range in the process, so be it. We'll have enjoyed the ride.
Where to eat, drink, and be merry
Restaurants across the country are waiting for us to eat, drink, and be merry this holiday season. They're pulling out the bells, whistles, and corks to make this year one to remember. Is your idea of holiday dining in an intimate, candlelit room or at a large, communal chef's table? Do you prefer a big, bustling, and extravagant experience? Or, a minimal, low-key and ambient one?
If your travel plans are taking you to DC, LA, Boston, NYC, or Kennebunk, Maine this year, you're in luck. From cozy to convivial, here are a few of the best restaurants to kick your holiday spirit into overdrive.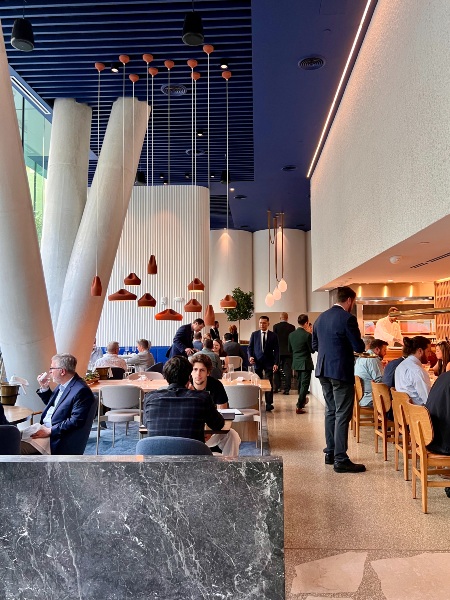 Washington, DC's Imperfecto
Imperfecto is one of Chef Enrique Limardo's three beautifully-imagined restaurants in Washington, DC. The other two are Seven Reasons and the brand-spanking new Joy, by Seven Reasons. Opening with much anticipation in 2021, Imperfecto's mantra is, "We will seek perfection. But we will never achieve it. We don't want to. We will be Imperfecto." Words to live by, Chef.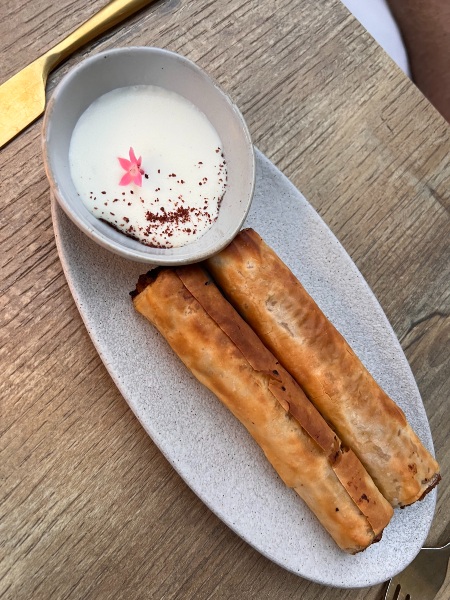 Chef Enrique changes the menu often, and no doubt his festive season choices will give diners much to celebrate. One Imperfecto favorite is the Moussaka Cigars—light, flaky, phyllo dough filled with smoked eggplant, ground lamb, pine nuts, and creamy goat/manchego cheese. Other culinary delights include Truffle Tagliolini, served with sweet corn, cut asparagus, and Pecorino cheese. Just try to pass up the mouth-watering A5 Japanese Wagyu steak. In a word, it's divine.
The cocktail menu is inventive and seasonal and has little stemware icons for those of us who like to choose our drinks based on the glass shape as much as the ingredients. The bar has blue and white murals nestled into high arches and plush, inviting bar stools. An ambient uplit display of bottles lines the back bar. You'll be hard-pressed to leave it once your table is ready.
Imperfecto is located in DC's West End neighborhood—a hotbed of luxury hotels and restaurants. Its recent Michelin-star rating makes Imperfecto a sparkling addition to the West End's bevy of upscale establishments. If you're in need of a nearby hotel to make your holiday festivities complete, CIRE is on standby with more than a few perfect suggestions.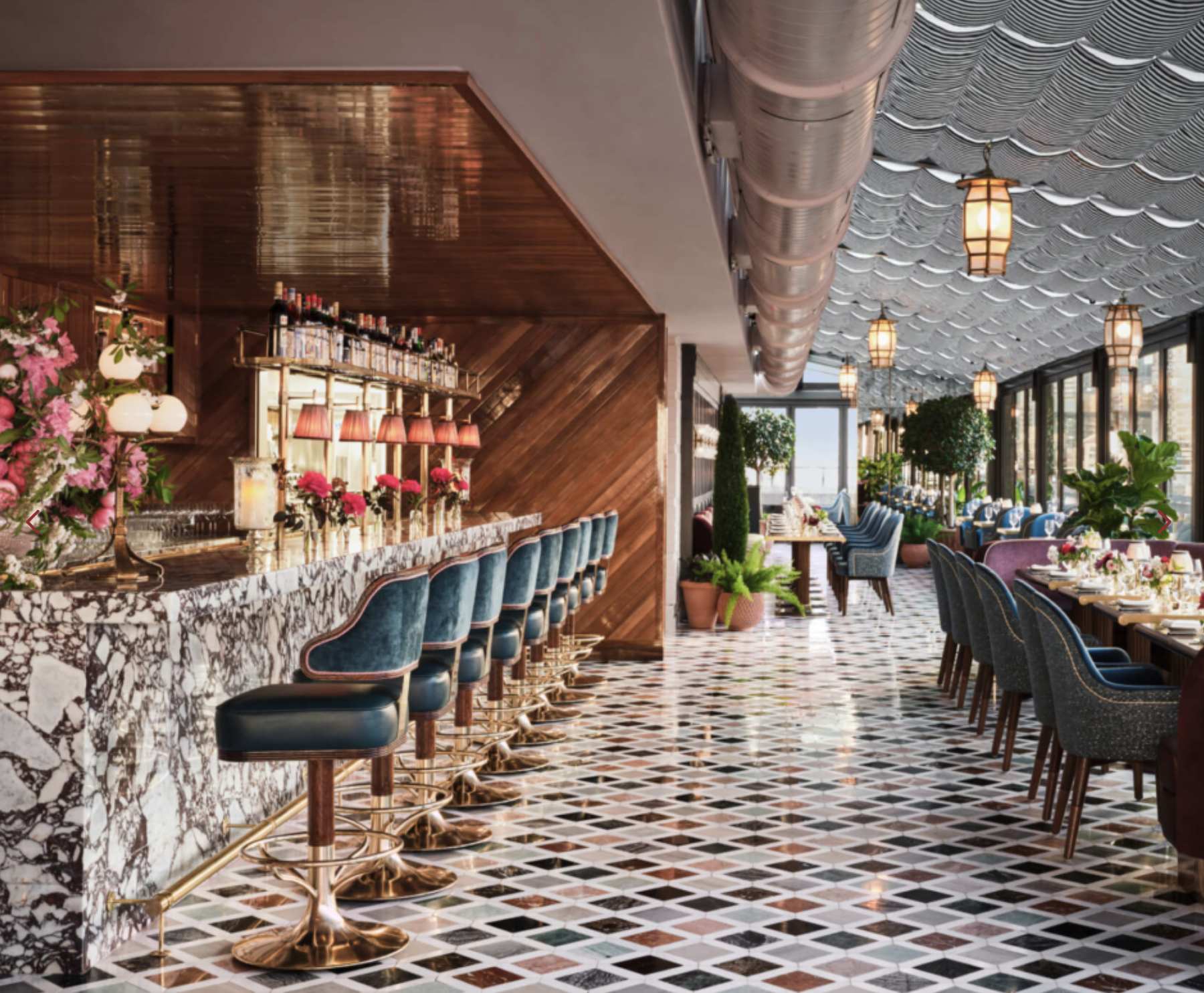 Boston's Contessa
Another restaurant that made its 2021 debut to much fanfare is Boston's Contessa. Located on the rooftop of the magnificent Newbury Boston hotel, it has views overlooking the Back Bay and Boston Public Gardens. Joy and merriment come with the food at this crown jewel of a restaurant.
Contessa's menu is firmly rooted in Northern Italy and Executive Chef Matt Eckfield creates culinary delights that stand up to the gemstone-tinted glamor of the setting. Velvet-upholstered seating sits majestically upon a chessboard-marbled floor. Warm, amber lighting, mixed metals, and a wall of glass add to the royal atmosphere.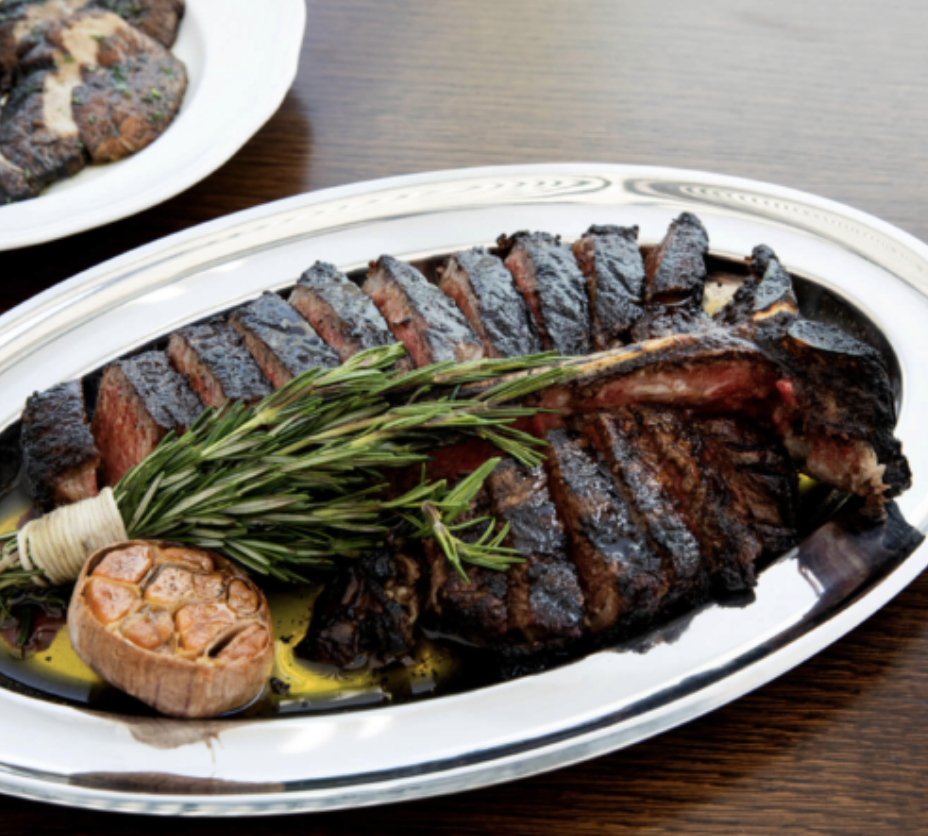 In the cocktail realm, Contessa overachieves. Its version of the latest caffeine-infused martini trend is called the Moka Espress(o). This drink combines vodka, espresso, and Varnelli Caffè Moka to amplify the night. Contessa's refreshing Paradiso Verde is likely a nod to the garden views.
The chef's signature dishes include a sumptuous 40 oz. Bistecca Fiorentina, and other traditional old-world Italian favorites like Antipasti, Shrimp Mezzaluna, and Rigatoni Carbonara. Prepare to be dazzled by the chef's new spin on the classics.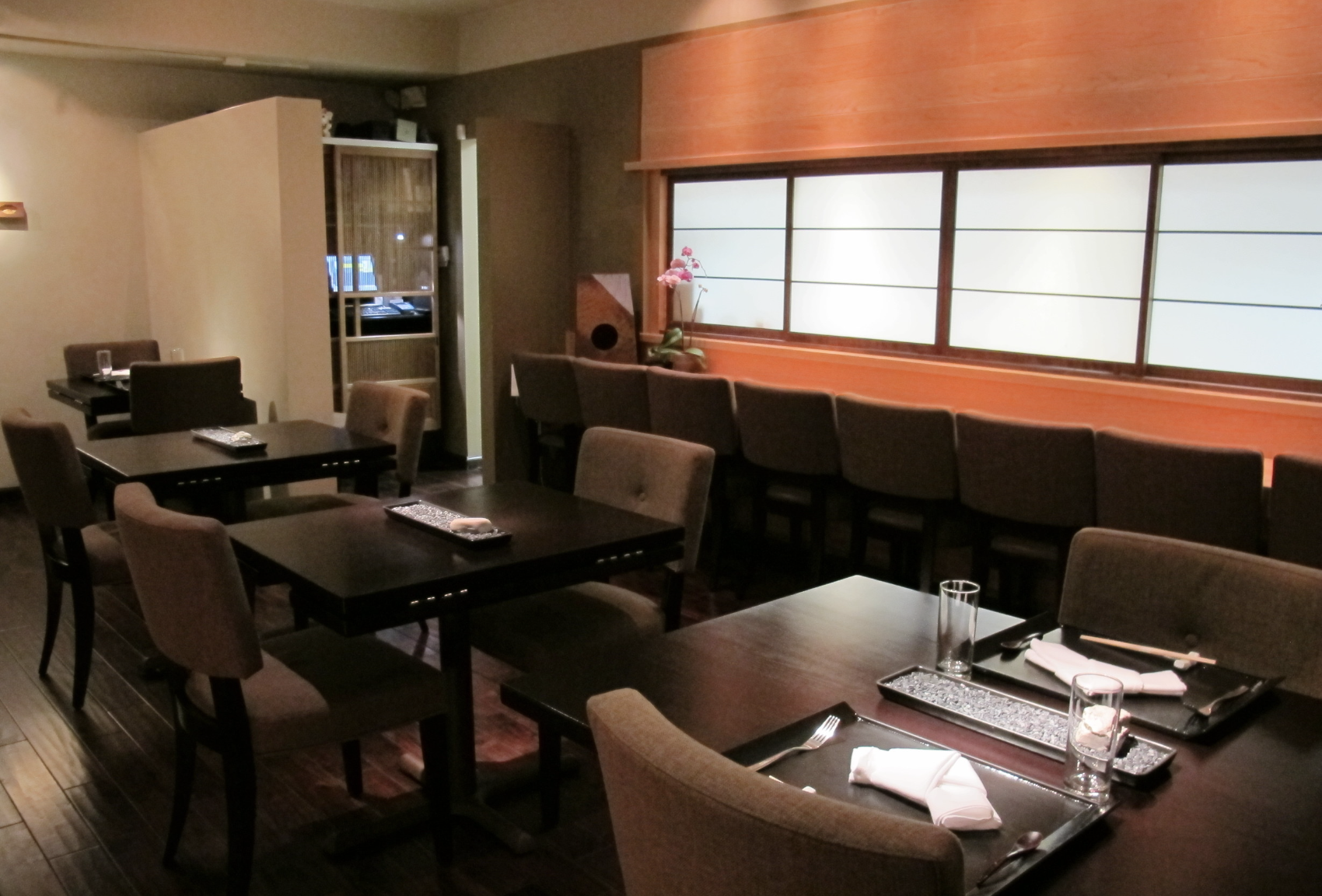 Los Angeles' n/naka
To some, festive means a restaurant hideaway where the soundtrack is the soft clinking of glassware and hushed conversation. LA's N/Naka delivers the ultimate in low-key merriment with Japanese food that is considered by many to be the best outside of Japan.
Chef Niki Nakayama was born and raised in Los Angeles but spent three years working and eating her way through Japan to hone her craft. Today n/naka, her 26-seat restaurant, is one of the toughest reservations in town. The quiet, unassuming location in the Palms neighborhood (there is no sign, so trust your GPS) adds to the tranquil vibe. The interior of n/naka is dimly-lit with minimalistic touches that evoke an atmosphere like that of a traditional Japanese ryokan.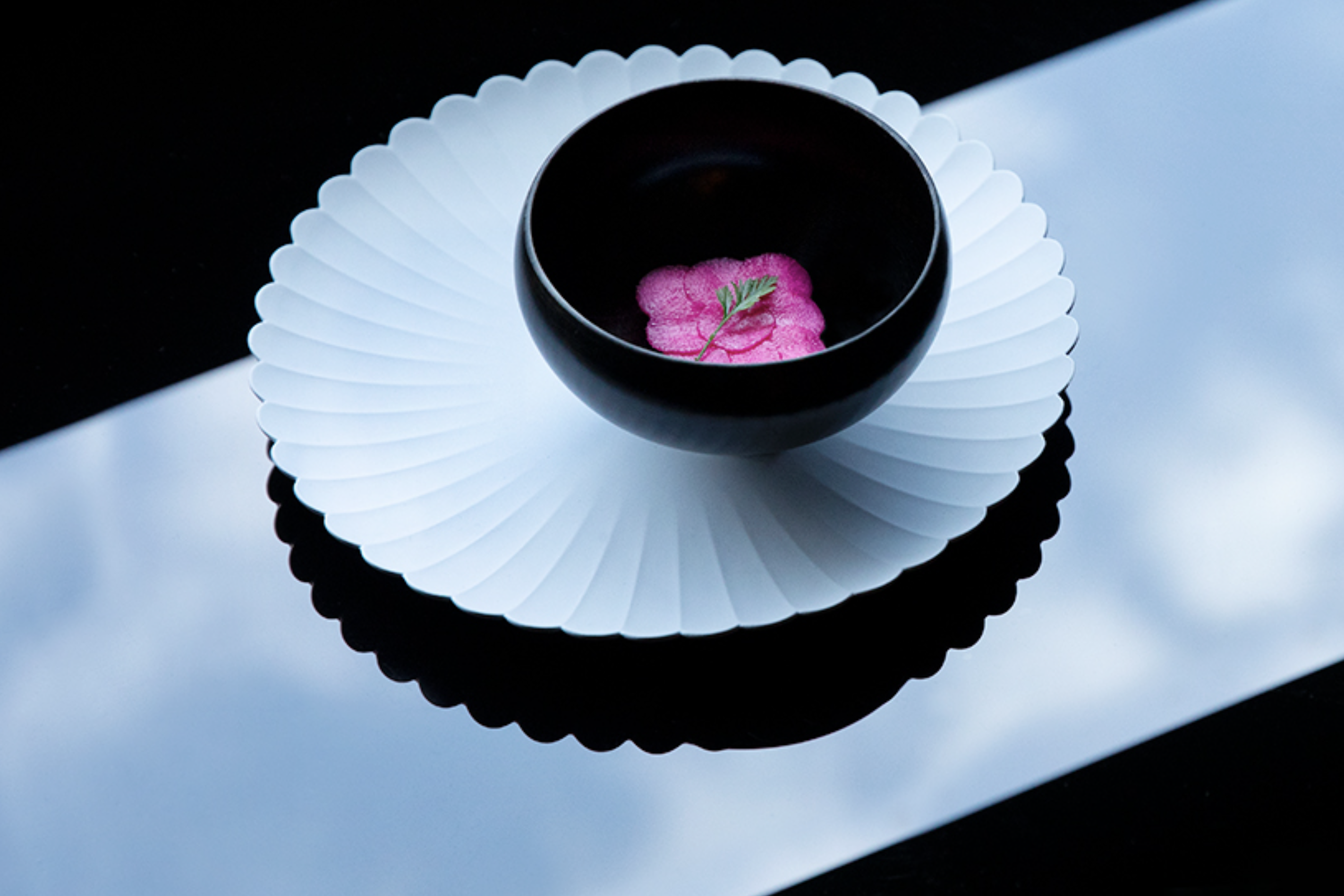 Chef Nakayama's modern interpretation of kaiseki (a traditional, multi-course Japanese meal) is filled with surprises. The dining experience is one to be savored, relished, and admired. It's the slow tempo and eventual escalation of the dish's flavors and locally-sourced ingredients that earned n/naka its two Michelin stars in 2019. Chef Nakayama's 13-course kaiseki dinner will take around 2-3 hours. A holiday meal for the books.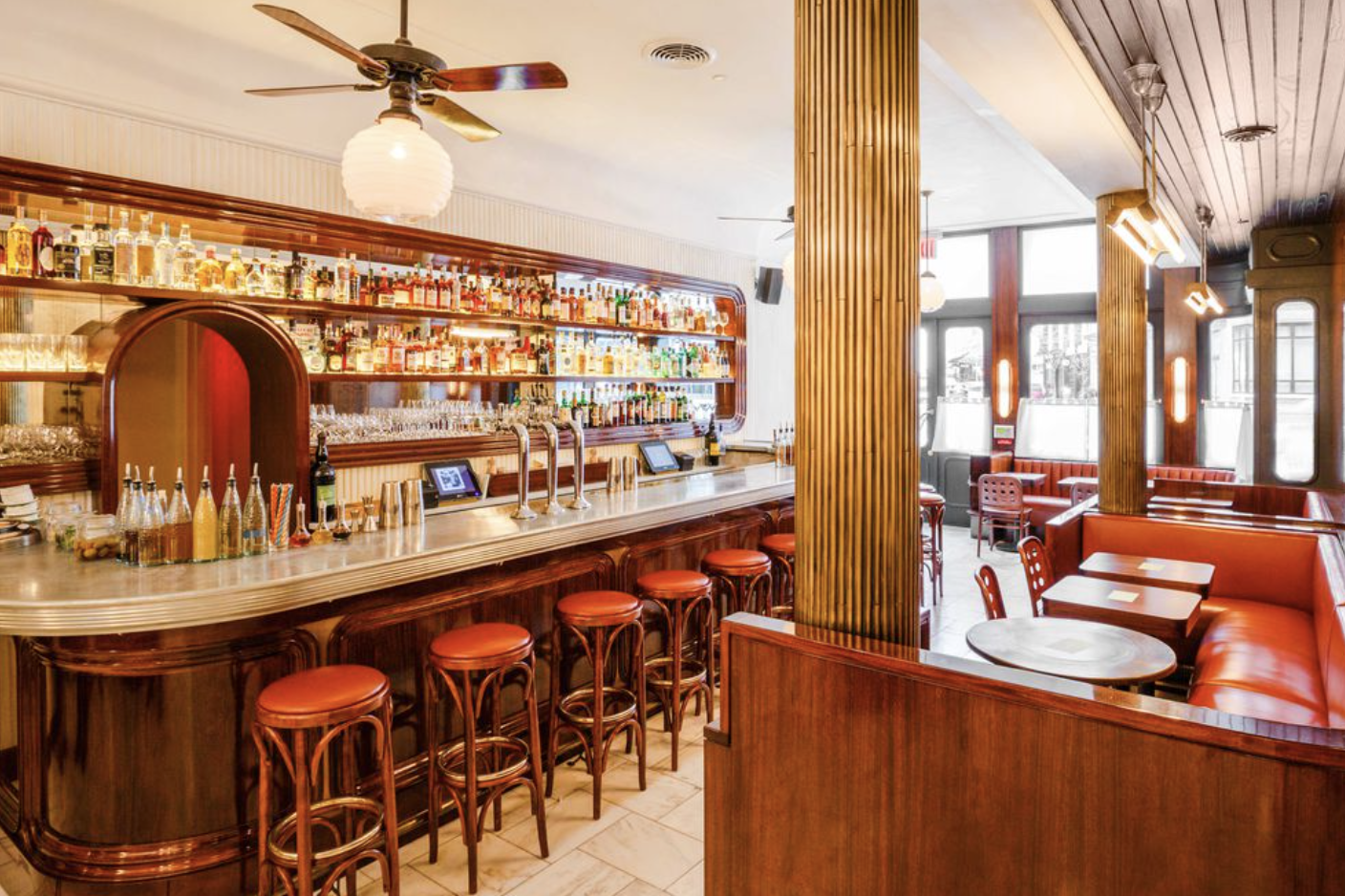 New York City's Frenchette
TriBeCa's Frenchette may have only opened its brasserie's doors in 2018, but it feels like it's been there forever. This may be due to the well-worn wooden floors, the intimate metal-rimmed bar, and the low buzz of ceiling fans overhead. But don't let the simple decor fool you, the food at Frenchette is anything but.
Owners Lee Hanson and Riad Nasr (formerly of Balthazar) were awarded the highly-esteemed James Beard Foundation Winner for Best New Restaurant in 2019. Their phones have been ringing ever since.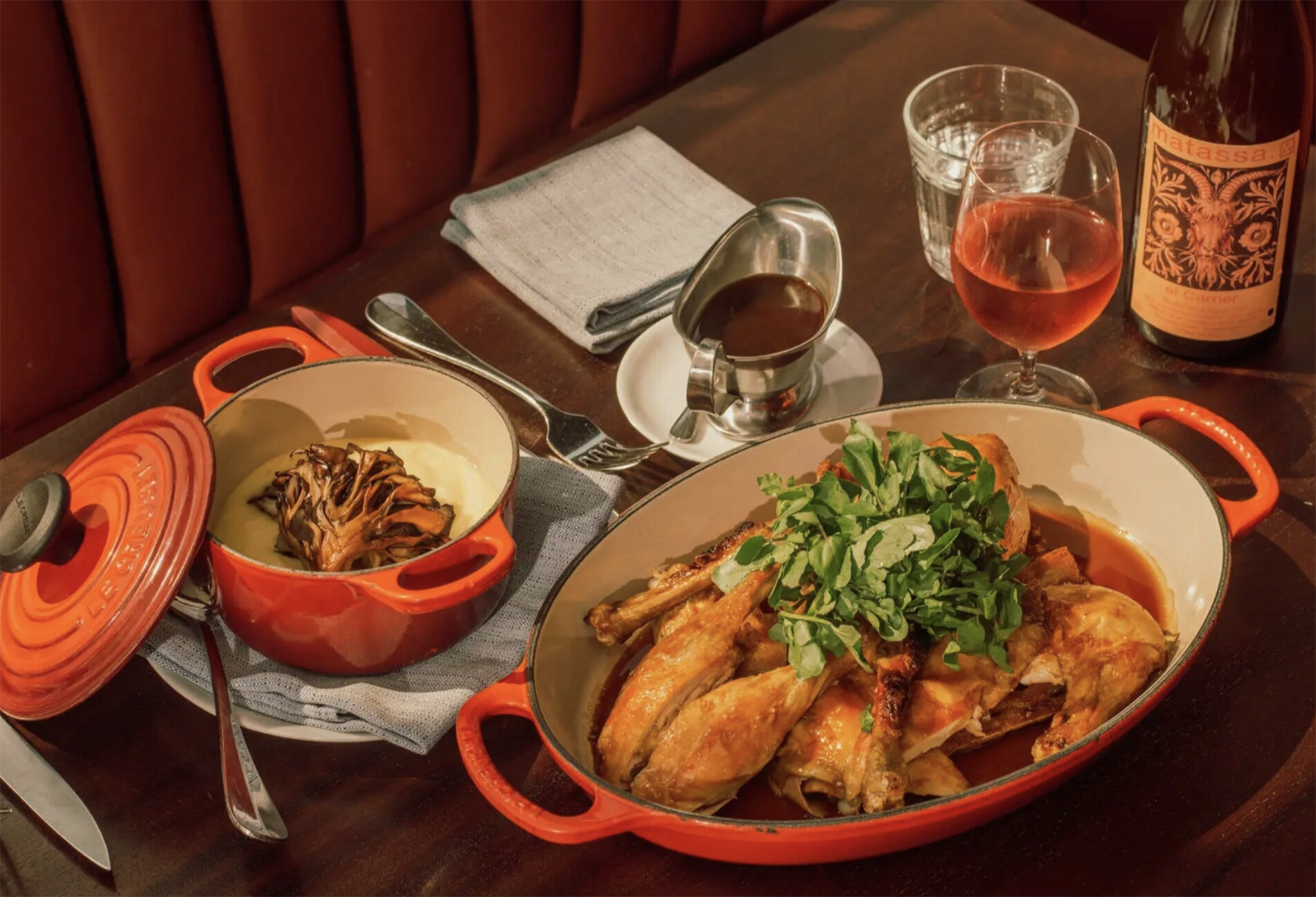 The menu is ever-changing and gives new meaning to the word decadent. Don't miss the chef's interpretation of Duck Frites (should it be on the menu that day), seared to medium rare with crispy skin and a side of béarnaise. Brouillade is one of Frenchette's signature dishes. A salty, soft egg scramble with Peconic escargots. It will likely be the most sophisticated breakfast-for-dinner dish you will ever eat.
The wine menu is long and heavily French, as one would expect at a brasserie. Yet the list extends as far afield as Slovakia and Croatia should one be tempted to try an eclectic wine pairing. I have a feeling the sommelier would be thrilled to oblige. Inventive cocktails abound. The Market Fresh combines fig leaf vermouth, lemon, and soda. A lovely companion to a plate of raw oysters.
If you're visiting New York City, head to Frenchette this holiday season with those expandable waistlines or a shift dress. The rich, over-the-top food will be worth it.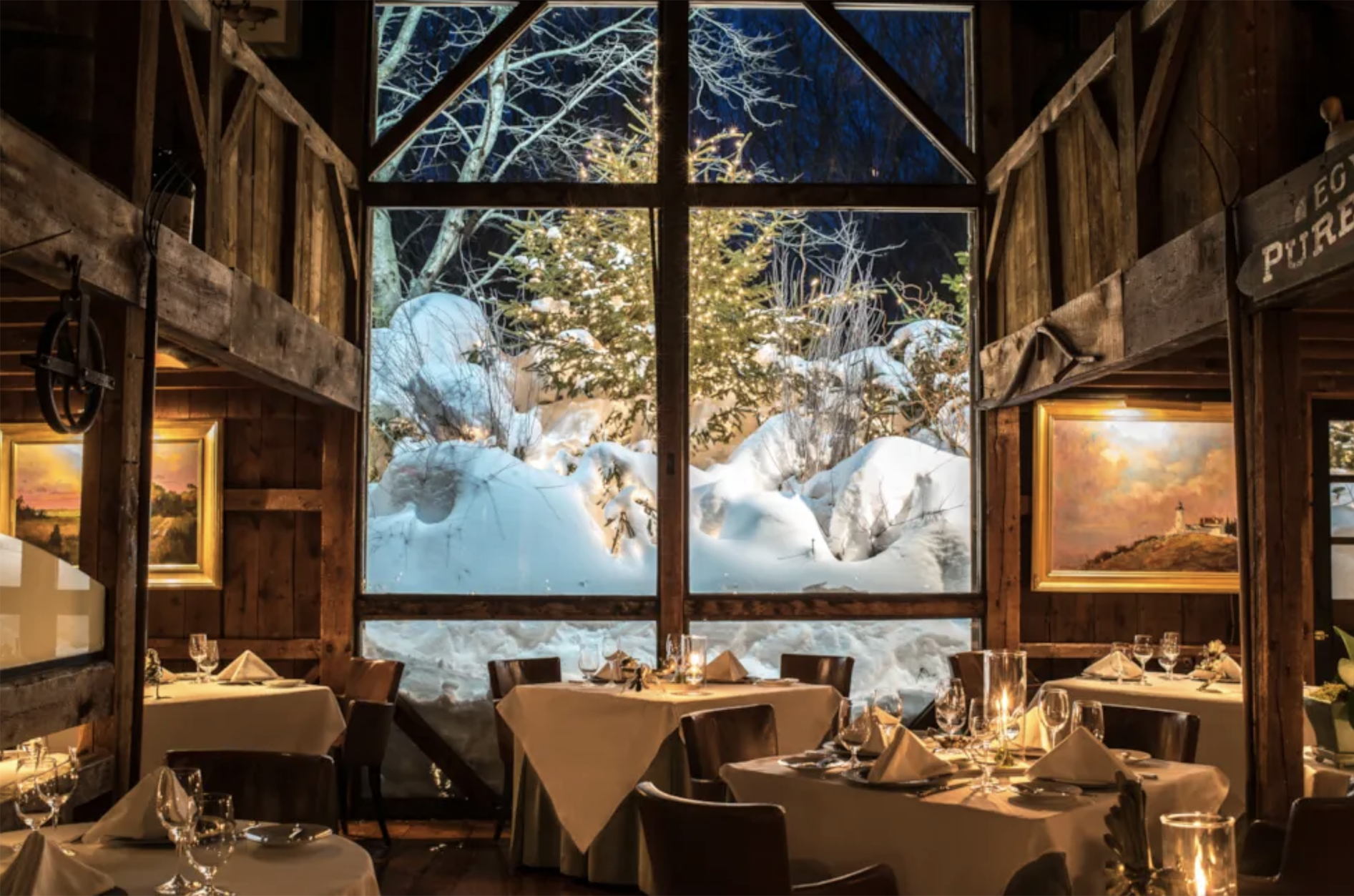 Kennebunk's White Barn Inn
If you've ever wanted to celebrate the holidays in a warm, rustic barn with double-high ceilings and a magnificent picture window that showcases the season, then look no further than the White Barn Inn. Located in Kennebunk, Maine, it's as visually delightful as it is culinary. In fact, the White Barn Inn has been keeping guests well-fed and happy for 48 years.
Having received the coveted Forbes Five Star endorsement, the foodie experience at The White Barn Inn is as unique as Kennebunk itself. Before taking the helm, Executive Chef Mathew Woolf was most recently at the iconic Rainbow Room in New York City, where he served as an executive chef and pastry chef for over seven years. He is continually raising the bar at The Barn. The menu is contemporary New England cuisine and claims to have been 'local and seasonal' long before it was en vogue. The White Barn Inn's website says they've cultivated strong 'relationships with farmers, foragers, and fishermen of Coastal Maine.' After 48 years in business, I don't doubt that for a minute.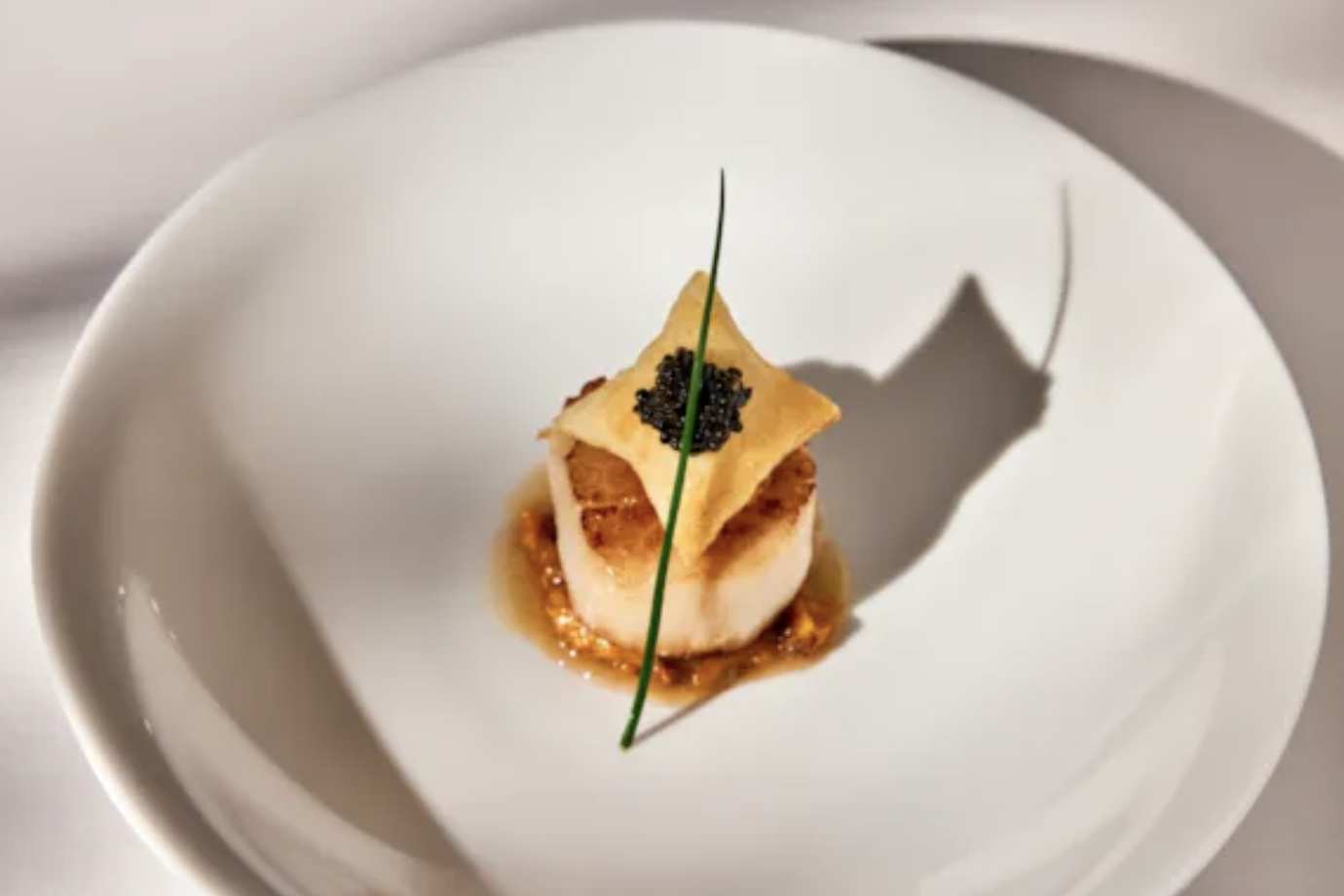 The playful layout of the dining experience mirrors the artfully presented dishes. Follow Chef Woolf's well-thought-out menu, 'To Start, In Between, The Main Event, and Something Sweet.' Brilliant dishes like Artichoke Tart, with radish jelly, cream cheese, herb salad, and Butter Poached Kennebunk Lobster will not disappoint even the most hard-core foodies.
Speaking of lobster, (this is Maine, after all), consider the Chef's Six-Course Lobster Tasting Menu. Standouts are Mini-Caviar Lobster Rolls, Lobster Bisque, and Tomato Lobster Tartare. (You had me at caviar, Chef.) An ode to Maine's spiny marine crustaceans, indeed.
Merry Everything!
Wherever you decide to celebrate the festive season this year, from Los Angeles to Washington, DC, make sure you remember what the holidays are truly about. Yes, they're certainly about great food and wine, but more importantly, they're about who we choose to share these wonderful experiences with.
So get on Open Table, Tock, or Resy. Pick up the phone and pray to the reservation gods to help you reserve one of these coveted reservations. Even if you don't, fear not. For every one of these wonderful restaurants, there are another 20 waiting for you to celebrate with them. And should you need help with holiday travel, hotels, and restaurants, don't forget the team at CIRE. They are ready and waiting.
Merry everything!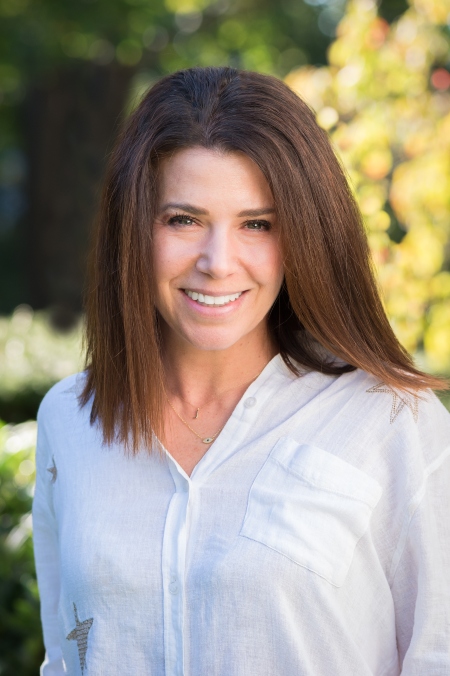 Jamie Edwards is an avid traveler, travel writer, and photographer. She launched I am Lost and Found, her adventure/luxury travel website after 25 years of living and traveling around the globe. Jamie's goal is simple, to inspire travel.
CIRE Travel is a full-service travel agency headquartered in New York, NY. Our expert team supports clients across the country and around the world.
---
Where in the World Do You Want to Go?
Inspired to plan your next weekend getaway, vacation or trip of a lifetime? See that form below? That's all it takes to begin your next epic travel story.